Sims 4 Maxis Match Elderly CC (Clothes + Décor)
This post may contain affiliate links. If you buy something we may get a small commission at no extra cost to you. (Learn more).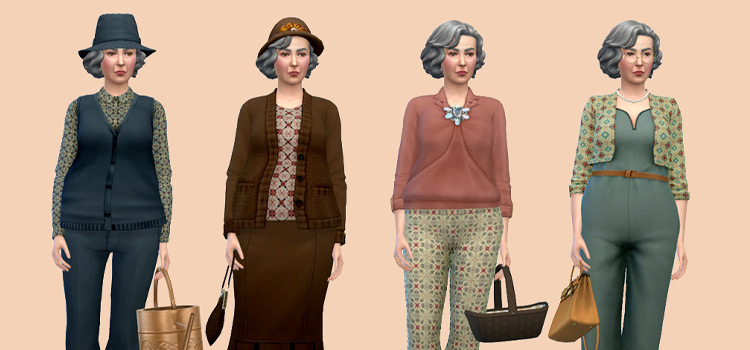 In the world of TS4 content, the focus is usually on Adults and Young Adults. I mean, it makes sense. They are, arguably, the most-played life stage. Especially since all the options in the game are open to them.
There are zero restrictions to what Adults/Young Adults can do.
But other life stages need love. I mean, maybe if they had more options (in terms of CAS, Build & Buy, and general gameplay) they'd be played more.
Speculations aside, I have this instead: a mega-list of elderly CC to spice up your Gramma n' Grandpa Sims' life. Have fun browsing!
1.

The Big Granny Pack #1 by Miss Ruby Bird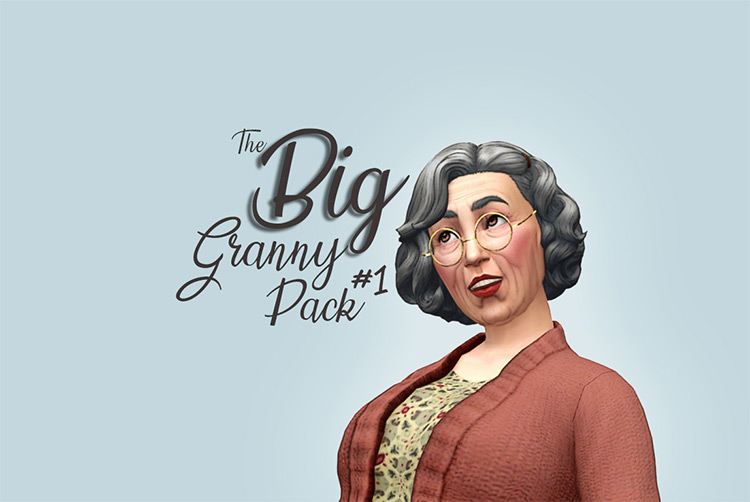 This has got to be one of my favorite Elderly CC packs.
It doesn't add any custom mesh to the game (with the exception of Jools' Granny Hat) but it does introduce some fun new swatches! Miss Ruby Bird's Granny Palette is made of ten soft, warm colors paired with vintage patterns and prints.
The overall effect is so wholesome and does, indeed, look like the inside a nice old lady's wardrobe.
2.

The Big Granny Pack #2 by Miss Ruby Bird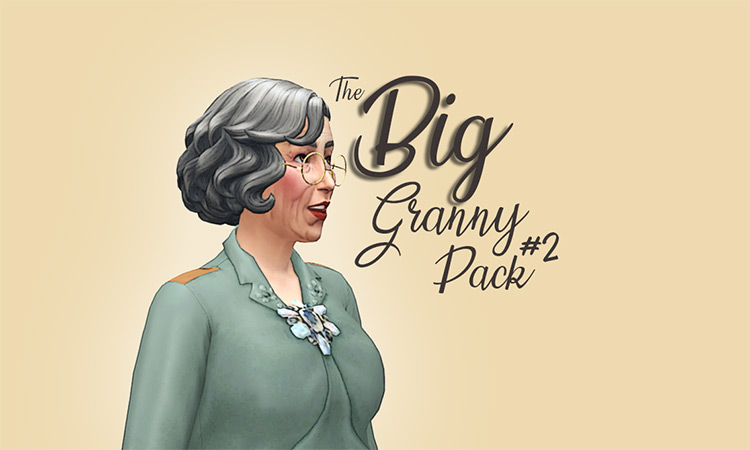 Part 1 of this set was a CAS pack.
This part – Big Granny Pack #2 – is for your Build & Buy needs.
It includes an armchair, loveseat, ottoman, and lamp. Each one comes in the creator's Granny Palette (plus some extra vintage prints) and gives off very cozy 'afternoon at grandma's (or grandpa's)' vibes.
3.

Granny Hat by Jools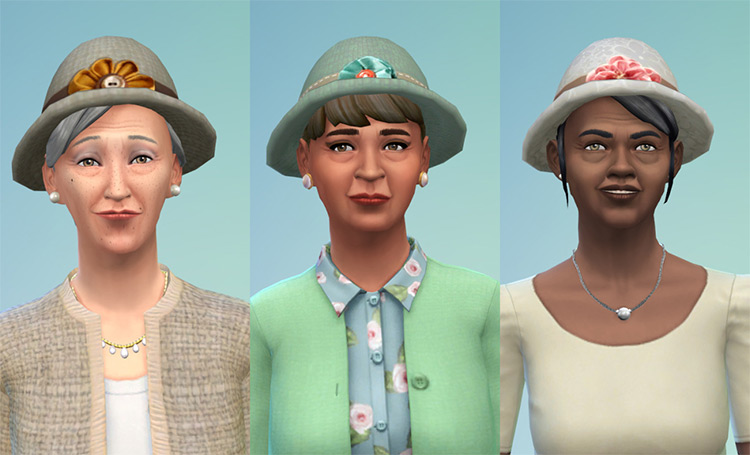 This is the original mesh for the Granny Hat from Miss Ruby Bird's Big Granny Pack #1. Their recolor in the Granny Palette is cute and all, but I figured it wouldn't hurt to have the original palette, too.
It's basically three vintage-y colors with a hint of barely-there texture.
Not as varied as the recolor, but Jools' swatches have a distinctly aged look that suits the theme perfectly!
4.

EP10 Granny CC Set by Standardheld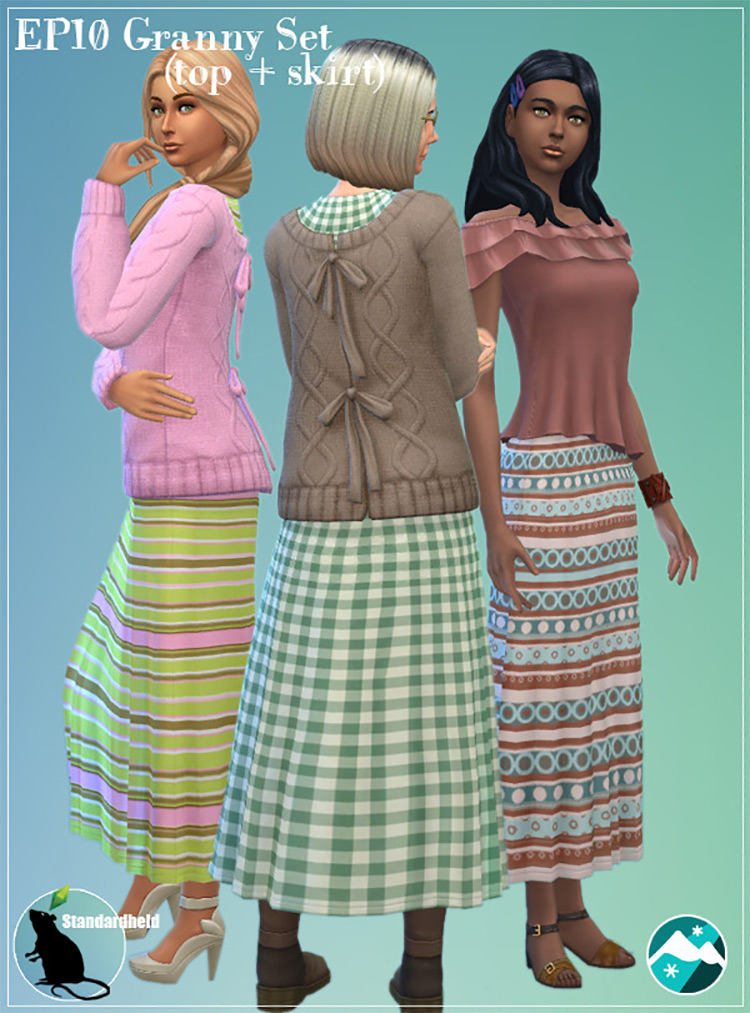 If you have The Sims 4: Snowy Escape pack installed, you might be interested in this cozy granny getup.
It's an oversized knit cardigan that ties at the back, worn over a loose, homey maxi dress in vivid, distinct patterns.
As the elderly are more wont to prioritize comfort over looking good, I'd say this Granny Set is aptly named!
5.

Retrograde Dress by quiddity-jones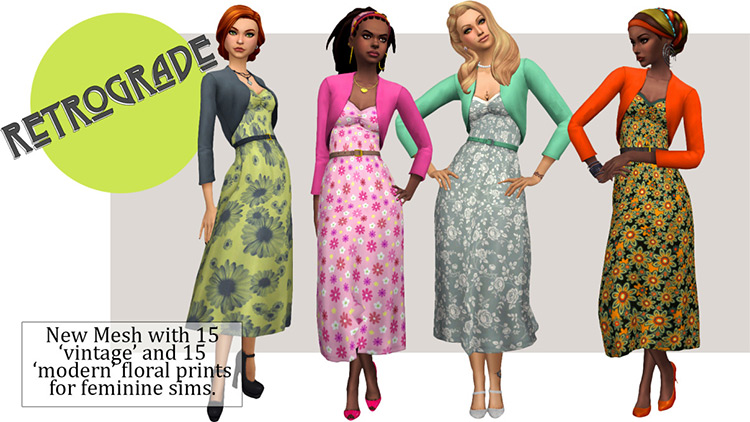 Here's a classy dress-and-bolero combo that looks fetching on Teens, Adults, and – of course – Elders!
Aptly named Retrograde, this dress combines vibrant floral and vintage patterns with brightly-colored cropped cardigans to cut an ultra-feminine silhouette.
I think it'd work perfectly as Grandma's go-to for high tea or as her Sunday best.
6.

Grandma Dress by Annabellee25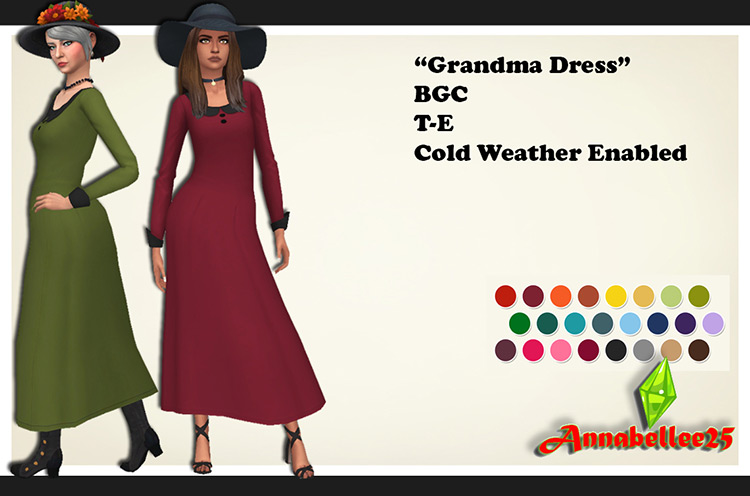 While this style isn't as old-fashioned as the other dresses on this list, it still has that 'mature' aura.
It's the kind of dress that younger frames would look super innocent or super ridiculous in (in my opinion, anyway), so. Best save it for Grandma! It comes in 25 appropriately vibrant swatches.
7.

Gray Strands for Hair – Accessory by sunnybelloria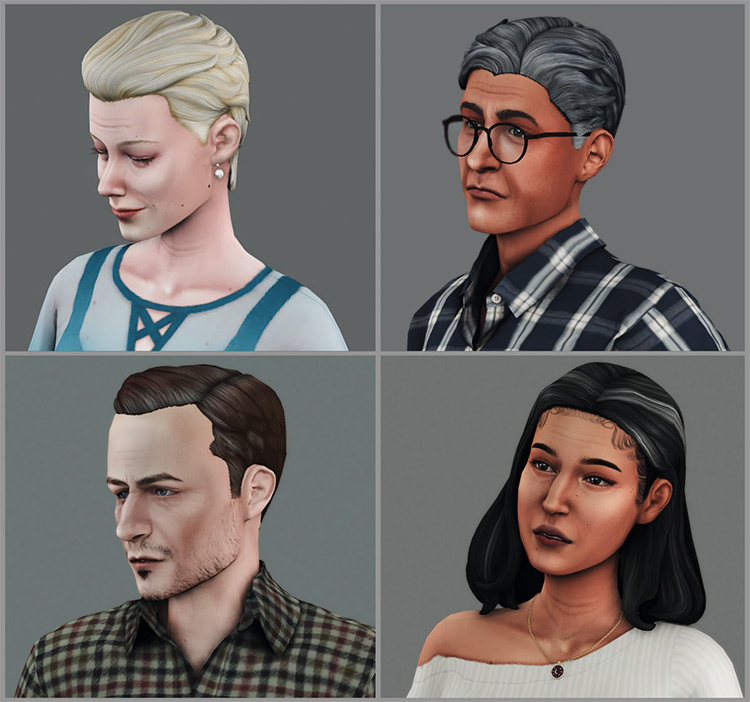 I personally love gray streaks.
They can make anyone look so wise and distinguished. Hair that's shot through with gray just gives off that "I've lived longer than you, I know what I'm talking about," aura that would definitely compel me to listen.
If you want that effect for your Sim, this Gray Strands for Hair accessory should do the trick. It won't work for all hairs – especially custom ones – but it works for a large number of BGC 'dos.
8.

Lighter Maxis Wrinkles by BoredSimsCC
Given the exaggerated, cartoony style of TS4, it makes sense for the default Elder wrinkles to look so deep and dark.
I mean, have you seen how intense Sims' facial expressions can get?
A lifetime of gusto as passionate as that is sure to leave some marks!
But since some of us like subtlety, BoredSimsCC's edited wrinkles are a solid solution. They're the same default EA wrinkles for Elders, only lighter and a lot less emphasized.
9.

Landline Wrinkles by Simulation Cowboy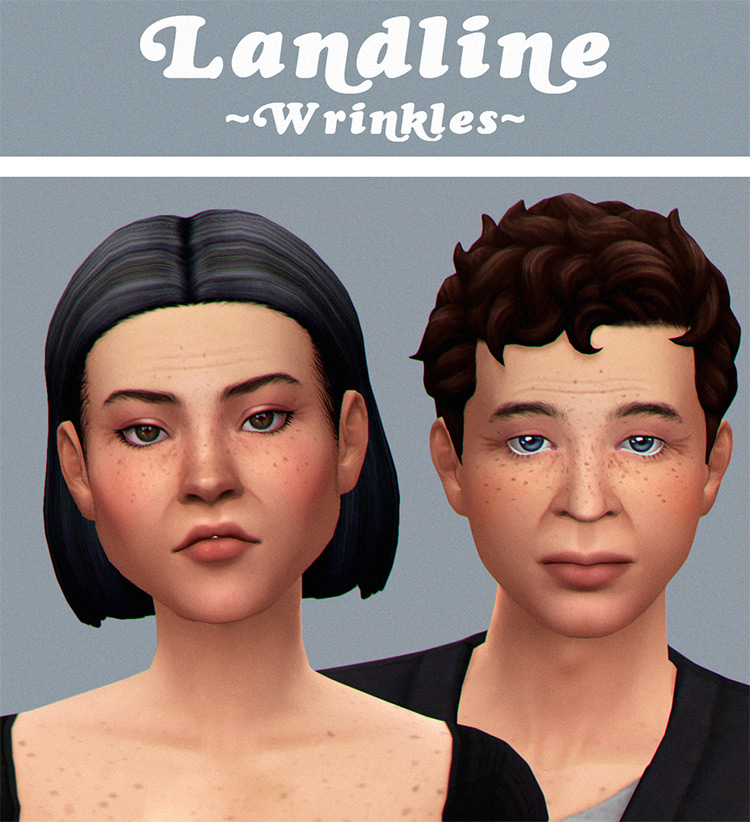 If you just straight up don't agree with the default EA wrinkles, don't fret!
Custom wrinkles are here to save the day.
Simulation Cowboy offers some alternative forehead wrinkles, laugh lines, and crow's feet for the distinguished Elderly Sim.
There are two intensities to choose from, but both options are still pretty subtle compared to EA's wrinkles.
10.

Wrinkles, Under Eye and Crow's Feet by ditzn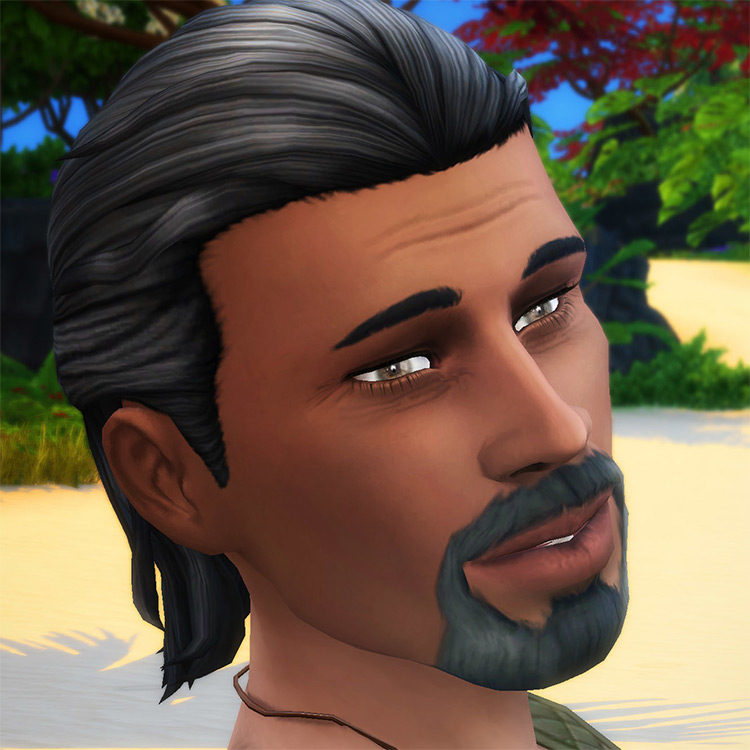 For more custom face wrinkles, ditzn's set is detailed and extensive.
It adds new forehead wrinkles, under-eye wrinkles, and crow's feet to the CAS catalog.
They can be Pronounced or Subtle, depending on your preference, and there's a max of eight combinations total.
11.

Gradual Aging Wrinkle Set by onlyjustaname
One more for the "subtle wrinkles" fam! This Gradual Aging Wrinkle pack by onlyjustaname stems from a pretty genius concept.
It's an overlay skin detail set that's meant to portray a middle range of aging between the Adult and Elder life stages.
This adds a flavor of realism to the game that I'm sure anyone can appreciate! Instead of your Sim going from naught to 60 in .5 seconds (in terms of skin age, anyway), they can just gently slip into it. And since it's an overlay, it won't interfere with any other custom skin details.
12.

Grandma's Fireplace by gloomfish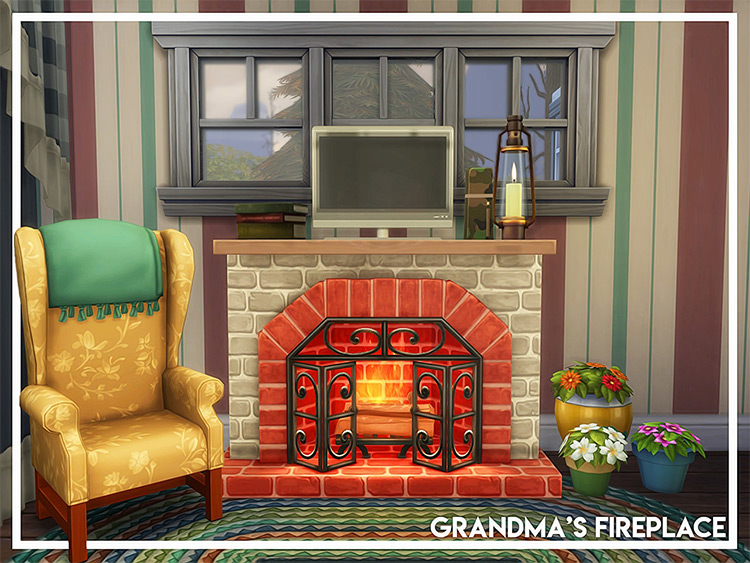 Gramma's fireplace has a wrought-iron fire gate, strong red brick borders, and some vintage-y odds n' ends up top.
It's also homey and oh-so warm.
If you've got Cats & Dogs installed, why not add this cozy little fireplace to your Build & Buy catalog? It does wonders for mood, lighting, and ambiance!
13.

Grandma's Fridge CC by BadeLavellan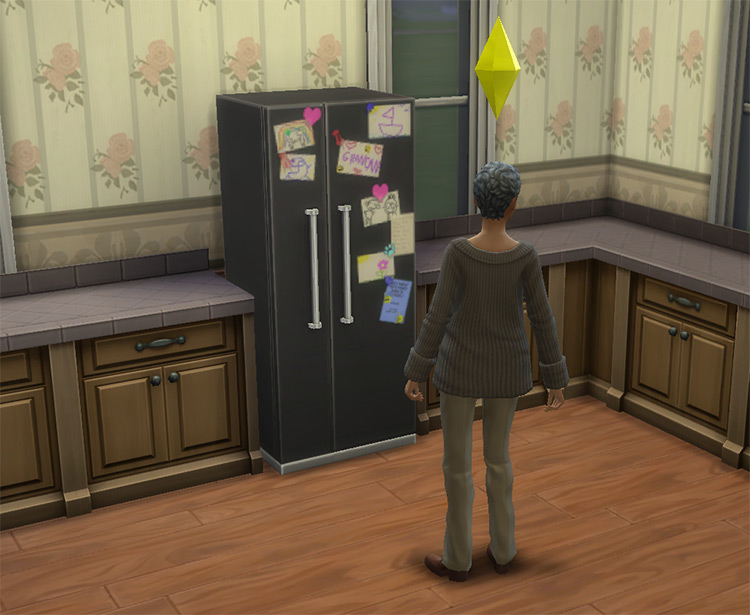 It doesn't matter so much what's in grandma's fridge as what's on it.
And what's on this fridge are crayon drawings and hand-drawn postcards painstakingly made by a loving grandkid. All pinned using bright, happy magnets, of course!
It's cute, wholesome, and adds an extra layer of rich narrative to an also fully-functional furniture piece.
14.

Walking Canes by HistoricalSimsLife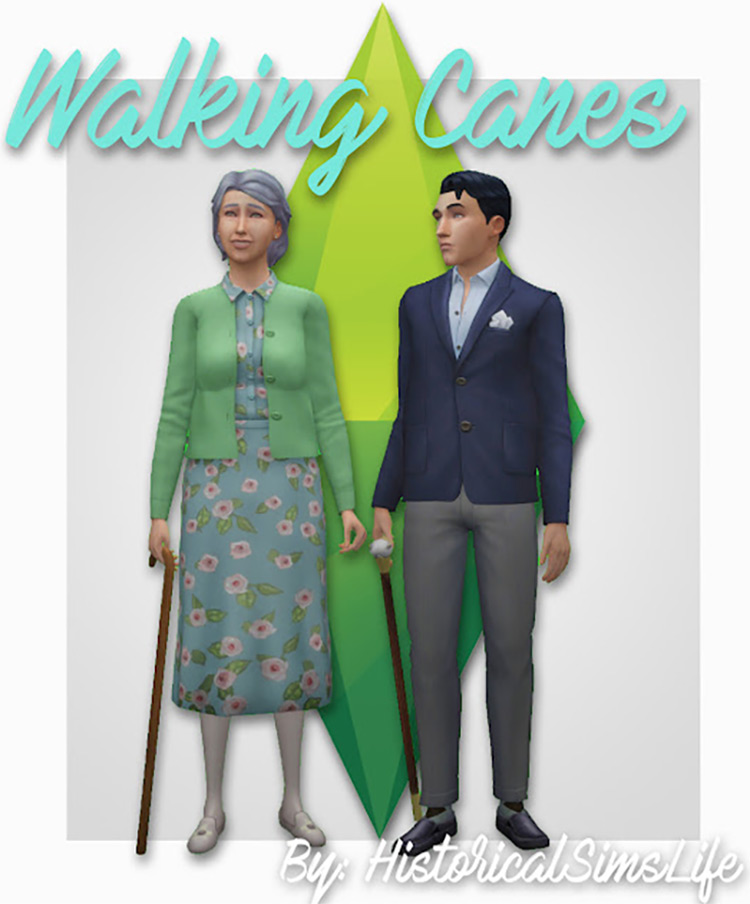 Walking canes are sophisticated accessories that can make someone look oh-so dapper.
(They can help stabilize you while you walk, too!)
Functionally speaking, these canes by HistoricalSimsLife don't add any moodlets or motives to your Sim's disposition. They don't affect their walking speed, either. They're simply a worn, well-crafted accessory that doubles as a prop for excellent screenshots!
15.

Grandma's Crocheted Vest by strenee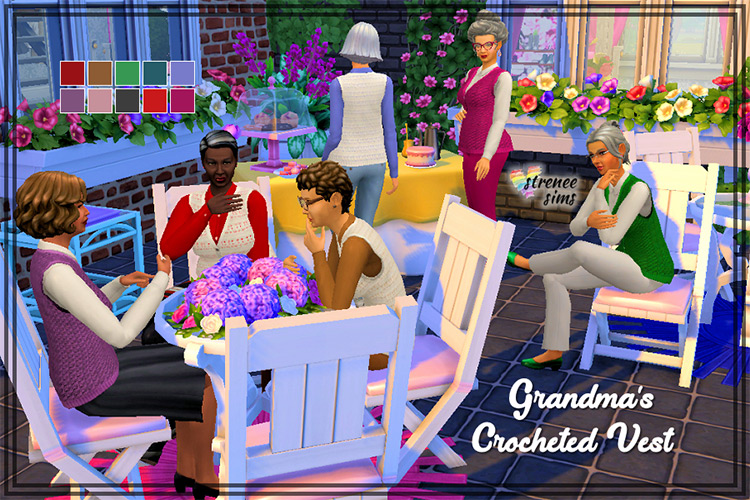 Whether it's Wednesday tea with her book club or Friday brunch with her golden gals, Grandma's rockin' it in her lovely, handmade crocheted vest.
And if you see her friends sporting the same look, well. Grandma's got a lot of time on her hands. Colorful vests aren't that hard to do when you're at her skill level.
16.

Grandpa's Knit Vests by strenee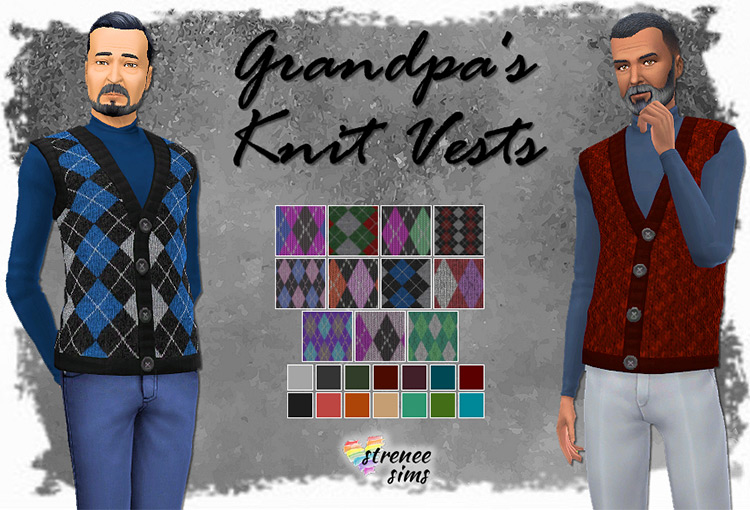 Grandpa, not to be outdone, also his fair share of handmade vests hiding in the closet!
These argyle pieces are comfy and cozy, but there's an air of aged sophistication to them. Like, on any other life stage, they'd probably look outdated. But for an elderly gentleman? These patterned vests are peak fashion!
17.

Grandpa's New Duds by Simmiller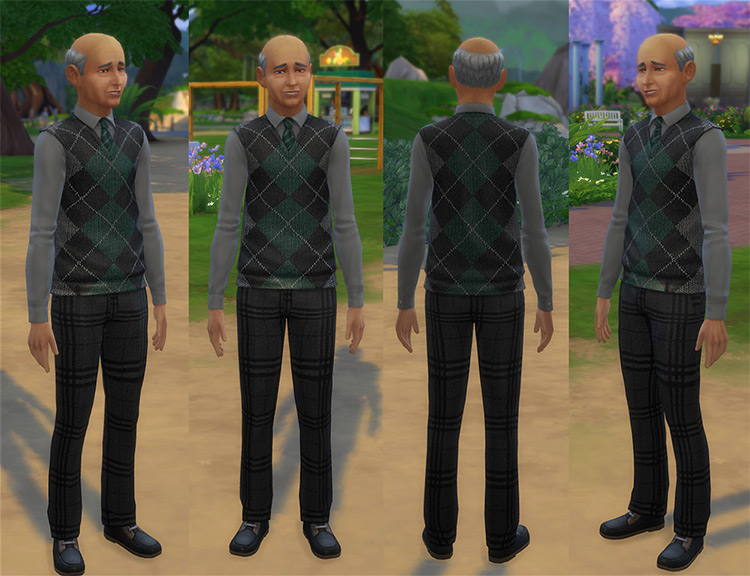 Gramps is looking fresh in his reworked, recolored duds (courtesy of Simmiller)!
These argyle vest, cardigan, and plaid slacks are all pieces from The Sims 4 base game that have been amped up and redesigned for style.
All in all, the creator adds collectively 47 new colors for Grandpa's long overdue makeover.
18.

Casually Classy Mini Set by Saurus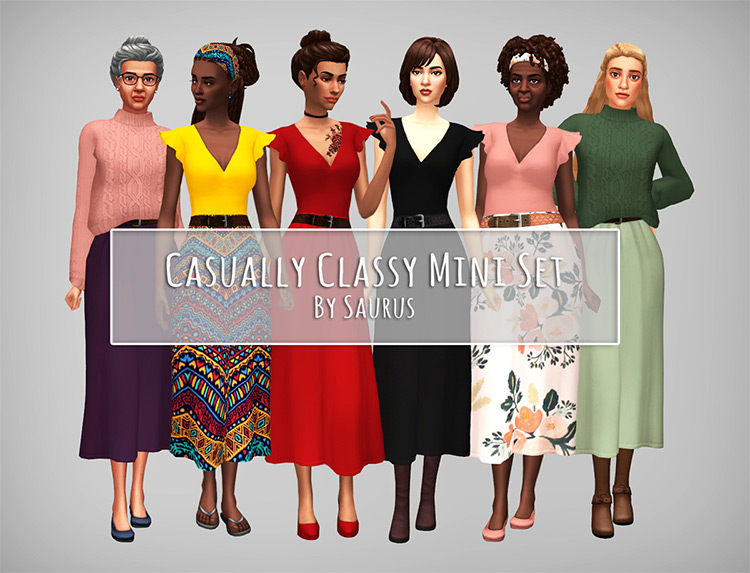 Saurus's Stacey Skirt and Daniela Blouse are, indeed, casually classy.
And they're versatile enough to suit an older woman's closet.
But the star of the show (for me)?
The Granny Hair hairdo.
It's an elegant twisted topknot with plenty of waves and a cute little curl at the front. Available for Young Adults and Adults, too!
19.

Grandma Cardigan and Skirt Outfit Super Recolor Pack by melbrewer367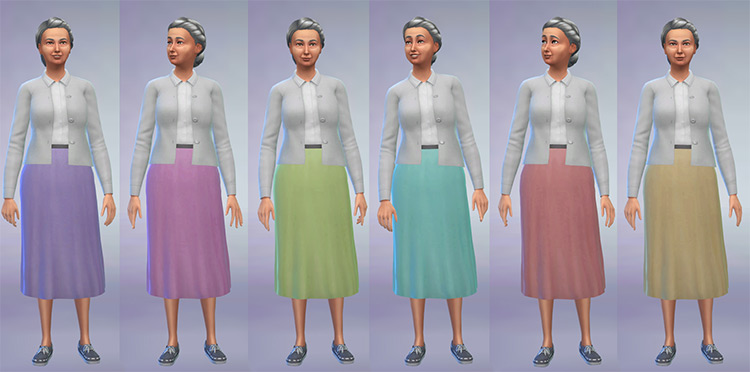 A soft skirt, a clean blouse, and a warm cardigan over top; that's literally all Grandma needs!
Honestly, all 19 color-and-pattern combos in this recolor set look amazing. From clean grey cardigans with pastel skirts to skirts with not-so-hideous patterns, I'm pretty confident you'll find an option your Elder Sim will love.
20.

Granny Nightgown by silverhammersims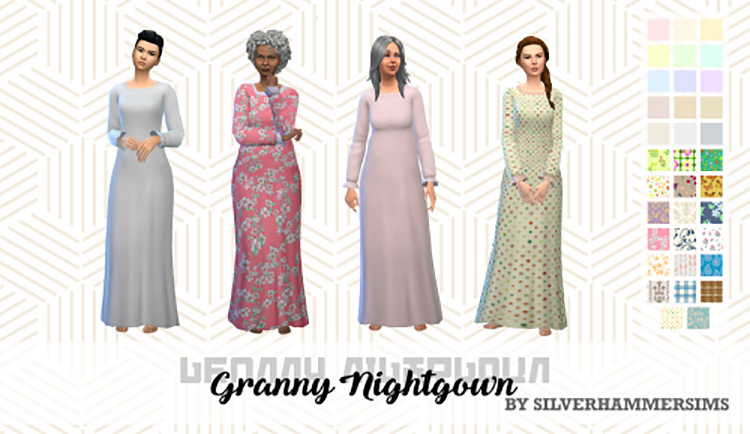 A "shapeless nightgown with faded colors or patterns of questionable taste," – the creator's words, not mine! – this Granny Nightgown looks like the ultimate comfort clothing item.
It's loose, it's breezy, and it looks well-worn (and well-loved).
The colors are faded, but that gives them a nice matte pastel effect that actually looks great in-game!
21.

Dress Granny Dark Blue by dyokabb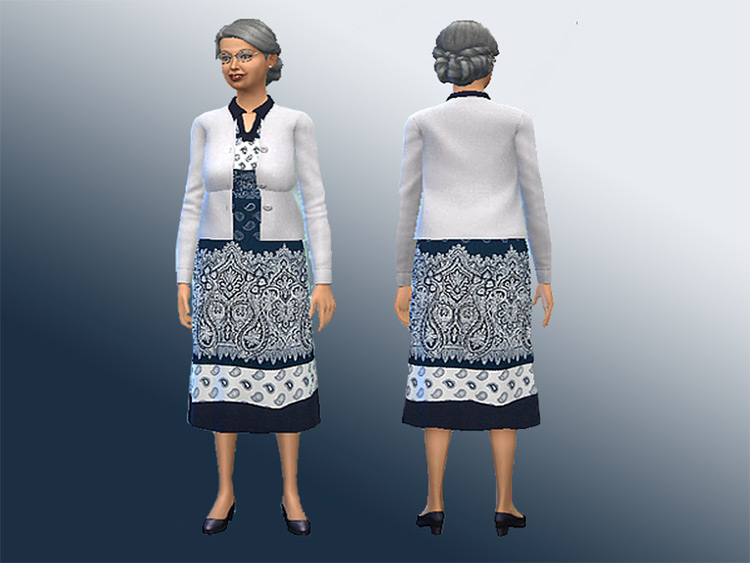 Dyokabb's Dress Granny is actually an Elders-only CC exclusive!
It's a dark blue dress (plus cardigan) that, unfortunately, only comes in one swatch. However, the shade of blue is flattering on a number of skintones and the design looks fetching on an older frame!
22.

Grandma's Ring by Joliebean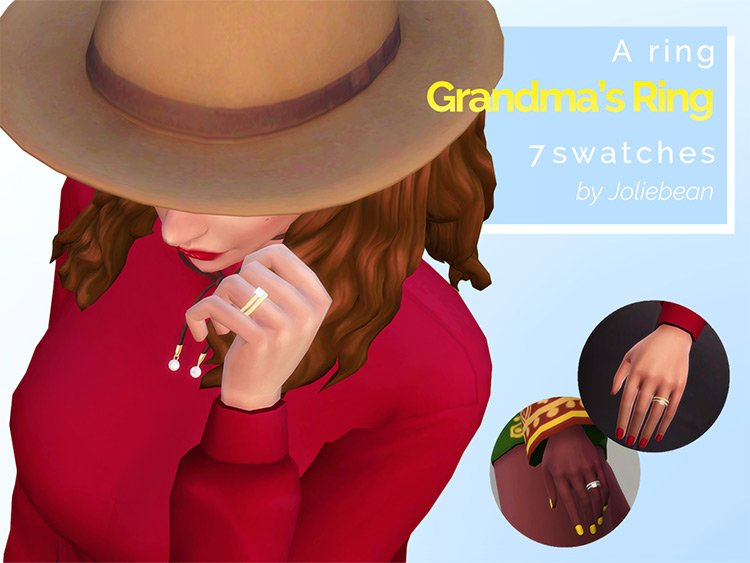 I'm a sucker for the concept of heirlooms and generational items. So I absolutely had to include this ring by Joliebean.
It's technically just a simple accessory. Some extra bling for your Sim.
But the fact that the creator specifically titled it Grandma's Ring makes it ten times more precious. And totally on-brand for this article!
23.

1950's Dress by Standardheld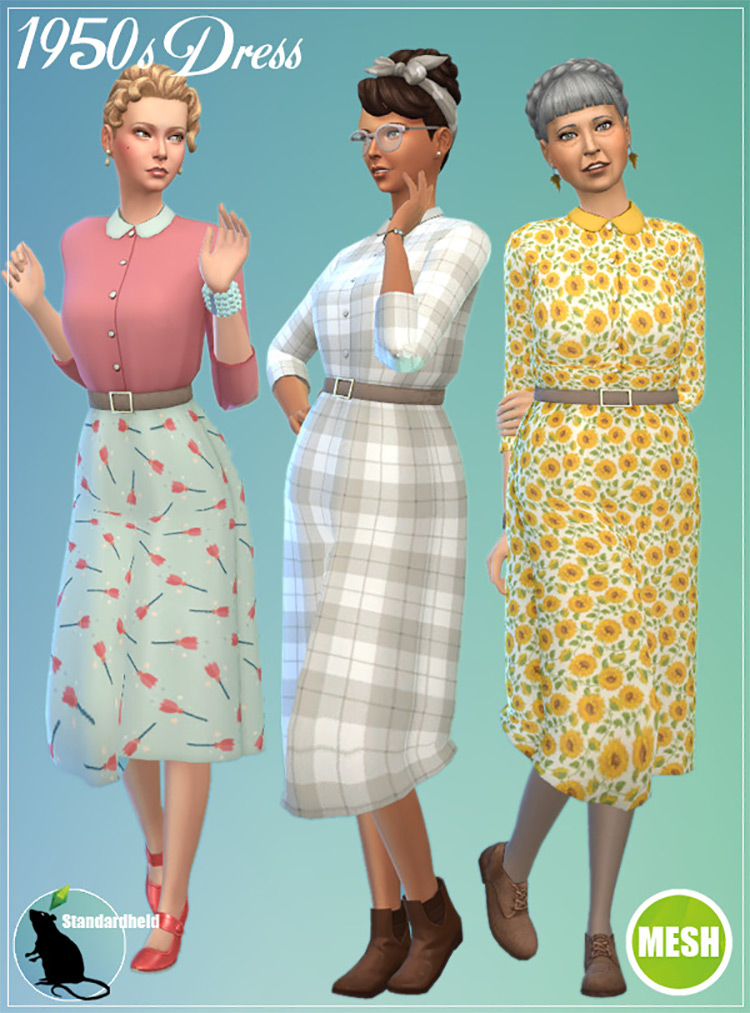 If your Sim's gramma is feeling nostalgic for the fun, free, and family-oriented vibe of the 50s, this custom dress by Standardheld might just perk them up!
It's a beautiful, full-bodied outfit. Depending on the swatch, it can be one solid dress (with a belt for some waist-cinching action) or a clean blouse tucked into a skirt. Either version is charming and vintage.
24.

Grandma's Apron by linzlu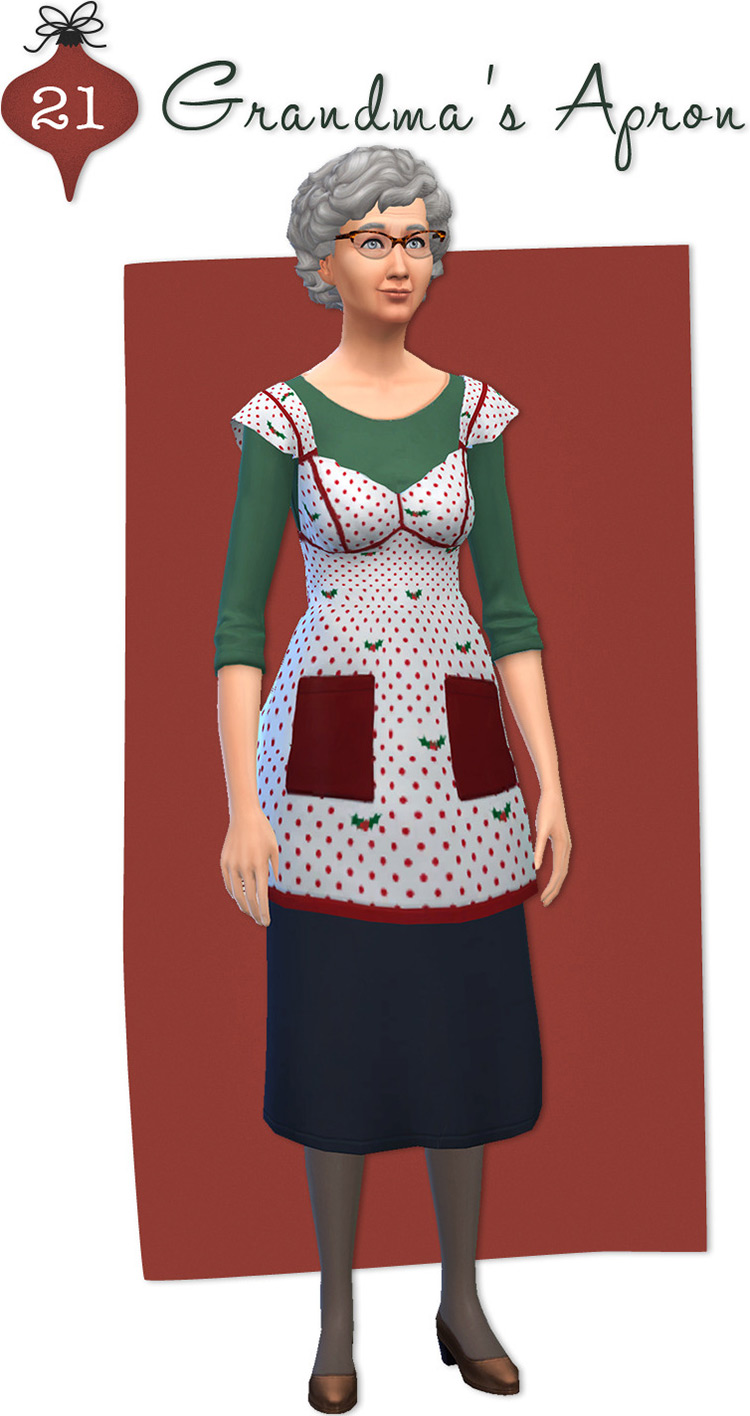 Does Grandma have a patented Christmas cookie recipe that she refuses to share?
Maybe a family recipe, passed down from generation to generation? Or a sneaky secret ingredient that no one's figured out yet?
Either way, one thing's for sure: she'll need an apron to keep her neat while she whacks the dough. Enter linzlu's ever-so-cute festive apron—exclusively for grannies!
25.

Cottagecore Grandpa Sweater – Base Game by TulipSniper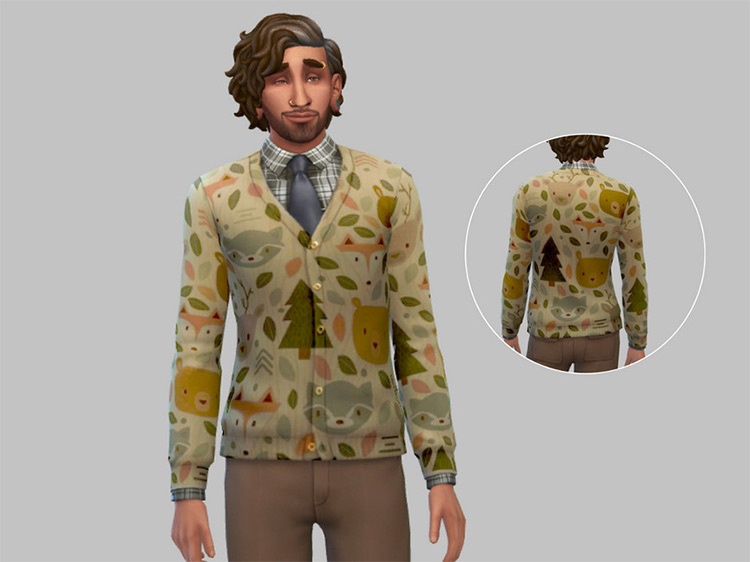 Who knew gramps was into cottagecore!
This adorable animal-print cardigan isn't just for Elders, but I definitely see that particular Sims life stage rocking this fit more than the others.
It's sensible, it's cozy, and the pattern is loud and unapologetic. Definitely something straight out of a fun-loving grandad's closet!
26.

Granny's Greatest Hits by SIMcredible!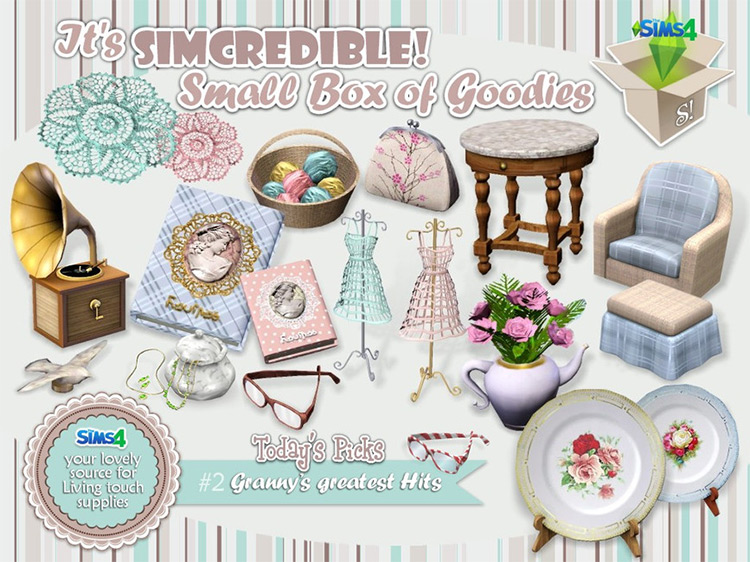 Just a small, wholesome clutter pack of bits n' things that suit Grandma's aesthetic; warm, colorful, and vintage-y.
Decorative plates, gramophones, copybooks, crocheted tea doilies, and tortoise-shell reading glasses? All dated trinkets one can find in abundance around gramma's living space — trust me.
27.

Natural Knitting Stuff by pandorasimbox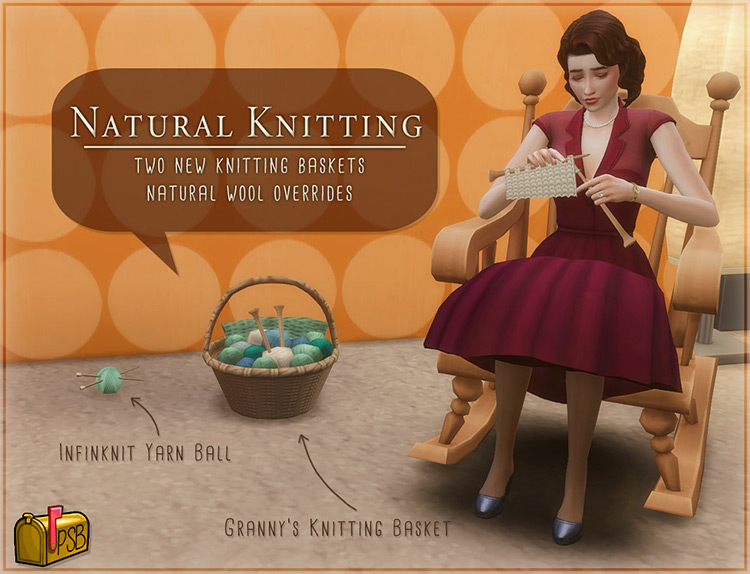 Since The Sims 4: Nifty Knitting was initially targeted for Elder Sims to have more activities and hobbies, it makes sense to introduce custom knitting CC.
Ergo, pandorasimbox's stuff pack; a mix of knitting items in beautiful natural palettes.
You can get Granny's Knitting Basket in both functional and decorative forms.
28.

Grandma Rugs – New by simtographies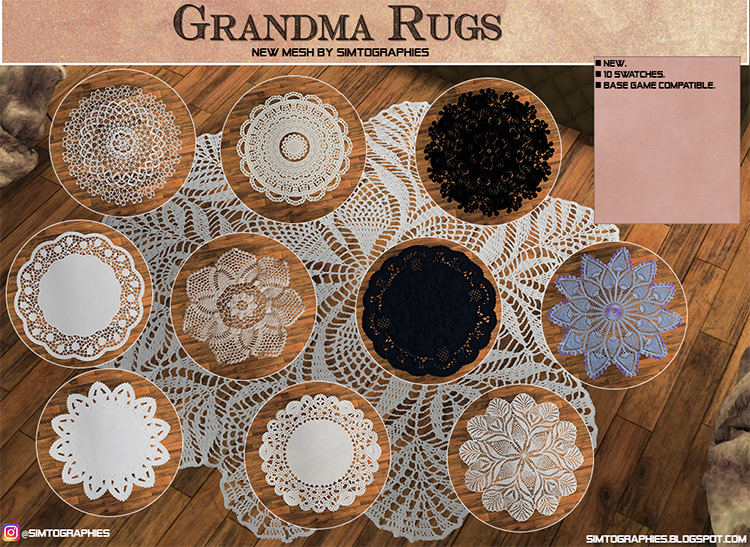 These rugs look very much like crocheted tea doilies, and I am living for the design!
Grandma Rugs feature some gorgeously simple, single-color floor rugs that make use of negative space (aka gaps and holes) to create fetching patterns.
I recommend experimenting with different flooring to get the best contrasting visuals!
29.

Cousin Jeb's Rocking Chair by linzlu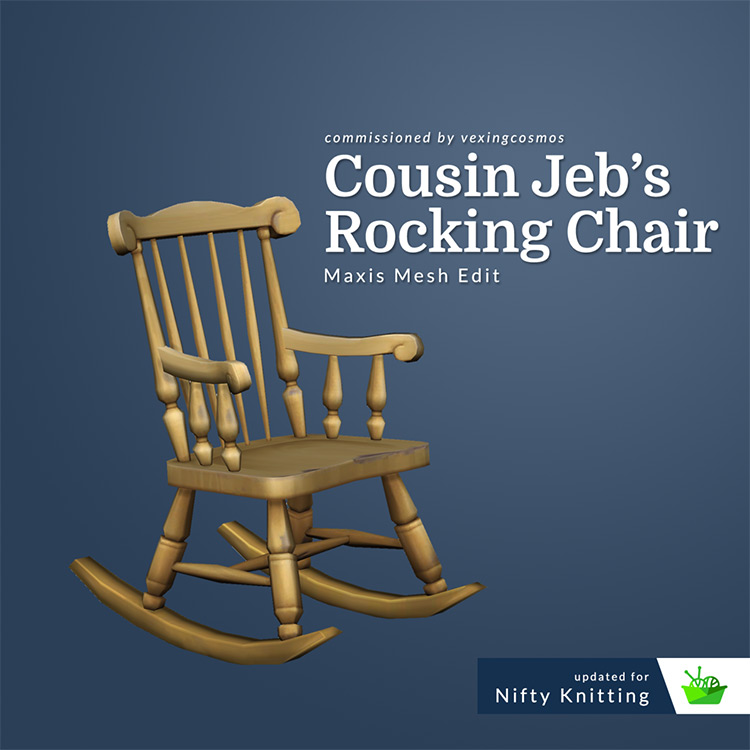 I'm sure cousin Jeb won't mind the modifications made to his chair.
All jokes aside, linzlu's version of Cousin Jeb's Rocking Chair is a cleaner version with 38 pretty wooden swatches.
It was originally a normal living chair but, ever since Nifty Knitting, it now works as an actual rocking chair.
And if you don't have Nifty Knitting installed, don't worry; linzlu kept the initial BGC mesh up.
30.

Grandma Heels – Grandma Collection by Dissia
Grandma's style is usually either elegant, tasteful, or both.
So this pair of sensible thick-soled heels being named Grandma Heels makes perfect sense. None of that five-inch stiletto nonsense here, no sir!
Plus, younger Sims can wear them too.
31.

Grandma Sandals – Grandma Collection by Dissia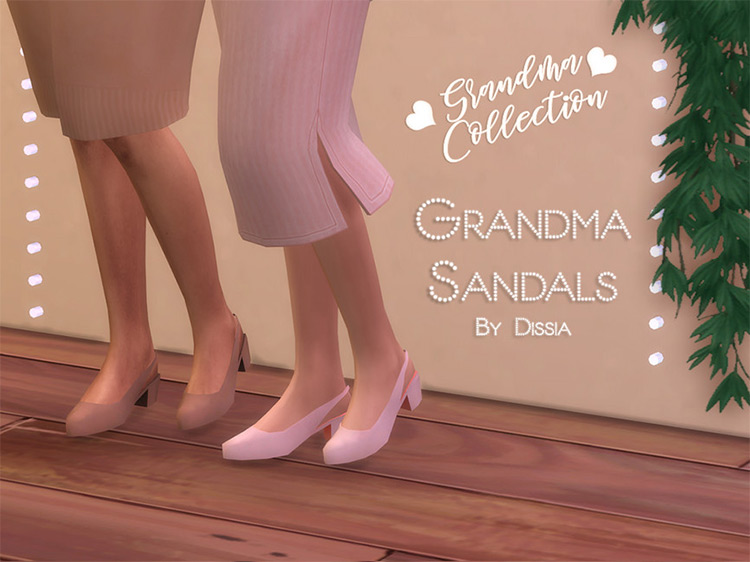 Pretty much Grandma Heels (by the same creator) — just with a dainty little strap.
Plus shorter, chunkier heels.
But everything else about this gorgeous pair of shoes retains the same vibe: thick-soled, sensible, and ever-so-classy. It can also be worn by younger Sims too!
Available in 29 gorgeous colors.
32.

Grandpa Sweater by Mal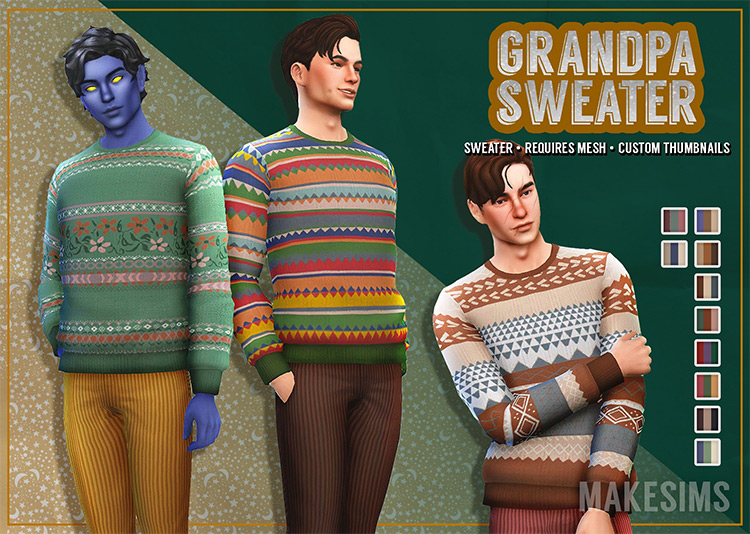 Mal's 2k Followers Gift set contains, first and foremost, a really cool – and appropriately patterned – Grandpa Sweater.
It looks soft, fluffy, and quite vintage (especially the patterns with floral prints and vibrant colors).
It's not exactly circa 1970, but it certainly lives up to its name!
The other items in the set aren't quite so Elder-focused, but the Rolled Corduroys would match the sweaters perfectly.
33.

Hip Granny by Unbichobolita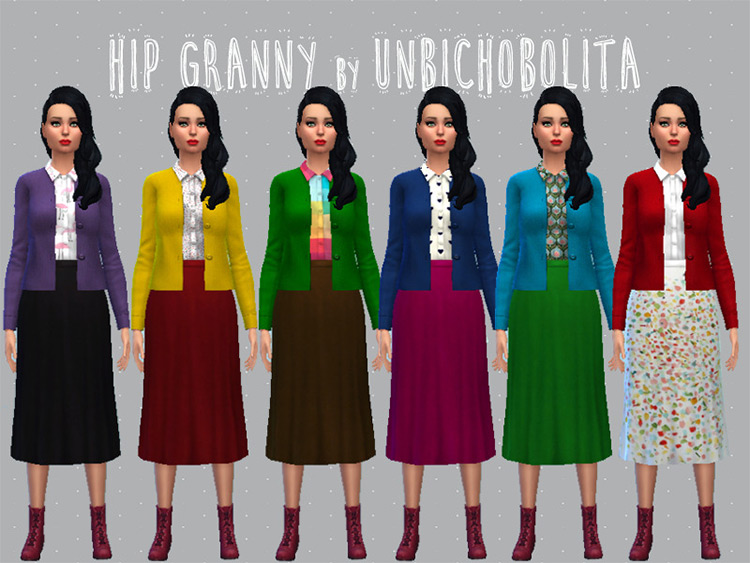 I quote the creator: "Grandmas just wanna have fun."
Your Elder Female Sims can now hit the town in an age-appropriate getup that's just as classy and as sophisticated as they are. Full skirt, clean collared blouse, snug cardigan—the works!
Granny will indeed look "hip" in this bright mix of vibrant solids and cute, artsy patterns.
34.

Grandpa Sweater Recolor by goldenwaves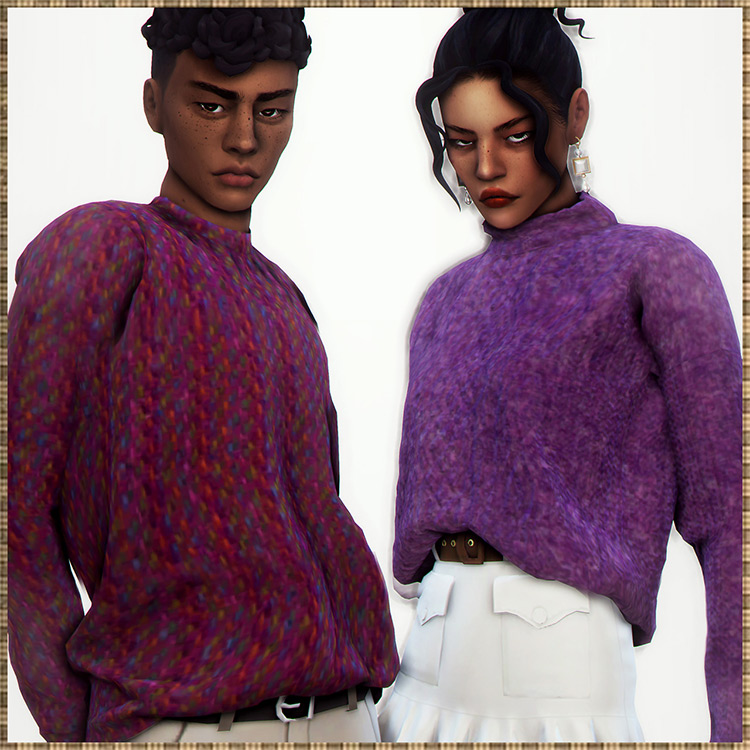 I'm not quite sure how these classify as Grandpa sweaters, since the colors, prints, and texture combinations aren't quite aged — especially compared to the other clothing items on this list!
It could be because they're oversized, but I'm pretty sure that's a trend right now among the young 'uns.
Either way, the name says Grandpa, so I'm keeping this here. Besides, it's compatible with Elder frames!
35.

Grandpa Cardigans Recolor by goldenwaves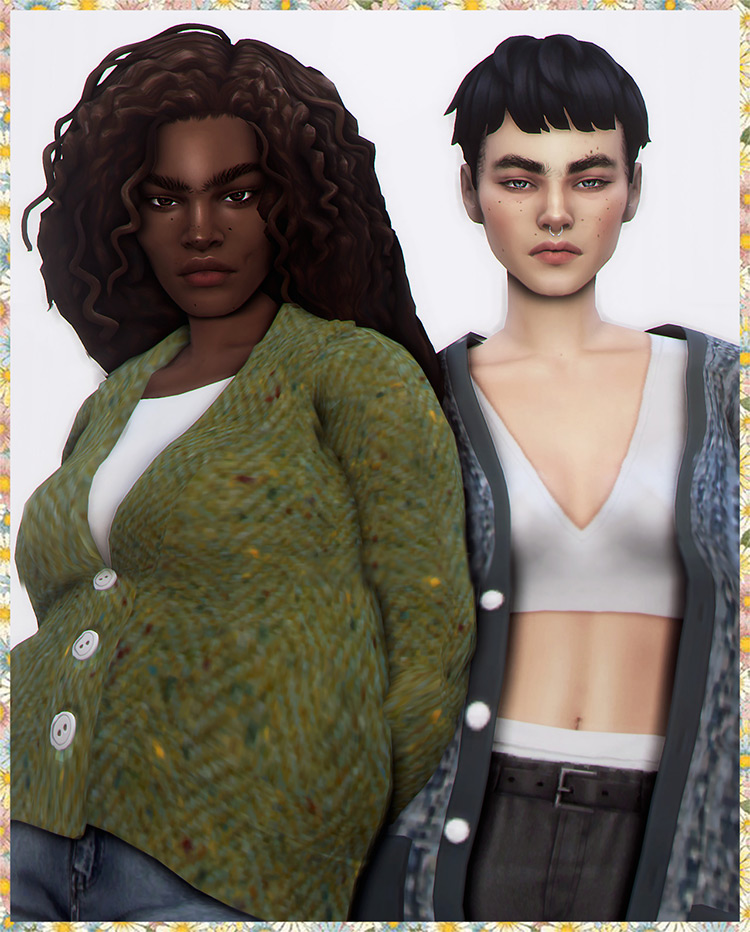 Here's another oversized Grandpa item from Sims 4 CC creator goldenwaves.
Now, these fit their name a little bit better than the sweaters, as some of the pattern and color options do feel more vintage. I'd say it's 50/50, honestly.
I see this style suiting a younger Sim just as easily as it'd suit a fine, fashionable Elder!
Browse:
Lists
Maxis Match
The Sims 4
Video Games