Sims 4 Maxis Match Elf CC: Ears, Clothes & More
This post may contain affiliate links. If you buy something we may get a small commission at no extra cost to you. (Learn more).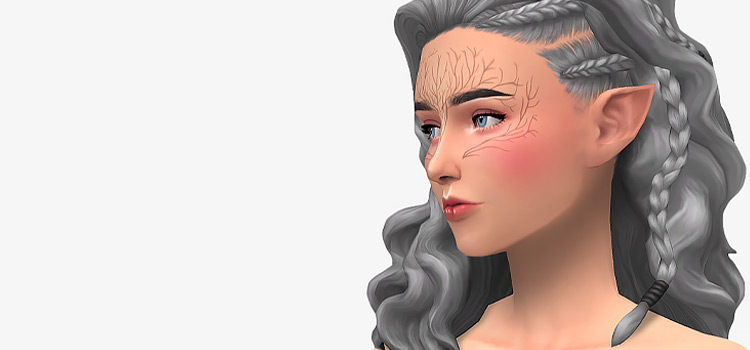 Just a fair warning before we jump in; you're going to see the words "grace," "elegant," and "delicate" pop up a lot in this article. I'd apologize, but I genuinely can't think of words that better describe an elf.
Tall, long-limbed, and unfairly gorgeous, elves are a staple in almost any fantasy setting. So I get why you'd want to throw a couple in your game.
Here are some fun elven CC items (in Maxis Match!) to get you started.
1.

Tonian Ears by simandy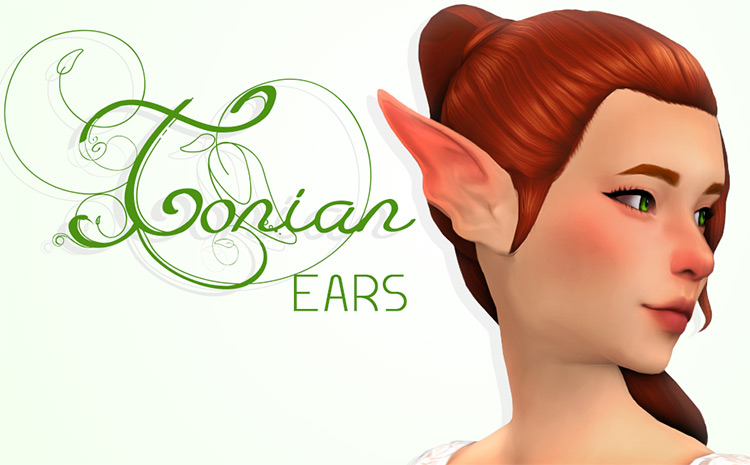 It's no surprise that most TS4 Elf lookbooks use simandy's Tonian ears.
They're cute, they're sufficiently pointy, and they've got a fun, squiggly bottom lobe.
They kind of look like fins, only more elegant and elven.
2.

Teldrassil: A Night Elf Conversion by valhallan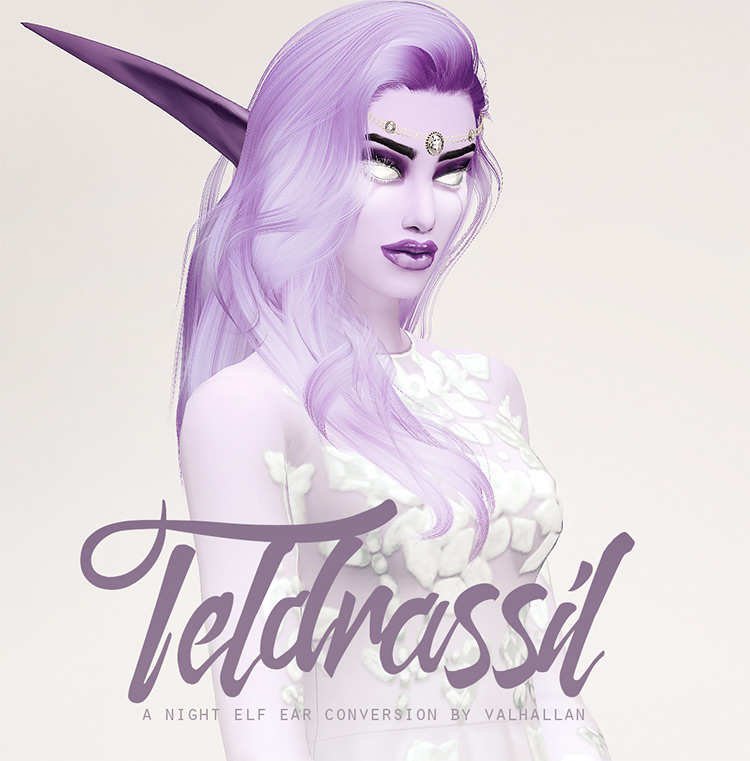 I've always been a bit thrown off by how long the elves' ears are in World of Warcraft. Honestly? The length's a bit ridiculous. It's a good thing the smooth edge tapering balances it out.
If you're a big WoW fan, these custom ears would probably be your top pick.
Just watch out for possible clipping—especially with custom hairs.
3.

Ears of Nymph (With Luminous Ends) by Zaneida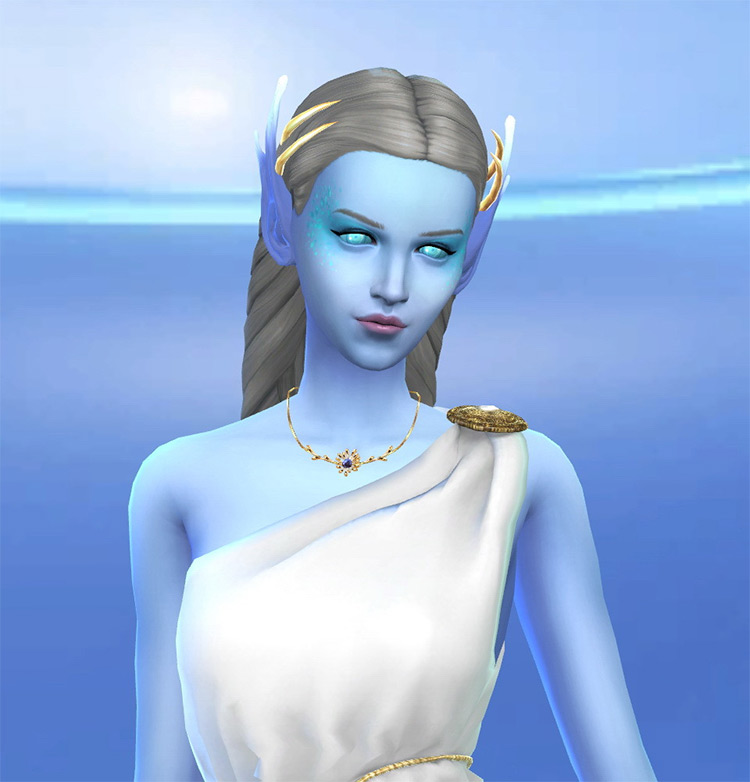 If we're going off the CC's name alone, these ears technically belong to a nymph.
But I am of the strong opinion that fantasy has malleable rules.
These ears are sleek, pointy, and they glow in the dark. If I want to use them for a Sea Elf build, that is totally my call.
4.

Pointed Ears as CAS Sliders by CmarNYC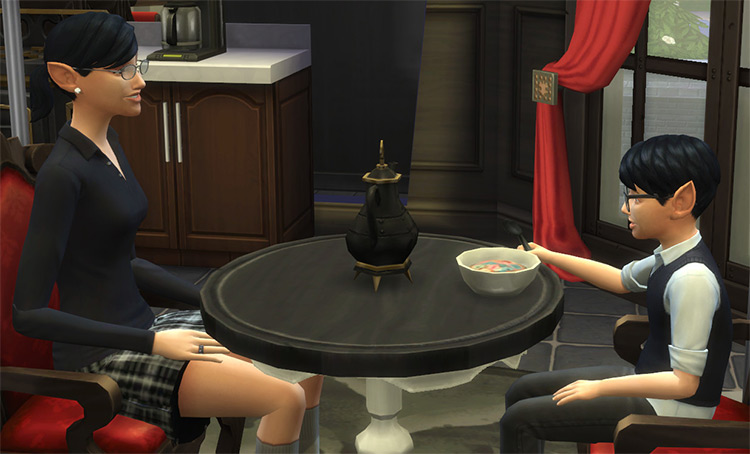 This mod (not CAS accessory!) allows Simmers to change the shape, length, size, tilt, and other details of pointed ears via CAS sliders.
The creator's notes will tell you which areas to grab and manipulate to achieve the shape you want, so read the instructions carefully.
5.

TES Altmer Elf Ears Unisex by NotEgain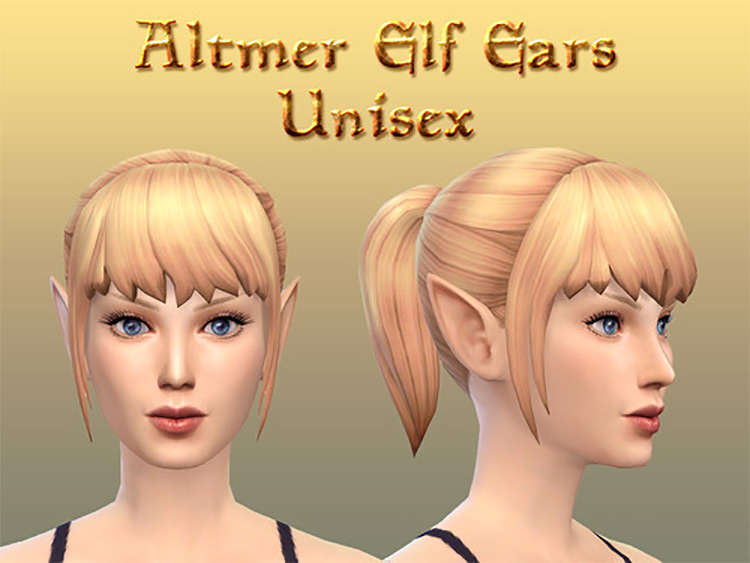 As someone who loves The Sims and The Elder Scrolls franchise, this is a dream come true for me.
The Altmer (colloquially called High Elves) are typecast into a bunch of intelligent but arrogant elves who believe themselves the superior race.
Unfortunately, they have the looks (and racial bonuses) to back it up. They're the literal definition of tall, graceful, and elegant. If that sounds like the elven build you want, these ears are perfect.
6.

Sad Elf Ears Unisex by NotEgain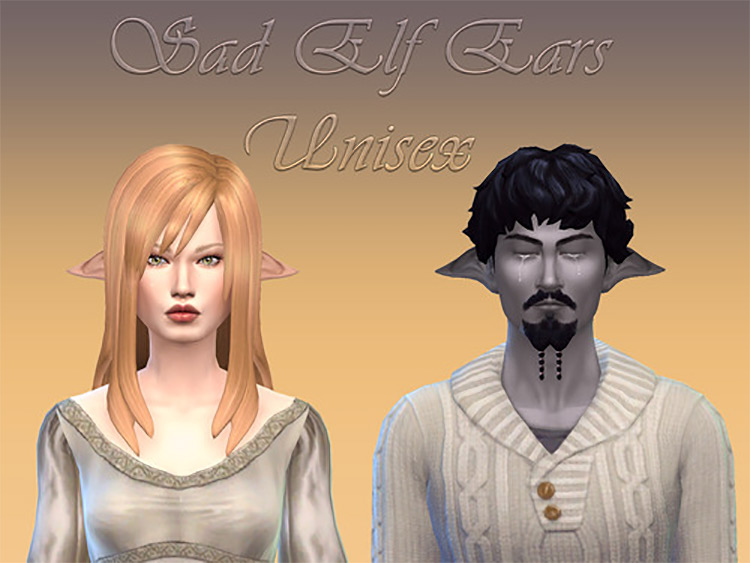 Never thought of an elf's ears reflecting their emotions (like a cat's or dog's would), but now I can't get the concept out of my head.
Emotional indicators aside, these downturned ears are great if you want a bit of variance among different elf species. Also; they're adorable.
7.

Fantasy Ear Set by shuiisims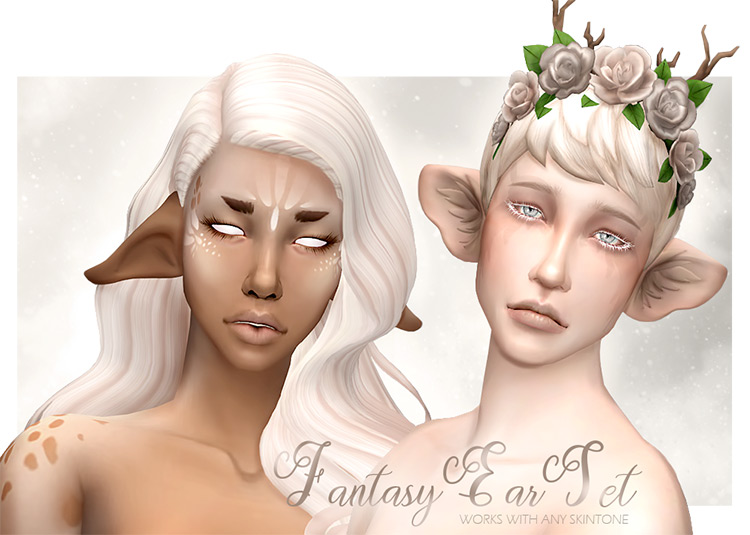 Long ears, stubby ears, wing-like ears, fin-like ears… this Fantasy Ear Set by shuiisims is actually pretty impressive.
And the different options can help indicate different elf species (if that's a narrative you want to spin).
8.

Droopy Ears w/ Earrings by divadoom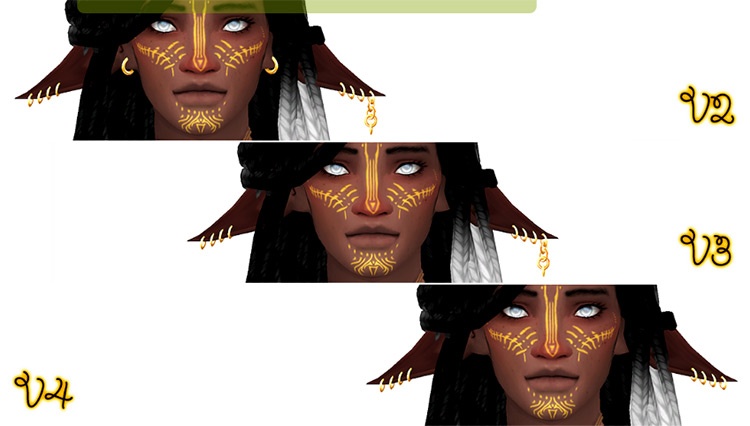 Elven jewelry is often thin, simple, and delicate.
Their style is typified by thin chains and thinner ropes. No chunky brooches or garish-colored stones.
But in the case of these really pretty bedazzled elven ears, I think we can make an exception.
9.

Silvia: An Autumn Queen Crown Conversion by valhallan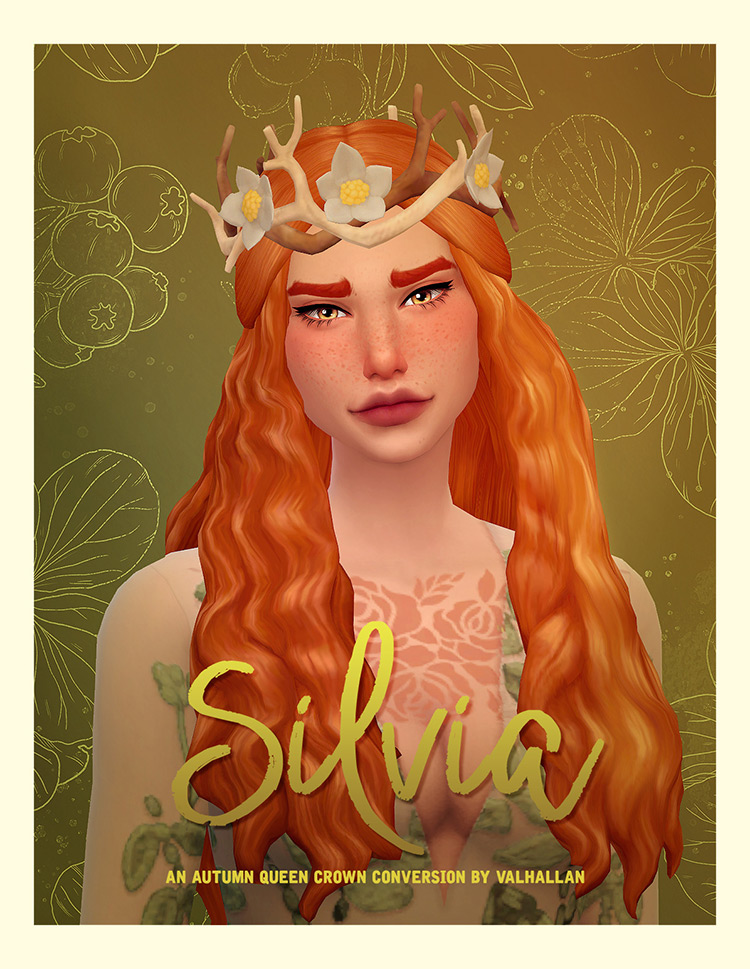 A simple yet elegant crown of thin branches, perfectly fitting an autumnal queen.
And if your elven sovereign so wishes, they can even weave in some beautiful blossoms!
10.

Queen of Summer Succulent Crown by hamburgercakes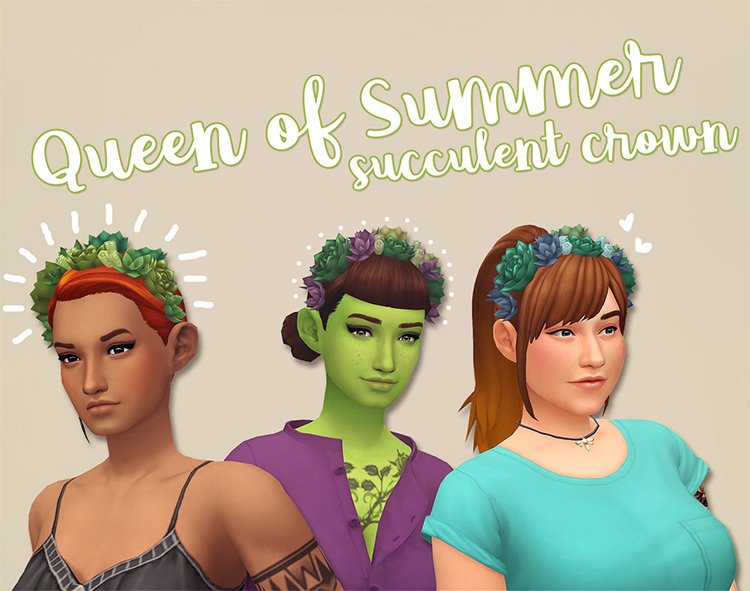 Oh, look; summer's here too!
If I know my fantasy lore (and I should hope I do), fresh, lush succulents are exactly the kind of adornments wood elves would integrate into their fashion.
11.

Crown of Horns by nolan-sims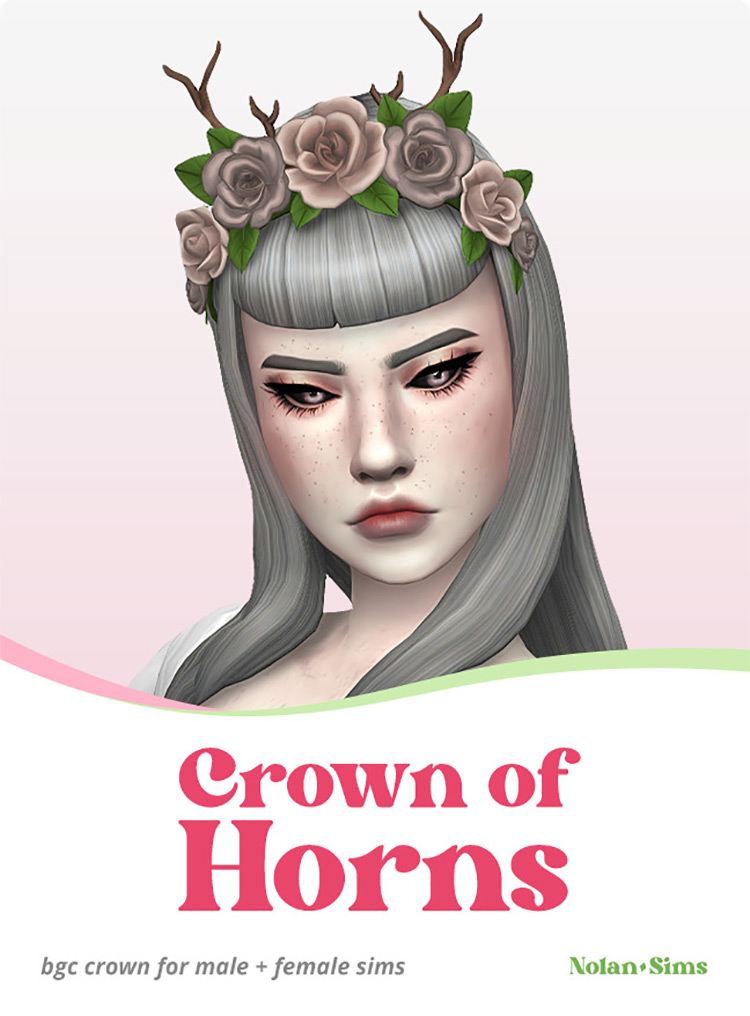 This one's sort of a mix of hamburgercakes' Succulent Crown and valhallan's Silvia Autumn Crown.
It's got the tiniest branches (that sort of look like stubby antlers) poking out from behind a band of seasonal blossoms.
12.

Festival Eye Dots by aprisims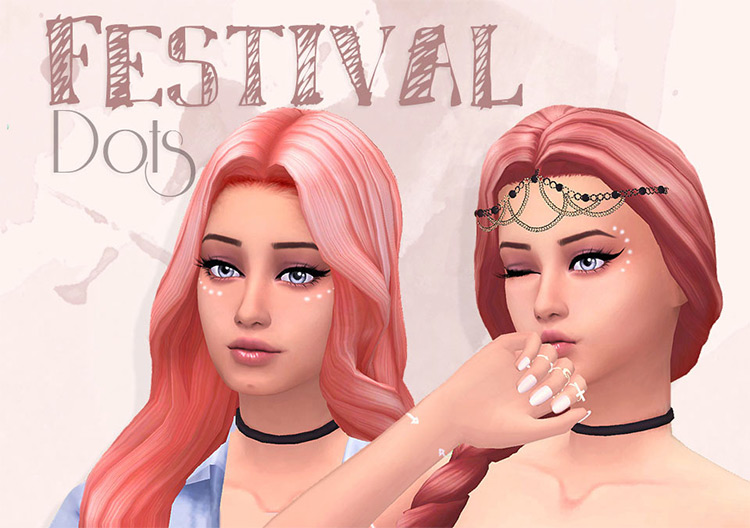 Elves are the definition of class and sophistication, right?
As I mentioned earlier, they wouldn't be caught dead in loud, tacky, costume-like jewelry.
Same concept applies to their makeup. Forget the cut crease, the smoky eyes, and the dark lip. Gluing delicate rhinestones around the eyes is definitely the way to go.
13.

Treasures of Hatshepsut by Hypsteria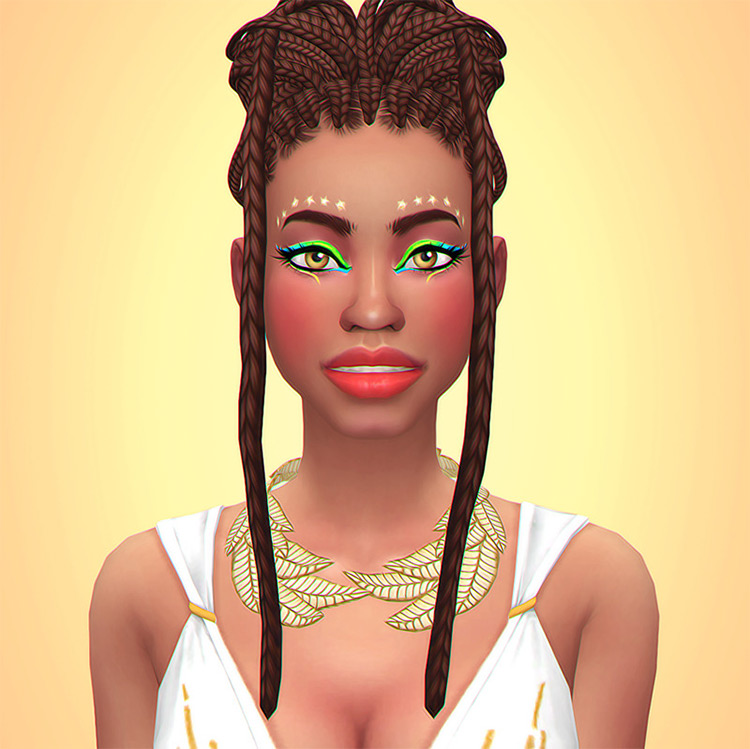 The eyeliner and lipstick in this set don't fit the "fresh and natural" beauty standards of elvenkind.
But the soft blush and the star-shaped gems above the eyebrows? Yeah, they get a pass.
14.

Wiccandove's Fantasy Dress Retexture of Starlords Ghost Gown by wiccandove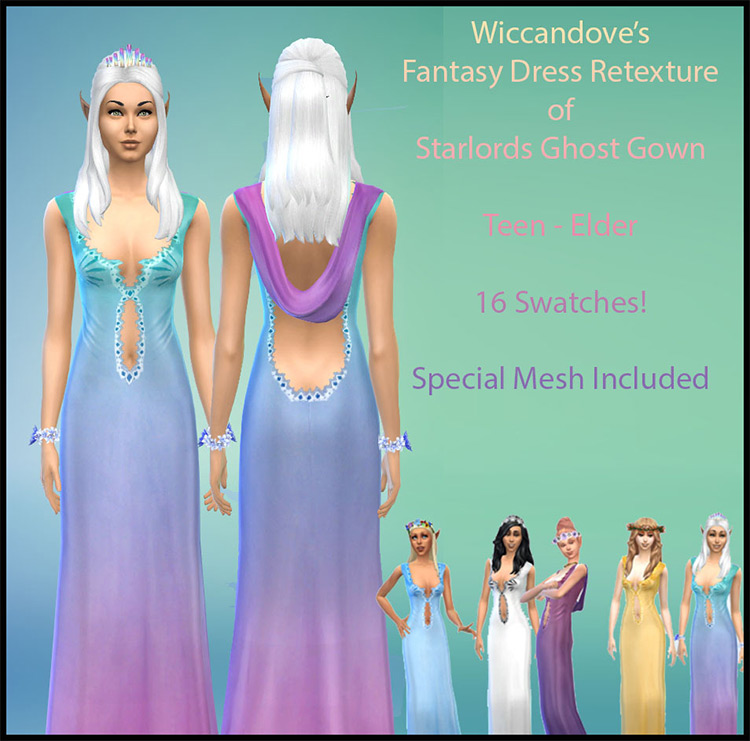 Simple, stunning, and sophisticated, this dress suits an ageless ethereal being.
It comes in sixteen pretty gradient swatches.
15.

Hera Dress – Tarted Up Series by citrontart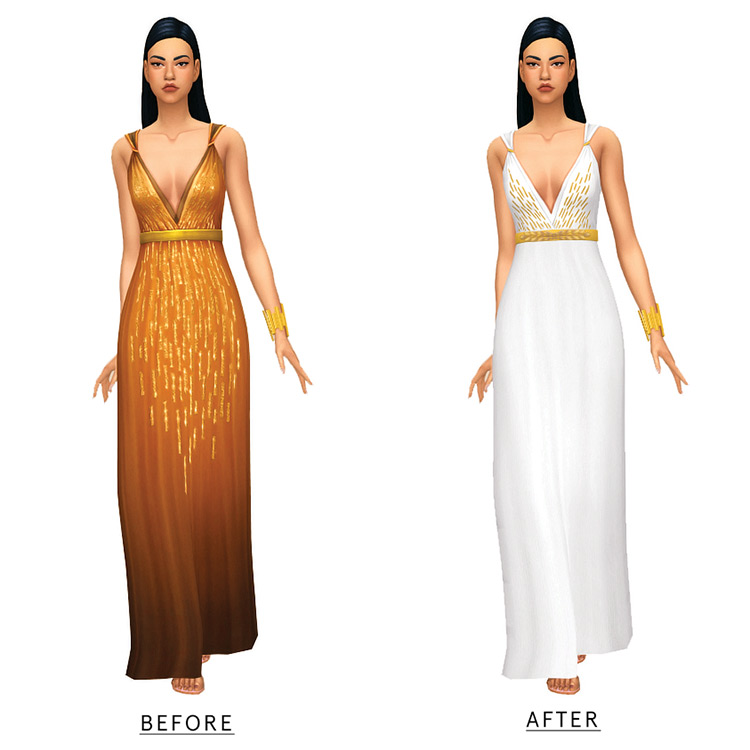 Citrontart took EA's opulent party dress and turned it into a modest, tasteful goddess gown dripping in class.
The original ensemble from EA shows too much cleavage and has way too much glitter for any respectable elf to wear. This tarted-up version makes much more sense.
16.

Aphrodite by Natalia-Auditore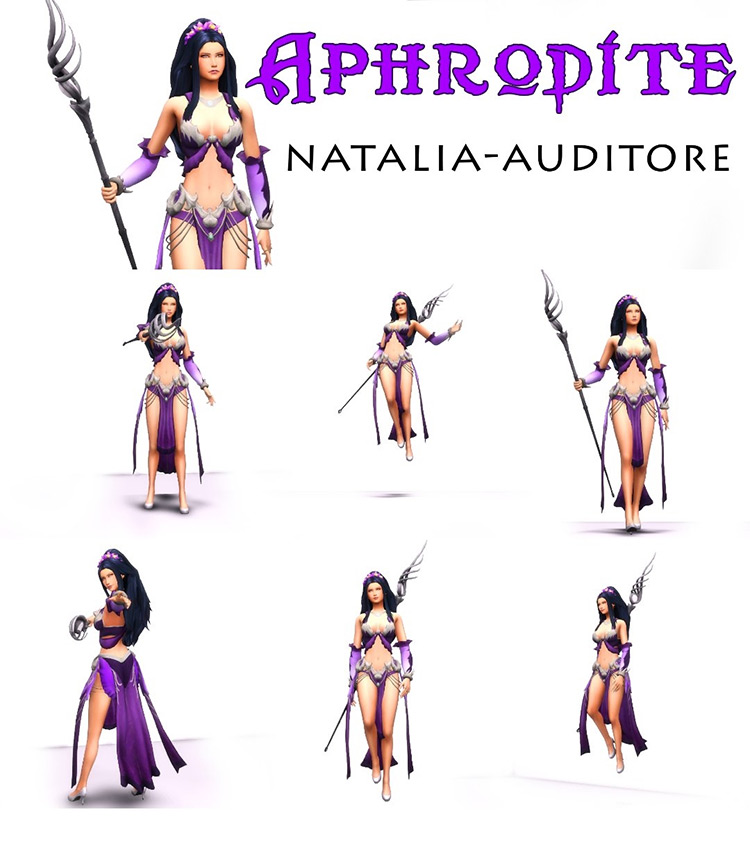 Aphrodite may be a goddess (not an elf), but imagine that dress and that staff in earthy wooden tones.
If the image that springs to mind is the female elves of Dragon Age: Origins lore, then you probably get why I'm recommending this outfit.
17.

Cu Chulainn by Natalia-Auditore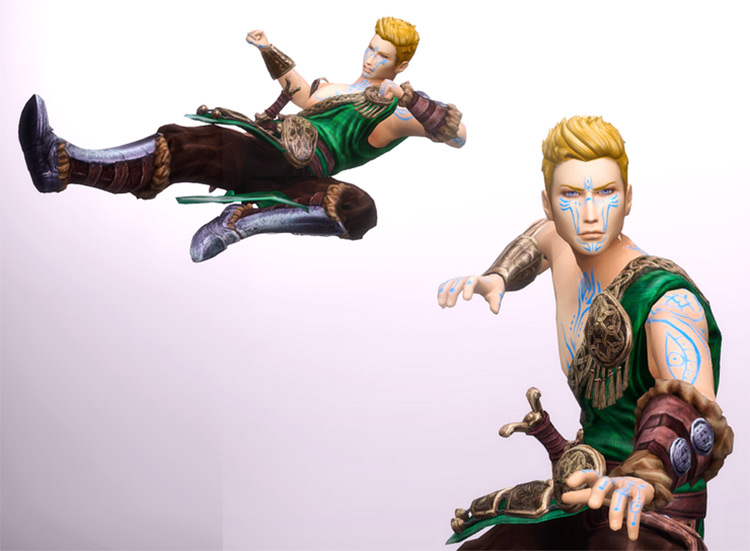 If we have Aphrodite for Female Elf!Sims, then the Male Elf!Sims have Cu Chulainn.
I forget what he's the god of, exactly (apologies to any mythology experts that I offend), but look at that outfit.
Is it fitting, or is it fitting?
Definitely gives me melee-based elven combatant vibes.
18.

Lobelia Hair by Teanmoon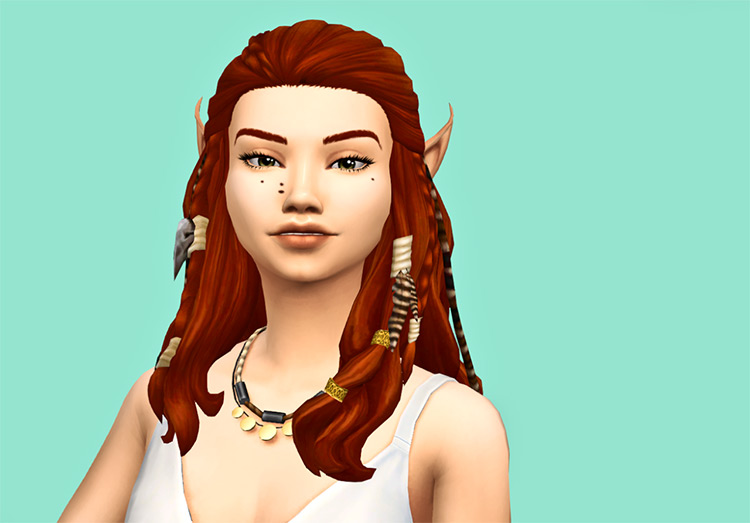 Words cannot describe how much I love this hair.
I am a huge, huge fan of tribal fantasy races (orcs, half-orcs, goblins, etc.)
So a wild mane of hair with feathers, skulls, and metal beads braided into it speaks to me on a spiritual level. I love the idea of a wilder, rougher elf sporting this 'do. Maybe a wood elf, a dark elf, or any subspecies of elf that's more rough-and-tumble than elegant-and-refined.
19.

Feather Hairstyle by SilverSims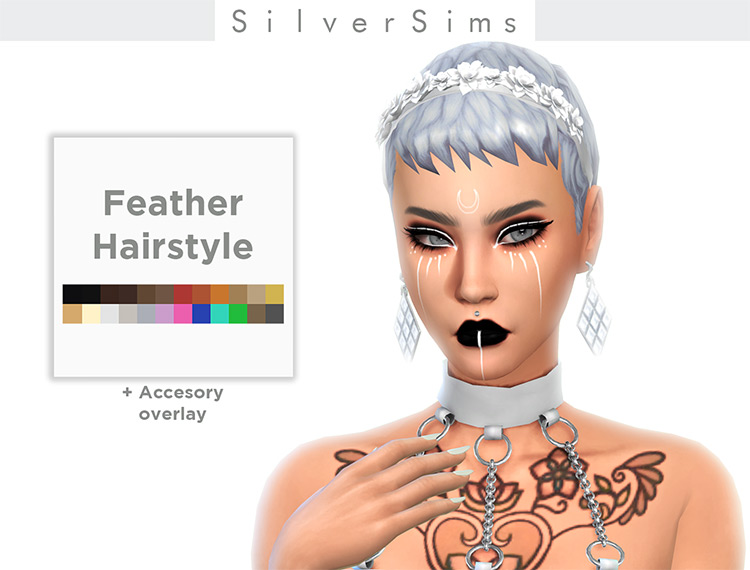 Now this is the hairstyle for those elegant-and-refined elves.
(High elves, pure elves—I'm looking at you).
Although elves (both male and female, actually) are typically portrayed as having long, flowing tresses, I think this straight, stylish pixie cut would look so distinguished and classy on an older elf — especially with that gorgeous silver flower band.
20.

Lucrezia Hair by tekri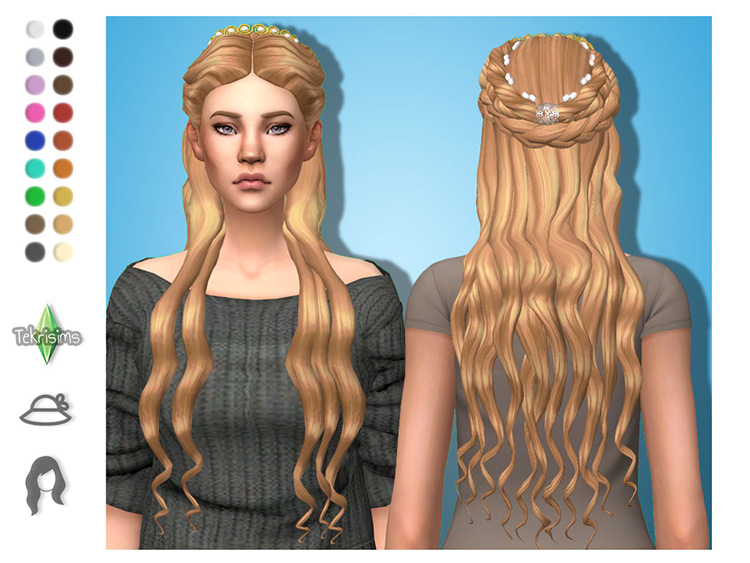 Tekri's Lucrezia hair is definitely more in-line with what we expect traditional elven locks to be: soft waves, gentle curls, and some subtle, dainty headpieces as accessories.
21.

Helen Braided Hair with Ribbon Accessory by oydis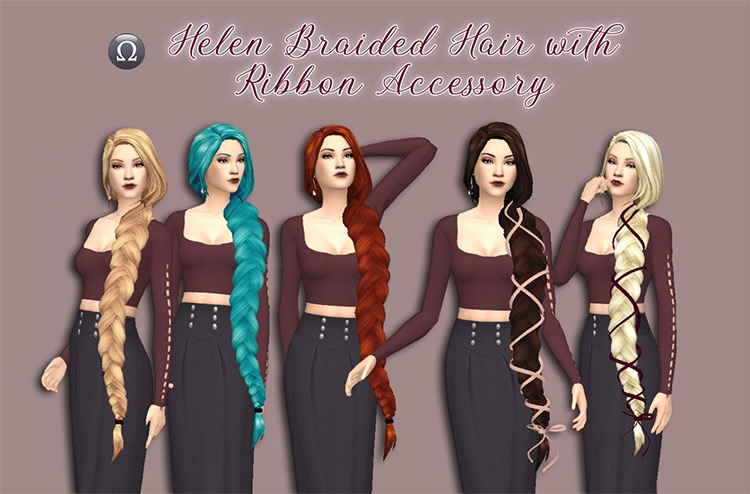 Oydis's Helen Braided Hair (with ribbon accessories) is actually a cool mix of "traditional elf" and "elf that maybe breaks the mold."
I mean, it's definitely neater than Teanmoon's Lobelia hair (which, I repeat, I absolutely adore), but it's not giving off the major "damsel-in-distress" vibes like tekri's Lucrezia hair.
This hairstyle sort of feels like it was made for a Female Elf!Sim archer that's pretty by-the-book but can hold her own in combat.
22.

Zelda by simandy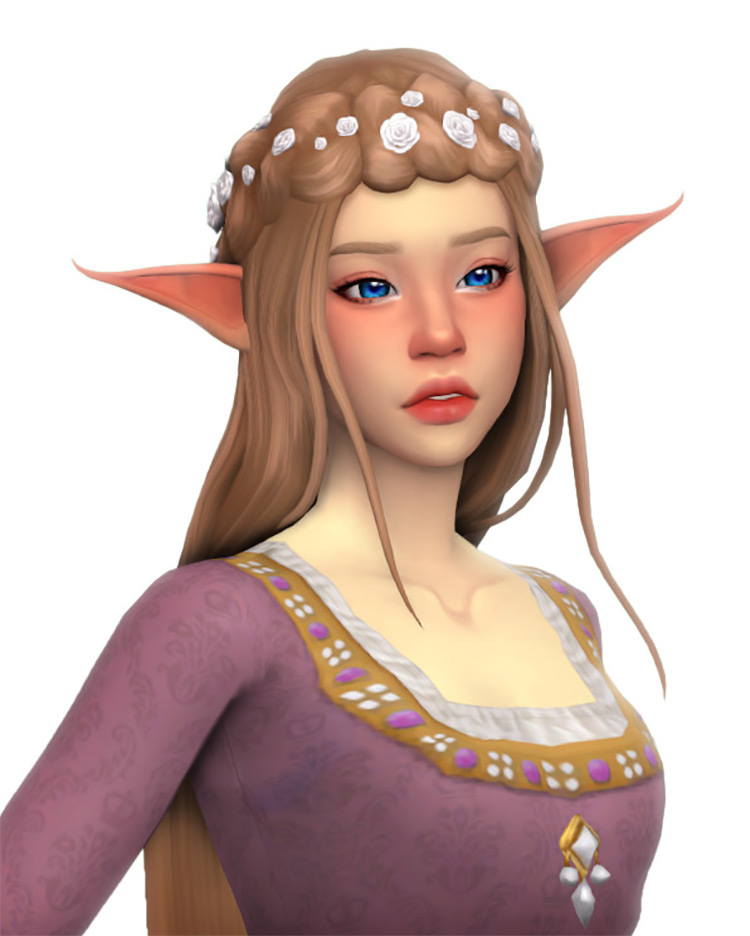 Here's another classic elven damsel (probably in distress) hairstyle.
Perfectly silky locks topped with a crown of braids and flowers. I don't like stereotyping, but if the (elven) shoe fits…
I will (begrudgingly) admit that the flower accessories are really pretty, though!
And we also have a list of Zelda-themed CC that could match up nicely with this hairstyle.
23.

Primrose Hair by feral poodles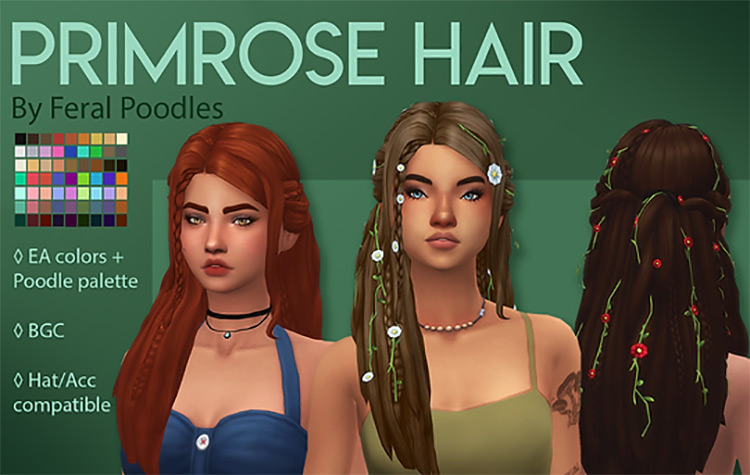 If my Sim needs to have flowers in their hair, I'd prefer this style.
The random braids throughout add more dimension to an otherwise typical hairstyle, and I love that you can still see the vines and stems that the flowers are attached to.
The flowers are also more draped in the hair (as opposed to dotting it, like simandy's Zelda).
24.

Lotus by simandy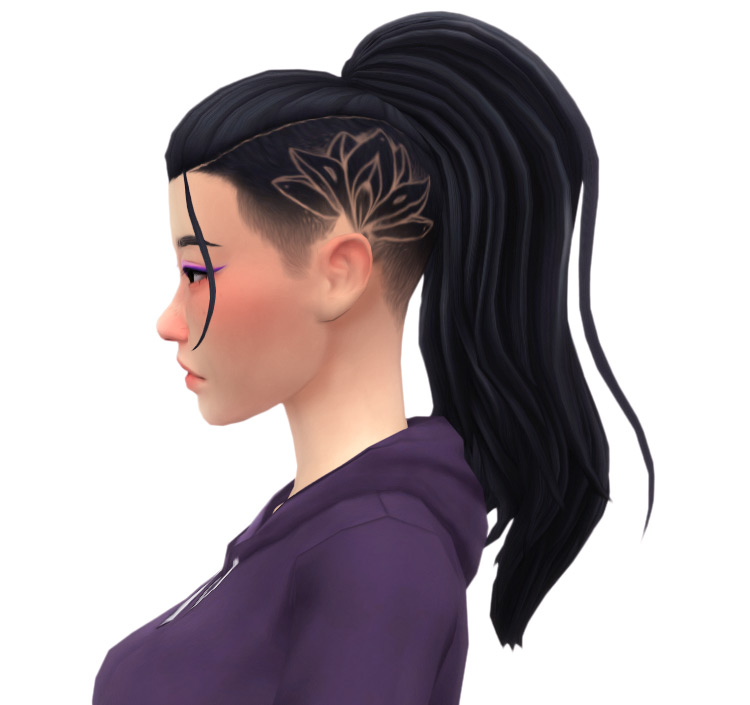 This is another unconventional hairstyle that I would love to see on more elves.
That intricate lotus shaved into the side-fade? It looks like a family crest or symbol that some strong-spirited, combat-happy elf would wear with pride. In their hair.
Hey, some elves wear their crest as jewelry.
Others have it shaved into the side of their head. Don't judge.
25.

Petite Lune Bracelets by PvrpleHaze Sims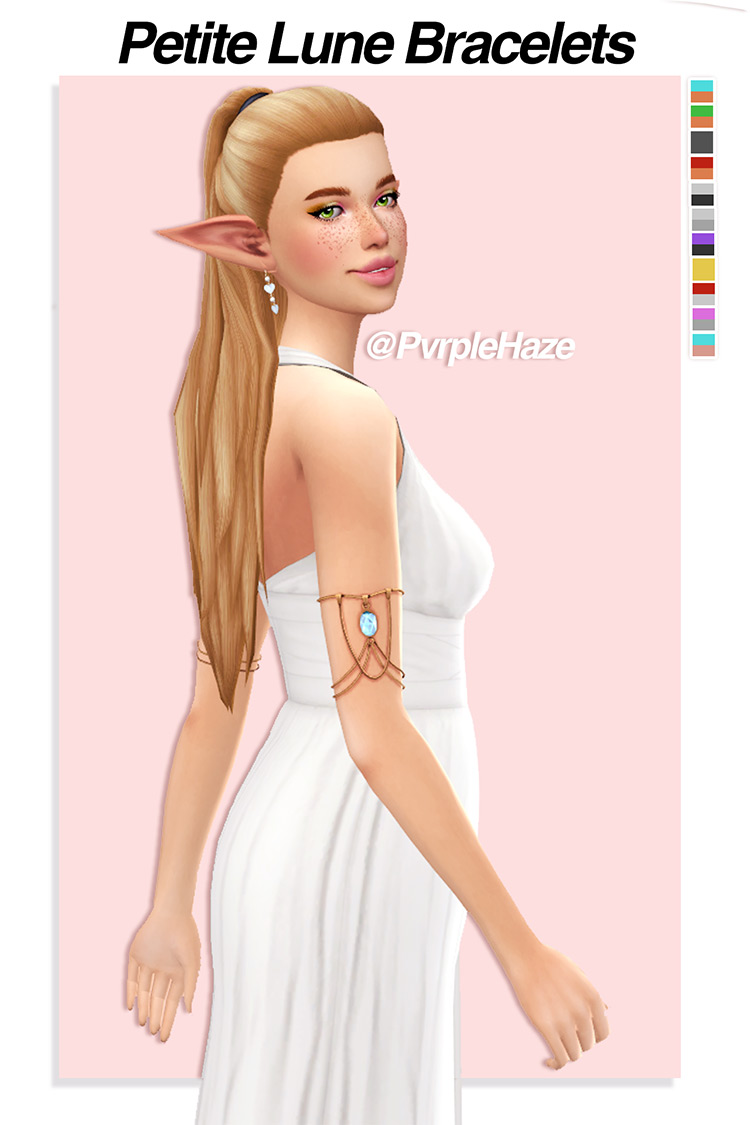 Dainty, drape-y, and probably costs a small fortune.
This edit of The Sims 4: Realm of Magic bracelet (armlet?) makes it so your Elf!Sim can wear it on both arms. At the same time.
It's a simple addition but the overall visual is stunning.
26.

Anklet Collection by stephanine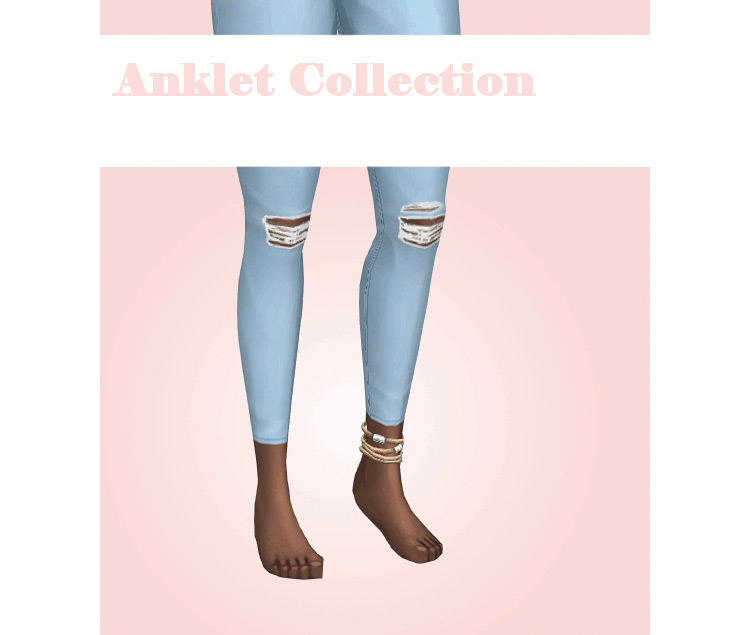 Yes, my favorite design is the one that looks like autumn leaves delicately wrapped around the ankle.
I've always equated anklets with grace and exotic charm, and those are two characteristics that elves have in spades.
27.

Stone Body Chain Retextured by rachirdsims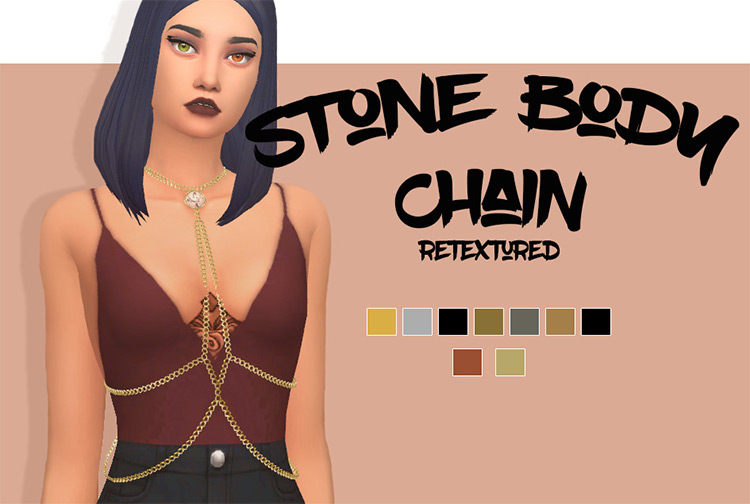 Rachirdsims so graciously Maxis-matched this Stony Body Chain, and I am eternally grateful.
It's exactly the kind of thin, drape-y jewelry elves would wear to accentuate how slender, graceful, and inexplicably rich they are.
28.

RoM Jewelry Expansion by renorasims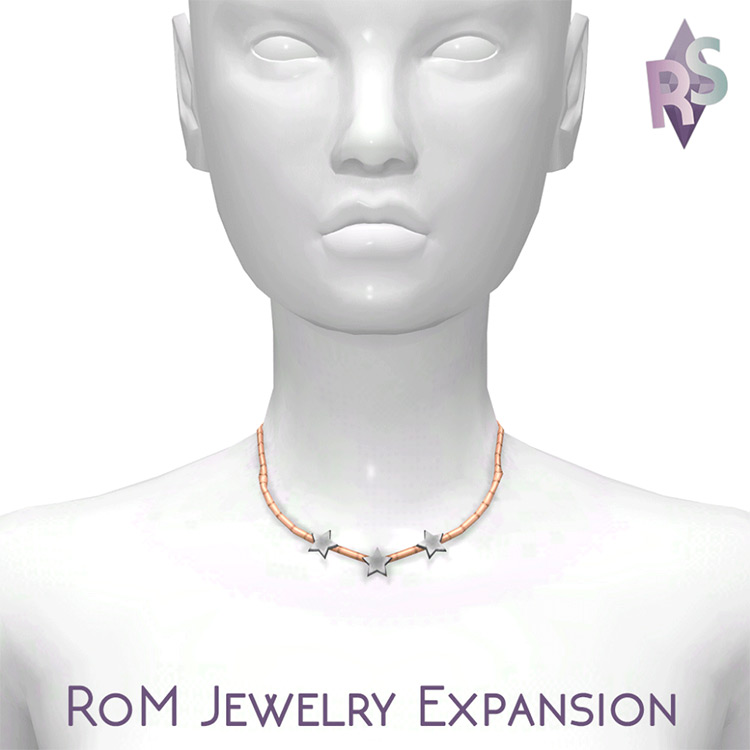 All of these pieces look like they were crafted specifically for elves.
Moons, chains, slender ropes, subtle gems? Color me impressed, because they all suit an elf build in some way.
They're fragile, understated, and probably look stunning on fair, elven skin and this, tapered elven hands.
29.

Vine Belt by Natalia-Auditore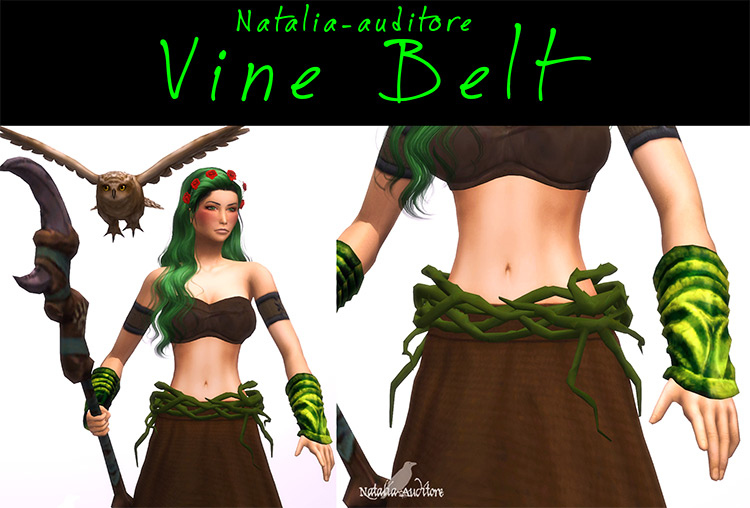 Now this accessory is more my speed.
I think it leans a little more druid than specifically elven, but druids can be elves! In fact, one would think that races so in tune with nature would be the ones best suited to protect nature, no?
Add some elf ears to the Sim in the preview photo and it looks like something straight out of Lord of the Rings!
30.

Alchemist: 'The Sims Medieval' Outfit Conversion by valhallan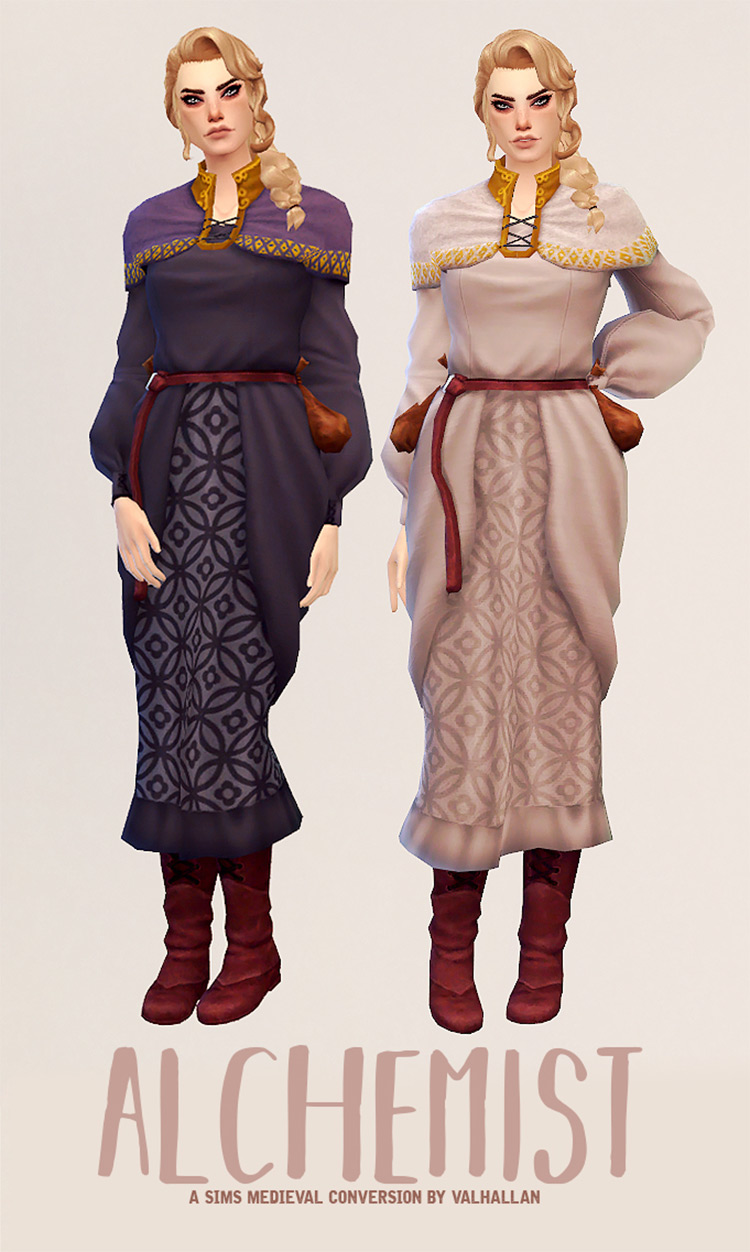 These tunics may not be the fitting, silken robes that elves typically don as everyday wear.
However, the beautiful designs on the cape and skirt still fit the narrative of this fantasy race. Ergo, I'm recommending this as elven winter wear.
Browse:
Lists
Maxis Match
The Sims 4
Video Games