Sims 4 Moana CC: The Ultimate Collection
This post may contain affiliate links. If you buy something we may get a small commission at no extra cost to you. (Learn more).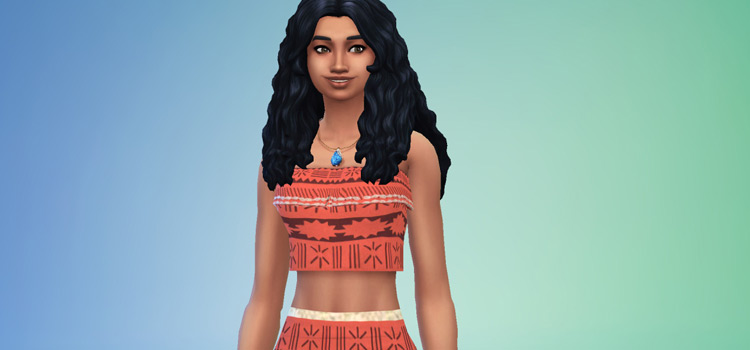 Disney's Moana was an unexpected masterpiece.
With a cast of wonderful characters, powerful voice actors, and catchy songs written by Grammy-award-winning composer Lin-Manuel Miranda set against a rich backdrop inspired by Polynesian culture and literature, it definitely made waves (no pun intended).
And as someone who enjoyed the film immensely, I'm quite happy that there's a decent collection of Moana-inspired CC out there from the TS4 community.
Here are some of my favorites!
1.

Moana CC by CanTranSimmer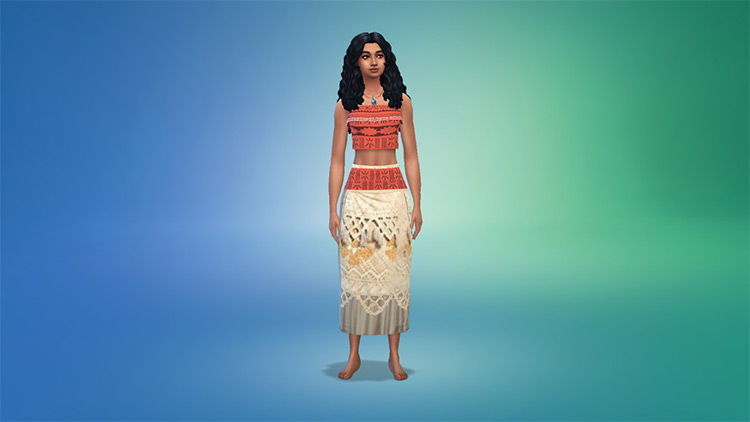 So, first up is this awesome CAS pack by CanTranSimmer.
It contains pretty much the entirety of Moana's wardrobe.
Colorful top, woven skirt, and the famous Heart of Te Fiti: check, check, and check!
All are linked individually in the description, so feel free to pick and choose the ones you'd like to install.
2.

Disney Moana & Hawaii Collections by aanhamdan93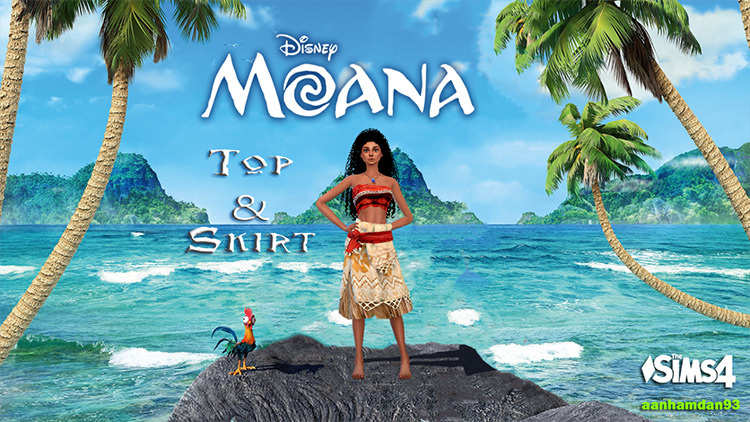 Aanhamdan93 also gives us a TS4-friendly version of Moana's top and skirt! There are some visible differences between the clothes in this set and the ones in CanTranSimmer's pack (especially the top's color palette), so having both in your CAS catalog won't be redundant. If anything, it just gives you more options.
No mesh needed for these, either; they're completely base game compatible!
3.

Moana Inspired Dress by LYLLYAN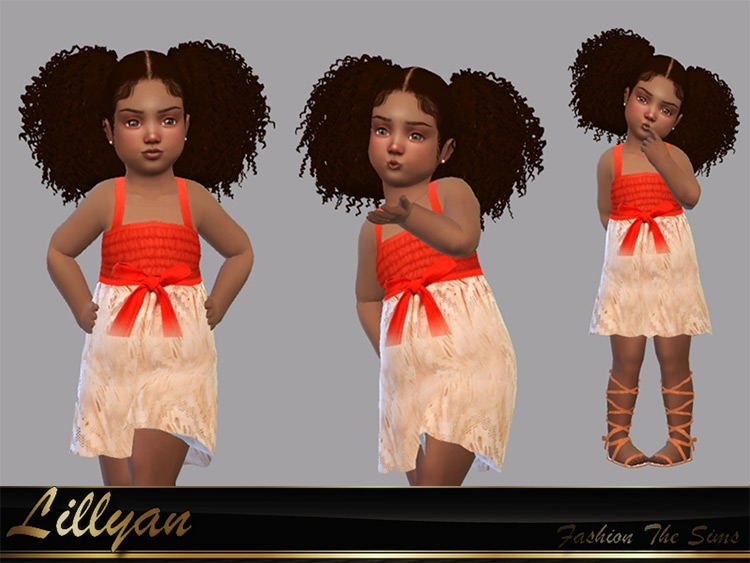 Moana's attire is based off of traditional Polynesian clothing.
As far as I can tell, it's probably a wrapped tapa skirt with a ta'ovala and a simple top in vibrant shades of red and orange. Cultural clothing items this specific can be pretty difficult to obtain.
That doesn't mean your Sims (or their toddlers!) should be cut off from some good ol' outfit inspo, though!
This adorable dress by LYLLYAN is inspired by Moana's simple – but bright and bubbly – color scheme of orange, yellow, and cream.
4.

Moana Dress by Arisha 214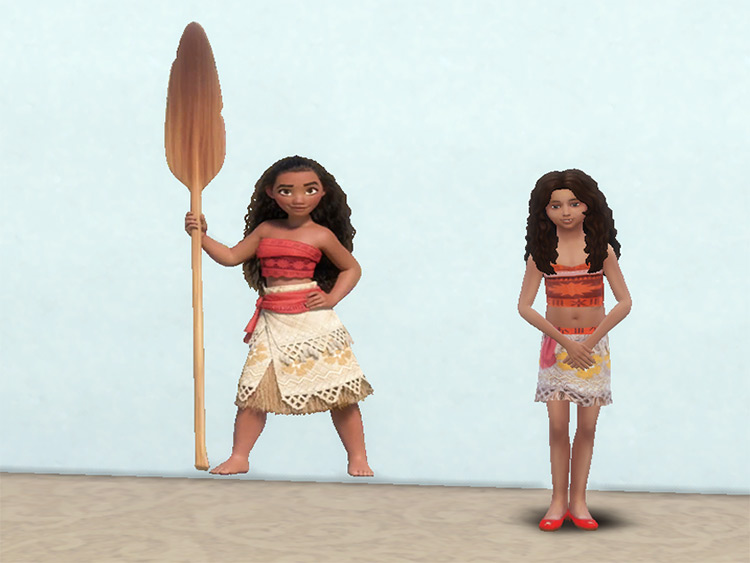 This custom dress (for Sims Children) follows the same concept as LYLLYAN's Toddler dress: an age-appropriate outfit inspired by Moana's color palette and dress design.
It's not an exact replica, but given the fun patterns, woven skirt details, and bright color combos, it's pretty close. And pretty cute!
Only available in one swatch, of course, but the one swatch is really all you need.
5.

Polynesian Outfit (and Painted Face) Recoloured by LeonKing786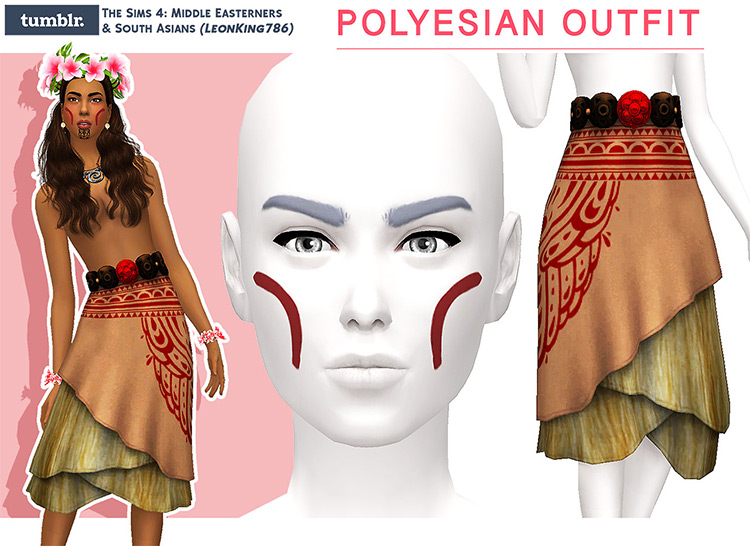 Created for the Historically Accurate Disney Princess series, this is LeonKing786's take on Moana's outfit.
I'm no expert but, based on my quick, ten-minute Google search, it looks like they did a solid job on the patterns (and texture!) of the tapa cloth skirt and the Tēfui in the Sims model's hair.
I'm also loving the face paint add-on; it's a nice touch!
Do note! The creator used nolan-sims' Civ Skirt (which you can see here) as the mesh. Unfortunately, the link to the skirt seems to be broken and I can't find a reupload of it anywhere. But if you have The Sims 4: City Living installed, the skirt should still turn out okay in game!
6.

Sintiklia Diva Clayified by Butterscotch Sims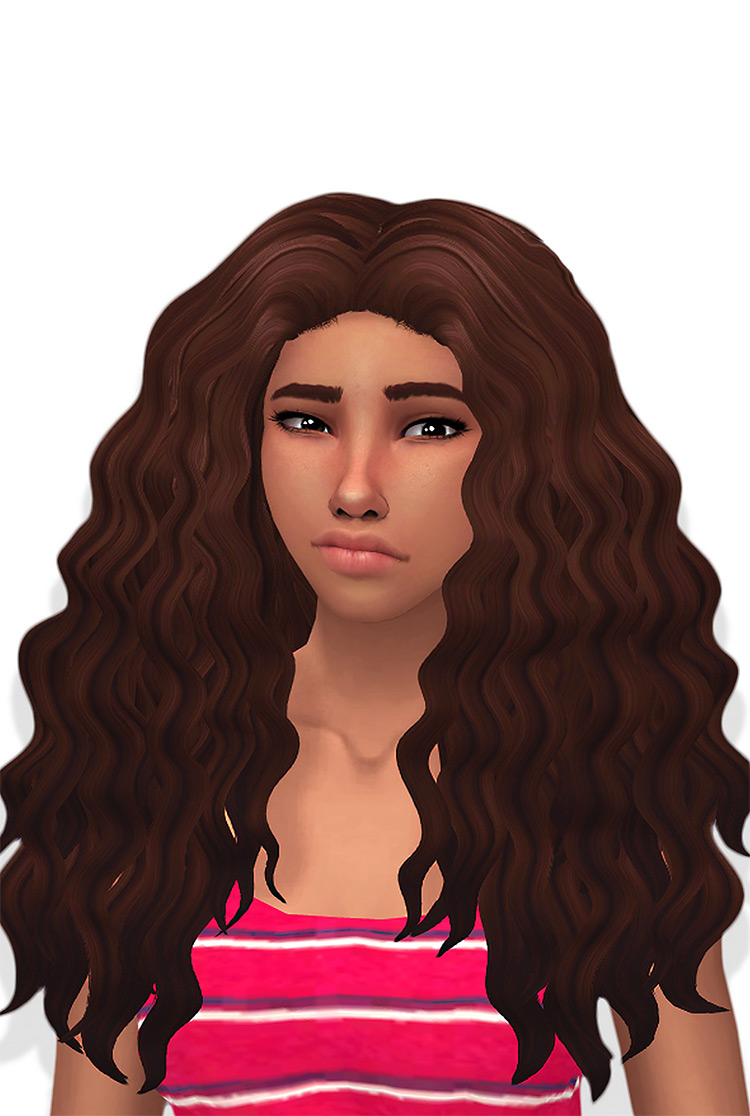 Not marketed as Moana CC, but I saw this particular hair being used in a lot of Moana CAS videos.
I can see why!
If you're a Maxis Match CC user, this is a pretty top-tier replica of the princess's wild ocean curls. It's wavy, has plenty of volume, and is pushed back a fair amount to show the forehead (as Moana is wont to do).
Don't forget to download and install the mesh first!
7.

ER0115 – Fluffy Long Curly Hair by wingssims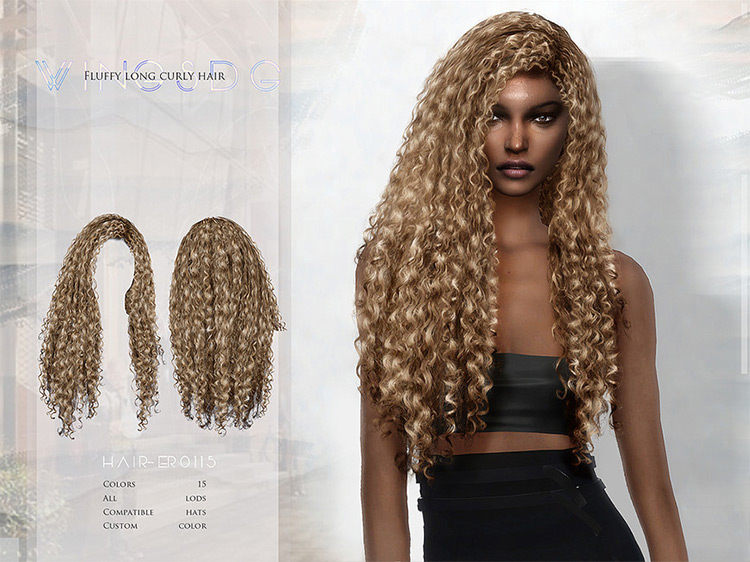 If you prefer Alpha CC for your CAS Disney Princess projects, wingssims' ER0115 hair is another great custom option for creating Moana!
It's got the volume, it's got the length, and it's got the natural tiny curls.
The side part might throw some people off, but I personally think that the overall shape and silhouette is accurate enough for a pass.
It even has the slight frizzing and flyaway baby hairs (that are especially prominent when Moana's hair is whipping in the wind)!
8.

Single Flower Earring – MOANA by SLYD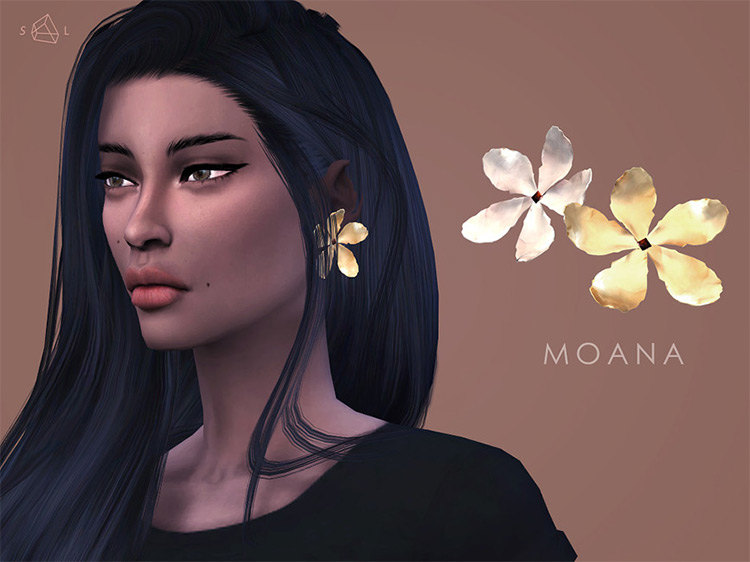 Moana doesn't wear flower earrings—or any jewelry at all, for that matter.
Just her necklace, methinks, and that's more a portable storage solution than anything.
But, given the name of this CC and the cultural nod in the design (white plumeria or hibiscus tucked behind the ears), I think this still fits well within the concept. 'sides, Simmers are totally free to take liberties when recreating characters in the game!
9.

Polynesian Tattoo by GossipGirl-S4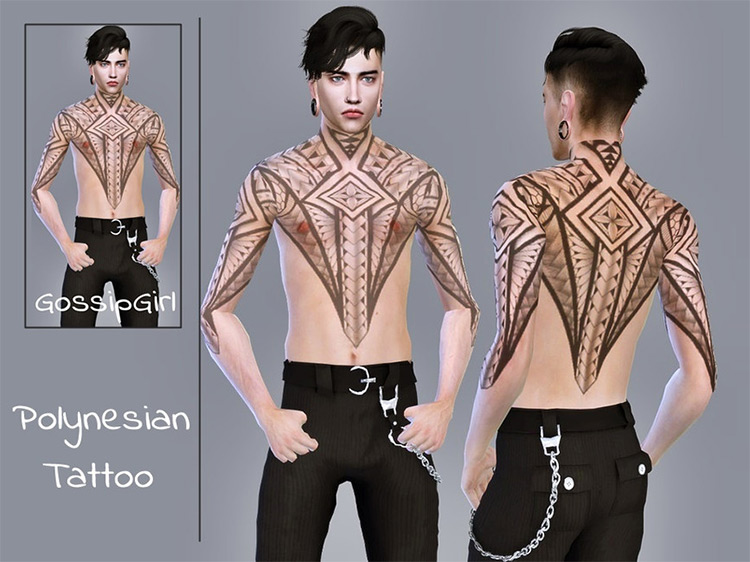 As a simple fan who is (a) not an expert in the slightest, and (b) only has time for ten-minute Google searches for information, I have no idea how culturally accurate this custom tattoo by GossipGirl-S4 is.
However, I do like how it looks and how it covers your Sim's body.
Plus, given how most of Maui's tattoos are specifically designed for the character's story, I think this generic design will do for a personal CAS project!
10.

Maori Ribs/Hip Tattoo – Female by luvjake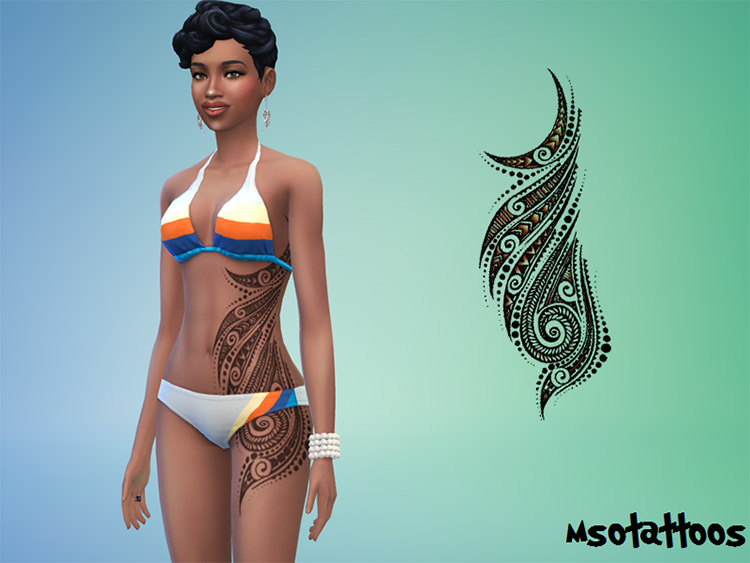 We love inclusivity in this community. And this absolutely stunning tattoo by luvjake is designed to match all skintones!
I tried it with four different shades (two deep, one olive, and one fairly light) and I can confirm; it changes like a chameleon.
Maori is apparently the Polynesian language of the Maori — a term used to refer to a member of the aboriginal people of New Zealand.
I can't confirm how culturally accurate the design is, but I can confirm that the tattoo looks beautiful both in CAS and in-game.
I know Moana doesn't have any tattoos, but the teardrop shape of this one in particular gives off the same vibe as some of Maui's body ink!
11.

Traditional Patterns Maori/Polynesian by Lin & Sims
If you ever want a more diverse selection for Sims!Moana's wardrobe, this CAS pack from Lin & Sims might be worth installing.
It contains simple tops and skirts recolored according to traditional Maori motifs. Lots of orange, as you can see, balanced out with vivid greens and saturated reds.
I like how the creator blends casual and cultural elements in this set. The top is a typical cropped halter. It's cool, modern, and totally wearable. But the patterns it's in are loud, traditional, and colorful. It makes for a stunning aesthetic!
12.

SimmieV Tribal Printed Maros by SimmieV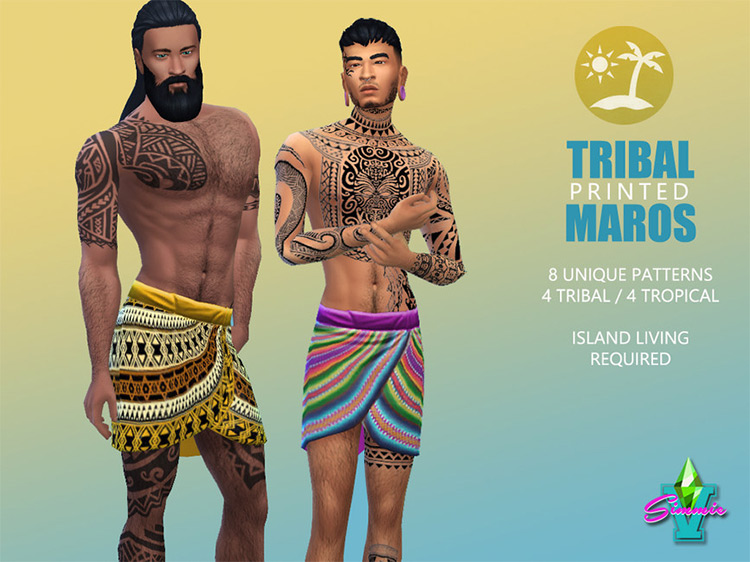 Like Lin & Sims' CAS pack for Female frames, this custom body wrap by SimmieV uses a palette of vibrant colors and naturally-saturated shades.
Also, since the creator used Maros in the name, I'm assuming they based this wrap on traditional garb worn in the South Sulawesi province of Indonesia (where the town Maros is located). SimmieV doesn't give an explanation in their description, though.
Either way, I think the designs are gorgeous.
As a custom clothing pack, I think it's ideal for creating supporting cast and/or background characters on Moana's island!
13.

[Milana Décor] Paddles by Severinka_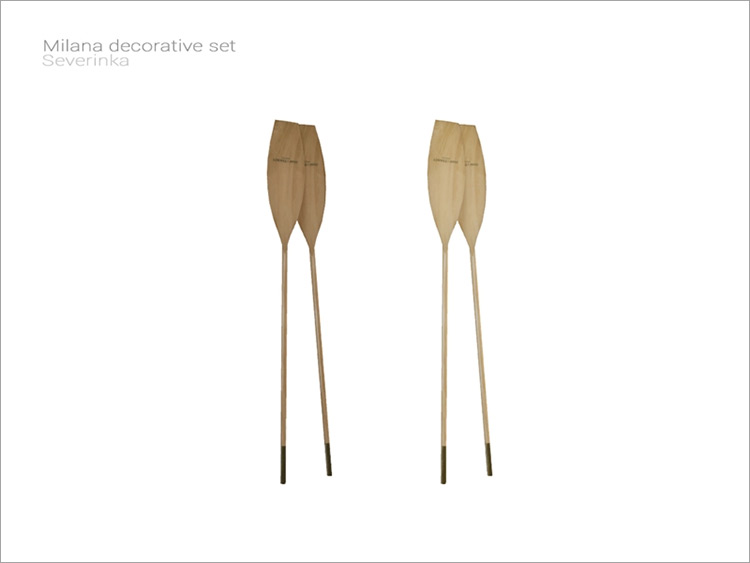 I was a little disappointed to find that no one made paddles or oar accessories for custom TS4 poses.
I mean, one of Moana's famous stances is her standing next to Maui, boat oar held aloft like a weapon.
It would have been cool to have a custom paddle that could be equipped in CAS for our Moana Sim to "hold."
But since we can't have that, we can at least have these pretty wooden paddles to decorate the background.
If you decide to build Moana's tent in TS4 (or any of the island's dwellings), they'll add a nice touch.
Browse:
Lists
The Sims 4
Video Games