Sims 4 Dresses CC: The Ultimate Collection For Every Occasion
This post may contain affiliate links. If you buy something we may get a small commission at no extra cost to you. (Learn more).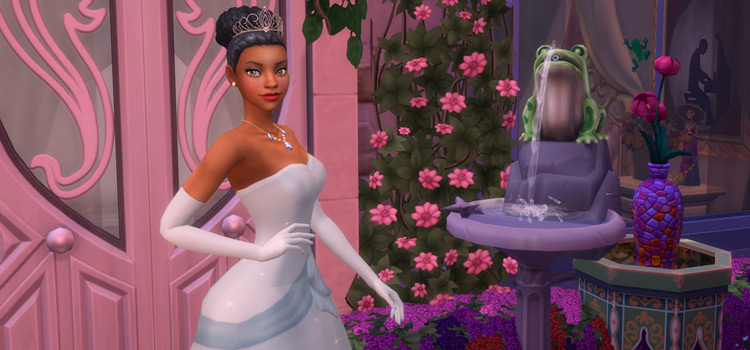 You know, I've been thinking a lot about Sims 4 CC lately, and I've decided that we don't give dresses enough credit.
Now I know what you're thinking… and yes, we do all usually put at least one dress on our Sims when we're putting their outfits together, but think about this…
What if I told you your Sims could wear dresses all the time?
Just think about the possibilities! The endless options and fashion choices.
What's that you say? Dresses are really only good for weddings?
Well I'm here to prove that your Sims can live their best lives without ever having to don a single pair of pants.
For this list I've organized some of the best dresses for some of the most important moments of your Sim's lives. For the sake of proving a point (and as more of a challenge), I've decided to leave out the good ol' wedding dresses here, and just focus on all of the other reasons you have for dressing up in your game.
1.

Renorasim's Fiore Dress
When To Wear: for the start of a perfect life
I'm sure if you're a true Simmer (or even if you're just starting out on your Sims journey), then you've heard of the Rags to Riches challenge.
I personally like my fashion choices to match my Sim's current situation in life. So this beautifully simple dress by CC creator RenoraSims could be perfect for all of the foraging, gardening, or even dumpster diving that your new Sim might do to make some simoleons!
It's flowy too, so they'll be able to move around with ease, and it comes in nineteen swatches.
2.

Ikari Sim's Jackie Dress & Accessory Top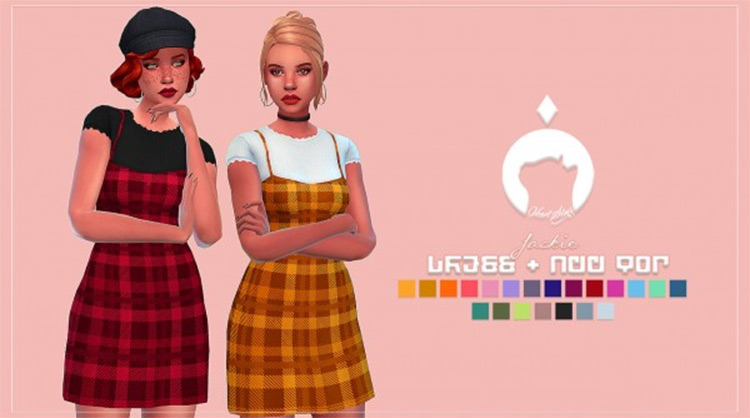 When To Wear: for hitting those books in class
Maybe your Sim has grown tired of all that gardening and wants to take a chance at going to University.
This little number by Ikari Sim is perfect for the collegiate lifestyle.
It comes in twenty-one swatches so it's sure to come in their school colors, and there's also an optional accessory t-shirt that you can download as well for another level to the look.
And with only having a dress to throw on, you're less likely to be late to class.
3.

Nuagelle's Ronnie Dress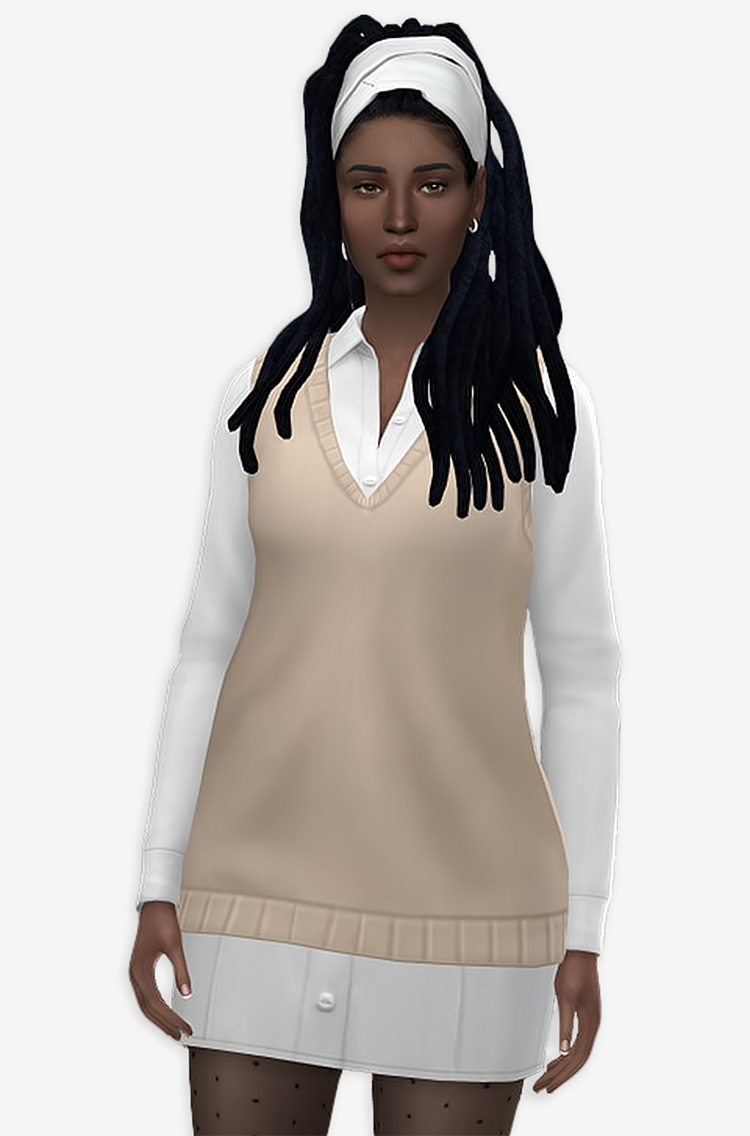 When To Wear: for that important interview.
Even if our Sims only need to pick up their phones to find a new job, they should still be dressed to impress.
This shirt and vest combination dress CC by Nuagelle is the perfect look, as it's equally fashionable and professional.
It also comes in twelve swatches, so you'll never be left wanting in color options.
4.

Casteru's Belt T-Shirt Dress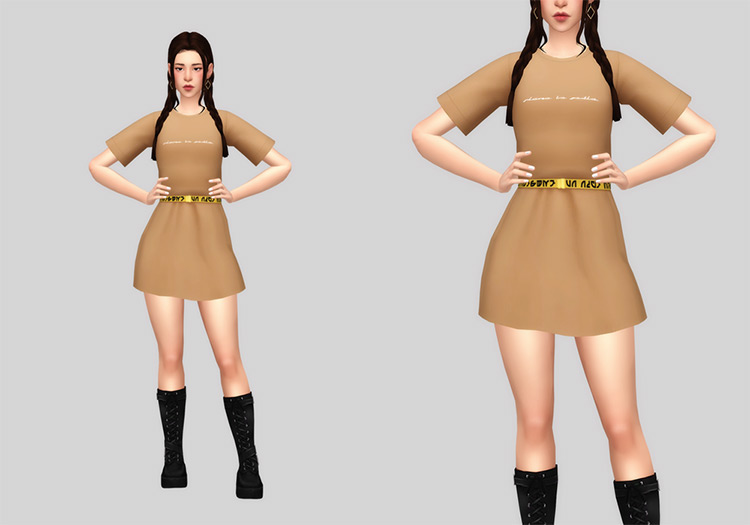 When To Wear: for catching a game on campus.
Once you have that new job on lock, why not let your Sim have a day of fun on campus?
Catching a game is the best way to show off this adorable t-shirt dress by creator Casteru.
It comes with a belt to cinch the waist, and has fifteen different swatches that feature a variety of colors and patterns, so your Sims will look so fresh while cheering on their team.
5.

Simply Jessica's Lazy Day Dress
When To Wear: for a good night's rest.
After a long day, or even after a lazy weekend day, the best feeling is being in jammies…
So why not a dress you can also wear to bed?
It's one less piece of clothing, and has such cute little straps to keep your Sims cool on those hot summer nights.
This lazy day dress by Simply Jessica comes in over fifty swatches, so you'll never get tired of this one.
6.

Pixelette's Verona Dress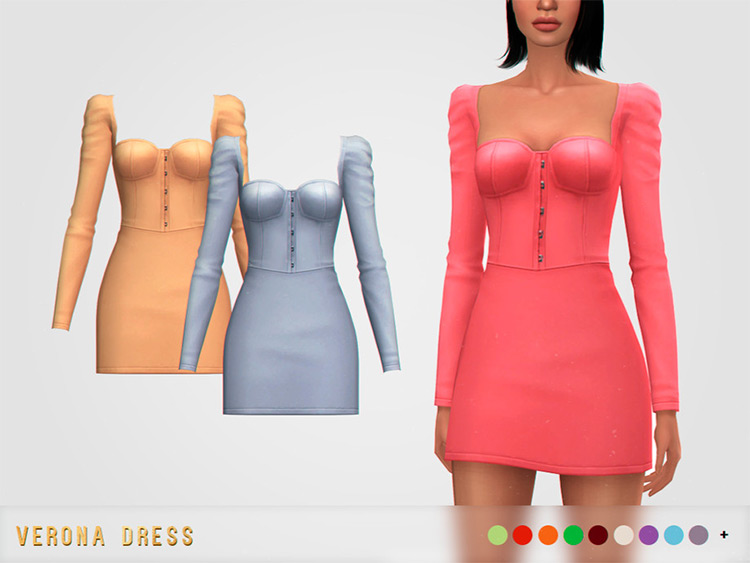 When To Wear: for a night out on the town.
Now that your Sim has a blooming career, maybe it's time to start getting out of the house to meet some new faces!
This corset-topped long sleeve dress by Pixelette is just what your Sim needs to turn some heads at the karaoke bar.
It has a beautiful leather fabric, and comes in a whopping forty swatches. So they can even re-wear it without committing a fashion faux paw.
7.

Elfdor's Dress Emilia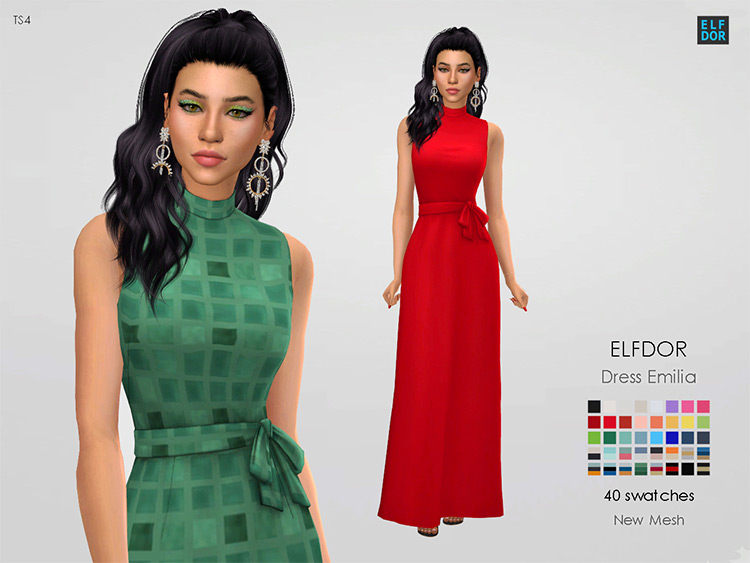 When To Wear: for your friend's happy day.
Gaining some new friendships at the bar could lead to a wedding to attend—and your Sim might even be asked to a part of the ceremony!
This sleeveless dress by creator Elfdor is so cute that I bet your Sim will be able to wear it after the wedding… unlike some of the dresses I have in my own closet.
This CC comes in a mixture of forty patterned and solid swatches, and will surely stun everyone.
8.

Mary Sim's Beatrice Dress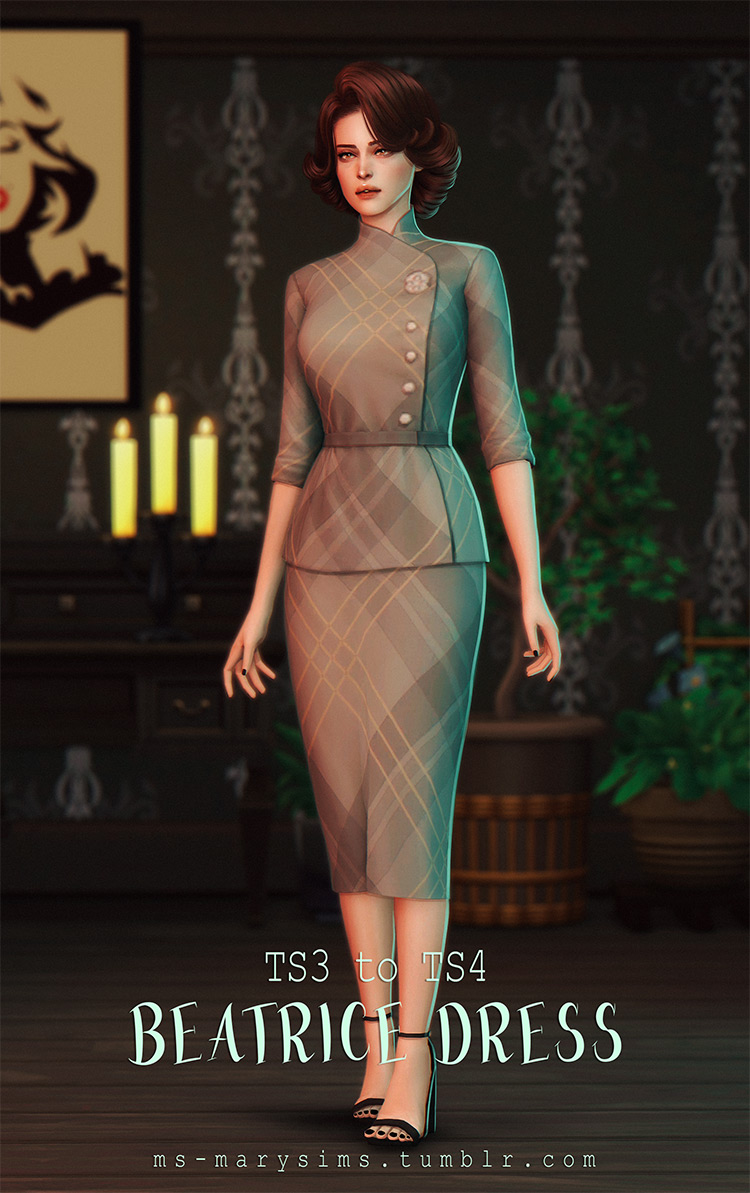 When To Wear: for that 9-5 grind.
Some of you might recognize this gorgeous dress by artist Mary Sims, and that's because it's a throwback to a dress we had in The Sims 3.
I love when CC creators do this, and I love it even more when they fit into my Sims' daily lives.
This dress is so classic that your Sims could wear it to work every single day and no one would even bat an eyelash at them for it.
It has a beautiful mix of swatches—forty five in fact—and I think it's a piece that won't ever go out of style, because it has already survived a whole other franchise.
9.

Sokea's Equinox Dress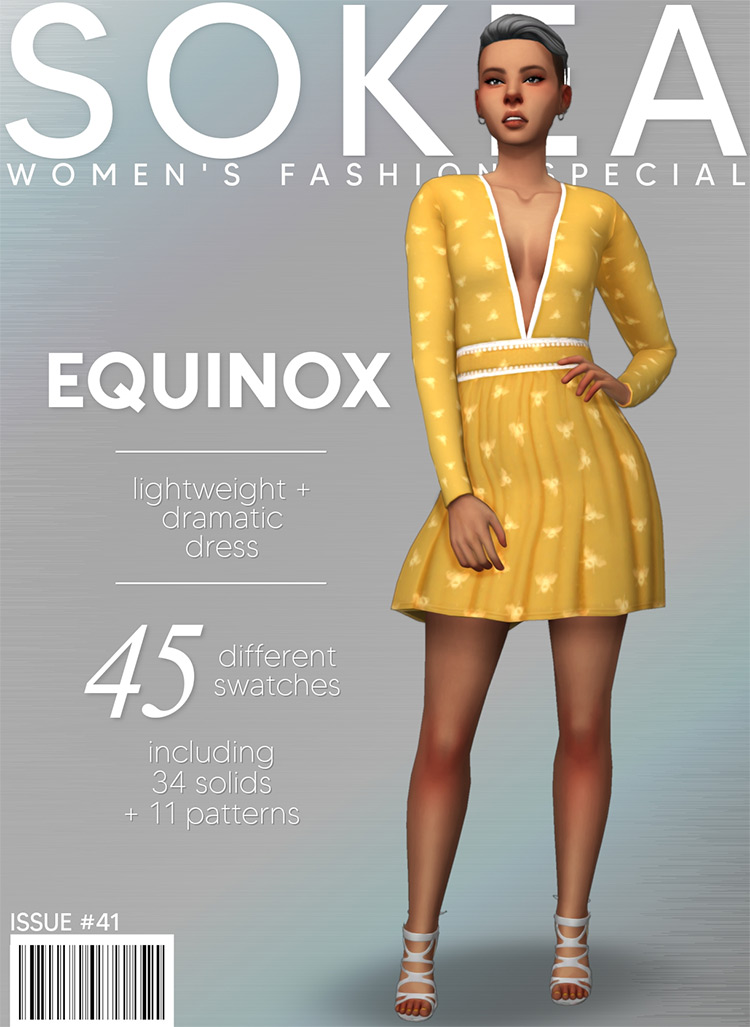 When To Wear: for that unexpected invitation to the museum.
It's happened to all of us:
Our Sims have been at work all day and we've been sitting staring at the clock as we wait for them to come home…and finally, there they are!
But as soon as they walk through the door, they get a call from a friend and they're asked to go out and explore the world.
They could just stay in their work attire. But who wants to smell of paper clips and stale coffee when they go out?
That's where this dress by Sokea comes in to save the day. It's so fashionable, but also easy to just throw on and run out the door.
This design features long sleeves and a plunging neckline to balance out modesty and wanting just a bit of attention, and you'll have forty-five swatches to choose from!
10.

Pixiegal's Sweeter Place Dress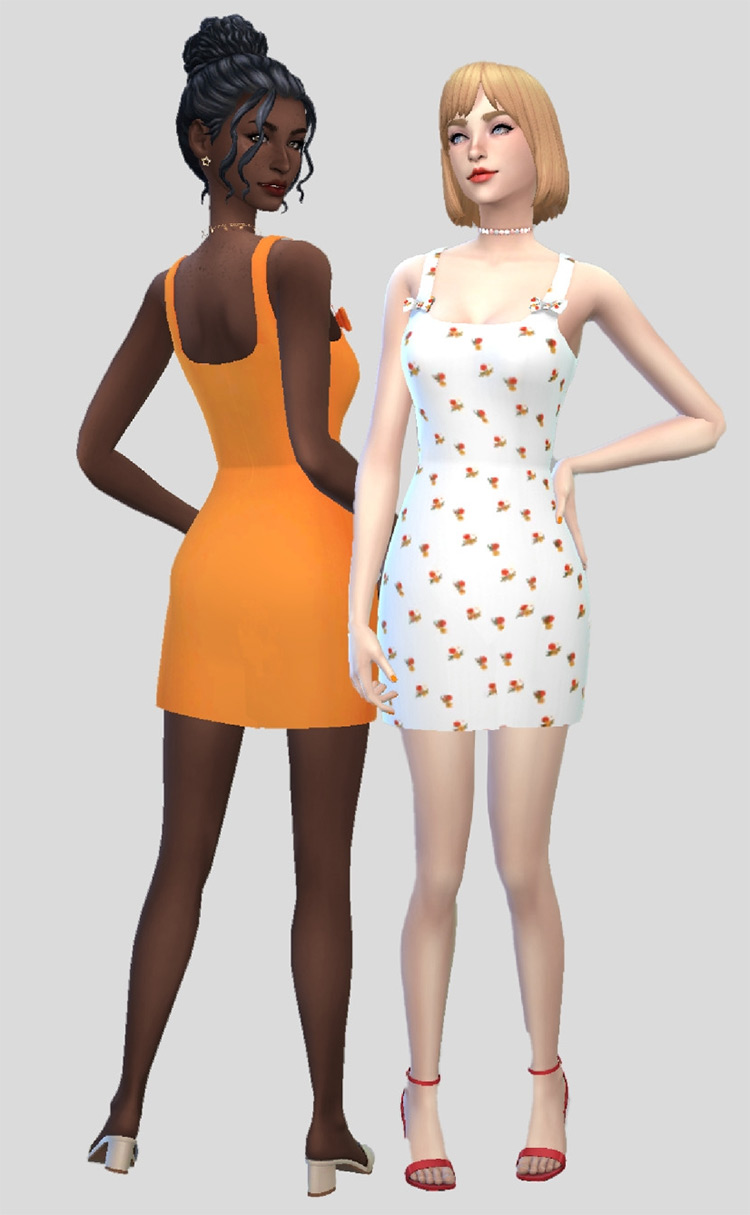 When To Wear: for that trip to the Flea Market.
Life sure can be crazy for our Sims. And they work so hard. So sometimes, it's nice to let them treat themselves.
San Myshuno's Flea Market is just what they need sometimes, and this cute tank-dress by Pixiegal is a go-to ensemble for all of those errands that our busy Sims needs to run.
The dress is also versatile, as it comes in fifteen swatches, and could be paired with other accessories to dress it up or down.
11.

Trillyke's Sahara Dungaree Dress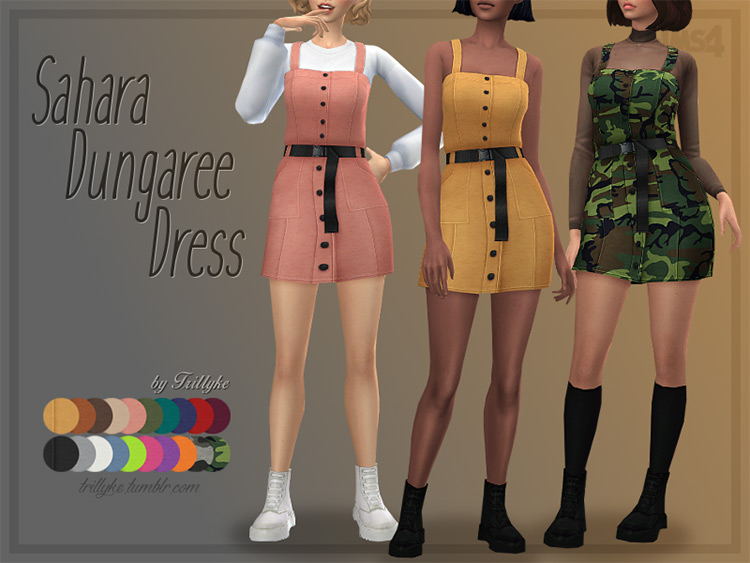 When To Wear: for all of the days & times in between.
Now I know what you're thinking:
I can't believe that we're deep into this list, and I've yet to mention a single design by Trillyke. Well, this dress by the popular CC creator is great for all of those times in your Sims' lives when they're just hanging out.
Whether it's with friends or whether they're riding solo, this dungaree dress is belted and can also be dressed up or down.
It's a great option for those days when your Sims needs to be dressed and ready for anything.
It has twenty swatches in total, and can be matched up with a lot of Trillyke's accessory undershirts for a new look.
12.

Zeuissim's Amaryllis Dress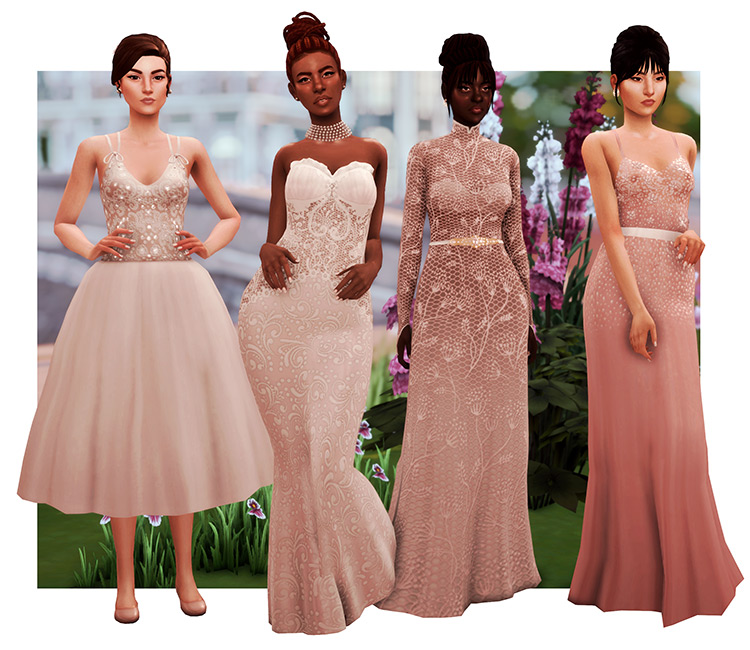 When To Wear: for awards night!
It doesn't matter if your Sim is headed out to the ceremony to accept an award, or if they're just watching at home on the couch. This dress by Zeuissim is the ideal red carpet look for any occasion.
The dainty straps, sparkles, and bow in the back are just elegant enough for such a big night.
It's a part of the creator's Scandalace CC collection, and can also be worn in thirty different swatches.
13.

Pepperoni-Puffin's Merlot Dress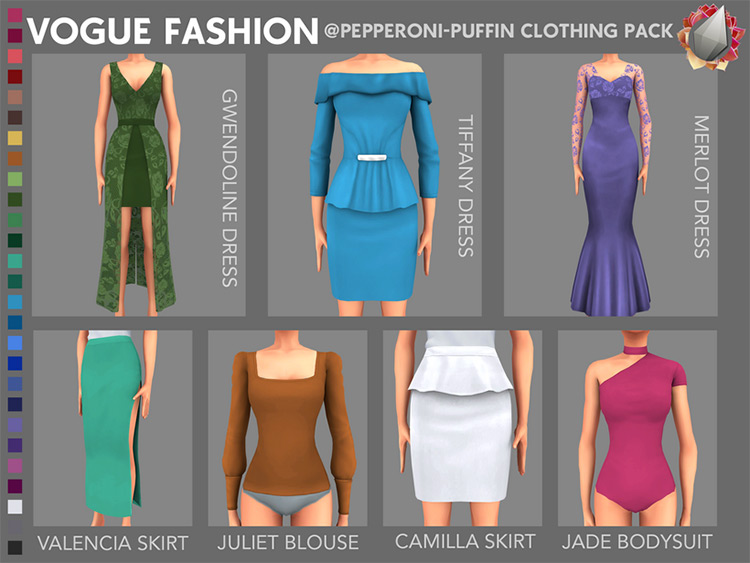 When To Wear: for your first dinner party.
Your Sim's life is moving right along, and all these dresses have really helped them achieve so many goals.
Maybe they've received a shiny new promotion, or sold that book they've been slaving away on for the past few days (time in the sims is weird, right?).
Or maybe they've finally moved out of that crappy apartment and into a nice starter home…. whatever the reason is, they want to celebrate with a dinner party.
And you know what that means: a new dress!
Pepperoni-Puffin has the perfect get-up for that fancy dinner. With a sweetheart neckline, sheer lace sleeves, and a material that hugs the body perfectly, your Sim's cooking won't be the only thing on fire.
Also, don't worry if you happen to spill something on this dress, as there are twenty-seven swatches so it's an easy fix.
14.

Grimcookies' Bodycon Sports Dress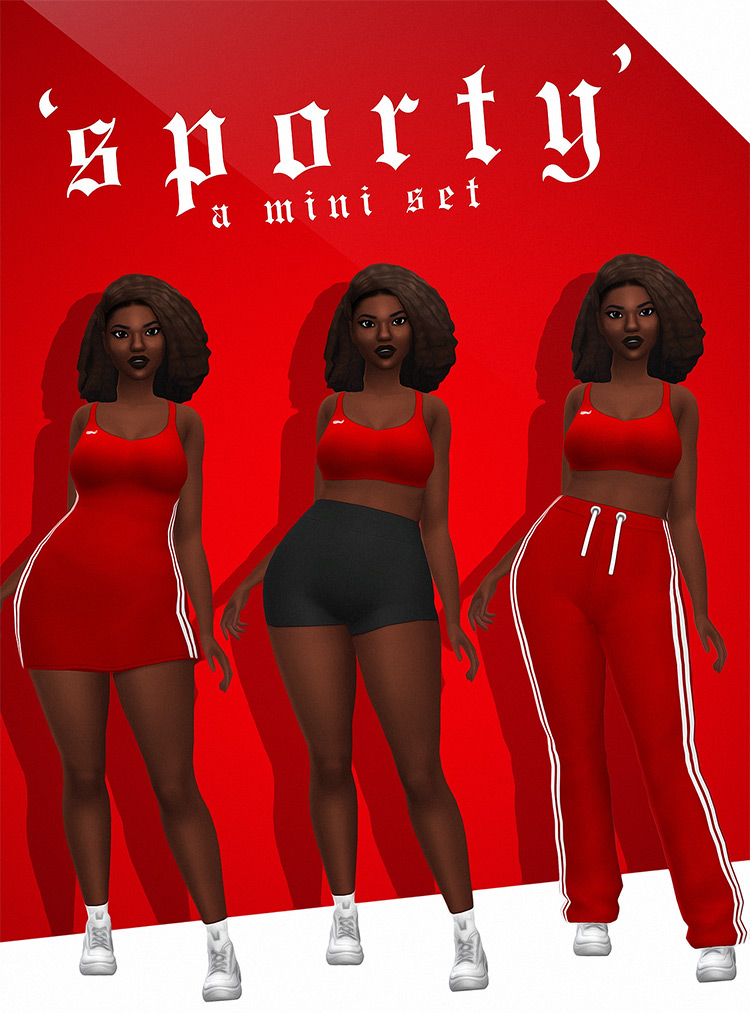 When To Wear: for when it's Swol-time.
After all of that delicious home-cooked food (and that delivery pizza you had to buy because you burned that home-cooked food), your Sim could probably benefit from a few workouts at the gym.
Don't worry, there's a dress for that too.
Grimcookies is a fantastic custom content creator, and he didn't disappoint with this sports dress.
It's comfy enough to wear during those power sculpting videos, but still appropriate enough to answer the door when the Chinese food gets delivered.
This is part of Grimcookies' SPORTY mini set, so there's just one swatch, but it's a nice one.
15.

Black Lily's Mable Dress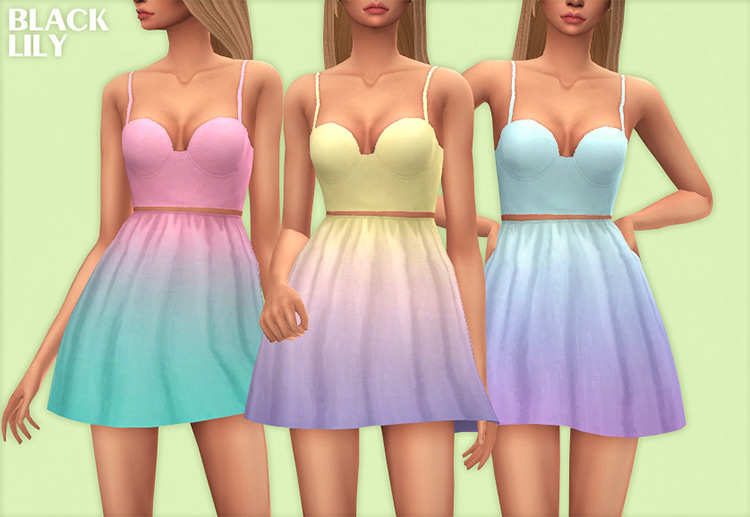 When To Wear: for when the delivery driver asks you out on a date.
Your Sim has experienced a lot of firsts in their short life. But what about a first date?
Black Lily has created this dress that seems like a nice fit for any special night.
It only comes in three swatches, but when you lay your eyes on these beautiful ombre tones, you'll be thankful for them.
It has quite the neckline as well, so your date will appreciate the view from across the table.
16.

Djunariii's Chemise and Bathrobe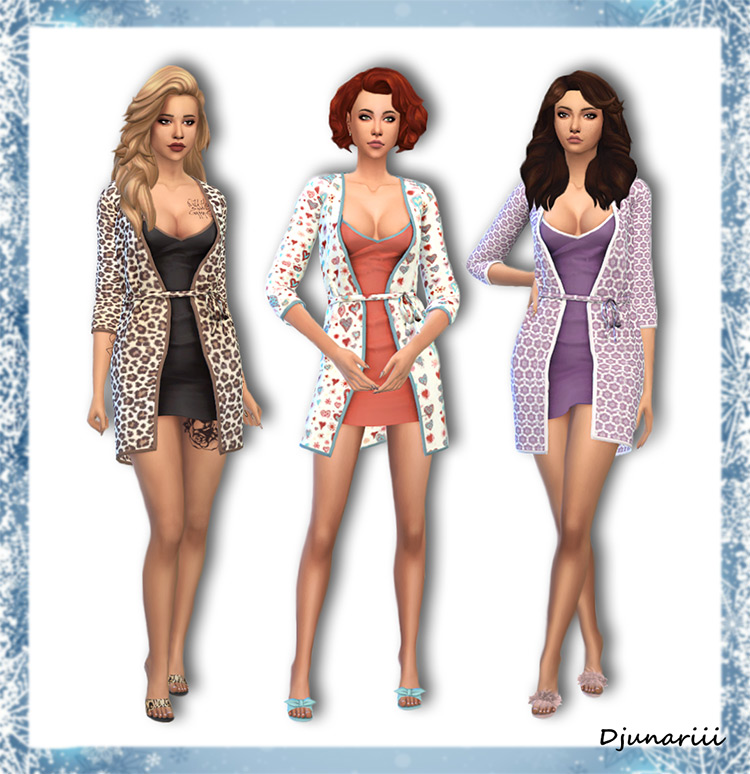 When To Wear: for the sleepover after the date.
Sparks were really flying on that first date.
So when the chance popped up to ask their date to stay over, your Sim jumped on it… or rather, you probably did since you're controlling them…
But Djunariii has stepped in to replace those other PJs your Sim was wearing. They've made sure your woohoo-filled night have the right dress code.
With a simple chemise underneath and a printed bathrobe over the top, this one has fifteen swatches to choose from. And I'm sure your Sim's date will love all those swatches.
17.

Nic0le's Sally Dress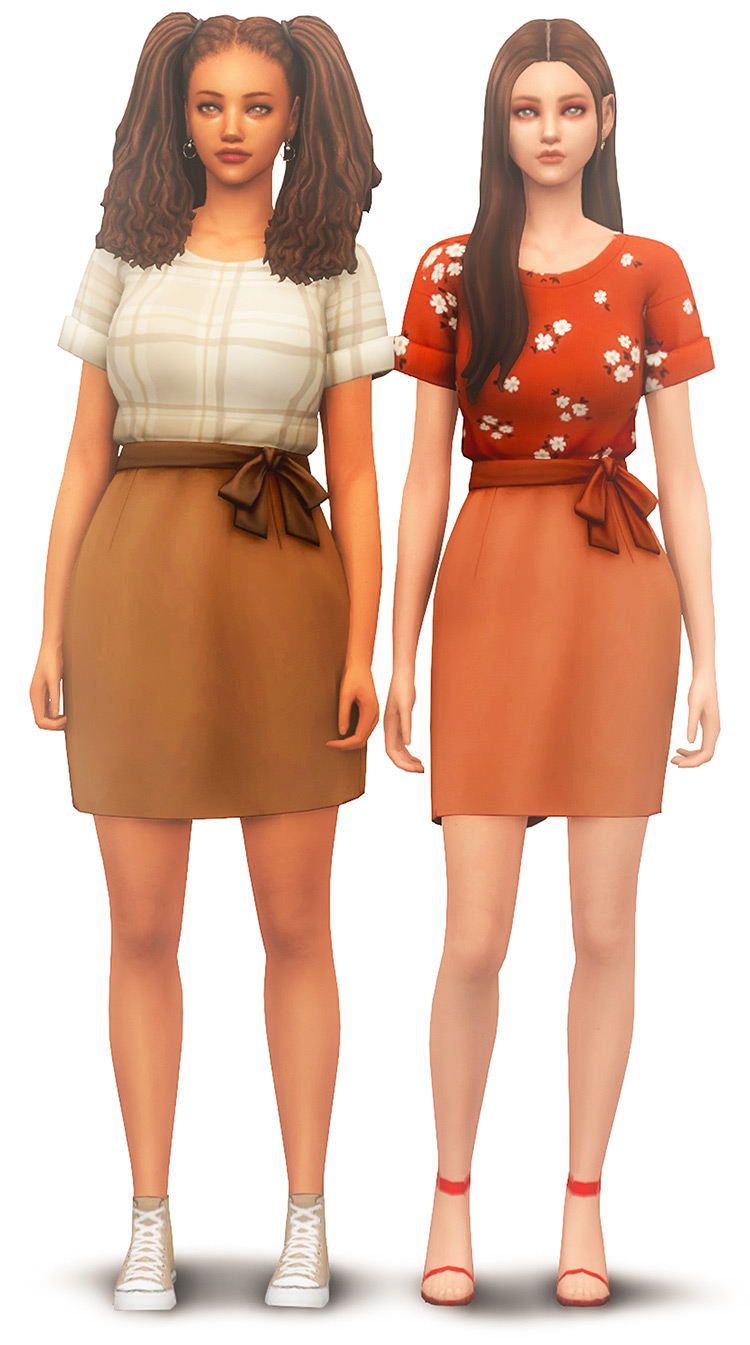 When To Wear: for those casual Friday vibes.
It's a good thing your Sim's boss just implemented that casual Friday amendment, because they overslept after the best first date ever.
Nic0le's dress is simple, but still perfect for the workplace.
It offers a variety of options in its twenty-seven swatches, so dive in and see what you think.
18.

Sifix's Cersei Dress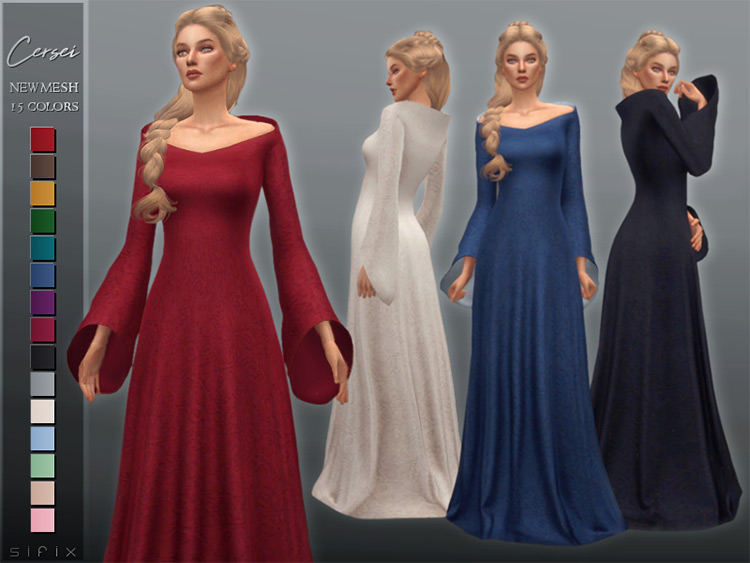 When To Wear: for when GeekCon is calling and you just watched A Game of Llamas.
If you haven't heard of Sifix then you're clearly not doing this whole CC thing right. Because when you're itching for some dresses, this creator never disappoints.
Your Sim is going to love wearing this throne-worthy gown, even if they're the most overdressed Sim at Geek Con this year.
This gorgeous dress CC offers fifteen swatches that range from royal jewel tones to pastels, that way your Sim can cosplay to their heart's content.
Also, have you seen those sleeves?
19.

Ice-Creamforbreakfast's Lady Ivy Dress
When To Wear: for when you need to catch up with your friends.
After a fun-filled time at Geek Con, your Sim gets invited over to their bestie's house for a Sunday-Funday Brunch.
And that day was just screaming for a new look.
Ice-Creamforbreakfast's CC is another conversion from a dress of The Sims 3 past, and the cropped jacket topped look is just classy enough for a few stacks of pancakes with the gals.
This one comes with thirty-five swatches and additional swatch overlays for both the jacket and the beautiful brooch as well.
20.

In a Holidaze (Dresses CC Collection)

To really go out with a bang, I decided to wrap with a small list of the best Holiday dress looks for your Sims.

Now when that calendar reminder pops up, you won't need to scramble to find the best look for all the various days of celebration!

These CC creators have made a ton of awesome holiday dress options. And with all of them (aside from the Holiday Dress) offering multiple swatches, you'll never be able to leave Create-A-Sim long enough to put up those decorations.
Jolibean's Aina Dress
When To Wear: for Love Day (twenty swatches)
Viiavi's Agape Flirty Sundress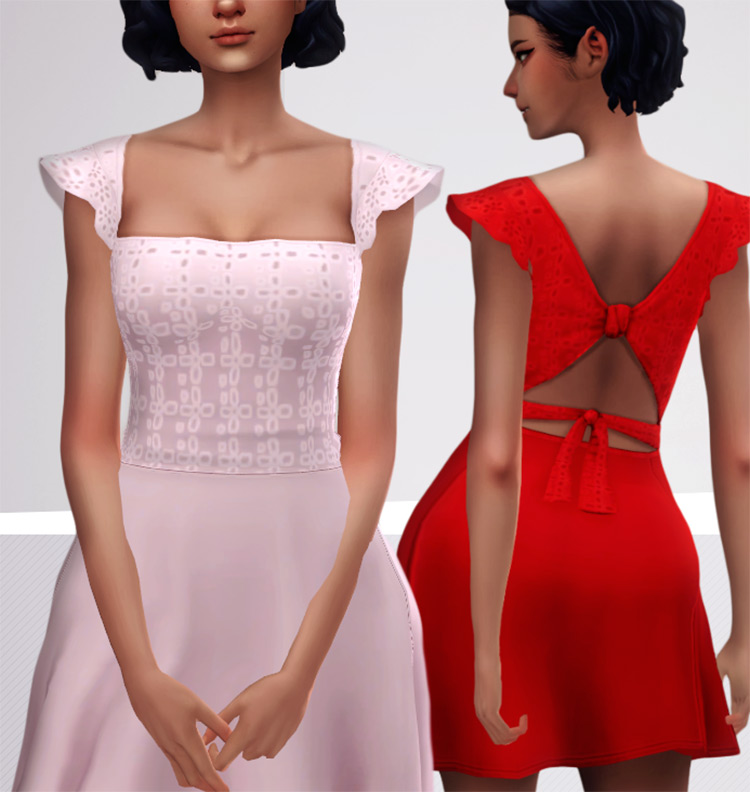 When To Wear: for Leisure Day (twenty-five swatches)
Sentate's Edea Dress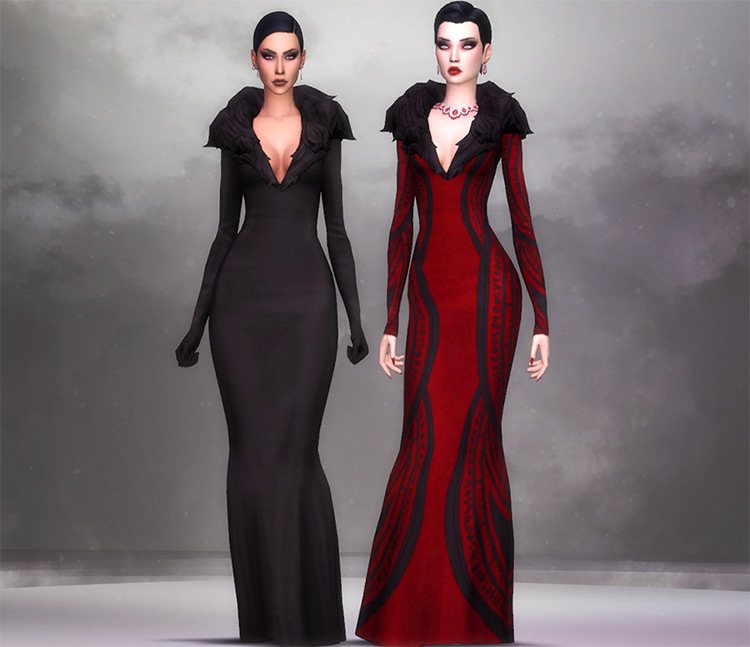 When To Wear: for Spooky Day (thirty-one swatches)
Nolan-Sim's Pinafore Your Thoughts Dress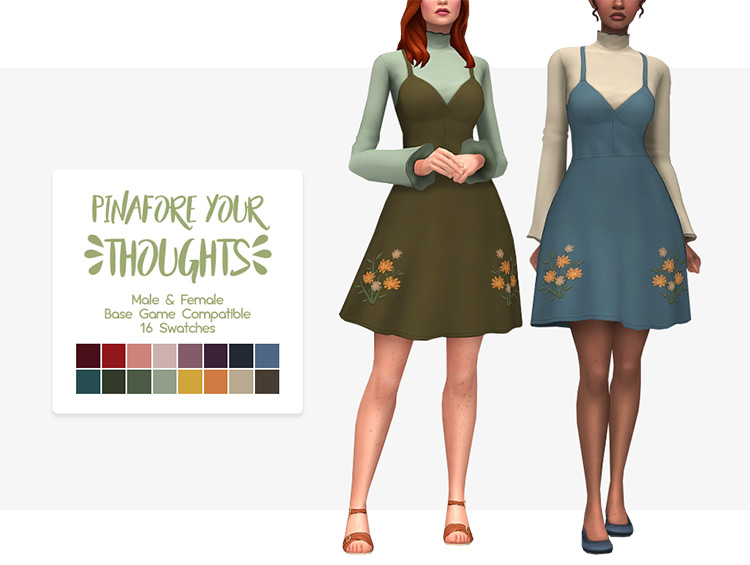 When To Wear: for Harvest Fest (Sixteen swatches)
Grimcookies' Holiday Dress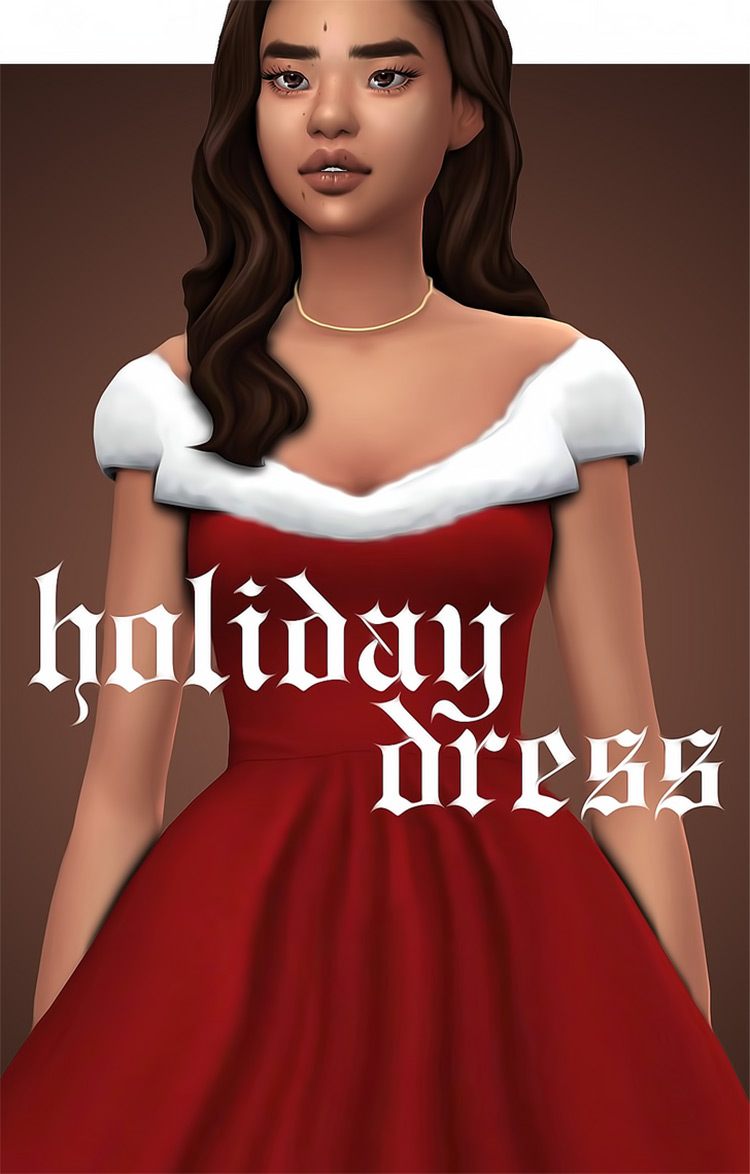 When To Wear: for Winter Fest (One swatch)
Browse:
Lists
The Sims 4
Video Games