Sims 4 CC: Oversized Shirts, Sweaters & Hoodies
This post may contain affiliate links. If you buy something we may get a small commission at no extra cost to you. (Learn more).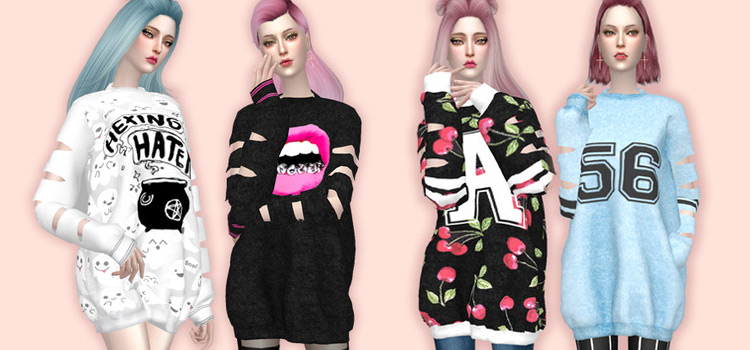 Offering comfy and swagger at the same time, oversized shirts seem to have everything.
Whether you're laying on the couch or going to the shopping mall and being lazy, the oversized look makes you look good, while still having some fashion sense.
So in this list we're taking a look at all these kinds of oversized CCs, from jackets to crewnecks (and everything in between).
Pretty much anything that's larger on your Sim than their usual outfits.
I mean, let's not overlook any of these awesome larger than life clothes.
Okay enough of the lame references, let's go!
10.

JK Oversized Shirt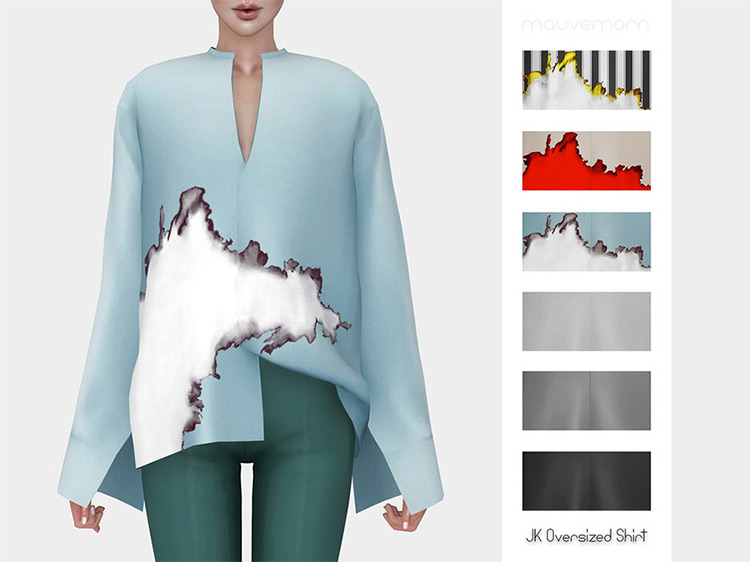 This first oversized item looks like a business suit jacket.
It's well-crafted with a cool fold on one side of the dress shirt, featuring a dope cloud design across it.
This also has some nice unbuttoned cuffs, and over 6 swatches make this piece great for corporate wear.
People in the office will definitely be turning heads as you enter in.
9.

Trillyke's Oversized T-shirt Dress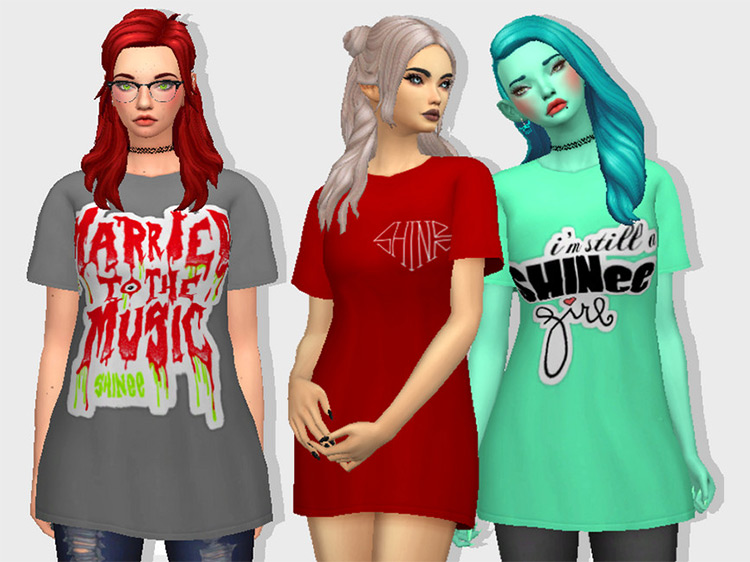 BabyBubbleSim gives us our next oversized piece with this t-shirt dress.
If you ever walked into a Hot Topic, these tees would give off a similar vibe.
Having things like "Married to the Music" or "Let it Shine" engraved on the tee, these were hot commodities for teens (about a decade ago).
Well either way, this piece features an insane 85 swatches, with 17 unique designs across 5 colors.
Truly a jam packed amount of customization for a single tee. But that makes this a definite for this list.
8.

PUKO Oversized Hoodie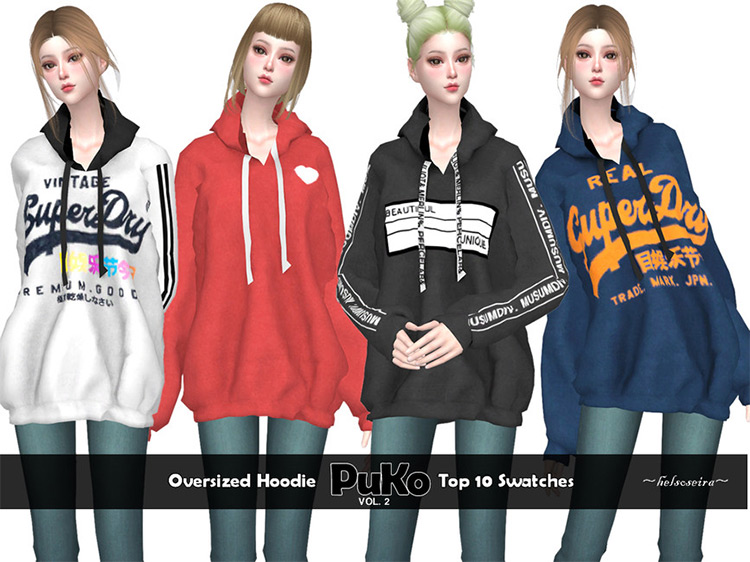 Moving into hoodie season, we have this laid back sweater set by Helsoseira.
With 10 swatches in total, my favorite hoodie is the black and white style with the "Beautifully Unique" text on it.
This CC offers beautifully clean and branded sweaters that I feel like you would find at an Urban Planet.
Great for going to get-togethers, or just sitting back on the couch.
7.

Oversized Jacket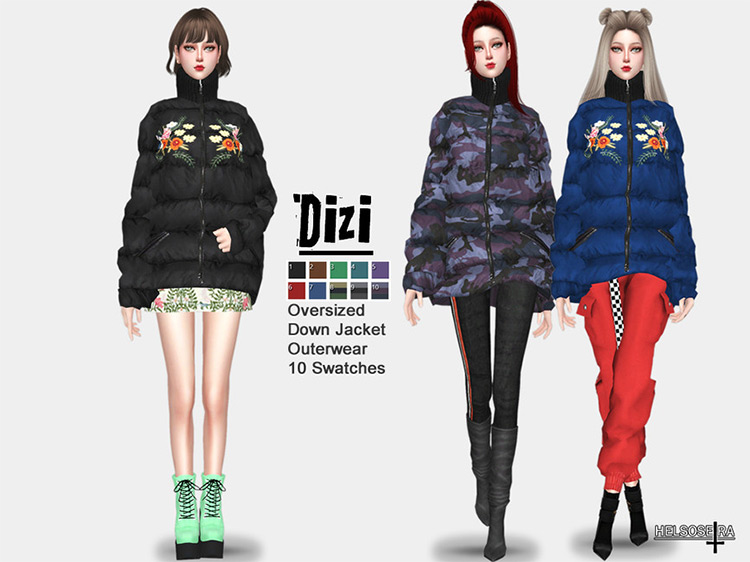 Helsoseira goes back-to-back with this oversized jacket CC.
Sometimes it's not just cold out – it's freezing.
Well this oversized jacket flows down to your Sim's knees, giving your Sim ultimate warmth during a cold winter day.
The set includes 10 great swatches, with my personal standout being a royal blue swatch that's absolutely eye-popping.
6.

Oversized Christmas Sweaters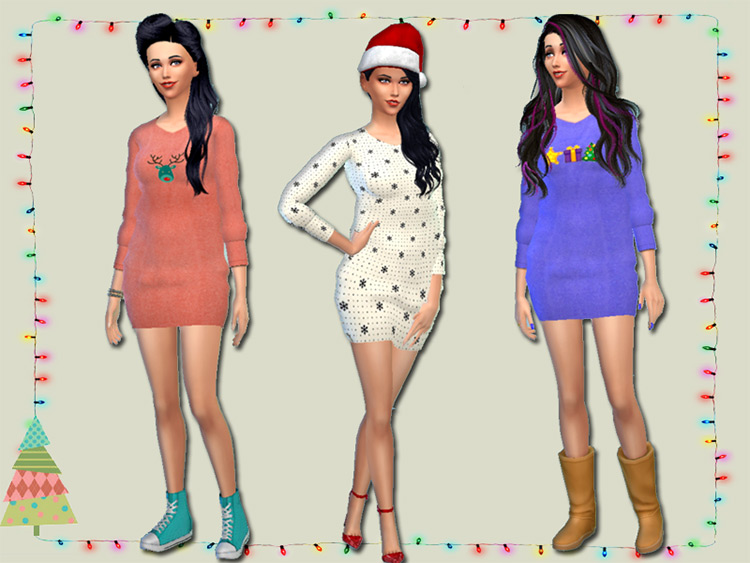 Jingle bells, oversized sells!
Comfy all the way!
Okay, my remix might not be great. But this CC set is.
The look is perfect for the holidays with these Christmas sweaters, which features 10 completely different looks.
Candy canes, snowflakes, reindeers or Santa; all these options are available for your Sims, and then some.
Truly feel that comfort on Christmas morning and have all of your family members wishing they had your sweater.
Ho-ho-ho!
5.

DIIJ Oversized Sweater Top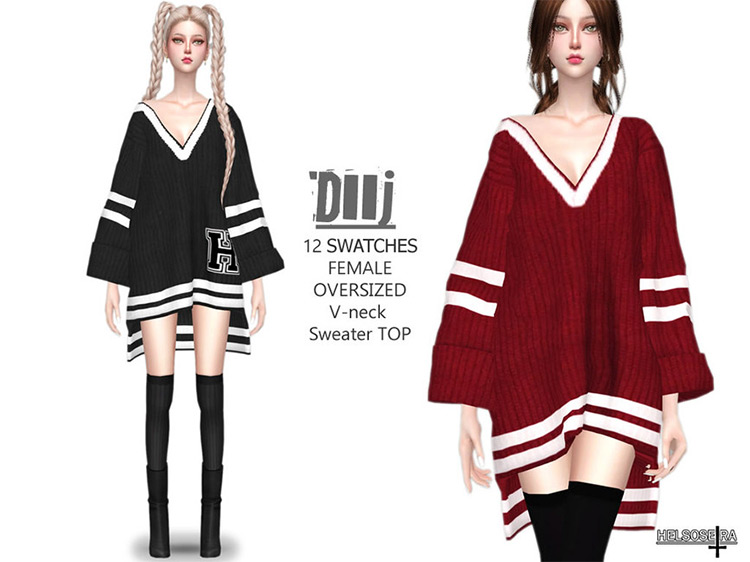 Here's one of the more fashion-forward pieces on this list.
Basically a long V-neck sweater top dripping down almost giving off a dress-y look.
Certainly highly fashionable, but is it a CC your Sim could rock?
Of course!
Check out the brilliant design and the 12 variations included in this set.
Definitely some runway flair with this sweater top. And it might be the most modern look on this list.
4.

FLOI Oversized Sweater Top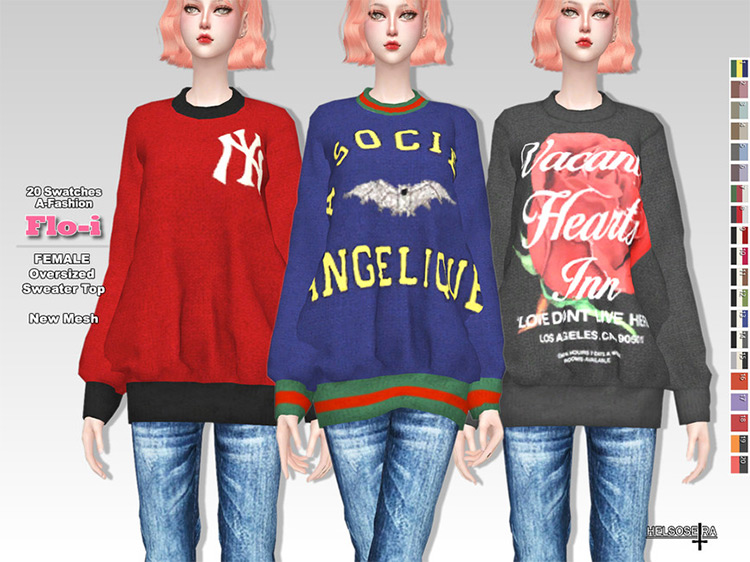 Here's another sweater top from Helsoseira, this one being more of a crewneck.
It features various text designs like "ATLANTA" across one red sweater, giving off similar vibes to college crewnecks across the United States.
This CC was done extremely well, and honestly, even though it's female-orientated I bet lots of these crewnecks would work for all genders.
3.

MITA Cut-out Sleeves Top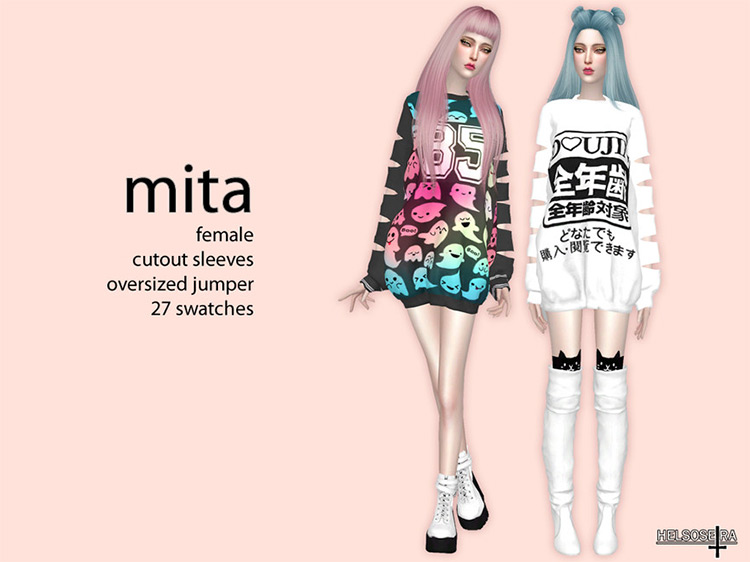 Let's continue with the fashion forward style by looking at this oversized jumper, with a whopping 27 swatches in total.
Lot of great designs here, including an LA Dodgers inspired floral print, cool Banksy type art, and even simple designs with simple numbers on the front.
There's a mix of modern looks with unique cut-out sleeves to make this CC a must-have for any Simstagram famous Sims.
2.

Oversized T-Shirt Dress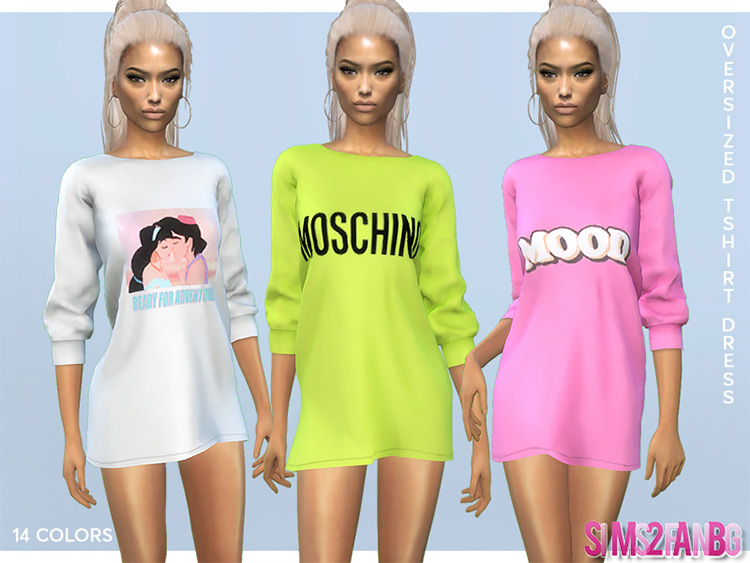 Bold and beautiful is what comes to my mind with this oversized t-shirt dress by sims2fanbg.
Vibrant colors like the lime green Moschino-style is just one example of the eye-popping designs included in this CC set.
It features a new mesh custom-made for this dress, giving off that realistic look and detailing.
I'd say this dress screams sizzling hot, and will definitely make your Sim one of the major talks of the town.
1.

Oversized Hoodies (with Add-ons)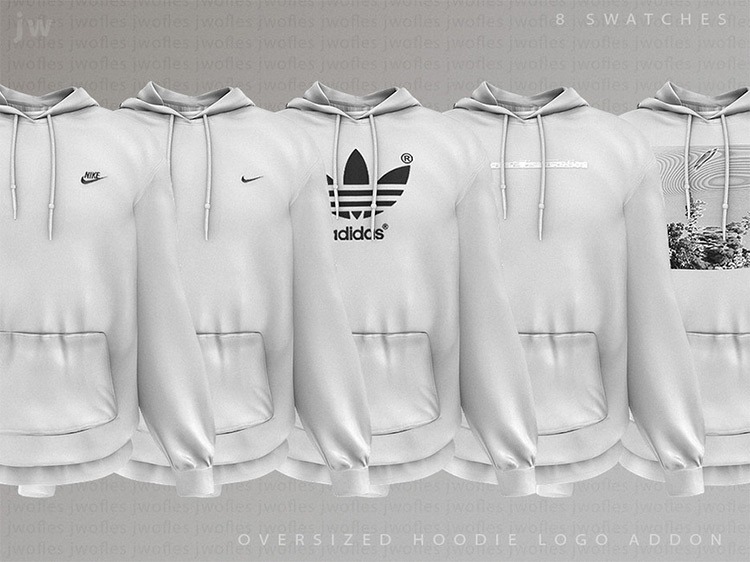 Let's give the boys some love on this item (or the girlfriends who steal their sweaters).
Here you'll find some classic oversized hoodies with crisp finishes done in a tinted white-grey design.
The standout here is all these real-world brands used on these hoodies, which is always a positive.
Creator j-wofles-sims includes brands such as Nike, Adidas, and Puma as part of this sweater collection.
An awesome oversized hoodie with great add-ons – that's basically the cherry on top of an already stacked list of oversized clothes!
Either way, your Sims are bound to love the way they look.
Browse:
Lists
The Sims 4
Video Games