Sims 4 Supreme CC: Hoodies, Clothing & More
This post may contain affiliate links. If you buy something we may get a small commission at no extra cost to you. (Learn more).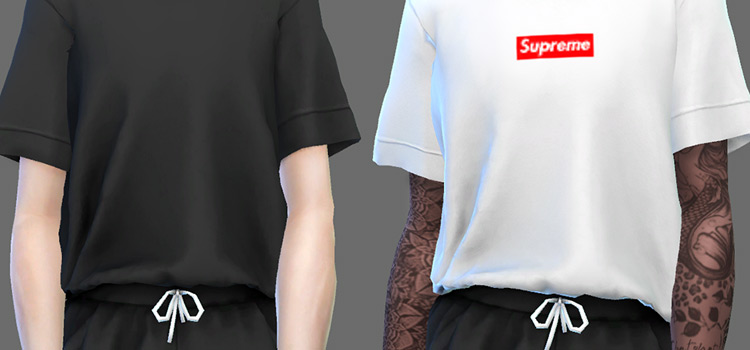 When a brand's worth is in its name, you know it's good.
Supreme's a bit younger than some of the other high-fashion brands we've covered but no less influential.
Seriously, everyone recognizes the red and white logo when they see it.
Plus it's one of few fashion labels that exclusively offer casual, laid-back garments.
No need for discomfort when you're rocking Supreme!
Explore our list below for some great Supreme CC finds to add into your Sim's closet.
Supreme Bodysuit
First up is this simple but stylish Supreme bodysuit from PureSim.
While it's technically a top in CAS, it actually allows for more variation since it can be paired with jeans and skirts.
No sleeves and thick straps make it a great option for the warmer weather months.
There's 7 swatch options here, including the classic white and red color theme.
Plus it's for basically everyone – Teens through Elders can wear it.
Iconic Supreme Tees
Here's some Supreme CC just for the guys.
Wockstar's Supreme tees are unique and colorful, which definitely makes them iconic.
This is a huge haul when it comes to Supreme tees because there are 21 total swatches, including a Coca-Cola box logo and one featuring the Morton Salt logo.
This is a recolor of creator Younzey's shirt, which needs a mesh to work.
You can download the mesh here listed under "T-Shirts 01".
Supreme Hoodie (Toddler)
Toddlers can get in on the Supreme trend with Rhupsi's Supreme hoodie for toddlers.
There are so many unique swatches (14 in total) that it's hard to pick just one favorite.
That said, the Supreme x Louis Vuitton mashup and American flag hoodies are definitely eye catching.
And excluding the English text, these are pretty Maxis-Match friendly.
Both boy and girl toddlers can rock these.
And there's no extra packs or CC necessary to add this into your game. Just grab and go.
Supreme Hoodie Box Logo
Want matching Supreme hoodies for parent and child?
Rhupsi's got you covered with the Supreme hoodie for Teens and up.
These are very similar in design to a few of the Supreme toddler hoodie swatches, namely the solid ones.
While this set is lacking the more unique designs of the previous set, we think it's a great look nonetheless.
Most of the ten colors are darker in hue, but there's a couple of brighter colors like red, pink and coral.
Supreme Joggers
Here's a Supreme item with a little bit of a visual twist.
These high-waisted joggers from ZentacularSims step away from the classic red and white logo we all know and love.
Instead, there's huge block lettering down the left pant leg.
The pants themselves look really comfy and even have a slightly wrinkled texture for realism.
Best of all are the 12 bright, bold colors that they come in, like red, yellow, and green.
Supreme Crop Sweater
"Warm and stylish" is how we'd describe this Supreme crop sweater by Grafity.
This long-sleeved sweater CC will stop your Sims from getting cold, while the cropped midriff leaves a little bit of skin for a flirty look.
Plus this HQ top has 20 swatches total, and pairs well with jeans or a high-waisted skirt.
There's also something very '90's about this look, so decade challenge Simmers might enjoy adding this for more clothing options.
Supreme Skirt
We've covered casual Supreme wear.
Now it's time for some fashion.
Julia2907's Supreme skirt CC is the bold and eye-catching 'fit your fashionable Sim needs.
It comes in both black and white, with the Supreme logo bands at both the top and bottom of the skirt.
We also love the chunky boots and fishnets paired with the entire outfit.
And while we're not sure where those CC came from, we do have another entry that will help make the outfit more complete.
Supreme Bra CC
Did you notice the matching bra in the previous listing?
We did, too.
And we're happy to report that Julia2907 is the creator of the Supreme bra.
Seriously, there's nothing better than a coordinating outfit.
This strapless bra has the same Supreme logo as its skirt counterpart, but only comes in red.
We could also see more daring Sims wearing these as short tube tops.
Be sure to download both to own this chic look!
Browse:
Lists
The Sims 4
Video Games