Sims 4 Princess Jasmine CC: The Ultimate List
This post may contain affiliate links. If you buy something we may get a small commission at no extra cost to you. (Learn more).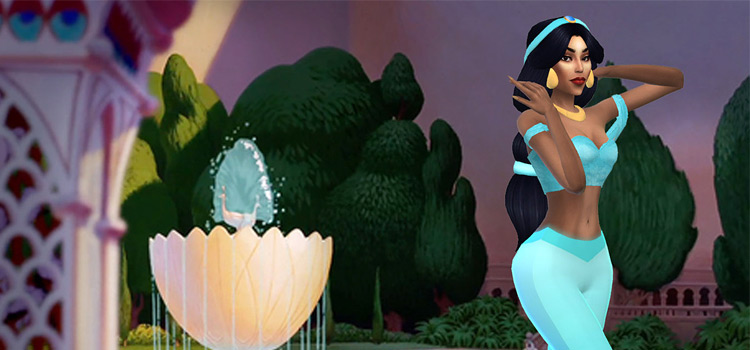 Whether you are a fan of Aladdin or its origin 'One Thousand and One Nights', Princess Jasmine has always been a symbol of headstrong teenage rebellion.
I don't blame her – I wouldn't want to marry at fifteen years of age, either.
Jasmine and her faithful companion Rajah will forever be one of the original nine Disney princesses, and Jasmine is also the ninth generation of the Sims 4 Disney princess challenge. If you've never tried a Sims 4 challenge before, the princess challenge is a fun way to start. You are given a set of rules for each generation of a sim family and you must try to stick to them as much as possible.
Jasmine's guidelines in the princess challenge are that she must have a best friend (named Rajah, of course), that she cannot leave the house unless it is for school, she must marry a poor street rat, that her lover must be in the criminal career, and that she can only have a maximum of four children.
If you also happen to have the Cats and Dogs expansion pack, her best friend Rajah must be a pet and they must reach companion status while Jasmine is a child.
So now that you're ready to start, it's time to grab some CC for your magic carpet riding princess.
1.

Jasmine Classic Outfit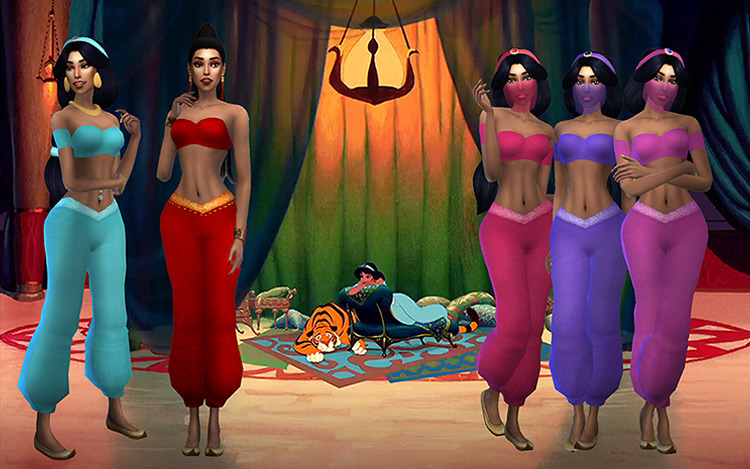 You know, I never noticed the similarities between Jasmine's traditional outfit and the harem girls that tease Aladdin in the street rat sequence. Interesting choice, Disney.
Well, here is where you will find Jasmine's classic blue outfit along with the same outfit she wears as Jafar's captive.
The dancer's outfits are also included, as well as their veils and headpieces in matching pink, magenta, and purple.
2.

Jasmine Hair and Earrings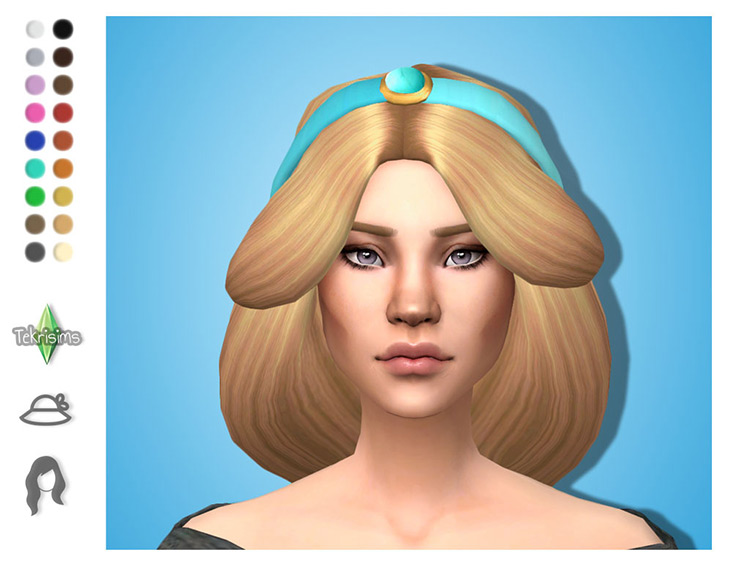 This perfect recreation of Jasmine's hair is done by none other than Tekrisims.
As a bonus, they have also recreated the beautifully bulky earrings that go along with her iconic hairstyle.
There are two different modes of earrings to download: one that is designed specifically to use with this hairstyle and another that sits where you would expect an earring to.
3.

Sims 4 Look Princess Jasmine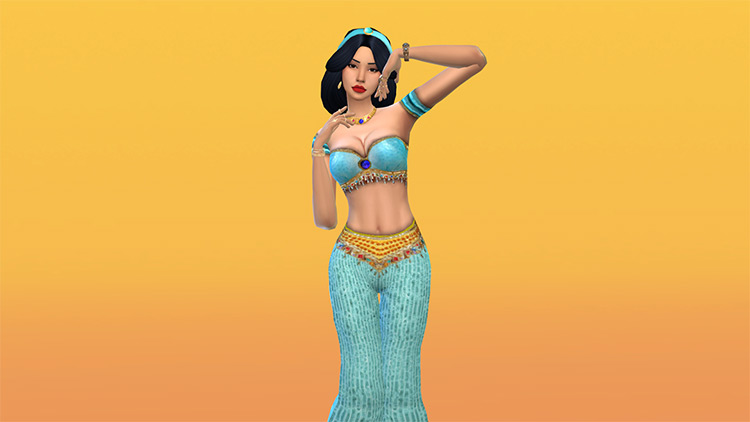 If you're more into the Alpha CC look than Maxis Match, then you are in luck.
This highly detailed take on Jasmine's universally known aqua outfit can also be downloaded alongside all the accessories you see on our favorite princess including her bracelet and makeup. A one stop shop!
4.

Jasmine Outfits Pack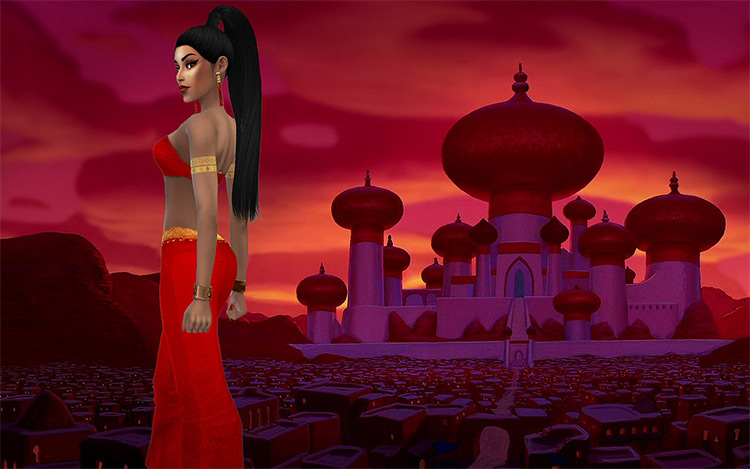 Speaking of one stop shops, this is the holy grail of Jasmine outfits.
Stardust Sims 4 has done it again with this display of gorgeous outfits from the movie.
Here we have her wedding gown, another version of the Jafar prisoner outfit, Jasmine's engagement gown, a take on her villager disguise, and of course the outfit we all know and love.
5.

Princess Jasmine Sim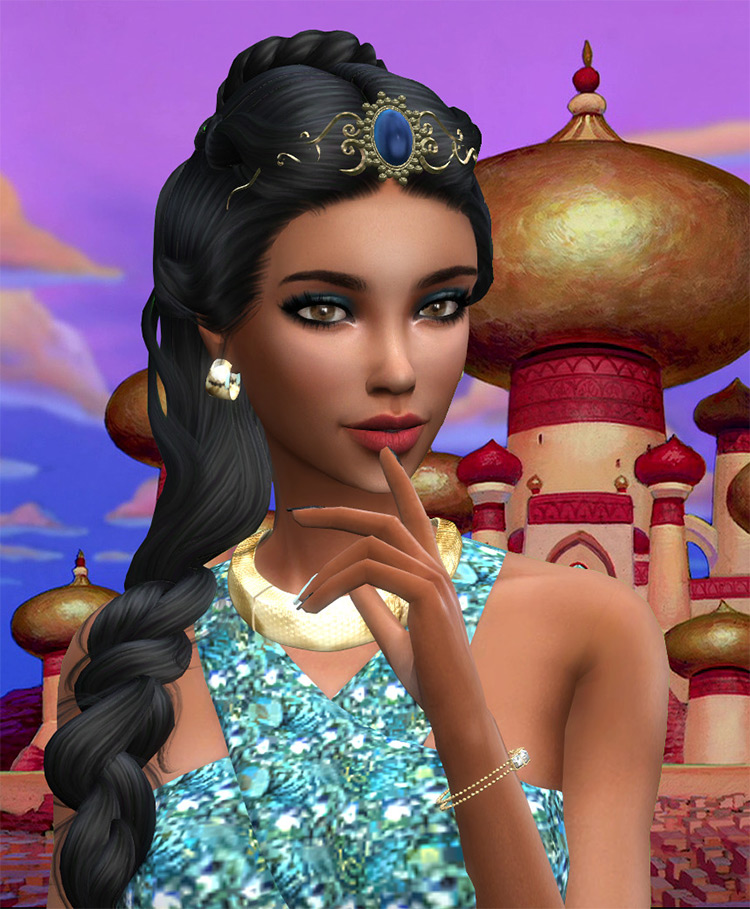 If making sims from scratch is not for you, this pre-designed Jasmine is absolutely perfect, and the accessories and makeup are just the icing on the cake.
There is a CC list to download all the skins, hair, jewelry and makeup from, so feel free to pick and choose, or use this as a guide to design your own princess.
6.

BG Door: Jasmine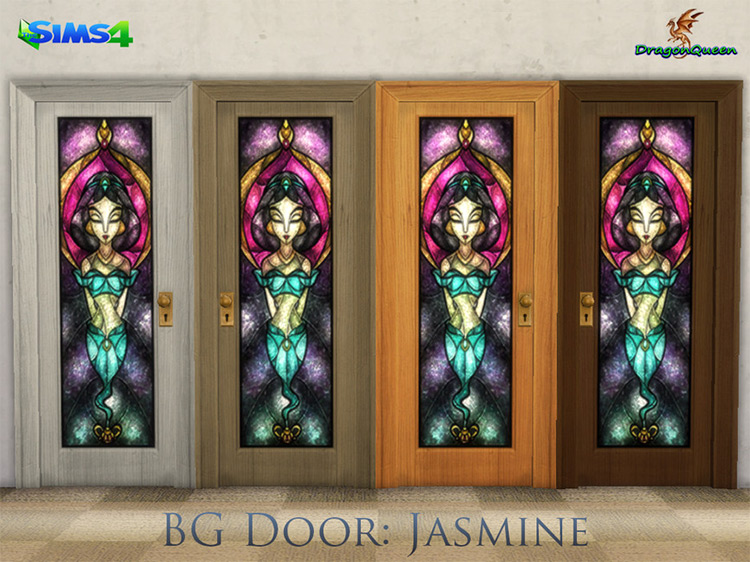 We all know how Jasmine's dad feels about her, even when he is being hypnotized by an evil wizard.
So wouldn't it make sense to have her palace decked out with stained glass Jasmines?
These stained glass Jasmine doors are so uniquely designed, and I just love the incorporation of the genie lamp. It's the perfect nod to the movie in your simiverse.
7.

Princess Jasmine – Aladdin (TS4)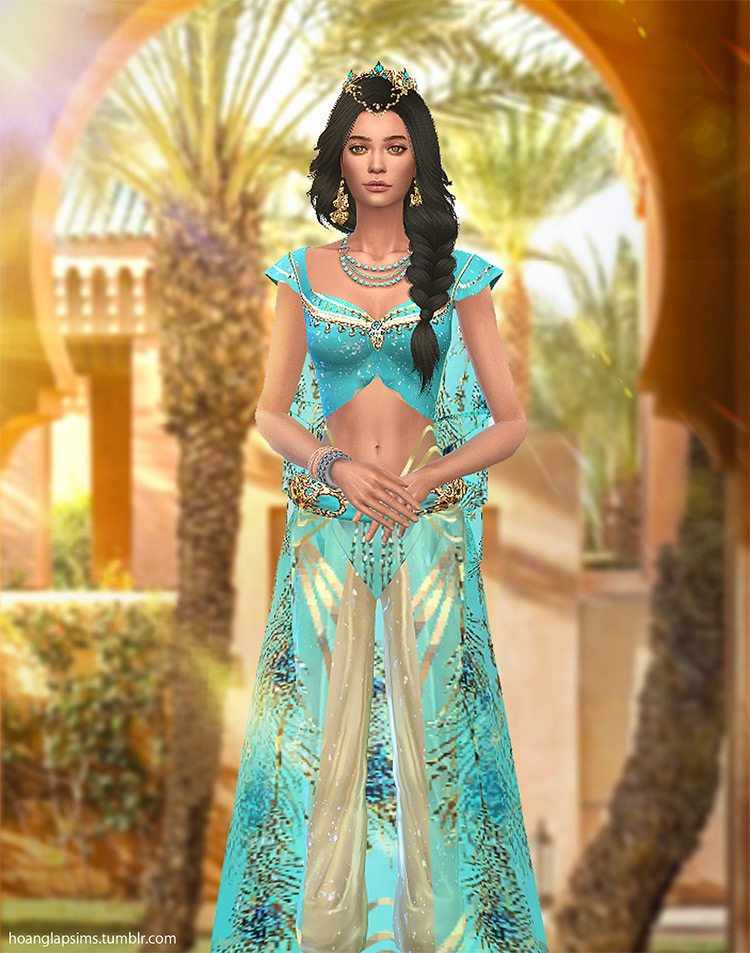 This amazing mashup of the original movie and the live action remakes costume designs perfectly captures the film's culture and the original Disney princess vibes. I'm blown away.
If this is not your vision for you Princess Jasmine, it is a wonderful option for your villagers so you can stay immersed in the story.
I'm totally obsessed with these, and I love the color options: teal, aqua, yellow, and magenta.
The outfits also come with a crown.
8.

Arabian Village & Palace (Lot)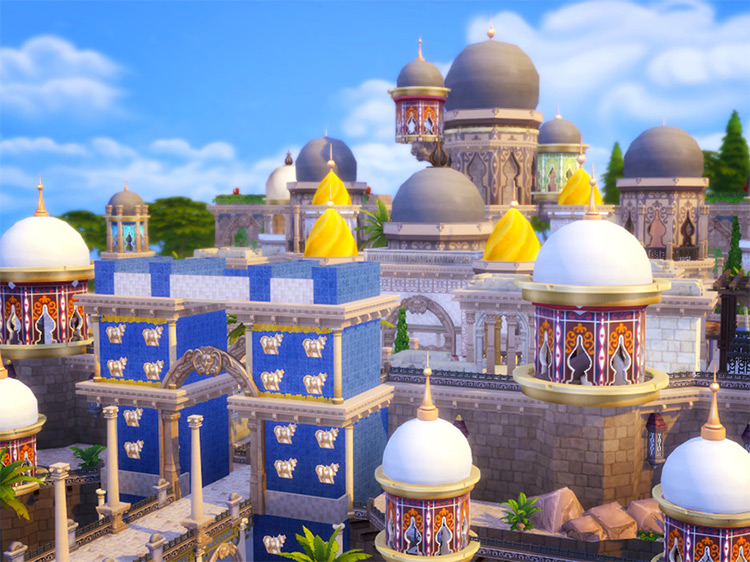 Behold the perfect village to meet your street rat… I mean, your true love.
This vibrant village includes a palace, hanging gardens, a rug shop, a candy shop, a small outdoor market, a fruit shop (for Jasmine to generously give an apple to a poor kid, of course), and two houses.
It has everything you could need to recreate the fated meeting of Princess Jasmine and our beloved Aladdin.
9.

Whole New World Set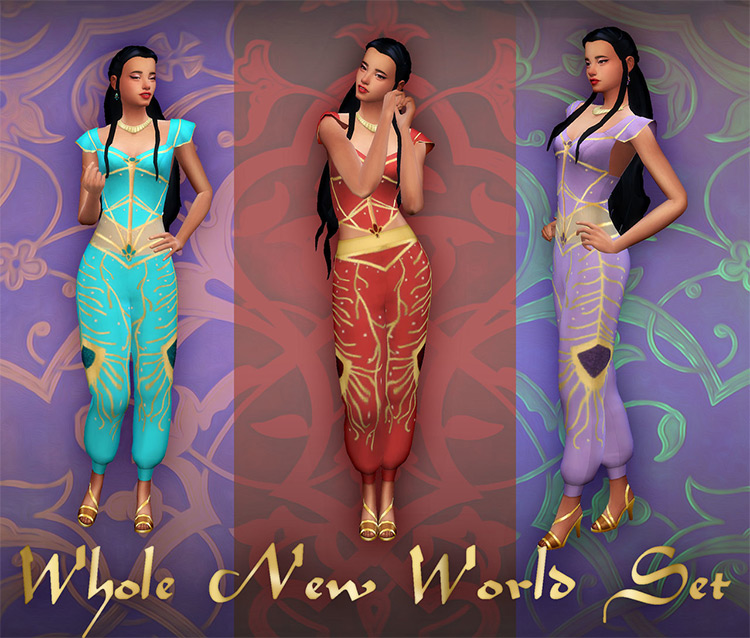 If you're like me, then you like your town to reflect whatever era or playthrough you're currently working on. If that is the case, these are some great options for your townies, or for a more modest and modern version of Jasmine's iconic outfit.
Either way, this remake of the 2019 movie outfit comes in three different colors, and the top and bottoms are separate.
10.

Magic Carpet Floater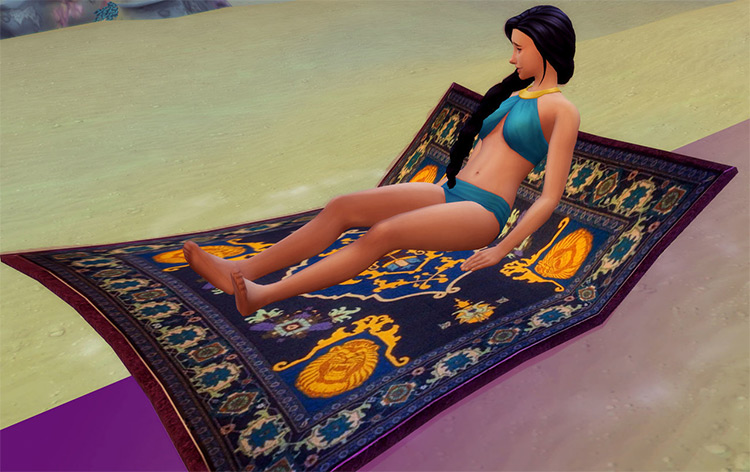 I hope you didn't think I forgot about the sassiest Disney character without a voice.
How could I when he's one of the best parts of the movie? Grab your street rat and head on down to Sulani to float with your best magical bud.
This floater comes in two eye-catching, intricate designs, but unfortunately does not come with the sass. Maybe one day.
11.

Arabic Beauty House by Praline Sims (Lot)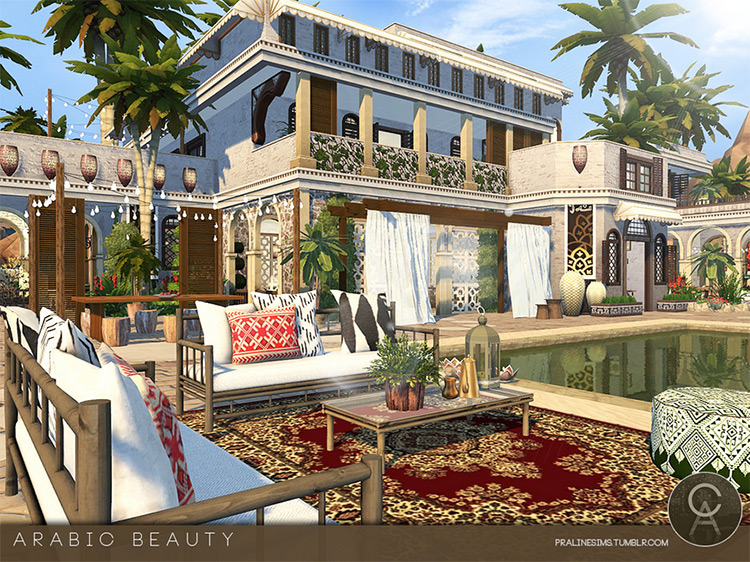 This stunning lot is the perfect place for Jasmine and Rajah to lounge by a reflection pool and discuss their deepest secrets or for Jasmine to be whisked away by a 'prince' while Rajah huffs and puffs his discontentment.
Each room is meticulously decorated along with the courtyard and even the porch railings.
I'm speechless.
Honestly I want whoever designed this to come to my house and do the same. Especially all the plants and fairy lights!
12.

Priya: Separated Headdress from City Living by Valhallan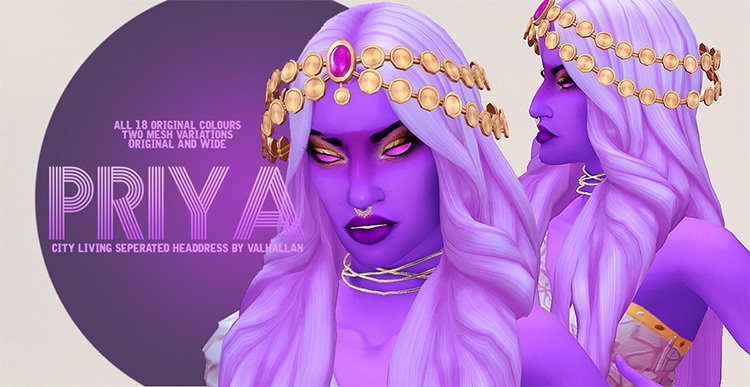 Some things included in expansion packs in the Sims 4 just irk me, like how this headpiece comes attached to a hairstyle. Why, EA, why?
This headpiece in blue is the perfect glammed up version of Jasmine's headband and it will fit right in next to those big, clunky gold earrings that she wears so well.
Jasmine certainly knows how to accessorize, so your sim should too.
13.

Jasmine Formal Dress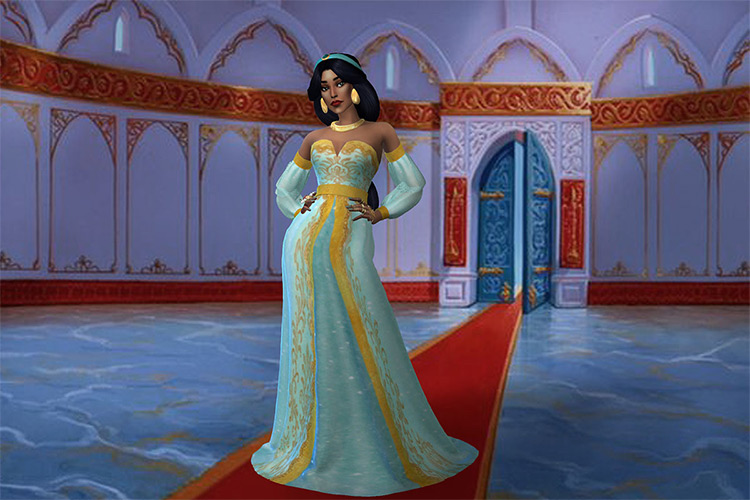 Okay, I want this in real life. I am in love with this icy blue and gold trimmed dress.
Jasmine has got style for days.
Dress up your sim princess with this absolutely stunning Jasmine inspired dress. Just don't try to sneak out to the market unnoticed, because your sim will be turning heads.
Browse:
Disney
Lists
The Sims 4
Video Games