Sims 4 Restaurant CC & Mods: Furniture, Decor & More (All Free)
This post may contain affiliate links. If you buy something we may get a small commission at no extra cost to you. (Learn more).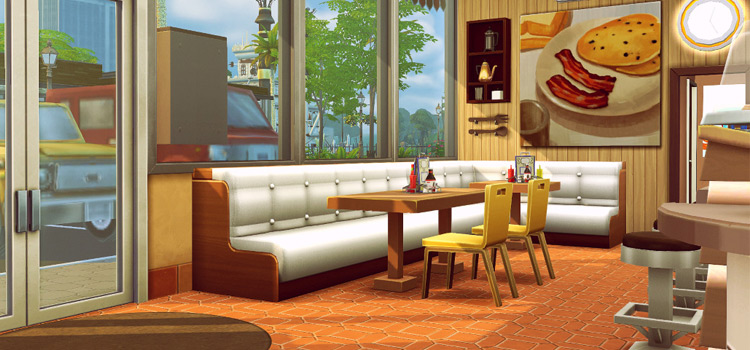 Restaurants are an integral part of our society. Like hospitals and schools, without restaurants, there would be no civilization.
We'd just be forced to fend for ourselves and provide all of our own meals, which would be quite tragic.
There's nothing better than getting some delicious food when you don't feel like cooking.
And meals made by someone else always taste better, it's science!
So it makes sense that restaurants would be incorporated into a life simulation game, right?
Simmers have come up with many ways to give the joy of restaurants to our Sims, from both the side of a customer, as well as an owner.
And you'll find everything here you need right here to bring the fun of real-life eateries down to the pixel level.
1.

Restaurant Clutter
Ah, clutter.
Where would we be without it?
A lot less cluttered, I guess.
But these are just the kind of items that make your Sim's spaces look realistic and appropriate for whatever setting you're going after.
This set is full of little things that a restaurant just can't do without, like napkin holders, menus, trays, and much more.
You don't just get one option, either. There are three different types of menus and they all have tons of swatches so you can get the feel for your restaurant just right.
The chalkboards are also pretty important.
Imagine going to grab some carryout and there's nothing on the wall telling you your options… such a scary thought.
Those require the Dine Out pack, but everything else here is base game compatible.
2.

Bakery Cupcake Set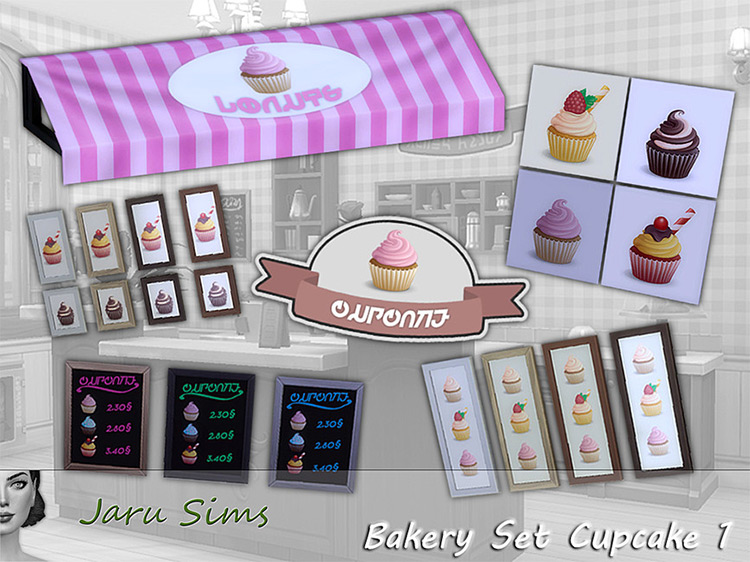 I don't know who invented cupcakes, but they changed the world.
Those little pieces of cakey frosted goodness make everything better. They're like instant happiness!
Just think about how often cupcakes are associated with joyous occasions.
Birthdays, anniversaries, graduations, hospital stays… there's no situation that a cupcake won't improve.
With this Bakery Cupcake CC Set, you'll be able to make some really cute little restaurants.
There's a striped awning with a cupcake, as well as stickers, pictures, and wall menus in Simlish.
Everything comes with several bright upbeat swatches to keep the feel-good vibes flowing come rain or shine.
3.

Restaurant Menu Set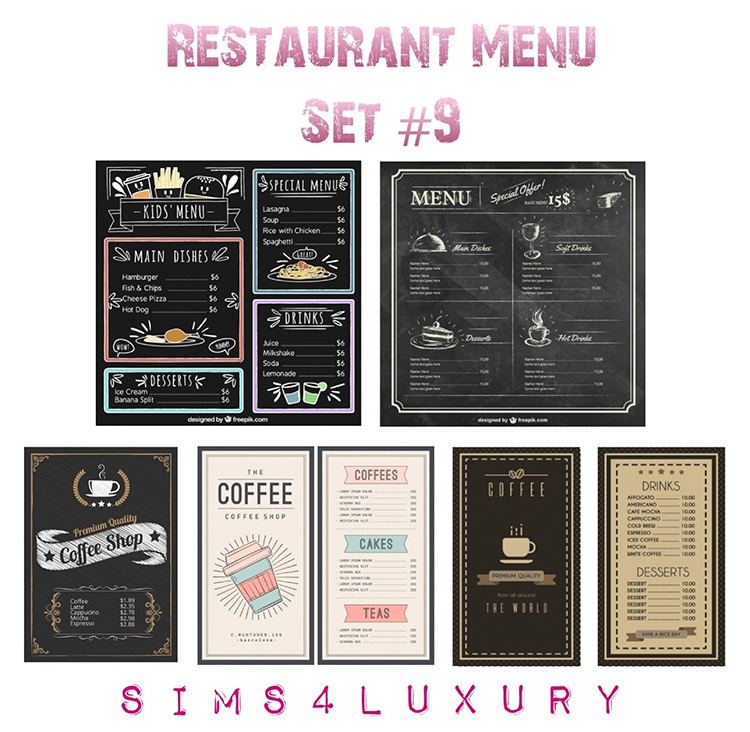 As we've already established, menus are rather important.
Not just so you aren't left without any idea what to order, but also because they're such a big part of the restaurant experience, too.
It's a great rush of excitement, if not a little overwhelming, once you see all of the choices laid out before your very eyes.
Besides, it's a great way to ensure future business.
We've all been to places where so many things sound great that it's hard to pick just one, so you can't wait to come back and try more.
These menus look fantastic and will help greatly in making your Sim's restaurant actually look like a restaurant.
You'll have multiple modern styles to choose from, including chalkboards and general straight-to-the-point ones that just say what's available without the frills.
By the way, take note of those prices… on one of these menus, everything from hamburgers to sodas cost $6. Oof.
Not sure if that's a good business model, but Sims won't mind.
4.

More Realistic Restaurant Mod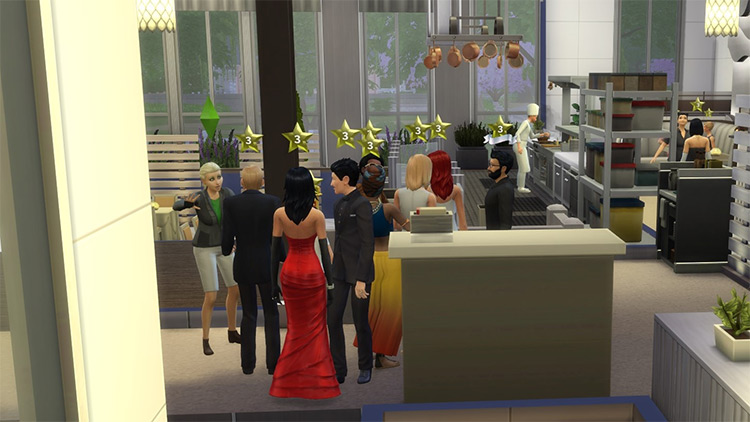 If you're an avid Sims player, then I'm sure you know about all of the packs, even if you don't own them.
It's actually a rather strange phenomenon.
There are some packs that just aren't my thing and I know I'll never buy, and yet I remember everything from the order and day they were released to the content included.
That's just the life of a Simmer, I guess.
But the Dine Out pack has a great reputation.
Many players list it near the top of their favorites, but if there's one standout complaint people have with this series, it's a lack of realism.
Some things are understandably sacrificed in order to create a less stressful, smoother game experience.
But some people want everything just like real life, both the good and the bad.
This mod from krizz.88 will balance out your Dine Out restaurant experiences.
It changes the business hours so Sims won't be coming in at all hours of the day, and like in the real world, sometimes will see a spike in customers.
The food that comes out of your restaurant will also be quality stuff now.
No more Poor or Normal tier stuff that Gordon Ramsey would hurl across the room.
When you've got a chef in the kitchen, he or she will produce Outstanding meals.
5.

Pizzeria Set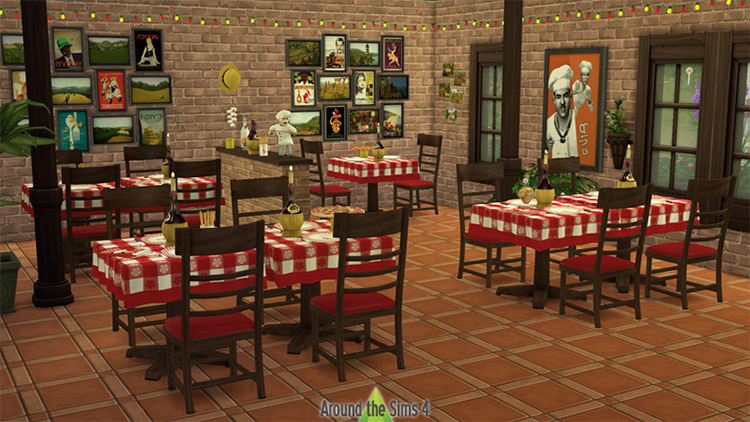 Pizzerias are sacred places.
The importance of professionals bringing together dough, cheese, and sauce cannot be understated.
Throughout the world, pizza is a beloved cuisine. So the restaurants dedicated to them should reflect that.
This CC set contains everything you'll need to get that authentic pizzeria aesthetic.
You might not think tables and chairs are important since we already have options in the game, but seating adds to the ambiance more than you might think.
Here you'll find the typical little wooden tables with options to add a classic checkered tablecloth, plus some fitting chairs.
There's also an abundance of décor here as well that makes my clutter-loving heart happy, like decorative breadsticks, cutlery, figurines, paintings, and more.
You'll truly be able to build the pizzeria of your dreams – or one that reminds you of your hometown!
6.

Mexican Restaurant Furniture & Decor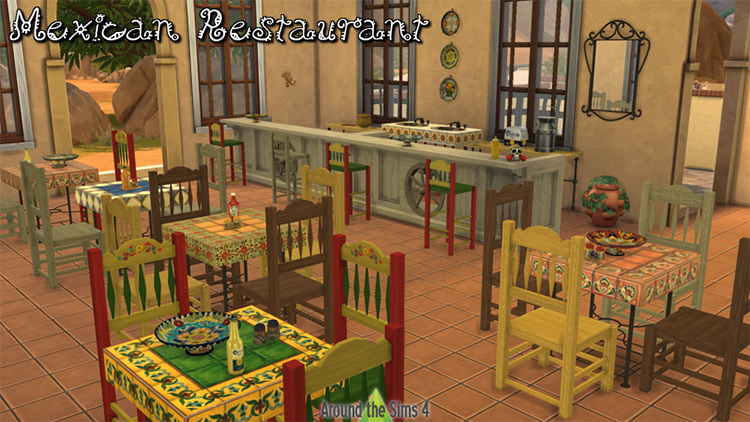 Many Mexican Restaurants aren't just places to eat. They're a lesson in the culture and history of the motherland of the world's most delicious food.
Okay, so maybe I'm a little biased, since Mexican is my own favorite food.
But the restaurants really do make your meal a whole experience.
And now you can do the same for your Sims.
There's certainly no lack of color here; everything from the salt & pepper shakers to the bathroom sinks feature a variety of ornate vibrant swatches.
Then there are the decorative plates you can hang on the walls, and they are honestly just breathtaking.
"Elaborate" doesn't even begin to describe them!
You'll have no lack of furniture for your Mexican restaurant, either.
Even the tables here have fantastic designs in the tile, and there are great little details on the back of the chairs.
Let it never be said Simmers don't go the extra mile for authenticity!
7.

DIY Restaurant Set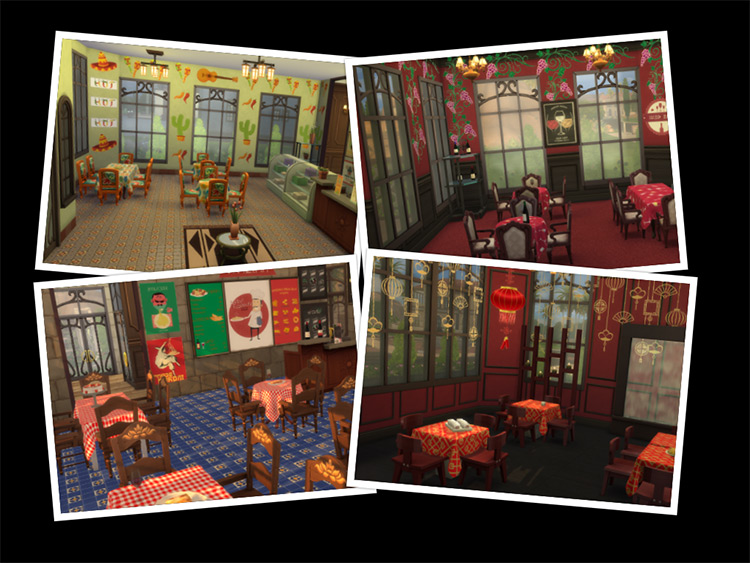 Sometimes, Custom Content creators really go all out for a concept.
This is definitely one of those times.
At a mind-blowing 300 items total, this is by far the largest CC set I have ever come across. And it's all about building your own restaurant!
To fully detail all of the awesome stuff here, let's start out small first:
A really cool little part of this set is that it comes with some uniforms. 22 total, in fact.
So once you have put in all the work to make your build great, you don't have to have employees running around in the generic base game uniform!
Now onto the décor items.
The sheer amount of them is very impressive, and everything has dozens of swatches!
There are three tablecloth sizes, suited for almost any table in the game. I think the decorative food is pretty impressive too, and will come in handy.
Instead of all the food in sight having to be prepared by your Sim, you can use the huge variety available here to fill in some spaces with food that will never spoil.
And again, more menus!
You can choose from small as well as large chalkboard menus showing a variety of different food styles.
Lastly, the wall stickers and logos are very fun ways to further make your restaurant's visual aspects interesting.
Much of the set is focused on this area – you'll find a theme or design for pretty much everything you want, with matching floor decals.
8.

Hire Certain Sims at Restaurants Mod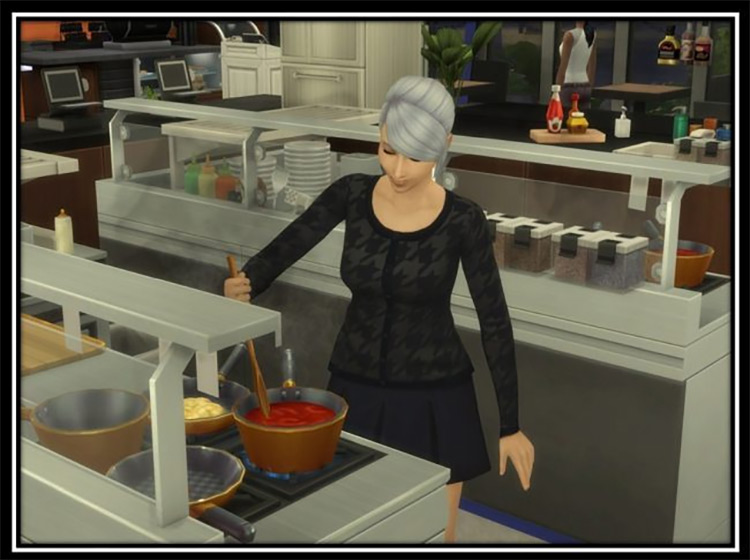 Here's another mod to improve your Dine Out experience.
This one will enable you to hire whatever Sims you want to work at your restaurant, including family members.
This will really open up restaurant gameplay in a whole new way.
Now you could play a family-run restaurant and hand it down through generations, have friends on the staff, or just make a really cute guy or gal specifically to work there so your Sim has options.
Hey, meeting people is hard. And in this game, the effort could take up half your Sim's life.
Might as well make it as easy as you can.
9.

Random Asian Stuff Conversion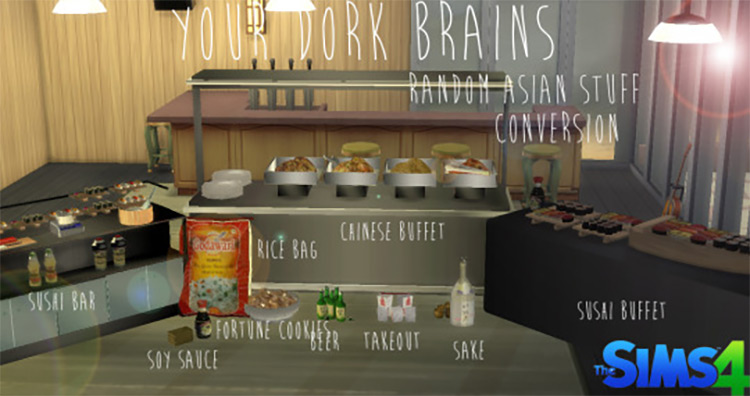 Restaurants are a great way to get out of your comfort zone and try new things.
Everybody knows the stuff they like to stick to, and that often doesn't involve things from other cultures if you didn't grow up with it.
But thanks to authentic restaurants, you can get exposure to all kinds of amazing foods that you might never get anywhere else.
Your Sims will definitely never see a sushi buffet or sake anywhere else, and those are just a couple of the decorative items that are here for you to enjoy.
There's also a rice bag, sushi bar, deco Chinese buffet, and takeout containers.
With this stuff, it'll be easier than ever to create a restaurant in your game based around Asian cuisine.
10.

Stone Oven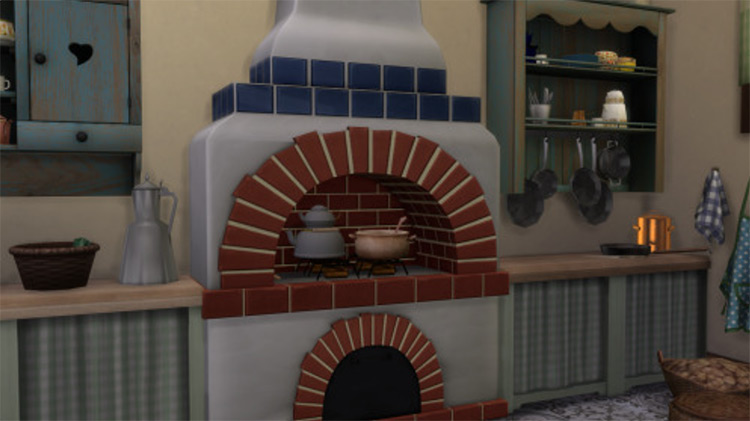 Stone ovens just have a special way of making a place feel cozy.
The way they cook tends to offer a smokier, more savory taste as well.
You just know you're in for a good time when you walk into a restaurant with a stone oven.
In The Sims, they'll serve as a great decorative piece and really flesh out the kitchen. You'll have to do a lot of improvising to make the space look less homey and more professional – but this will definitely help.
And who has a stone oven in their house? Psh… no one.
They're too cool for homes.
You'll be able to easily place counters around this so it can blend well with the rest of the kitchen.
There are eight switches as well, ranging from sort of old-timey styles to more modern color combos.
11.

Tiny Kitchen but Grand Chef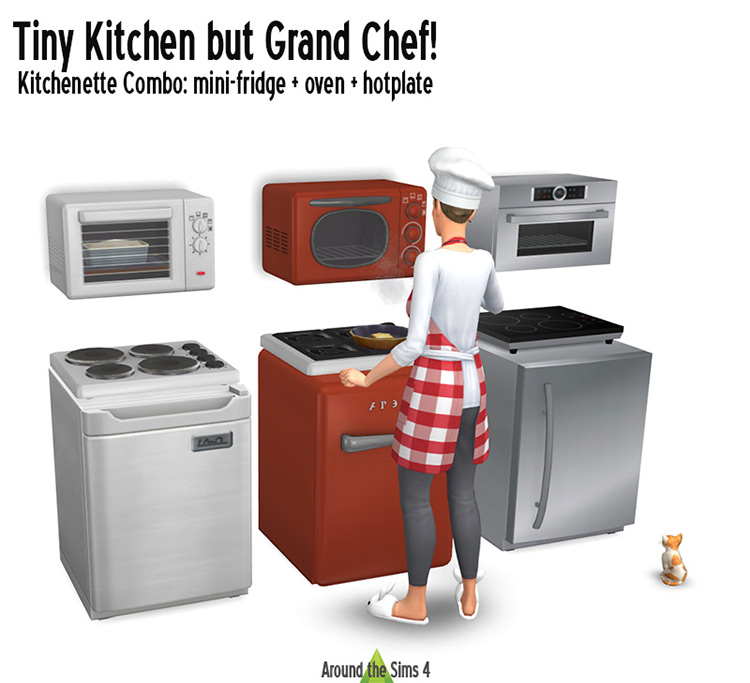 For a moment, I'd like to stay focused on the kitchen.
It's really a toss-up which is more important to a restaurant: a kitchen or a seating area.
They're both integral to the whole process of food service, so you'll really want something as functional and modern as you can get.
While the creator intended this incredible trifold appliance for tiny homes, it's honestly a great addition to any kitchen – especially industrial ones.
A fridge, microwave, and stove are all included here. And you can place them all in one compact slot.
The microwave is wall mounted and you can place clutter on top, which instantly makes the entire kitchen more functional.
I have been over-dedicating an entire counter to microwaves for a long time.
As for the stove, that actually goes right on top of the mini fridge.
I don't know how well that would function in reality, but whatever. It's just incredibly practical for The Sims.
Also, everything comes in three styles: retro, cheap, or modern.
So it's really up to you if the restaurant has a bunch of outdated appliances that have been there for decades, bought them at a yard sale, or really dropped some Simoleons to get all new stuff.
12.

Ka-Ching Cash Register Set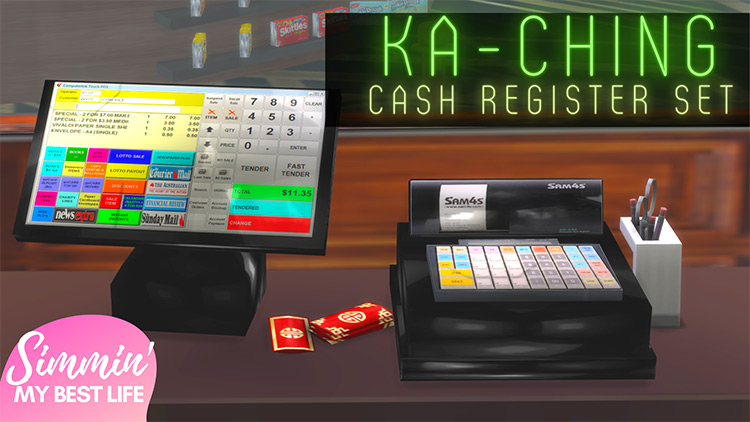 It may be taboo to talk about, but money is the foundation of every business.
Without an income, a restaurant doesn't have a whole lot of hope to last.
And you know what you need to get income? A cash register.
This is a business, you can't just keep track of things with a notepad and store your earnings in your mattress!
There are 15 swatches to this decorative object so you can pick the one that will be perfect for your Sim's establishment.
By placing one near the front of your restaurant, the whole place will look a bit more realistic.
13.

Ratatouille Restaurant CC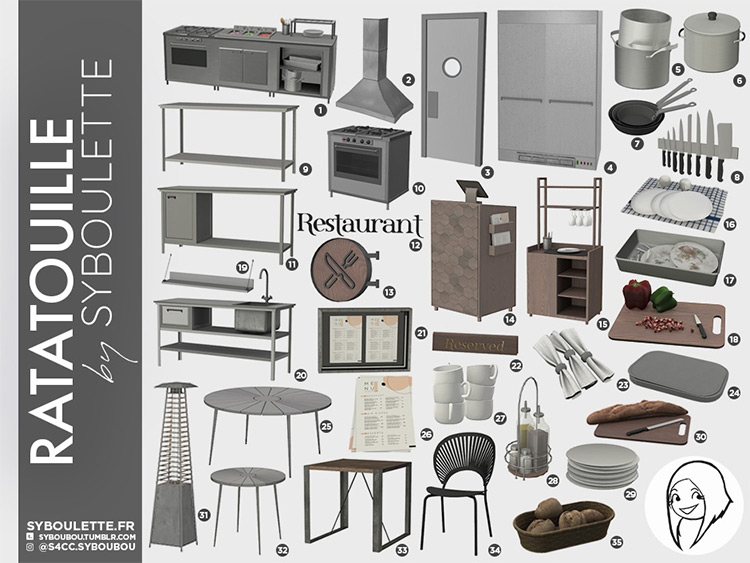 I have no idea whether or not this was actually inspired by Ratatouille, the Disney movie, but just the name makes me happy.
Surely I can't be the only person whose interest in the culinary arts was inspired by a fictional rat.
Anyway… with this set, you will be fully enabled to build and decorate a restaurant that would make any person (or rat) proud.
Out of 42 items, only 4 of them require Dine Out.
Everything else is base game compatible, including the cook and waiter stations.
You'll have a ton of new items to really get the kitchen looking like a place that means business.
From pots and pans, to knives, and even trays of dirty dishes, this set leaves no stone unturned.
As for the seating areas, you won't be left wanting for anything there either.
There are some all new tables and chairs, plus plenty of stuff to place on them like napkins, menus, and bread baskets.
14.

Parisienne Cafe Dining Set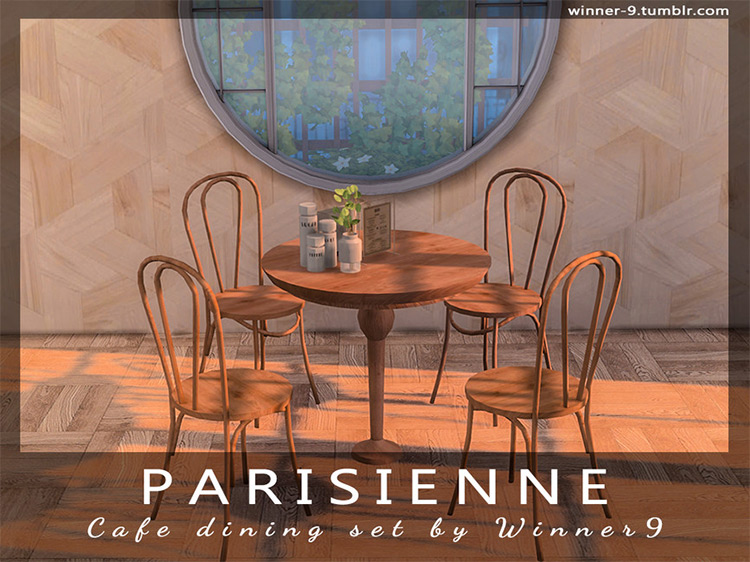 The tables and chairs you use in your restaurant can set the tone for your whole establishment.
It's a good idea to separate what you use at your Sim's restaurant from what they have at home, too.
It's rather tacky to use the same stuff for both.
This Parisienne Cafe Dining CC Set from Winnier9 is distinctly "bistro".
It just wouldn't look right outside of a restaurant, and this sleek set does its job exceptionally well.
Whether you use these for an outdoor eating area or as your go-to for indoor seating, you'll never tire of them.
They also come in some great swatches, including your classic black and white plus more rustic wood designs.
Oh, and guess what?
You get the stuff you see on the tables as well!
That's right, the napkin holder, condiments, and menu are all yours too.
15.

American Diner Stuff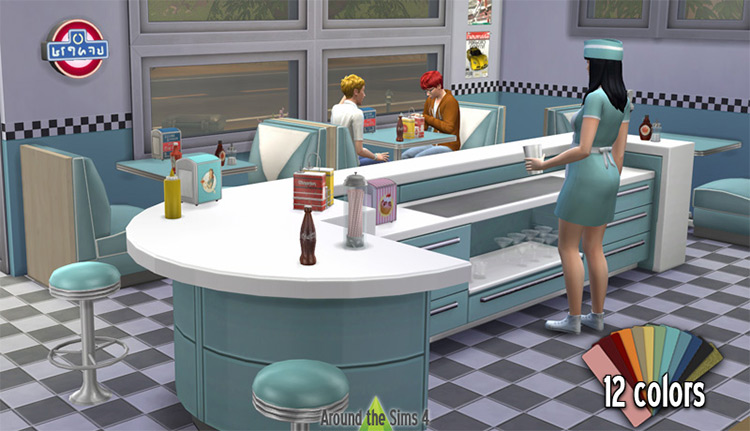 Diners are an iconic part of American culture and have been for half a century, if not longer.
Comfort food and a good atmosphere will always keep people coming back.
All of the typical diner staples that have become a nostalgic, feel-good symbol of American culture can be found here – like cozy booth seating areas and stools to sit right at the counter.
The décor here is so cool as well, like the classic Coke bottle!
That's something native to all diners.
Lastly, and maybe the best part of all, I present… the appliances!
There's a milkshake blender and popcorn machine here that just look awesome, and are such unique objects for your game.
Browse:
Lists
The Sims 4
Video Games