Sims 4 Wedding Décor CC: Furniture, Flowers & More
This post may contain affiliate links. If you buy something we may get a small commission at no extra cost to you. (Learn more).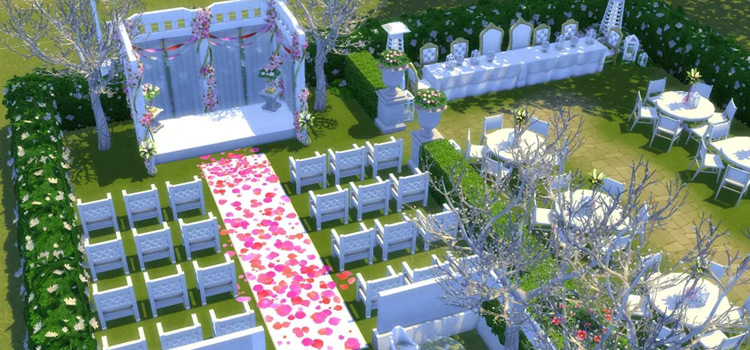 Weddings in The Sims 4 are goaled events.
That means they're basically Celebrations that your Sims can host and get rewards for if they do a good job (i.e., meet certain criteria).
This is fun and all, but it's definitely taken away the emotional component of the ceremony.
When The Sims 3: Generations EP was released, weddings were a big freaking deal.
They really sweetened the pot for Simmers who enjoyed a family-oriented style of gameplay. This kind of enthusiasm is pretty hard to replicate in TS4, considering there isn't even a proper stuff pack or item catalog for weddings.
But, as always, the TS4 CC community is here to help.
I found some pretty cool custom arches, furniture, and decorative wedding clutter that should help spice up your Sim's Special Day.
---
Wedding Stuff Packs
---
Rustic Romance Stuff Pack by The Plumbob Tea Society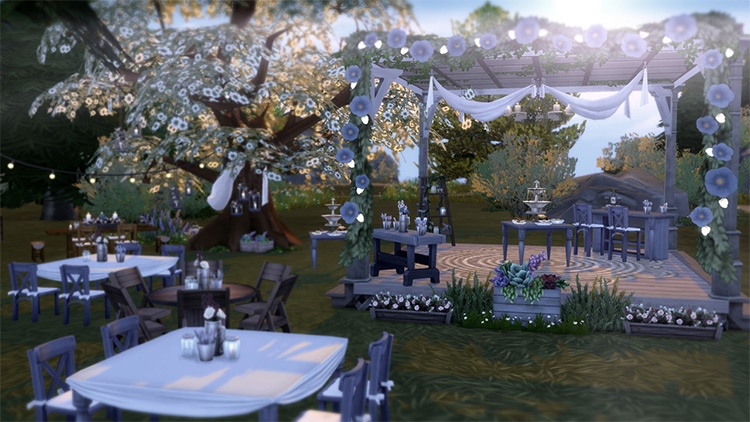 I've reviewed the Rustic Romance Pack before when I recommended rustic furniture.
I remember being blown away by the distinctly detailed textures and creatively upcycled/reused decor items (like using a ladder as wall decor or turning a steel bucket into a rustic flower pit).
Now that I've come back to it as a Sims 4 CC Wedding Pack, hoo boy.
I don't think I can sing its praises enough.
This is a stuff pack that keeps on giving.
On top of the 29 new CAS items (which is already crazy plentiful), there are a total of 43 items in this pack for you to decorate your Sims' wedding with. If you want to include the Weathered Barn Siding wallpaper, bring the Build/Buy count up to 44. Grand total?
Well over 70.
And they're really, really gorgeous items, too.
The creators obviously don't do things by halves, no. The decorative wedding cake comes in several flavors and three stages: full cake, cut cake, and single cake slice.
The tea candles come in five different sizes.
The lanterns, candles, wreathes, and fairy lights function as both decorations and actual lights.
I feel like their photos and item index can do more justice to the pack than I ever could, so go check out the download page. Like, right now.
Push Comes to Love Wedding Set by RAVASHEEN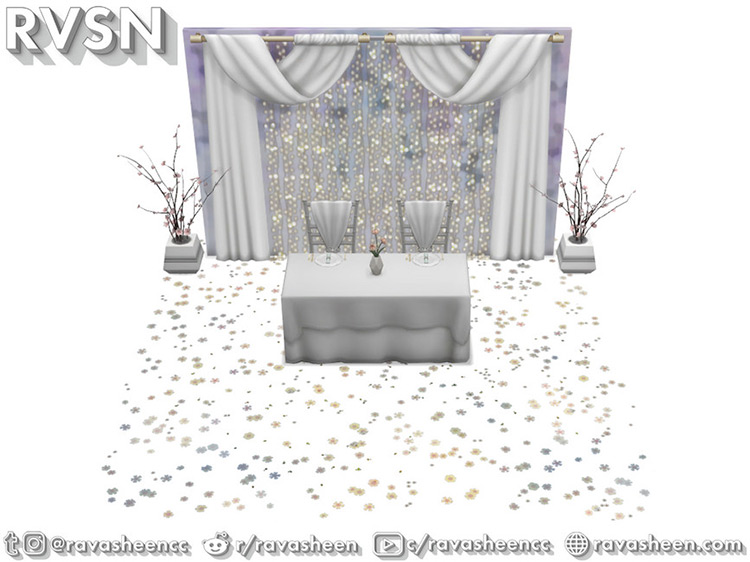 Aside from having one of the most clever pack names on this list, RAVASHEEN's Push Comes to Love Wedding Set also contains an original custom item that none of the other packs have:
An honest-to-goodness photo backdrop. With a stand and everything.
Because what respectable wedding nowadays doesn't have some form of photobooth or photo op area specifically for those tasty social-media worthy snapshots?
There may only be four design options for the backdrop, but it comes with slots for wall decor and curtains for plenty of customization opportunities.
The pack also comes with animated fairy wall lights, a huge flower petal floor rug, and some gorgeous wedding placemats.
It may not be as jam-packed as the Rustic Romance set. But it's got a handful of unarguably unique bits and bobs that add to its overall charm.
Pour Toujours Romantic Wedding CC Set by syboulette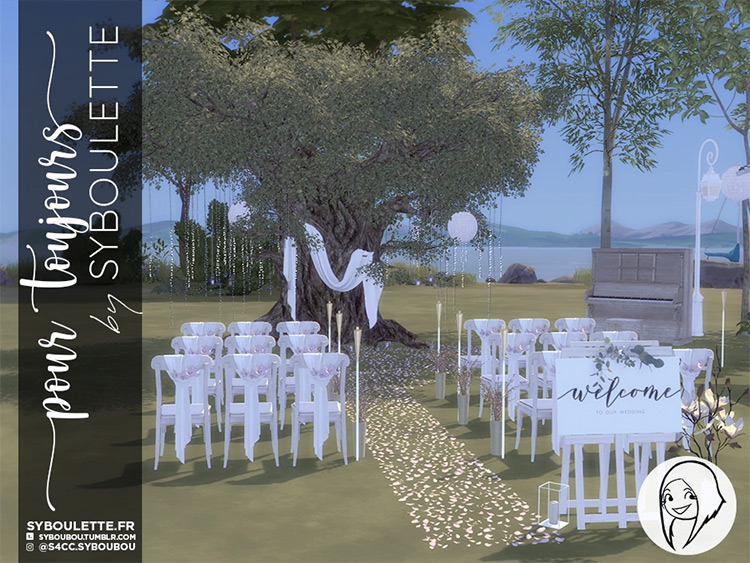 Just like The Plumbob Tea Society's Rustic Romance stuff pack, this Pour Toujours Romantic Wedding Set is packed.
It offers 27 uniquely designed Build/Buy items to create an insanely romantic outdoor wedding, and trust me; the quality of each piece is stunning.
From the Tree of Love (which is a gigantic sprawling oak-ish tree that would have Grandmother Willow proud) to the (animated!) string lights and delicate tea candles, every piece has depth, texture, and detail.
So much so, in fact, that the creator does caution the polygon count.
Happy to report there was no visible lag with Laptop Mode turned on, so maybe try that if your processor's struggling.
Some highlights and notable faves from this pack?
The draped cloth (that acts as a functional wedding arch), the swing sofa (because oh god, just think of the photo ops), the multiple cake topper options (because love is love), and the wedding chairs (classically beautiful).
The creator also mentions that the pieces can be used as standalone, non-wedding-related clutter, and I agree.
Most of the items here are pretty versatile and tastefully minimal. So mixing them with other packs or concepts shouldn't be a problem!
Romantic Table Setting by Around the Sims 4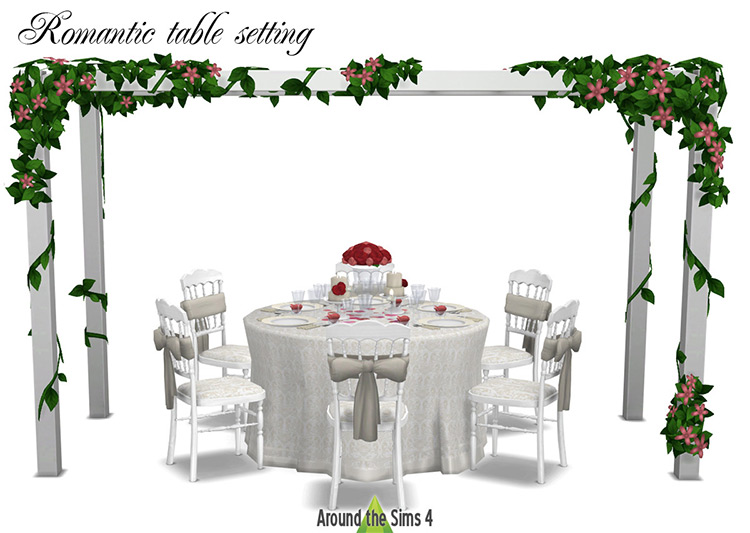 This pack contains literally everything your Sim needs to decorate the reception area:
Tables (two size options), chairs (four beautiful design variations), tableware (even has a salad fork), a vase of roses (or carnations, depending on the swatches), and a tiny pale pink tea candle. Just to name a few.
The name alone already tells us that the pack's specifically designed for a dining/reception sort of setting, but there are definitely one or two pieces in there that can be used in an actual wedding ceremony—particularly the chairs and petal mat.
There aren't too many color variations for each piece, but the number of items and their quality more than make up for it.
---
Wedding Arches
---
V. Holy Marchrimony Wedding Arches by RAVASHEEN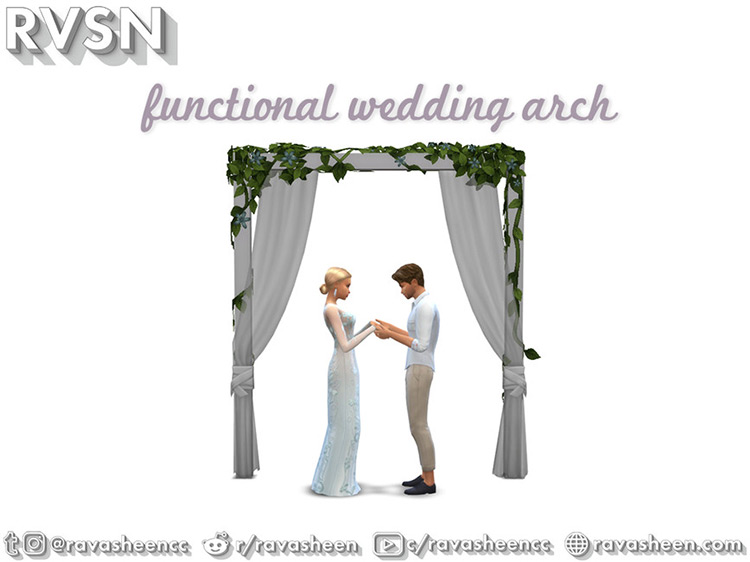 This pack contains five "obvious" wedding arches and two "hidden" ones, and I think the originality (plus customization options) alone is enough to warrant it a spot on this list.
The "obvious" functional wedding arches are plain, simple, and beautifully designed—all clean lines and clear shapes.
They're ideal for Sims (and Simmers) who believe that less is more.
Besides, "gaudy" and "eye-catching" aren't very common descriptors in weddings, anyway.
The "hidden" arches are what got me excited. Because they're honestly genius.
Instead of a literal arch that your Sim couple stands under, RAVASHEEN has made clickable small candles and ground flowers that act as functional wedding arches.
Your Sims simply need to interact with the candles or ground flowers like they would a wedding arch and, boom. Married.
This opens up a whole realm of possibility for custom arches and wedding designs.
All Sims 3 Wedding Arches Set by g1g2
For the hopeless romantic and hopelessly nostalgic, I got you.
Or, at the very least, g1g2's got you.
With their Sims 4 conversions of four iconic Sims 3 wedding arches!
The New Beginnings Wedding Arch, the Perfect Couple Wedding Arch, the Traditional Wedding Arch (still my favorite after all these years; something about the climbing ivy gets me misty-eyed), and the Island Wedding Arch.
All beautiful, all functional, and all looking great in Sims 4 textures.
Fractured Wall (as a wedding arch) by Laticis and BigUglyHag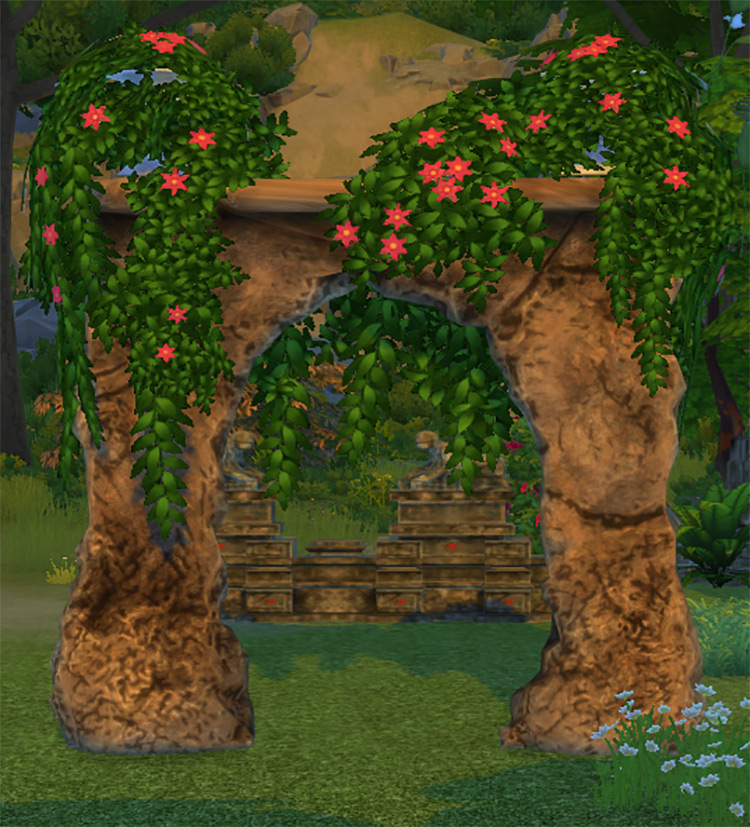 Genuinely can't think of a more perfect wedding arch to marry two outdoors-loving, jungle-exploring, intrepid adventurer Sims than this one by Laticis (reskinned and revamped by BigUglyHag).
This Fractured Wall Wedding Arch looks like it came straight from one of Selvadorada's many, many temple ruins.
The texture's fantastic, the crack and ridges, realistic, and the concept? Definitely unique.
And the edited mesh (by BigUglyHag) adds a neat flower bush accessory that slots right on top of the arch.
Makes it look a little more jungle-y, sure, but it also adds a nice little pop of color.
Can't recommend this for an indoor wedding (unless your Sims are actually getting married in the temple ruins), but for an outdoor event? 10/10.
Old Mill Wedding Arch (TS3 Store) by BigUglyHag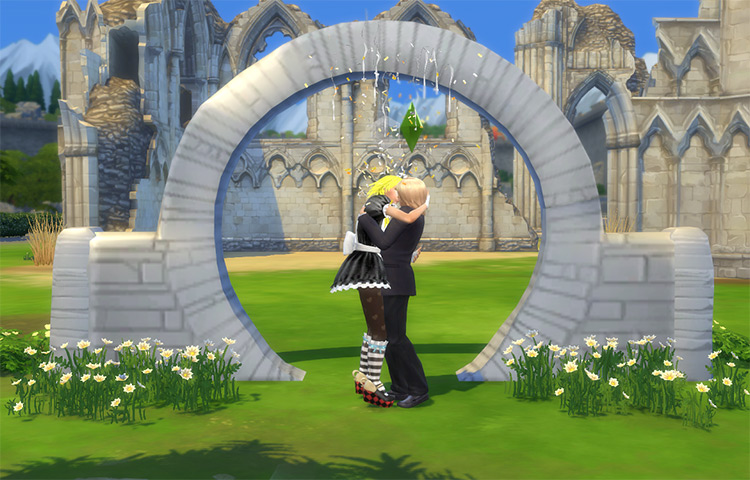 Continuing the trend of unusual Sims 4 wedding arches, this beautiful TS3 conversion by (still by BigUglyHag) looks like the perfect centerpiece to a medieval-fantasy-themed celebration.
Something about the polished white stone and near-perfect-circle, gateway-type middle honestly makes me think of The Lord of the Rings and Narnia.
But if that's not what your Sim is going for, no problem.
With the right shrubbery and foliage around it, this can totally pass as a modern-day stone arch for the couple that loves history and/or architecture.
Like the Fractured Wall wedding arch, I don't think this would look believable indoors.
Out on an open field, however, it's a real winner.
The Folly by freeasabird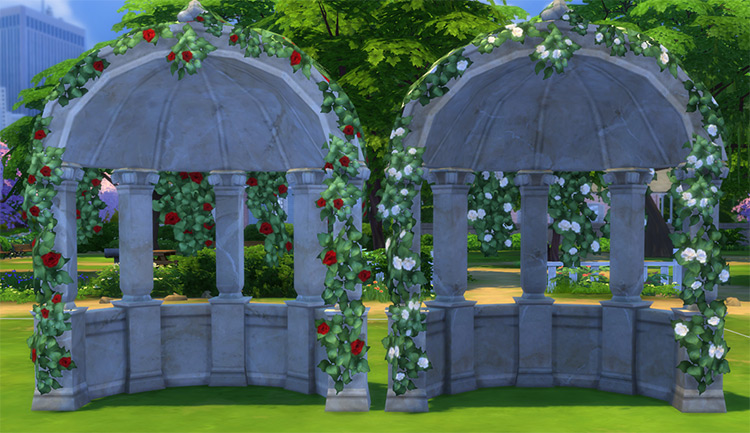 Can we just take a moment to appreciate the fact that the creator went above and beyond the typical recoloring process (which I'm sure is already pretty freaking tedious) just to add slots to this wedding arch?
Seriously, hug your custom content creators.
They go through a lot just to give us awesome items for free.
The Folly Wedding Arch is actually The Folly of Lady Chloris from the Sims 4: Romantic Garden Stuff pack, converted into a fully-functional wedding arch.
Gotta admit, EA missed an opportunity with this one.
Because it does look like a hella romantic centerpiece.
Imagine it for a garden wedding in Spring. Absolutely gorgeous.
Thankfully, this Sims 4 CC creator delivered.
The Folly wedding arch comes in six color options and has twelve item slots suitable for small, decorative clutter (think tea candles, lantern lights, and little flower arrangements).
---
Loose Wedding Clutter/Decorative Clutter
---
Wedding Signs by AgressiveKitty
Wedding signs are pretty, practical, and photograph great in real life (if they're designed well).
These custom decor objects by AggressiveKitty are no different; sturdy canvases adorned with beautiful fonts and watercolor prints .
The creator also included a standing Guestbook in four different colors and designs.
The signs themselves have seven variations, and each variation has a different message.
The theme of most seems to be for an "unplugged wedding" (which is pretty cool), but there are still plenty of generic "welcome to our wedding!" messages for them to be usable in any concept.
Caleche Mariage Decoration (Horse-Drawn Carriage) by Mom Gateau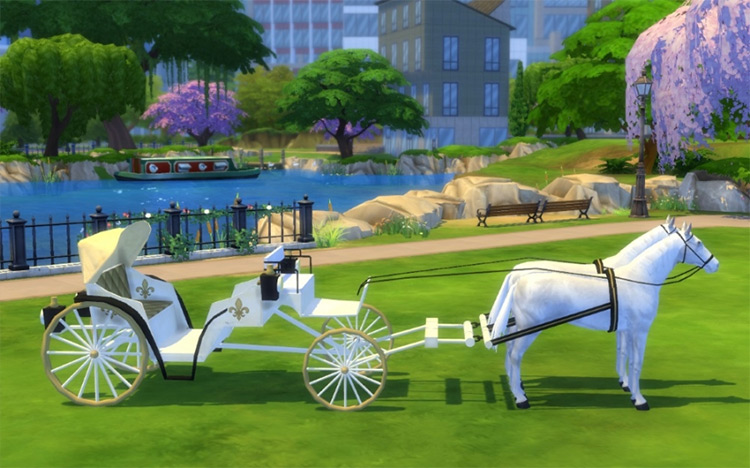 In real life, an honest-to-goodness horse-drawn carriage would probably cost an arm and a leg to rent.
But in The Sims 4? §420 Simoleons and it's yours forever (or until you sell it).
This creator specifically markets it as a carriage to "decorate your wedding staging," and I can see how that would play out in a vintage or fairy-tale-themed celebration.
Drape some fairy lights around, litter the ground with bucketfuls of flower petals, and maybe break out the cobblestones (if you're feeling extra 18th to 20th century) for a truly dreamy photo op.
And if the pure white aesthetic doesn't fit the wedding concept, don't worry; it also comes in warm wood and golden cream.
Peony Set by arsbotanica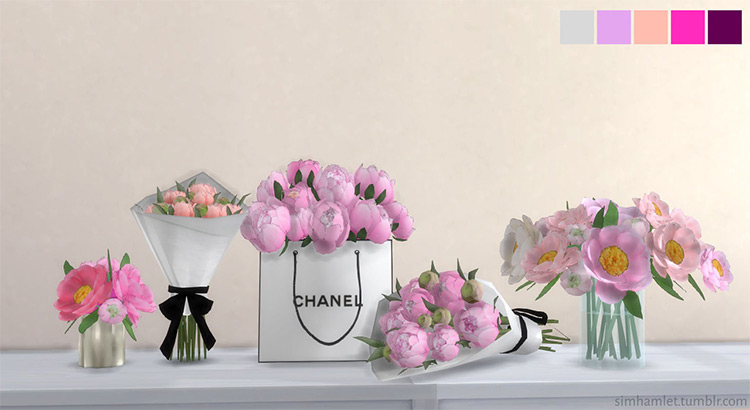 These aren't wedding-specific flowers, but their color swatches and designs make them perfect for some loose on-hand wedding clutter.
Especially the Peonies Bouquet Horizontal CC, which is basically a bouquet of flowers lying flat.
I can imagine these artfully placed on pews, side tables, and extra chairs.
The Chanel Peonies work as uniquely eccentric decor for brides/wedded couples with more lavish tastes.
And the other designs are simple enough and tasteful enough to be used as space fillers or floral accents.
These decorative peonies come in five soft colors: cream, lavender, peach, pale pink, and deep plum.
I see the peach, cream, and pale pink being more suitable for traditional weddings, but hey. Props to you if you can make the plum and lavender work for your Sim's special day!
Petals on Floor Angel by Severinka_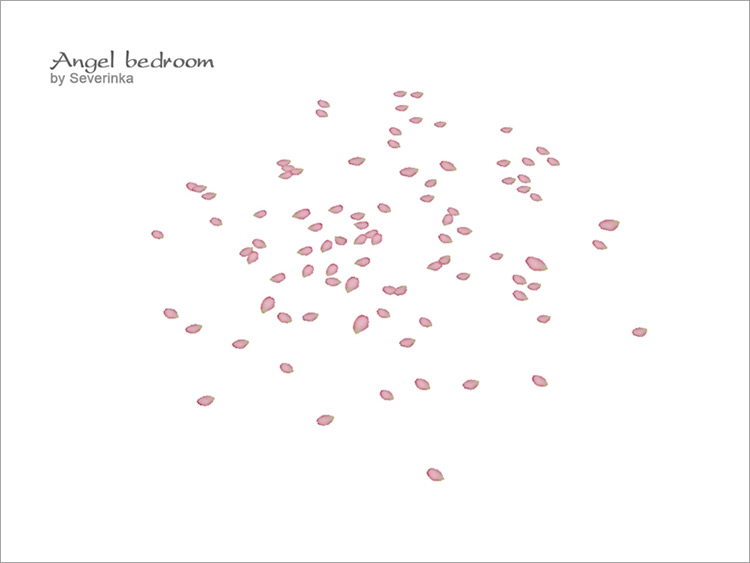 There are quite a few flower petal rugs out there in the Sims 4 CC sites.
Heck, the Pour Toujours Romantic Wedding CC pack has two variations.
But I'm including Severinka_'s custom Petals on Floor rugs as freestanding wedding clutter that you can just place down wherever to add more "wedding magic" to your screenshots.
And I mean that literally.
Severinka_'s version looks way more scattered and natural than most CC items with the same concept.
It's less structured and looks a bit like the decorator (and/or flower girl) got a little too trigger-happy with their florally ammo, but in a really good way.
Means you can place and position it any which way and it won't look uncannily repetitive.
Edible Wedding Cake by Around the Sims 4 & icemunmun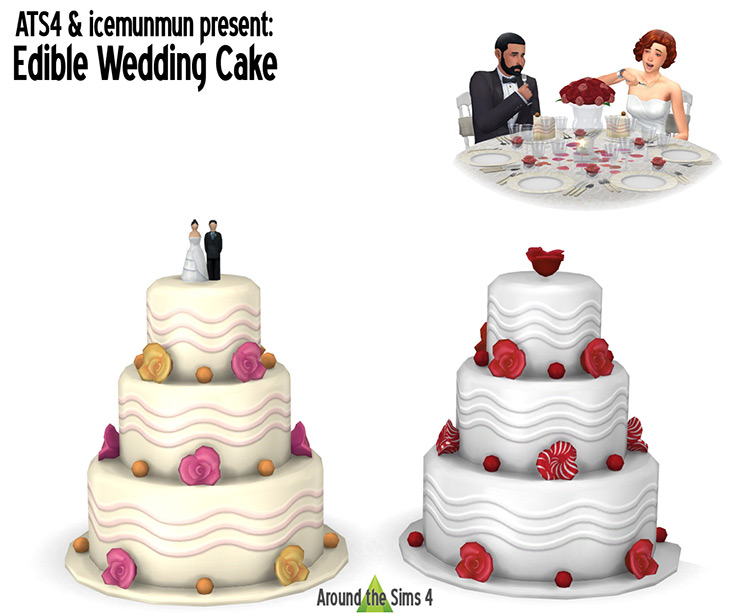 This genius custom wedding cake from Around the Sims 4 and icemunmun is one of a kind (as far as my limited Google research skills can tell).
It's both a decorative object and an interactive edible item.
So your Sims can literally have their cake and eat it, too!
Sorry—too perfect to pass up.
The wedding cake is a standard three-tier affair with cream icing, delicate waves, and floral decorations.
It can be found under the Appliances category (dunno why either, but it's there) and has two flavor variations.
The corresponding cake toppers are under Decoration > Clutter, and I have to give the creators extra props for diversity.
Aside from including same-sex representation, they also offer four different skintones for each representation.
Engagement Ring by soloriya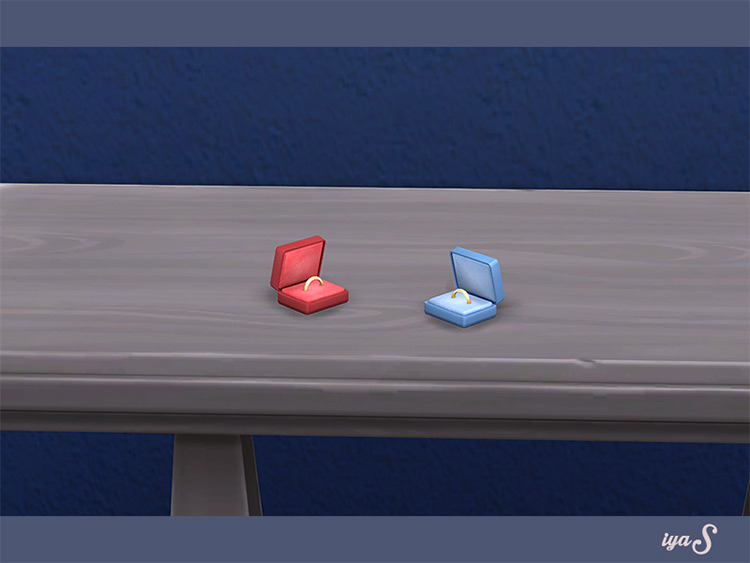 I know engagement rings are usually broken out months before the actual wedding (sometimes even years before, if the bride and/or groom like to plan ahead).
But if your Sim is feeling particularly romantic and giddy, they can totally incorporate their engagement rings into the wedding decor (check Pinterest – definitely been done before).
Enter this casual decorative clutter piece by soloriya—just a small box holding a tasteful golden band.
Simple, elegant, and speaks volumes.
Plop them on the same table holding the Guest Book (again; AggressiveKitty's Wedding Signs pack has four beautiful options) and fill up the rest space with peony bouquets and flower arrangements.
It'll look a right treat!
Valentine's Day 2016 Tray by SIMcredible!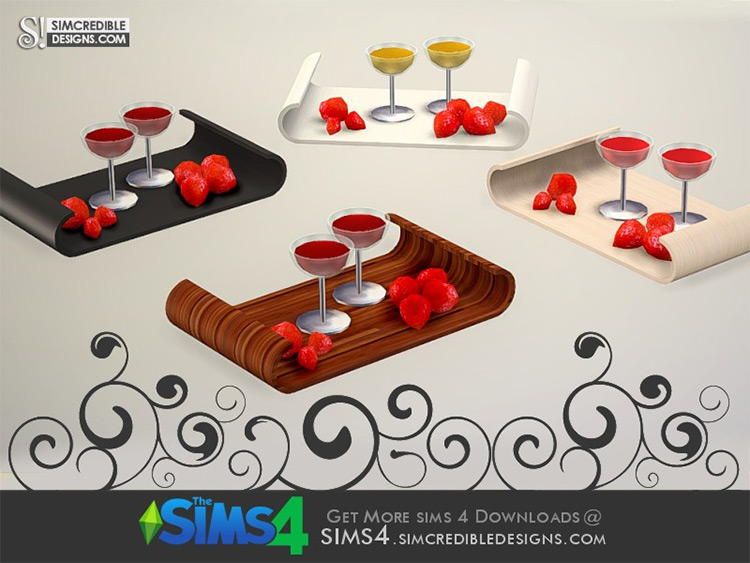 As the perfect accessory for pre-ceremony drinks or tasty reception tidbits, SIMcredible!'s Valentines Day Tray features two topped-up wine glasses and two bunches of cute, juicy strawberries.
It might be a little too cutesy for some, but you'd be surprised how well the white wood swatch fits in with a classic white wedding theme!
Plop on a white lace tablecloth and pair with creamy and/or iced baked treats to create a soft, elegant dessert setup.
Against all the neutral whites, beiges, and creams, the deep red of the drink (I'm gonna guess wine, but it could very well be something fruity for a non-alcoholic option) and the strawberries adds a beautiful pop of color that photographs really well.
Bakery Goodies by Porphyria's Sims

And here are the "creamy and/or iced baked treats" I was talking about in the previous item.
Porphyria's Sims' Bakery Goodies aren't marketed as wedding CC at all.
But they do have different flavor swatches.
And if there's something I (and my infamous sweet tooth) am intimately familiar with, it's the dessert table at wedding receptions.
Believe me when I say that white, cream, and beige finger treats make for surprisingly aesthetic decorations IRL.
In the case of this custom content pack, I used all the vanilla-flavored pastries and plopped them on the Heart Tiered Sweet Display. I even added a candle for visual balance.
A wedding planner/coordinator I am not. But I will say that the resulting setup would not look out-of-place at a wedding.
Gladys Tableware by Severinka_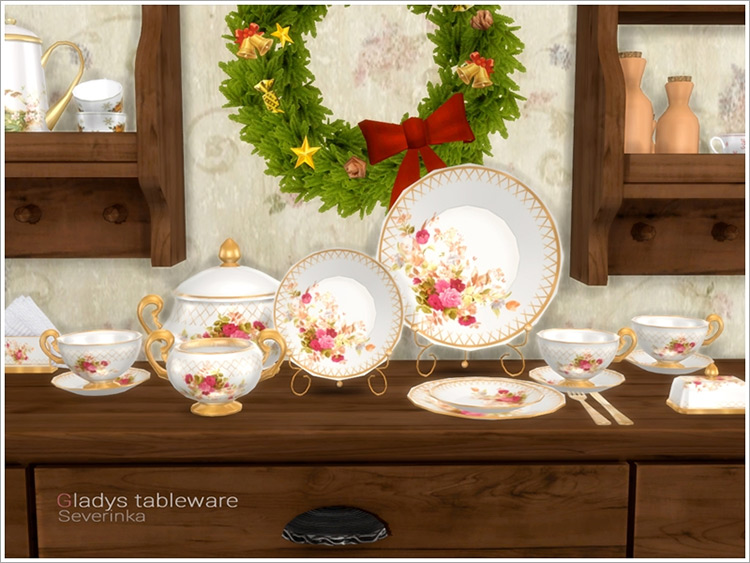 This beautiful Gladys Tableware CC dining set from Severinka_ is very much reminiscent of Grandma's fine china:
Heavy, gold-rimmed, and has probably been passed down the matriarchal line for generations.
It may look a bit too aged and frilly for a modern, contemporary wedding.
But for an affair that's more family-oriented and/or traditional? These flower-print plates, mugs, and soup cups fit right in—especially in white, pink, and gold.
You probably won't need to use every piece in this set (goodness knows I didn't) as there are nine pieces all in all and they can be a bit much.
But the plate, sweetpot, butter dish, and napkin holder are dainty enough to make an elegant place setting.
Candles Angel by Severinka_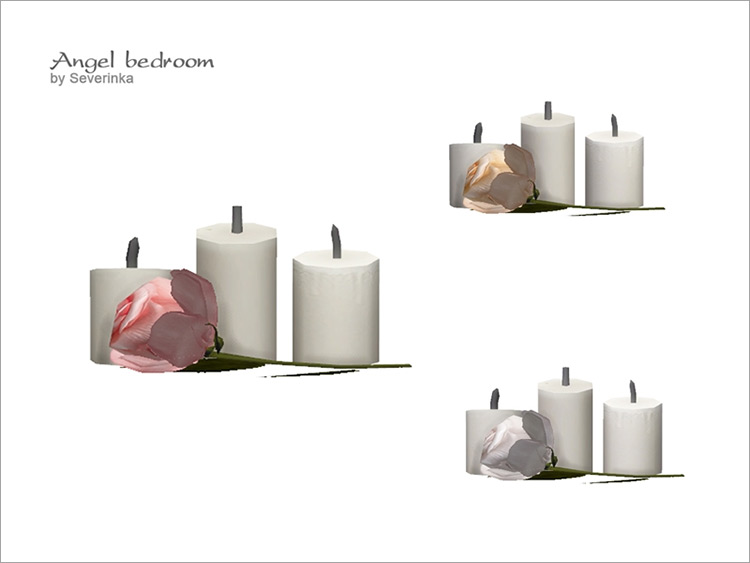 Believe me, I am very much aware that the Rustic Romance, Romantic Table Setting, and Pour Toujours CC packs already have candles.
Heck, the Rustic Romance pack has five variations.
There are enough candles on this list already to light up several weddings and their honeymoons. I know.
But hear me out, because these are candles with roses.
Thornless, single-stem roses, to be more specific.
And if that doesn't scream "classically romantic interior decorations," I don't know what does.
It's better to have more than to have less, right, since trimming is a lot easier than adding on?
Same concept here.
Better to have a bunch of candle designs that you can cycle through for your Sim's wedding than to be stuck with one or two that don't work.
Presoto Baloon Deco by jomsims
Balloons are something that seem to have been missing from most (if not all) of the wedding CC packs I found.
Now, I've been to maybe a grand total of six weddings in my life. So my experience here isn't the most extensive.
But I distinctly remember balloons being part of the decor in all six bashes.
So I decided to find some custom wedding-worthy balloons to fill the gap.
Heart-shaped balloons felt a little too cheesy for an event as classy as a wedding.
But champagne-colored foil balloons tied to heart-shaped counterweights? Not as tacky as you might think!
Take a look at the preview photo—it's surprisingly elegant. Very 20th Anniversary-esque.
And if it's good enough for an anniversary, it's good enough for a wedding (or at the very least, a wedding reception).
Also, all three color options (silver, pale pink, and champagne) are understated enough to fit any wedding theme.
Browse:
Lists
The Sims 4
Video Games