Sims 4 Unicorn CC: Horns, Furniture, Decor & More
This post may contain affiliate links. If you buy something we may get a small commission at no extra cost to you. (Learn more).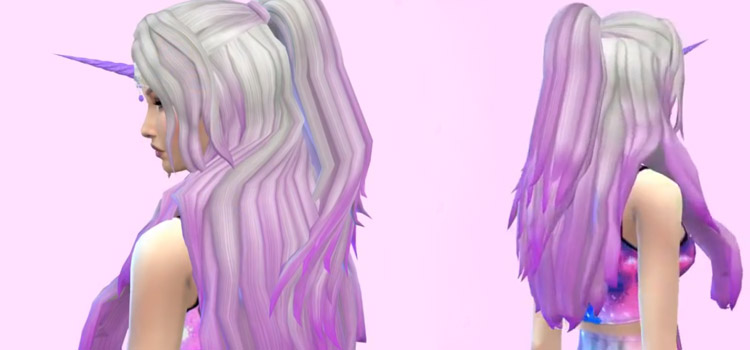 Unicorns may not be real. But people (and Sims) love them like newborn puppies.
Legends have made these one-horned creatures so desirable that they spawned their own line of viral products such as "unicorn snot" body glitter and "unicorn poop" slime.
The trend of rainbow-eating animals can also be seen in mainstream media like My Little Ponies: The Movie, which boasts a higher audience score than Joss Whedon's Justice League.
With that much commercial value, you've just gotta ask: what makes unicorns so popular?
I guess when you've got magic, sparkles, and positive energy as part of your DNA, what's to stop people from loving you?
Well let's see if we can add some wonder into your TS4 gameplay with some of these unicorn-themed mods & CC.
Unicorn Baby Lamp
It's critical for kids to believe in the impossible, like Santa Claus and the Tooth Fairy. Why?
Because it makes them curious and happy (as well as helping them develop trust issues).
Having that innocent joy is what makes childhood one of the best years of our lives.
So why not remind your Sim kids of that joy by hanging a unicorn baby lamp in their bedroom?
It's got a great design, and could likely match with any kid's room or nursery.
Unicorn Pumpkin
Here's a business idea to provide some extra income during Halloween: unicorn pumpkins!
Replace the spookiness of typical Halloween decor with a symbol of hope, purity, pride, and just about all the positive things that could exist in the world.
This CC may not scare away greedy trick-or-treaters.
But at least you won't be the least popular Sim in the block – not with unicorn magic on your side!
Unicorn Sandals
Fashion Week is missing out on these über-cute unicorn sandals I got from CC creator Simtographies!
This design has got the spiraling horns and colors so glittery and vibrant, it'll force others to gawk at your Sim's feet.
Well, probably.
Get this age-appropriate CC and go matchy-matchy with a toddler!
Unicorn Pool Inflatable
It's impossible to catch a unicorn, let alone ride one.
So we're going with the next best thing: unicorn pool inflatables!
With these babies at your Sim's next pool party, you'll never have to worry about guests drowning or being a host to an unphotogenic venue!
Start floating off to fantasyland while listening to Katy Perry songs on repeat with this CC by PixelDreamworld.
Unicorn Party Set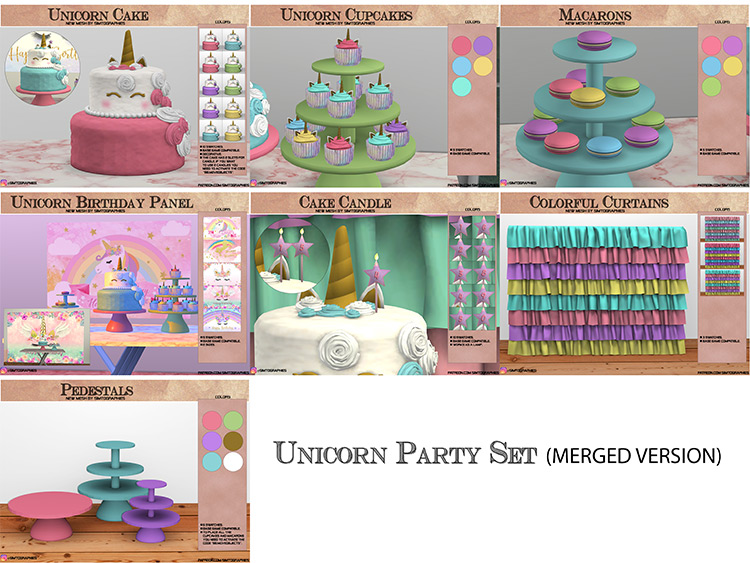 Before you judge a unicorn-themed party, ask yourself: if given the chance, wouldn't you take it?
Deep, deep, deeeep inside your heart, you know that there's a little kid in there who would kill for a chance to celebrate their birthday with a two-layer rainbow cake and a batch of macaroons as party snacks.
It doesn't look bad as it sounds – so try it out by downloading this unicorn party set CC for your Sim's next birthday bash.
Unicorn Horn
Are you dressing up your Sim as a unicorn for no apparent reason?
Well here's some CC to complete your Sim's look!
The horn is what makes a unicorn, the unicorn. The one we know from the myths and fairytales.
Without it, My Little Pony wouldn't be a million-dollar franchise. And we wouldn't have this epic photo of Tom Cruise posing with this beloved mythological creature.
Plus, this kind of horn a handy accessory to have on days when you just wanna stab someone.
Holo
Unicorn frappuccinos are dead and gone.
But the unicorn hair trend continues to be the mane attraction (get it?)
Mimic a unicorn's rainbow-streaked mane by applying this Holo hairstyle CC onto your Sim!
Flaunting pastel highlights and a purple base, this CC will solidify your obsession with the mystical mare. At least until you get a new cut.
Unicorn Onesie
There's no better outfit to elicit an adorable (and wholesome) response from your SO than a onesie.
Add on a horn and some horse ears, and you'll be doubling up the cuteness level about a hundred times!
Or just freaking them out. Either way, very entertaining.
Transform your Sim into a walking cuddler with this unicorn onesie from plumb-da-bots.
Unicorn House Lot
Creating a home made out of dreams and cotton candy may sound a little too sweet.
But when you add a dash of IDGAF, that's when it starts to become ~magical~.
Pralinesims' Unicorn House lot is an overwhelming assortment of everything a unicorn represents.
And it comes as a whole custom-made lot that you can download & install.
It's grand, diverse, pretty, and wonderful in its own way (just what you'd expect from a mythical creature).
So let's grab this and get a complete home makeover, from patio to bedroom, with that unicorn aesthetic you've always wanted.
Unicorn Pet
What's more enchanting and miraculous than gifting an actual pet unicorn to your Sims?
Well with this CC, your Sims can now take care of a full-grown unicorn complete with a rainbow-colored mane and horn!
Well, it's modded into the game. So it may not be perfect.
But it's truly a sight to behold.
Get this majestic beast in just a few clicks, and proceed to ride off to Narnia in style.
Browse:
Lists
The Sims 4
Video Games