Sims 4 Art Deco CC: Furniture, Home Décor & More
This post may contain affiliate links. If you buy something we may get a small commission at no extra cost to you. (Learn more).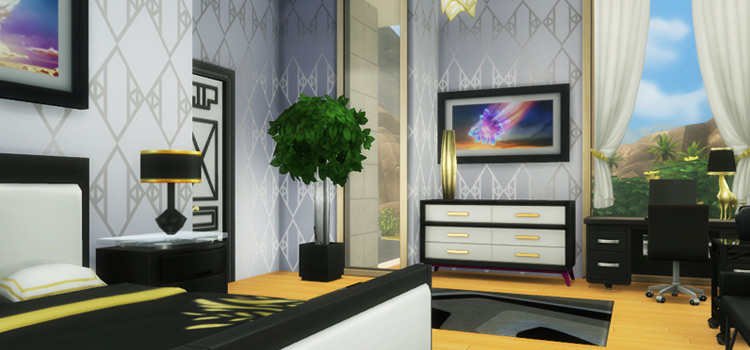 Over the past century, contemporary artists have been slowly eclipsing art styles that made a great impact long before my grandmother was born.
Thanks to Instagram, we get to better preserve these trends for the years to come. But if there's one art style that has remained desirable without a million posts, it's Art Deco.
The roaring twenties was a pretty flashy decade. And it showed through the sophistication and lavishness of Art Deco.
If you're a fan of geometric designs, bold colors, and The Great Gatsby, then this CC list is for you!
15.

Large Art Deco of Gotham and Iron Man
Batman and Iron Man weren't around during the golden age of jazz and flappers, but the style of that period surprisingly fits them well.
Although it doesn't have that classic comic book sketch we know and love, the streamlined design transformed these posters into a premium work of art.
Fill your Sim's empty walls with a pop of Art Deco-style posters of Gotham and Iron Man!
14.

Marble Tiles Art Deco Style
Nothing covers as much real estate as flooring.
So it's only natural to want something more than a slab of concrete.
In TS4, wooden and carpeted floors are as basic as your average Karen.
But Art Deco-style tiles? Now that's something you don't see every day.
Spruce up your Sims' plain flooring at home with decorative Art Deco marble tiles that would intimidate any guests from wearing shoes inside.
13.

Art Deco Luxury Wallpaper Dark Collection + Light Collection
Art Deco Luxury Wallpaper Dark Collection
Art Deco Luxury
Wallpaper Light Collection
You know what's the easiest way to have your Sim's house look classy AF?
Art Deco wallpaper.
Even if you're not the artsiest player in the community, this CC by neinahpets would be able to compensate for that.
With its crisp lines, geometric motif, and symmetrical design, any art history buff would appreciate this wallpaper collection.
Cover your Sim's house from attic to basement with Art Deco-style wallpaper, available in dark and light colors!
12.

Art Deco Shelf Divider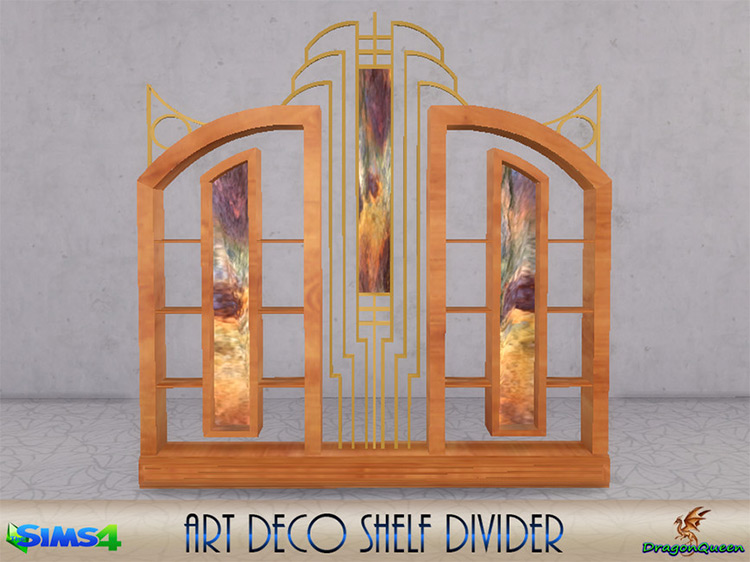 Some players prefer humble beginnings for their Sims, while others favor a billionaire lifestyle from the get-go.
There are a lot of ways to show off your Sim's motherlode, but nothing screams privilege than an Art Deco Shelf Divider.
This ornate piece of furniture is pretty useless, yet fancy enough to adorn a less humble abode.
If you're searching for an overly stylized holder for homey clutter, then don't look any further – this CC is going home with you!
11.

Art Deco Glass Shelves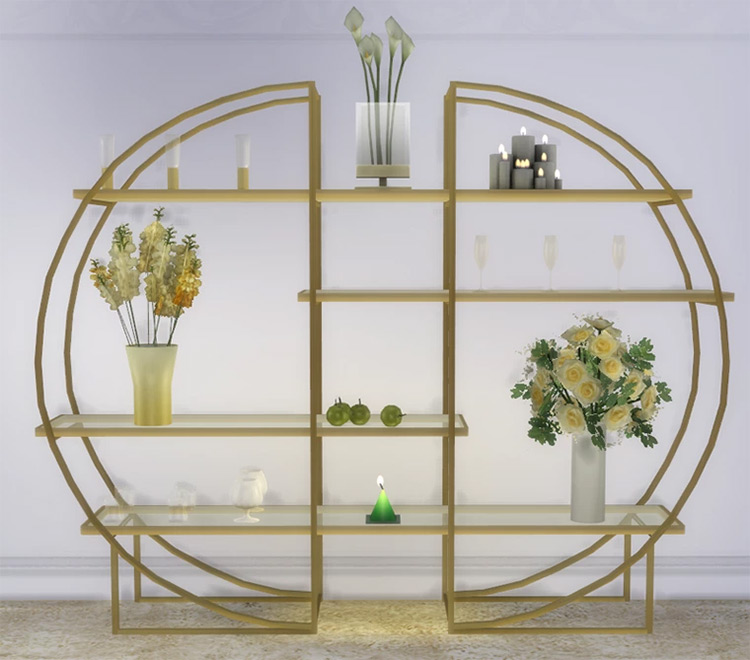 And we're back with furniture-that-you-don't-really-need-but-here-is-why-you-do!
Reason # 1: if you're a true Art Deco fan, you'd see how this piece perfectly exhibited the art style's main characteristics.
Reason # 2: there's no other shelf CC that could make candles look like a piece of modern art.
Reason # 3: you're still reading this write-up.
Remember, when it comes to Art Deco, exaggeration is A-OK!
10.

Art Deco Entry
Although the art style is more than a century old, ShinoKCR did us all a favor in bringing this classic Art Deco interior design into the Sims 4.
Because when you have an Art Deco-style entryway, there's no question that you'll wow guests the moment they pass through the front door.
Enjoy unpacking this CC set which contains 7 creations including sconces, wall mirrors, a 20th-century loveseat, and more – you know, just your everyday set of furniture from Ikea.
9.

Art Deco Dining + Art Deco Dinnerware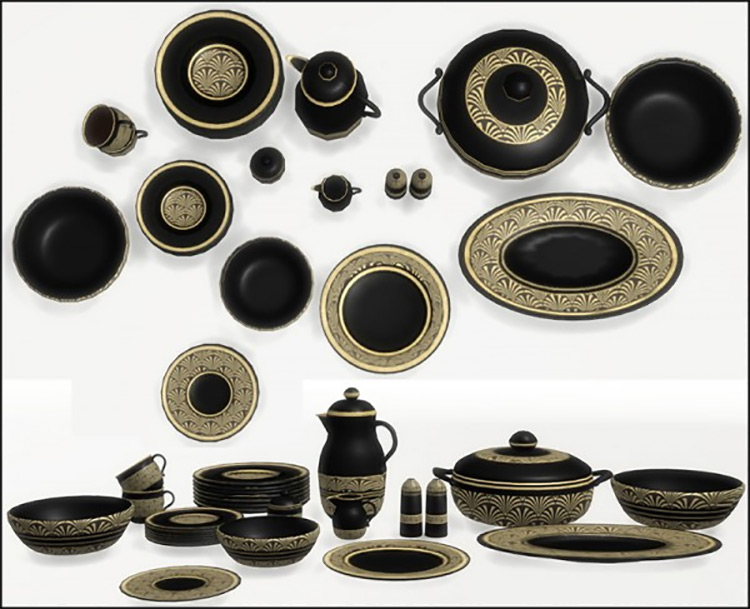 Having a dining area fancier than a Michelin-star restaurant is a dream that can be achieved in the Sims 4.
All you'll need is this Art Deco Dining CC by ShinoKCR, coupled with Loveratsims4's Art Deco-style dinnerware CC set.
From these two sets, you'll instantly have a hotel-quality dining setup that could make leftovers look like a Gordon Ramsay special.
8.

Art Deco Home Office
Setting up an office at home isn't a bad idea.
Especially when you can admire Art Deco-style furniture and fishbowls 24/7.
Sure, it does look a bit outdated. But so are 9GAG memes and people are still using them!
Arrange the 11 items in this set however you want that office will look. But have your Sim try to at least read a book or two in there when it's done.
7.

Art Deco Home Bar
In this day and age, banning the production and sale of alcohol can probably destroy a civilized society overnight.
Unfortunately, that's exactly what happened in the 1920s in the US (except the part about civilization ending as we know it).
Prohibition was enforced from 1920-1933 and didn't really succeed in its objectives. Instead, it led to the creation of speakeasy clubs or secret bars where people drink in private.
The moral of this story? People like booze.
And they love home bars even more.
Install this Art Deco Home Bar at your Sims' place and enjoy the good fortune of unrestricted, free-flowing drinks!
6.

Art Deco Bathroom
Baths are sacred daily rituals, and are simply euphoric after a shitty day (which can happen a lot).
I have appreciation for my simple bathroom. But if I could trade it with this Art Deco Bathroom, I'd do it in a heartbeat, and sell my soul for good measure.
Make bath time the best part of your Sim's day by downloading this CC now!
5.

That Art is Sooo Deco
You can't have an Art Deco-inspired home without Art Deco paintings – that's like ordering cookies and cream cheesecake without the Oreos!
Upgrade your Sim's interiors with Art Deco wall art that highlights the glamour and elegance of the Roaring Twenties.
It's bold, vibrant, aesthetically distinct, and would have you questioning how a bunch of blue scribbles could be considered a million-dollar painting.
4.

Art of the Century
I hated high school geometry with a burning passion.
But these geometric furniture pieces are something I can fall in love with.
The Art of the Century CC pack comes with a wooden armchair, faceted mirror dresser, glass room divider, legged planter, and a glass footed lamp, all designed in a way that can fit right into an Art Deco-inspired interior.
If you're still looking for a reason why you should apply Art Deco in TS4, well this CC should be a convincing visual.
3.

Ophelia Bedroom Suite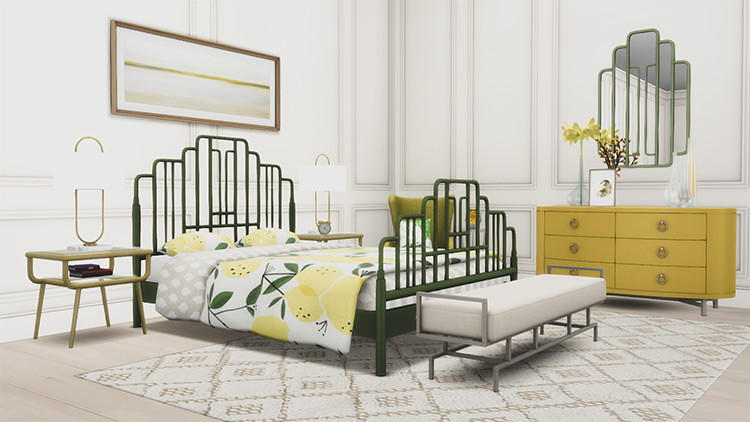 The bedroom is probably the most important part of the house – it's where we get the strength to survive day to day.
It's also that one space in the house where putting Justin Bieber posters and Toy Story bed sheets are acceptable, and no one would judge you for it.
It's a sacred place, and deserves a luxurious decor worthy of a five-star hotel.
Treat your Sim with this Ophelia Bedroom Suite CC, which comes with Art Deco-style bed frames, side tables, dressers, and more!
2.

Bianca Living Room
A CC pack with over 16 modern Art Deco-inspired items?
Yes, please!
Start renovating your space exactly like this Bianca Living Room and enjoy a fabulous haven that could rival any celebrity home.
Get immersed in 21st-century Art Deco and never look back on base game properties ever again.
1.

Art Deco House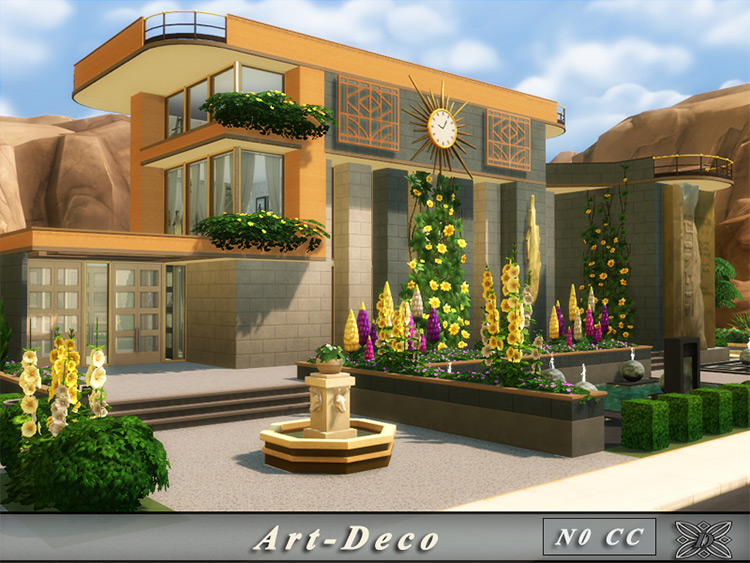 There's no better way to cap off this list than with the grandest display of Art Deco style.
This house/museum/mansion by Danuta720 is as ostentatious as Baz Luhrmann's The Great Gatsby.
It has all the traditional elements, the glamor, and most of all, the unapologetic use of gold colors all over.
Only a blind person couldn't see the extravagance that flawlessly oozes from this CC. And for everything it offers, this deserves to be in the top spot!
Browse:
Lists
The Sims 4
Video Games