Best Toddler Pose Packs For The Sims 4 (All Free)
This post may contain affiliate links. If you buy something we may get a small commission at no extra cost to you. (Learn more).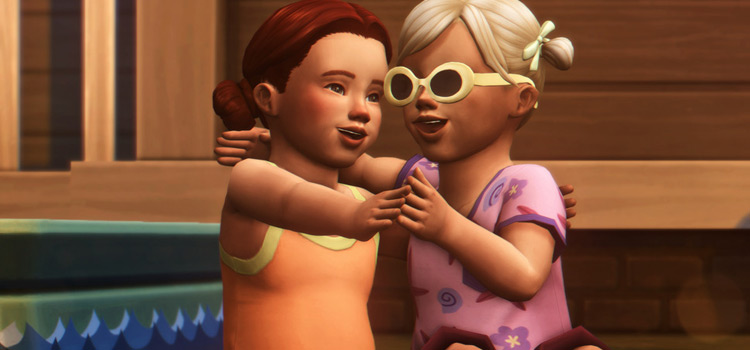 Toddlerhood is a beautiful, special time of life, especially for the parents.
It's between infancy and childhood, so naturally toddlers are full of innocence, excitement, and curiosity.
This is portrayed pretty well in The Sims 4, I think.
The toddlers in this game are cuter than they have ever been, and are also like little Sims whose needs are simplified and condensed.
They need to eat, play, sleep and have their hygiene tended to. And while it may not always be pretty, it's worth it to watch them grow into children, teens, and eventually adults.
Man, this really is a life simulator, huh?
It's nice to have pictures to look back on once your toddlers are all grown up.
There's something rather poignant about remember when your Sim was a tantrum-throwing, mess-making toddler on their wedding day or after they age up to Elders.
However, actually capturing the pivotal moments of their toddlerhood is very difficult. It goes by quickly, in a matter of hours depending on your settings. So to make this period of your Sim's life more impactful, poses are quite helpful.
They give you the ability to have everything from photoshoots to candid shots – and no matter what, they make for some cute memories.
But there are so many pose packs out there that it can be hard to choose, or at least hard to keep your collection at a reasonable size.
So we've collected some of the best toddler pose packs right here, all ready to go for The Sims 4.
Toddler Photoshoot Poses
Many parents hire professional photographers, and the cost of that covers a lot of things.
First, you'll need a good location – studio, park, or even at home?
And then there's the matter of props, whether you bring your own and borrow some.
Then once it's all done, you'll have to decide how many photos you want to keep because each one will cost more!
Even after all of that, there's still no guarantee your tot will cooperate, so you might pay a hundred dollars or more for crystal clear pics of your grumpy or crying toddler.
It takes a lot of work and money to get keepsakes worth keeping. I'm sure plenty of parents wish they could just pick a cute pose and facial expression for their child, freeze them in that, and then take the picture has many different ways and times as they want…
Well, science hasn't got there yet in real life. But at least you can do that in The Sims.
These 18 poses feature a variety of absolutely adorable positions to choose from.
They'll capture your toddler's silly & sweet disposition for no cost!
Seated Toddler Poses
For both Sim parents and real ones, the most treasured time of day is when your toddler finally sits down for a while.
Sure, it's great to see them learning and exploring and all that. But sometimes mom and dad need a rest.
And that only happens when their little ones are resting, too.
But when you're a proud parent, every moment is picture-worthy!
And this pose pack will allow you to put your toddlers in many lovely seated positions. The facial expressions vary a lot, including smiles, yawns, and more neutral looks.
Toddler & Puppy Poses
The youngest members of any species are always the cutest.
So, chances are if your Sim's household has both a toddler and a puppy, then you're about to explode from the cuteness.
All those little faces and stumpy legs, aww!
Puppies and toddlers have a lot in common. But hopefully only one has a tail… although this is The Sims, so anything is possible.
I'm sure it's stressful having so many little ones underfoot. But it would be a shame to let these beautiful moments pass you by.
These poses will allow you to see your toddler and puppy together with six sweet options.
There are two where the toddler is holding the puppy, three where they're playing together, and one where they're both sleeping. All will melt your heart!
Little Monsters Poses
If you have the Toddler Stuff Pack, then you already know how fun it is to see your toddlers on the slide.
Their unbalanced little walk and giggles make all of the dirty diapers and messes worth it.
But they move around so quick that there's never time to cherish the moment.
Well, that's never a problem when you use poses.
You can leave the Sims stuck in your chosen position basically for as long as you want.
This set includes 5 poses using the slide, as well as 11 others! Some are seated poses for toddlers to sleep in chairs, and the others will allow for some natural, candid shots of your toddler just "walking" around being a toddler.
Random Toddler Poses
These poses are based on real-life pictures, so you know they're authentic.
You'll have plenty of ways to turn your toddler into a mini model with these sassy and fun poses.
There are four group poses here, so two to three toddlers can all get in on the photo, plus six singles.
Maybe it's because these are fully based on real toddlers, but there's just something extra sweet here.
The faces are very emotive as well, so it'll really capture your tot's personality!
My favorite part might be how they allow you to pose more than one toddler.
Whether you want to snap some pics of siblings, cousins, or just friends, that's something that is just almost impossible without poses.
Peek-A-Boo Poses
These simple poses are perfect for quick candid pics.
Sometimes you'd just like to get a picture of your kiddo in the middle of playing or on their way out the door, and there's no easier way to do so than with this little pack.
Every one of them captures the energy of toddlers so well, and I just love the posture.
I don't know how the creator did that, but they really look like toddlers here!
They're just perfect… you'd probably never get a real-life toddler to look at the camera or pose so well, but that is the joy of The Sim.
Everything can be perfect if you want it to be.
Toddler Emotions Pose Pack
Toddlers certainly are good at showing their emotions.
Typically they don't exactly bottle things up like adults tend to.
You'll find out what they're feeling rather quickly, either through physical gestures or ear-piercing ones…
But this pack focuses on the brighter side of that, though.
You don't really want to remember the bad times anyway. As an adult, photographic evidence of your past tantrums can be pretty embarrassing!
But there's no hint of that here.
These poses will make your Sim's toddler look like the little angel you wish they were.
They work fantastically outdoors too, making your toddler seem like they are in awe of nature just loving life.
Umbrella Poses for Toddlers
I know I have already said the word "cute" way too much, but come on… toddlers in rainboots, playing in the rain, holding an umbrella… it's too much!
There's no other way to describe this.
Cute, cute, cute!
These poses are so adorable, you'll want to use every single one.
Luckily, that's not hard to do.
If you're unfamiliar with using accessories in poses, don't worry, it's pretty easy.
You'll just need to download the umbrella, then go into CAS and select it for your toddler – it's in the ring category.
And that's it!
Just give your toddler their best raincoat and boots, have them stand in a puddle, and you can make the most out of a rainy day.
Kindergarten Memories Pose Pack
It goes without saying that Kindergarten is a huge deal.
For most kids, it's their first structured full-day school experience away from home, and it opens a whole new world of friends, learning, and playing.
All of those themes are present in these amazing and all too real poses.
Many are made for your toddler to sit at a desk, and they are pretty great.
They don't exactly paint them as astute students, but hey, who was at five years old?
The other poses are more to show kiddos running around and having fun, and they'll be perfect to use with multiple toddlers so it'll be like they're playing together.
Kids in this game are always a little too solitary no matter how much you try to give them a social life, so… forcing it through poses is totally the next best thing.
Cuties Poses
If your toddler has a BFF or sibling and you'd like to capture some wonderful moments of them together, then these are definitely the poses for you.
They incorporate a pool, so summer will be the perfect time to utilize them.
In two of the poses, the toddlers are sharing a hug.
While in another pose, one toddler is reaching for the water while the other has her arms in the air.
This is a great example of how poses allow you to see scenarios in the game that you otherwise wouldn't.
I'm not sure why toddlers can't interact with pools. But using poses is the safest way for them to do so, and it's certainly fun to see.
Browse:
Lists
The Sims 4
Video Games