Cute Valentine's Day CC For The Sims 4 (All Free)
This post may contain affiliate links. If you buy something we may get a small commission at no extra cost to you. (Learn more).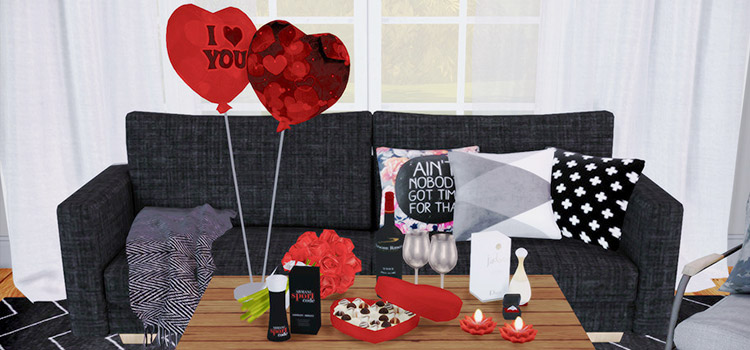 Valentine's Day or Love Day?
Whatever you call it in your game, the Seasons expansion pack introduced holidays, including a themed day meant to celebrate both romantic and platonic relationships in your Sim's lives.
And while the in-game decorations are super cute, you might be tired of them if you've been playing the game for a while.
Luckily, custom content is the gift that keeps on giving. And we're gifting you this list of awesome Valentine's Day CC items for The Sims 4.
From decor to jewelry, we've got quite a variety of must-have romantic TS4 items right at your fingertips.
Valentine's Day Gift Set
Flowers, chocolates and cards – the holy trinity of Valentine's Day gifts.
And this gift set CC by Sanjana has them all.
For starters, the flowers are a full rose bouquet that replaces the single rose offering Sims receive in-game.
The chocolates are Maxis-Match friendly, while still giving a high-quality design, clear enough to see each individual piece.
It's also packaged in a romantic heart-shaped box with a huge pink ribbon on the lid.
And finally, there are six Valentine's day cards in this pack, with sweet messages like 'Be Mine, Valentine' and 'I Love You'.
Find the last two items under the decor/plant section in buy mode.
Happy Valentine's Day Gifts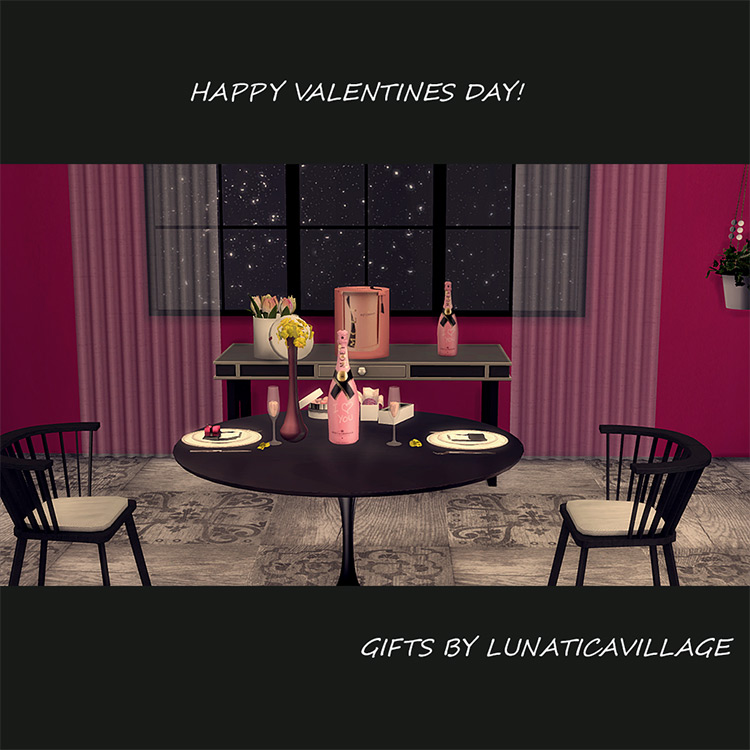 Need some CC for a romantic dinner for two?
LunaticaVillage's Valentine's Day gift collection is exactly what you need to make your next Love Day a memorable one.
This high-quality set has over ten items, including flowers, a champagne bucket/bottle, and plenty more.
The color palette is a beautiful white, pink, and purple.
Something a little different if you're tired of the usual red theme.
But my favorite items in this collection are the fancy place settings and the champagne glasses!
Explosion of Love Valentine's Day Set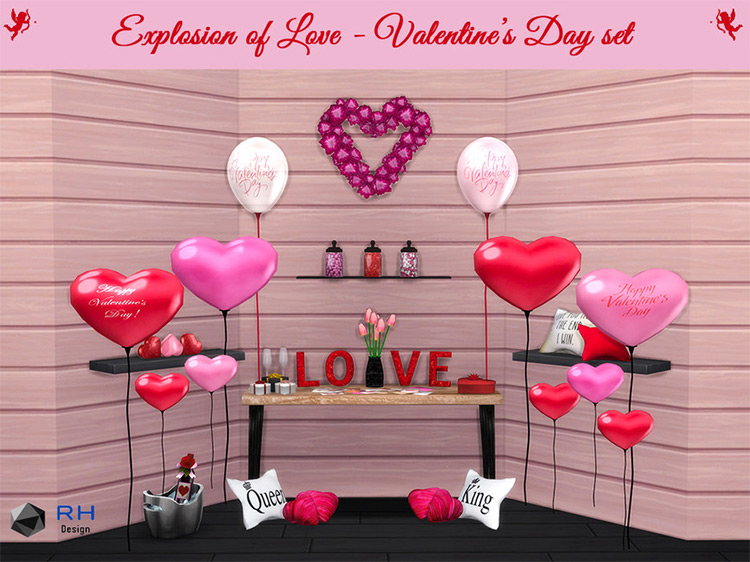 The word "explosion" is right:
Because this set from RightHearted will have your Sim's place looking like a love bomb went off!
This 13-item CC collection is Alpha friendly and a must-have for Sims who love over-the-top displays of affection from their partners.
Gigantic balloons, a heart wreath, chilled wine in an ice bucket, and 'King' and 'Queen' pillows.
And that's just some of what you'll find in this set.
Or if you need a few items but not the whole collection, head to this page for individual downloads.
Be My Valentine Pose Pack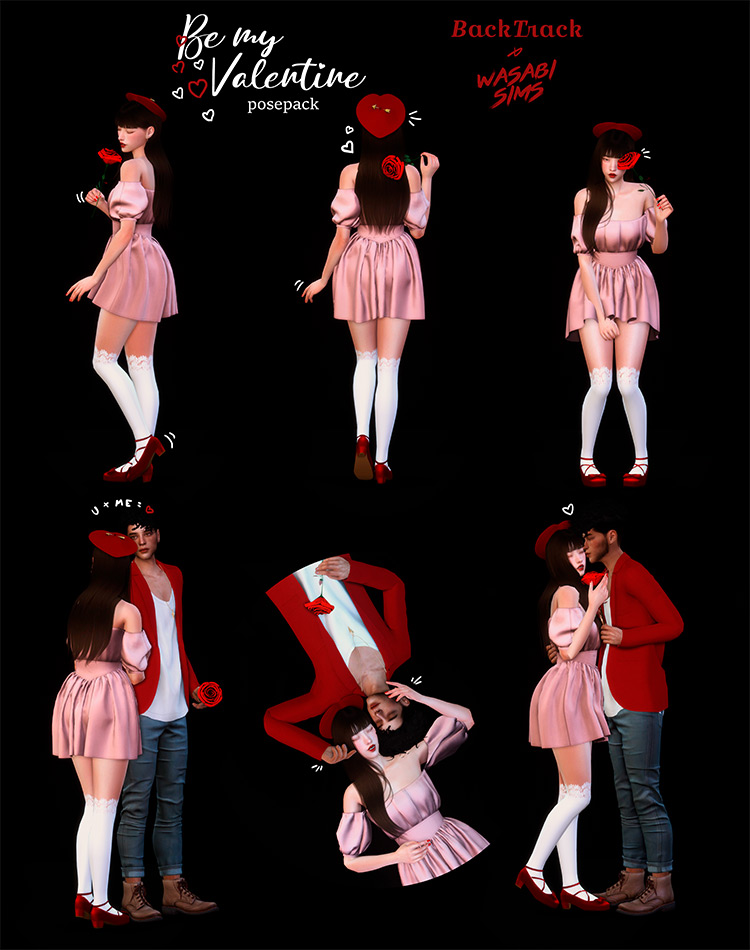 For Simmers who love immersion, pose packs are everything when it comes to capturing memorable moments in their Sim's lives.
This 'Be My Valentine' Pose Pack by WasabiSims has six adorable poses for your coupled Sims: three female solo poses, and three partnered poses.
One the cutest parts of this pose pack is the rose that your female Sim is holding; you can find that here.
And for any players new to pose packs, you'll need Pose Player and Teleport Any Sim to get started.
Valentine's Day Decorative Clutter
For those who own Get to Work, I've got a new retail store idea for you:
A Valentine's Day Shop!
Think about it – instead of simply going into buy mode for your gifts, why not send your Sim out on foot for that perfect gift?
If you did make such a store, I guarantee you'd find items from JennaSims' Valentine's Day Decorative Clutter set that you could use all over the place.
With 11 items in all, this set features sweet but kitschy gifts like cartoony heart-shaped pillows and decorative mugs.
They aren't the most opulent options on the list.
But they'll do for those last-minute Sims who don't want to come home empty-handed.
Valentine's Day 2016 Set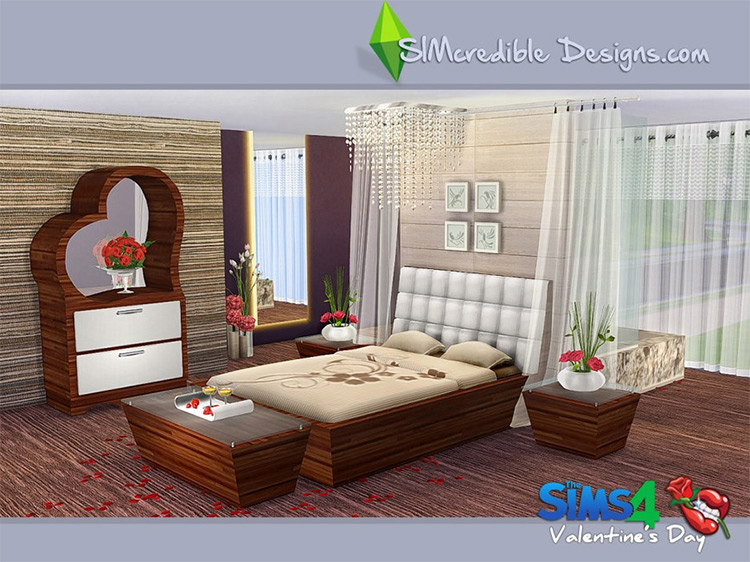 Here's another custom CC set from Simcredible which was released in 2016, but we think this romantic-themed set is timeless.
A spacious tub with flower petals, a big comfy bed, and a super unique heart-shaped dresser are the standouts. Although all nine items will make great additions to your game.
If your wealthier Sims can afford it, maybe have them replace their standard bedroom set with this one for a romantic surprise.
Or if you're comfortable with CC, create a bed and breakfast lot with this set and Kawaiistacie's Resort & Hotels Mod for a more affordable & intimate getaway!
King of Morpheus Valentine's Day Set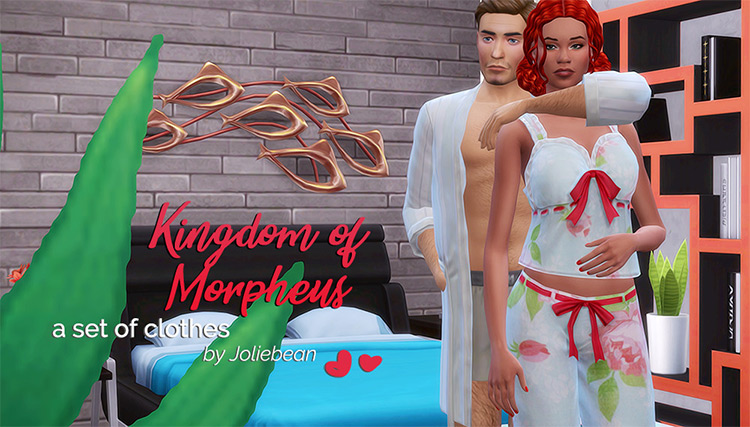 What better way to celebrate Valentine's Day evening than in cute pajamas?
Joliebean's King of Morpheus CC Set features a "his and hers" pair of nightwear that'll bring on the perfect end to a romantic day.
The Aphrodite consists of a two-piece PJ set, with a bow on both pieces, while the Ares has a sheer robe to show off your male Sim's physique.
Both are base-game compatible with a total of 33 swatches.
AroundTheSims4 Valentine's Day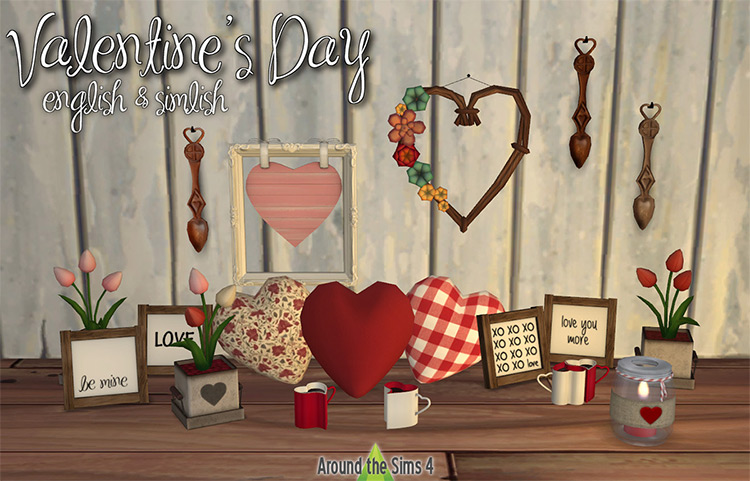 Rustic and DIY are a few of the ways we'd describe this Valentine's Day CC pack.
If you're looking for a more toned-down way to celebrate the one you love, this is the perfect set for that.
Lots of heart-shaped items like mugs and stuffed pillows, and classic farmhouse items including wooden-framed photos with sweet sentiments and mason jarred candles round out this collection.
There are swatches in English and Simlish, and it's all Maxis-Match compatible.
Valentine's Day Jewelry Set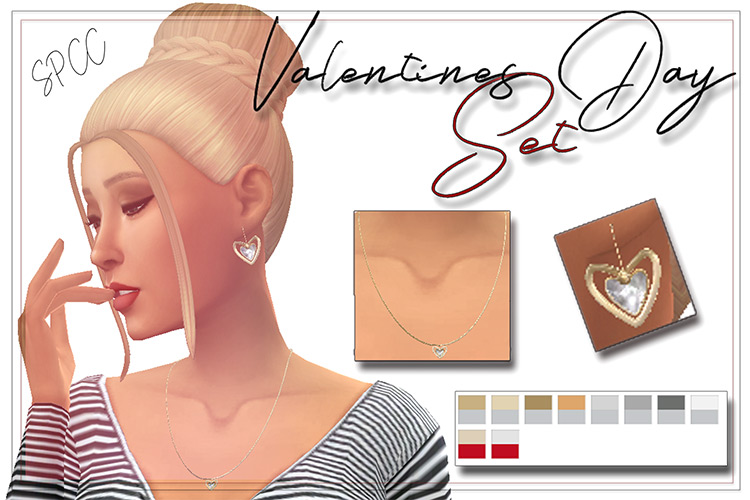 Are diamonds a Sim's best friend?
We're not too sure.
But you can find out by downloading SunflowerPetal's Valentine's Day Jewelry Set.
This luxe gift set includes a pair of gorgeous heart-shaped diamond earrings, and a matching necklace.
And yes, your Sims can actually wear these!
It's a gift that any Sim with a taste for the finer things will love.
It's also base-game compatible, comes with 10 variations, and can be worn by female Teens through Elders.
Gift Watches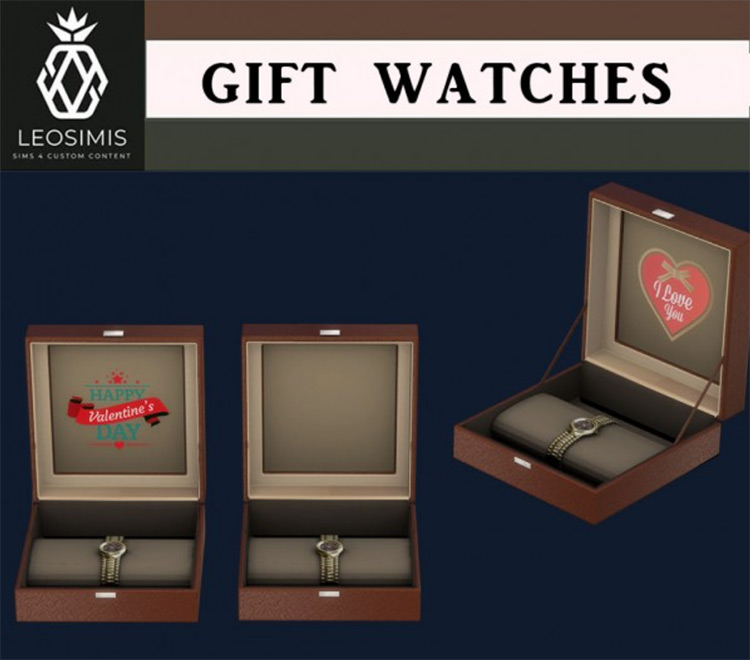 Can't wait for the next Valentine's Day to come around?
LeoSims' Gift Watches could make excellent gifts for the Valentine's Day enthusiasts in your game.
This decor-only golden watch is presented in a classy jewelry box.
And you can choose from three swatches: no message, a heart with 'I love you' written inside, or a sweet 'Happy Valentine's Day' message.
This CC is definitely HQ, and you'll find it under clutter in the decor category.
Browse:
Lists
The Sims 4
Video Games