Best Sims 4 Volkswagen CC: The Ultimate List
This post may contain affiliate links. If you buy something we may get a small commission at no extra cost to you. (Learn more).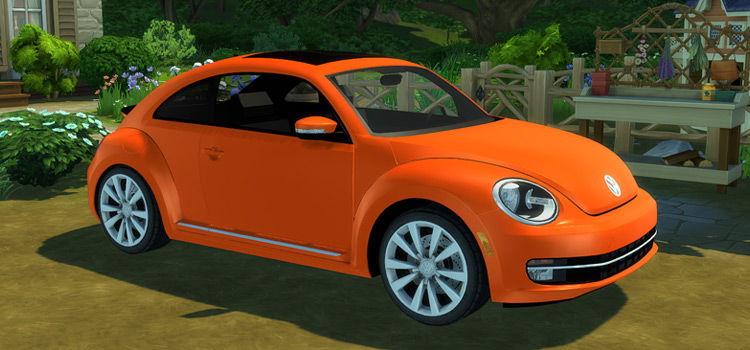 Climbing steadily since its inception during WW2, Volkswagen has become one of the leading car manufacturers in the world – offering both budget and luxury vehicles with remarkable performance and style.
From the timeless Beetle to the unforgettable Kombi, Volkswagen has created many iconic masterpieces – and now, they're coming to your TS4.
Whether you're looking for last year's Jetta or a post-war classic like the Beetle, you'll find it in this gallery of VW CC for The Sims 4.
Fasten those seatbelts and let's get the show rolling!
1.

VW Beetle (1960)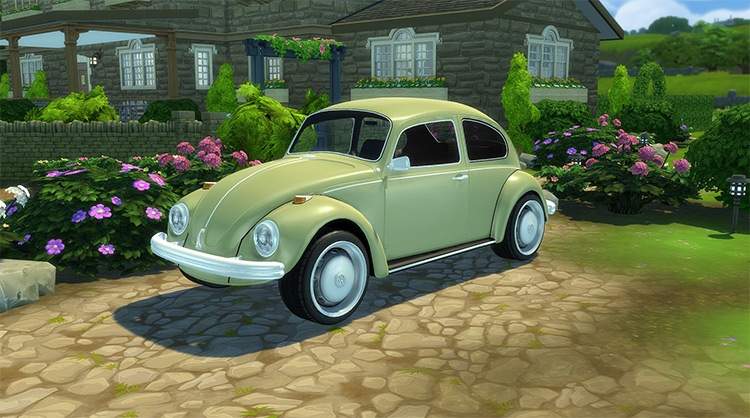 There's no better way to kick off a Volkswagen car list than with their most iconic vehicle ever:
The Beetle.
It's the "people's car" (literally the translation of "Volkswagen" in German). And was designed to provide modern and reliable transportation to working-class people in Germany in the late 1930s.
After WW2, the Beetle would take the planet by storm, with factories churning them out in 17 different countries.
Anyone driving a Beetle nowadays is either very poor or very wealthy.
Keep this in mind when choosing who's getting this piece of history in TS4.
2.

VW Polo Highline TSI (2010)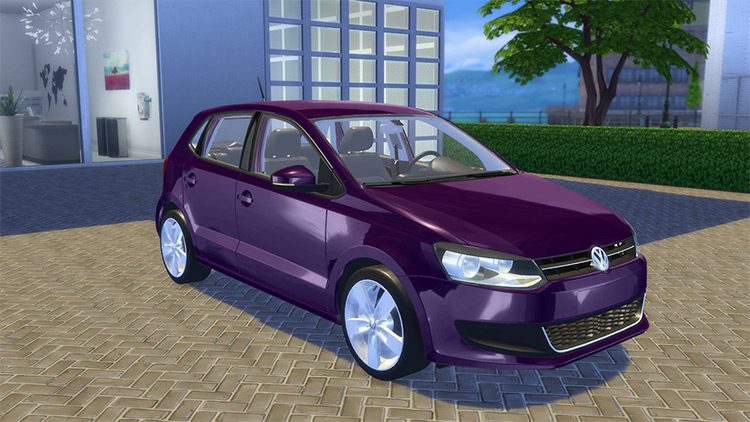 Volkswagen has created several small & affordable cars since the Beetle days, including the VW Polo.
The Polo product family has been going strong since 1975, practically uninterrupted.
Introduced in 2010, the fifth-generation Polo became the European Car of the Year thanks to its chic design, high safety ratings, and affordable price tag.
This custom creation has a high-detailed interior and a glossy finish that'll look fantastic under any lighting.
3.

VW Jetta (2004)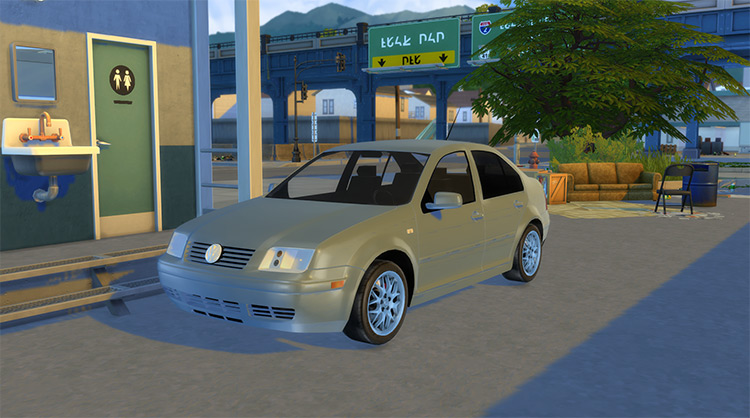 The 2004 Volkswagen Jetta was sold for a slightly heftier price tag than the average economy car. But you were getting something that would last you a decade or more.
Looking at the exterior design, performance, and reliability, it's hard to find where VW cut corners to lower the Jetta's price tag.
The interior is a different story.
But luckily for us, Sims don't care too much about that.
So this is the perfect car for a young Sim who got it second-hand as their first vehicle. It's not too flashy, but it'll take them where they need to be.
4.

VW Jetta (1995)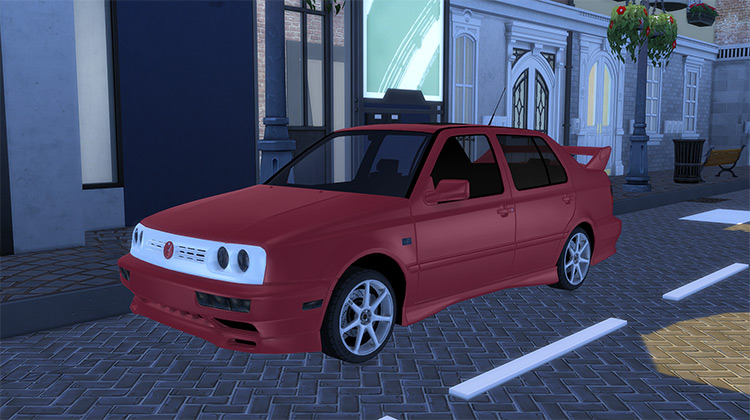 Fans of slightly more vintage cars will love the almost 30-year-old Jetta, part of the second generation introduced in 1984.
It's a spacious vehicle despite its small size.
And though it lacks any of the high-tech quality of life improvements of recent releases, it will reliably get you from point A to point B.
This CC is based on a special edition racing Jetta driven by Jesse in the first The Fast and the Furious film, featuring Konig Tantrum Rims and a Wings West body kit.
Get it for the Fast and Furious collector or a rally-loving Sim who tries to keep things frugal.
5.

VW Jetta (2020)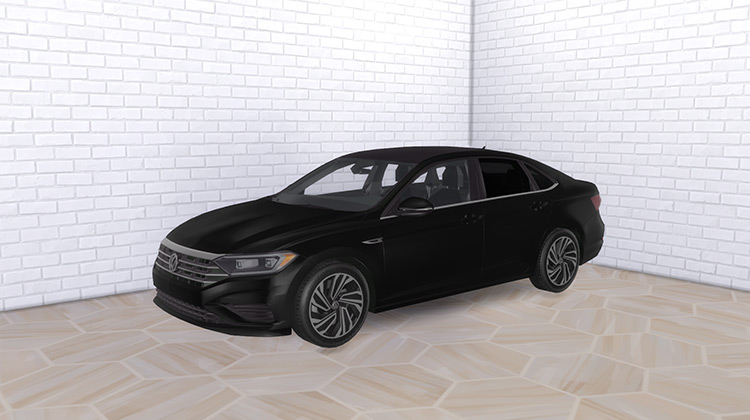 If your Sim can't live without modern-day comfort and design, consider downloading this 2020 Volkswagen Jetta model.
It's a practical small sedan featuring many of VW's more recent comfort and safety tech – but you lose in style what you gain in up-to-date tech.
The Jetta has never been about bamboozling buyers with its design.
But it used to have a distinctive style that almost said, "yeah, I'm an economy vehicle. So what?"
On the other hand, the 2020 Jetta looks conservative and unremarkable on purpose.
Get it for the stiff Sim who'd rather be dead than drive something fun.
6.

VW Arteon (2018)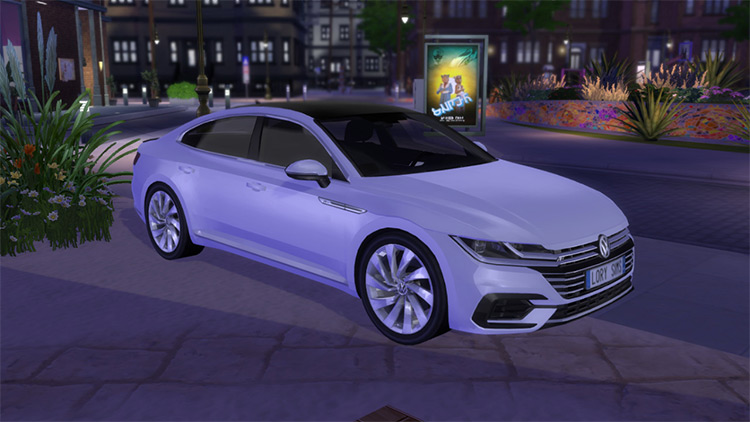 Released in 2017, the VW Arteon is a relative newcomer to the executive sedan market.
In that time it's captured the hearts of wealthy drivers worldwide with its massive storage space and gorgeous looks.
The roofline gently slopes toward the back, creating a stylish liftback design that evokes speed and reveals a sporty soul. Parts of its chromed front grille extend to the sides, cupping the headlights to give the Arteon a distinct personality.
With great looks, excellent features, and plenty of space for passengers and cargo, this compact VW is ideal for anyone who can afford it.
7.

VW T5 Caravelle Highline (2010)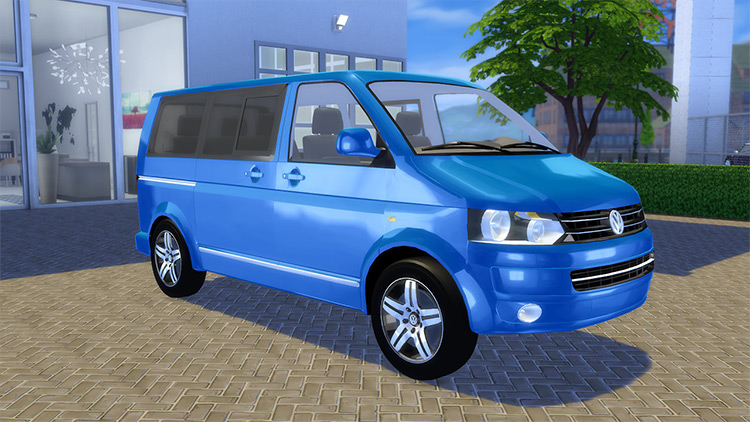 The Caravelle was the fifth entry in the Volkswagen van family, which started with the Type 2 – also known as the Kombi – in 1950.
The Caravelle can comfortably transport up to 10 people, with all the safety and entertainment features you need to keep them sane on a 12-hour road trip.
Sims with large families, or band managers, or really anyone who works with their vehicle would benefit from a Caravelle.
And this CC comes in 15 colors, with detailed interiors and a beautiful glossy finish.
8.

VW Atlas Cross Sport (2021)
I'm a sucker for crossover SUVs.
Power, comfort, and presence – they have it all!
Despite being a large and imposing vehicle, the VW Atlas Cross Sport shines for its responsive handling and stable ride.
This stylish mid-size SUV has a fresh personality.
Where other similar vehicles seem to lord over onlookers, the Atlas Cross Sport invites them on an adventure.
9.

VW T-Roc (2018)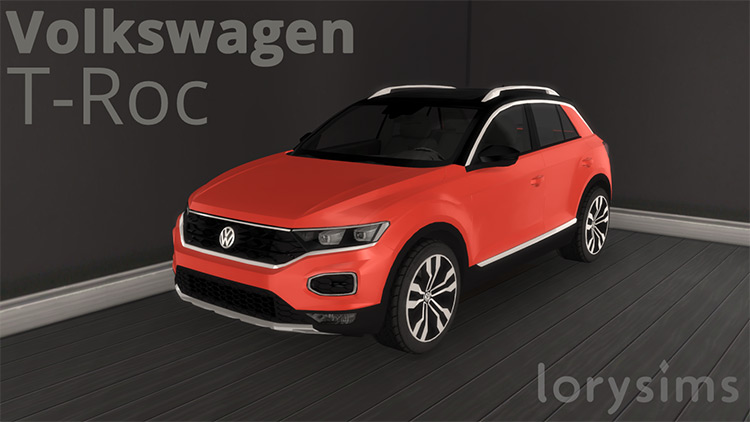 Adventurous Sims will also appreciate the Volkswagen T-Roc, an unapologetically sporty subcompact crossover SUV with an unusual design for a VW.
It's not that the T-Roc is weird in crossover SUV terms.
Instead, it seems to clash with Volkswagen's usual design language in several areas, like the heavy use of black plastic on the grille and lower-body cladding.
Still, that uniqueness makes the T-Roc a perfect opportunity for a previously unconvinced Sim to dip their toes in VW territory.
I can picture myself driving the T-Roc on a dirt trail near some small coast town, taking in the sea breeze and enjoying a comfortable ride.
Who's up for a weekend trip to Sulani?
10.

VW Golf GTI (2013)
Most of the time, you wouldn't get a VW Golf for its performance or looks.
You'd be looking for something reliable and affordable that can fit in any parking space: an everyday vehicle for the working Sim.
The GTI is a bit different.
Despite sharing the same body, it offers a remarkably faster ride thanks to its turbocharged 2.0L four-cylinder engine (well, assuming your Sims could drive it…)
It may not be the fastest hatchback in the market.
But it brings together comfort, style, and performance like few others.
The Golf GTI will make you feel like a street racer with its lively engine while giving you a driving experience even a 70-year-old with back problems would find enjoyable.
11.

VW Golf GTI (2021)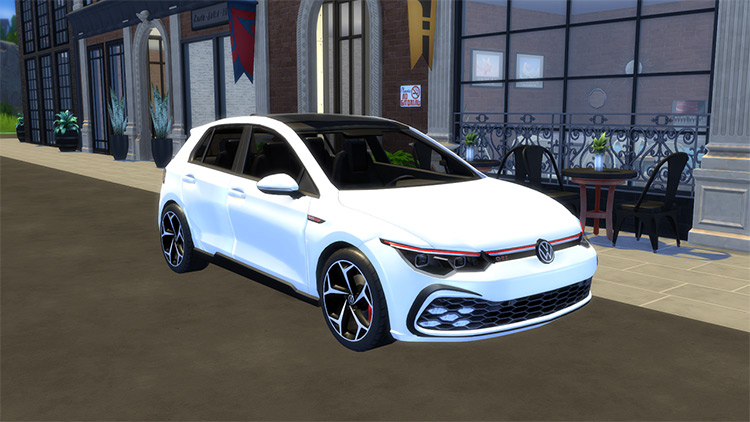 Like its 2013 predecessor, the 2021 Golf GTI continues to tread the middle ground between day-to-day versatility and short bursts of speedy action.
It won't get to 320kph anytime soon.
But you'll easily pass anyone on the freeway, and its unique honeycomb grille housing 5 LED fog lights make it instantly recognizable on the streets.
This 2021 Golf GTI is a hot hatch if I've ever seen one.
12.

VW Golf MkIII Harlequin (1996)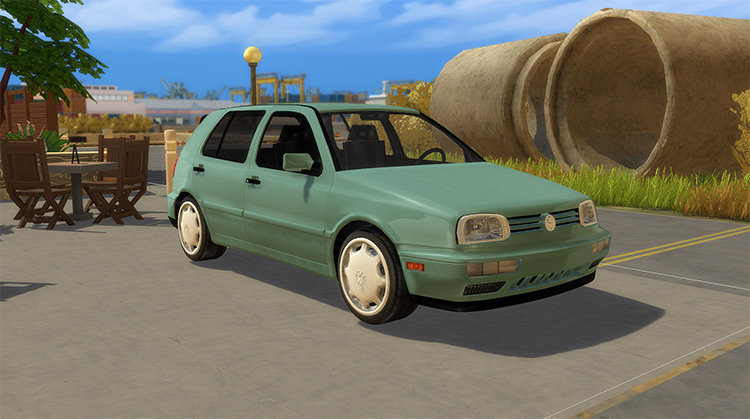 The Golf has been an icon of athletic hatchbacks since 1974, and it's seen a ton of special editions over the years.
One of them was the Harlequin, created by interchanging the easily detachable doors, hood, hatch, and grill of the third-gen Golf.
I love this four-door sedan because the practical, no-frills design merges beautifully with the eye-grabbing multicolored paint job.
This classic Golf looks just like the square, low-detail cars I used to draw as a child, but somehow, that's a feature rather than a problem – especially when paired with this eclectic color palette.
13.

VW Bus/Kombi (1965)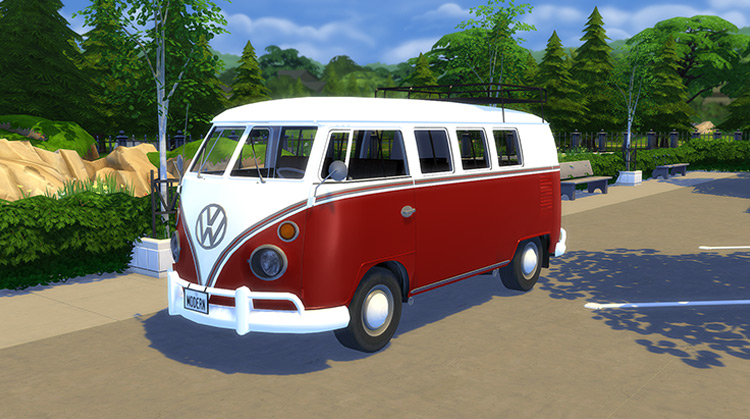 The Volkswagen Type 2 has moved people and equipment around since the 1950s.
It was Volkswagen's second car model, and it sparked a revolution.
This first-generation Kombi relies on its iconic paint job to create the illusion of a shape beyond the very bare rounded cuboid body.
The light-colored roof helps keep the interior cooler by reflecting the sun – but you'll get 30 color options for the rest of the car with this CC by ModernCrafter.
14.

Customized Hippie Kombi (1970)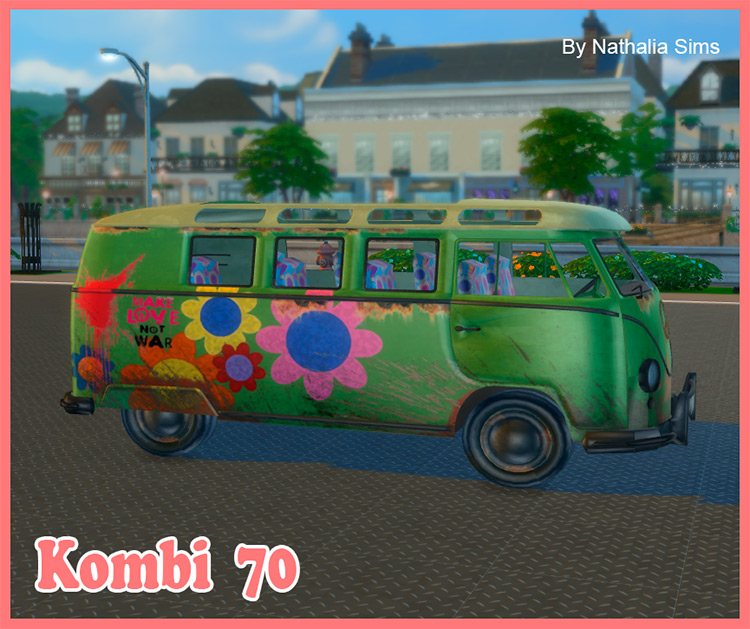 The Kombi is the quintessential hippie vehicle you'd see in any film, TV show, or documentary about this counter-cultural movement.
This Customized Hippie Kombi is perfect for the spiritually-oriented Sim who spends too much time protesting GMOs to afford an updated vehicle.
The mud splatters on the sides and front of the vehicle (along with the slight rust here and there) lets us know this 70s VW bus has seen its fair share of Burning Man festivals.
It may have seen better days, but this customized Kombi still has a lot of personality.
15.

Volkswagen Beetle Turbo (2018)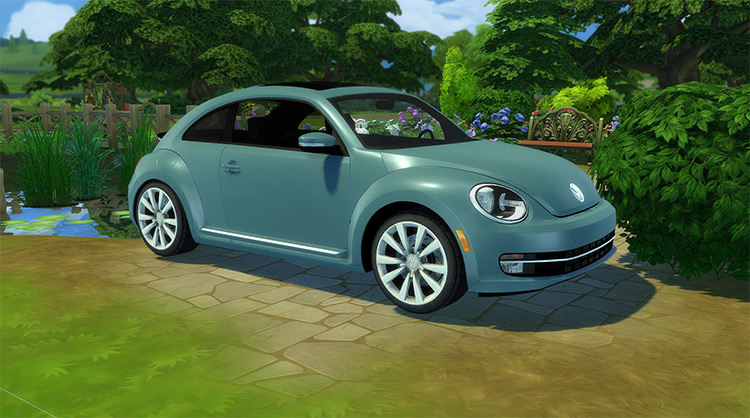 Since we started the list by looking back at the vehicle that began VW's long history, I'd like to finish by celebrating the heir to the Beetle's legacy.
The 2018 Volkswagen Beetle features the same basic body shape that gave the old "Käfer" its name – but updated and stylized to match modern aesthetic sensibilities.
It's still bold and unique, but it doesn't look like it belongs in a history museum.
This car is perfect for Sims who care about history and old-school values, despite living in the moment and enjoying everything the modern world offers.
Browse:
Lists
The Sims 4
Video Games