Sims 4 Best Friend Pose Packs: The Ultimate List
This post may contain affiliate links. If you buy something we may get a small commission at no extra cost to you. (Learn more).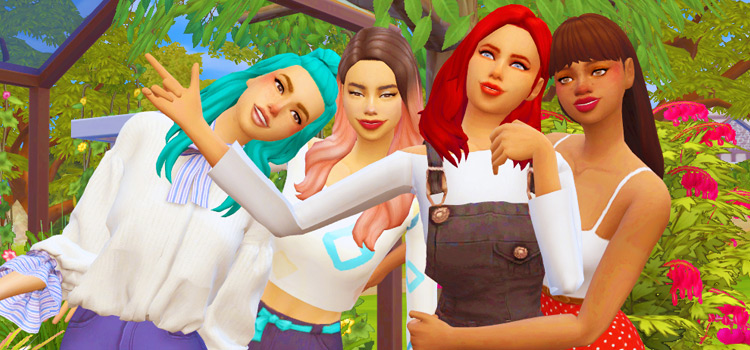 This is the age of social media and Simstagram.
Your Sim's probably got a best friend (or three) that's just as gorgeous – or just as effortlessly cool – as they are. Why not liven up their feed with a couple new photos that don't feature their face or their dog?
I know there are plenty of other reasons to download and install custom bestie poses, but this is the only one I can think of right now.
But either way, I'll get you started with some of these sweet bestie pose packs you can snag for free!
1.

4ever Sistar Poses Set by Flower Chamber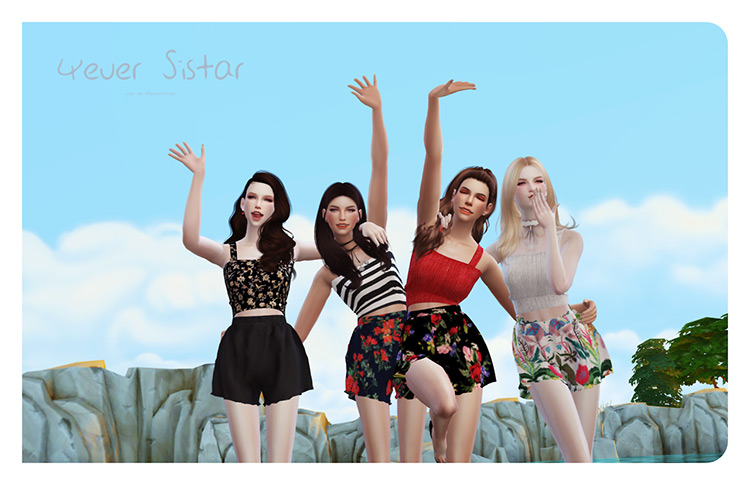 Let loose your (and your Sim's) inner K-pop stan with Flower Chamber's 4ever Sistar pose pack.
This set contains two poses, and both are very much on the soft, sweet, sunshine-y feminine side.
The creator basically nailed the vibe of most K-pop girl groups, and they did it flawlessly. And they included reference photos of the actual poses that they tried to replicate, so you can see it's crazy spot-on!
I'm also rewarding points for versatility here, since you can chop these poses down to duo poses without them looking wonky.
That is to say, they're not dependent on each other (i.e., no crazy arm linking or leaning-domino poses), so they'll still look great as poses for two.
2.

Close Friends Poses by simsgami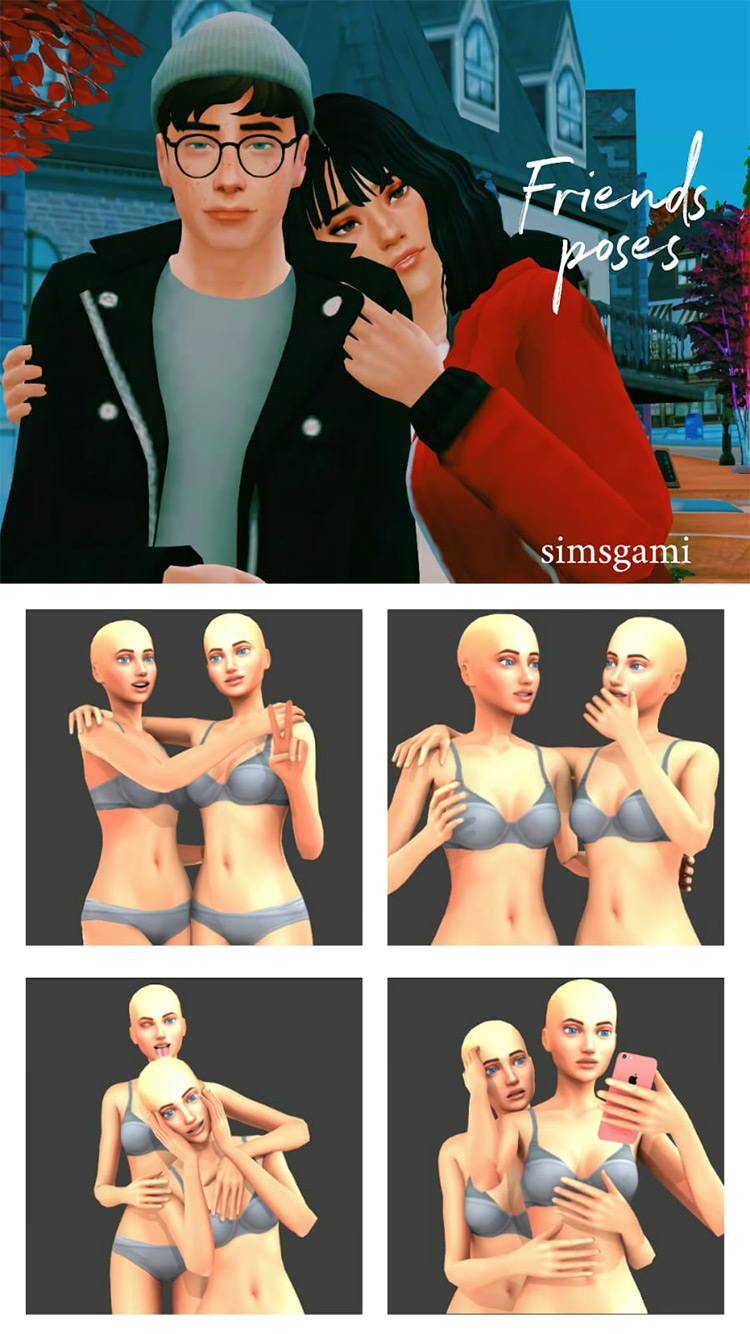 For fond friends taking fond photos, this absolutely adorable pack by simsgami hits different.
Lots of hugging, cuddling, and semi-nuzzling here—with the occasional peace sign thrown around. Because you're taking photos, after all.
The expressions really help sell these poses, too. Bery gentle, very affectionate, and very tender.
The vibe is pretty much two people who know each other, love each other (platonically or otherwise), and are crazy comfortable with each other.
Works well with just about any gender pairing, regardless of what the preview photos show.
Don't forget to download the phone and tongue accessories linked in the notes!
3.

Child Best Friends Pose Pack by HELLASIM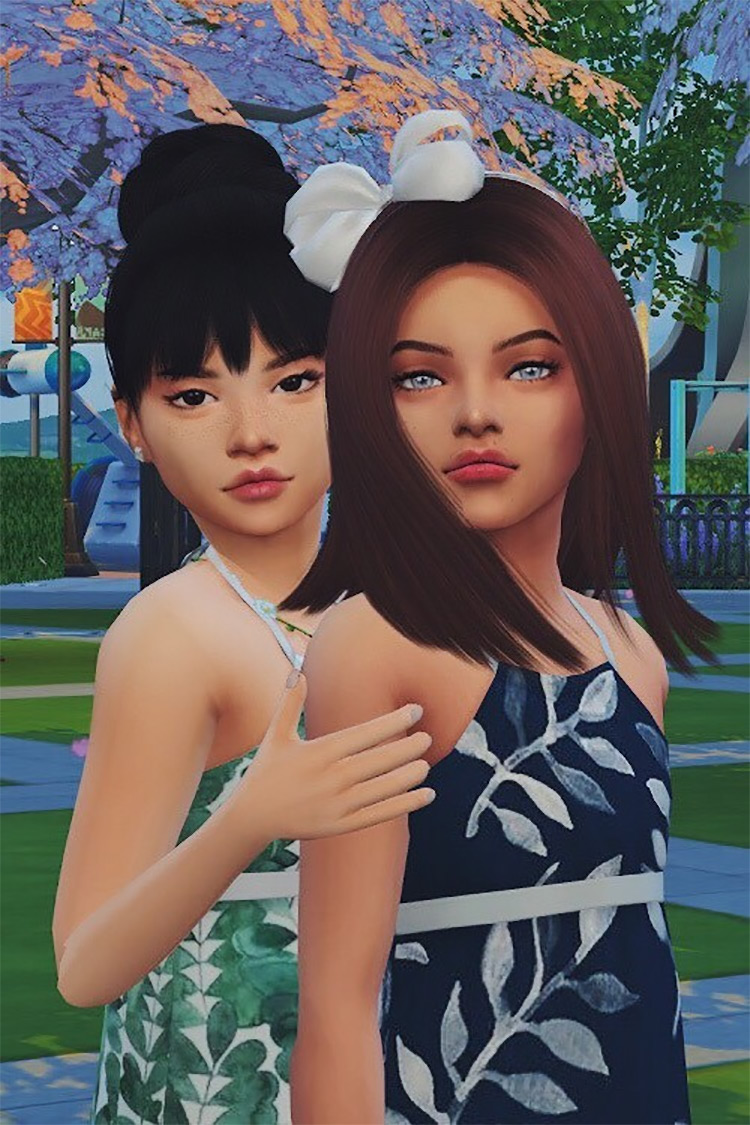 I had to include this one because yay, age-inclusivity!
But really, I don't come across a lot of toddler-to-child pose packs in the Sims 4 CC community. So really high-quality custom poses like this are rare gems.
Maybe I'm looking in the wrong places…
Anyway! These poses are absolutely precious. No two ways about it.
They can work for best friends or siblings and are perfectly gender-neutral (regardless of what the preview photos show).
My favorite has to be the third pose. Perfectly-captured failed jump-shots—where one person's still touching the ground and the other has completely taken off—are my jam.
4.

Times of Friends by memoriesplasticine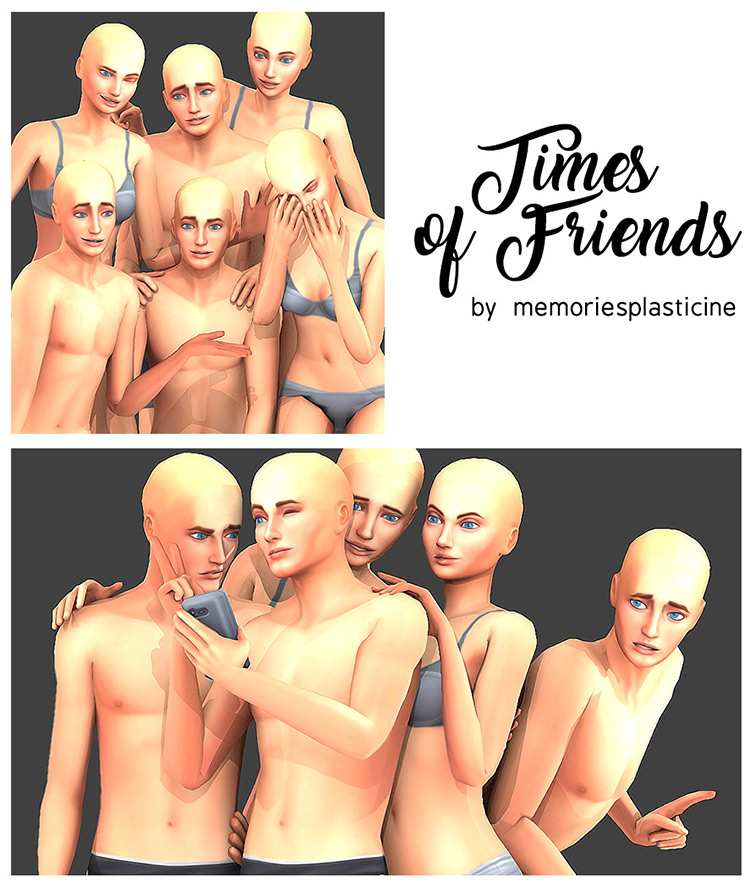 If you want group poses that perfectly convey the chaos of group selfies and the awkwardness of unexpected on-the-spot photos, memoriesplasticine has got your back.
Their Times of Friends set is a pretty perfect, true-to-life example of what happens when a bunch of besties try to capture their moment.
People get squeezed out, overshadowed, and sometimes relegated to the back. Some people even do squats just to get everyone in the frame.
It's cute, it's clutzy, and it makes for great "behind-the-scenes" type photos.
5.

Besties Pose Pack by HELLASIM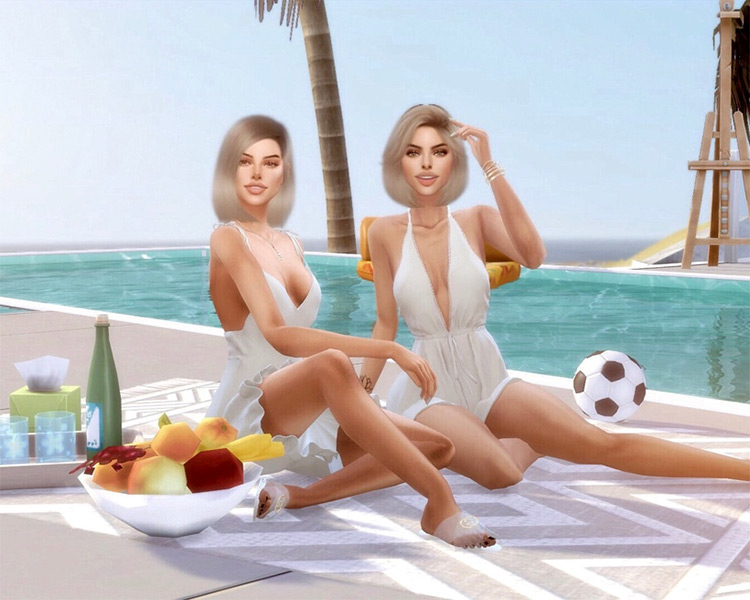 For hot classy besties who know they're all that (and more), HELLASIM offers this simple 3-pose pose pack that was definitely designed with summer in mind.
All poses – thanks to the incredibly detailed facial expressions – give off this casual, effortless glam vibe that brings to mind rich chicks lounging by the pool or Jacuzzi.
Trust me: it's not just because of the preview photos.
There's something in the way the creator designed the expressions that made my chill, girl-next-door Sims look ten times richer. And more elegant.
6.

Pose Dump: So Tired by simmerberlin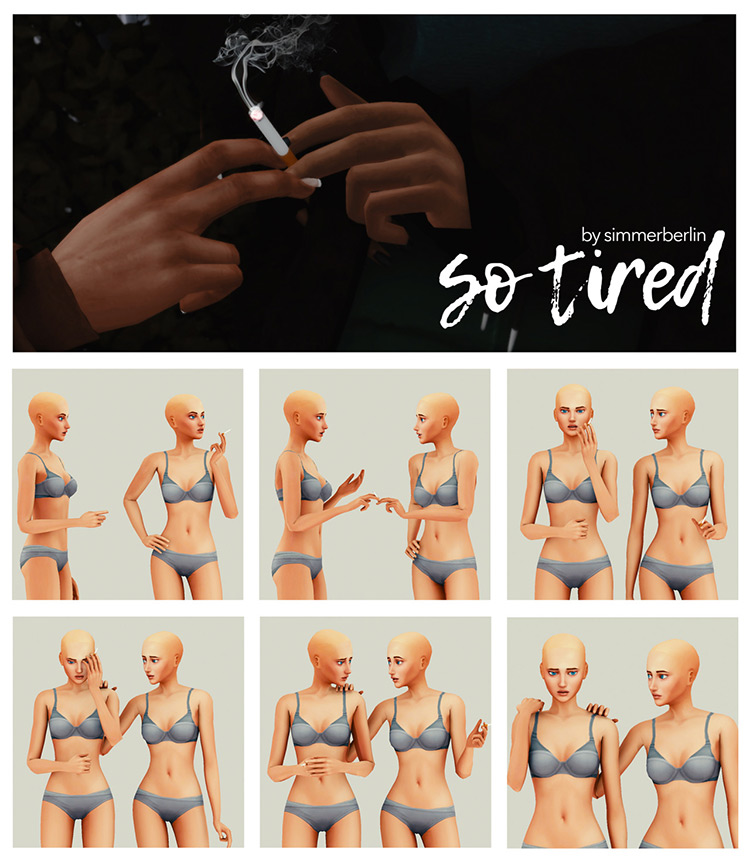 I recognize that this custom pose set is a far cry from the happy, peppy, "yay besties!" vibe that's been present in all the pose packs so far.
In fact, this one's a bit of a downer.
But what's a best friend if not the person who'll sit by you, smoking a cigarette (or not) when you're at your lowest?
Again; huge sucker for narrative. And drama.
So simmerberlin's "So Tired" pose pack was right up my alley.
The expressions and gestures are very reminiscent of 3AM talks on the balcony, just word-spewing all your insecurities to your best buddy. If this isn't your cup of tea, no worries: the other sets here are plenty positive.
But I thought I'd throw this in for the simmers who want it, just in case.
P.S. The cigarette accessory that the creator links in their notes only works for males, but the models they use are for feminine Sims. These custom poses are pretty gender-neutral (save for the first pose, maybe) so there shouldn't be a problem using male Sims.
I certainly did.
But if you want a cigarette accessory that works for all genders, I can recommend this one by A3ru.
7.

Besties Pose Pack by Katverse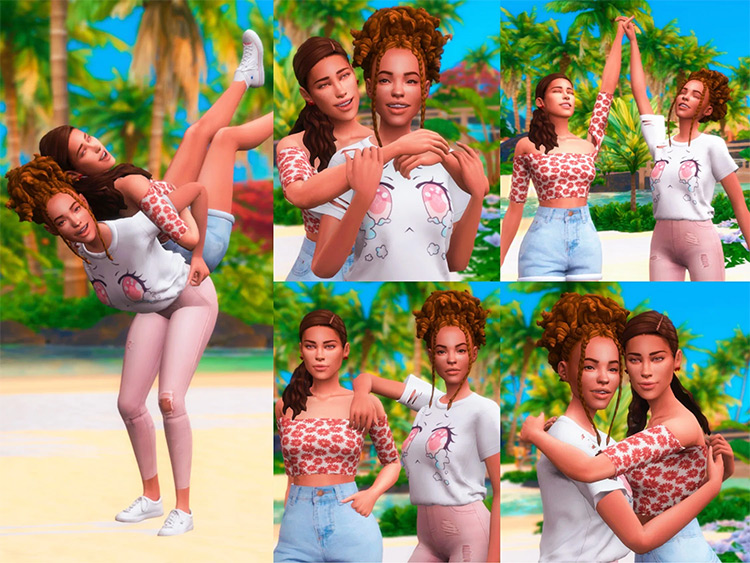 I'm of the firm opinion that Katverse genuinely puts out some of the best high-quality custom poses in the Sims 4 CC community.
They are, hands-down, one of my immediate go-to's when I feel like having a Sims photoshoot.
Everything in their poses, from the concept to the execution to the details, is on-point.
And if height difference is needed, their poses usually include mesh that automatically lengthens (or squishes) your Sims accordingly. This is something I can appreciate to no end, as I don't really like downloading height mods.
And this Besties Pose Pack is no different.
The concept may be simple – just to buds hanging, chilling, posing. But the custom poses are hella fun! I especially love the first pose.
8.

Bestfriend Group Pose Pack by Simmerdanicc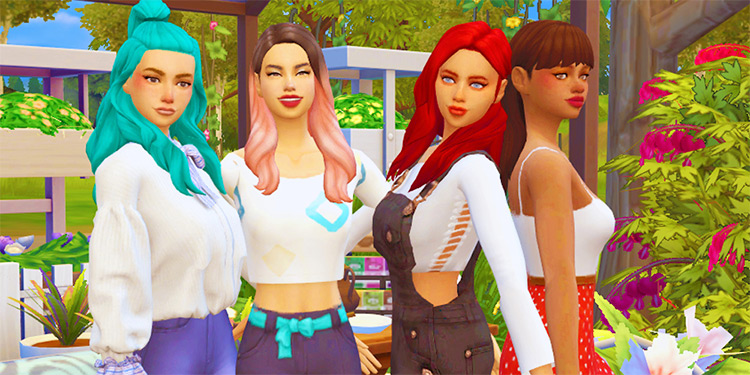 Four fun poses for four fun (girl)friends?
Sure, why not.
Simmerdanicc's Bestfriend Group pose pack takes the "girls just wanna have fun!" trope and runs pretty far with it.
And I mean that in the best way.
This set contains simple & straightforward poses that aren't a pain to figure out (just stack all your teleporters on top of each other. all of them.)
And they yield pretty photogenic results. For the most part, the hands and limbs line up just fine.
Do watch out for the third pose, though. If the third Sim from the left is wearing loose or "baggy" clothes (i.e., clothes that don't stick to the body like paint), the second Sim's hand could ghost through.
But it's nothing a little clever angling and cropping can't fix.
9.

Couquetts True Friendship by couquett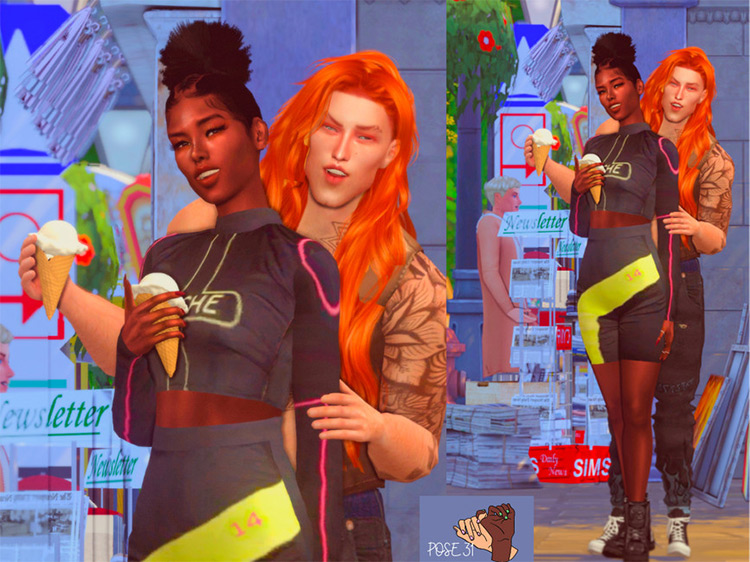 This custom pose pack by couquett gives off so much summer in the city vibes, you can't help but be charmed.
I recommend these for your perkiest, most optimistic Sims.
Big smiles, crescent eyes, and playful postures – it's all here!
The first one has so much potential to look awkward (especially if there's a noticeable size/weight difference between both Sims). But I'm happy to report that it's not.
If anything, the custom poses translate beautifully in-game.
Gotta admit, though: of the three poses, my favorite is the one with the ice cream (titled "3- male and 3-female" in the pose list).
The creator unfortunately doesn't link the CC they used in the description, but I found this ice cream accessory by JenniSims that works just fine with the poses.
10.

Zepeto Poses #1 & #2 by nemisims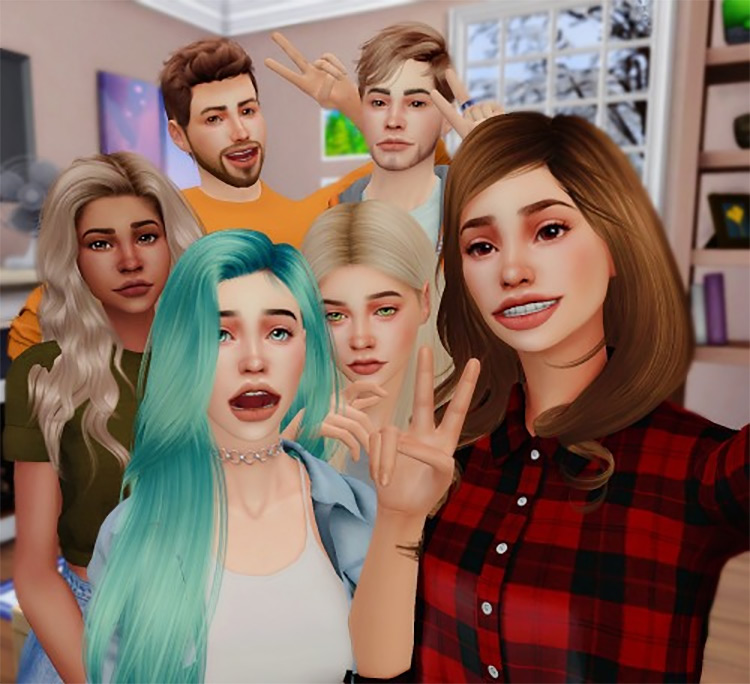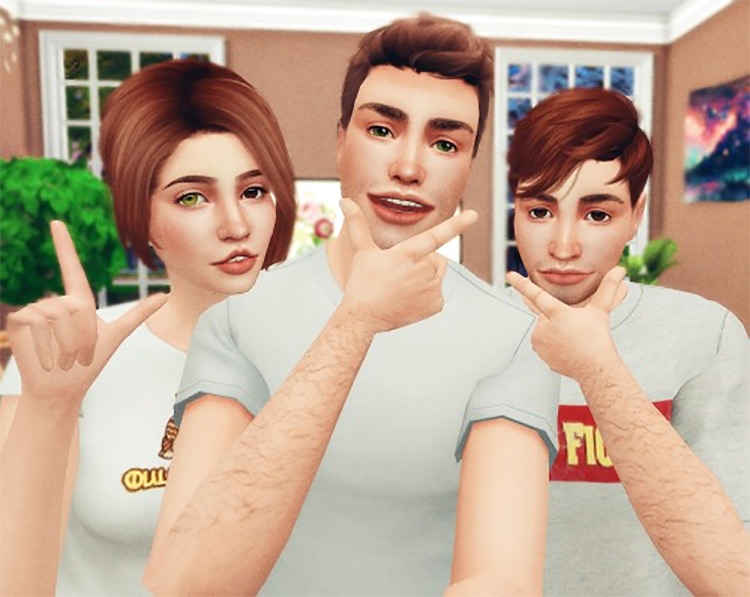 Let's end this list with two cutesy cartoon-y poses, courtesy of nemisims and Zepeto.
I don't personally own the app and the YouTube videos using Zepeto models sort of creep me out, but these poses?
These poses are crazy cute.
And they translate suspiciously well to The Sims 4, too.
The expressions and gestures work quite well with the cartoonish & clayified texture of Maxis Match, anyway.
Haven't tried with full Alpha CC photoskinned Sims, but I'm sure the poses work just as well!
Zepeto #2 is a cute group selfie shot for no more than three friends.
Zepeto Poses can cram up to six Sims in one frame.
But fun fact: it'll work with less than six, too. I tested it out with just four Sims, and the resulting photo looked fine!
Browse:
Lists
The Sims 4
Video Games