The Sims 4 CC: Volvo Cars & SUVs (All Free To Download)
This post may contain affiliate links. If you buy something we may get a small commission at no extra cost to you. (Learn more).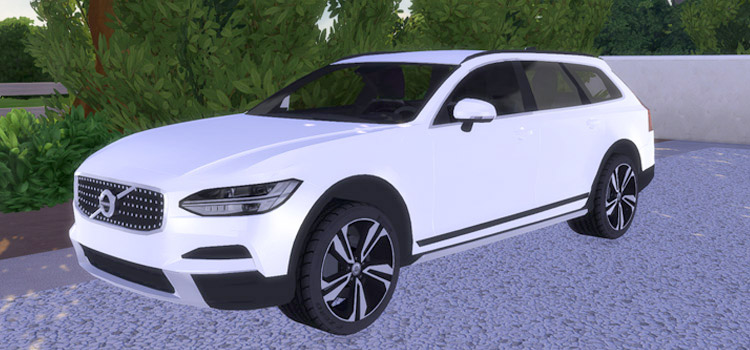 The first Volvo automobile hit the streets of Sweden back in 1927.
Since then, the brand has been pushing the motor industry forward.
People know Volvo for its safety and stylish Scandinavian design. It offers some of the safest vehicles in the market, so you can rest easy and truly feel like a million dollars when driving any of their luxury vehicles.
In recent years they've also hopped on the train of hybrids and fully electric vehicles in earnest.
And while you may not own a Volvo in real life, nothing stops you from owning your dream Scandi in The Sims 4 – well, exhibiting it in your garage at least. Driving is a whole other sore topic…
But let's look at some of the best Volvo mods you can add into TS4.
1.

Volvo 242 Turbo (1982)
As mentioned above, Volvo has been around for a while.
Volvo Cars only split from Volvo proper in 1999, but it had already produced some remarkable vehicles by then.
One of my favorites is the 242 Turbo – an unassuming mid-size sedan that has little to do with today's luxury-oriented Volvo cars.
Paint it pink, and it looks a little bit like what Homer drives in The Simpsons. The rigid, square shape was typical during the late 70s and early 80s.
It comes in 15 sober and subdued colors for the old-school Sim.
2.

Volvo 850 T5 (1994)
Fast forward 12 years and things looked more aesthetically pleasing – at least to my contemporary tastes.
The Volvo 850 offered users unique innovations that show the brand's early interest in safety.
These included a Side Impact Protection System and self-adjusting seatbelts.
This is the kind of thing you want to hear when acquiring the 850 in its 5-door estate form, as you're most likely getting it to transport your family – or at the very least, your precious band equipment.
Was your Sim a '90s business superstar who never recovered from the dot-com bubble?
This car will let everyone know what happened without them having to explain.
3.

Volvo V90 Cross Country (2017)
If you're looking for a spacious high-tech vehicle that'll keep your Sims safe in any circumstances, the Volvo V90 Cross Country is the way to go.
This is a luxury station wagon for the mildly adventurous.
You shouldn't drive it in a swamp or a hardcore rally trail, but it'll take a little off-road use like a champ, thanks to its raised chassis and all-wheel drive.
It's hard for a five-door estate to look as sexy as the V90, so don't lose this chance to make it yours.
4.

Volvo S60 (2017)
Younger Sims focused on their work-life rather than raising a family are better off sticking to a sedan like the Volvo S60.
A Volvo mainstay from 2000 to 2018, the S60 is a compact executive car favored by those who value comfort and high-quality interiors wrapped in classic Scandinavian design.
Volvo also offers an optional hybrid engine, ideal for the eco-conscious Sim.
5.

Volvo XC40 (2018)
If you're into weekend off-road adventures but don't have the space for a Jeep Wrangler in your San Myshuno apartment complex's parking lot, look no further than the XC40.
This compact SUV packs together all the luxury and high-tech advancements we expect from Volvo, all into a reduced size that's just right for the cramped urban lifestyle.
Something else that sets the XC40 apart from other crossover SUVs is its stellar safety profile.
The chassis is designed to absorb forceful impacts and prevent rollover, and the seats are specially designed to prevent spinal injury.
If your Sim is a bit on the obsessive side of safety, this car would be a perfect fit.
6.

Polestar 1 (2020)
Polestar is an electric car company owned by Volvo that designs electric performance vehicles carrying forward Volvo's visual heritage into the electric age.
The Polestar 1 was their first production model after moving away from upgrading Volvo vehicles to creating their own.
Its look is inspired mainly by the Volvo Concept Coupé, which drew strongly from the classic Volvo P1800.
The result is an ultra-modern-looking car with roots in the 1960s.
While not fully electric, the Polestar stands proud as proof that hybrid does not equal slow or uncool.
7.

Polestar 2 (2020)
If you want to take saving the planet a step further – or just really hate the smell of gasoline – the Polestar two is your ticket to fully-electric driving.
With a bold and agile design based on the same concept as the XC40, the Polestar 2 promises excellent performance, the most advanced tech, and luxurious interiors at a fraction of the price of its competitors.
This is the perfect electric vehicle to begin your new life as a fossil fuel-free driver.
Get it for the smart Sim who knows how to get the most bang for their buck.
8.

Volvo C40 (2022)
One of Volvo's most exciting recent releases is the C40, the first fully-electric SUV marketed under Volvo's own brand.
According to Volvo, this luxurious and eco-friendly ride will be the first of many as the company transitions toward becoming an all-electric brand by 2030.
This car stands out from many EV offerings from other major brands because Volvo manages to keep the same design language as the previous XC40 while avoiding mimicry of a regular fuel car.
The main change is the removal of the front grille, as the car no longer needs that air intake to keep the engine cool.
So it wears its fully-electric identity proudly without making a show of it.
Browse:
Lists
The Sims 4
Video Games