Stardew Valley Sam Mods: Hair, Portraits & More
This post may contain affiliate links. If you buy something we may get a small commission at no extra cost to you. (Learn more).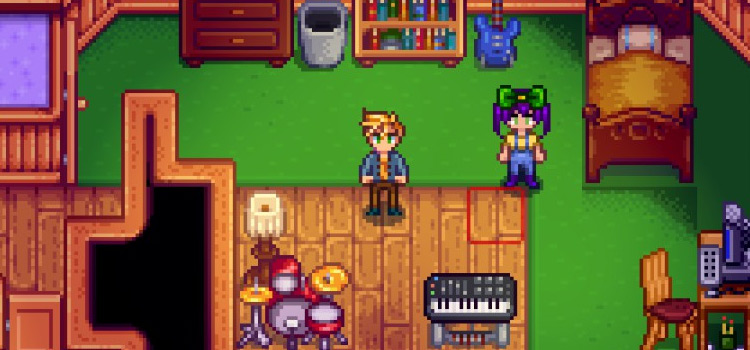 Hands down, Sam is one of my favorite characters in Pelican Town. He's sweet, he's a little dumb, and he's blonde – what more could you want from your resident himbo?
Of course, players love to mod things. So this collection has some of the best mods out there for overhauling Sam.
9.

Girl Sam
You guys really love to bend genders, don't you?
As always, if it exists, there's a genderbend for it.
This mod turns our beloved Sam into a girl, which totally works, since Sam works as a name for both boys and girls. She's super pretty, though might be more considered a bimbo than a himbo.
She seems like the sweetest type of person to grab a beer with, or maybe go fishing or skateboarding.
8.

Doki Doki Dialogue for Sam
Don't you love when guys say sweet things?
Well with this installed, you get fifteen lines of dialogue designed to make you blush and giggle when they're said by Sam.
They're super sweet and adorable lines. He's a sappy guy to begin with, so it isn't so much of a stretch to imagine him saying things like he misses you when you aren't around!
If you need some heart throbbing dialogue in your game, give this one a try.
7.

Sam's Hair Makeover
There's a lot of kerfuffle online about Sam's hair.
You see, his sprite and his portrait just REALLY do not match.
I personally prefer the sprite's hair with the little fallen side bang, but this mod makes it so that his sprite looks more like his spiky portrait.
6.

A More Interesting Sam

Some people find that Sam isn't a very interesting character on his own, which I guess I understand.
Compared to characters like Shane and Sebastian, Sam is a pretty simple guy – aside from some issues with his dad, he's pretty put together and uncomplicated, which is personally what I like in a dude.
This mod makes him more interesting, though, by adding new dialogue for every season and heart level, which should make things more engaging for the players.
Note that this one is still being developed as of this writing, since there's future plans in the works to expand the mod too. So check back if you can remember!
5.

Sam and the Great Haircut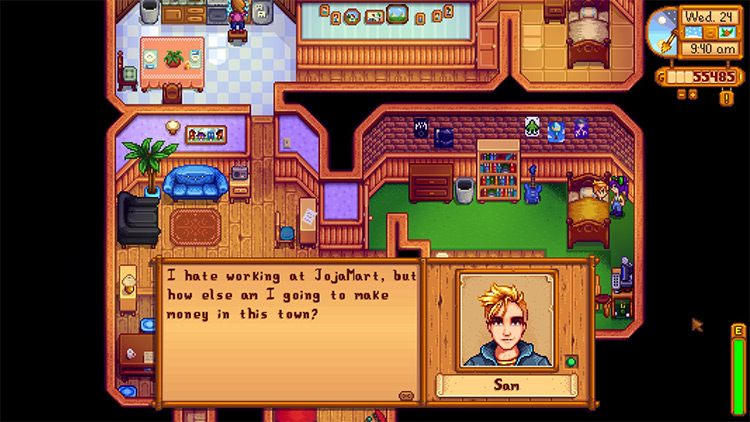 Why can't you guys just leave poor Sam's hair alone?
He's trying to find himself, okay!
This mod chops off Sam's glorious spikes and leaves him with normal hair. That's it. I'm gonna go and cry about it now.
4.

New Hair and Jacket
Oh look, another mod robbing us of Sam's luscious locks.
It's a nice haircut, and also adds a new jacket for him.
His portrait actually looks a fair bit older and more mature. It's nice, but leave his poor hair alone.
3.

Sandy Haired Sam
Yet another hair mod, but it's actually really nice this time.
It rids his yellow-y blonde hair for some very soft looking sandy locks. I'm team #Sam'sHair, but I can actually get behind this mod.
He looks like a very handsome, boy next door type with this. The new art style is great, and I especially like the winky portrait. What a heartthrob!
2.

Sam Marriage Dialogue Expansion
I've married Sam countless times, and I'll likely marry him countless more.
But this mod is onto something – I'm all for additional marriage dialogue.
He's a sweetheart with a lot of room for improvement in the dialogue department.
Well this adds thirty four new lines of dialogue for our favorite blond man, with more expected to be added in the near future.
1.

Another More Interesting Sam
Another mod that promises to make Sam more interesting by adding a bunch of new dialogue – over a hundred new lines, actually!
These new lines makes sure to reference other characters in the game, which makes sense since he spends so much time with Sebastian and Abigail.
Mods like this are great, because they make the game much bigger. They function essentially like free expansion packs.
Browse:
Lists
Stardew Valley
Video Games