27 Super Mario DIYs & Crafts For All Ages
This post may contain affiliate links. If you buy something we may get a small commission at no extra cost to you. (Learn more).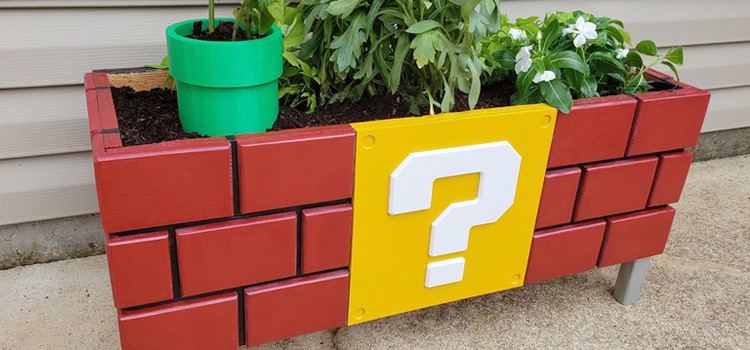 Super Mario is universally loved by everyone from many age groups.
Countless Nintendo gaming parties have been had since his first appearance on our TVs, and the party will go on with these incredibly fun and creative handmade crafts involving the whole Super Mario universe.
From Bowser to the two Italian plumbing brothers themselves, you're guaranteed to find a craft here that'll occupy your time. Good thing the princess is in another castle huh?
1. Boo Ghost Lamps
If you want to add a spooky touch to any room, maybe an eerie atmosphere for that late night session of Luigi's Mansion… well have a go at making these Boo ghost lamps.
Perhaps the least threatening looking ghost ever, Boo is nonetheless a staple of the Mario universe and a fun character to use as inspiration for these floating white paper lanterns.
Plus the final result is super easy to make so this shouldn't be much of a struggle.
2. DIY Chain Chomp
The worst part of Mario Kart?
Hearing the rattling of chains and the dog-like barking gaining on you as you're cruising in pole position.
That's right, this next craft includes one of the most anxiety-inducing character in our favorite game, the infamous Chain Chomp.
All you'll need to create this chained dog-like monster is a black paper lantern, white and black card stock paper, a stapler, and a glue gun.
3. Lakitu Cloud Night Light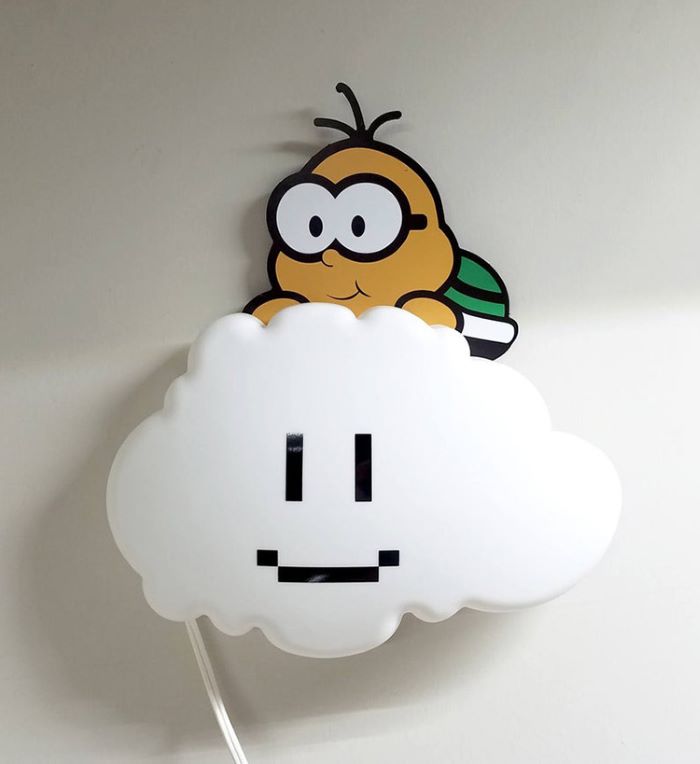 The underrated yet ever-present Lakitu is there to make sure every race in Mario Kart starts off with his face. I think it's to lessen the inevitable loss we all face going into the tougher races.
I'm looking at you, Rainbow Road.
Sitting on his cloud, Lakitu seems to be loving life up there. So what better way to light up the room than with his smiling cloud? A truly unique piece to bring some Mario joy to any room.
4. Mario Bros. Mushroom Cake
The universal symbol for a power-up, the mushroom from the Mario universe is synonymous with "level me up chief".
So it makes sense to combine it with one of the greatest pick me ups on a bad day – cake!
This layered mushroom-styled cake requires several cakes being made and stacked on top of each other, then painted with icing for the design.
And no, it doesn't contain any actual mushrooms.
This is the time to test your claim that the Great Bakeoff is a cakewalk. Make this cake and your friends will never challenge your baking skills again.
5. Lego Castle Aquarium
Super Mario wouldn't be the same without the iconic 8-bit stages including all the pipes, platforms and pure frustration.
If you want to see how your fish would fare in one of the notoriously difficult platforming levels then this craft will be perfect for you.
Simply take some LEGO pieces and put together your favorite levels from the classic Mario game to see if your fish can do better than you.
6. DIY Super Mario Mobile
You're never too young to be introduced to the charming universe of Super Mario.
Next time you go to a baby shower, instead of splashing out on an expensive gift, give this Super Mario mobile a try.
Fix it up with all your favorite characters and make sure the baby grows up as to become as big a fan of Mario as you are.
This DIY is also pretty easy to make too. Get into the attic, dig out the old mobile from your childhood and put this Mario-inspired spin on it.
7. Super Mario Shelves
If you want to be the coolest kid on the block, or if you're just a huge Mario nerd looking to add a unique feature to your gaming room, consider making these Super Mario shelves.
We can all relate to the excitement of jumping up into one of the question blocks and waiting to see if a mushroom comes out. So why not re-create that excitement every day when you look at your shelves?
For this project you'll need some wood, a saw, Mario pattern cut-outs and a lot of patience.
8. Mario Brick Wall Shelving
If you're looking for somewhere to store your Super Mario toys and memorabilia, well truth be told it depends how much you have.
But try making these simple, painted cardboard box shelves for at least a few of your Mario collectibles.
This project shouldn't challenge your DIY abilities quite as much as the previous entry, but will still give you the same cool Mario-esque style which every room can benefit from.
9. Super Mario Papercut Frame
This craft would be a fantastic gift for anyone even semi-familiar with Mario.
This incredibly detailed and impressive Mario-themed paper cut frame will leave the recipient of your gift – or you – utterly amazed.
All you'll need is a shadow square box frame, a knife, glue and colored card stock paper for the design. This might take delicate handy work but will surely be worth it for the end result.
10. Piranha Plant Pops
Remember the big Piranha plants that eat everything around?
Well now it's your turn to do the eating. These delightful Piranha pops will not only look the part, they'll taste incredible; provided you can bring yourself to eat something you know would look so good guarding your window from invading flies.
All you'll need here is some cupcakes to mold into balls for the heads, some candy, and then a straw and an earthy looking cupcake for it to sit in.
11. Super Mario Mushroom Birdhouse
If you care at all about the birds that come to your garden, you'll make them an awesome Super Mario mushroom birdhouse.
Something that will not only look great in your garden, but offer some shelter those cute little birds that have never been able to play any Mario games. You know, cause they don't have thumbs or whatever.
To make this birdhouse you'll need a large plank of pine wood, a saw, and a lot of determination to sand it down to the all-so-familiar mushroom shape.
12. Question Box Lamp
If you like your lamps to be both fun and functional then this Question Box lamp is an essential addition to your home.
Imagine the satisfaction of jumping up to press a question box which then illuminates the whole room.
Well you can make this a reality with this super creative craft. Amongst other things you'll need an LED light and a lamp to make this one of a kind light. It may take some time to craft and convince the girlfriend to put it up, but the end result is unquestioningly awesome.
13. Plush Mario Block With Sound
Of course, one of the most iconic parts of the Mario blocks is when you hit them they make that sound. It should be eternally etched in everyone's mind by now.
Well with this DIY you'll be able to hear that sound whenever you want!
Dust off the sewing machine and get to work on these plush Super Mario blocks with all the enthusiasm you would bring to a game of Mario Kart.
14. Mario Party Themes
You might think what every kid wants for their party is something Star Wars or Marvel related.
But why not go classic with a retro Mario party theme?
Complete with fake moustaches, chocolate Nintendo controllers, Mario-themed cupcakes and party hats, all the kids will go crazy over this party. Get creative, label some candy as Yoshi's eggs or bake some cute mushroom 1UP cupcakes and get the Mario party started.
15. Mario Planter Box
If you've been wondering since seeing the mushroom birdhouse how else you can give your garden a Super Mario vibe, then look no further.
This retro blocky Mario planter box will ensure your garden is fit for queen Peach herself.
Find some cedar wood, various paints, glues and tools and start working on this fun new home for your flowers. I promise you're gonna love it.
16. Bob-omb Plush
Bringing a level of cuteness to the deadly bomb as never seen before, Bob-ombs are hard not to love.
For that reason alone everyone should have one of these soft Bob-omb plushes to keep around on those rainy nights in bed. Or maybe for your kids. Or maybe one for each of you, yes that's it.
Again you'll need your sewing machine here as well as some fuzzy colored fabrics and threads.
17. Super Mario Cinnamon Stars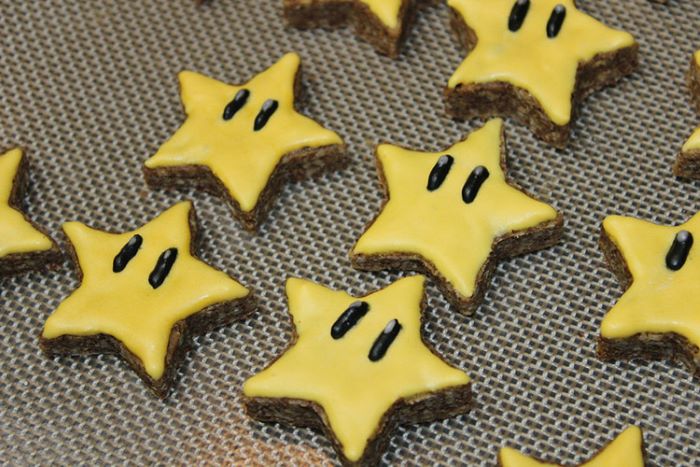 It's time for more sweet treats, and this time they're going to be in the shape of the invincibility-providing stars.
These super easy to make, 4-ingredient cinnamon star cookies should become a mandatory snack for every Super Mario party from now on.
All you need is a few eggs, grated almonds, powdered sugar with cinnamon and you're ready to get baking.
18. Themed Bookcase
Lots of us are resisting the move to E-readers and relish the simple pleasure to be had in holding a physical book. Smelling the pages, getting away from screens, and delighting in the tactile sensation of turning the page.
Yet with this love of books comes a problem: where do you put them all?
Follow along here because this DIY project has your back (and your book): a Mario-themed bookcase fit for any book lover.
You'll need access to a table saw, router, a drill and sandpaper among other bits to make this finished piece. But it'll be worth your time to see your books in this classic display case.
19. Super Mario Table Cover
Every living room needs a centerpiece, but not all of them will be as special as this Super Mario table cover.
If you want your table to be an eternal throwback to all the good times with Mario then you'll want to make this unique aesthetic for your table.
To get started you'll need some serious hardware. Namely a sealant gun, a wood saw, and a hammer. Also a bunch of colorful glass mosaic stones for the crisp and vibrant finish.
20. Magnetic Mario Earrings
Earrings need to be special. After all they're a big statement about your appearance and have to match your outfit.
So why not consider making these magnetic Mario star earrings and impressing all your friends with your starlike qualities.
You'll need some wood, neodymium magnets, a rotary tool and a glue gun to walk away with a couple of these babies dangling from your lobes.
21. Mario Goomba Shoe Stocking
Christmas rolls around once again, and you realize you threw away the plain red stockings last year. What do you do?
Fear not, these Mario present stockings will look great hanging over the fireplace.
This cute baby Mario poking his head out of the shoe stocking is likely to add some serious gaming style to this year's Christmas proceedings.
To make your own first get some colored felt, glue, scissors, and a pen and paper. From there you're ready to roll right into new years with Mario hanging by the chimney with care.
22. Piranha Plant Cat Bed
Vicious, dangerous, and ready to strike at any moment. The Piranha plant is in many ways similar to the domestic cat as I hope those of you with cats will agree.
So what better way to bring the 2 together than with this Mario Piranha plant cat bed, a move which will certainly make house guests think twice before approaching any sleeping cats.
This piece of furniture is much more fun than any typical design, especially since the cat bed has some hanging baskets, a broom handle, felt, cushions, a large plant pot, cement, sand, rope and a couple of other bits to make from scratch (insert cat pun here).
This is definitely a design you'll want to add into your cats life pronto.
23. Concrete Thwomp
Forever deterring you from passing in any castle, Thwomp from the Mario universe is not to be messed with.
If you want to make sure trespassers are dissuaded from entering your property then turn your computer on, print out a thwomp template, and build the rest of this awesome concrete creature with poster board, cardboard, tape and paper.
24. SMB Hand Towels
Personalized hand towels are something rarely seen around the house. As such they're an interesting addition to your bathroom or kitchen or anywhere you choose.
Just pick your favorite character and print your name below to make sure nobody wipes their hands on any plain old towel ever again.
25. Bob-Omb Cabinet Knobs
Cabinet knobs are typically very uninspired, button shaped and purely functional. Add some humor to your cabinets with these Bob-omb cabinet knobs that can hook pretty much anywhere.
Sure to provoke a smile for those moments when you have to trawl through the cabinet to find a lost document. Or if you're missing some tax forms then these knobs can at least lighten the mood.
26. Mario Pot Holders
If you like to carry your favorite board games around while taking the chicken out of the oven then try make these Mario Pot holders.
You can make these yourself or pick up a copy of the handmade versions from WickedSistah on Etsy. Her work is some of my favorite and she as a ton of awesome Mario-themed items to get you excited.
27. Mushroom Wooden Coasters
Last up on this list we have something that you're bound to want around the house: mushroom wooden drink coasters.
Everybody loves a craft that serves an everyday purpose and this one fits the bill perfectly.
These awesome coasters will cater to your morning hot cup of coffee or your afternoon glass of water giving you the 1UP you need all day long.
A scroll saw, drill, some wood and the printed pattern should cover the bulk of what you need.
Browse:
DIY
Lists
Super Mario
Video Games