Minecraft: Best Winter-Themed Skins To Try (Boys + Girls)
This post may contain affiliate links. If you buy something we may get a small commission at no extra cost to you. (Learn more).
Whether you're a holiday fanatic or a hater of the icy dark months, winter is a standout season for many reasons.
The snow, the school breaks, the months of bundling up to survive the outdoors. It has its charms and downsides – but winter presents a whole new world for everyone (except maybe people who live in the desert?)
For this list we're diving into the adventuring spirit to visit the glacier or snowy tundra with some great wintry Minecraft skins.
1.

Christmas Sweater Boy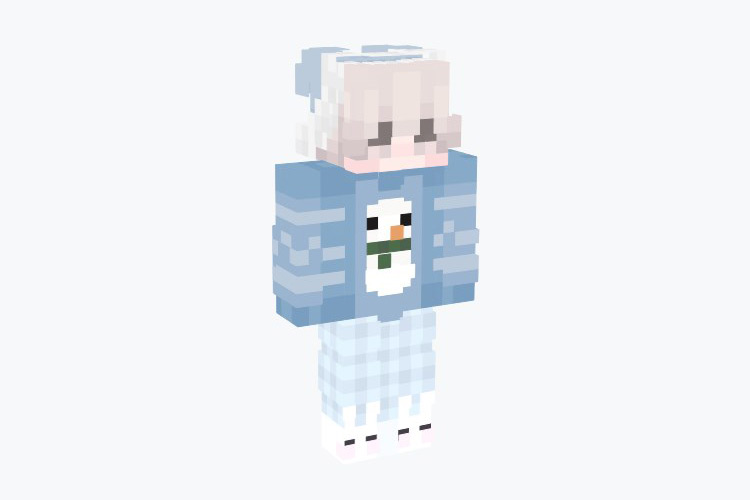 Nothing screams "Wintry Adventure" quite like a boy in blue Christmas pajamas.
Okay, so maybe the adventuring skins will be a bit further down the list, but you can't argue that this skin isn't pure, unadulterated winter.
Creator xCoco combines all the wonder of an ugly, ugly Christmas sweater with an ice blue, winter theme and makes one of the best everyday skins I've ever seen.
If this skin can't get you longing for season's greetings and hot cocoa, I don't know what will.
2.

Winter Traveler in Wolf Hood
How about a wolf-hooded traveler to get you into the spirit?
This skin is a pretty hard 180 from Christmas sweaters.
But winter has a little something for everyone – from the s'mores-roaster to the vicious Viking wanderer.
In all seriousness, this skin looks ridiculously good. Especially considering it was released way back in 2012.
The textured wolf skin on the head was leagues ahead of its time then and still holds up remarkably and will probably continue to in the future.
3.

Christmas Sweater Girl
And we're back to Christmas sweaters!
Initially, I'd only found the Sweater Boy skin and thought I'd let that be the end of the Christmas sweaters on this list. But the fact that xCoco made these sweater skins a pair…
How could I leave this skin out?
Whether you're looking for a girl Christmas sweater skin or were searching for the perfect matching skins, you have found them.
4.

Pink Rosy Holidays Girl
Creator Giovanka has been one of the best makers of egirl-styled skins around for some time, and this skin is a perfect example of their work.
Rose pink would not have been my first thought for a Christmas-themed skin.
But this onesie-romper pajama is equal parts adorable and masterfully made.
Seriously, even the way they manage to add texture and dimension to the stockings and bows on the skin blows my socks off.
5.

Christmas Steve
I firmly stand behind the statement that one of the best design styles for Minecraft skins is Steve dressed up in something other than the default skin.
Creator kpJulian proves me right with their Christmas Steve skin.
There's something so tickling about seeing Steve without his blue shirt and pants and also something heartwarming about seeing him in specifically a knit, Christmas sweater.
6.

Creeper-Loving Penguin
Creeper-Loving Penguin might be one of the coolest skin names I've read in my tenure playing Minecraft.
On top of that incredible name, this might be one of the best penguin skins I've ever seen too.
It's a penguin wearing a green scarf and a green creeper hat. It's so simple, so perfect, so flawless. It brings a big Christmas smile to my face.
7.

Winter Jacket (Boy)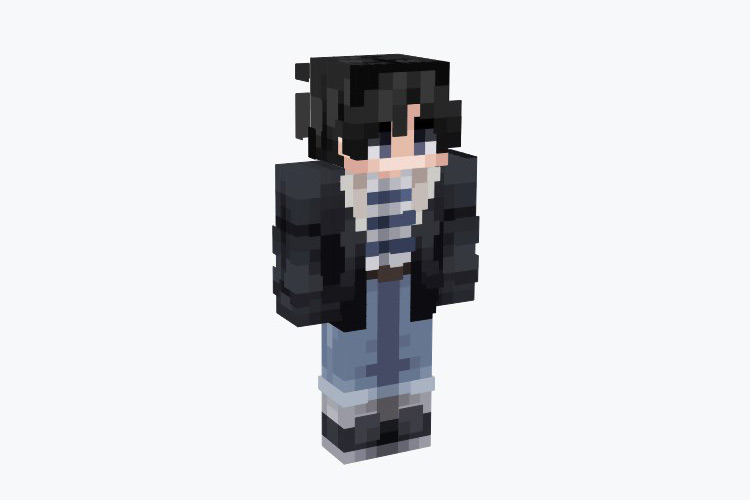 While most of the winter-themed skins you'll find in Minecraft are explicitly ice-related or under the Christmas umbrella, creator Juggie made this skin, a total stand out in my brain.
This design has loads of intricate shading and texturing going on to create a clean look.
But more than anything, it's a simple style piece. A really good one at that.
From the high waisted jeans with a belt to the fur-lined coat, I would absolutely wear this outfit in real life. And that definitely means I'm going to wear it in Minecraft.
8.

Snow-Themed Girl
With only the tags "winter," "snow," and "girl" on this skin by creator fjsu, the look has an air of mystery to its origins.
The snow theme is apparent and vibrant with how bold the whites and blues are on the skin, but I wonder what the inspiration for the skin was.
With different-colored eyes and alternating styles along the skin, it looks like it dances between a soft, flowing snowy aesthetic and a kind of warrior princess look.
Somehow it manages to balance both effortlessly to be one of the best looking and most subtly creative things I've seen all winter.
9.

Dreary Winter Days (E-boy)
While I'm a lover of all things winter, I can recognize that sometimes the cold weather and endless gray days can become a drag for many.
If you're one of the many folks who are hit hard by the winter weather, this skin might be communicating what you've been feeling on the inside.
With winter being so full of bright whites and vibrant colors, there's something hilarious about an e-boy winter skin that is pitch black. I love the contrast and how unabashedly e-boy it is.
Two thumbs up from me.
10.

Freezing Out Here (Girl)
Even though you're bundled up and ready to take on those brisk winter days, sometimes the cold can be a little too much.
I love the snow sitting on all parts of the skin like they've just been buried by an avalanche and may or may not be suffering from frostbite.
Terrible thing in real life, great look in Minecraft.
The extreme of the coloration and how frozen this skin feels is contrasted so well by how normal and cozy the sweater on this skin is. Everything about the skin fits together seamlessly.
Oh and by the way, Creator IMakeSkins is another one of those standout names who you should 100% be looking for on namemc.
11.

South Park (Stan Marsh)
I know that South Park might not be everyone's cup of tea, but this Stan Marsh skin certainly should be.
I've never been the biggest fan, nor has Stan been my favorite character on the show by any means.
But this skin by creator xPelo might just change my mind.
The outfit is undeniably South Park, but xPelo did such a great job of transforming the round, short South Park character into Minecraft dimensions that this looks like a super cute winter guy skin.
It's almost jarring how good the skin looks with South Park as its reference point.
But it looks so great I could happily put this skin on any time of year.
12.

Ice Block
Is there anything more wintry than… ice?
Snow gets all the credit in winter because it looks pretty and is soft and fun to play with, or whatever. But, where's the love for ice in all the winter cheer, huh?
I'll be honest: I don't like ice all that much. No one likes slipping on it or having to chip it off a car windshield.
But, I do love creator ssly's ice skin in Minecraft. It's hilarious. The skin is literally just ice, done in the Minecraft texture.
It may be a gimmick, but it's a flawless one that tickles me.
13.

Winter Fox
Foxes are winter animals, but that doesn't mean foxes can't get cold on those chilly winter nights.
I think that a fox in full, bundled winter garb complete with scarf and puffer jacket is just adorable.
Creator derpy9 nailed the design and even included a funny fox tail coming out the back of the skin.
14.

Pink + White (Girl)
Creator AnnaHoier08 hit a home run with this Pink and White Christmas skin entry.
I know that I've hit a pink holiday skin already in this list, but you can't tell me you would've scrolled past this skin without stopping to look at it.
The aesthetic on it is so complete and the shading/texture on the pants is done so that the skin could either be pajamas or fancy, checkered pants ready to spend the holidays out on the town.
15.

Penguin in a Penguin Sweater
When I first saw this skin, it had me chuckling for a good long while.
I love the way oversized sweaters and hats look on Minecraft skins.
Make those winter-themed penguin sweaters and hats, and I'm already sold.
Putting a penguin inside the oversized penguin clothes? That's a move of sheer genius by creator Fowlax.
16.

Spring Snowman
I think one of the best parts about Winter is that there's the promise of spring around the corner once you're in it.
You can enjoy the cold and the snow, but look forward to warm weather and sunny skies soon enough.
Creator LaurenAngels_ perfectly manifested that exact combination of winter love and spring cheer into this Spring Snowman skin.
I adore this thing with all my heart, from its flower crown to its almost-melting smile. I do not think I have seen a cuter Minecraft skin.
17.

Cute Holiday Girl
While we've had lots of Christmas skins in the ugly sweater vein or the Christmas morning pajama vein, we haven't had any in the bright red Christmas present style yet, and that is a travesty.
Nothing screams Christmas quite like red and white present wrapping.
Creator xCoco understands this fully and made this Christmas-themed egirl skin accordingly.
Honestly, no Christmas is complete without some gift-giving to the people you love. So why not send this skin to a friend and brighten up their day?
18.

Russian Winter (Boy)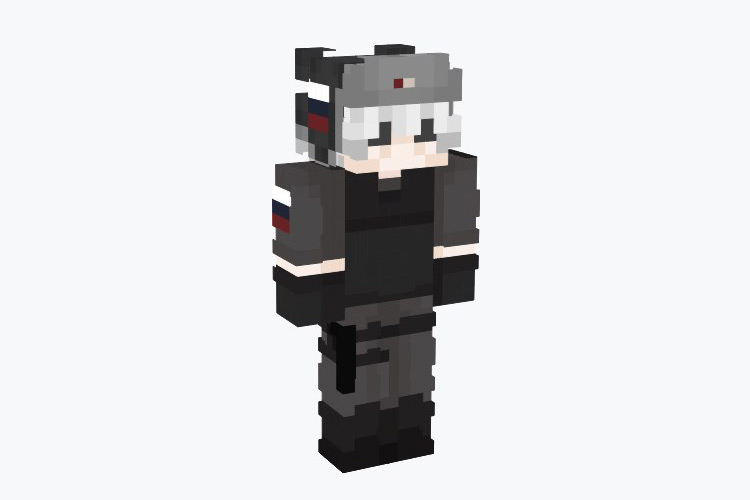 I know that most of this list has been talking about winter in terms of Christmas and holiday cheer, both large parts of winter.
However, winter is much more than the holidays.
And if there's any country that knows its way around winter, it would be Russia.
Most of the nation's land is frozen tundra and even in the highly populated areas, winter temperatures fall well below freezing.
It's no wonder that creator wwwwoommyy's skin here is so bundled up and looks so cold-hardened.
To deal with temps that can get as low as -90 F, you've got to be prepared.
19.

Red & Green Christmas Girl
This design by creator thvmes' exudes such a warm and fun energy.
I knew it would hit this list before I even began writing.
The skin does so many unique things right that it stands out from all the others on this list.
It features:
A washed out aesthetic that makes it feel a little bit vintage, like it's in an aged polaroid
And the outfit is equal parts bohemian and Christmas tree
Put these together with the flawless hair and bow detailing, and here ya go.
It's a Christmas masterpiece.
20.

Winter Blossom (Girl)
I'm not sure I've ever seen a skin quite like creator Oblivion's Winter Blossom.
The off-shoulder look has been done before, but the dark-flower that almost reads like a fur coat looks impeccable.
The skin blends the warmth and fuzziness of winter outfits with the delicacy and shading of flowers and makes a look that could easily be worn to an awards show.
Browse:
Lists
Minecraft
Minecraft Skins
Video Games