The Sims 4 CC: Alice in Wonderland, Mad Hatter, & More
This post may contain affiliate links. If you buy something we may get a small commission at no extra cost to you. (Learn more).
Lewis Carroll's Alice's Adventures in Wonderland is one of the most influential children's tales ever written.
Whether you know of it through an animated movie, a live-action one, or by going back to the original book, it's always a good time to revisit Wonderland – and today, I'll show how you can do it in The Sims 4.
We might not be able to enter Wonderland ourselves – at least not while we're awake – but our Sims definitely can, if we give them a hand with some lovely custom content.
Would you like to read the list now, or should we have our tea first?
1.

Vintage Alice in Wonderland Art
First up, some gorgeous vintage paintings are ready to be hung in any room of your literature-loving Sim's cozy home.
While we generally think of Alice in Wonderland as a story for children, these vintage prints by SpitzMagic have a certain melancholy and disturbing realism to them, that'll appeal to dark academics and Sims trying to make it as an author in the Writing career.
The somewhat psychedelic colors are awfully appropriate for a story that reads like a fever dream at times.
Get this CC for Sims that get what Alice in Wonderland is really about.
2.

Alice in Wonderland Child Costume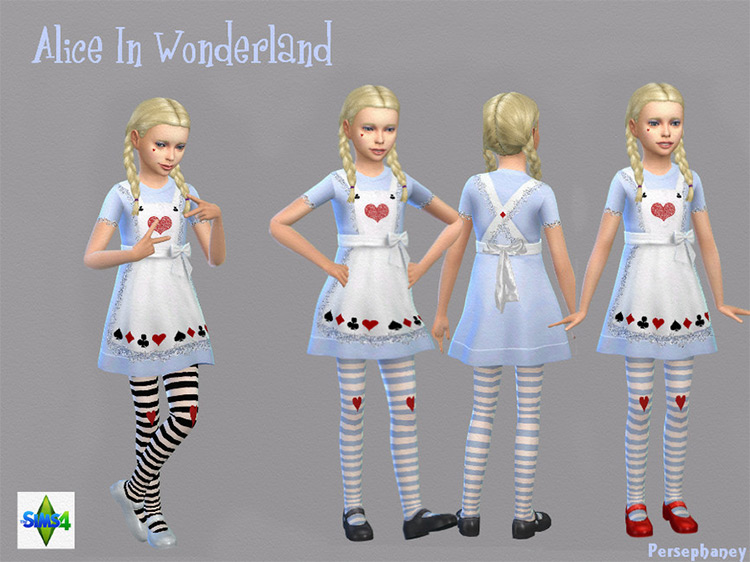 If you're looking for something more child-friendly, consider this fabulous Alice Child Costume by Persephaney.
Rather than trying to mimic the look of any specific incarnation of Alice, the costume takes several elements from the story and brings them together to make sure everyone knows it's an Alice in Wonderland costume.
Besides the classic white apron and light blue dress, this outfit also features striped socks reminiscent of the Cheshire Cat, and plenty of card symbols adorn the apron.
3.

Simple Alice Dress
As an adult, you can kind of dress like Alice in your everyday life and get away with it – as long as it's not over the top.
Lovers of simple but stylish outfits will love Dee's Alice Dress – a feminine short dress with a puffy bell-shaped skirt and an adorable apron.
What I love about this dress is how different it looks depending on which of the 30 colors and patterns you choose.
The light blue one gives off strong Alice vibes, while the red one is the perfect diner waitress uniform.
If you like this outfit's simple design but find the color palette too bland, make sure to check out the Easter version for more exciting patterns.
4.

Alice in Wonderland CAS Backgrounds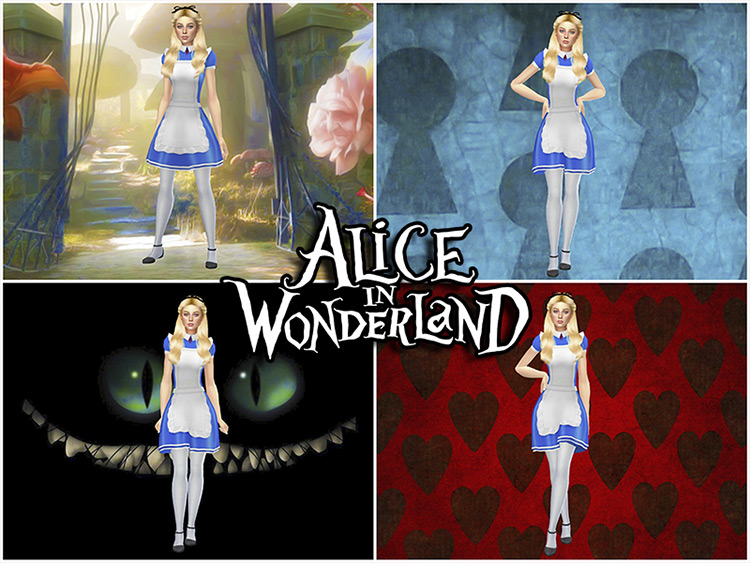 As you accumulate awesome Alice-inspired apparel, you'll most likely feel the need to run into Create-a-Sim and make your very own Alice in Simland.
To help your creative juices flow, creator KatVerseCC shares some custom CAS backgrounds inspired by Alice in Wonderland.
We've already shared a big collection of CAS backgrounds, but this one fits like a glove for Alice in Wonderland fans.
These include the Cheshire Cat's face in the dark, patterns of red hearts and blue locks, and the entrance to a walled-off section of Wonderland (complete with giant flowers and mushrooms).
It's a minor improvement, but you'll thank me when you're taking screenshots of your creation.
5.

Alice in Wonderland Stained Glass Door
Finding the entrance to Wonderland is easier said than done – especially if you're not willing to dive into mysterious holes in the forests or eat dubious-looking mushrooms growing in your grandma's backyard.
That said, this Alice in Wonderland Stained Glass Door by DragonQueen definitely looks like one.
Whether it's the door to your garden, your spell workshop, or the front door in a fantasy house, this custom entrance will make any space ten times more magical.
The door comes in four different wooden frames, and it's actually part of a set.
So if you'd also like some Frozen stained glass doors, be sure to check that out too.
6.

Red Queen Set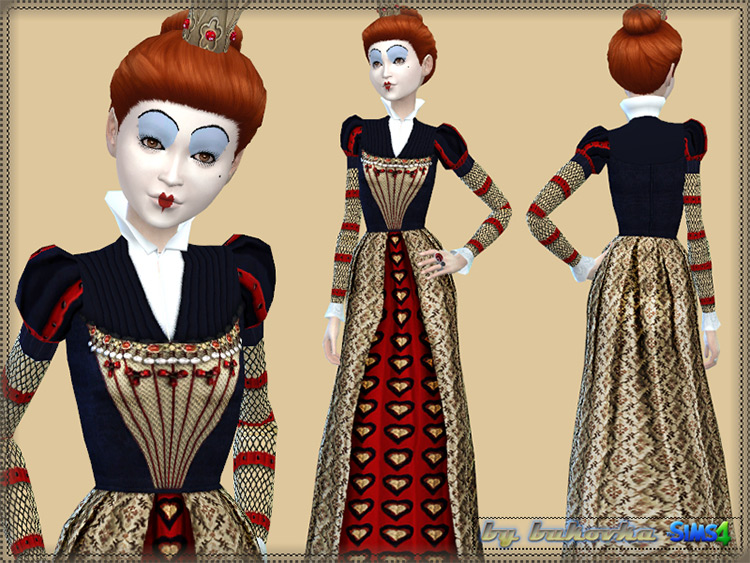 If you're making an Alice-themed household, the Red Queen has to be there – and this CC set by Bukovka makes bringing the big-headed monarch into The Sims much easier.
The set is modeled after Helena Bonham Carter's Red Queen from the 2010 Alice in Wonderland live-action film.
Don't worry. She looks considerably less uncanny in The Sims 4.
It includes the ornate dress, a jeweled crown, and her iconic makeup – complete with heart-shaped lips!
7.

The Red Queen's Castle Lot
You can't have a queen without a castle.
And thanks to this lot by VirtualFairytales, you'll have the perfect royal abode for your Red Queen (and her servants).
The Red Queen is a magnificent walled castle surrounded by intricate maze gardens full of gigantic roses befitting the queen's tastes.
The dazzling black, red, and white color palette leaves no doubt as to whom the fortification belongs to.
The best part about this build is that you don't need any expansions or stuff packs for it to work. It's great for newcomers and budget gamers alike.
8.

Alice in Wonderland Toddler Outfit
There's nothing quite as adorable as a toddler in a costume – and when that costume is based on Alice in Wonderland, you might get cuteness overload.
This custom creation by StardustSims is the perfect Alice in Wonderland dress for your little bundle of Sim happiness.
The skirt is so puffy, it's hard to believe, and with some CAS skill, you can make a little angel that looks just like Alice did in the classic Disney movie.
I can totally picture a mom and daughter going out for candy on Halloween dressed as the Red Queen and this little Alice, respectively.
It would make for some adorable screenshots for sure.
9.

Alice in Wonderland-inspired Villa (Lot)
Wealthy Sims looking to make a name for themselves among the local socialites by flaunting their opulent lodging might consider building the Alice in Wonderland villa by Dasie2.
This gorgeous mansion has everything you need to live your Alice in Wonderland fantasy.
Its design incorporates period-accurate architecture and a ton of greenery, along with many ornaments and rooms inspired by characters and events from diverse Alice in Wonderland media.
Some highlights are the tea party-themed dining room and the many fountains and gardens.
10.

Alice One Piece + Mad Hatter Top
Alice and the Mad Hatter are the most prominent characters in both the Alice in Wonderland book, and the many films.
They've become a symbol for unconventional personalities all around.
If your Sims feel identified with the pair, these pieces by Eunosims are the perfect way to show it.
This set includes a highly detailed Alice one-piece dress following the classic white and blue look, and a fun and irreverent top with a jazzy pattern befitting the Mad Hatter himself.
Get the water hot and bring out some pound cake, 'cause it's time for a tea party!
Browse:
Lists
The Sims 4
Video Games