Sims 4 Chess Board & Chess Table CC (All Free)
This post may contain affiliate links. If you buy something we may get a small commission at no extra cost to you. (Learn more).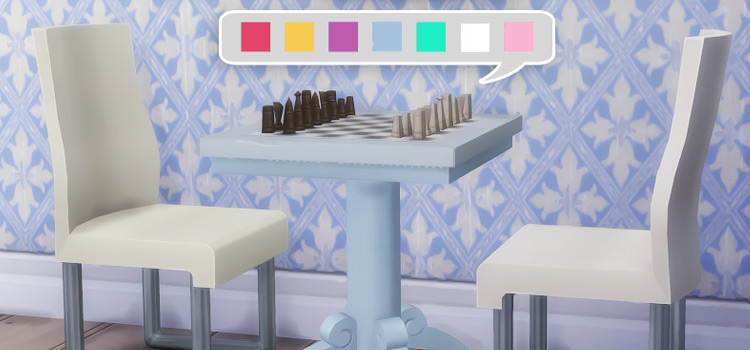 Even in the ancient days of The Sims, chess was always the go-to game to gain logic.
And with the popularity of the TV show "The Queen's Gambit", chess has found itself back in the limelight
A game of making precise moves, reading your opponent's moves, and just understanding the philosophy of IQ. It's a treat.
But besides the point, maybe you want a bit of customization in your gameplay. Well this list is sure to please, as we rank some of the best custom chess sets & chess items for The Sims 4.
So let's take a look at some of the finest custom chess boards that'll have your Sim saying…
Checkmate!
8.

Isabel Décor Chess
This décor chess piece is the pawn of our list.
A foldable chessboard by soloriya featuring 5 unique swatches.
It's basically a custom board that looks like something most kids play for their first match. Might be a great place for you kid Sims to start gaining that logic skill.
7.

Bella Knight
This next item is not directly used to play chess, but rather uses the horse chess piece as a décor statue.
Creator Flovv features 3 different textures for this horse statue, but the glass texture is the clear standout.
Great for any chess freaks, this piece is definitely a "W", even though the horse can only move in an "L" pattern…
6.

Tuomo Modern Chess Board
Here we have a slick modern design on this chess board with Scandinavian-based moving pieces.
As a boxed and tightly designed wooden board, this piece is great for all modern homes looking for something unique, contrary to most basic chess pieces.
While being a modern piece, I could see the Vikings going at it for hours using this board.
5.

King Bookened
We follow up with another décor chess piece, this one featuring the most important piece in the game: the king.
If the king is defeated, it's game over.
This TS4 décor CC features a platinum finish on a king chess piece.
It comes in two color options: one featuring a stunning ruby red finish, or the platinum steel.
In my opinion, one of the best décor pieces I've ever seen. Perfect to place on any home office desk, or in a play room if you have one.
Long live the king.
4.

My Essay Chess Table
Popular creator SIMCredible give us our next piece with this custom chess table.
A swift cube cut glass table, great for placing a chess board in a tight nook.
Along with 2 color variations, the table also features an awesome brown stem, almost resembling roots growing into a tree.
Definitely a unique look for a sophisticated game, and a good choice overall for some custom content.
3.

Girl Study Chess Table
Here's one interesting chess table designed by the efficient SIMcredible.
This one seems perfect for the college scene, offering bold colors with nice finishes on the chess board itself.
The table features 2 colors in a whopping 16 variations.
I can see sorority sisters everywhere trying to get a checkmate, right after taking a shot of tequila.
2.

Table-less Chess Set
A big complaint in the Sim community is how some tables are applicable for certain items.
This applies to chess boards, too, which only work on a certain number of tables. Why?
Who knows.
Well thanks to creator brazenlotus, we don't need to worry about that anymore.
This table has a chess board built into it, completely eliminating the worry of finding the right table.
Talk about killing two birds with one stone, right? Now that's a checkmate.
1.

Any Surface Chessboard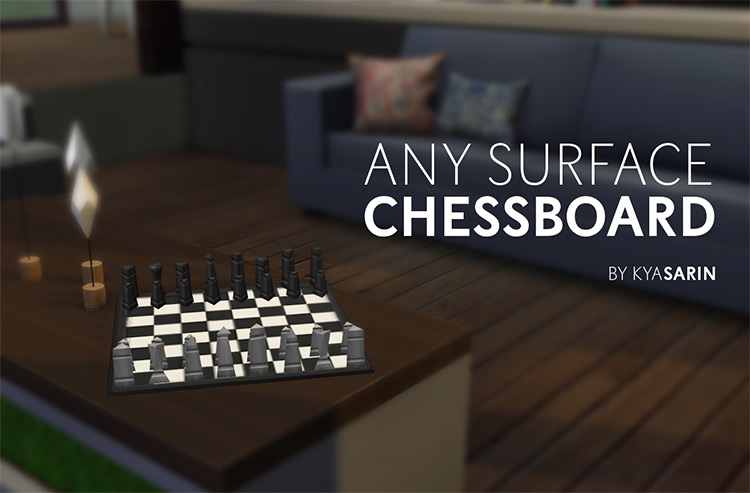 We all know the pain of finding the correct table to match a chessboard.
Well instead of combining the items, what if the chessboard could work on all surfaces?
Revolutionary, I know. Well CC creator Kya Sarin created a board that can apply on all surfaces for your Sims.
Coffee tables, dining room tables, you name it.
This fixes one of the most annoying issues in The Sims 4. And now we need one for laptops…
Not only is this item one-of-a-kind with a great added feature, but it also sports a great design.
You'll get sharply crafted chess pieces in a stoned grey color with cherry black counterparts. Very classy.
And with the capabilities of placing this anywhere, your humble little Sim might just be the next Chess prodigy.
Browse:
Lists
The Sims 4
Video Games