Best Sims 4 Coastal Lots to Try (With & Without CC)
This post may contain affiliate links. If you buy something we may get a small commission at no extra cost to you. (Learn more).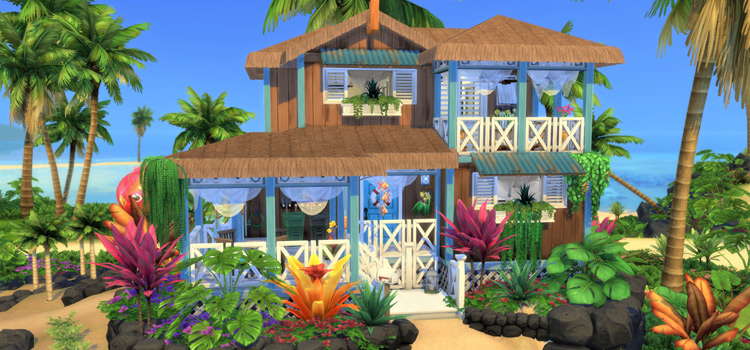 Sims can live in all sorts of places in this game.
But coastal lots may just be among the most popular destinations to call home.
Just like in real life, these places provide gorgeous scenery and easy living. You'll find a range of styles in this collection, and there's something for every player even if you only have a few packs.
1.

Starter Beach Cottage
A starter home by the beach is way cooler than a starter home in Willow Creek, let's be honest. The greenery on the outside is such a nice touch!
This gorgeous little cottage is perfect for a single Sim, or couples that don't mind sharing such a small space.
2.

Meisiu's Coastal House
A multi-level house on a super tall foundation is inherently coastal, but the creator really made sure to give it that vibe throughout.
Although this build doesn't use any custom content, quite a few packs were used to give it such a realistic, colorful interior.
3.

Clementine Restaurant
Melapples brings us this incredibly detailed tropical restaurant. The ambiance here is truly one of a kind!
Through CC and packs, this lot really has it all. The string lights are especially charming, and there's a wonderful blend of very Sulani decor, and general beachy stuff.
4.

Royal Beach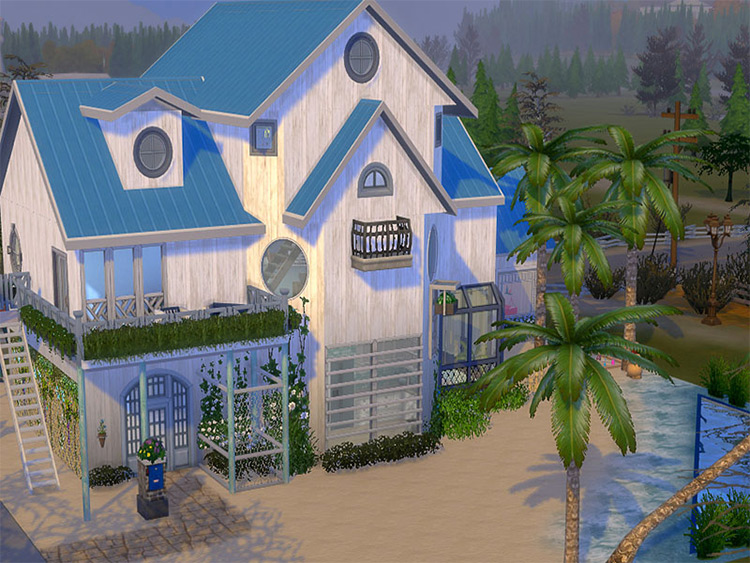 Here we have another very innovative build, featuring a unique layout and beautiful, custom furnishings.
In this home, even the bedding is ocean themed! From the rugs to the walls, the coastal inspiration can't be missed.
5.

Coastal Cottage
Don't be fooled by the small size of this cottage. The creator utilized every bit of space to give your Sims a fully functional house they can learn and grow in.
The upstairs loft, which serves as both a bedroom and recreational area, is a really cool addition that you don't see much in TS4 builds.
6.

Animal Rescue Station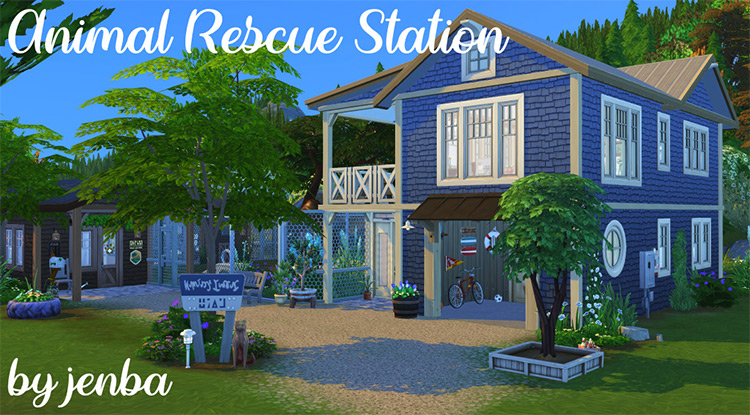 The ambiguously east coast world of Brindleton Bay is a favorite for many Simmers, but with all of the stray animals wandering around, it can be a little hard for animal lovers.
With this house, specifically built for rescuing animals, your Sim can save them all!
7.

Beechway Vacation Home
Although most of these lots are intended for long-term use, it's good to have a place to send your Sims on the vacation of a lifetime, too.
Sims can enjoy everything the coast has to offer with a bar, greenhouse, large pool, and plenty of custom decor.
8.

Tropical Island Farm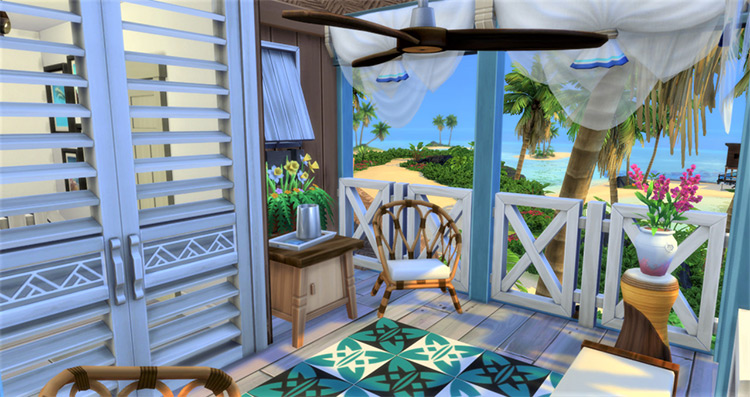 Sulani is best suited to Sims who are outdoorsy, and this house is best suited to them too.
This Tropical Island Farm is loaded with plant life. There is also a lovely fishing pond plus plenty of land for Sims to grow the tasty fruits of the island, like pineapples and coconuts.
9.

Tiny Coastal Cottage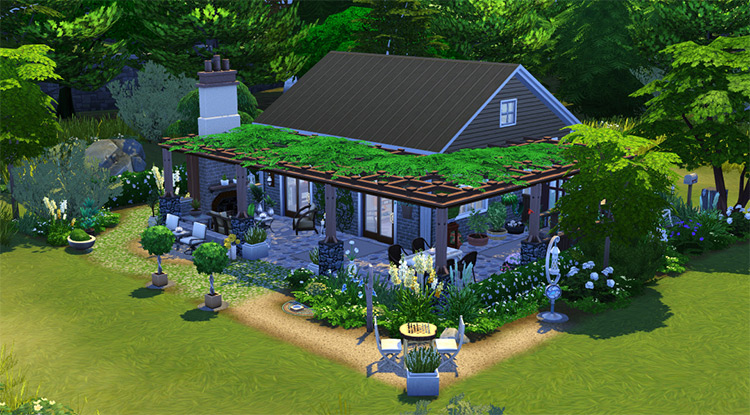 Anyone with Tiny Living Stuff knows how useful it is to have a tiny home.
Sims can have all of those perks, like accelerated learning of skills and building relationships, with the added joy of simply living here.
There's so much color, decor, and functionality in a small space, as well as lovely outdoor areas. Give this cottage a try and see what you think!
10.

Sea Breeze
With MizHave's aptly named Sea Breeze home, you get the beauty of classic architecture with the fun of modern furnishings.
There are endless ways for Sims to have fun here.
They can make use of an awesome outdoor area for grilling and parties, take a dip in the pool, or maybe get a little wild at the bar!
11.

Coastal Dream
Here's another example of Brindleton Bay architecture being way more charming and cozy than it has any right to be.
Seriously, who wouldn't love to live here!
The exterior is really admirable from a builder's perspective, but inside it's got a really homey atmosphere, and a largely vintage flair.
12.

Modern Beach House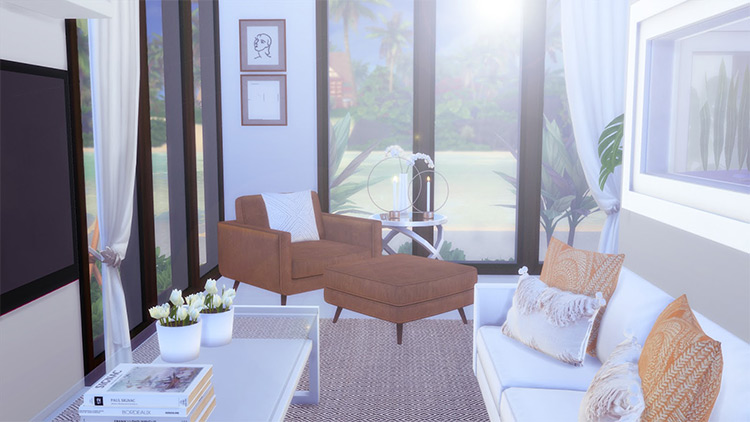 While there's undoubtedly a certain charm to retro living, some people prefer the modern side of things.
There's no lack of that in this huge beach house.
From the huge windows to the incredibly clean and white interior, this is a very fresh home in more ways than one.
13.

Small Beach House
Though this build may be small, it's no starter home.
Not one bit of space is wasted.
This house boasts an open floor plan with a deck, balcony, and upstairs bedroom. The kitchen and dining area may be compact, but it's still got everything a Sim needs to cook a killer dinner.
14.

Hamptons Beach House
At the Hamptons Beach House, Sims can expect breathtaking views, the best of modern interior design, and a life in the lap of luxury.
As original and detailed as this is, it should come as no surprise that a ton of CC made it possible. The best the community has to offer is on display here!
15.

Sea Rapture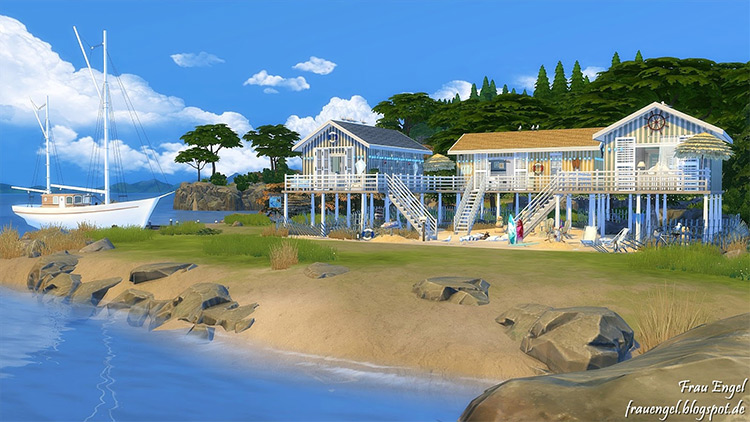 An abundance of custom content gives this spacious beach house a very unique interior.
It's filled with realistic details and endless beach-inspired decor.
If you love seashells and the classic coastal color palette of blue and white, this may just be your dream home.
16.

Sparkle Beach Bar
The beach and the bar are both great places to make new Sims, and the two are combined on this lot.
This build may not be huge but it's such a fun venue, with both indoor and outdoor spaces for Sims to hang out. Weather permitting, of course.
17.

Cute Summery Beach House
Logically, I know coastal regions have four seasons like anywhere else… but come on, living on the beach has to be like an eternal summer!
Three Sims can comfortably call this place home. You'd never guess this build is totally CC free by looking at the stunningly vibrant interior, but it sure is.
18.

Seaclusion Coastal Mansion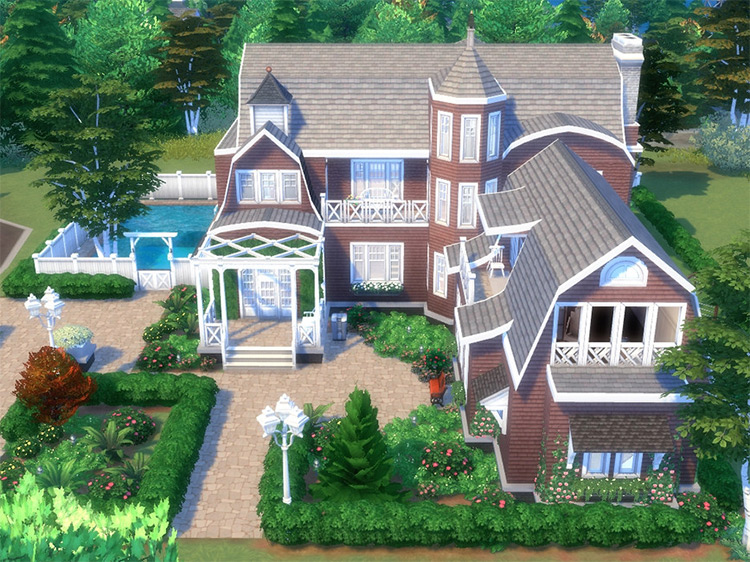 There are no humble beginnings to be had on this sprawling estate.
It's got the classic east coast vibe and an insanely fancy interior. I mean, there are even statues!
As elegant as it may be, this is still a great place for multiple generations to live together. And it's definitely perfect for your wealthier Sim families.
19.

Sand and Salt
Just look at that stilt foundation!
This is clearly a house that was built to withstand high tide. There's nothing beachier than that.
Much of the furniture and wall furnishings of this build are white and somehow, it just works. The Sand and Salt house is incredibly coastal, inside and out.
20.

Budget Beach Starter
Fans of colonial architecture will absolutely adore this three story coastal abode.
What's really awesome is that this only costs §18,472, so you can start a new game without using those sweet, sweet money cheats.
There's plenty of opportunity for any family to make this lot their own!
Browse:
Lists
The Sims 4
Video Games