Best Sims 4 Luxury CC: Fancy Clothes, Furniture & More
This post may contain affiliate links. If you buy something we may get a small commission at no extra cost to you. (Learn more).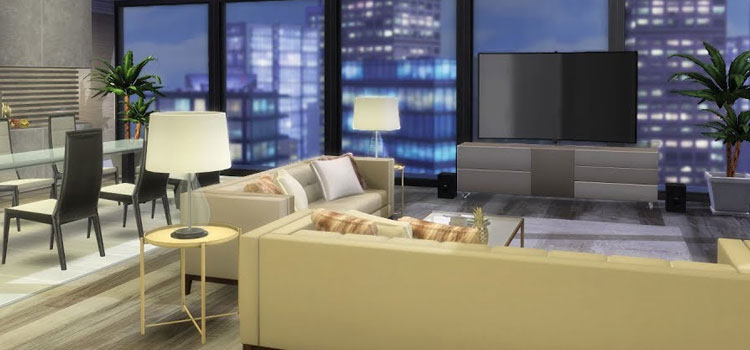 Let's face it: The Sims 4 isn't best known for all the luxurious lifestyles we could build. At least, not without custom content that is.
Personally I feel that packs such as Luxury Party stuff are great. But they just don't quite live up to their name. It's just not luxurious enough!
When we think Luxury, we generally think of fast cars (oops! Bit of a sore spot that one?). Or maybe designer clothes and expensive and modern interior design.
These are the things people who live in luxury have in abundance, so why can't we let our Sims indulge in that life of luxury too?
Here I'll share my list of the best luxurious custom content for TS4, so your Sims can live their best lives.
20.

Wallpaper Collection #16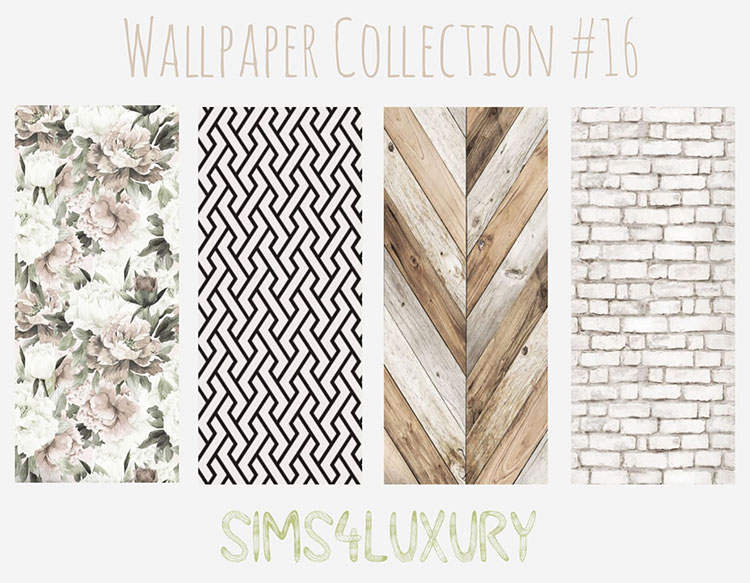 Luxurious interior design isn't always just sleek and modern. Sometimes it's just whatever's 'in' at the moment.
This gorgeous wallpaper collection by Sims4Luxury really considers what's in Vogue right now. From natural textures of brick and wood, to florals and modern minimalistic patterns, it's all here.
And this pack makes it easy to create a comfortable, classy, and bourgie atmosphere within your Sims' home, similar to what you might see in a magazine.
19.

Dual Channel Painting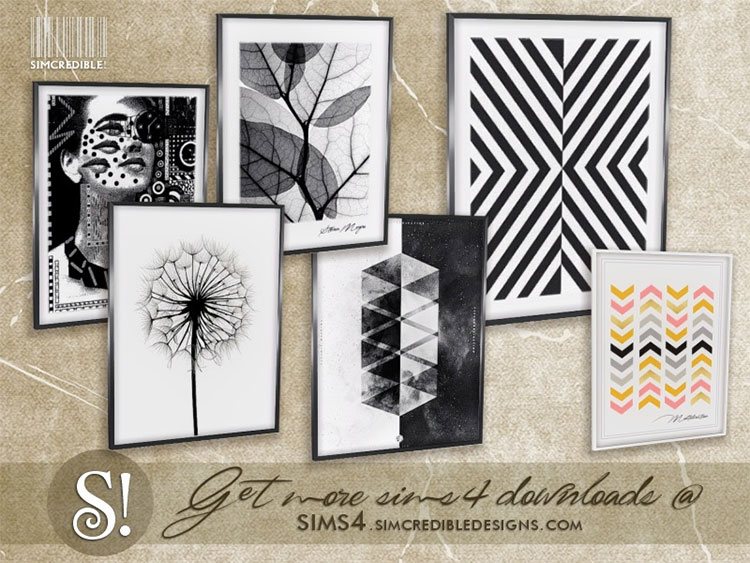 Artwork is a pretty simple thing to get in the Sims 4. Even without custom content, there's plenty in the gallery that's elegant and sophisticated.
But sometimes you just need to put it in a frame.
That's where CC like this set from SIMcredible! comes in. These modern artistic pieces ooze luxury; and will look gorgeous in a penthouse with high ceilings.
No matter if they're for a bedroom, living room, or just one of your mansion's many hallways, you've got plenty here to pick from.
18.

Bedroom Minh Fireplace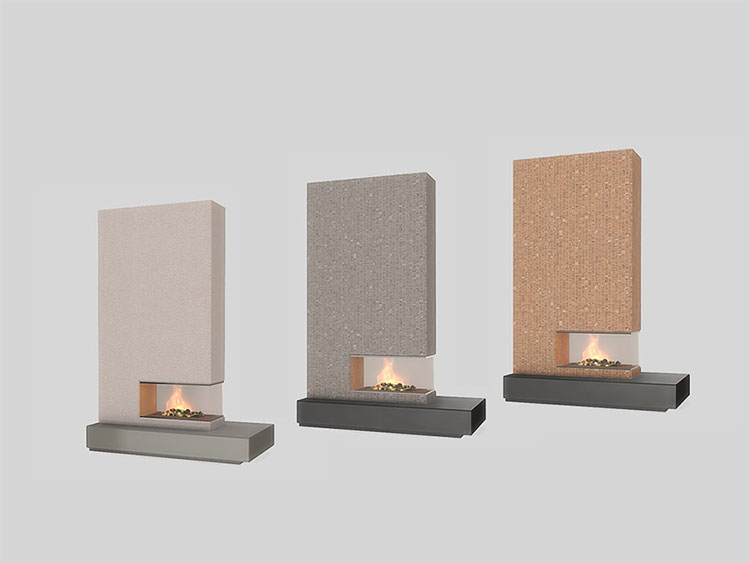 One of the less obvious items that can make a home look luxurious is, surprisingly, the fireplace!
This gorgeous CC by creator ung999 is a tall and modern fireplace, with a sleek and expensive finish.
Designed for a bedroom, but easy to add into any room in the house.
Having a fireplace like this in your Sim's home can turn your living room into a luxury lounge!
17.

Asia's Bedroom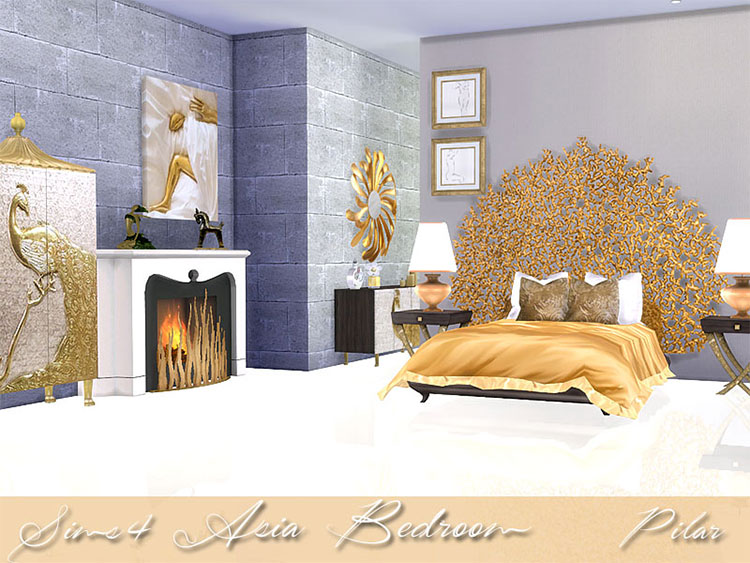 As anyone will tell you, one of the most luxurious things in the world is gold.
And when done rightly, adding gold to your home can take your décor from basic to bourgie real quick.
And this CC is gold done right!
This bedroom set by Pilar is gold, gold, gold! Not for the modest Sims out there, since this bedroom is truly a stunning set of furniture for those Sims who live and breathe luxury.
Just thinking about it, I can picture any Sim with the romantic and snobbish traits relaxing on that bed already.
16.

Comfy Winter Pullovers For Toddlers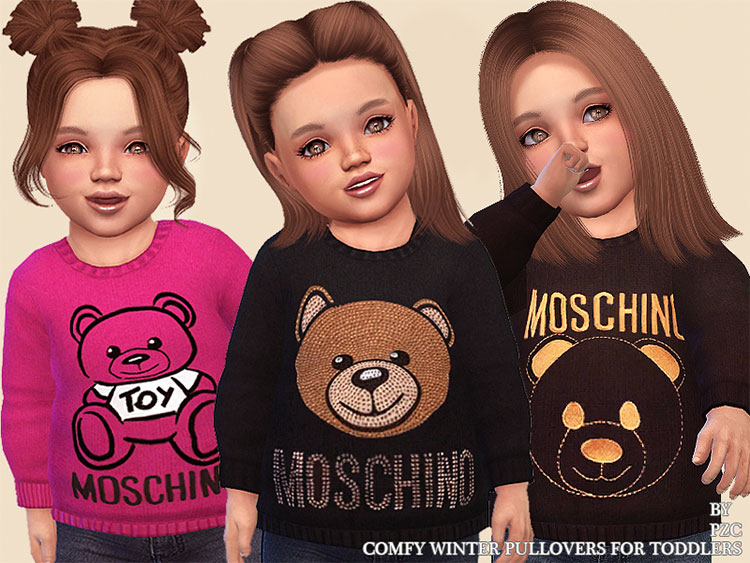 The Moschino stuff pack is one of my favorites, but that doesn't mean it has everything.
After all, toddlers can look cute in expensive fashion too!
Well these cute pullovers by Pinkzombiecupcakes are not only super adorable for the kids, but with a big label such as Moschino attached to them, they make the whole family look expensive. Just the look we're going for.
15.

Luxury Floor Marble #02
There are few things in life that scream "luxury" as much as a marble flooring.
Think about it: it's in all the exquisite hotels you see plastered all over Instagram. And marble is in those expensive Pinterest houses that you save but may never likely own.
Well thankfully we can live our best life vicariously through our sims. And with this collection of 20 different swatches of marble floors, you can have a different style in every room!
14.

Crystal Chandeliers Set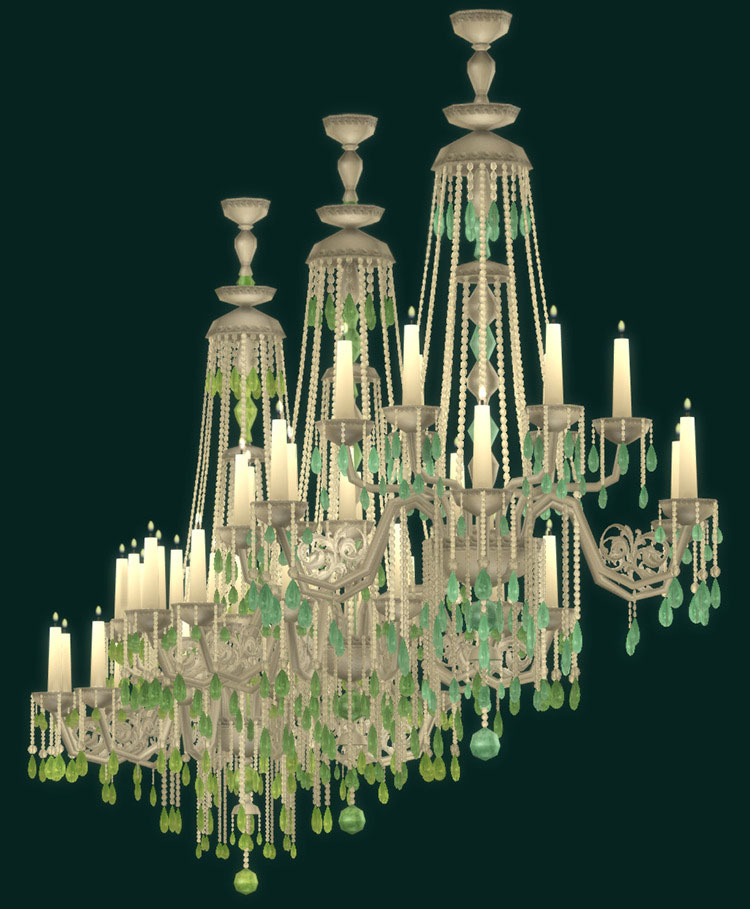 While many of the items in this list are exclusive to modern luxury, there's one item every rich household needs. And it's simply timeless:
A beautiful ceiling chandelier.
These 3 chandeliers by CC creator SSTS are perfect for different ceiling heights. And although many ceiling lights are versatile, not quite so many are as versatile as this one.
With 66 different color swatches on these lights, I dare say it would be difficult to find a room these wouldn't look good in!
And if you're looking for even more chandelier ideas then check out our full list of CC on that very topic.
13.

Burgundy Glitter Dress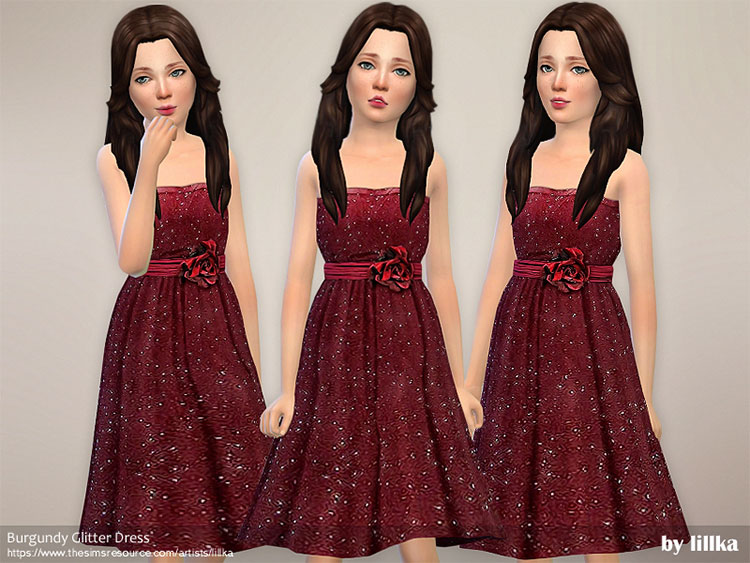 Not every piece of luxurious clothing needs to come with a designer label.
Sometimes a simple yet elegant dress is just as high-fashion as a Gucci tracksuit.
Children, for the most part, aren't all that knowledgeable about designer brands anyway. And their idea of luxury is to be dressed up in something fancy at a play party.
Well this formal dress is perfect for little girls like that.
Sparkles? Check!
A deep burgundy color that looks expensive? Check!
A fancy flower on the front? Check!
CC creator liilka knows all too well how to help your little Sims look their best for whatever party comes their way.
12.

Nora Hallway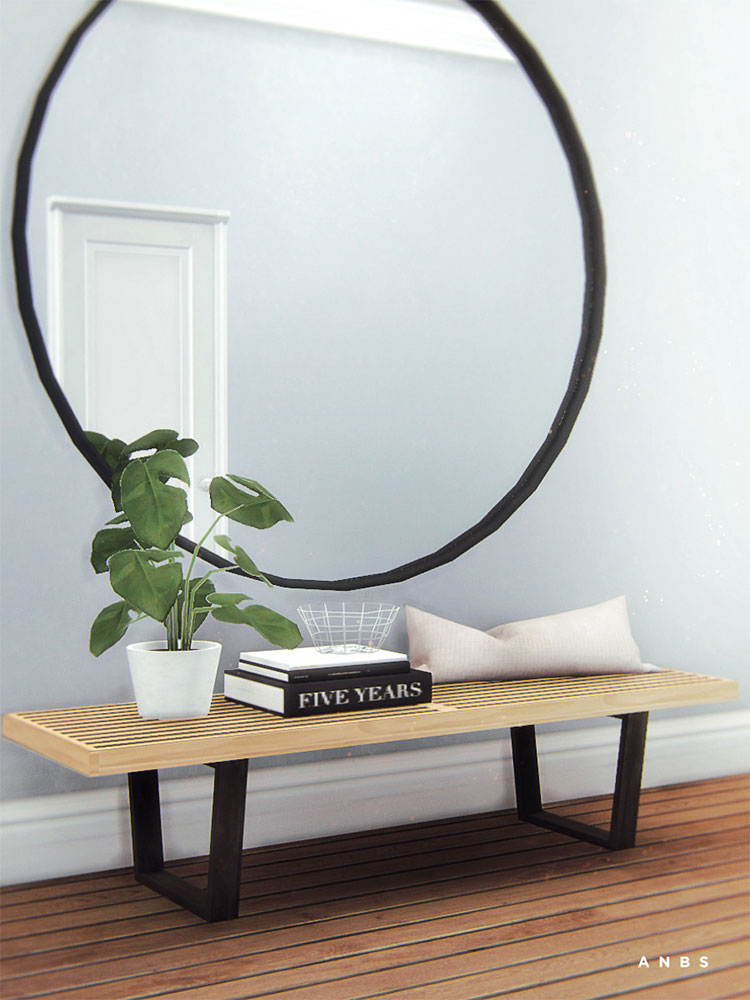 Mirrors are honestly one of the interior design industry's greatest achievements.
Not only does your Sim get to see the most beautiful thing in their house – themselves – but it's framed and displayed on the wall, to check themselves out every time they walk by!
That's why I feel that with mirrors, the bigger, the better. And this gorgeous hallway mirror by ANBS is a sleek, modern addition to any Sim's home.
Not only is the mirror beautiful, but the CC set also comes with a cute mesh basket on a pile of books, and a long throw pillow. Just some extra clutter that could easily fit a luxury design.
With this CC, your house can look expensive for way less.
11.

Strap Sandals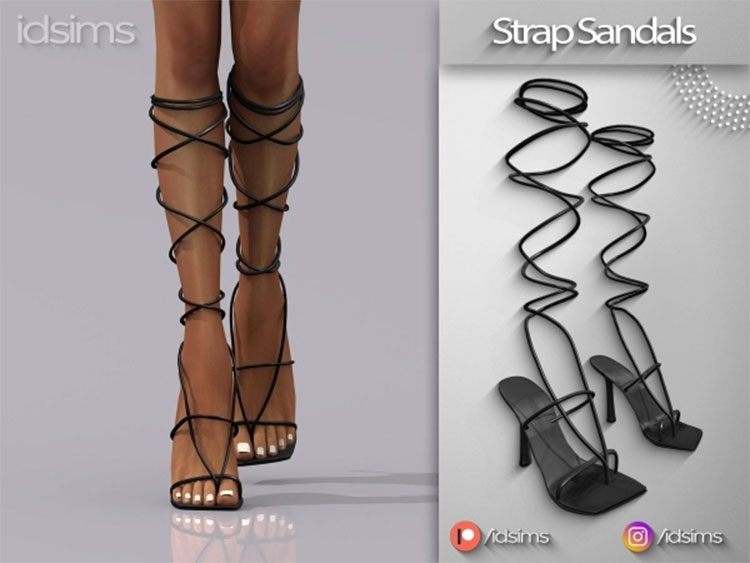 Although not explicitly a designer pair of shoes, there's no denying a pair of sandals that look like this are expensive.
Let's put it this way: I've only ever seen shoes like this online. They're certainly not something I could ever pull off, but that's just the beauty of having a Sim-self, because she sure can!
Designed by idsims, these are available to download for free and try on in Create-A-Sim, even though they look like they'd cost your Sims a pretty penny!
10.

Designer Set for Toddler Boys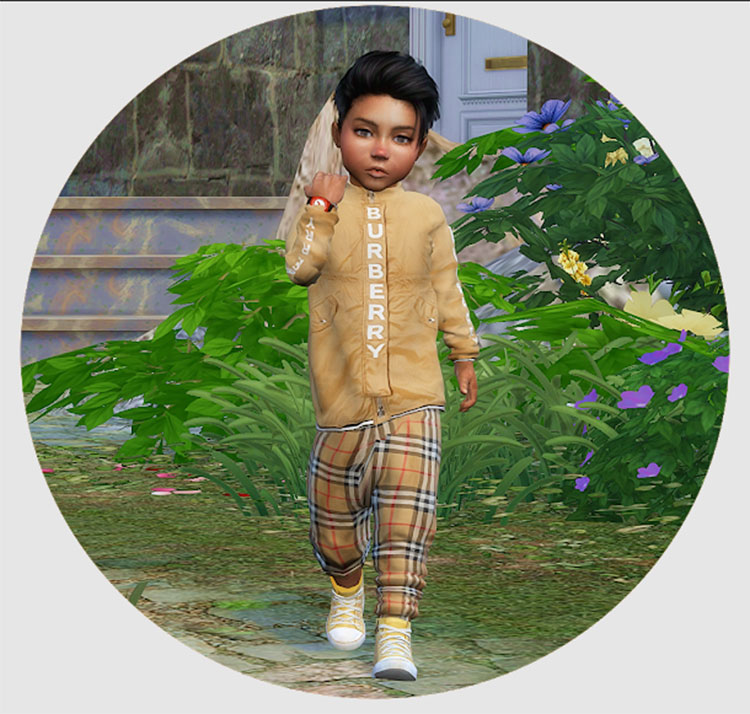 Here's one way to tell if someone is actually 'richy' rich or simply faking it: by looking at the way they dress their kids.
It's one thing being dressed head-to-toe in designer gear. But if your child looks like a mini-me next to you, then it's likely you're very well off.
Or at least pretending to be well off.
Either way, this cute Burberry CC outfit set by Sims4-boutique can help you achieve the look.
9.

Floral Blazer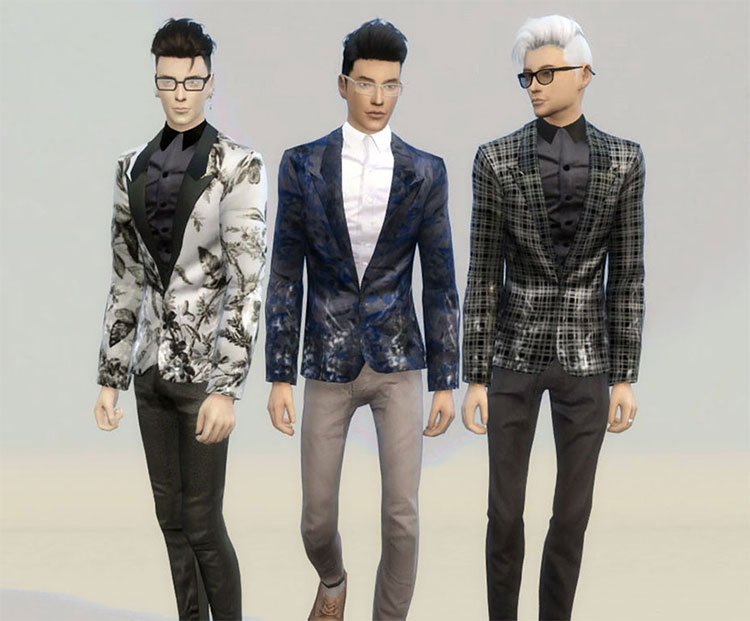 I know, I know, The Sims 4 has an abundance of suits for men. Dare I say there's almost too many of them. But just hear me out!
These floral suits are super unique. Sporting a fancy style and print, alongside their muted colors, these suits are far different from the ones we usually see in-game.
And thanks to CC creator Hoanglap, the suits that came with the Luxury party stuff pack have now been re-imagined into something even more luxurious.
Care for a fitting room?
8.

Luxury Earrings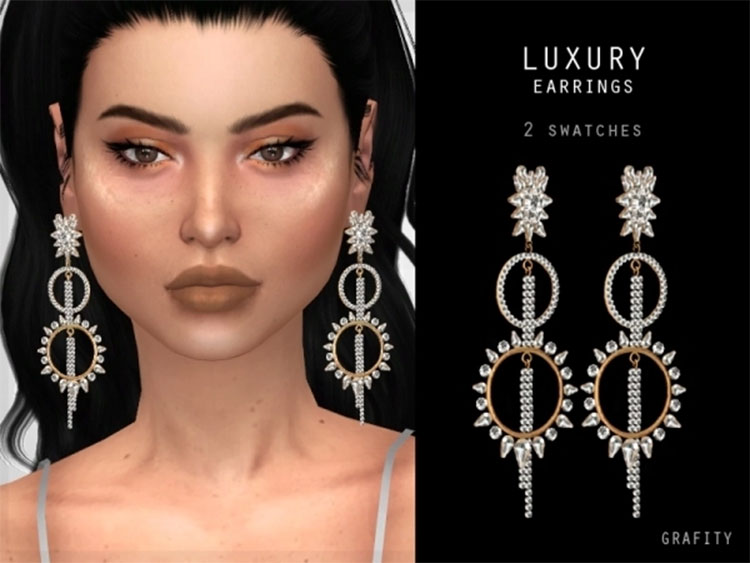 They say diamonds are a girl's best friend.
Well can these earrings be my best friend? They're gorgeous!
Designed by CC creator grafity-cc, these are a must-try addition to your Sim's jewelry box.
They're big, bold, beautiful, and bound to draw some attention.
Show them off at a party with a designer dress. Or throw them on with some of the other women's wear mentioned in this list.
These long luxurious jewels look great with anything (if you're rich)!
7.

Yeezy Wave Runners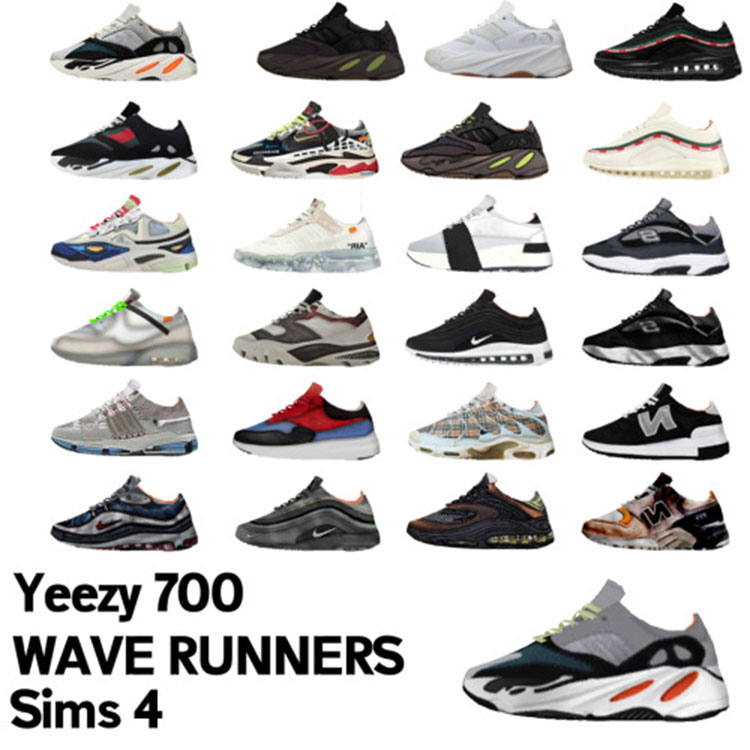 There are a few obvious things that men like when it comes to luxury.
Fast sports cars, designer clothing, and expensive watches. But one of the most popular luxury items for guys is trainers.
That's where this collection of trendy Yeezys by vtsims4 comes in!
Now your Sims can feel as expensive and cool as they always wanted, in a pair of some pretty sleek shoes.
And if you've got a bit of a tomboy on your hands, or a girl who just so happens to love designer sportswear, then these shoes are also available for women too.
6.

Stafani Dress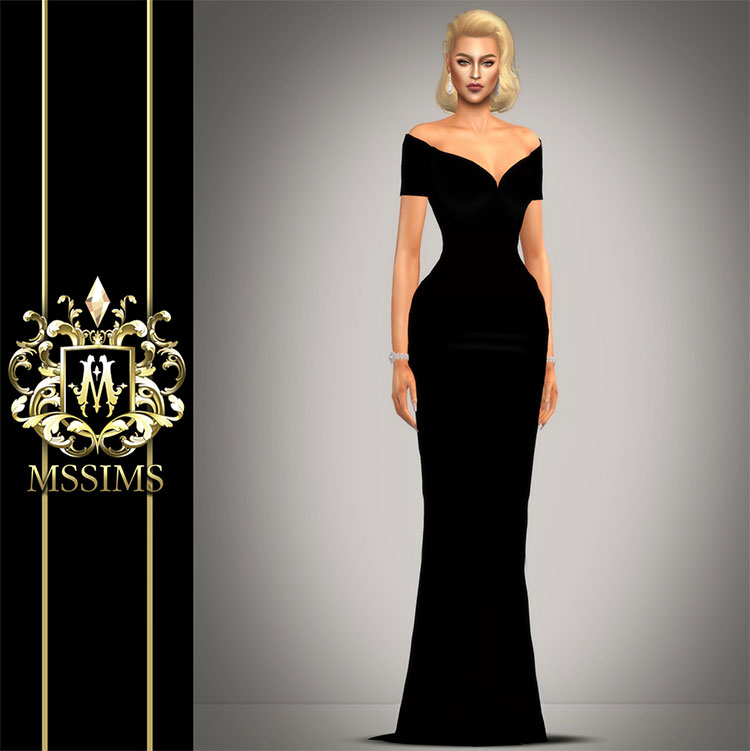 Somehow, I feel like a dress on this list almost needs to be… more.
But that's not always what luxury is.
Sometimes simple and elegant things can be the most luxurious.
This stunning velvet black dress with a plunging neckline is most certainly one of the most beautiful pieces I've seen for The Sims 4. In that it's both so simple, yet still has an "out-of-my-budget-price-tag" feeling about it.
Paired with a string of pearls and a pair of kitten heels, this timeless dress by CC creator MSSIMS is fit for any occasion… provided you're traveling there in style, of course!
5.

Velvet Sofa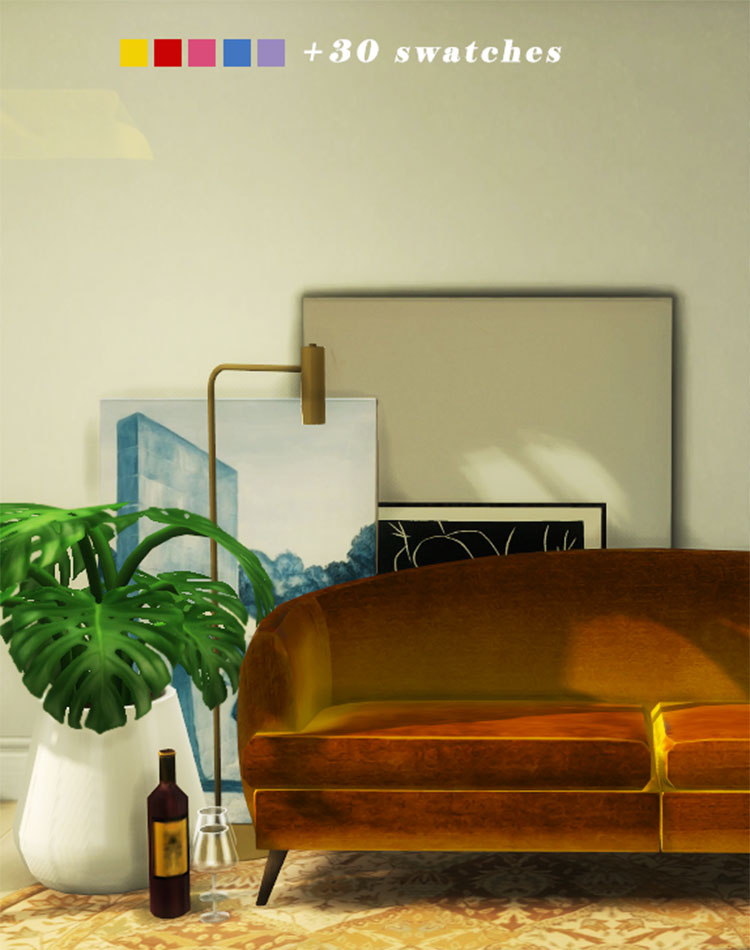 What's more luxurious than velvet?
Nothing.
Absolutely nothing.
Velvet is one of those materials that's absolutely timeless. And without fail it can make something ten times as luxurious on the spot.
Although The Sims seems to recognize this with some of their in-game sofas, the variety of styles aren't necessarily all that modern. Leading to some of their more luscious sofas looking a little too… much, or a little out of place.
That's where this sofa CC comes in.
With 35 different swatches, this gorgeous yet simple velvet sofa design by Midnightsmoon is the perfect way to make your interior luxurious, while keeping it modern too.
4.

Mandarin Collar Shirt II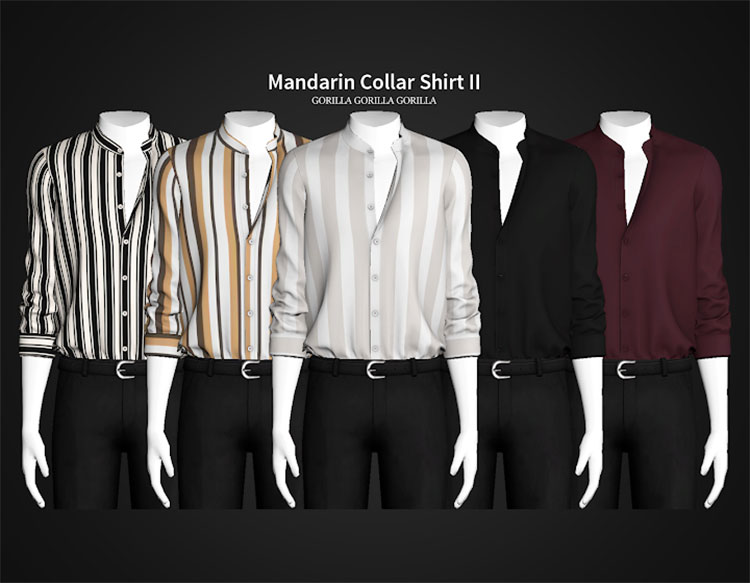 Men looking luxurious is somewhat of a strange phenomenon.
There's plenty of guys who are obsessed with wearing designer gear, yet somehow a supreme hoodie just doesn't really scream "luxury" to me.
On the other hand, these silky looking shirts by Gorilllax3 are somewhat of a luxury item in my eyes.
The soft material, the smart tuck, and the sexy revealing open buttons at the top make any guy wearing this look like he owns the place! And let's be fair, he probably does.
3.

Manon Kitchen Set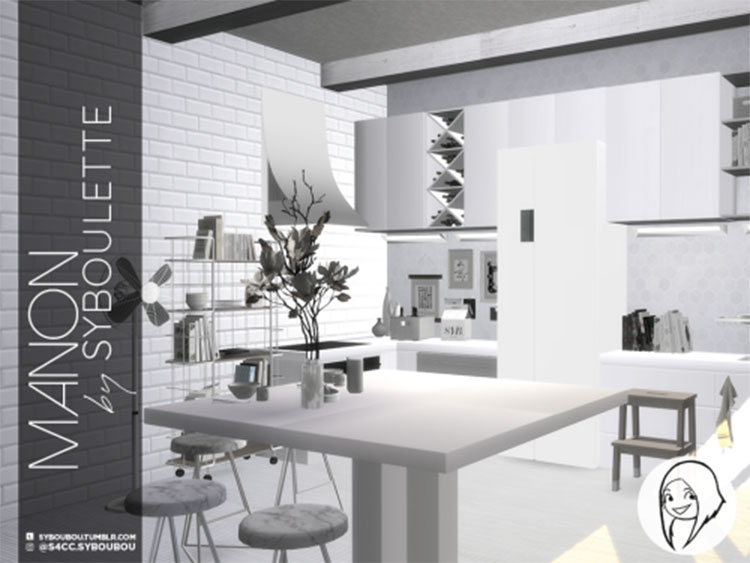 One of the places that our Sims spend a lot of time is in the kitchen.
Honestly, my Sims spend almost all their time in the kitchen. Is that good or bad?
Well for Sims who want to lead a luxurious lifestyle, chances are they more than likely have a personal chef… and their kitchen should reflect that lavish taste.
This stunning and extensive kitchen set by the wonderful CC creator Syboulette is one of the most modern sets I've seen!
Including 33 items and 6 different color swatches, every piece of furniture & every appliance here is a celebrity chef's dream.
2.

Jennie Chanel Shirt + Belt Shorts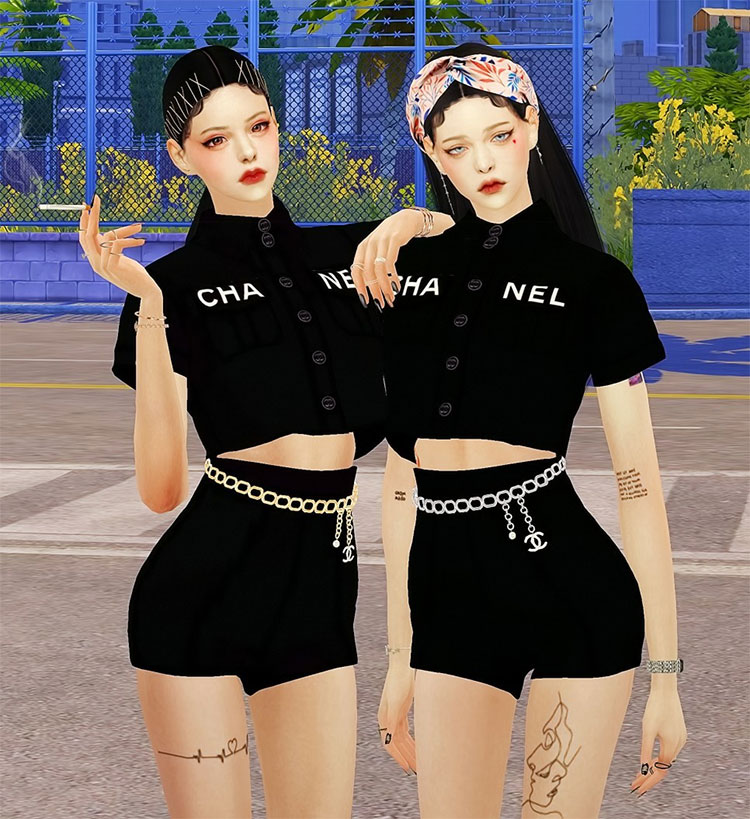 This set by LALUNAːATELIER is perfect for young adults and teens.
It's short, cute, modern, and designer. A great fit for any young Sim women who want to show off their life of luxury while still looking cute!
Not only is it an adorable outfit, but it's also available in 10 different swatches. So if your rich twin Sims want to match their designer gear, they can certainly do just that!
1.

Gucci Collabo Set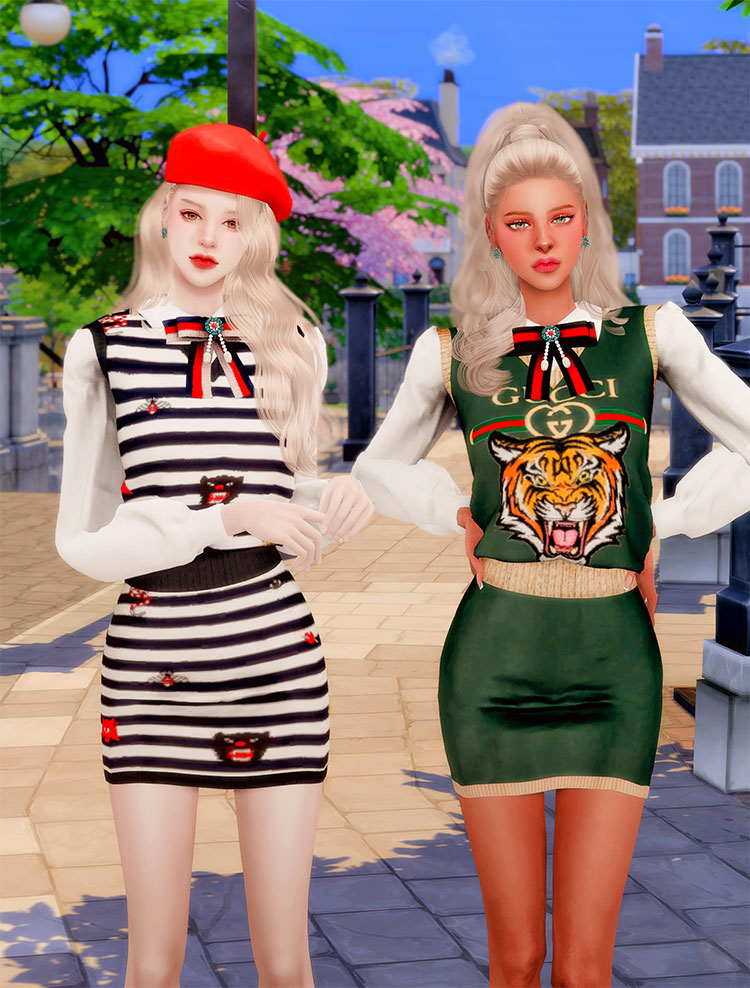 It's almost obvious at this point that anyone living the life of luxury will be wearing designer clothes.
But let's face it: that Moschino hoodie we got in the base game, yeah, it might be a luxury item… but it's just not luxurious.
This Gucci set by RIMINGs on the other hand, now that's luxurious.
I mean, it's got the Gucci brand. And I know we can find plenty of Gucci CC, but this set tops the charts.
It includes a bow necklace, a top, and a cute skirt, all available in 20+ swatches. All to keep your Sims looking rich every day!
Browse:
Lists
The Sims 4
Video Games