Sims 4 CC: Best Flare Pants & Bell Bottom Jeans To Try On
This post may contain affiliate links. If you buy something we may get a small commission at no extra cost to you. (Learn more).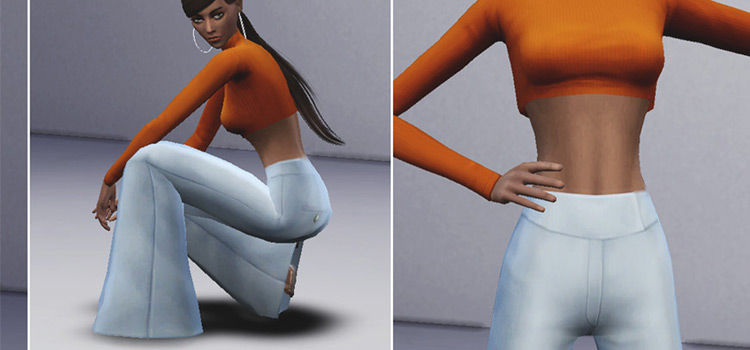 Everybody loves a good pair of jeans.
In any wardrobe, there's sure to be at least one pair. And there's no doubting why—they're durable, comfortable, and they go well with literally anything.
But of course, for the real fashionista, a plain ol' pair of jeans just doesn't cut it. To be really in style, your outfit must be a step above everyone else's, including your jeans! And there's one item you should definitely have in your Sims' closet: a good pair of classic flare/bell bottom jeans, with the perfectly snug fit around your waist and hips.
And for your Sim, there's nothing better than some well-designed custom content. Your Sim deserves some new stuff, and these jeans won't even cost you a single simoleon *wink*.
10.

Flare Jeans by Puresims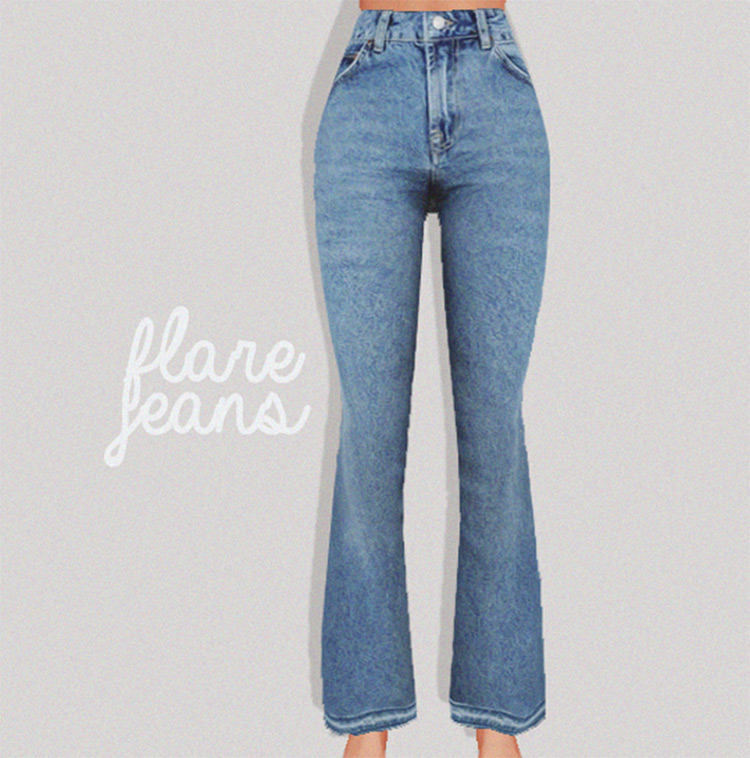 Let's start out with something simple.
If the full-on flare is too daunting for your Sim, you can go for this pair of subtle flare high-waisted jeans by Puresims.
Subtle, yes. But still looks overall unique!
If you have the Seasons expansion pack, this CC would be perfect for winter. Especially if you pair it with ankle-high boots, or with a chunky white sweater tucked in.
9.

70's Flared Jeans by winnie017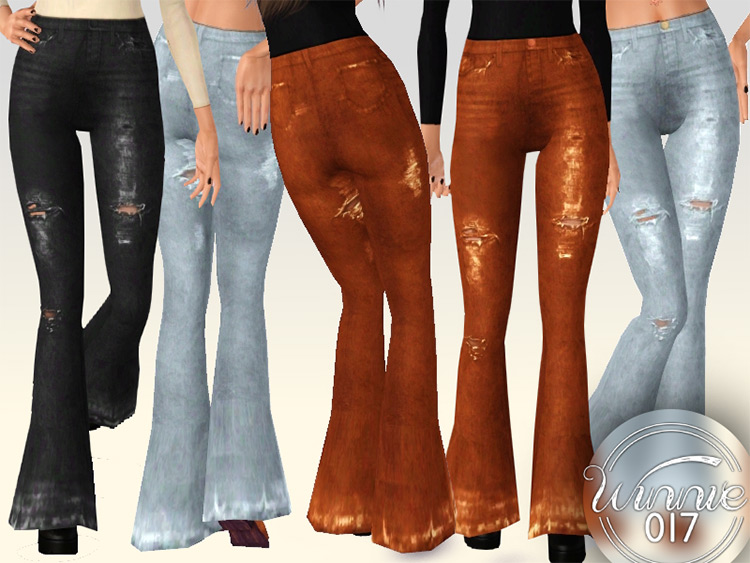 Ripped and flare.
70's fashion through and through.
Put on your Sim's platform wedge sandals and get ready to disco all night long with this trip-down-memory-lane CC.
Or if you're aiming for a more casual affair, match these pants with a high-neck long sleeved tee to achieve a full on 70's babe look.
8.

Bell Bottom Jeans by NitroPanic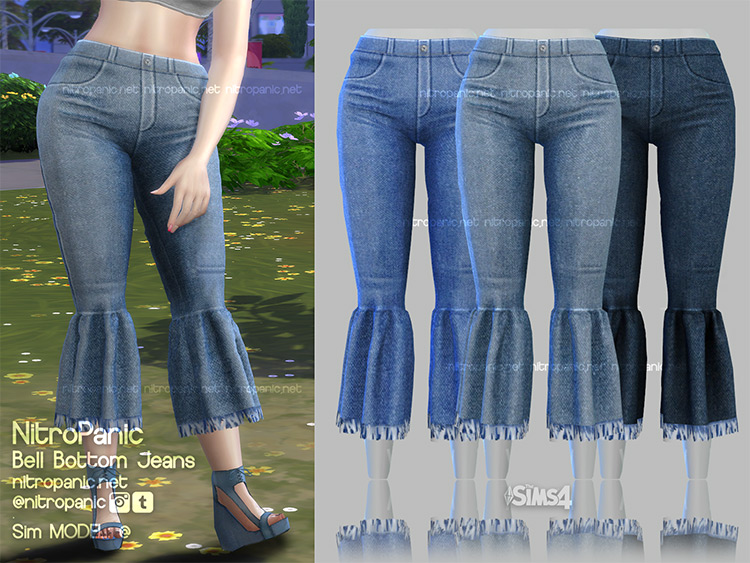 You've had ripped flare jeans, now try some cropped flare jeans.
How genius is that?
It's whimsical and fun, especially with the tassle details. Oerfect for the days when you want your Sim wearing something out of the ordinary.
Your Sim should definitely try this with sandals and a crop top during the blazing hot summer!
7.

Boho Flare Pants by Dissia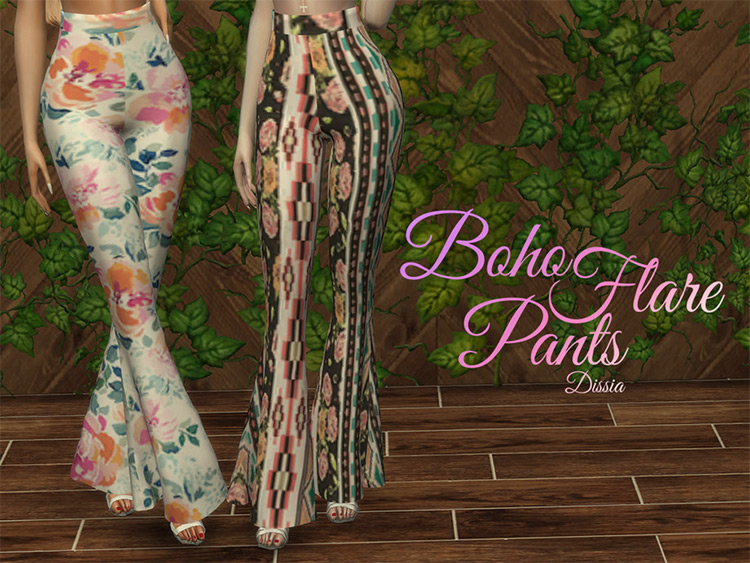 Did anyone say… vintage?
With the Boho Flare Pants by Dissia, your Sim will be a blast from the past.
Gather your friends and hit the club for a night out with these. Maybe dance to the tunes from the best girl group ever: ABBA (translated into Simlish)!
Your Sim will be the dancing queen with these flare jeans.
6.

Bell Bottoms by ILOVEsaraMOON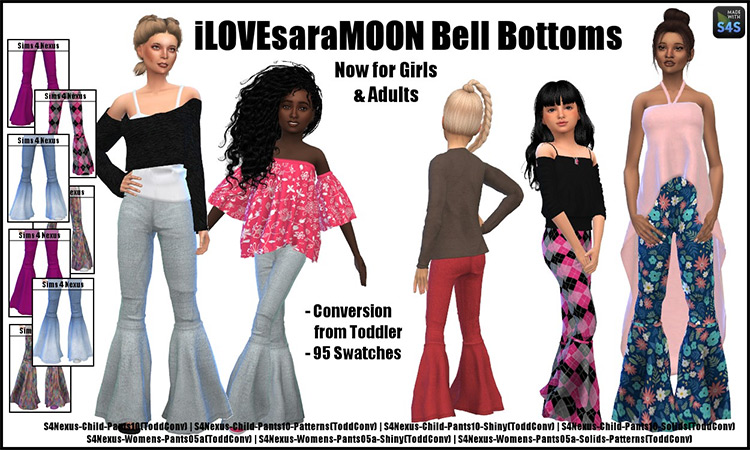 Classic bell bottoms. Not just for you, but for your kiddos as well.
Get matchy with your toddler with ILOVEsaraMOON's bell bottom jeans available in…wait for it…95 swatches!
Now you don't have to worry about you and your child's OOTD anymore.
Have a mother-daughter bonding day, strolling down Del Sol Valley or Magnolia Promenade in sync, in style.
5.

Recolor of AAS Wide Leg Pants by KokoaMilk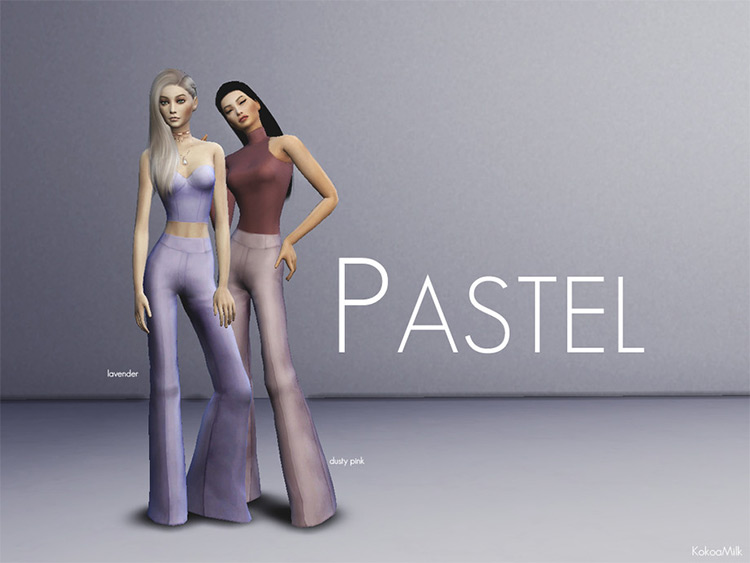 These sweet pastel flare pants recolored by KokoaMilk has to be every girl's dream come true.
Lavender, mint, or baby blue colored pants?
If these were real, I'd buy every color.
Wear a tube top with the pants and finish the look with a blazer of the same color as your pants. That's a stylish idea if I've ever heard one.
4.

Cropped Flare Jeans by Marigold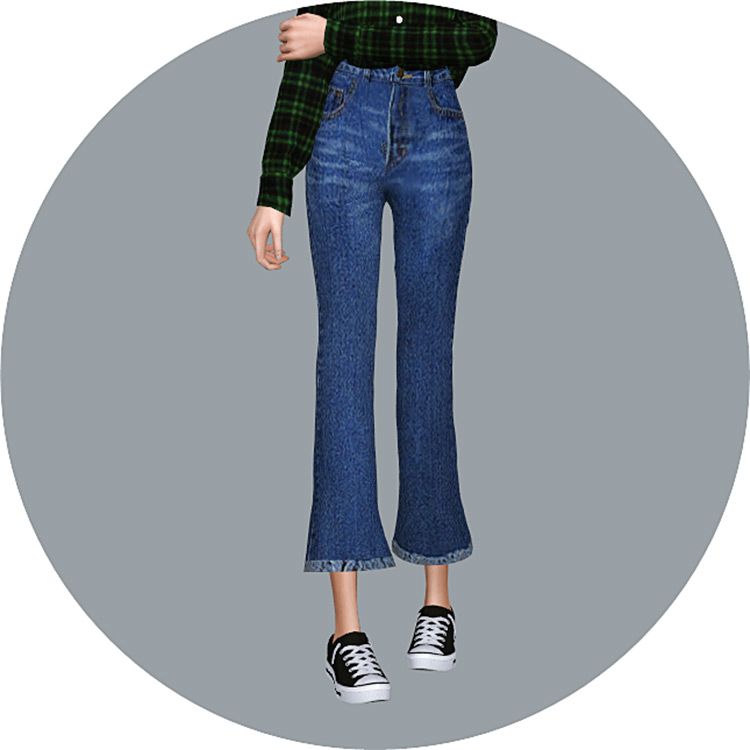 Now this pack from Marigold is a cool modern twist to your regular flare jeans, in 13 jean colors.
You're ready for a picnic adventure in Granite Falls with these jeans on. Just wear a loose cool tucked-in blouse for a cute summer look.
If you want to take your look even further, top your head with a dainty hat!
3.

Knit Bustier with Half Turtleneck & Flare Fit Cutting Jeans by Mini Sims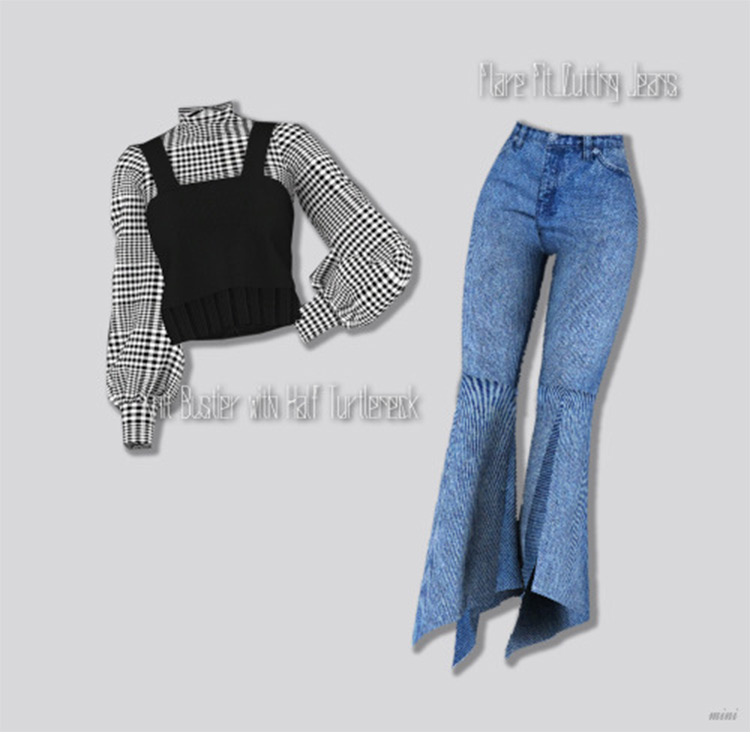 There's just so many details in these flare jeans by Mini Sims. And I'm loving it!
These jeans have a slit, they're loose, and the flare design has varying lengths—I have no doubt that this is one of the best pair of jeans you'll ever come across.
And this CC certainly deserves to be near the top of our list.
What's even more awesome is that these come with a half turtleneck knit top to boot.
So your Sim can dress up effortlessly chic with one quick and simple download.
2.

Embroidered Flare Jeans by Nia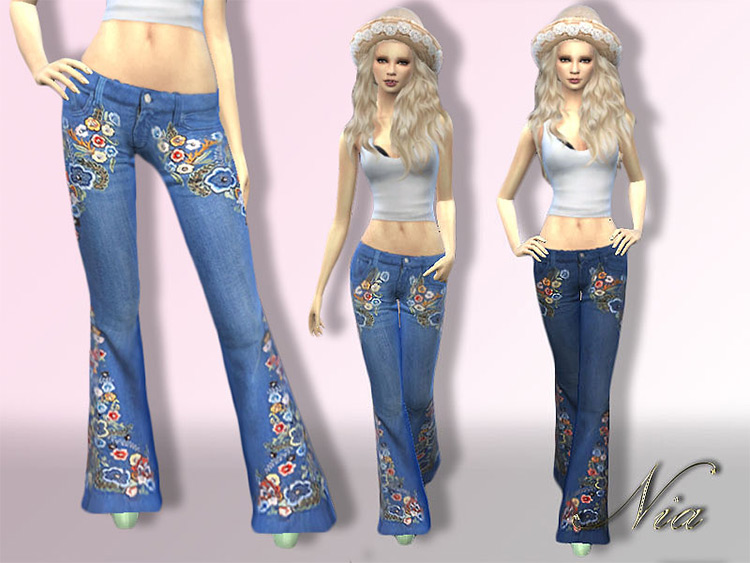 Flower power, indeed!
Get your groove on and unleash your inner hippie with these low-waisted flower-embroidered flare jeans from Nia.
These pants just tell the story of road trips with friends, gathering around a fire while playing soft tunes on the ukulele, and feeling absolutely carefree.
Doesn't that sound so relaxing? Ahh, to take our sims back to simpler and happier times… well regardless, you should definitely snag this CC! They're flare jeans for the record books.
1.

Sequin Flared Leg Pants by Ekinege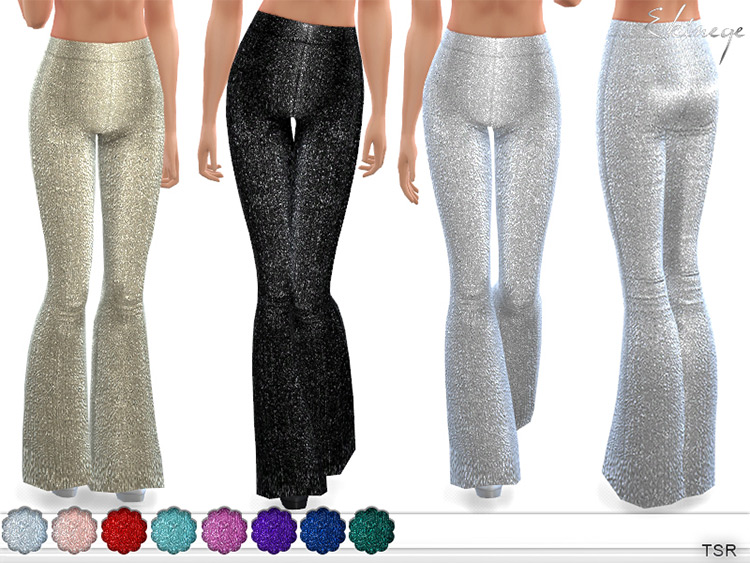 We've been talking about denim pants for most of this list. But here, I offer you something even shinier and bolder than anything else.
Let me introduce Ekinege's Sequined Flared Leg Pants. Which, can I just say, are on another level.
With this CC you can relive the best of 70's glamour, all through your prettiest sim ladyfriend.
This is definitely something Cher would wear to red carpet premieres to wow the crowds. If your Sim wants to get famous and be part of the A-list, she's got to have these flared-legged pants on hand.
Browse:
Lists
The Sims 4
Video Games