Sims 4 Flats CC: Best Custom Women's Shoes Worth Downloading
This post may contain affiliate links. If you buy something we may get a small commission at no extra cost to you. (Learn more).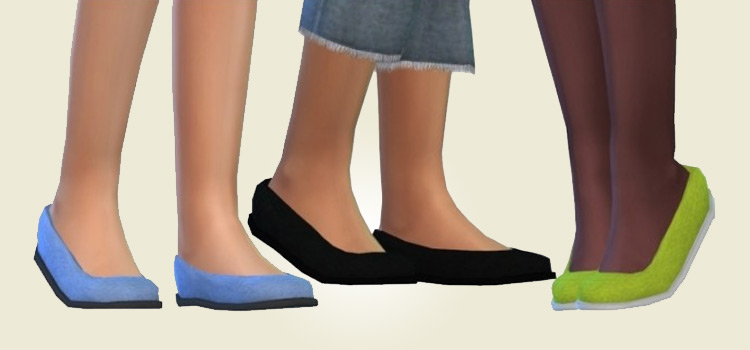 I love a high heel. It's an accessory that can make any woman feel powerful, sexy, and at the very least, taller.
When I was a wee bit younger, heels were my go-to footwear. Never mind the blisters and heel pain after a long day!
But times have changed, and I have traded my five-inch heels to probably the most comfortable shoes known to humankind – the flats. Some women cringe at the thought of wearing flats, but nothing beats knowing you won't fall flat on your face at any given moment. Yes, that has happened!
If your Sim's style is also laidback and practical then you might want some custom flats CC for her feet too. And this list is sure to help.
We've searched for flats that are not only stylish, but also won't require you to pop an ibuprofen before a fun night out!
15.

Lace and Bow Ballet Flats
If you scour all brands that carry flats, you're sure to find that laces and bows are a go-to design.
They're an excellent choice for dainty girls, vintage aficionados, and ladies who love some leather and lace.
Looking for something to go with your Sim's sundresses? NyGirl Sims's Lace and Bow Ballet Flats are a great match. This CC features the usual ballet shoe cut with crochet style lacing adorned with a little box in the middle.
Worried about toes peeping through the lace? Don't worry, because the toes are covered. Choose from 10 colors.
14.

Madaleine Flats for Girls & Toddler Girls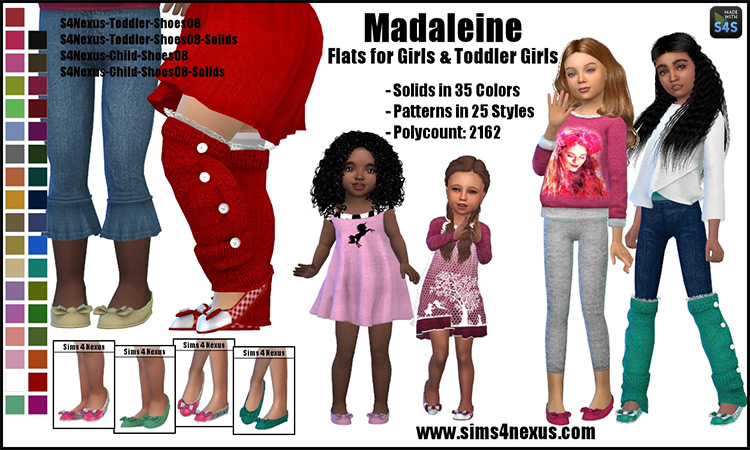 If kids and toddlers are involved, heels are out of the question (unless they are starring in Toddlers and Tiaras). Flats are a great choice for your budding youngster, as they go well with anything.
Even if they enter that weird clothing style stage of life.
With SamanthaGump's Madaleine Flats, you'll never run out of designs to wear. No matter how weird or mismatched you want your little Sim's fashion sense might be. You get 35 solid colors and 25 style patterns in this set.
And there's a design for every Sim, whether the kid is a little miss or a little mess.
13.

Rena Rouge Set 009 Flats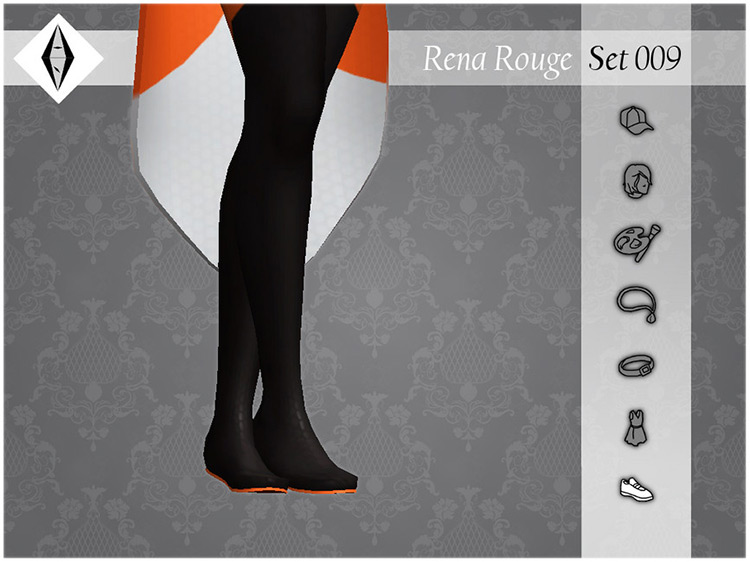 When I see super-heroines run around and fight crime wearing heels, I worry for them.
They're only a flying kick away from breaking an ankle or cracking a knee. Somebody, please think of the heroines!
And this same thought must have been running through AleNikSimmer's mind when they created the Rena Rouge Set 009 Flats CC.
These thigh high flats are perfect for super spies, or people whose night job is to rid the streets free of crime. Do you think Spiderman would've beaten Doc Ock wearing heels? We think not!
Now your heroine can split, run, and jump without the threat of a foot injury.
12.

We Are Cat People: Cat Flats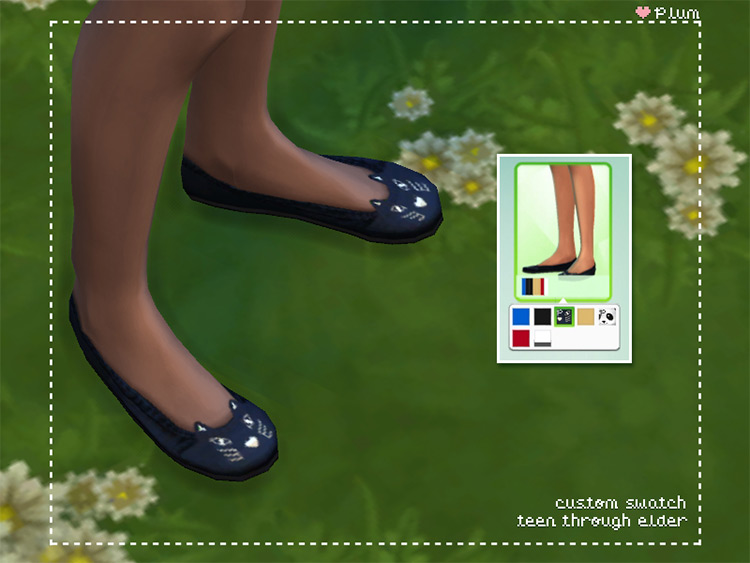 Say your Sim's walking down the street and doesn't want to be accosted with "Are you a cat person or a dog person?"
Say no more and point to these flats.
PlumSmellsBad created these We Are Cat People: Cat Flats for crazy cat ladies who lowkey wants to represent their favorite animal.
One look at these flats will tell anyone that your Sim prefers felines, with a cat's face embroidered in them and ear details sticking out. Just keep these away from dogs, as unavoidable chewing might occur.
11.

Christy Flats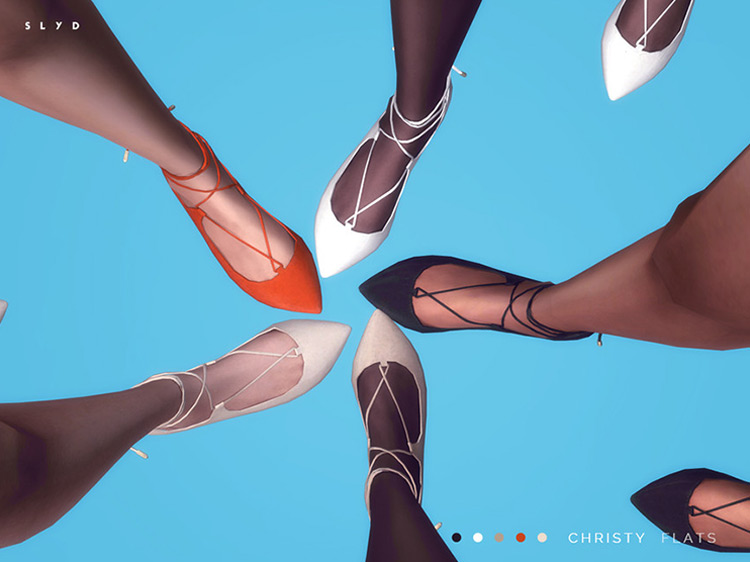 Here are some elevated ballet flats that are totally en pointe.
Christy Flats by modder Slyd offer an elevated version of your classic ballet flats. These are designed with a pointy toe and a lace-up tie plus a short metallic heel.
And the CC comes in 5 colors: black, tan, beige, white, and orange.
This set will go well with a pair of skinny tights for a just-got-out-of-ballet-practice look. Just don't go Black Swan on us.
10.

Rabbit Flat Shoes
Kitten heels, step aside.
Here comes a new challenger: the Rabbit Flat Shoes!
For when you are in a much more playful mood, Marigold's flats are a great choice. They come in a classic slide-on style with a twist – rabbit ear pop-outs!
Accented with a ribbon in the middle, they come in 23 solid colors and 9 colorful prints. Just hop into something comfy and find some bunny to admire your Sim's cute pair.
9.

Not So Flat Flats
Okay this is technically cheating the list, but listen, with heels that are this teeny tiny – these are still considered flats. Fight me!
Some women swear by not wanting to be caught dead not wearing a heeled shoe.
If your Sim is one of those ladies, we offer you a hack. The Not So Flat Flats can be your Sim's loophole.
These look like your typical plain flats with a low heel. You get 20 color swatches with this CC and it's base game compatible.
8.

Dark Garden Flats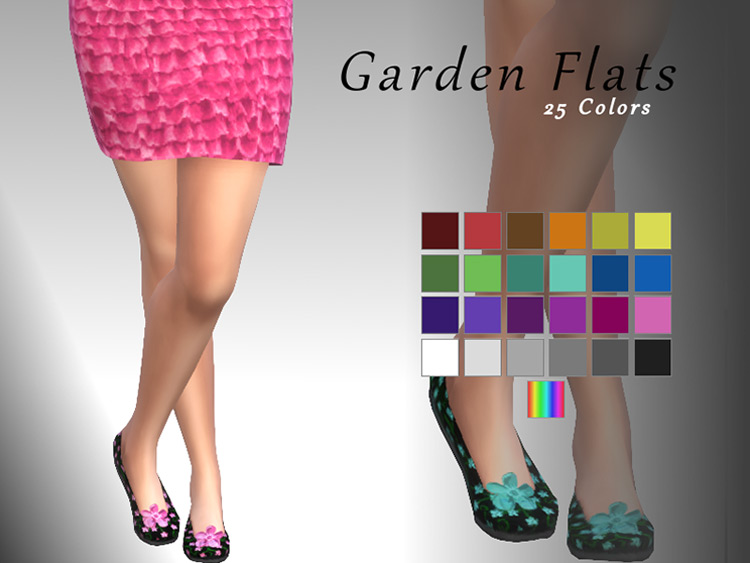 Is it tea time already?
Quick, throw on a cute dress and these Dark Garden Flats by SuperNerdyLove.
Add some spring into your step with these floral-printed black flats.
Floral prints tend to get a bit too colorful, but the black shoe softens it slightly, giving it a more mature flair. You can choose from 25 accent colors, too.
We can envision our Sims wearing a solid colored dress with these flats, sipping and dishing out some tea.
7.

Espadrilles
Did you know that flats are not limited just to those ballet-style flats?
There's a whole spectrum of footwear that falls under the category of flats. Espadrilles, which is quintessential Spanish summer footwear, is one of those.
They were initially footwear for peasants. So that means they were pulling some swag with them too!
Wear these classic espadrilles by LazyEyeLids and have a feel of summer anytime.
These espadrilles have all the classic elements: cotton fabric uppers that come in 24 swatches and jute soles. Available from teens to elders!
6.

Lazy Loafers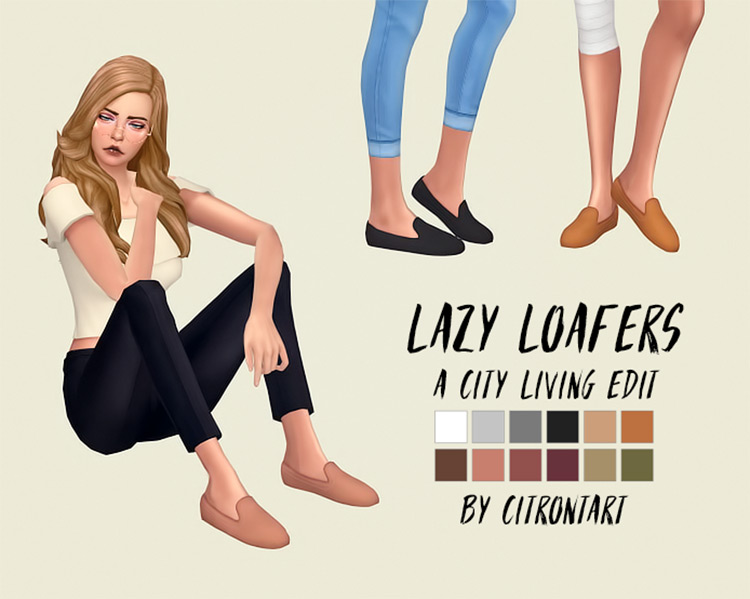 You can never go wrong with flats as your daily shoe.
A loafer is a great choice for a day out in the city shopping, doing errands, and chasing after taxi cabs.
CitronTart took the City Living Expansion's loafers and edited it to have this plain version, perfect for a more laid-back look. Best of all? It's base game compatible! So you don't need the aforementioned expansion to grab this.
Pair this with a vintage tee, boyfriend jeans, and a messy ponytail to be that chill city girl that falls in love with the snobby businessman. I mean, what's a good TS4 session without some romcom?
5.

Slingback Flats
If round toe flats are for the girls, pointed toe flats are for the ladies.
There's something about these pointy ends that evoke an aura of maturity. Or maybe cause these ends look like they would hurt if you got hit? Maybe!
The Slingback Flats, Slyd's 2nd shoe CC in our list, is what you'll get if slingback shoes and flats had a baby (yes, call us Captain Obvious).
It comes in modest 5 swatches with lots of style. Slings hold the shoe back with printed Simlish. Thinking it says 'Sass awrful', but we'll leave that to you to confirm.
4.

Dolce & Gabbana Flat Sandals
It's easy to see why Dolce & Gabbana is always included in rap songs when they start flexing.
This Italian powerhouse has been a mainstay in the high fashion scene for years and have the most coveted accessories, including footwear.
Let's try to have some of that lap of luxury with these Dolce & Gabbana Flat Sandals by MASIMS4! These sandals feature a pointed-toe with slingback ankle straps, a gold buckle, and a crystal flower detail.
The style might not be every Sim's cuppa tea. But by wearing these, your Sim can have something that the Goths couldn't ever buy.
3.

Madlen Mateola Flats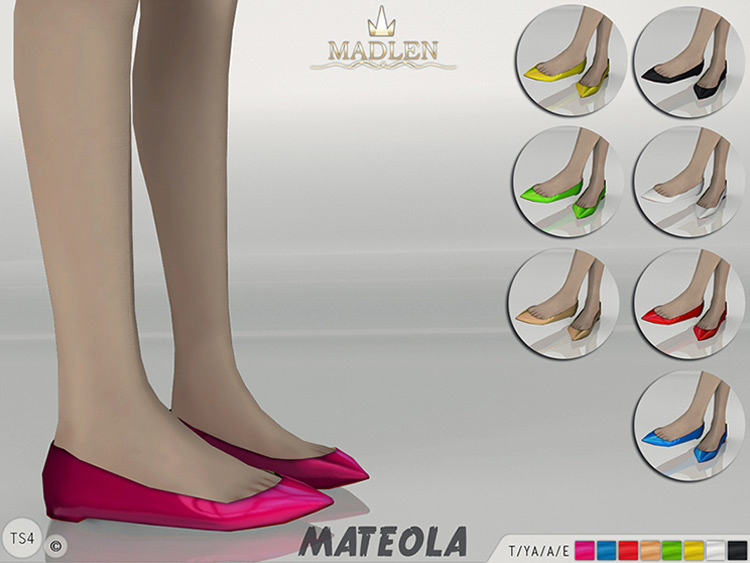 Sometimes we just want to party in comfort. Is that too much to ask?
Creator Madlen, who you'll be seeing quite a bit in the list, has created the ultimate party flats here.
We'd totally ditch our heels for the Mateola Ballet Flats in this CC. These may initially come across as simple, but the shiny leather texture with 8 vivid colors makes it a total eyecatcher.
You can even wear it with your formal wear! My Sim will be grooving towards The Blue Velvet in these babies.
2.

Madlen Nives Flats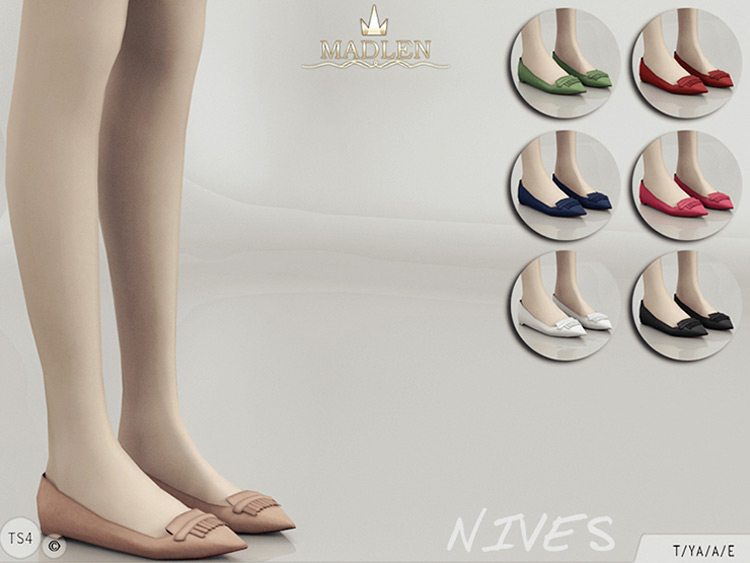 Move over, Jimmy Choo. We might have to start creating a Madlen store in The Sims world, because this creator is clearly the footwear trailblazer in the CC community.
We bring you another Madlen masterpiece with The Nives Flats.
These are suede pointed-toe loafers with tassels that are a great choice if you want your Sims to be a bit more dressy or professional. You get the following 7 colors: beige, green, red, blue, pink, white, and black.
1.

Madlen Nefertiti Flats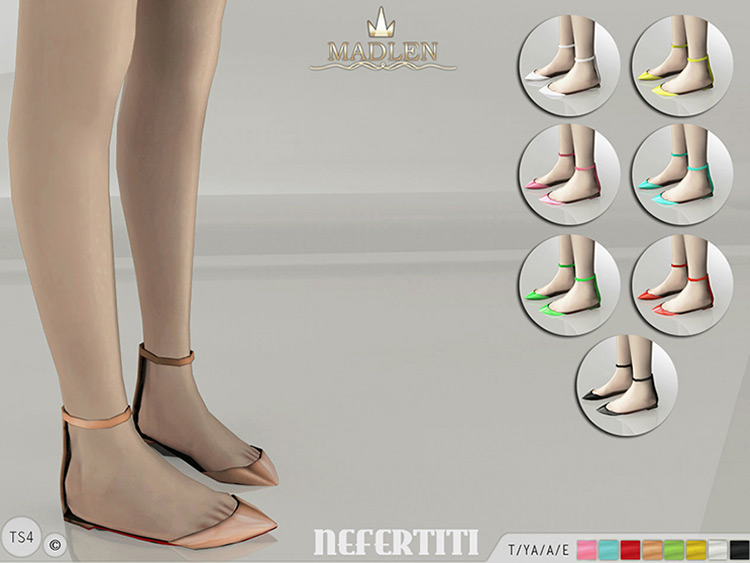 Again, you don't need high heels to make you feel like a queen.
Especially with these Nefertiti Flats, again by CC designer Madlen.
Nefertiti was a revered queen of Ancient Egypt, famous for being a symbol of feminine power and beauty. Which is precisely what these flats capture.
You get power with pointy-toes and beauty with the leather finish. It comes with an ankle strap as well, reminiscent of the footwear from her era.
Walk like an Egyptian with these flats long enough, and maybe you'll also get a bust made in your honor.
Browse:
Lists
The Sims 4
Video Games