Sims 4 Wedding Hair CC & Accessories (All Free)
This post may contain affiliate links. If you buy something we may get a small commission at no extra cost to you. (Learn more).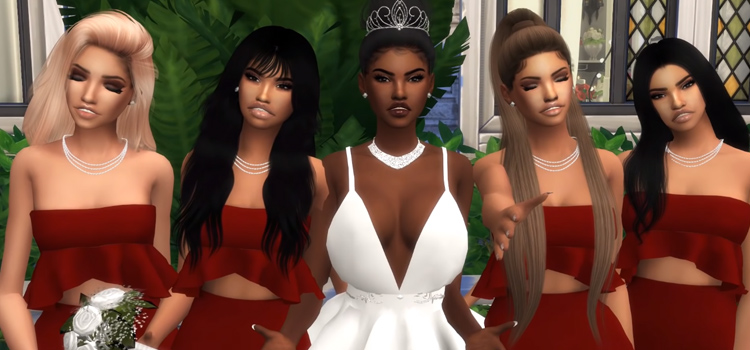 After months of flirting, dating, Woo-hooing and falling in love – you're finally about to max out your romance meter with the apple of your Sim's eye.
And the first step is the longest and craziest part: the wedding preparations.
As a bride, one of the hardest things to decide is your complete wedding look. What dress are you going with? What would be your theme?
And somewhere on that list is the question "what should I do with my hair?"
Well if you need something beyond the base game, here's a bunch of custom wedding hairdos perfect for every Sim gal on her big day.
10.

Lena's Wedding Veil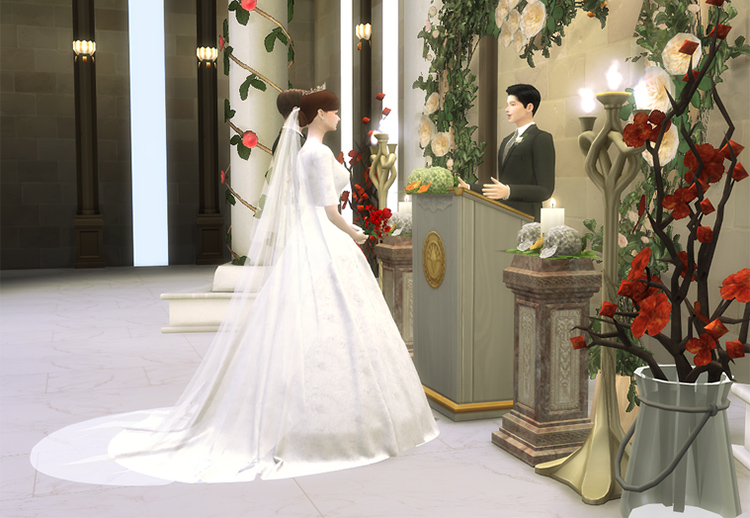 The veil symbolizes innocence and purity. Well, now it's viewed mainly as part of the wedding tradition, and something grooms can't wait to get rid of.
Lena's Wedding Veil CC from Marshmello is a cathedral veil with classic lace embroidery. Cathedral veils give off more dramatic and regal vibes, and will go great with a dress that is also embellished with lace. And you get three swatches with the download!
We covered a few other wedding veil CCs in a previous list, but this one just fits so well with almost every hair style. I just had to include it.
Now to practice how not to trip over it…
9.

Peacock Crown
A wedding is a woman's chance to feel and look like a queen.
And it's our chance to look and feel like we cost a million Simoleons.
Feel like royalty(or the very least an international beauty pageant winner) with the Peacock Crown by MsSims!
True to its name, the crown is shaped like a peacock's plume, adorned with diamonds that will sparkle as your Sim goes down the aisle.
It comes in silver and would work best with your Sim's hair down, or in a low bun.
8.

WM Headacc F 201806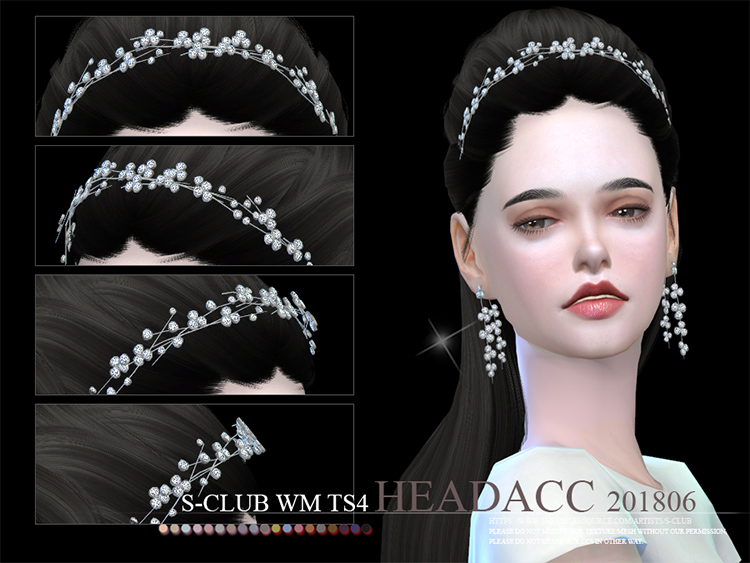 Too shy to wear a crown to your wedding, but want a little sparkle to give yourself more shine?
You can't go wrong with bejeweled headbands.
These are more non-descript and a modern choice for the traditional bridal headpiece.
And we love S-Club's WM headband CC!
It's got a slim style with round bejeweled accents, kinda resembling berries growing on stalks. It goes well with a poofier hairstyle to give it a backdrop.
7.

Persephone (Female Hair)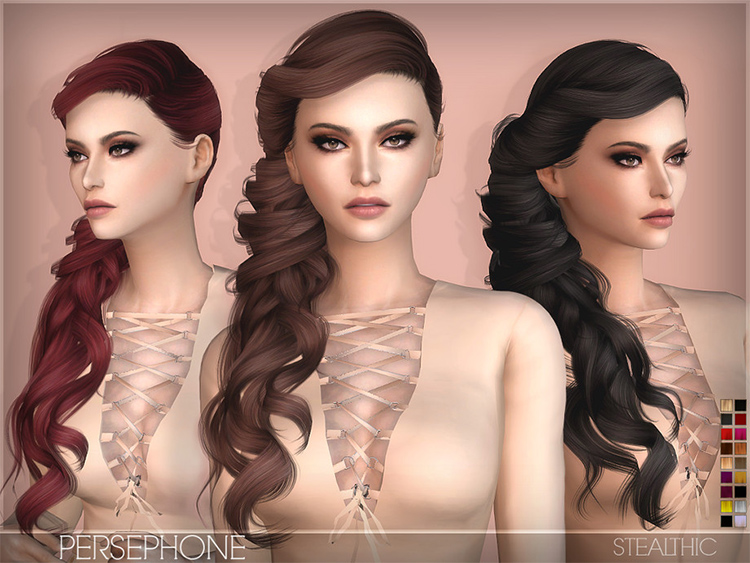 If you're a Greek Mythology geek such as myself, Persephone would be a name you'd know well.
Daughter of Zeus and Demeter, she's the Greek goddess of fertility. And the queen of the underworld after she was abducted (and made wifey) by Hades.
By the way, Hades was her uncle, and her abduction was Zeus-approved. Hmm… those Greek gods were something else…
Get beauty like Persephone's(but none of her baggage) with this hair named after the goddess & created by Stealthic.
This is a great wedding hairstyle with a wavy, side-swept look. You get 18 swatches that even feature more radical colors such as pink or purple for the unconventional bride.
This hairstyle will go perfectly with tube gowns, too. You'll look like a goddess.
6.

Firefly (Hair)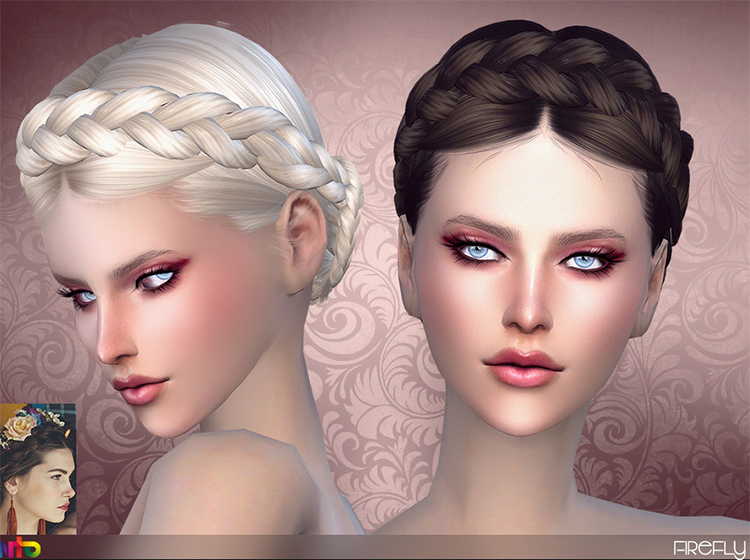 You can never go wrong with a French braid.
This is a timeless style that brings another level of class and elegance to your look. It's also, obviously, a wedding hairdo favorite.
Anto's Firefly CC will make your Sim look both fire and fly on her big day.
You won't even need any other headpiece for this 'do.
Pair this up with dainty chandelier earrings that'll frame the face, and you can even change it up with 18 swatches.
Upon reaching that altar, your Sim can finally whisper to her man: "Voulez vous coucher avec moi, ce soir?"
5.

Audrey
Let's give you some piping hot tea: not everything will go swimmingly on your big day.
Sure, in The Sims you feel like you have full control of everything. But just like life, there may be surprises that you didn't predict.
Maybe your caterer's oven decides it's a good time for a bonfire. Maybe your entertainer never shows. Or maybe it's a rainy day and you just cannot get wet.
Well put up an awning and at least look beautiful with the Audrey by S-Club.
This messy updo veers away from the prim and proper wedding ideals and shows everyone that you can let loose.
It features a low French braid at the back and wispy bangs at the front. Get it in 18 swatches!
4.

Yumi Hairstyle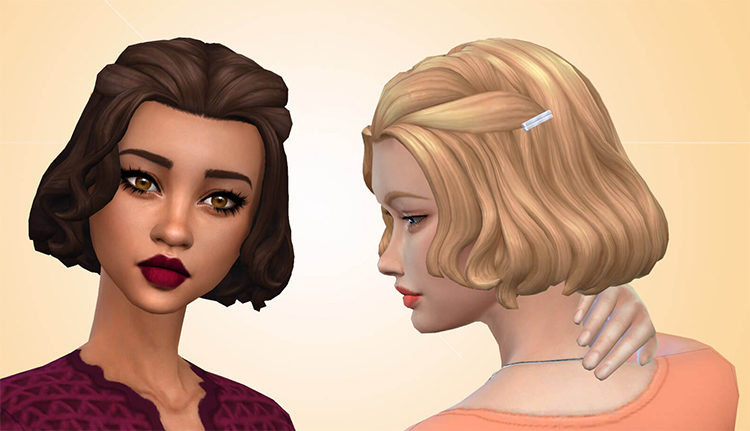 I'm a firm believer that short hair is just as appealing as long hair.
Brides usually get pressured to keep their hair long for their wedding because they want to have more hairstyle choices when the day comes.
But plenty of Sim girls can pull off short hair beautifully! Long is not always necessarily better.
So we have something for the ladies who want to keep it short and simple with a touch of vintage. My Stuff Origins' Yumi Hairstyle is a chin-length wavy bob with two small barrettes at each side.
Imagine wearing a tea-length vintage wedding gown and a short veil with this. You can even pop in some gloves. Totally tres chic!
3.

Skysims Hair 250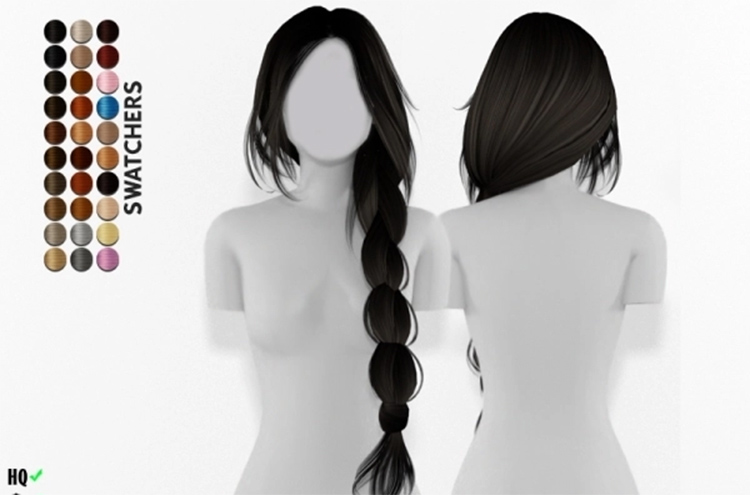 Call me a little bit biased, but this hair might be my absolute favorite from this list.
When I got married, I told my hairstylist to turn me into a Disney Princess.
She was like, "Say no more, fam" and gave me hair that's almost exactly like this CC.
I can now recreate my actual wedding in-game with the Skysims Hair 250, created by Red Head Sims.
It's a simple, messy braid hairstyle that comes down to the waist that has a generous 30 swatches. This will go great with almost all hairpieces, but will look extra magical with a flower crown!
2.

Hair NTE910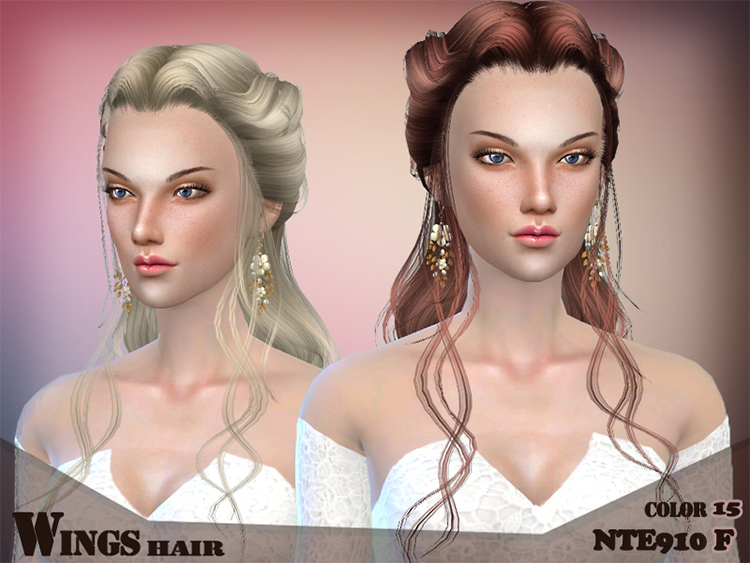 Despite whatever you feel about the Game of Thrones now (no judgment here), we can't deny its cultural impact.
It also had amazing costumes and hairstyles.
Hairstyles worn by characters like Sansa, Daenerys, and even Cersei have been constant wedding hair pegs.
Well the Hair NTE910 CC by Wings Sims is clearly inspired by the former queen of Westeros and Highgarden's pride, Margaery Tyrell's hairstyle.
Her iconic half-up half-down hair, with an intricate knot at the back, is a fine wedding lewk.
Your groom and onlookers will be blown away.
1.

Hair N3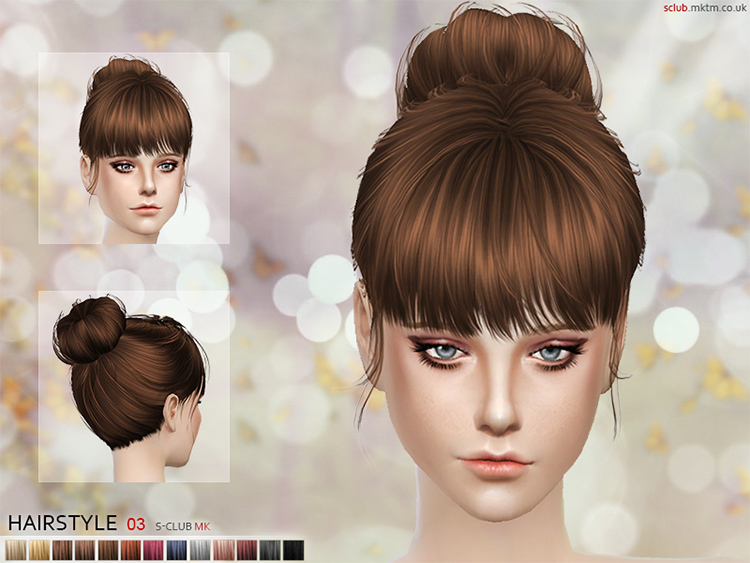 We sometimes wish Sim CC creators could develop somewhat better names for their creations, because so many names do not give them justice!
Take this one from S-Club, for instance.
Hair N3 is an effortless but gorgeous updo with bangs.
What we love about this hair is that the style is buildable – you can go crazy about adding accessories without worrying about going overboard.
You can take this hair from the ceremony to the reception. No need to let your hair down to get down!
It may not have much of a name, but this is by far one of the best wedding hair CCs you'll find.
Browse:
Lists
The Sims 4
Video Games