Sims 4 CC: Custom Horns & Antlers Mods (All Free)
This post may contain affiliate links. If you buy something we may get a small commission at no extra cost to you. (Learn more).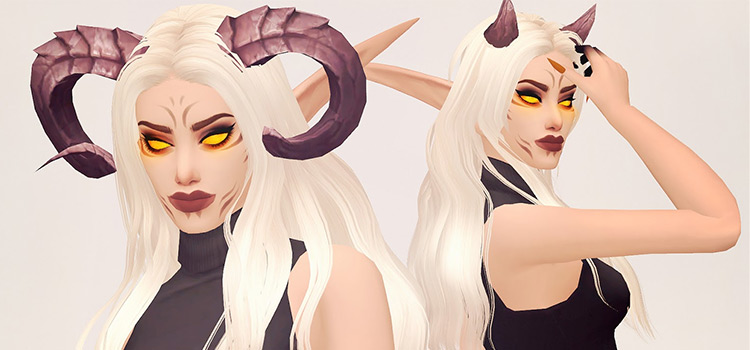 Maybe you're a fantasy nerd (like me).
Maybe you just love creating fae, fantastical, occult, and other otherworldly Sims in CAS.
Whatever the case may be, you're looking for the perfect pair of horns or antlers for TS4. Because goodness knows we don't have nearly enough exciting accessories for supernatural fashion.
Fangs, fins, and zombie skins are all fine and dandy… but where are our options for the more infernally-inclined?
Right here on this list.
1.

Dragon Age: Inquisition – Qunari Horns by Valhallan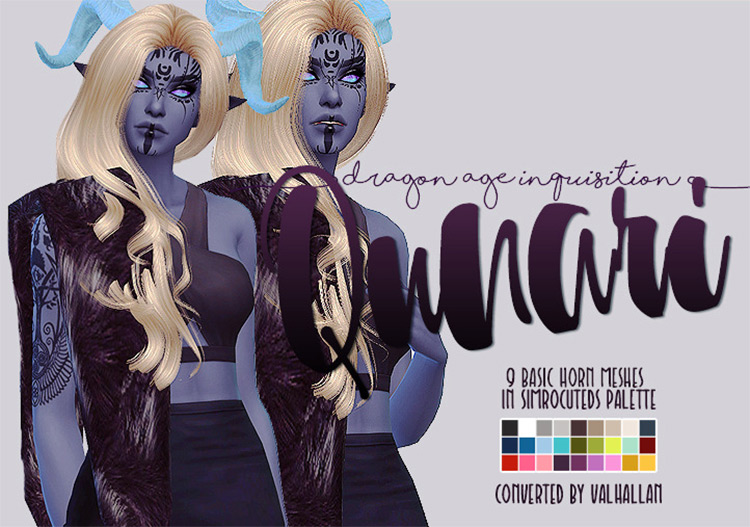 We're starting this list strong with a pack of nine(!) horns from creator Valhallan.
These horns are based off of a fictional race called the Qunari from the game Dragon Age: Inquisition.
Mad kudos to the creator for successfully converting these horns into The Sims 4. They look great both in CAS and in-game.
If you're planning to plop a tiefling, a demon, or some other horned creature right in the quiet town of Windenburg, this pack is fantastic.
Nine styles with 27 color swatches each (save for variation #1, which only has 26) means this pack is pretty freaking versatile.
Color Options: 27 custom colors | 26 custom colors (for var. 1)
Mesh Needed: No
Available For: Male & Female | Teen – Elder
2.

Illidari: World of Warcraft Demon Hunter Horns by Valhallan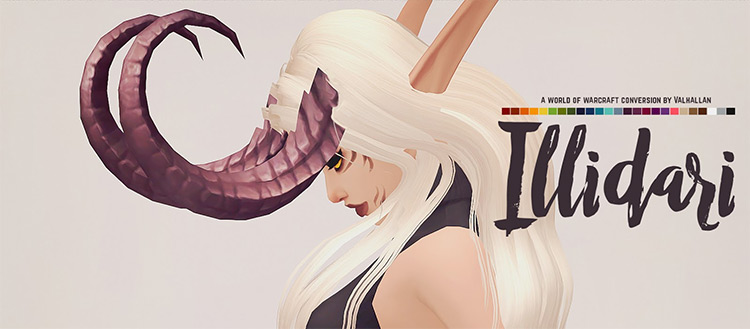 Another masterpiece from maker Valhallan. These Demon Hunter horns are all kinds of intimidating – but in a good way.
And you get six unique styles that perfectly suit different personalities. Slender and approachable, curved and daunting, large and in charge … whatever you want to convey, you best believe these horns can do it.
Each style has a different texture, too. Ribbed, scaled, smooth – the attention to detail for this particular CC is really fantastic.
Download all horns in one merged .package file, or pick and choose your favorites by getting the separate .zip file.
Want to plop these on your Sims kid, too?
Grab the horn conversion for children pack.
BONUS: Boys N Berry Sims also has a great recolor of these horns; 76 fun new swatches for you to play with.
Color Options: 25 custom colors (original) | 76 custom colors (Boys N Berry Sims recolor)
Mesh Needed: No
Available For: Male & Female | Teen – Elder | separate package for Child
3.

CherryVanillaSims Recolor of Flapjack's Ribbed Horns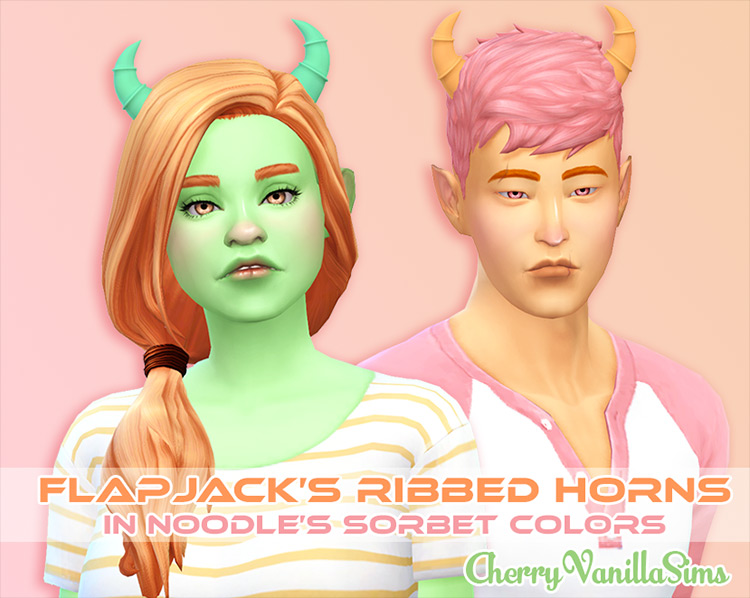 For the casual demons, devils, and horned races that don't want to flaunt their extra accessories, Flapjack's original mesh offers four simple (yet stylish) horn designs:
Ribbed
Small (if you really want understated demon horns)
Thicc, and
Thicc (forehead)
Each has its own charm for sure. Unfortunately, they don't have many color options.
Enter CherryVanillaSims' recolor. While it's only for the "ribbed" horns style, this recolor does introduce 66 new colors for you to play around with.
Honestly? I can dig the brightly-colored orange horns.
Color Options: 4 custom colors (original) | 66 custom colors (CherryVanillaSims recolor)
Mesh Needed: Flapjack-Sims Horns for Sims 4
Available For: Male & Female | Teen – Elder
4.

Goop Horns by Blahberry Pancake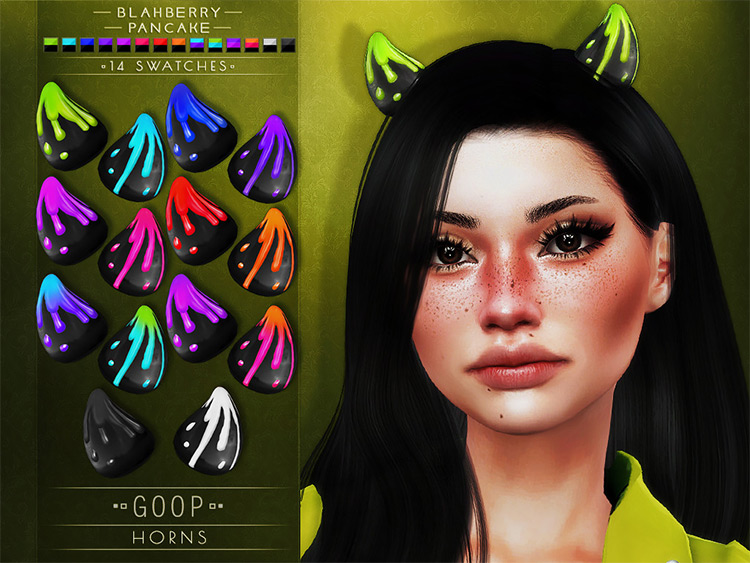 Continuing the "small and subtle horns" trend are Blahberry Pancake's Goop Horns.
These cute nubs perch right on the top of your Sim's head, and they look absolutely adorable.
I think they're called goop because the multi-colored lava on the tips pretty much resembles that word.
And I'll say that the bright, neon colors and the rounded edges kinda remind me of pastries.
Point is they're cute. Get 'em.
The DL link leads to a download page for Sim Teens to Elders, plus a separate download link for Children.
Color Options: 14 custom colors
Mesh Needed: No
Available For: Male & Female | Toddler – Elder
5.

Capricorn Horn Accessory by Screaming Mustard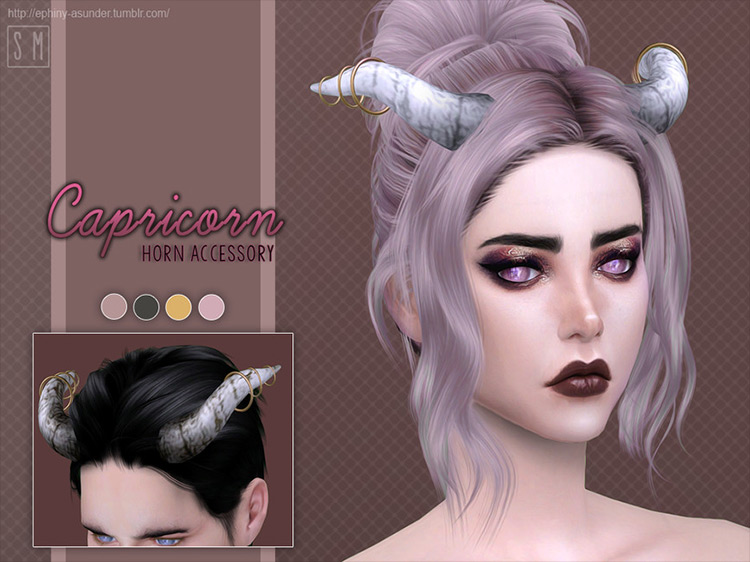 Who says you can't dress up your horns? Certainly not this CC creator.
These Capricorn horns come in one style, and that style is stylish and dainty, dammit.
The textures work well with the three earrings (horn … rings?) dangling on the ends too. There are only four color options, but those four colors are pretty darn unique.
Note: you can find these Capricorn horns in Necklaces, by the way. Not Hats.
Color Options: 4 custom colors
Mesh Needed: No
Available For: Female | Teen – Elder
6.

Crown of Horns by Nolan Sims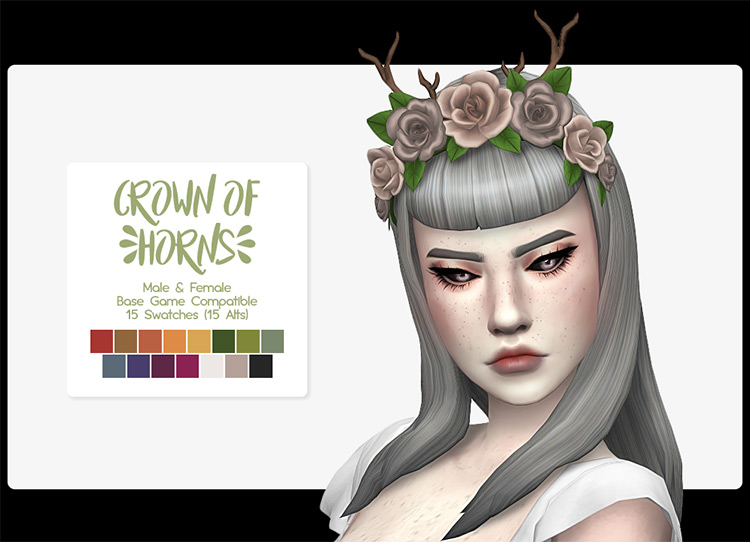 Okay hear me out. Mechanically speaking, I know this is a headpiece accessory with horns – and not actual horns/antlers CC.
But it honestly just looks so gorgeous, I have to include it!
And the placement of the horns on the crown looks like they could be growing out of your Sim's actual head. That's the goal, right?
So if you spin the right narrative, you can pass as a horned Sim wearing a flower headband.
The horns (or "twig horns," as the creator calls them) don't change color. But you can definitely alter the color of the flowers to better suit your style.
Color Options: 15 custom colors
Mesh Needed: No
Available For: Male & Female
7.

Trapping's Antlers by Deetron Sims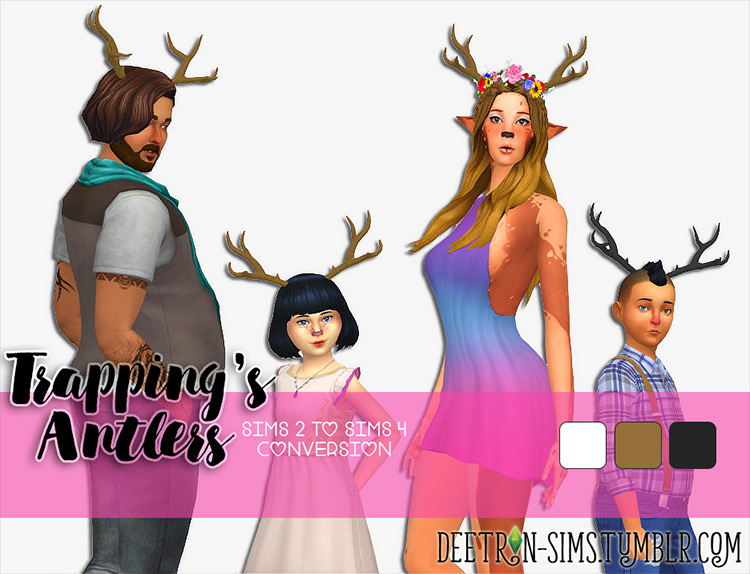 Here's a quick but cute break from horns: antlers.
Specifically, these antlers in this CC.
Whether you're designing a human-deer hybrid, or you want to spin the narrative of a druid who can't shapeshift all the way… Deetron Sims' Trapping's Antlers fit both situations, and more.
They're simple and straightforward deer-like antlers that sit on the top of your little Simmy head.
And they're available for Kids too. So you can have a full forest family if you want.
Color Options: 3 custom colors
Mesh Needed: No
Available For: Male & Female | Kid – Adult
8.

Rein Headband by Blahberry Pancake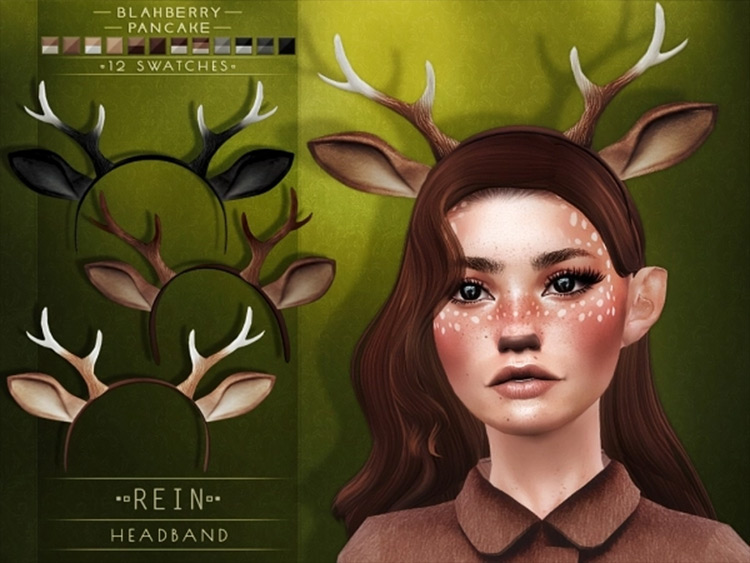 Where the previous mod is better suited for realistic deer hybrids, this Rein Headband CC by Blahberry Pancake is better for Holiday Costume Parties.
It's designed as a headband with deer ears and antlers. And it shows.
The headband is very clear on most hairstyles (especially with "flatter" hair), so you can't exactly pass it off as a true anthropomorphized (Sims-morphized…?) deer.
But it's cute, it's unique, and it would make the perfect accessory for ugly Winterfest sweater photoshoots.
Color Options: 12 custom colors; 7 two-toned swatches, 1 tri-toned swatch, 4 solid swatches
Mesh Needed: No
Available For: Male & Female
9.

Fantasia Headdress by Suzue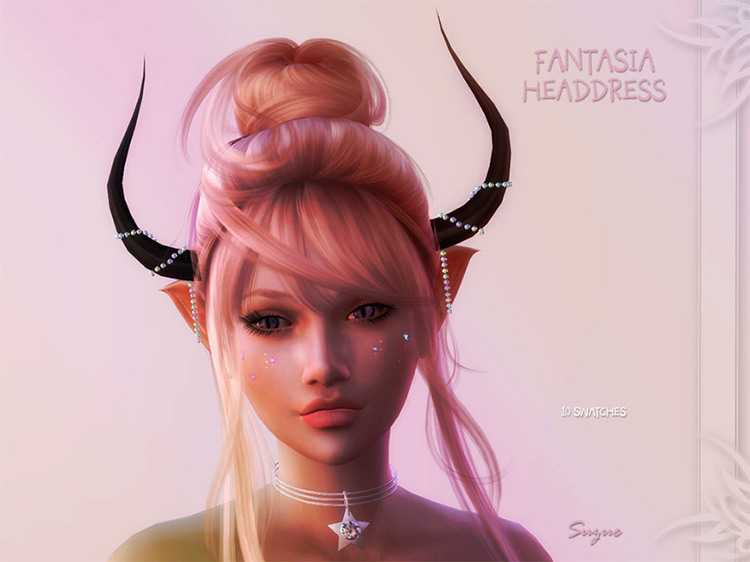 Just like the Capricorn Horns by Screaming Mustard, this Fantasia Headdress is basically horns with bling.
And just like the Capricorn horns, these look delicate and dainty. They're long, slender, and they swoop up just so at the tip.
Rather than earrings, they're adorned glass beads. Both horns feature a single strand wrapped twice around the base.
There are 10 custom colors for this package, and the color of the beads depends on the color of the horns.
Color Options: 10 custom colors; 1 two-toned swatch
Mesh Needed: No
Available For: Male & Female | Teen – Elder
10.

Unicorn Horn by Bellassims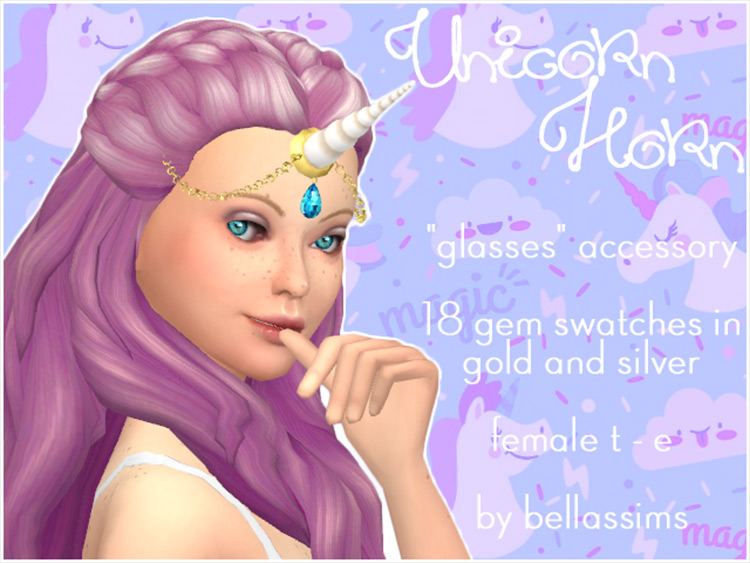 We have demons and tieflings, deer-shifters and deer-hybrids … of course I had to include one of the most majestic horned creatures ever.
This Unicorn Horn by Bellassims is a personal fave.
It sticks right in the middle and it's decked out with a gem, plus some delicate chains.
These chains hang down until they disappear into your Sims' hair, making it look all the more regal and expensive af.
Now this CC comes with 36 color options. The horn itself stays white, but the chains can be either gold or silver, and the gem can be a number of colors depending which swatch you select.
I personally love the gold-chain-red-ruby combo.
I also highly recommend you try combining this Unicorn horn with the Fantasia Headdress. The result is absolutely stunning on lady Sims.
Color Options: 36 custom colors
Mesh Needed: No
Available For: Female | Teen – Elder
11.

Little Demon Horns by Rotteneyed & Cerberus-Sims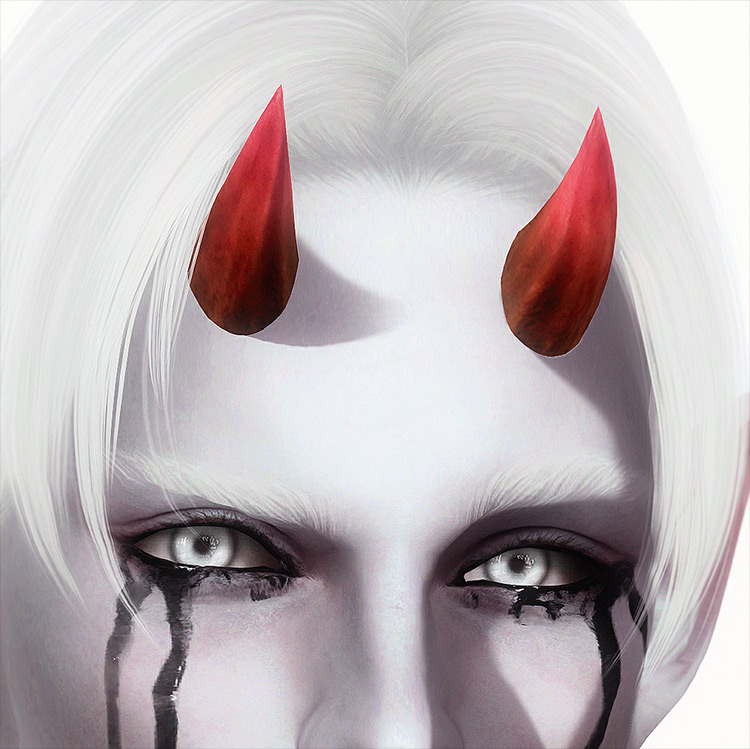 If the Goop horns were too colorful for your Sim's color palette, and the Flapjack's Ribbed horns were a little too big for their backstory, well these Little Demon Horns might be exactly what you're looking for.
They're one of the smallest horns on this list. Literal nubs.
And they sit right on the forehead (instead of on top of the head).
What's pretty cool is there are four variations here, and you can combine up to two variations for a maximum of four horns.
Perfect for the little demon that wants to stand out from the crowd. Maybe.
There are 40 custom colors in all, with 20 of those options being two-toned.
But if you do decide to give your Sim four horns, you can't mix the colors. The top horns will stay the same color as the bottom horns, and vice-versa.
Still a pretty versatile set regardless. And worth a try!
Color Options: 40 custom colors; 20 two-toned swatches
Mesh Needed: No
Available For: Male & Female
12.

Horns Pack by Azentase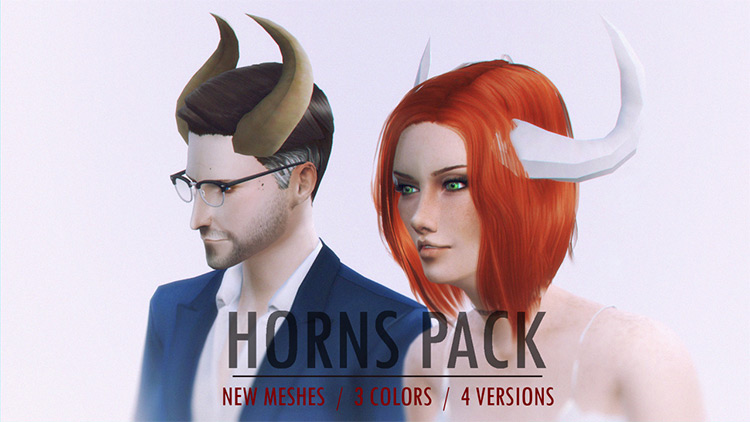 This horn CC pack is kinda like Valhallan's Qunari horns, only with different shapes and a smoother uniform texture.
There are four variations: Panic, Bambous, Kleptomanie, and Maniac.
They're all varying levels of "curved" and "swept back," which honestly makes them look fantastic with hairstyles that follow the same flow.
I personally think they look especially stunning paired with Alpha CC hair (instead of Maxis Match styles).
Each version only has three color swatches, but they're all neutral. So they pair well with most any hair color.
You can also install each version separately if you want.
Color Options: 3 custom colors
Mesh Needed: No
Available For: Male & Female
13.

Bloodtotem: WoW Cenarius & Highmountain Tauren Horn by Valhallan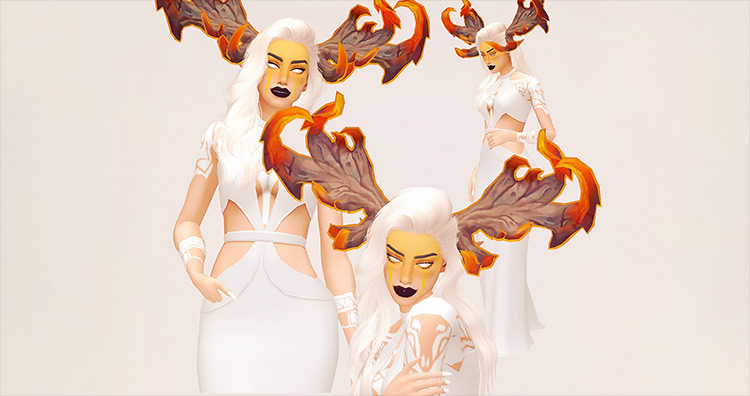 If anything, this is the crowning glory of this compilation.
The goddess of the fauna. The guardian of the forest.
The mother of all dramatic horned headpieces.
Valhallan's Bloodtotem horns are incredibly designed and incredibly intimidating.
They spread out from the sides of your Sim's head like sharp, majestic wings. Words cannot describe how regal, imposing, and straight-up grandiose these pieces are.
They're like earthen antlers. Only less deer and more Goddess of the Forest.
There are two variations of these Bloodtotem horns: those with colored borders and those with colored tips.
Both have their charm. And 26 color options each.
Color Options: 26 custom colors
Mesh Needed: No
Available For: Male & Female | Teen – Elder
14.

Lifebinder: Alexstrasza Horns by Valhallan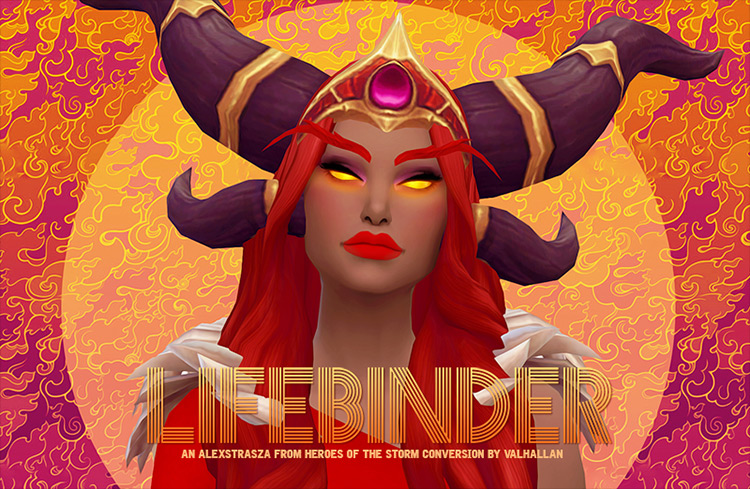 I think it's a pretty safe assumption that Valhallan just rocks at creating horns for The Sims 4.
After all, she's responsible for about a third of the items on this list!
This particular pack isn't a horns-specific package. It's actually a full character (or at least, the character's clothing) conversion – specifically Alexstrasza from Heroes of the Storm.
If you're familiar with her, then you know she's got a pretty impressive set of horns. One would expect no less from a powerful woman who can turn into a dragon at will, right?
Right.
This entire CC pack contains her iconic horns, regal tiara, and eye-catching red cloak.
The entire package is a .zip file too. So you can actually just install the horns and tiara without the cloak. If your Sim doesn't feel like cosplaying, I mean.
Color Options: 1 default color
Mesh Needed: No
Available For: Male & Female | Teen – Elder
15.

Horns Pack – Valhallansim Mesh Edit by Gerbithats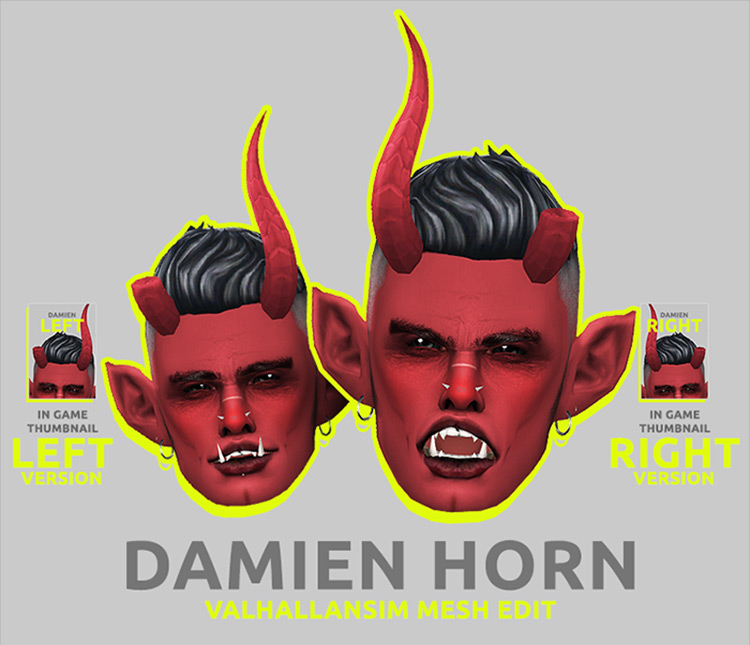 This mesh edit of Valhallan's World of Warcraft Demon Hunter horns gives us players some one-of-a-kind options for our damned, demonic, fae, and/or fantastical Sims.
The theme of these horns seems to be "asymmetrical".
And surprisingly, it's a theme I can get behind.
There are four variations in total: Bune, Petrus, Lucius, and Damien.
Bune and Damien have two further categories: Left and Right.
Depending on which you pick, either the right or the left horn's tip is broken off. Hence, asymmetrical.
I think either option is perfect for giving your Sim a little more character.
Damian features longer curved horns growing from the top of the forehead.
And the Bune horns are smaller, pointier, and sit a little higher.
Lots to love about all of them!
Browse:
Lists
The Sims 4
Video Games