Sims 4 Dragon CC: Wings, Horns, Tattoos & More
This post may contain affiliate links. If you buy something we may get a small commission at no extra cost to you. (Learn more).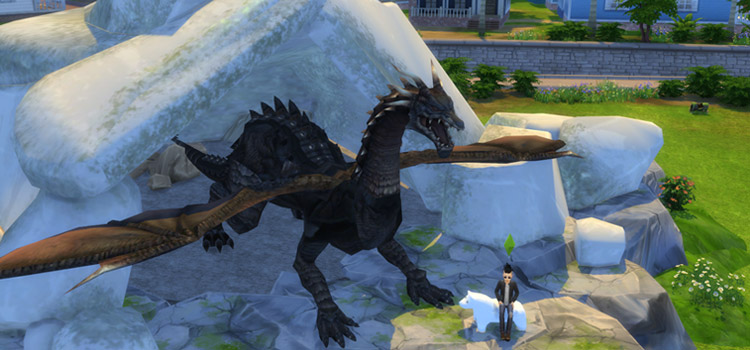 Do you know what could top a park full of dinosaurs?
A park of fully-grown dragons the size of Boeing 747s.
Mythical, horned, winged, and armed with fangs that could rival Megalodon, dragons have fascinated nerds and fantasy fans for decades.
They're good and bad, menacing yet magical. Dragons are made to either protect and destroy foes, or hoard gold, depending on the movie you're watching.
So they're compelling creatures of fiction, and perfect to bring into the world of The Sims 4.
Let's make this fire-breathing fantasy a reality in TS4 with some of these awesome CC picks.
15.

Dracarys Earrings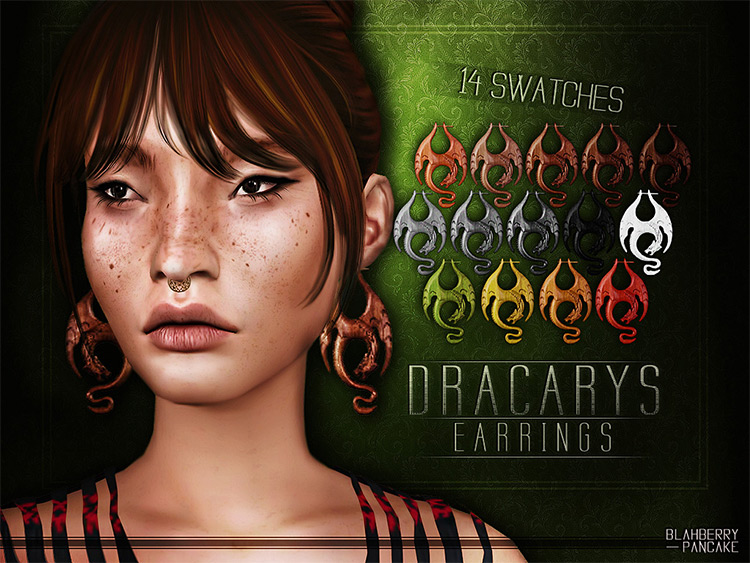 There are a lot of things that made Daenerys Targaryen one of the most popular characters in Game of Thrones.
One of the best she's done? To say "dracarys" in a very dramatic way followed by a lot of people burning to death.
Liking a mass murderer too much brings up some issues, but no one can deny that Dany's style is as hot as dragon fire.
Get Dany's love for dragons by putting on these Dracarys Earrings – available in 14 swatches!
14.

Dragon Eyes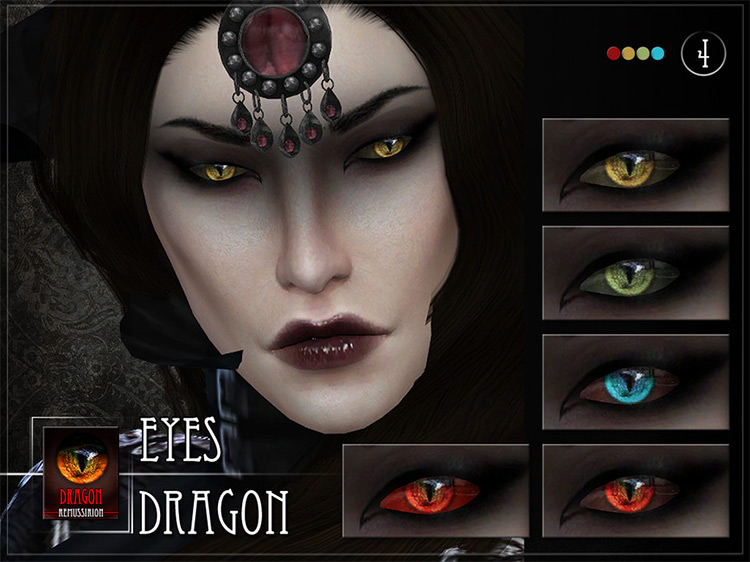 Staring death in the eye sounds brave and all… until you actually see it.
If these Dragon Eyes are the last thing I see on my deathbed, I'll happily die blind.
Now you can infuse your Sim with reptilian eyeballs and nail a killer look – literally!
13.

Dragon Face Tattoo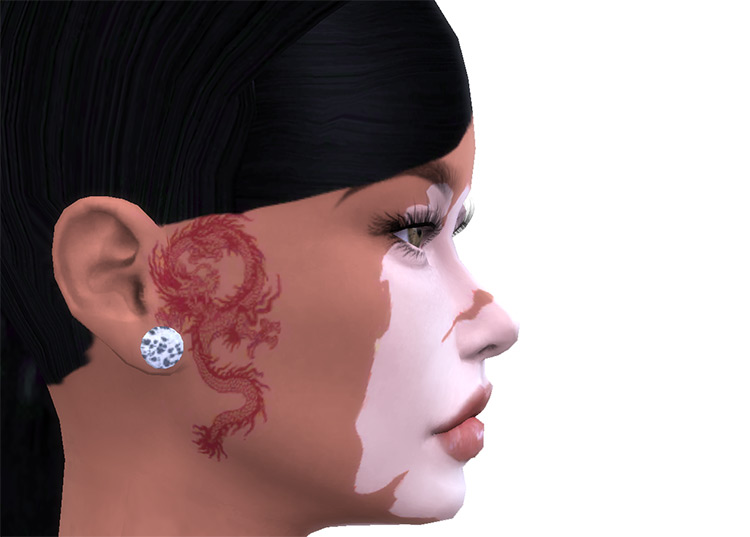 Oftentimes, people regret having facial tattoos.
Good thing our Sims can't really complain about having an intricately designed dragon on the side of their faces.
Because I say we just go for it.
Now you can be that Sim with the dragon tattoo by getting this awesome CC from phonearizona.
12.

Tattoo Back 01
Turning your back on others has never looked this good!
Slap a massive dragon tattoo on your Sims' back and scare off backstabbers in a heartbeat.
Then sprout wicked wings and a spiky spine when you apply this S-Club CC in your next customization session.
11.

Yakuza Tattoo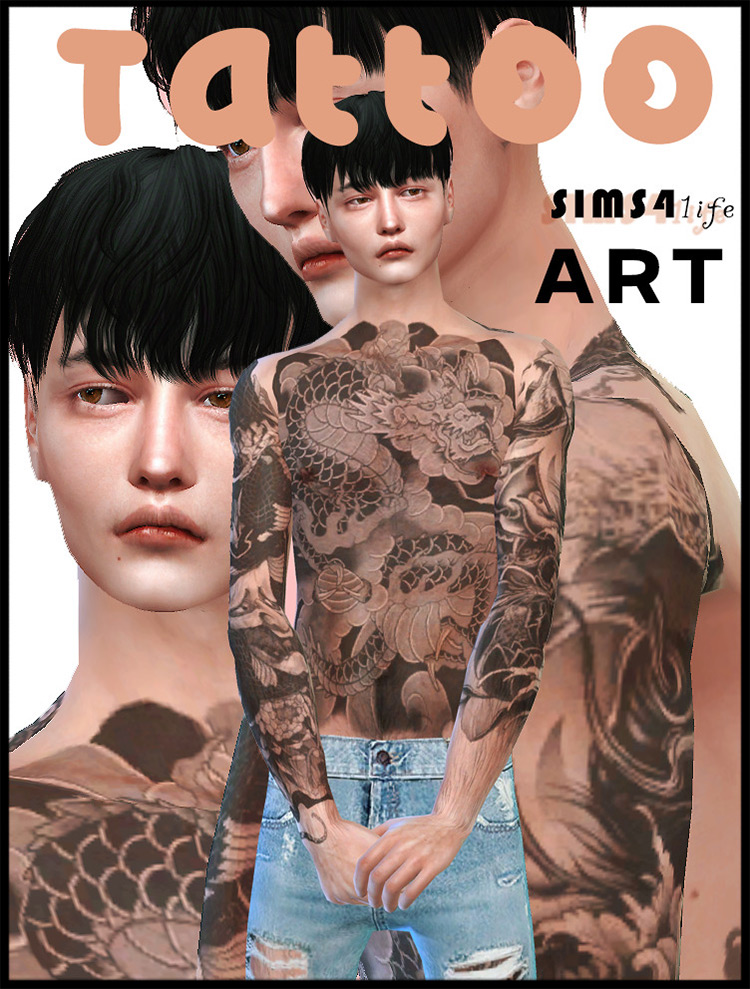 Having your Sim's whole torso tattooed is as quick as taking candy from a baby in TS4.
I'm not sure you should do either, but that's another topic.
All you'd need is a design that'll wow other Sims at first glance.
And what could be more awesome than a badass Yakuza-themed tattoo design?
Get your Sim's pixelated skin permanently inked with Japanese-style tattoos featuring a big ass dragon on the front, and a cool AF foo dog on the back.
10.

Horns Pack Vol. 2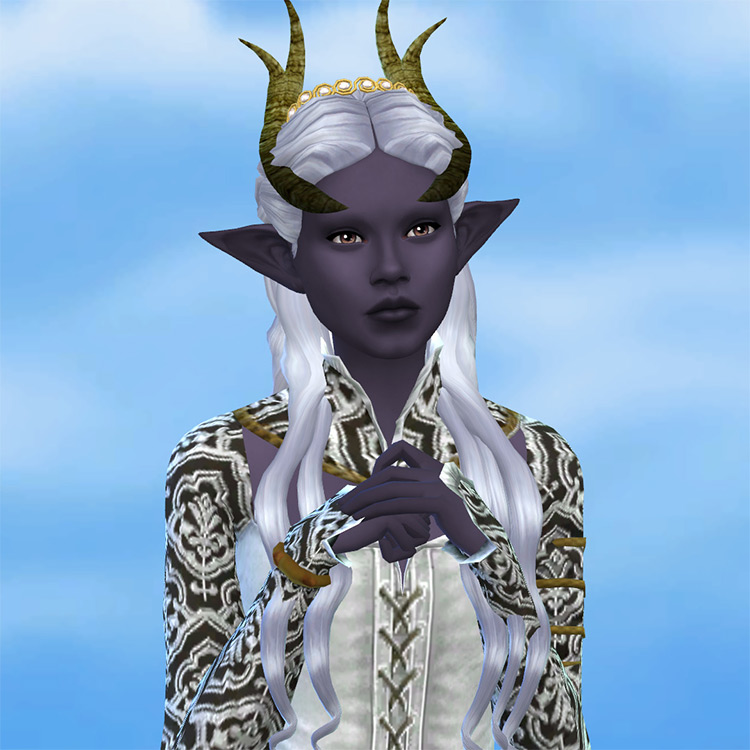 A dragon without horns is like Kanye without god complex – it just doesn't feel right.
Smaug, Drogon, and even Mushu from Mulan all have discernible horns that complete their mythic looks.
If you want that dragon transformation to look authentic, then I suggest you take your pick from this horns pack and get your dragon build moving.
Or if you're looking for even more horn ideas, take a look at our other suggestions.
9.

Dragon Swimsuit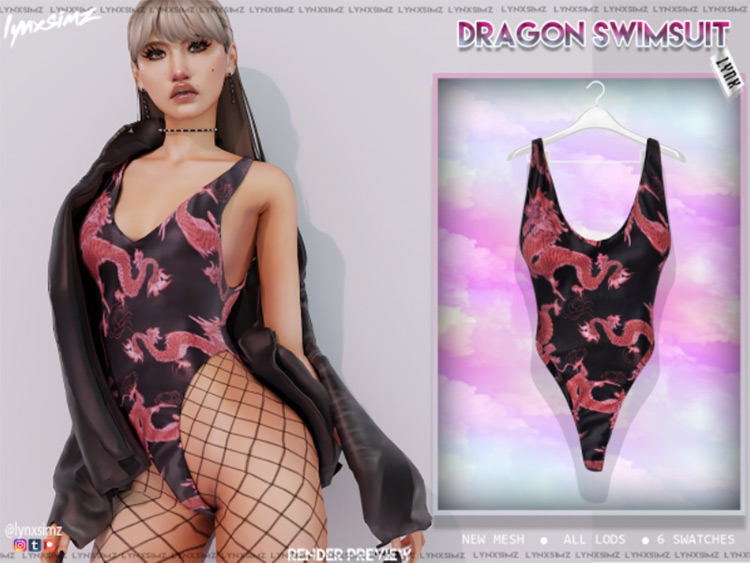 Is it just me, or is this swimsuit hotter than a dragon's breath?
Set your Sim's style ablaze with this customized dragon swimsuit CC from Lynxsimz.
You'll get up to 6 swatches to choose from, and now you can have your Sim make a scorching entrance at every pool party.
8.

Poison Top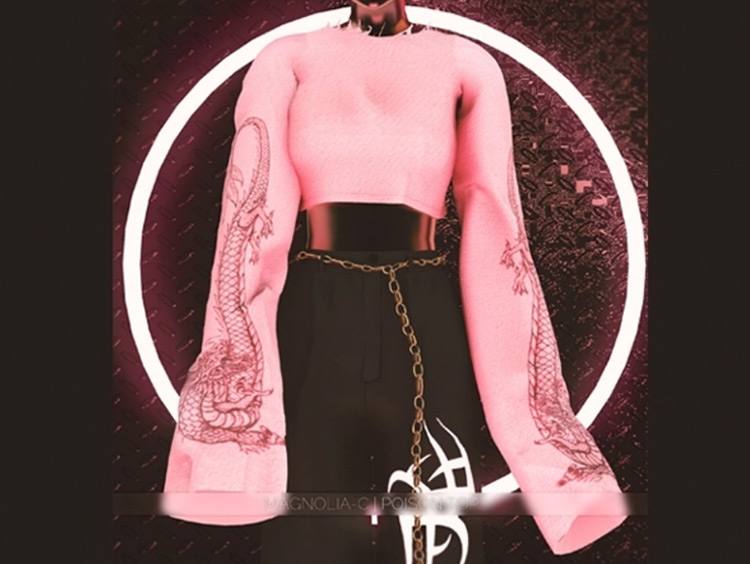 Hiding your hands in oversized jackets became cool in the 2000s.
And it's still cool today.
Dress your Sim like a Kill Bill protagonist out for revenge by fitting this Poison Top CC from Magnolia-C.
Just pair it with leather pants, some boots, and a newly-sharpened katana and you're golden!
7.

Galadriel Dress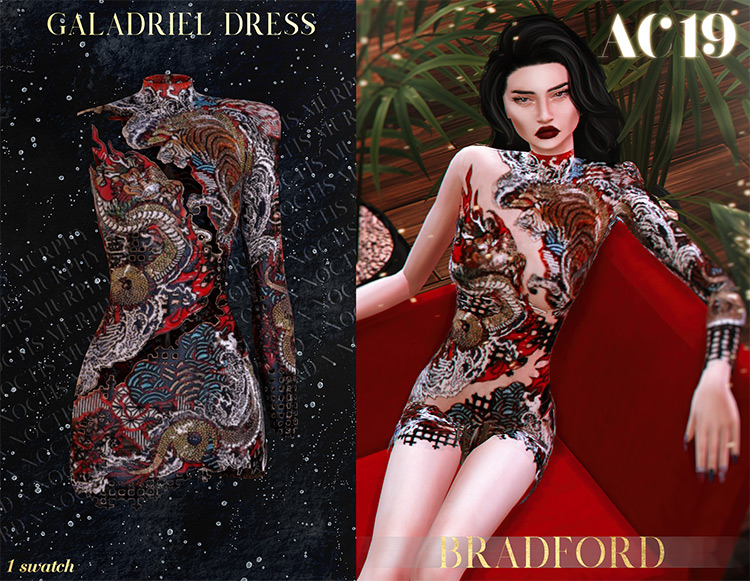 Last I remember, Lady Galadriel never wore outfits that showed this much skin.
Then again, if she lived a thousand more years, who knows?
Let's get your Sim looking like a party queen with this Kardashian-approved Galadriel Dress from CC maker Silence Bradford.
6.

Dragon Scale Dress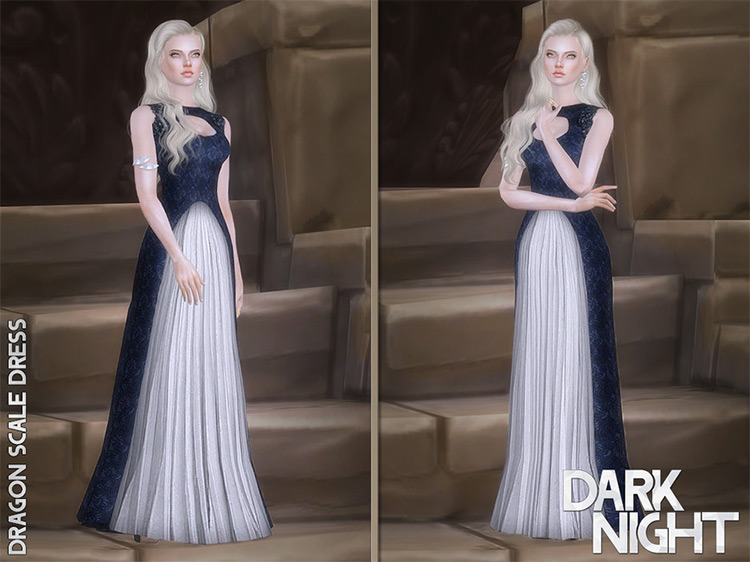 Anyone with cable is surely familiar with Game of Thrones, and the khaleesi that stole our hearts (until season 5-ish).
Daenerys, the Mother of Dragons and Lover of Nephews, was a fan favorite for as long as the show still had material from George R.R. Martin's novels.
But TBH, without the dragons, I wouldn't really have cared about her long, long, looooong journey to Westeros.
Oh, and also her impeccable style – which clearly shines through in this dragonscale dress.
And if you're a serious GoT fanatic, you might also like our list of CC designed around Game of Thrones.
5.

Spine Tail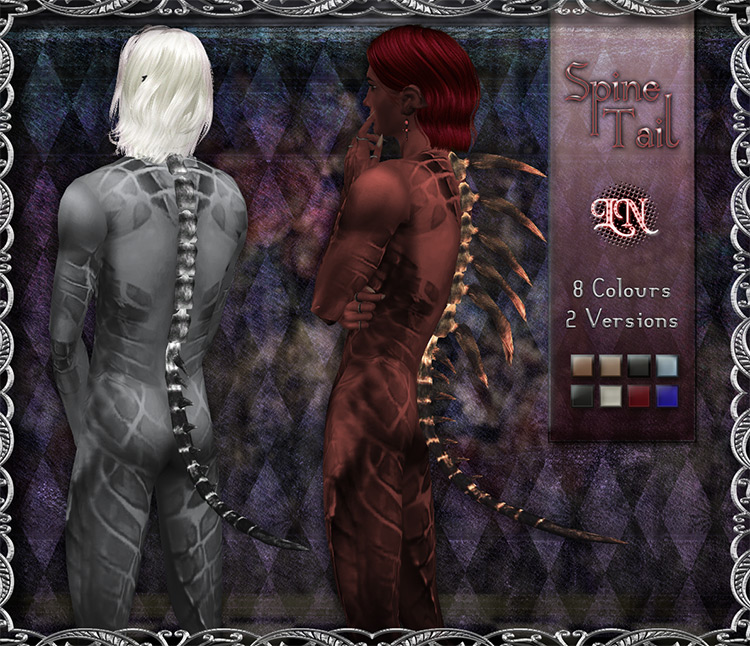 Like those pesky lizards at home, dragons also have long tails.
But unlike our common house gecko, a dragon's tail can crush or whip us to death when provoked.
If you want to terrorize other Sims daily, then grow a spine by adding this CC. It might take some adjusting, but your Sim is sure to love it. Or at least tolerate it.
4.

Dark Celestial Wings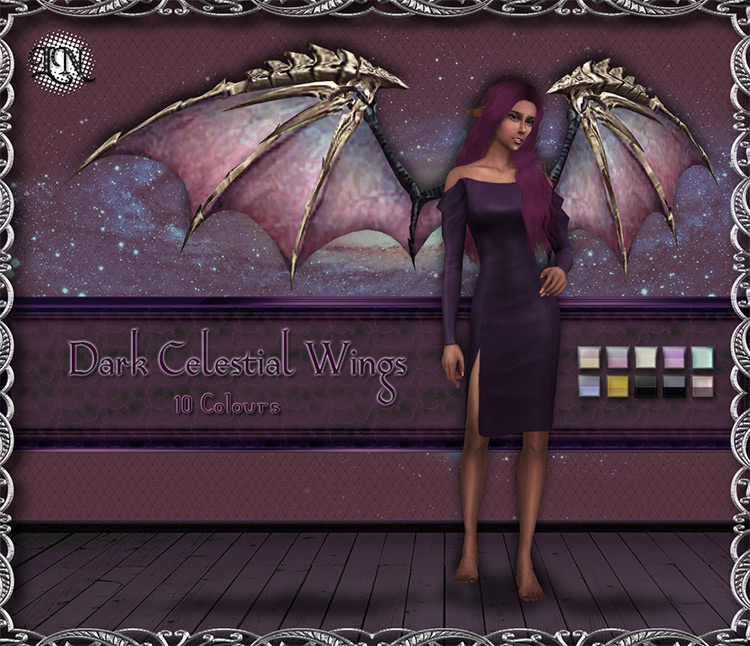 Don't get me wrong, Japanese and Chinese dragons are cool.
But flying dragons just have that calamity-level swag that makes King Ghidorah a force to be reckoned with.
Turn your Sims into a human kaiju by snapping on some of these celestial wings, complete with veiny membranes and a scary-looking exoskeleton.
Just don't try to pick a fight with Godzilla, alright?
3.

Cosmic Wings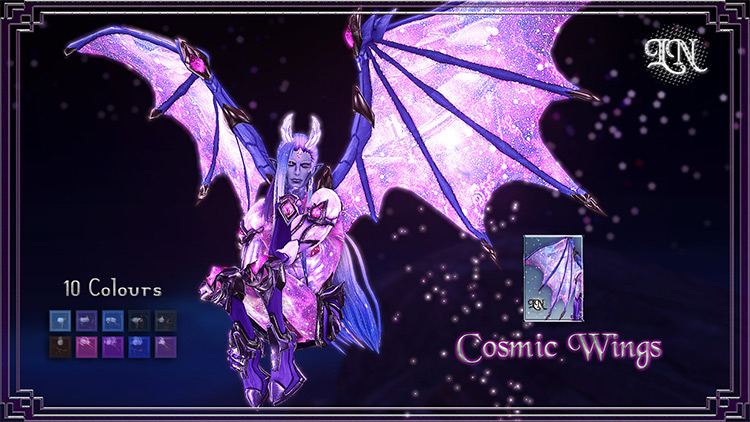 You know what's better than a pair of wings?
A pair of glowing wings that look as beautiful as far away galaxies.
This CC is an unconventional look for a traditional dragon. But there's a first time for everything, and this is your Sim's time to shine.
Download this CC and you'll get to choose from 10 stunning swatches!
2.

Night and Light Fury
Toothless is the cutest dragon ever, change my mind.
Having him as a pet and companion might just become one of the most wonderful things that could happen in my life.
But for now, I'll settle with my dog who can't even pee on a pad – beggars can't be choosers.
Well at least you can make your Sim the luckiest being in the world with this custom pet mod.
1.

Dragon Package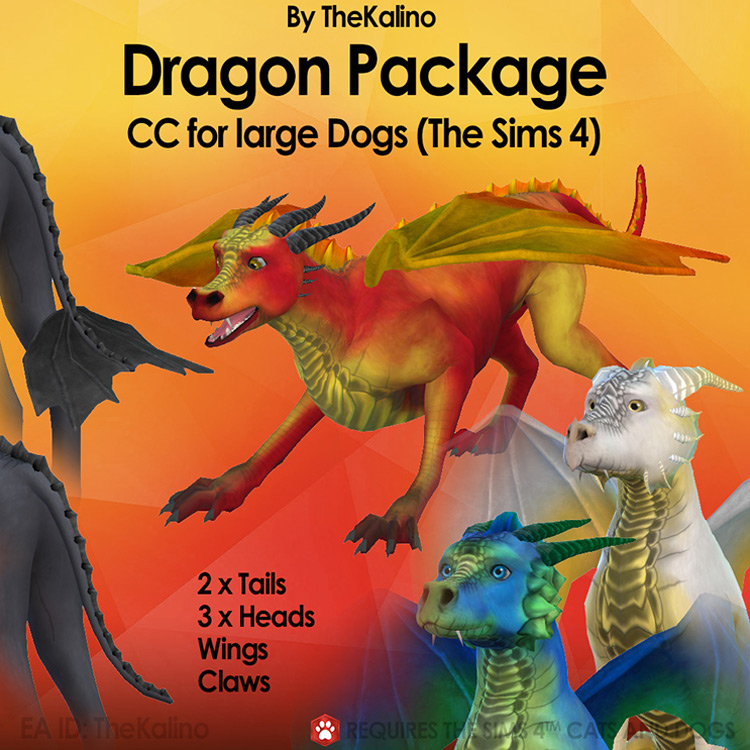 I know this CC is no Blue Eyes White Dragon from Yu-Gi-Oh!, but it's definitely the next best thing.
Add a scaly new addition to your Sim's family by caring for a fully-grown dragon as a pet!
The wings, the horns – it's got everything you could ever want from a domesticated fire-breathing reptile.
If you want a trusty beast to guard your home, there's nothing scarier than this CC right here.
Browse:
Lists
The Sims 4
Video Games