Sims 4 Lilo & Stitch CC: The Ultimate Collection
This post may contain affiliate links. If you buy something we may get a small commission at no extra cost to you. (Learn more).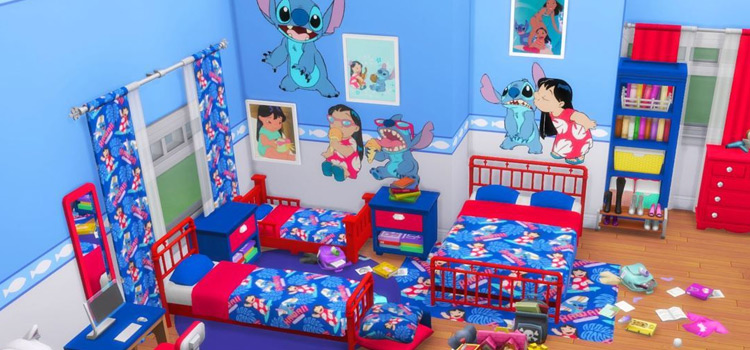 Everyone's sobbed over the whole, "Ohana means family, and family means no one gets left behind or forgotten," right? It's not just me?
Okay, great.
I guess it goes without saying that I've got a soft spot for Lilo & Stitch. It's one of the more random story concepts I've gotten from Disney (little Hawaiian girl meets alien experiment?), but the actual movie was, without a doubt, one of the most wholesome masterpieces of its time.
So I'm channeling all the warm fuzzies I get from thinking about that movie into this list of Sims 4 Lilo & Stitch-themed CC!
1.

Disney Lilo Dress (Child and Toddler) by NANA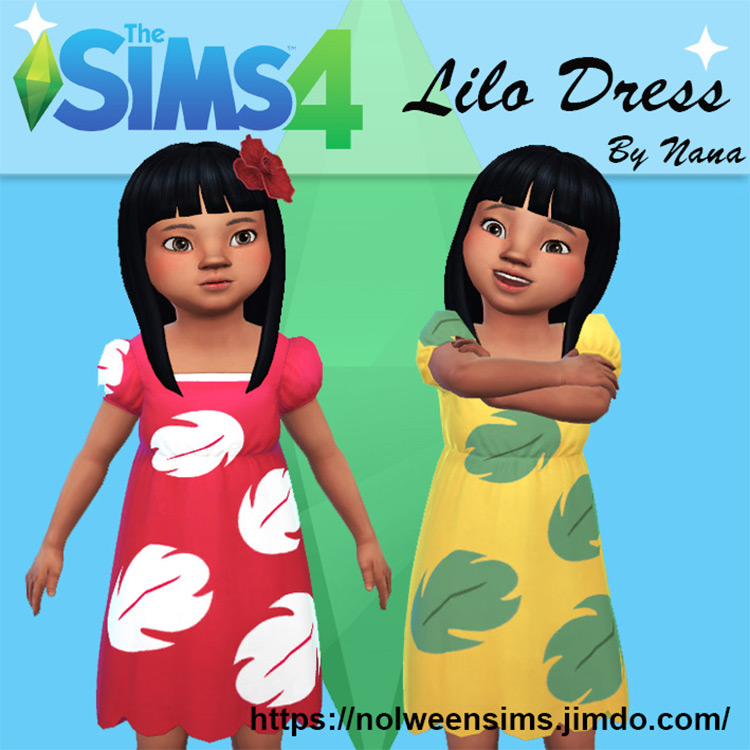 Lilo and Stitch both have very iconic looks.
I mean, Stitch needs no explanation. He's a cute, blue and fluffy alien with big eyes, big ears, and stubby paws.
Lilo? She's rocking her gorgeous, thick black hair, caramel skin, almond eyes, and an eye-catching red dress with large leaf print. And that's what we've got here!
NANA's TS4 version of the dress works for both Toddler and Child frames, so you can pick whichever life stage build suits your Sims 4 Lilo build the best!
P.S. if you can't find the link on the main download page, you can always use this direct link to get the dress.
2.

Tropical Package CC for the Sims 4 by TheKalino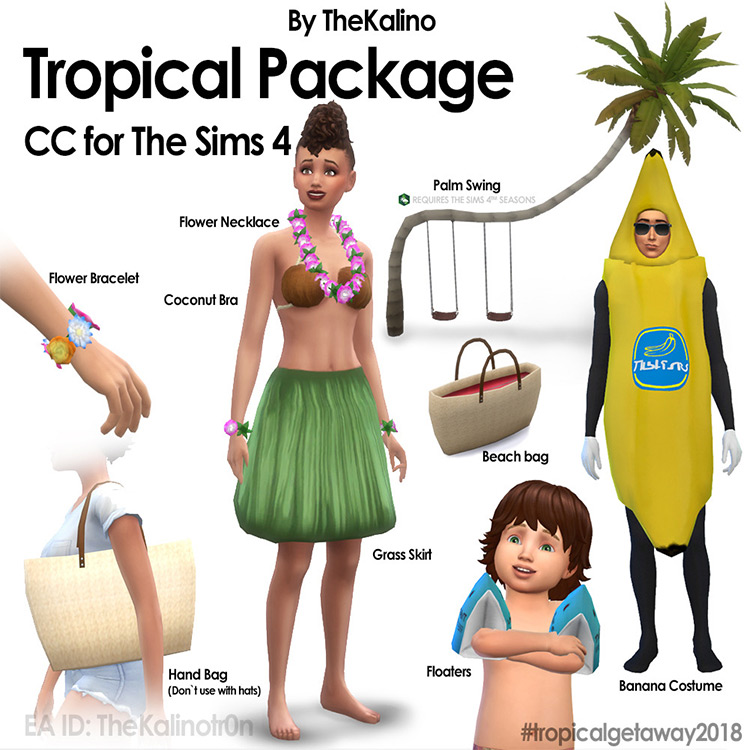 This isn't specifically from Lilo & Stitch, but I wanted to find Lilo or Nani's ku'u po'o or pa'u. You know; their grass skirts, flower necklaces and bracelets, etc.
Sadly, it doesn't seem like anyone's made a Sims 4 version.
But I did find TheKalino's Tropical Package set.
It contains, among other things, a lei (flower necklace) and grass skirt. Not quite as canon-compliant, but good enough if you want to recreate Lilo's dance outfit.
3.

Lilo's House TS4 Lot by Simgata_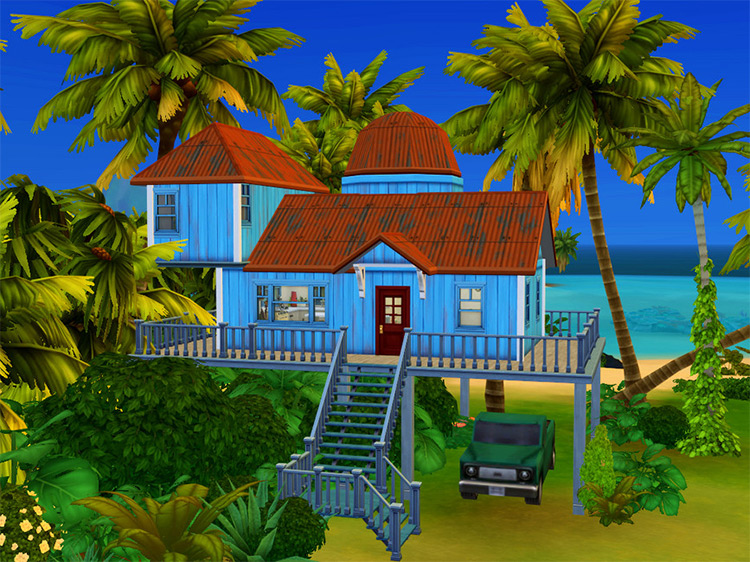 No, your eyes doth not deceive you.
This is, indeed, an in-game replica of the Pelekai residence.
Raised wraparound porch, solid set of front door steps, rusty red roof, and plenty of worn – but well-loved – furniture inside. It's an absolute delight to play around in!
If you have Island Living installed, you can even plop it down somewhere with a lovely ocean view.
4.

Disney Long Sleeve Tees by Lollaleeloo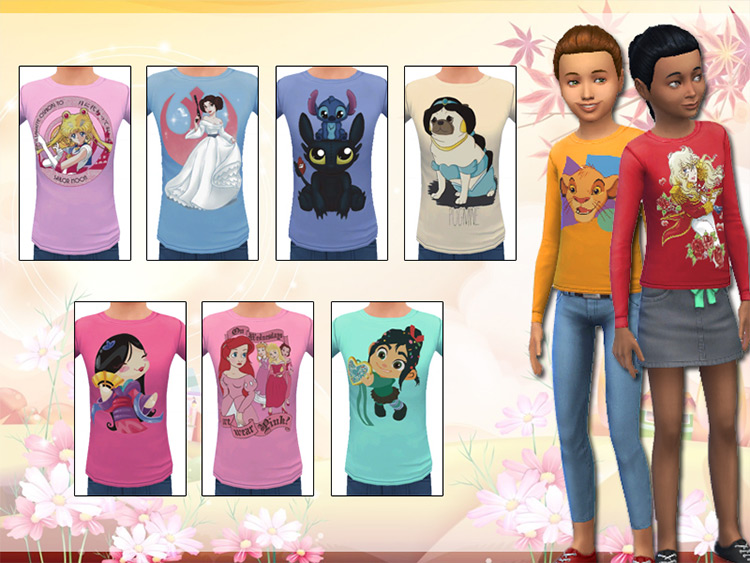 Cartoon-themed graphic tees with absolutely adorable prints? Yes, please!
Designs include lion cub Simba, Vanellope von Schweetz, Disney-fied Princess Leia (my personal fave), and – of course – Stitch. What's more, the print depicts our little alien buddy very gently resting atop yet another adorable Disney critter; Toothless the Night Fury (from How to Train Your Dragon).
That may be the only Lilo & Stitch item in this set, but it's cute enough to warrant its spot on this list!
5.

Nani & Lilo Striped Recolors by Tropicivy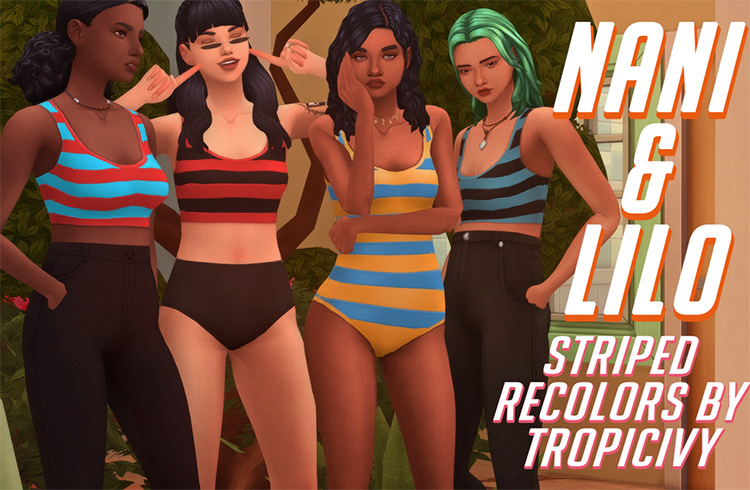 The Pelekai siblings' swimsuits are adorably striped and matchy, so I completely understand why you'd want a version for your Sims to have. Tropicivy took the clean-colored summer stripes concept and ran with it! The result?
Two pairs of swimsuits – a one-piece and a bikini – that come in 22 saturated, pretty colors.
You can absolutely get Nani's aqua-blue and Lilo's orange-yellow combos!
6.

Decoratives Disney Vol 5 by JenniSims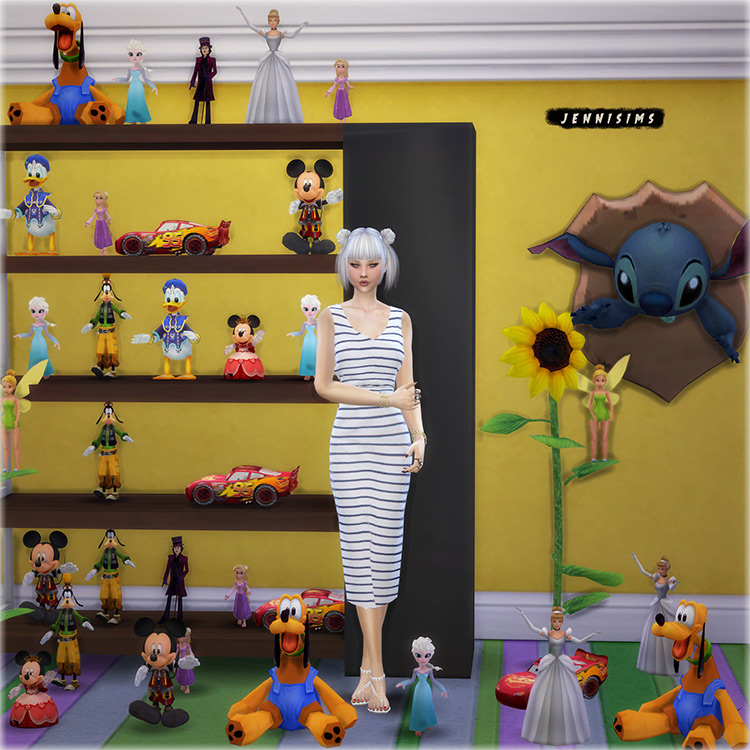 Fill up your Sim's (or their kid's) bedroom with all their favorite Disney characters! JenniSims' décor pack contains a ton of toys and figurines modeled after beloved Disney icons.
You've got Mickey & Minnie Mouse (in full Kingdom Hearts regalia), Elsa in her Ice Queen gown, a tiny Rapunzel (still sporting her golden locks), and the alien of the hour: Stitch!
Stitch doesn't come as tiny figurine in this pack. He instead comes as a larger-than-life wall decoration, posed to look like he's climbing through a hole or something. It's almost criminally adorable!
7.

Lilo & Stitch Bedroom Set CC by midnitehearts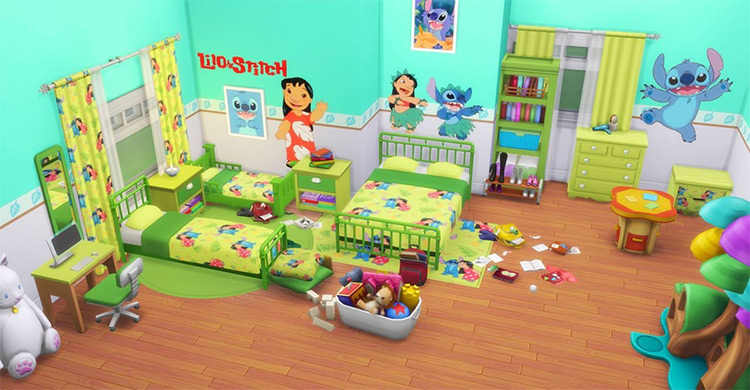 Live vicariously through your Sims (or their kids) with this a-freaking-dorable bedroom set by midnitehearts.
What you see in the preview photos is not an exaggeration.
Mattresses, curtains, rugs, pillows, the night stand, the dresser… all of that (and more) are Lilo & Stitch-themed, and all of them could be yours just by downloading this CC pack!
There are a whopping 17 items in total, and they all sport Stitch's adorable antics and/or Lilo's bright, cheerful grin. If you're going to decorate a kid's bedroom, you might as well decorate it in warm ohana love!
Perfect for any hardcore Disney fans.
8.

Female Toddler Lilo & Stitch Bathing Suits – Seasons Needed by Jellobean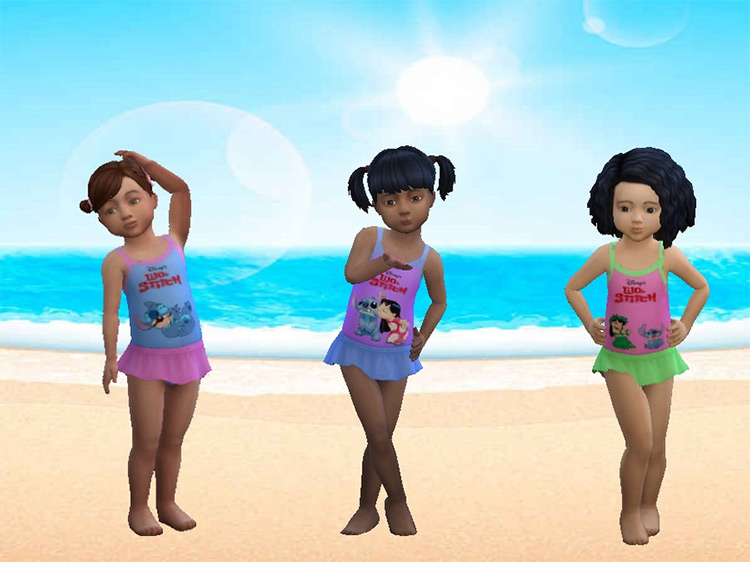 Get your Sim Toddlers ready for a Hawaiian roller coaster ride.
It's okay if they're too little to surf. They can still wear their pretty Lilo & Stitch swimsuits at the beach.
Jellobean's CC is a classic, age-appropriate one-piece with bright colors, a tiny skirt, and cute Lilo & Stitch prints at the front. You can choose from three designs.
9.

Disney Pajama's – Parenthood Needed by AshleyRaines122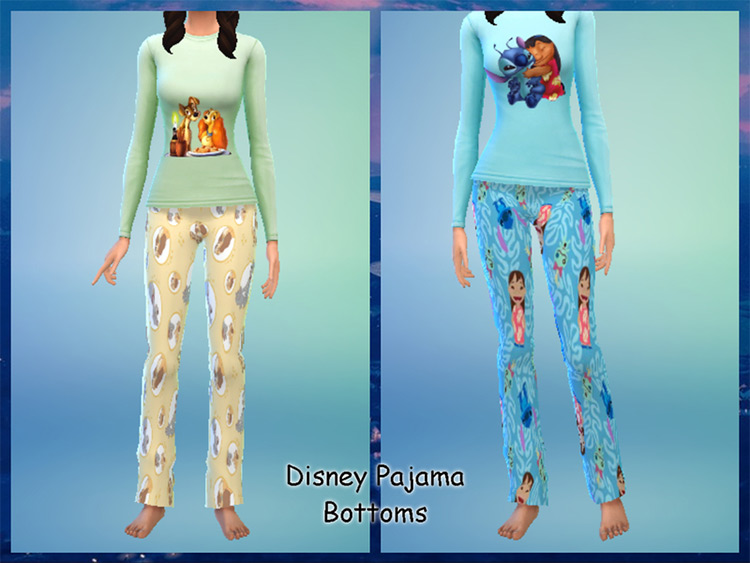 I'm fairly certain most – if not all – of us had our own Disney-themed pajamas growing up. I, myself, had a Pocahontas shirt I insisted on wearing every night. My cousins had Aladdin and Princess Jasmine jammies.
So these long-sleeved pajama tops and bottoms decorated with Toy Story, Simba, Moana, and Ariel? Totally true to real life.
There's a sleeping shirt in this set with Lilo & Stitch on the front. It comes in a soft aqua blue!
10.

Lilo and Stitch Toddlers Set by julimo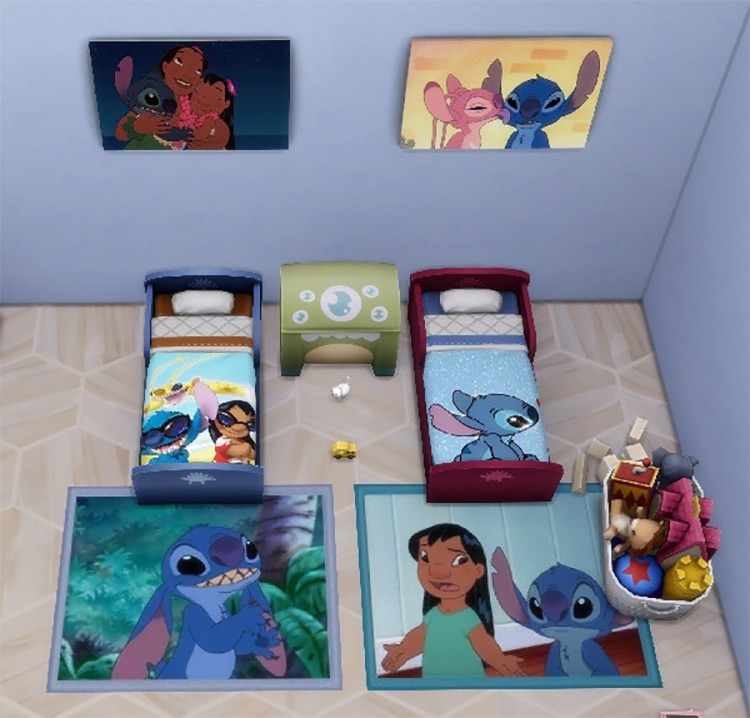 Here's another Lilo & Stitch-themed Toddler room set that's just an absolute delight for the visuals.
Bright, colorful furniture and décor pieces inject plenty of warmth and cartoon whimsy into an otherwise plains-prints-and-solids space.
This CC pack by julimo contains a painting/wall print with 9 swatches, a large square rug with 9 swatches, and a teeny Toddler's bed with 8 designs.
And they're all Base Game Compatible!
P.S. you can download the set using the first link (that says "Lilo and Stitch First Set" if you translate it).
11.

Disney Photo Collection Part 3 by Lina Maria Sims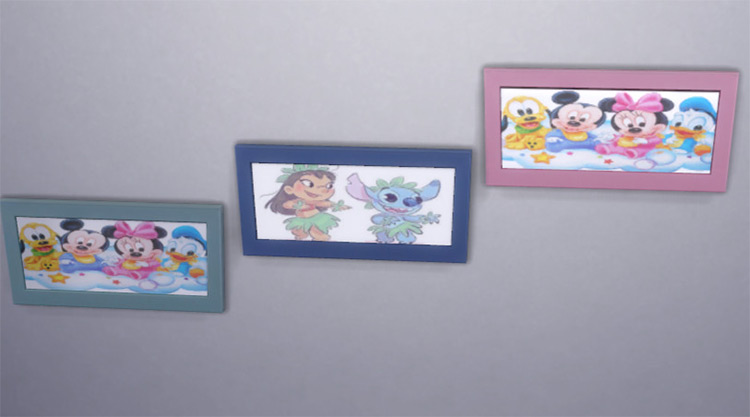 Offering a modest collection of wall art and framed prints, Maria Sims' décor pack is the definition of beauty in simplicity.
It's amazing how simple, wall-mounted squares boasting graphics in soft colors and cartoon styles can really light up a room!
(That could also just be my undying love for fairytales and wholesome Disney classics, but who knows?)
Part 3 of their Disney Photo Collection contains two Lilo & Stitch-themed prints. One features Lilo and Stitch dancing (as they are wont to do). The other design is this helplessly adorable picture of Stitch draped atop baby Yoda.
Don't worry; I let out a huge d'awwww!, too.
12.

Lilo & Stitch Welcome Sign by voodooling sims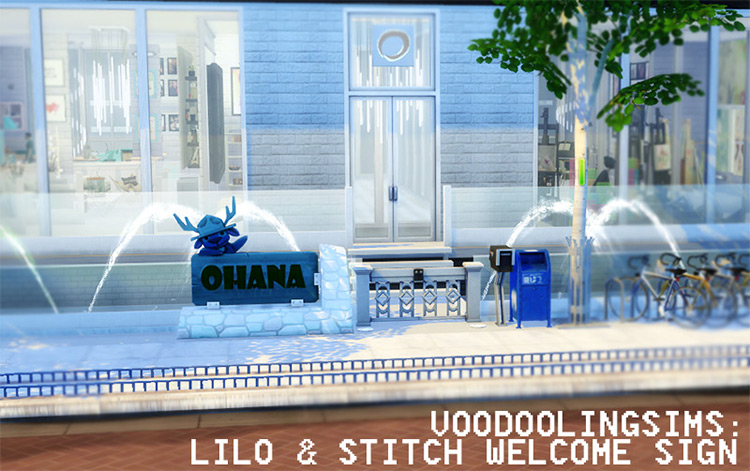 Who doesn't want an adorable blue alien greeting them as they pull up to… wherever it is they're pulling up to?
Voodooling sims has taken the word Ohana and stamped it on what looks to be solid, blue brick.
It's definitely a random and oddly specific CC item to make, but who am I to complain?
It even features Stitch in a comically large ranger-slash-reindeer hat!
Browse:
Disney
Lists
The Sims 4
Video Games