Sims 4 Maxis Match Formal Attire CC (Guys + Girls)
This post may contain affiliate links. If you buy something we may get a small commission at no extra cost to you. (Learn more).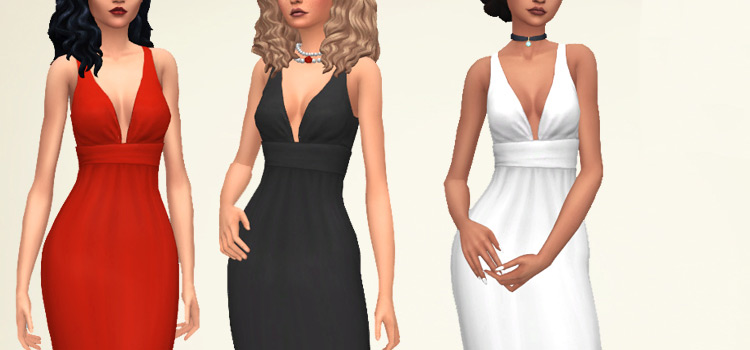 Sims rarely have a reason to get dressed up. But they look so lovely when they do, it's worth taking the time in CAS to give them something nice.
There are some great custom clothes out there to switch things up and make you actually want to go through the effort of hosting an event.
And after this collection full of awesome formal attire for the whole family, you'll be thinking up whole new reasons to get your Sims dressed up and looking fancy.
1.

Sparkle Fishtail Maxi Dress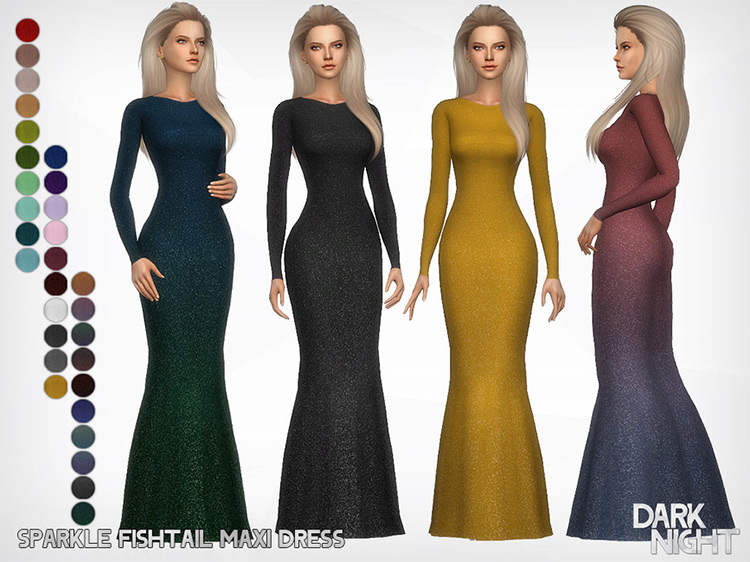 I don't know about you, but the fact that this dress is sparkly is already enough to have me slamming the "download" button.
Each of the 30 swatches is like a different dress, where the various colors and hues bring out that blessed, beautiful sparkle design in new ways.
2.

Toddler Suspender Outfit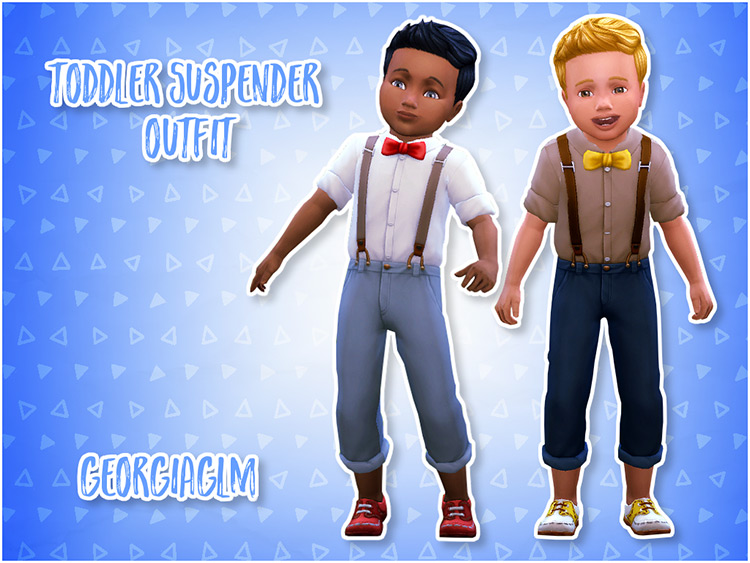 If you like to dedicate a lot of time in CAS to toddlers, then you're bound to love this suspender outfit from Georgiaglm.
Tots look so dashing in all 10 of these swatches, whether you just want a nice picture, or need them to look presentable at a family dinner.
3.

Holiday Dress Edit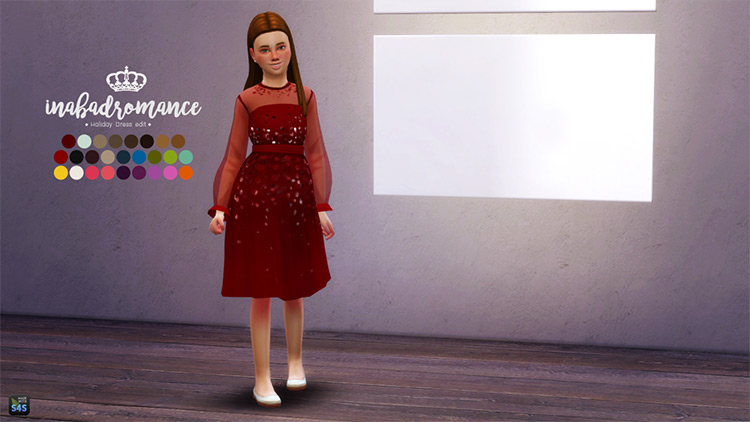 The original version of this dress, from the free Holiday Stuff Pack, is already great.
But this creator did something really cool by making the sheer top into sleeves and reshaping it just a bit.
And it definitely stands out on its own.
4.

Three-Piece Suits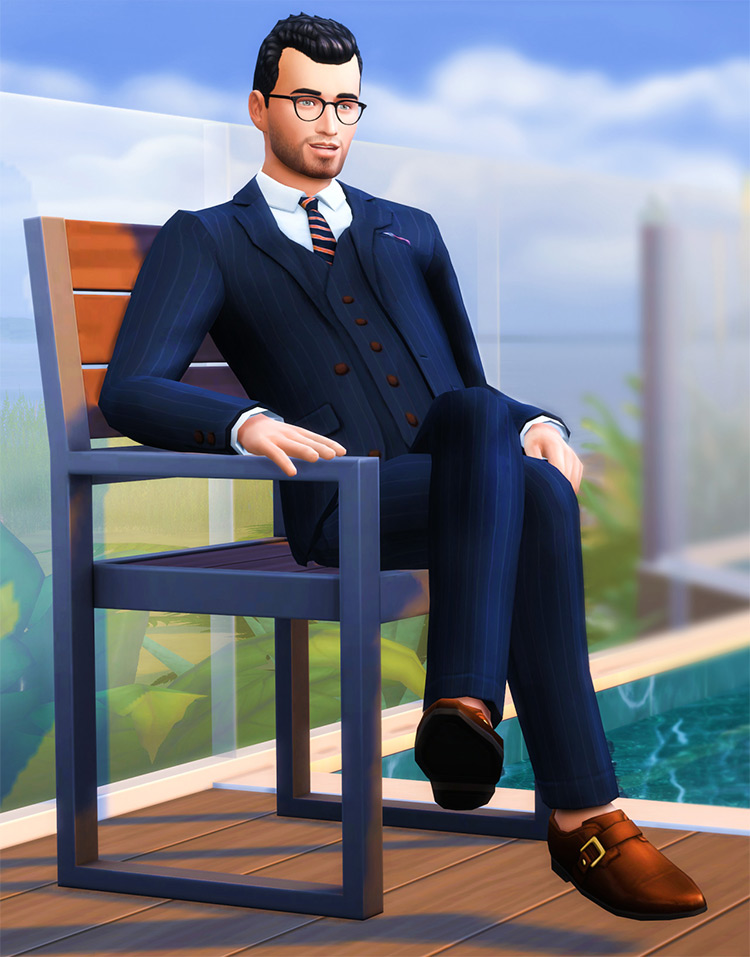 Almost everything in this game is "one size fits all" but suits aren't in that category.
Thanks to MarvinSims' classic three-piece suit, consisting of a jacket, vest, and pants, we nor our male Sims need to suffer from ill-fitting suits any longer.
5.

Diablo Dress + Lacy Gloves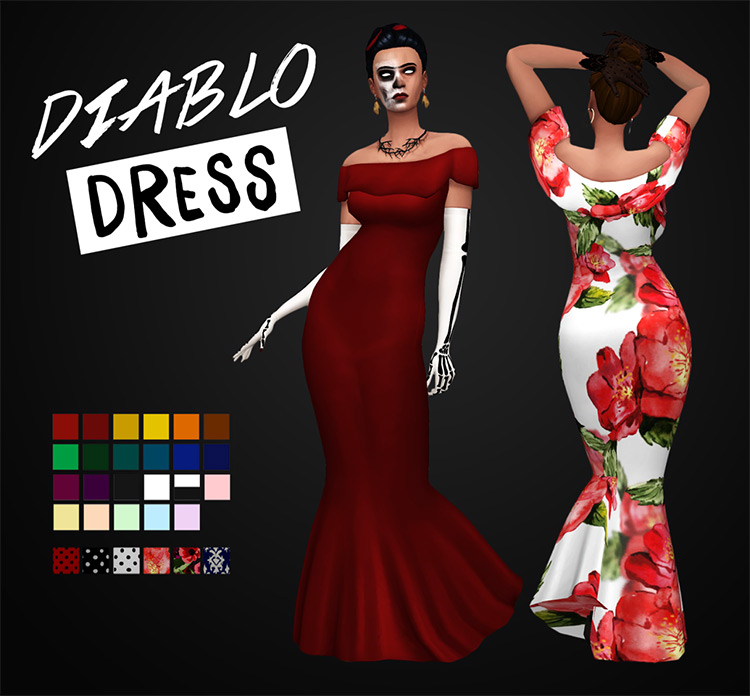 I'm not sure if this creator meant for any part of this set to be used as formal wear since it was released during Simblreen, but this modest dress is just too good to pass up.
The sophisticated lacy gloves come in 15 swatches so you'll be able to match them to the Diablo dress, or any other!
6.

Argyle Vest With Sweatshirt For Child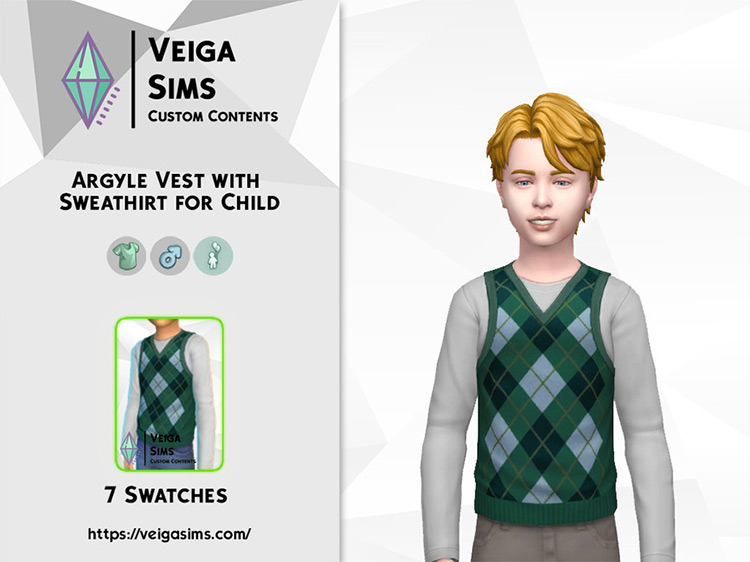 A nice sweater vest will make any kiddo look just as dashing as if they were wearing a suit.
This top will look great when paired with any slacks or khaki pants, so giving them a unique formal outfit will be easier than ever.
7.

Celine Dress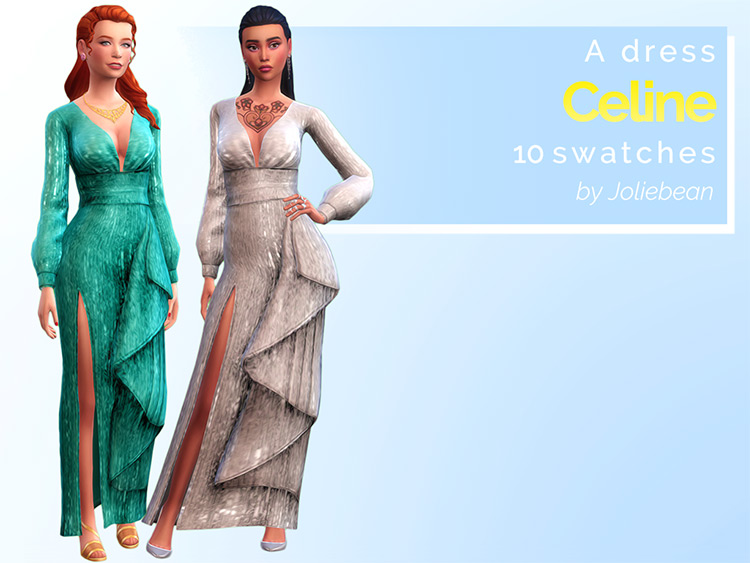 This ain't for Sims who want to blend into the background.
It'll make any Sim a star, bringing them elegance from head to toe with the deep v-neck, puff sleeves, and large ruffles.
8.

College Boy Sweater For Children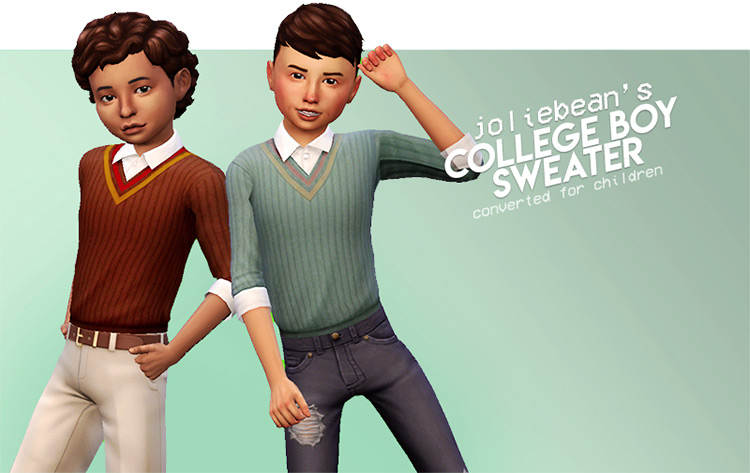 Here's another simple option for the boys, and it's actually a conversion from one of Joliebean's adult sweaters.
This lovely knit sweater features bold colors and will tuck into the top of any bottoms.
9.

Euphoria Dress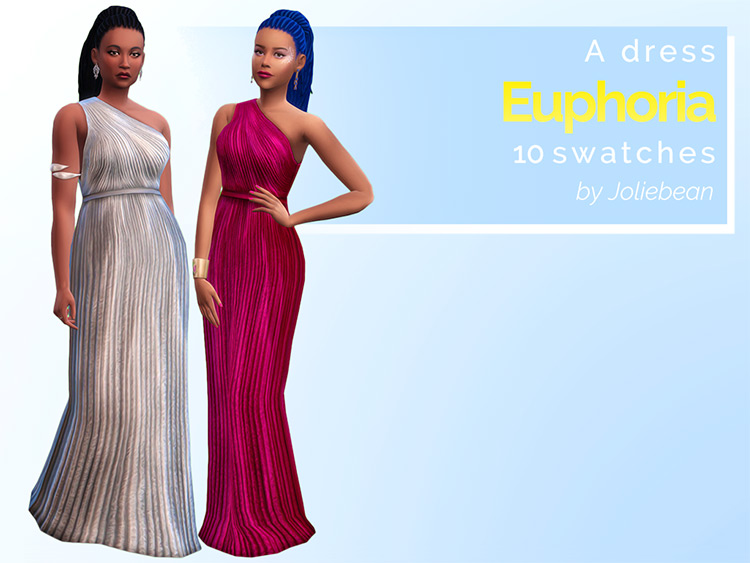 Just because an event is formal doesn't mean only black or white attire is appropriate.
Joliebean's Euphoria Dress is insanely vivid with bright, vibrant colors and silky texture.
10.

Wedding Outfits Set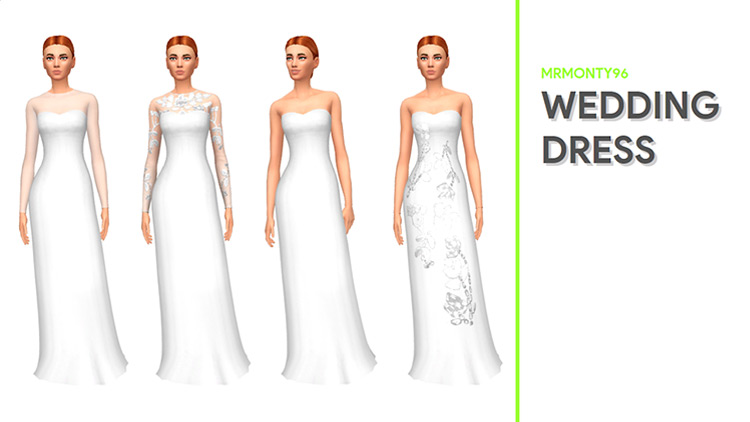 For masculine Sims, we have a new suit available in white, gray, or black.
But of course, the wedding dress is always the star.
Four styles are available here. And each one is unique beyond just a change in the color.
Two swatches have lacy sleeves, and the others are strapless.
11.

Pierina Dress for Toddlers & Children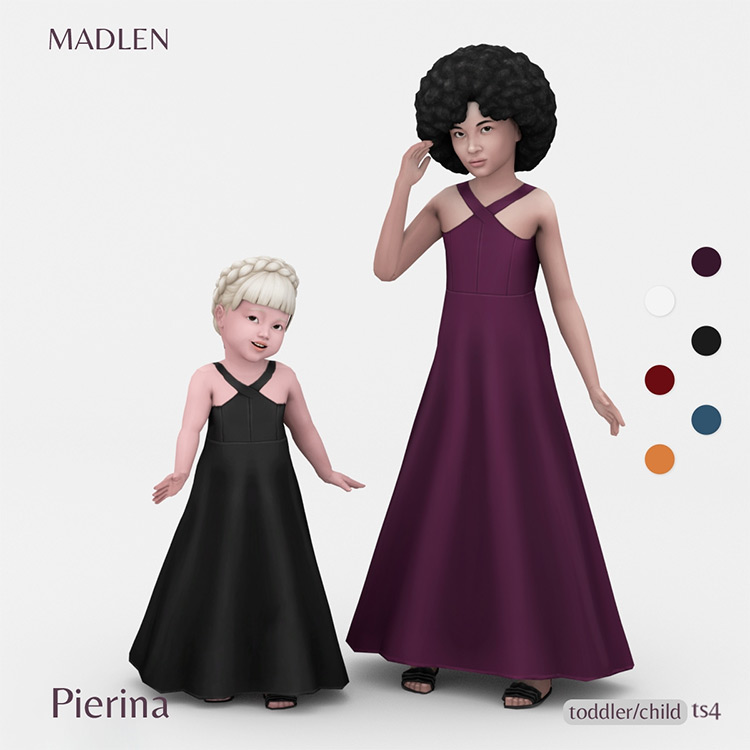 Every now and again, it's really charming to get the kids all dressed up.
These long halter neck dresses are sophisticated enough for all ages and it's so sweet to see toddlers and children in them.
12.

Toddler Suit Up!
The base game toddler suit is cute.
But it's interesting that it only has shorts.
Now your tots can wear a standard suit with this CC. The pants look really natural here, you'd never guess that this wasn't the base game outfit all along.
13.

Berger Gowns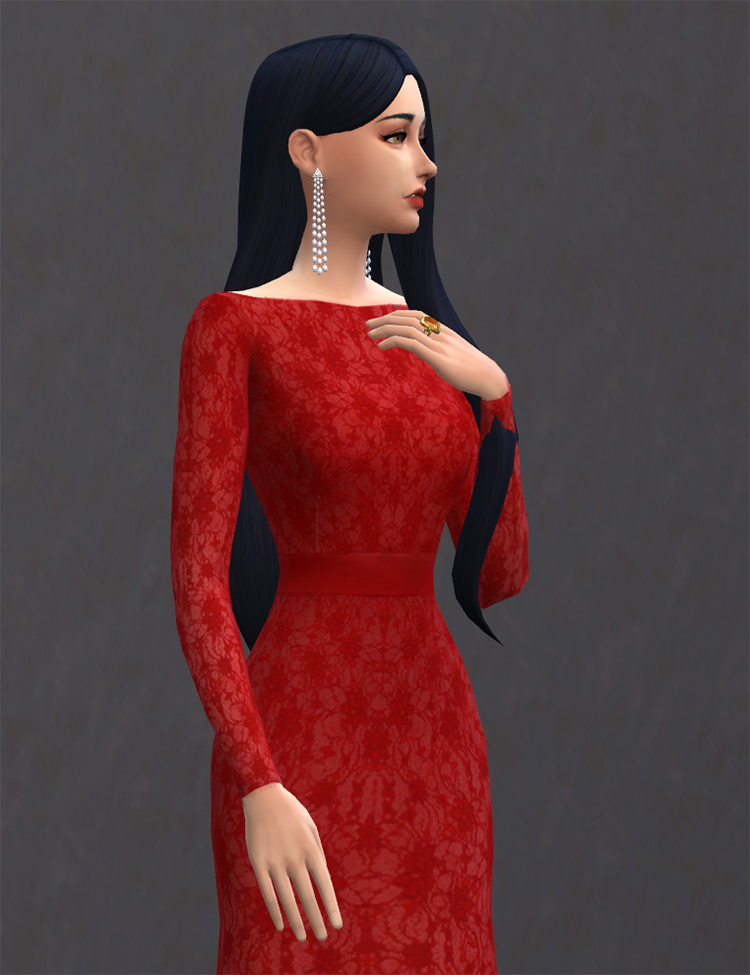 What we have here is an entire set of stunning gowns from a fictional Sim fashion designer named Melinda Berger.
There are four total and the level of detail on each one is truly amazing.
Each variation has unique detailing that really setes it apart.
14.

Blazer Jacket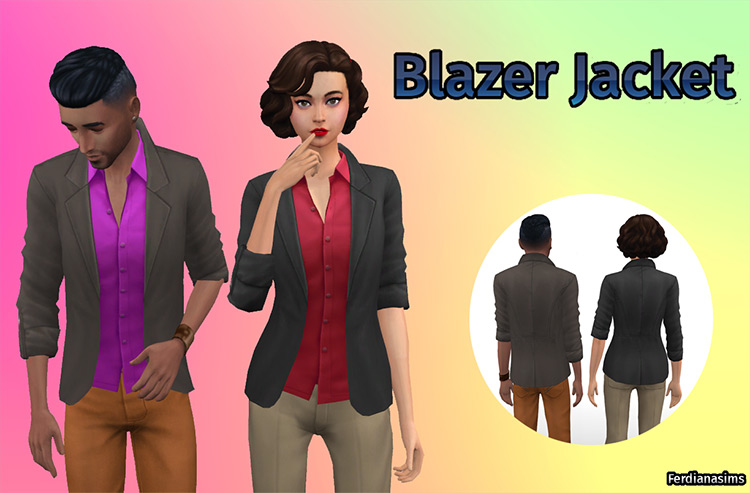 Blazers work for a number of occasions and are basically a must-have for anyone with business casual tastes.
Cepzid has got the perfect laidback blazer here. It's great for men and women alike and in both cases, has neatly rolled sleeves and a button-up shirt beneath.
15.

Hollywood Starlet Dress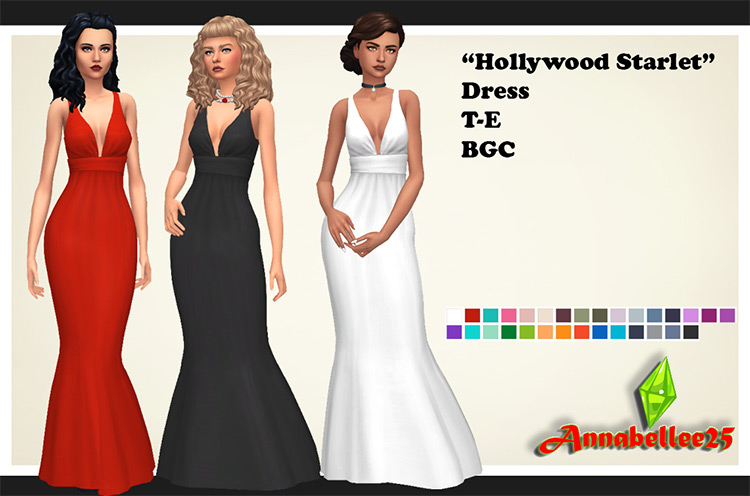 Your Sim will definitely be in the spotlight with this marvelous gown.
A lot of beauty is packed into the basic design. With 30 swatches total, you'll be able to effortlessly add some shoes and accessories to this outfit.
16.

Duchess of Dress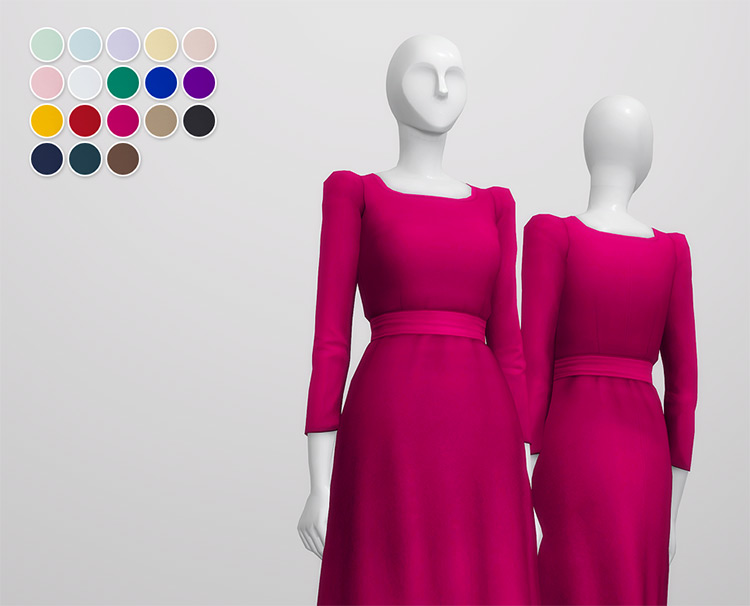 Here's another stunning dress that'll have your Sim as dignified as royalty.
Rusty's incredible creation is somewhat form-fitting and has some really nice touches, like the slightly puffy shoulders and cinched middle.
17.

Mr & Mrs Spring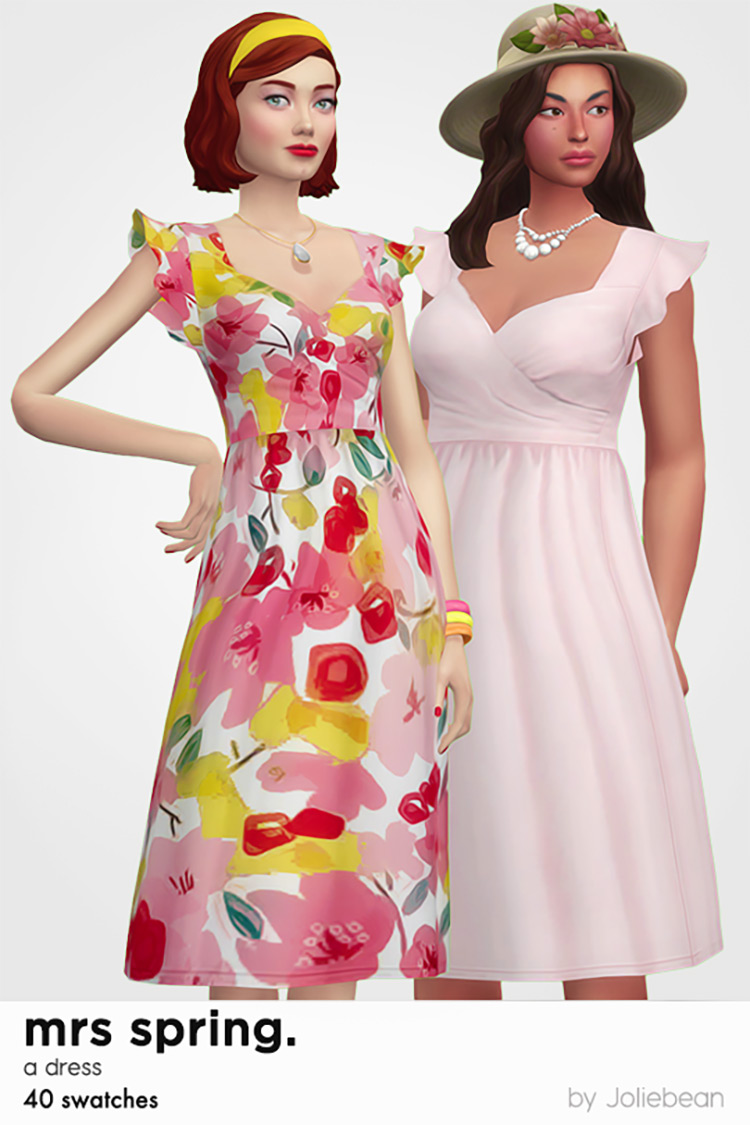 Love has definitely been in the air in The Sims 4 lately.
And this matching outfit CC set for couples will really get you in the romantic mood.
A suspender outfit for the guys, an adorable dress for the ladies. As you can imagine, they go together pretty well!
18.

Natalie Skirt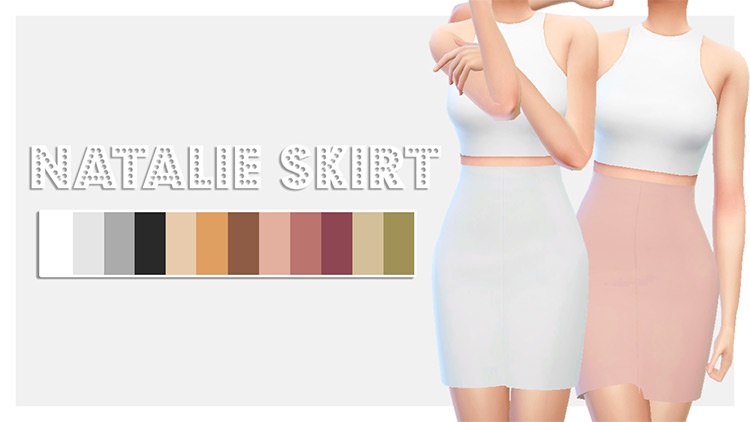 A pencil skirt can be used for basically every event, formal or not.
But this one, with its numerous neutral solid tones, will be a really solid foundation to your Sim's formal outfit.
All you need is a good blouse or blazer to complete the look! (Fully Maxis Match, of course)
19.

Lucian Shoes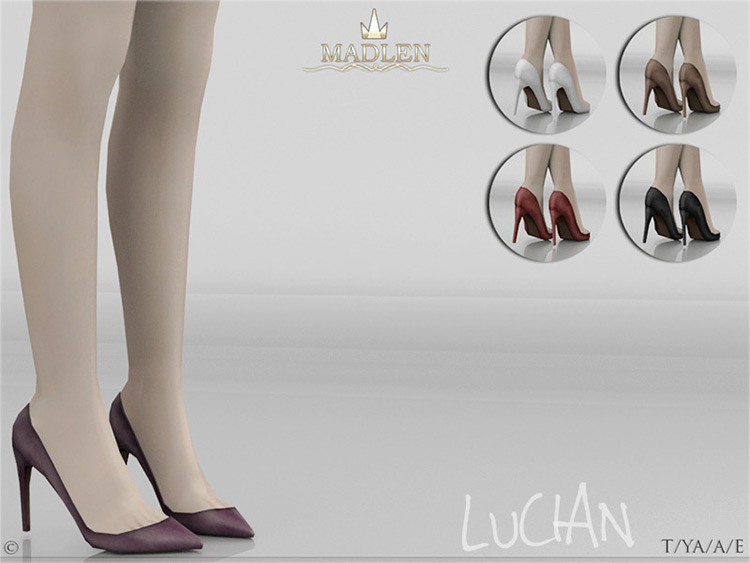 The game may already have a good assortment of heels, but none quite as classy as this pair.
They're simple, sleek, and the four neutral swatches make them extremely versatile.
20.

Vintage Glamour Skirt Recolor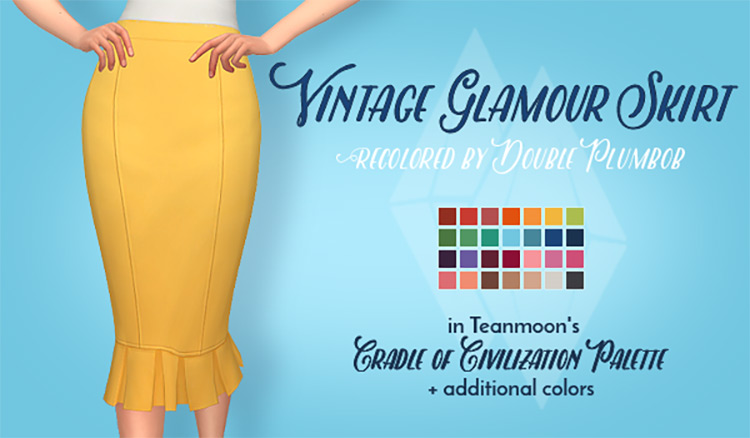 Although the Vintgage Glamour Stuff Pack comes with all kinds of goodies, we can always use more colors.
Now this old timey but elegant skirt will be available in 45 bold swatches of red, blue, yellow, pink, and much more.
21.

"Suitable" Set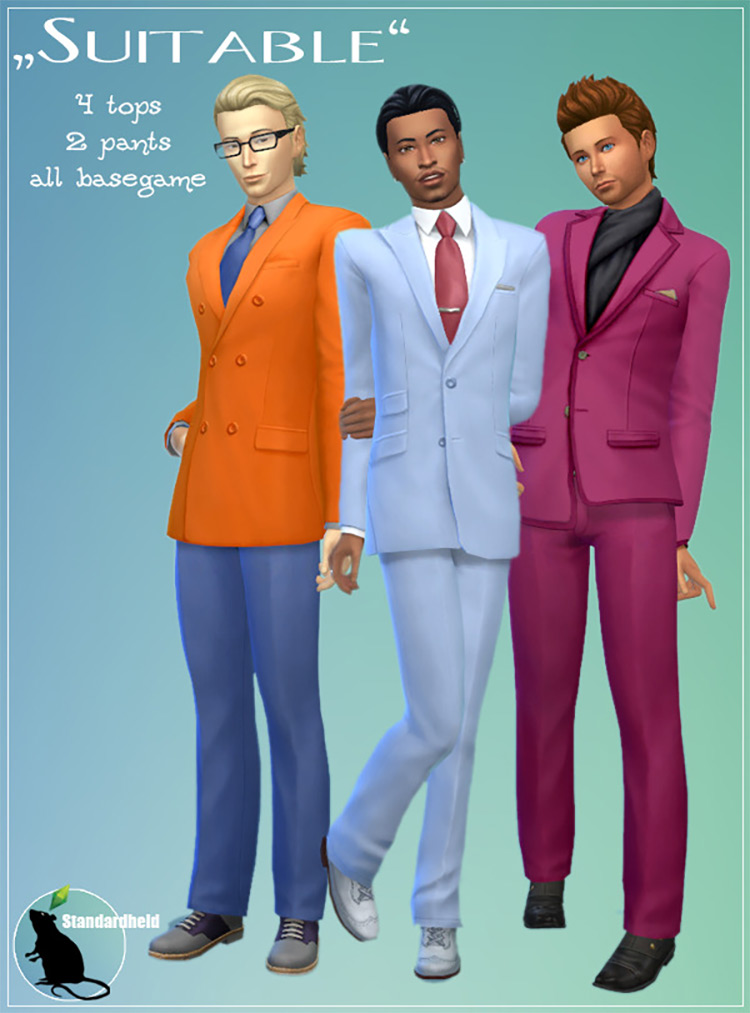 In case it hasn't come up enough, I must repeat… everything can always use more swatches.
This Simmer took the base game men's formal outfits and gave them dozens of new colors that you can mix and match as you please.
22.

Zeussim Pearl & Diamond Necklace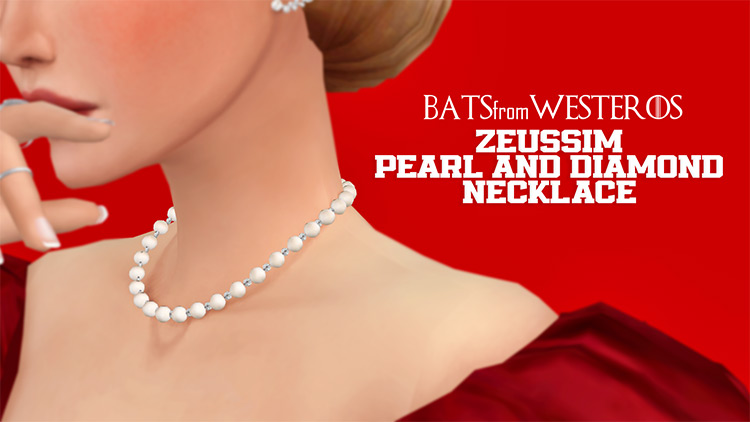 Accessories can make or break any outfit.
But pearls and diamonds are always a pretty safe choice.
BatsFromWesteros combined two of the most precious components in formal jewlery to make the breathtaking necklace you see here.
23.

Flower Girl Dress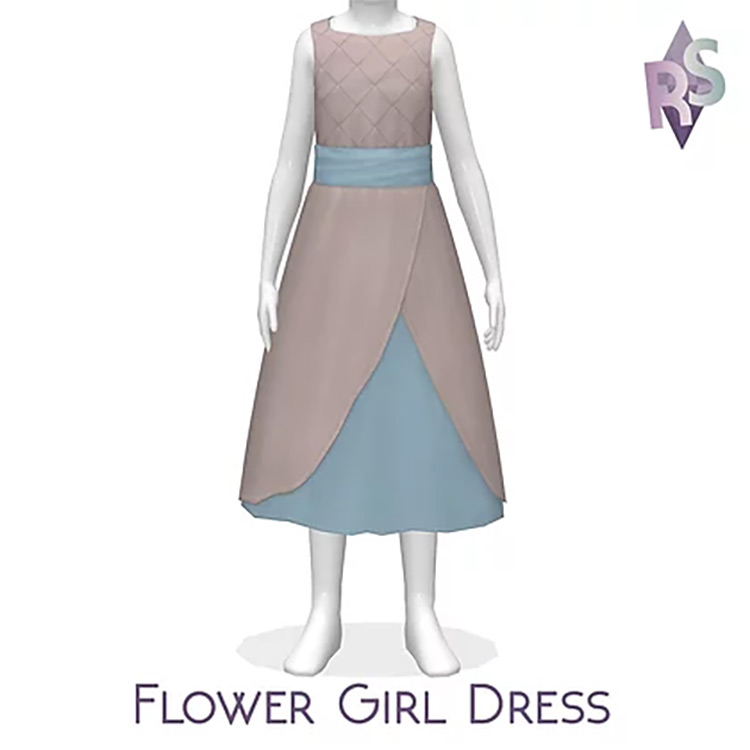 Okay, so this was specifically made for weddings, but shh! No one has to know.
This will be absolutely darling on any little girl, no matter the occasion.
The big bow in the back really pulls everything together.
24.

Satin Dress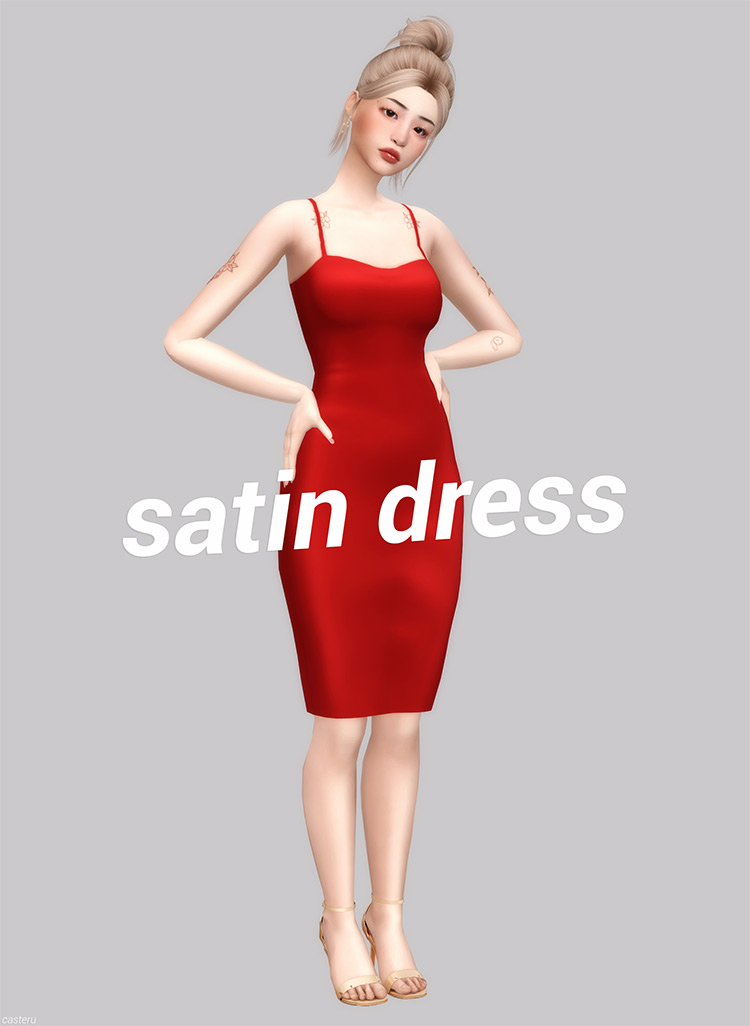 Just because something is basic, doesn't mean it's bad. Basics are the cornerstone of fashion, honestly.
Casteru's satin spaghetti strapped dress is a good low key option for any event or party.
25.

Niflheim Heels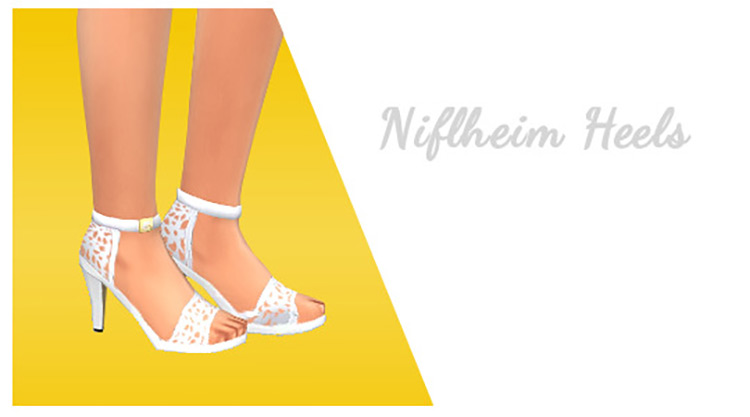 The ornate, lacy design on these heels really make them something special.
Any gown, skirt, or suit will look fantastic when paired with these. As for swatches, the color palette used will allow you all the freedom you could want.
26.

Ravenna Dress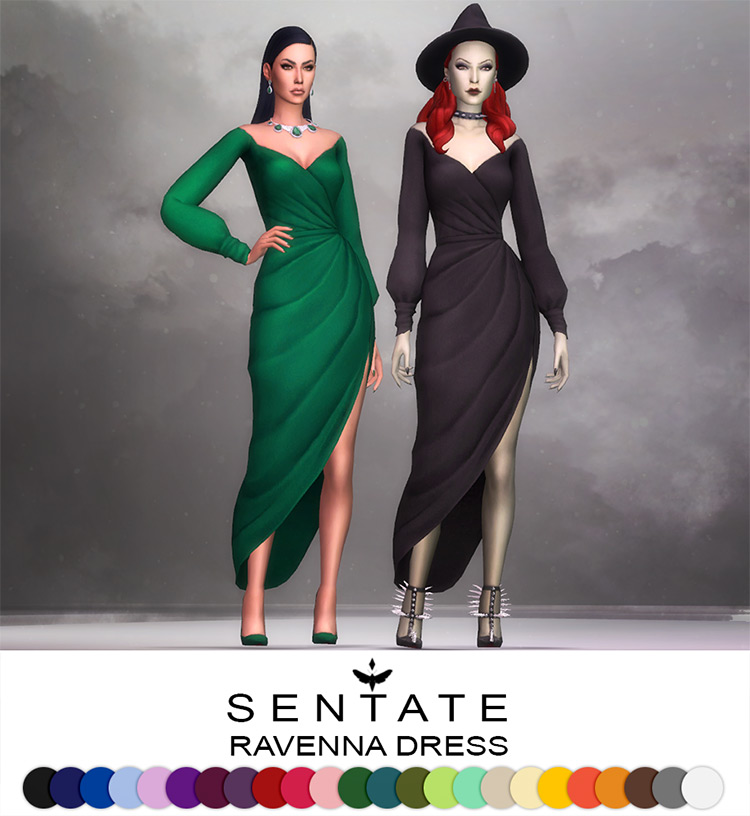 Symmetry isn't everything.
In fact, the way this dress is all gathered on one side is quite striking!
Throw in the poofy sleeves, and we've got everything necessary for a unique but gorgeous ensemble.
27.

Bow Tie for M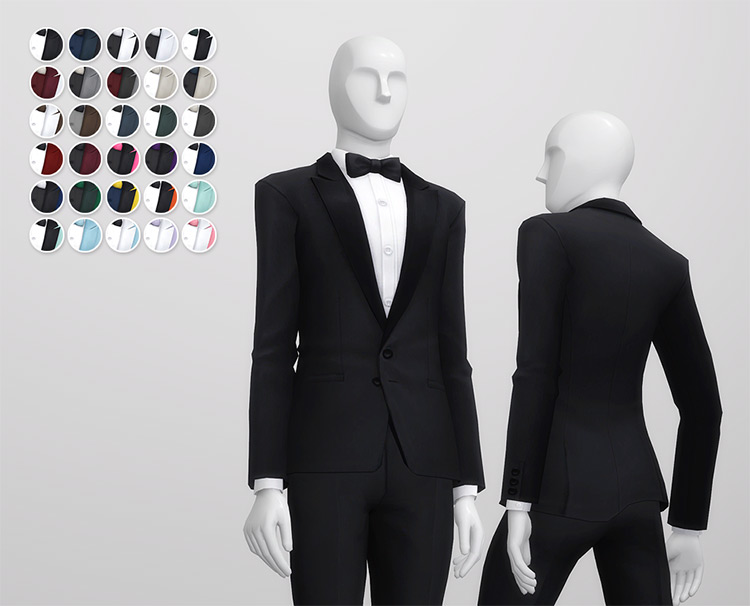 It's already pretty cool to have a separated suit jacket, so you can use it with whatever pants you want.
The true MVP here is the bow tie, though. That's such a handsome touch to any male formal attire, and here you have 30 variations.
28.

Modern Man Collection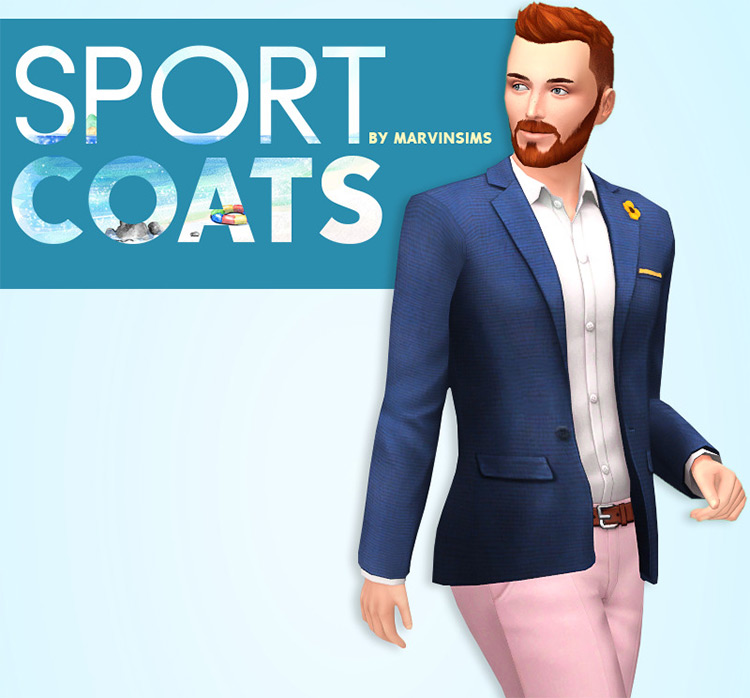 Most Sims are modern men, but does their wardrobe reflect that?
If you're ready for the guys to have some more trendy pieces, this collection has all they need to look dapper from head to toe.
29.

d'Orsay Flats Shoes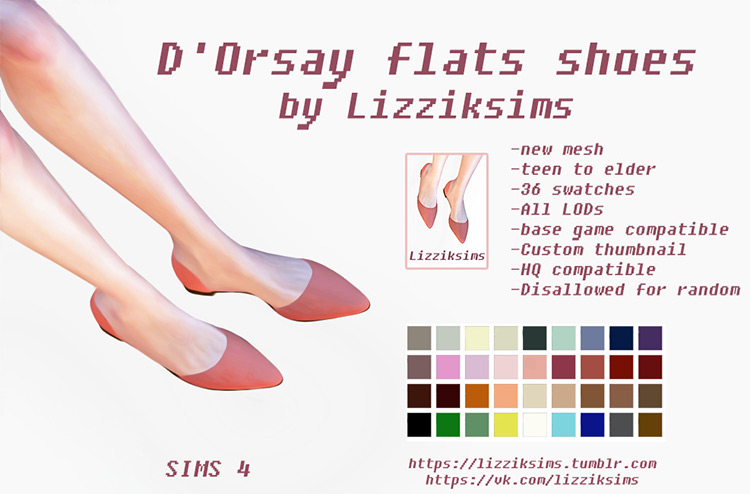 Formal footwear doesn't have to come in the form of heels.
Flats can be just as refined, as these ones prove.
The pointed toe is such a classic design, and it's never going out of style.
Plus we've got a whole list of flats for TS4 if you'd like even more CC options.
30.

McCartney Dress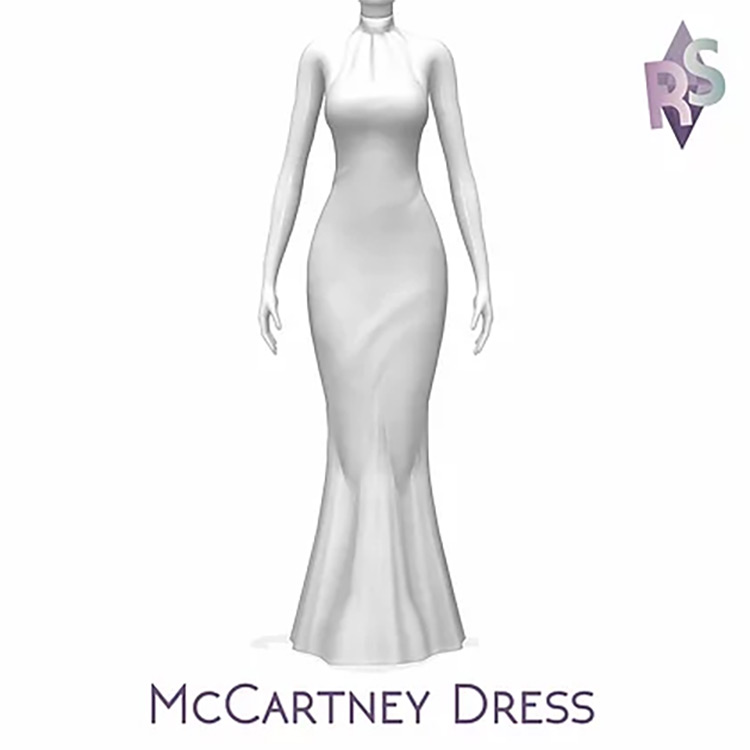 This CC's creator herself says this one is a bit risque, and that can't be a bad thing.
Inspired by Meghan Markle's own reception dress, this open-backed beauty is essential for whenever you want to put a youthful spin on your Sim's formalwear.
Shoutout to Renorasims for the brilliant design.
Browse:
Lists
Maxis Match
The Sims 4
Video Games