Sims 4 Maxis Match Summer CC (Guys + Girls)
This post may contain affiliate links. If you buy something we may get a small commission at no extra cost to you. (Learn more).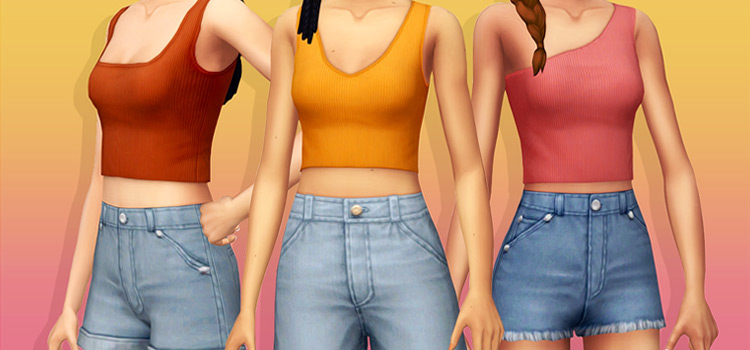 Even if you just have the base game, it seems like your Sims are in some sort of ambiguous eternal summer.
Everything is green and lush. And the sun is guaranteed to always be shining bright.
But what really defines this time of year?
Your wardrobe, of course!
1.

Kumikya's Summer Basics Collection
This assortment of tank tops and denim shorts is just what your Sims need to kick off the summer.
Each top has something a little different going on with the straps and all 3 of the jean shorts included here are super flattering.
You'll love to use them again and again.
2.

Casual Baggy Shorts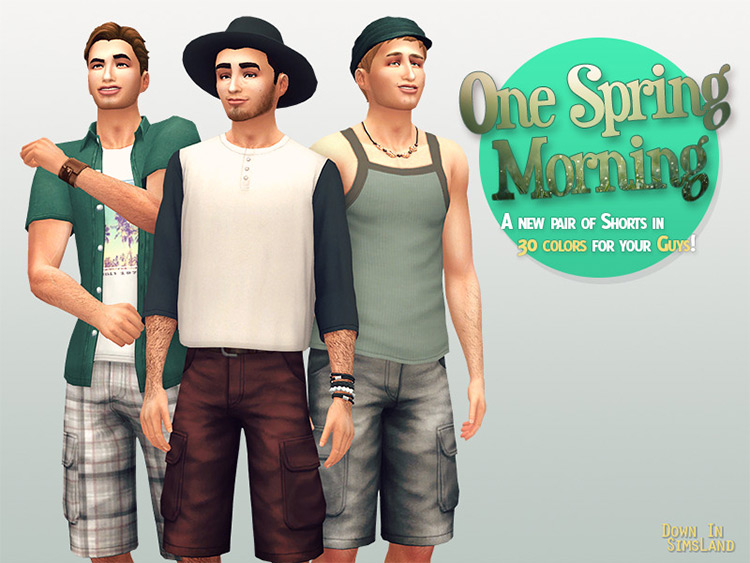 Ah, cargo shorts.
These have been the go-to men's apparel since the '90s and they're not going anywhere.
Not all clothes can transcend the boundaries of age, but these are great for all stages of life.
Teens, dads, and elders alike know the allure of a nice pair of baggy shorts, and now so can your Sims.
3.

Bucket Sun Conversion for Child
This familiar bucket hat is just a straightforward conversion of the toddler hat from the base game.
Everything is the same, even the swatches, but now big kids can wear it too.
4.

Viera Overalls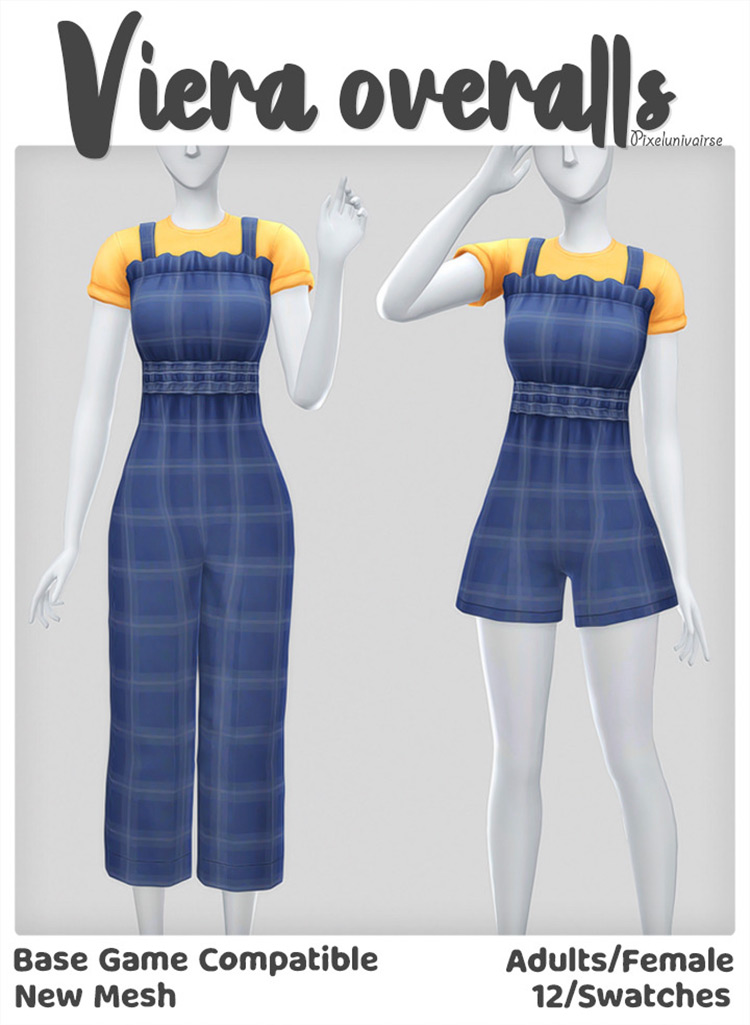 Few outfits are as powerful as overalls.
Many people may just assume that's something farmers wear, but Simmers have proved over and over how cute they can be!
Take these ones from Pixelunivairse as an example.
They've got some simple ruffles at the top a slight cinching at the middle, but other than that the simplicity is what makes these so lovely.
5.

Oceane Swimsuit
This chic and modern one-piece is a fresh take on Sim's swimwear.
It comes in 25 swatches that include not only more than a dozen solid colors, but 5 patterns as well.
There's a small decorative bow on the back, and that's it as far as frills.
Your Sim will be served well in the pool, at the beach, and whatever they get up to after they're done swimming.
6.

Toddler Flip Flops
Toddlers deserve more shoes because they're so fun, especially in CAS!
They can't scream, cry, or make messes in CAS.
These teensy flip flops are adorable and all your Sim's tot needs for the summer. With 55 swatches, putting together outfits should be a breeze.
7.

HilliHilli Shirt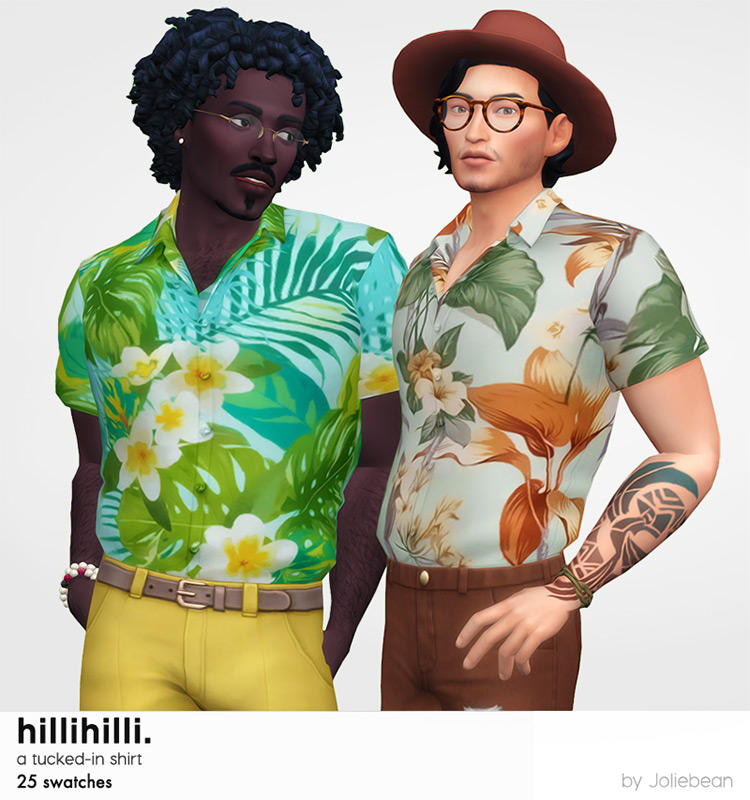 Aloha!
The vivid flower prints on these shirts are sure to put you in the summer mood.
They just look like they're made for good times, you know? All your Sim needs is one of these tucked button-ups and they'll be ready for cookouts and backyard parties that last all day.
8.

Dawn Rugged Sandals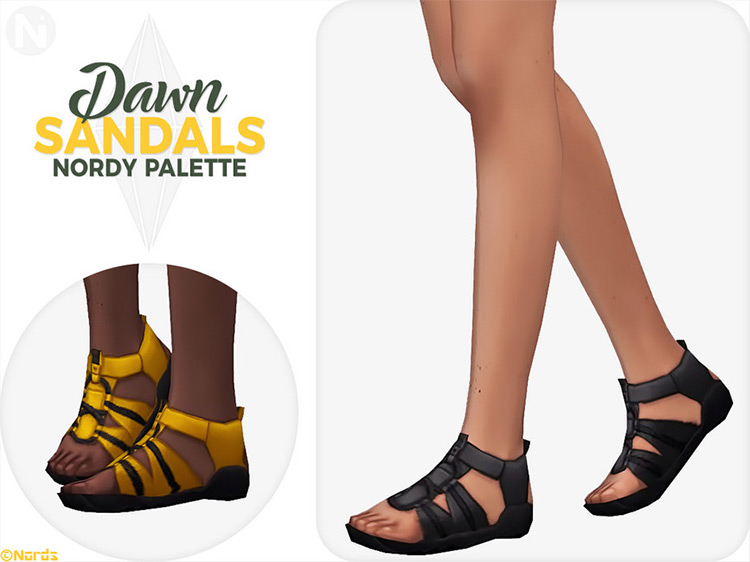 Grown-up Sims can wear flip flops too, of course.
But for some activities, footwear that's a little more durable may be in order.
Any Sim who likes hiking, fishing, camping, or any of that other outdoorsy stuff definitely needs these. The open-toe design makes them seem less suffocating than sneakers or boots.
9.

Simlish Graphic Tees
As far as everyday outfits go, you can't beat a good old-fashioned graphic tee.
What's really awesome here is how the creator based several swatches on in-game worlds your Sims already know and love.
10.

Toddler Tank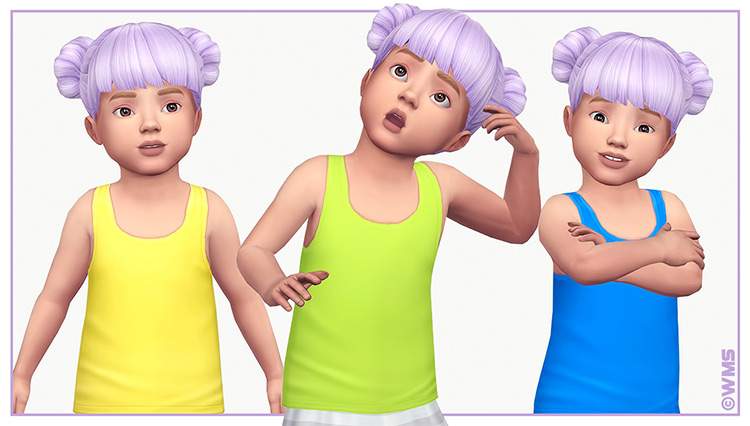 Thanks to WildlyMinatureSandwich, you'll have plenty more tank tops for your toddlers now.
A simple cotton design offers lots of variety, and the creator's own color palette definitely delivers on that front.
11.

Hibiscus Flower Hair Accessory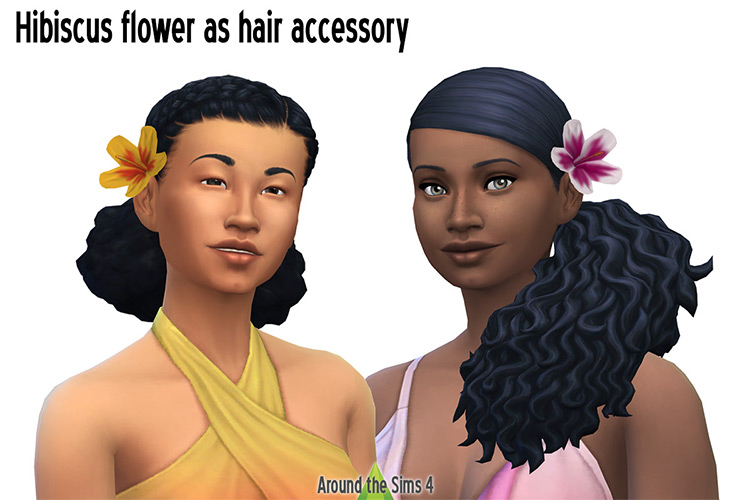 Nothing says "it's summer, baby" quite like a pretty flower.
This brilliant accessory is a perfect way to top off any outfit.
You can even choose from left or right options, and they look very natural either way. The 6 swatches look like they've been freshly plucked from the vine.
12.

Mr & Mrs Summer Swimwear Set
Water is a huge part of what makes Summer fun.
What's not fun is being stuck with an ugly or unflattering swimsuit, though.
Putting together a simple, colorful, and fun ensemble will be easier than ever with this Mr & Mrs set from Joliebean.
13.

Luana Dress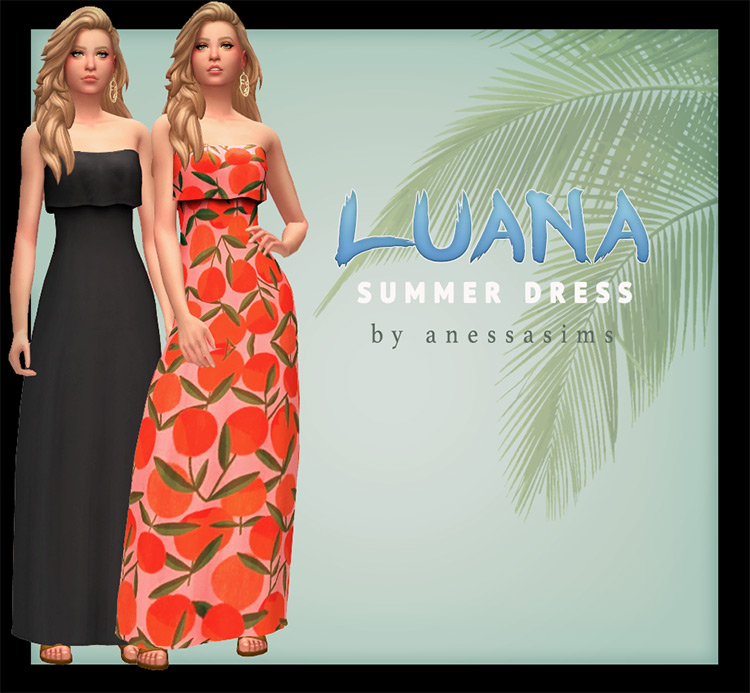 You won't find a better time of year to rock a maxi dress than summer.
This strapless, ruffled look is a great option.
With 11 solid swatches and 16 patterns, you should have no problem finding one that'll suit your tastes.
14.

O Summer, Where Art Thou? Shorts
Trends may come and go, and they do so very quickly, but denim ain't going anywhere.
Puderoasims keeps it simple with these jorts which have rolled cuffs and some typical details like stitching and a tag.
15.

Summer Jumpsuit Collection
For years, jumpsuits were seen as a product of their time, the '70s… and then people discovered how awesome they are.
And now they're popular all over again!
Saurus included 25 options for this one, and while there are plenty of neutral solid tones, the funky boho patterns are pretty awesome.
16.

Summer Tank V2
Whatever this style is called, when the top is basically a t-shirt with no sleeves, it's a fantastic way to expand your male Sim's wardrobe.
A nice touch with this version is that it'll tuck into any bottoms your Sim has on, which makes for a particularly well-put-together but still casual ensemble.
17.

Katy Pants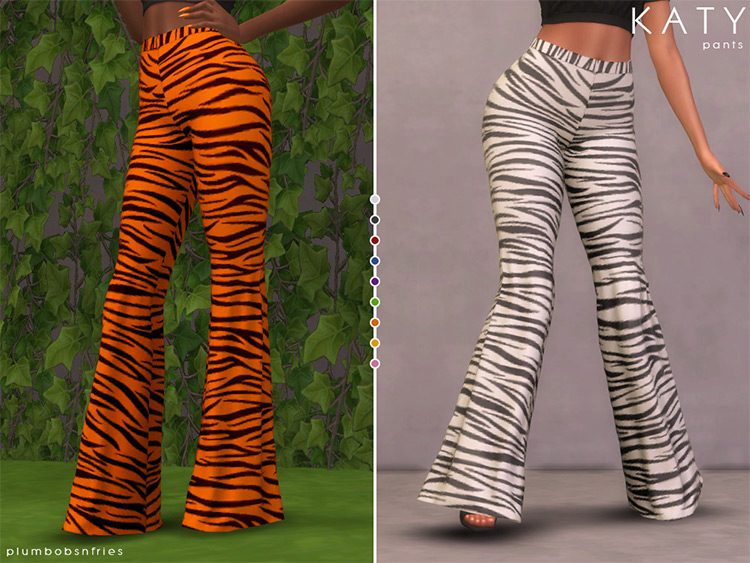 Now these may not automatically scream "summer"… but without CC, there are no pants enabled for hot weather.
So I'll take 'em!
The flare legs are a nod to boho tastes while the animal print swatches are a more modern twist.
18.

Luna Tanktop
Simple changes to tank tops can completely change them, for better or worse. Definitely for the better in this case!
Mysterious Dane doesn't get too crazy here. The straps have a lacy, floral design within them.
19.

Bermuda Shorts
Bermuda's knee-length, relaxed fit never fails to be a cornerstone of men's fashion.
With these, you'll have two options.
You can stick to the classics and give your Sims a neat & clean look with the flawless shorts, or go with the torn and distressed version.
Both have a great denim texture and come in 23 swatches.
20.

Selvadorada Souvenir T-Shirts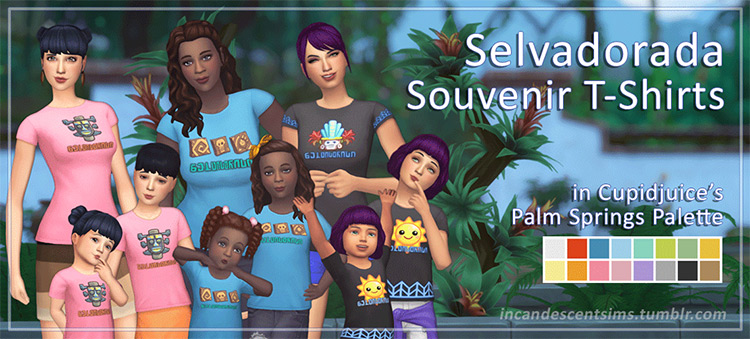 Even if you don't have the Jungle Adventure pack which will enable you to send your Sims on a tropical vacation, you can at least simulate their adventures with this tee.
These base game compatible shirts, available for all ages and genders, come in bright colors and feature various graphics on the front.
21.

Life Jackets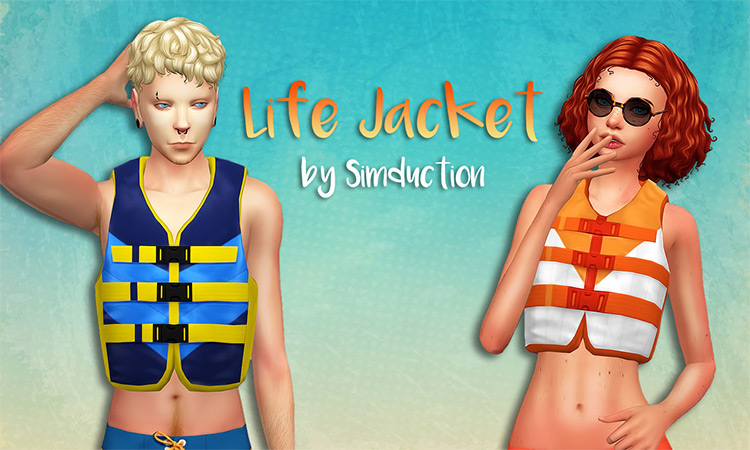 It's just the game's configuration that won't allow your Sims to go swimming in the plentiful waterways of Willow Creek or go boating in Brindleton Bay.
Still, you can at least create the illusion of your Sim's fun summer activities with these base game life jackets.
They were converted straight from The Sims 3 so they look fantastic.
22.

Aloha Swimming Trunks (Guys)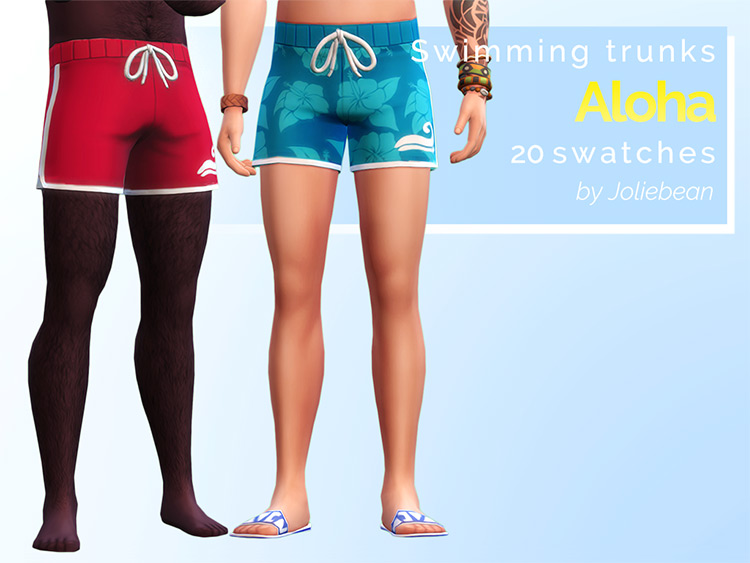 While women's swimwear outfits are objectively more fun to put together, your guy Sims deserve some options too.
These Maxis Match male swim trunks are shorter than most of the knee-length options in the game – and arguably more flattering for it.
23.

Plumage T-Shirt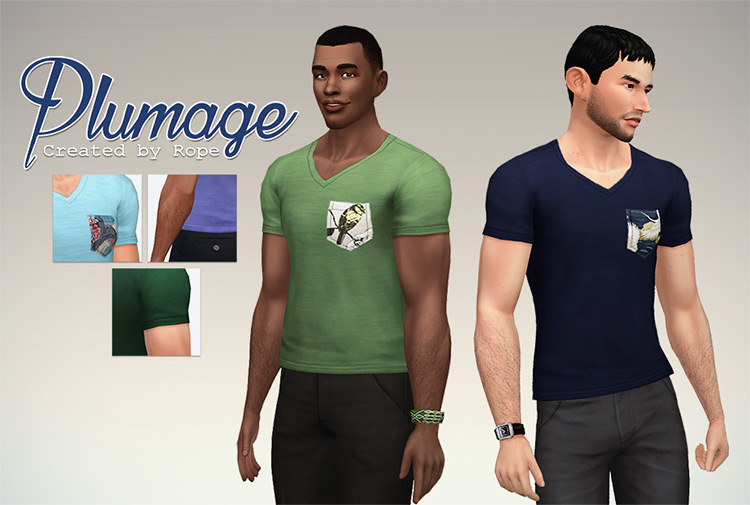 Nobody wants to cycle through the same two shirts their whole life, and I can't stand to make one more Sim whose every day outfit is that wolf tee!
Rope made these plain, solid color shirts with a twist.
Each pocket has a different floral pattern!
They really stand out and this is a great way to switch things up without getting too crazy.
24.

Timothy Sunglasses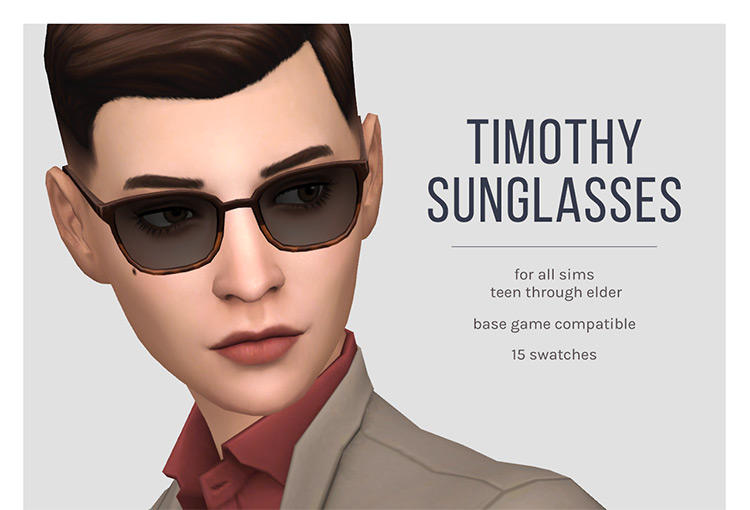 These timeless glasses not only are available in almost a dozen colors for the frames, but the lenses are transparent.
You can throw these in as part of your Sim's outfit without a second thought.
25.

Lazy Heart Shorts (Girls)
OK, I have to say these little heart emblems are such an adorable way to incorporate some color into your Sim's denim-based outfit.
In some swatches, they come in solid colors, and there are a few multicolored options as well.
26.

SUVITUULI Summer Dress + Earrings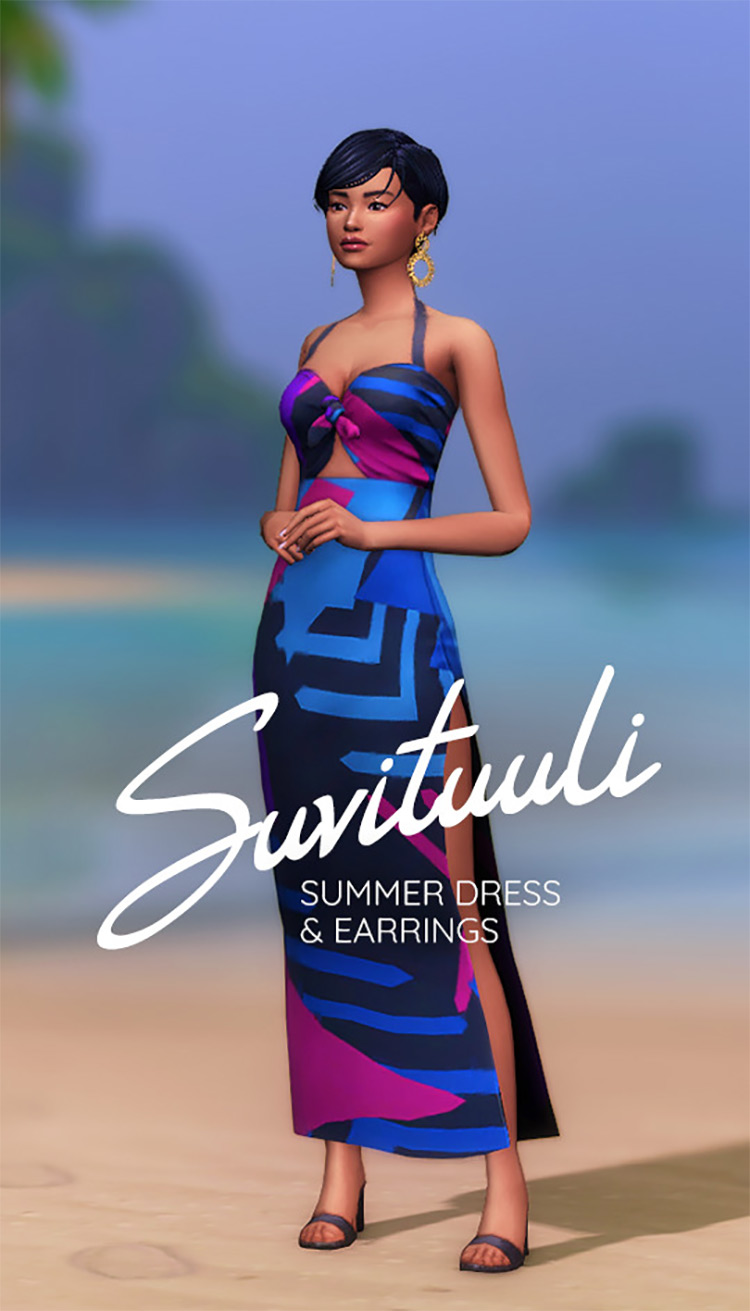 Here's something gorgeous and undeniably summery. It's the ideal maxi dress, long and flowing.
The dangly earrings that are paired with it are so cute and compliment it perfectly.
And everything feels Maxis Match, of course.
27.

Summer Breeze Shorts (Girls)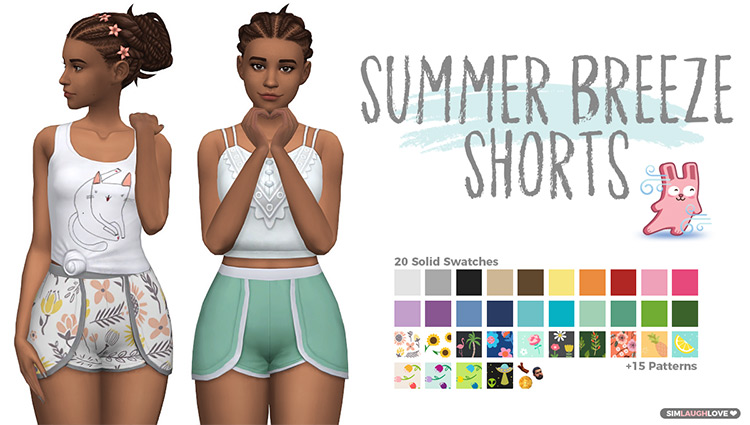 CC creator, SimLaughLove included over 50 swatches here.
And each one is really something special.
Even the basic solid colors offer things we don't always get, like shades of mint green and teal. The patterns will blow your mind!
28.

Denim Skirts Recolor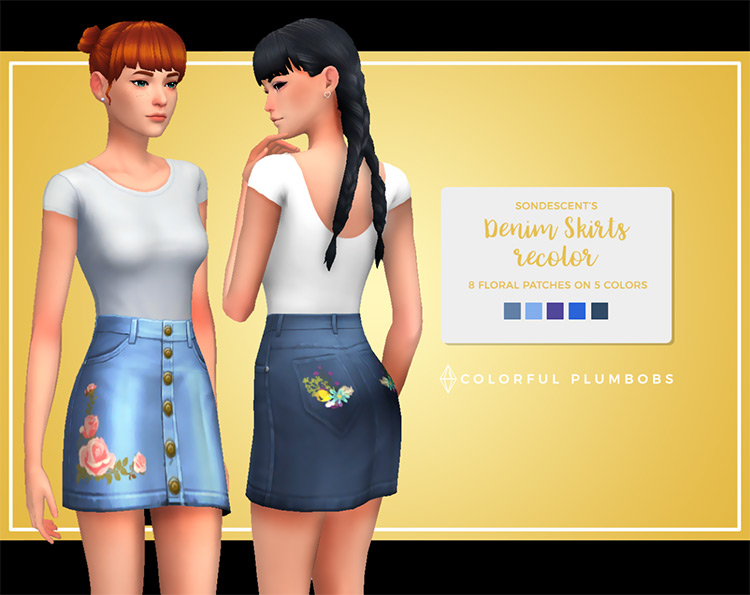 This skirt was released in four plain swatches from Sondescent, but then Colorful Plumbobs kicked things up a notch by coming up with 8 new floral designs.
They look incredible against the denim, and this is a must-have for flower lovers.
29.

Love Me Not Top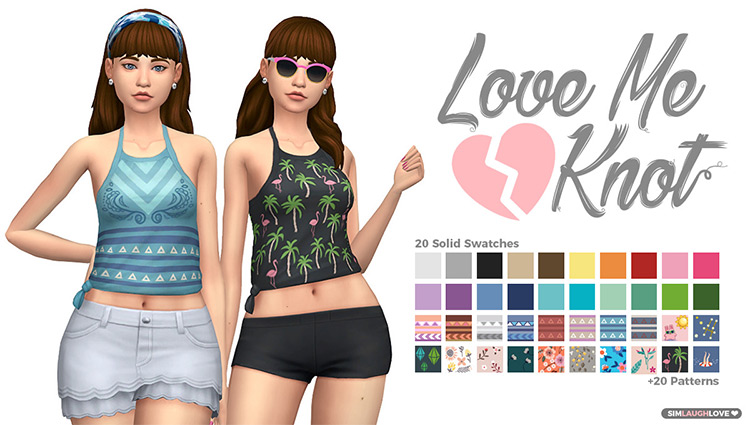 Here's another great release from SimLaughLove.
If you like your Sim's clothes to have a natural appearance, then you're sure to adore the look of this halter top.
30.

Primo Sandals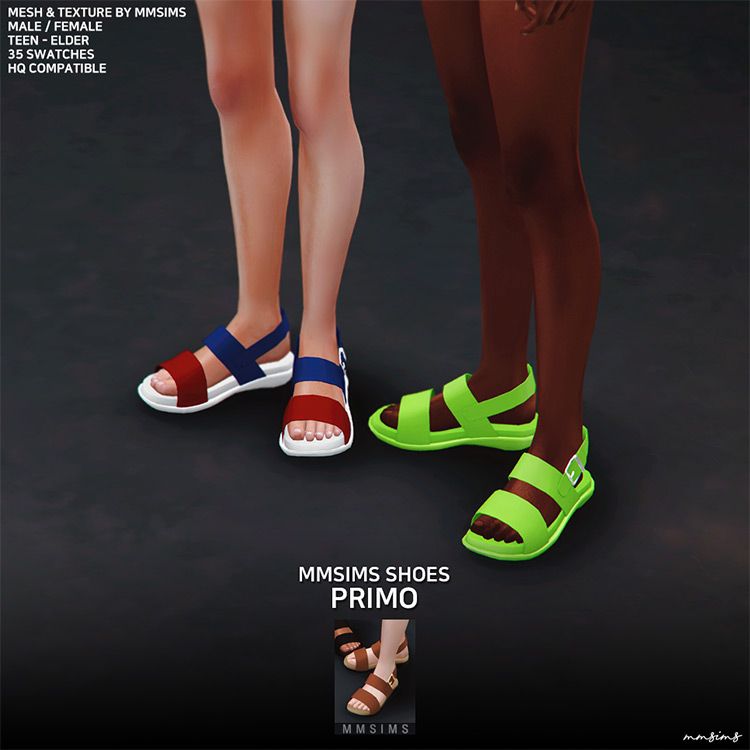 Lucky for us, all Sim's feet look the same so we don't have to worry about seeing anything unsightly.
These strapped Primo Sandals are super versatile, and there's definitely something here for everyone.
31.

Take a Bow Wedges
For sandals that are a little more elegant, these will do the trick.
The wicker texture and cute bow are a lovely combination!
And if you want even more wedge heels for your Sims then we've got you covered.
32.

Men's Swim Shorts (Spa Day Required)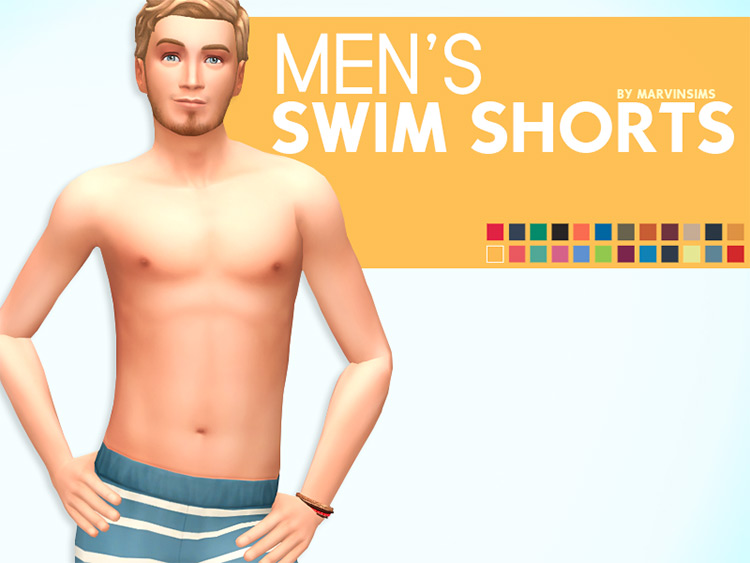 These short-shorts will be so cute on any guy!
They're just the right length, plus all 24 swatches are really unique.
Absolutely a must-try addition to your CC wardrobe.
33.

Lollipop Crop Top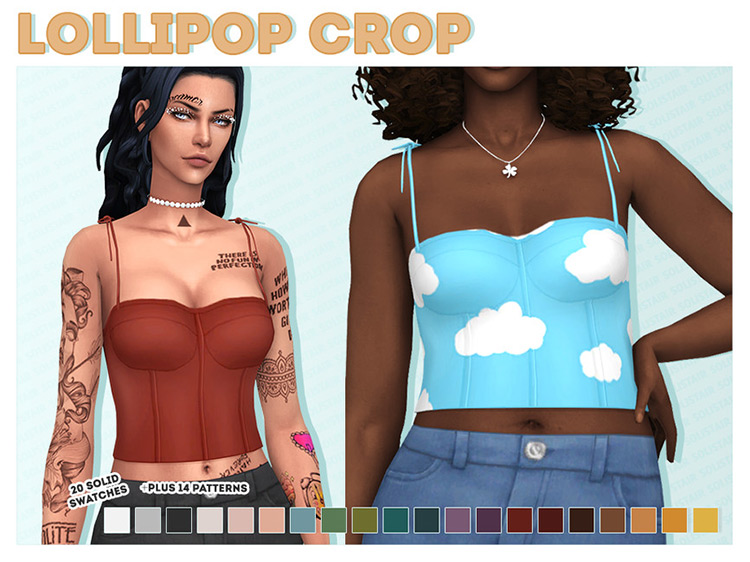 Thin straps, cropped, and 34 swatches.
You're already sold, right?
Solistair's got one of the best summer tops around right here.
34.

Summer Dress by MiCat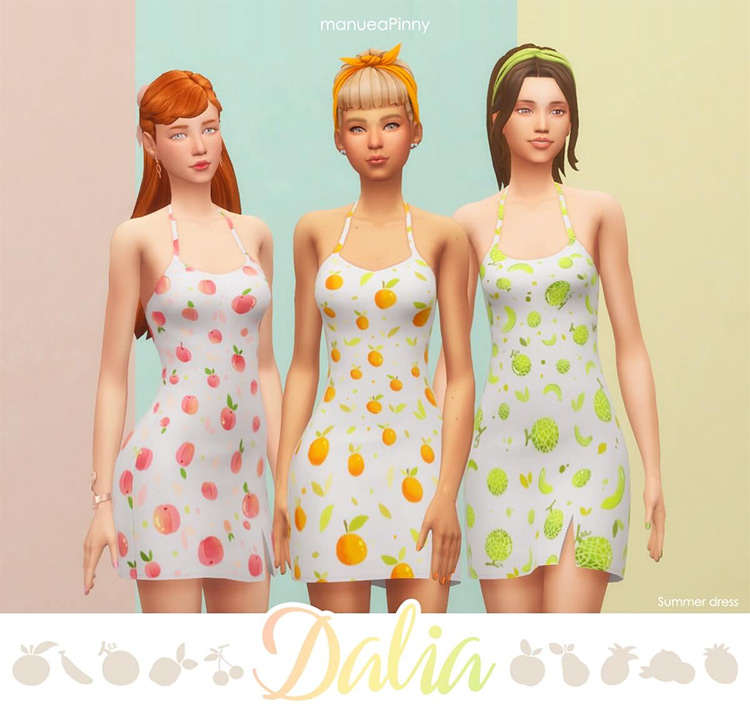 This one was specifically made with summer in mind, and the vibes just radiate right through the screen!
It's short in length and the pastel fruit patterns are adorable.
35.

Summer Fling Flops
Flip flops are easy to customize and these are really cool.
In addition to bold new colors, the straps also have a beaded design.
They may not be for everyone, but I think your female Sims will want a pair.
36.

Loose Tank Tops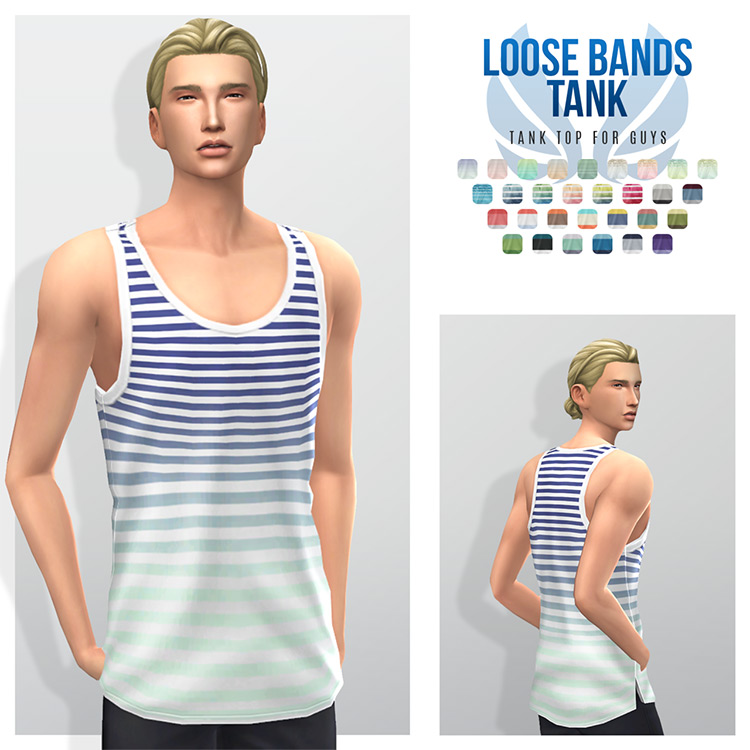 CC creator Peacemaker's two male tank tops are very high quality.
And fully Maxis Match to boot.
From the shading and texture to the great color options, these are flawless.
37.

Summer Stroll Pack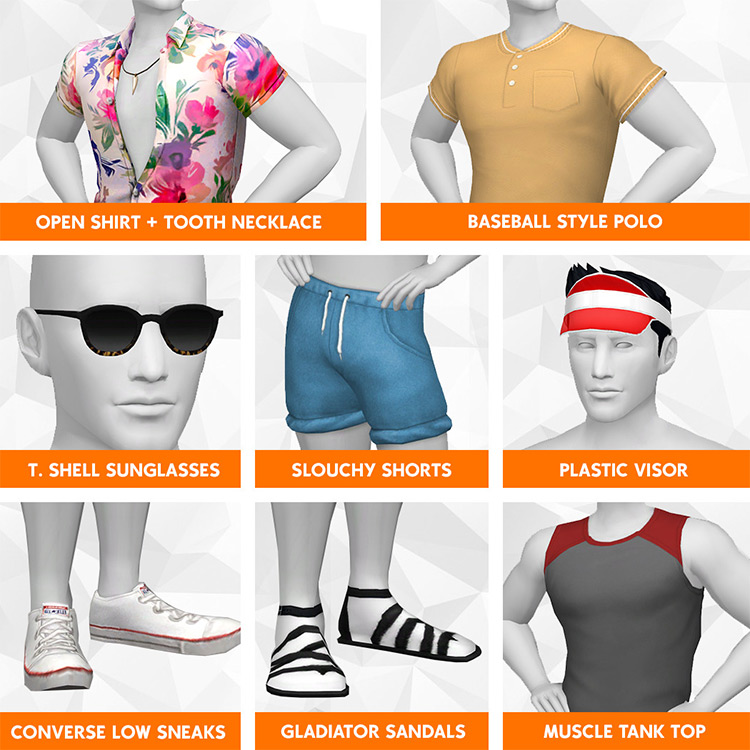 Luumia and Synth have got a ton of content in this fanmade pack.
It's got everything you could want to give your male Sims.
Some better outfits, including not only clothes, but hats and accessories too.
38.

Summer Dresses Collection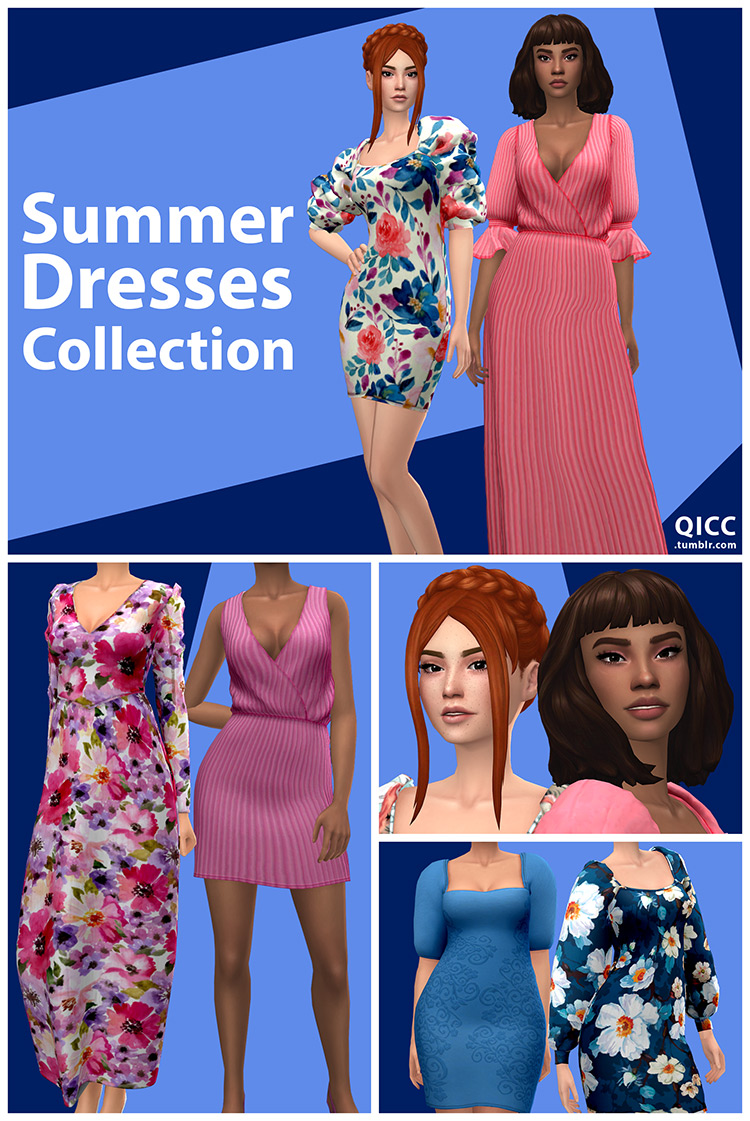 All of your Sim's dress needs can be satisfied by this collection.
The 6 dresses here are perfect for summer – and not just because of all the pretty swatches, but the various styles as well.
39.

Mid-Length Shorts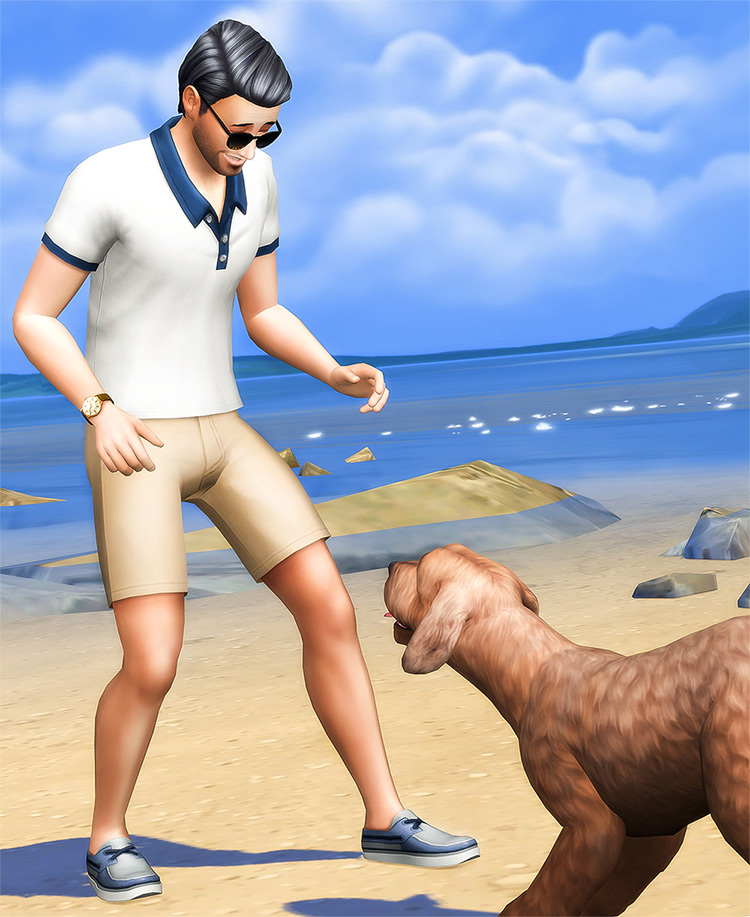 MarvinSims edited EA's shorts to create something more tailored and flattering.
The mid-thigh length really looks great, and this is another example of some shorts that are good for guys of all ages.
40.

Tie-Dye Tank (Seasons Required)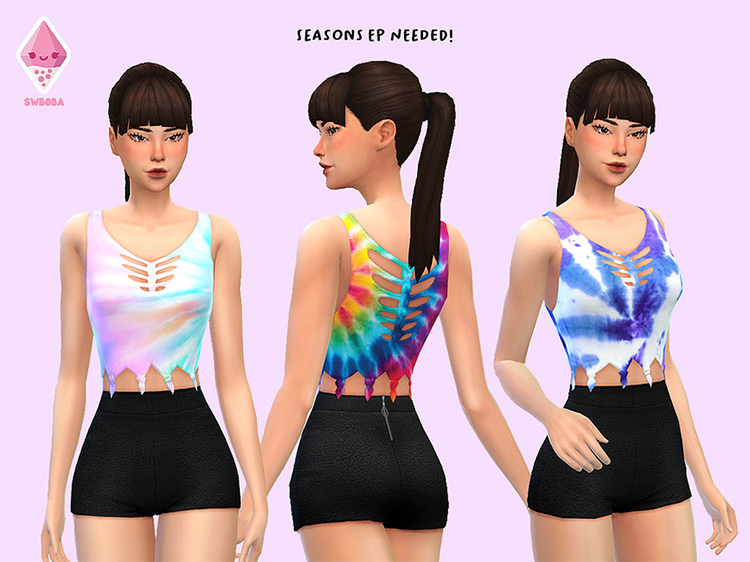 The striking blended patterns of tie-dye are just what this tank top from Seasons needed.
I mean, these colors do the little knotted parts justice for sure.
41.

Prepped Shorts for Men
We all know the preppy look when we see it, and these shorts from Luumia sum it up quite well.
Clean, neat, and…preppy.
There's no better way to put it! Great for any guys who can rock this look.
42.

Forever Summer Collection (Guys)
You'll find several trendy pieces in this little collection from Luumia.
A button-up, twill shorts, and bracelets allow plenty of opportunities for mixing and matching.
43.

Wear How You Want Cap
All the base game hat needed was some tweaking, and now it'll look a lot more natural.
These can be worn three different ways, and are available to both masculine and feminine Sims.
44.

Madlen Alvaro Shoes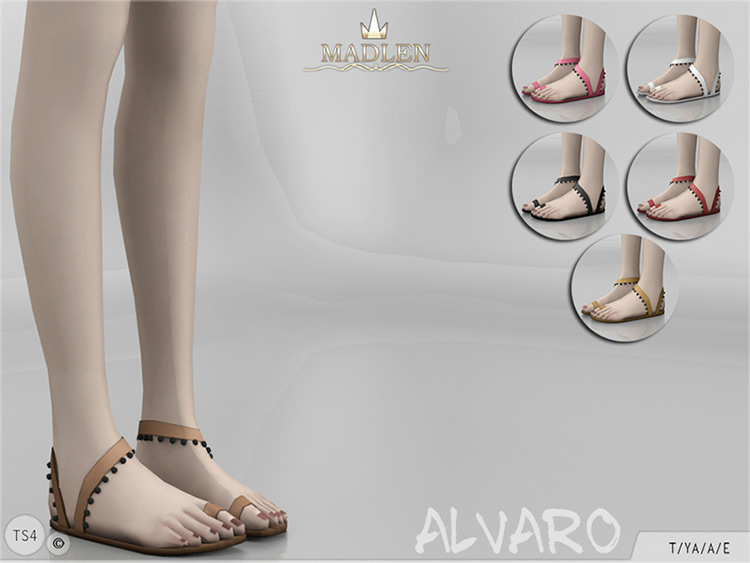 Madlen's snazzy sandals are basic but stylish, thanks to the thin straps and flat soles.
Tan, pink, black, and white are all great summer colors and those are the swatches available.
45.

Plastic Palm Earrings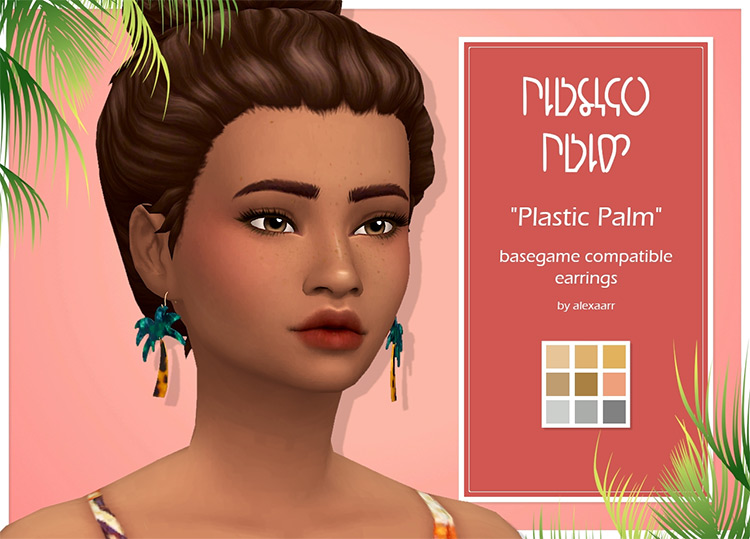 The tropical beachy feel you can get from palm trees is perfect to accessorize a summer outfit.
These custom earrings have a really cool pixelated design, and come in 9 variations.
Toss on a pair and get ready for beachy summer vibes.
Browse:
Lists
Maxis Match
The Sims 4
Video Games