Sims 4 Maxis Match Wedding Dress CC (All Free)
This post may contain affiliate links. If you buy something we may get a small commission at no extra cost to you. (Learn more).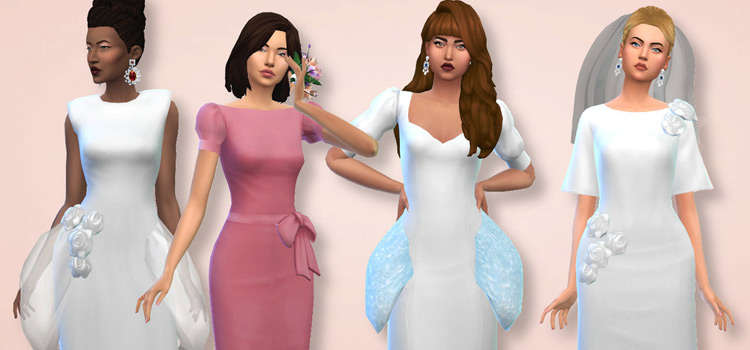 Preparing a wedding (even if it's only a Sim wedding) can be almost as stressful as it is fun.
One of the worst things that can happen is making the mistake of picking accessories, clothes, and decorations that don't match.
Sure, they may look great on their own. But what about when they're all part of the same wedding service together?
In The Sims 4, this problem is compounded by the fact that CC styles can vary wildly.
It's a no-brainer that default dresses aren't going to cut it. But when CC meshes and textures look totally incompatible, it can feel like there's nowhere to turn.
Thankfully some creators know the struggle.
They're Simmers too, after all!
These Maxis match wedding dresses are sure to lift the weight off of your Sim wedding planning.
1.

Queen of Lace Wedding Dress
The Queen of Lace is a dress grabbed straight from The Sims 3 and converted to The Sims 4, so you can be sure that it will fit in with the Sims style just fine.
Don't be discouraged by the name, though.
It's no lace monster – in fact, it uses lace quite conservatively to add a pop of interest around the yoke, shoulders, and back.
The design is pretty classic for a Western wedding dress, but it's available in 20 recolors so you can switch things up if that's more your style.
2.

Chamomile Ribbon Lace Dress
When you first see this dress, "wedding ceremonies" probably aren't what comes to mind first.
I mean, 7 of the 25 swatches have colorful patterns in them.
The horror!
But even if you're not looking to break the mold quite that much, the other 18 swatches are solid colors, including a pure white option.
This CC basically lets you pick how far around the bend you want to go- do you want to still keep things a little classic, or do you want Simcity to be talking about your sim's wedding for the next several years?
3.

Simple Yet Elegant Wedding Dress
If your life motto is "simple is better", then this dress is the stuff of dreams.
It's important not to confuse simple with plain or boring, because this CC is far from boring.
The see-through shoulders and back add some serious flair, while the soft pastels that this dress comes in do the rest.
And let's not forget that simple dresses will let your sim and their beauty be the star of the show!
You'll need the City Living expansion pack to make use of this dress, since it uses a mesh from there. But if you've got that, then you're good to go.
4.

White Clover Embroidered Mini Dress
Modern is the middle name of the White Clover Embroidered Mini Dress – or at least it would be if dresses had surnames.
It's shorter than most wedding dresses, but that just adds an air of youth and playfulness.
It also makes it way easier to move around in, which is an underrated aspect of wedding attire.
If you weren't already sold, then I'd like to inform you that this dress has 10 swatches.
And they aren't all whites, off-whites, or pastels this time.
In summary, this CC is a contemporary wonder through and through!
5.

Children of the Sea Beach Wedding CC
Beach weddings aren't for everyone.
Sand is coarse, irritating, and it gets everywhere. The wind isn't much better, and you'd be lucky not to have to pay a pretty penny for a quiet spot on the beach to hold your ceremony.
Regardless of their drawbacks, many people still consider them their dream wedding.
And in The Sims 4 where sand, wind, and location rental costs aren't issues?
Even better.
The Children of the Sea is a CC pack of 6 adult dresses, plus one for a little girl.
It comes with tons of swatches and some bonus jewelry, so you'll have clothing for the lucky lady and a whole troop of bridesmaids.
6.

1920s Style Wedding Dress
There's something timelessly appealing about wearing vintage wedding dresses.
Although what counts as vintage may change with the ages, it will always be a subtle and classy way to stand out without, y'know, standing out too much.
This CC is simplistic, but it still gets the 20s look down to a T by using just the right cuts and embellishments – and a long, low-volume skirt.
It doesn't have any extra swatches, which is to be expected for a dress like this.
I mean, it wouldn't really feel like a 1920s wedding dress anymore if it were in vibrant peacock colors!
7.

Beautiful Layers Dress
Your wedding is one of the few days that you have a real excuse to dress up like a princess.
Although I'd like to think you never need an excuse to dress up, it's definitely easier to avoid weird looks if you save the giant, pink, multi-layered, rose and lace-laden dress for your wedding day.
But once that day comes, this dress will come flying out of the closet!
The pink part is just a suggestion, by the way – this CC comes in 27 fun swatches so you can experiment to your heart's content.
8.

Peasant Wedding Dress
If you're looking for Maxis match wedding dresses for your historical Sim game, then your choices are already slim.
And if you want your Sim to look a little less well-off, then your choices shrink even further.
It makes sense that most wedding dresses are made to look glamorous, but that doesn't make the search any less frustrating!
This Peasant Wedding Dress is exactly what it sounds like: a wedding dress for all those peasants of yore who definitely didn't have the money to afford modern sequins and fancy fabric designs.
Despite its intended use, it's actually a nice dress regardless.
So don't be afraid to use it in non-peasant circumstances if you want.
9.

Rustic Romance Stuff
Does the thought of having to search for each wedding element piece by piece terrify you?
Are you in love with soft country aesthetics?
Are you a cottagecore lesbian??
Disregarding the answer to that last question, Rustic Romance Stuff is the ideal CC pack for anyone who wants to add some rustic charm to their wedding.
With over 70 items, there's no need to shop around for different CC to mishmash together.
And yes, it includes multiple country-style wedding dresses (and tuxedos and bridesmaid dresses and accessories) so your sim will be looking their cottagecore best.
10.

Monday & Tuesday Bridal Gowns
Monday and Tuesday are the names of two separate dresses, and they're both drop dead gorgeous.
No matter how much you hate Monday (the weekday), there's no denying that Monday (the bridal gown) is worth all the positive feelings.
It's the same story with Tuesday.
Tuesday (the weekday) might feel like a slightly less memorable version of Monday. But the dress version doesn't take second place to its wedding gown sister.
This CC creator has made equally classy and elegant wedding dresses for every day of the week – but these two are some of the best from their collection.
But you can find even more of their work with this Tumblr tag.
Browse:
Lists
Maxis Match
The Sims 4
Video Games