Maxis Match Prom Dress CC For The Sims 4
This post may contain affiliate links. If you buy something we may get a small commission at no extra cost to you. (Learn more).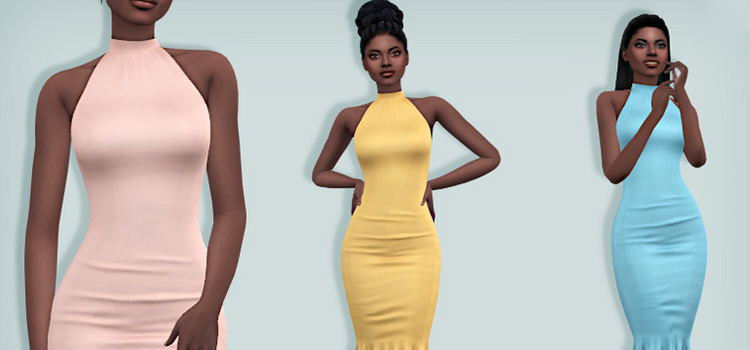 If I could have chosen one little thing for Sims 4 to keep from the gameplay of Sims 3, it would be prom.
I loved the process of having my awkward teenage sims ask someone out, load up into a limo, win prom king or queen, and dance the night away with someone special.
Sometimes they met the love of their life. Sometimes they got rejected and got into a fight.
C'est la vie.
While The Sims 4 doesn't technically have a prom, there are plenty of great prom night mods available for your Sim to have the night of their life!
But what to wear!?
Luckily there are loads of custom options, ranging from sweet and innocent, to sultry and regal. And the Maxis match prom dresses below are sure to turn heads & make some lasting memories!
1.

Animal Crossing – Mermaid Princess Gown
An Animal Crossing crossover dress?
Yes, please!
This dress was too fun not to mention.
This pearl belted gown is perfect for your artsy or mermaid sims prom. I love how bright the colors are, and the easy to match pearl accent is just the cherry on top.
Your sim will certainly be turning heads, maybe even Pascal's!
2.

Amber Dress v2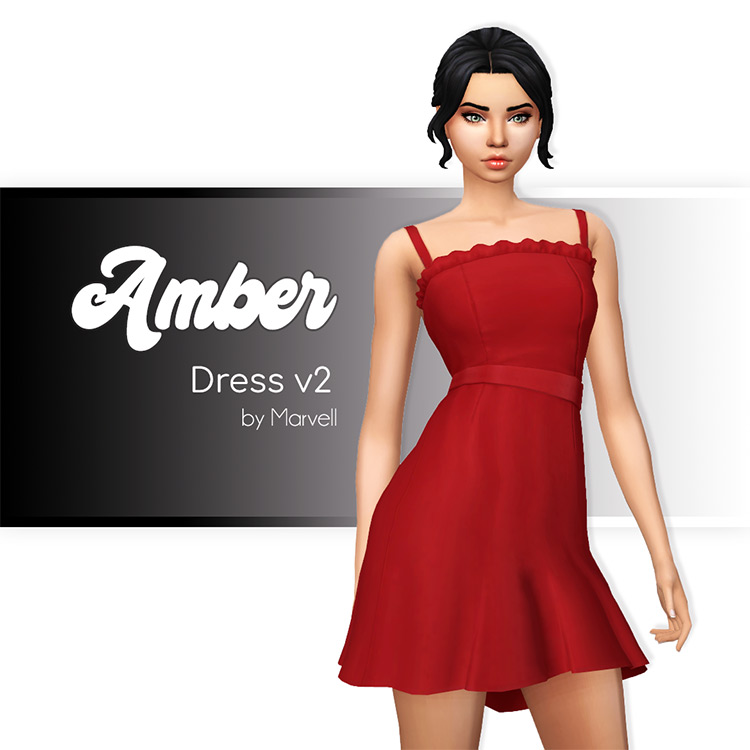 This super cute dress comes with twenty-five swatches, from cute summer tones to rich fall colors.
Between the length and the thin straps, it's the perfect look for an outdoor summer prom.
My absolute favorite feature is how flexible this dress is.
It's effortlessly classy, and can be dressed up with some killer heels, or dressed down for the beach with some flats, a cute sunhat, and some huge sunglasses.
3.

Kira's Gown
Corsets are back, baby!
Ever since the show Bridgerton came out, I feel like I've been seeing this style of structured corset top everywhere. Especially in beautiful gowns like this!
This bold dress is a great way to have your sim stand out. Plus it has the perfect decolletage for a sparkly statement necklace.
4.

Maggie Gown
This is such a timeless look.
Sleek and just alluring enough to feel confident and inviting.
A unique strap design helps give this dress the "oomph" that makes it prom material.
We all want our Sims to stand out, don't we?
Between the distinctive straps and the thigh high slit, this gown is a total knockout. I've also used this chic look for other formal events like attending weddings and holiday dinners.
5.

S4 Bloom Gown #1
So this is a totally different style than the last few gowns – it's just as elegant, but almost whimsical and sweet instead of sultry.
Not to mention the beautiful ombré effect!
What I love most about this gown is the Roman vibe, very classy without having to try very hard.
This is the perfect prom gown for your artsy or your more innocent Sims – and it can be used again as a nice and light spring outfit.
6.

Racheal Gown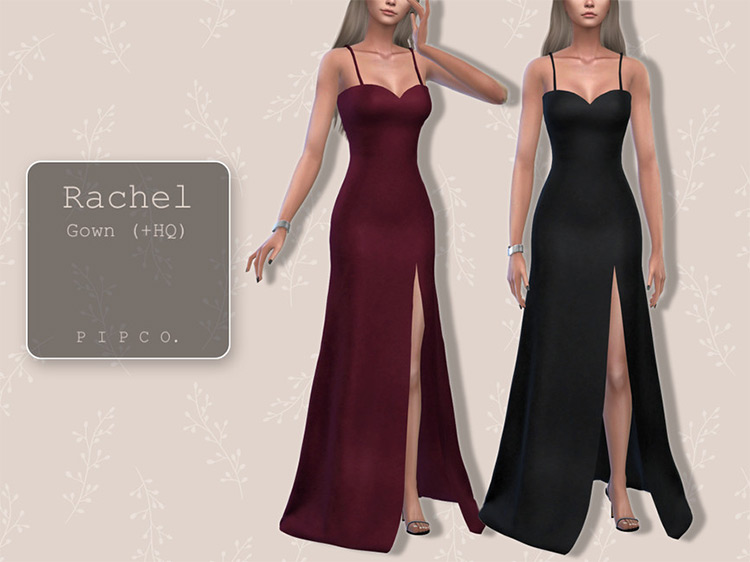 Finally! A gorgeous, classic gown that actually shows off the heels I spent five minutes picking out.
The classy spaghetti straps and sweetheart neckline are just absolutely ageless.
This sleek dress comes with thirteen swatches, and it doesn't make all the time you spent having your sim get their toenails done totally pointless.
7.

Elegant Lace Evening Gown
This lace accent gown is just a perfect strapless choice.
It has such Bella Goth vibes, if it was red I'm sure she would be wearing it to her own prom.
I'm also such a sucker for mermaid dresses, and this is no exception!
You could even use this as a wedding dress for a sim who doesn't mind a bit of nontraditional flair.
8.

Hazel Gown
This belted lace prom dress is ideal for vampire Sims, or even moody Sims.
The flare at the bottom of the dress screams Morticia Addams. And I love that it can come with or without sleeves.
If you decide to go sleeveless, long silk or lace gloves would pair beautifully and really add a touch of elegance to your prom night.
9.

Sparkle Fishtail Maxi Dress
Clearly all that glitters isn't gold… because 29 color swatches are available with this CC, in addition to this remarkable gold for this sparkle gown.
I honestly want to turn back time and wear this for my own prom.
This dress is sure to attract attention wherever your sims go.
It's also perfect for your celebrity sims while they're putting their name on Starlight Boulevard.
10.

Magic Gown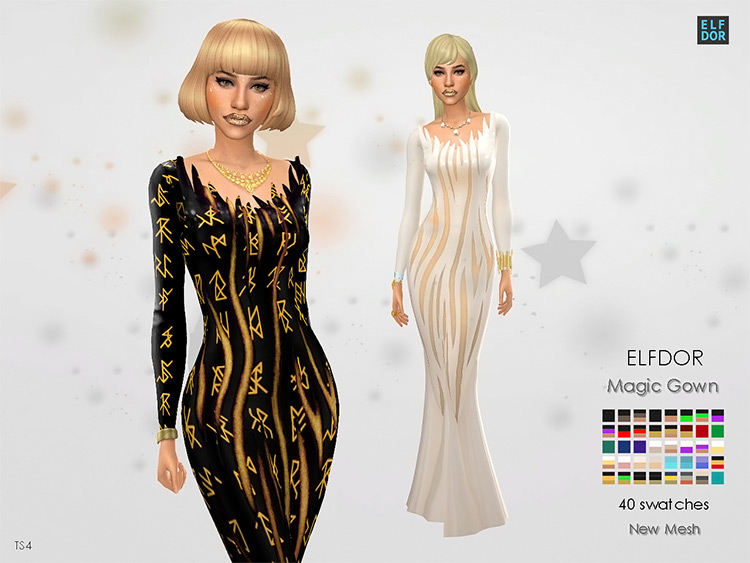 The name of this dress is spot on, because this piece is legit magical.
Your fashionista or spellcaster sim would look downright stunning in this formfitting gown.
The Magic Gown comes with forty – I repeat forty – swatches, including a showstopping teal and a fun black design covered with runes.
11.

Formal – Karen Dress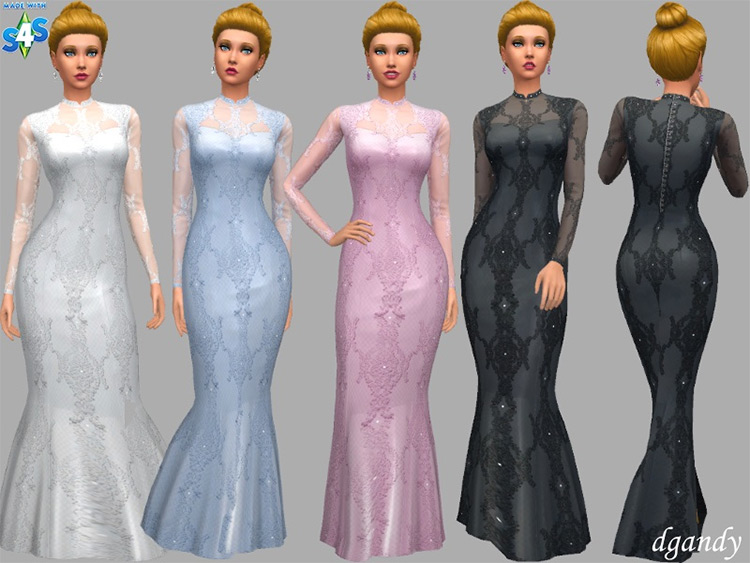 Don't let the name dissuade you here.
There's nothing uptight or old fashioned about this beautifully designed gown.
The figure-hugging design paired with just the right amount of lace accent truly makes this an exceptional choice for your sim's big night.
If you have sims that need a bit of sparkle, this dress is for them.
The lace, the rhinestone, the fashionable zipper!
I can't decide what I love the most.
12.

Heavendy-CC – Castle Gown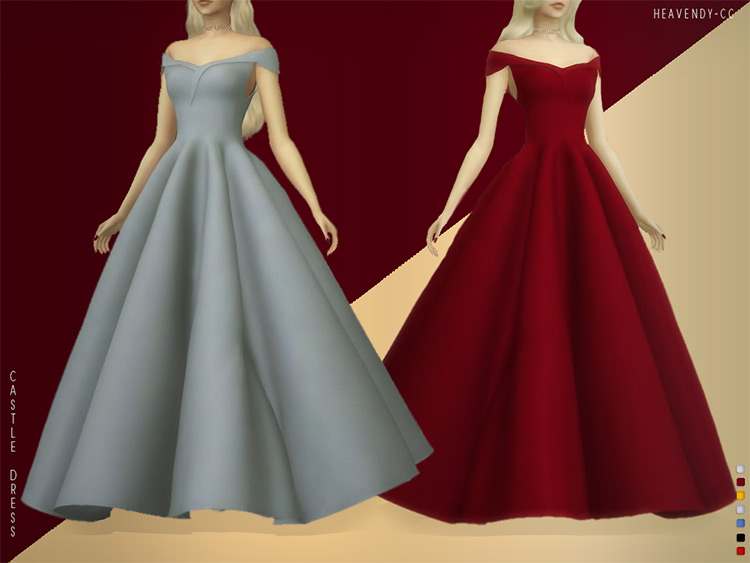 Last not certainly not least, we have the castle gown.
I am obsessed!
This ball gown will make your Sim truly become the belle of the ball.
And why stop there?
This custom Castle Gown CC also comes with seven color swatches, two of which are different shades of red (perfect for a dramatic entrance), and included among the swatches is a beautiful white – perfect for a wedding that's fit for a princess.
Browse:
Lists
Maxis Match
The Sims 4
Video Games