Sims 4 CC: Best Long Hair For Girls (All Styles)
This post may contain affiliate links. If you buy something we may get a small commission at no extra cost to you. (Learn more).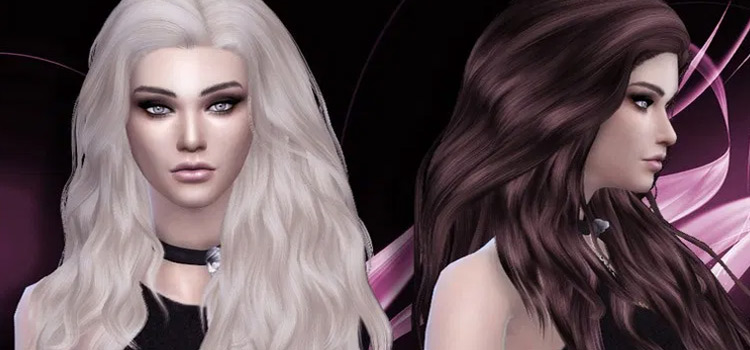 Hair has to be the most popular custom content item there is, for creators and Simmers alike.
Just like real life, there are thousands upon thousands of ways to experiment and express yourself – or your Sim.
And unlike real life, a Sim never really has a bad hair day. They get to keep the same cool haircuts indefinitely, wind, rain, or shine, without worrying about it growing out or getting damaged. This makes having long hair much easier, too.
The longer the hair, the more ways to style it. And that type of personalization is what makes The Sims so fun.
I know I'm not the only one who spends an insane amount of time in CAS, making sure everything is perfect.
And this is my favorite CC to 'shop' for. You can never have too many options, especially for longer hair. Honestly, almost every hairstyle I give my Sims was created by my fellow Simmers.
So when it comes to CC hair, it's always a good hair day. The best, actually.
1.

Krista Hair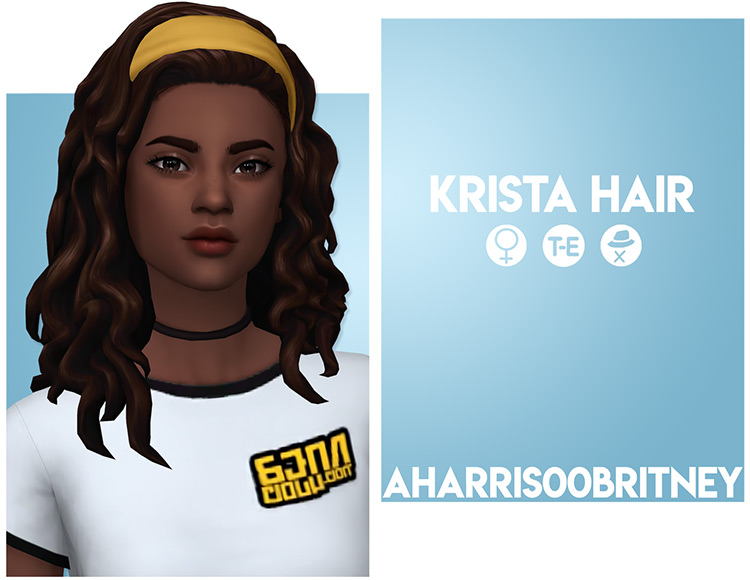 It wouldn't be right to start off this list with anyone other than aharris00britney, one of the most legendary creators out there.
Chances are, if you've ever looked for CC hair, you came across this Simmer – and for good reason.
This thick, wavy 'do checks all the boxes for a high-quality hair. The strands aren't too chunky, it's not too shiny, and the way it sits isn't awkward.
But instead of talking about what this Krista hair is not, let's focus on what it is: beautiful, voluminous, and highly customizable. Yes, as if the hair itself isn't impressive enough, the lovely headband accessory included with it comes in twenty five swatches!
I'm always so happy to find hairs that come with accessories like this, because you can match them to your Sim's dresses. And there's nothing more aesthetically pleasing than a color-coordinated Sim.
2.

Jules Hair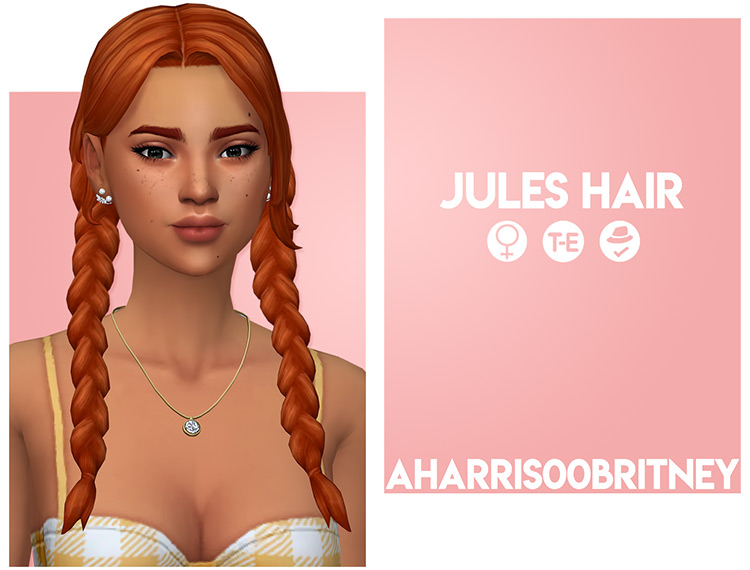 This time, aharris00britney has given us some amazingly textured braids, for when your Sim wants to keep her long hair but also keep it out of her face.
Updos like this are really fun because it's a way to vary your Sim's hair.
Braids like this can be paired in a way with other long hairs, to make it seem like your Sim has chosen to wear her hair down or up from one day to the next.
But even if this will be your Sim's go-to everyday look, it's certainly not a bad choice. The bangs are super cute as well, tucked behind the ear on one side and free on the other.
3.

Karley Hair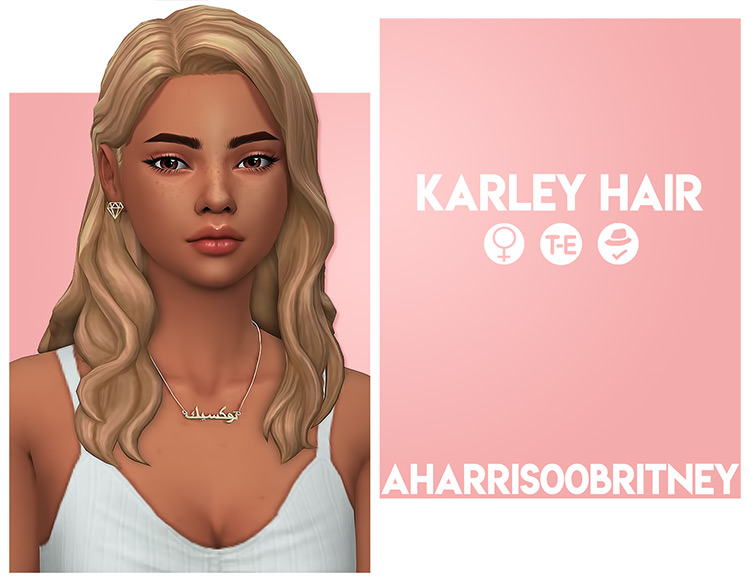 Here we have a nice, simple style, again from aharris00britney.
This is actually one of my most used hairs. It gives your Sim the appearance of someone who cares about her appearance, but does so effortlessly.
The loose waves and length make this a perfect choice for basically any occasion. It'll work for days at home, formal parties, a night out with friends, work, and everything in between.
That's always my favorite thing, when a hairstyle can be used for every single outfit category without seeming weird. And this one is definitely just casual enough to do that, while still making your Sim look put-together.
4.

Alison Hair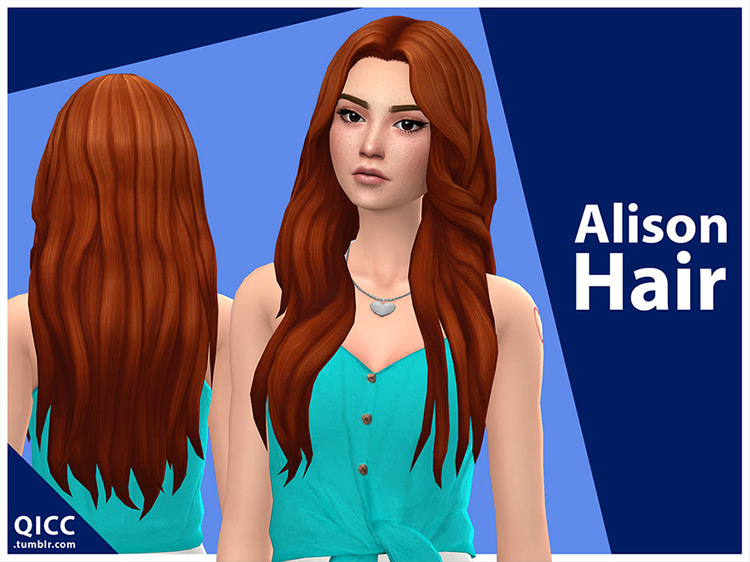 Creator QICC brings us the longest hairstyle this list has seen yet.
These cascading and subtle waves will beautifully frame your Sim's face and keep going… and going… all the way down to the middle of her back.
This is another example of how fortunate our Sims are.
Hair like this would be a huge effort and hassle to maintain in real life. But your Sim gets to just exist and have remarkable hair while they do it.
5.

Gabby Hair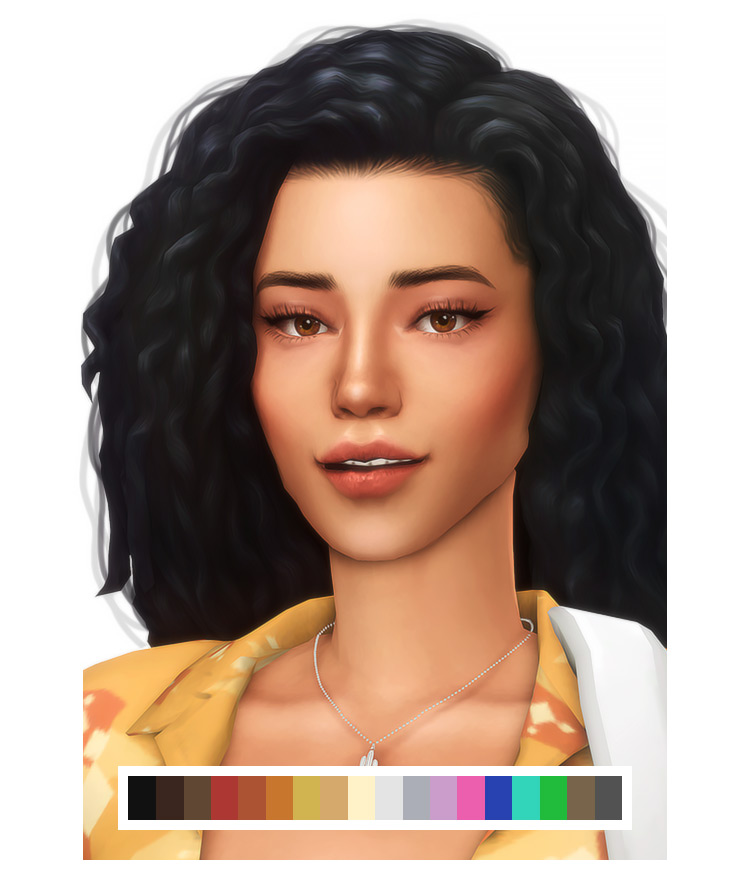 When it comes to thick, curly hairstyles, it's always the CC creators killing it.
Most of the hairs we get through packs are pretty straight and thin, which is never a bad look, but I know I'm not the only one always trying to find some variation.
This Gabby Hair from dogsill is not only gorgeous, but is also one of the best-textured curly hairs I have ever seen. I love the way it flow down the back, creating a tapered shape.
The level of detail is crazy without straying too far away from the game's established style and look. Every Sim can rock these curls!
6.

Calliope Hair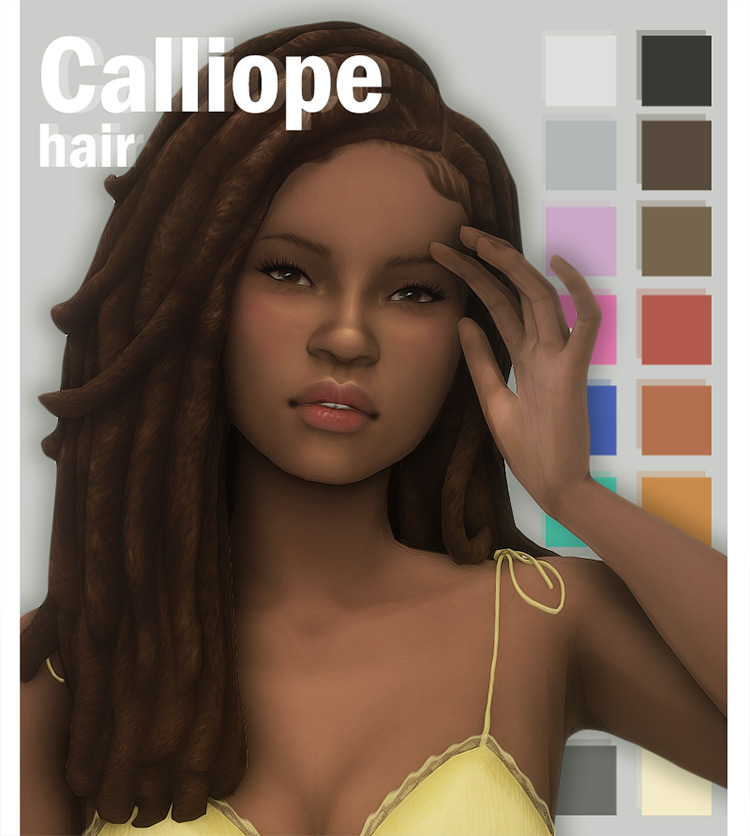 Speaking of texture and detail, this hair from okruee also has that in spades.
These side-parted dreads are a stylish new hair that will be great for classy Sims year round.
I imagine a lot of hats will look really cute with this, which is why I'm imagining a Sim with this hair wearing a winter beanie, or sunhat in the warmer seasons.
But even without accessories, these locks will be epic on any Sim.
7.

Juno Hair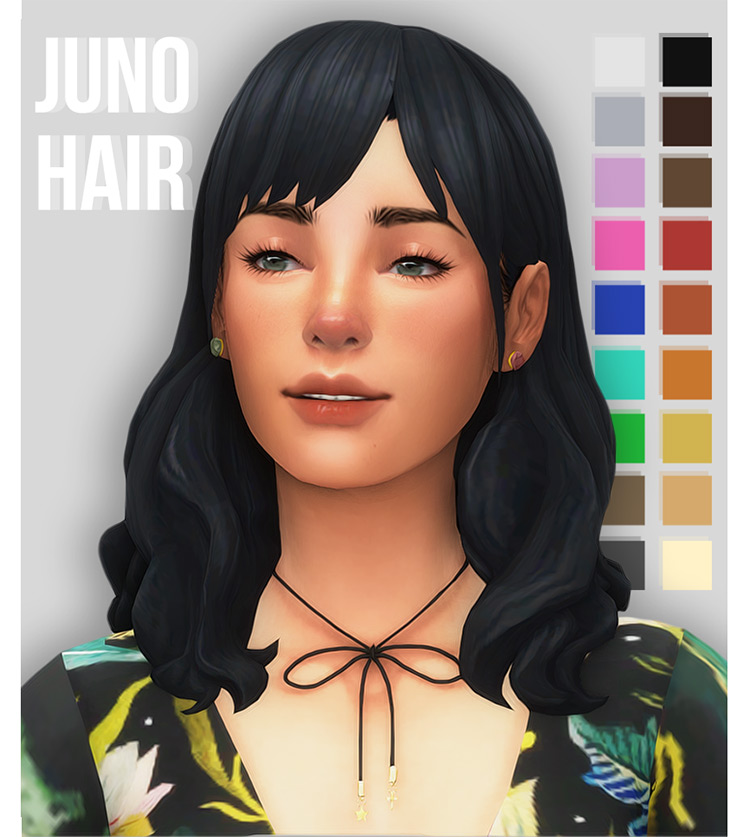 Bangs are always a nice touch.
And the ones accompanying the waves of this simple hair from okruee are among the best in CC.
That's another thing Sims don't have to worry about: their bangs will never grow out, ruining the style and falling into their eyes.
Everything here will always stay in place and remain in all it's smart, chic glory.
This is another one that I personally use all the time. It has a very feminine appearance that'll keep your Sims looking as pretty as a picture.
8.

Goddess Hairstyle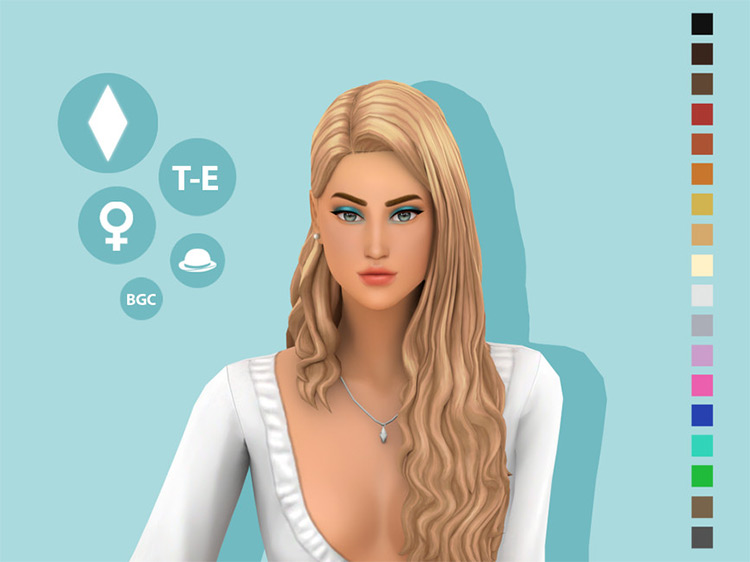 A Sim cannot look more fabulous than they will with this Goddess Hairstyle.
It's always great when creators hit the nail on the head with the name of their creations.
This style reminds me of old Hollywood movie stars, and I love it. These tight waves are super long, half in front and half in back.
9.

KimKim Hair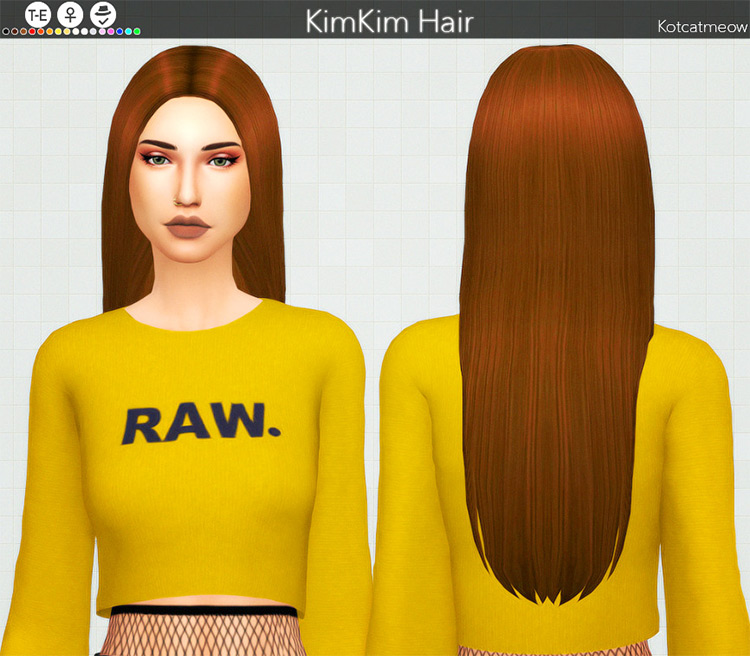 There are so many breathtaking curly and wavy hairs out there, I had to pause for a while and hunt down some straight cuts!
People with straight hair often wish they had curls. But who in their right mind would turn down having a sleek, smooth river of hair like this?
You just know it feels like silk, and will make the wearer feel as glamorous as a celebrity.
Creator Kotcat has managed to make a hair that tops most other straight hairs.
It almost looks like the individual strands of hair are visible. I'm very grateful we get amazing things like this for free, courtesy of the unbelievably talented Sims community.
10.

Paprika Hair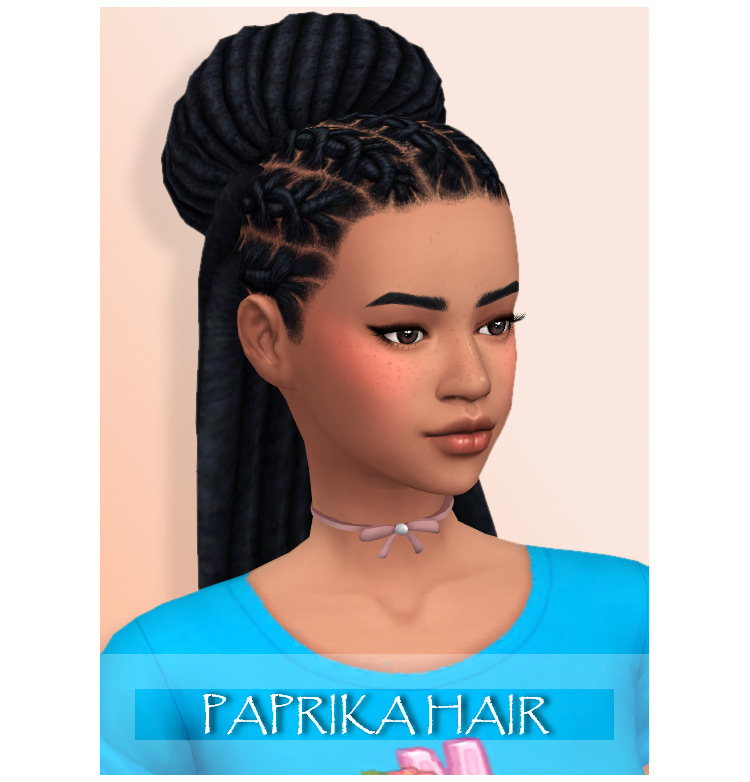 Half updos might be the most genius idea ever.
You get the beauty of long hair with the practicality of a ponytail or bun, without sacrificing style.
And this Paprika Hair CC from wondercarlotta certainly has a lot of style.
This is one of the only hairs I've seen that has three main components, and they are all equally awesome.
First, your Sims will be hip and free with some tight plaits, which look fantastic. Then there's a large, rounded bun, and finally some thick dreads that go low.
Put together, you have one of the most elaborate hairstyles on this list. But not so much so that it'll only work for formal outfits. It always sucks when you find gorgeous, complicated haircuts but they only will work for the one party your Sim goes to in their life, right?
Well, you won't have to worry about that here. These triple-threat look will work for any Sim, for any occasion.
11.

Imogen Hair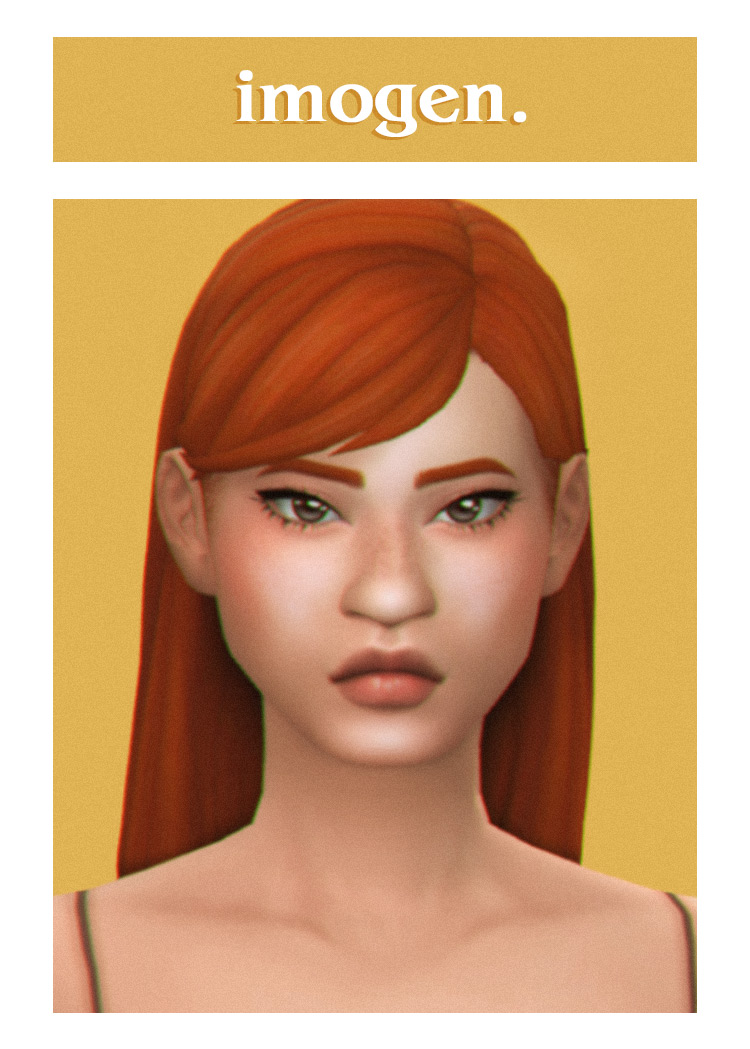 Snagglefuster gives us another option for simple straight hair, this time with some side swept bangs.
When hair stays behind the back instead of coming in front of the shoulders, it's an entirely different look.
It's not just me that thinks that, right?
With this cut, your Sim will look stunning and ready to get down to business all at once, without a hair out of place. Ha!
12.

Kaulana Hair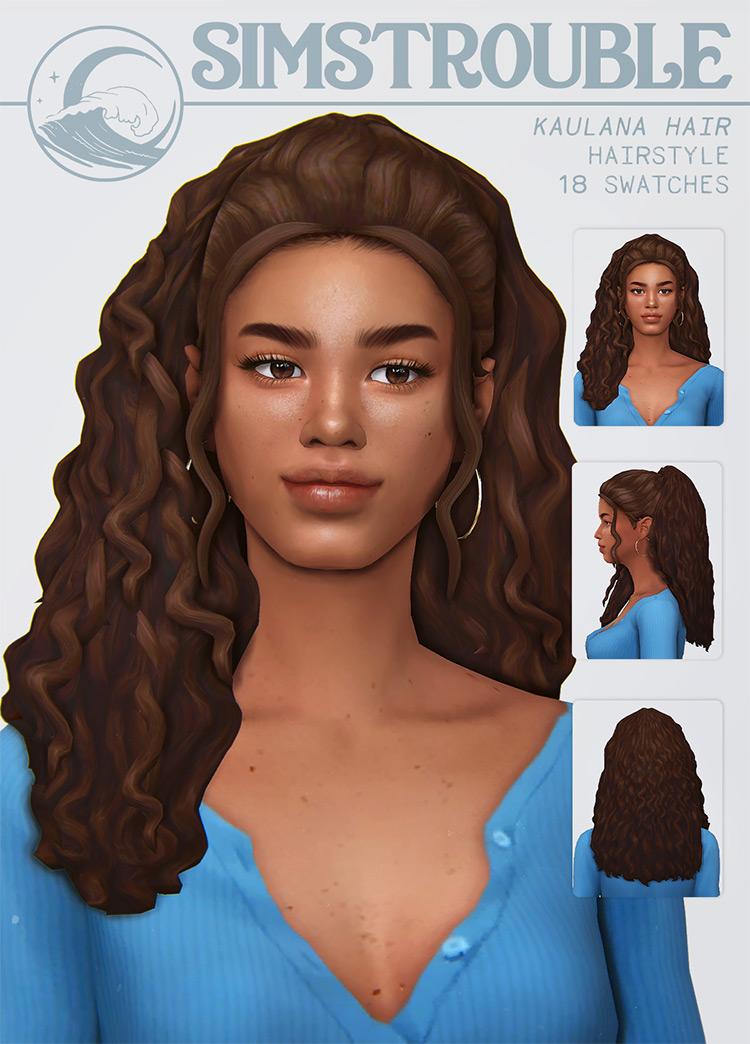 Simstrouble brings us another awesome option for curly hair.
These thick locks are partially pulled into a beautiful ponytail, with some loose strands left in the front.
There's a phrase that goes, "a woman's hair is her crown and glory".
And while I don't think most people take that literally, it's really fitting here.
Your Sim will own the power and energy of a queen with this style.
13.

Darlene Hair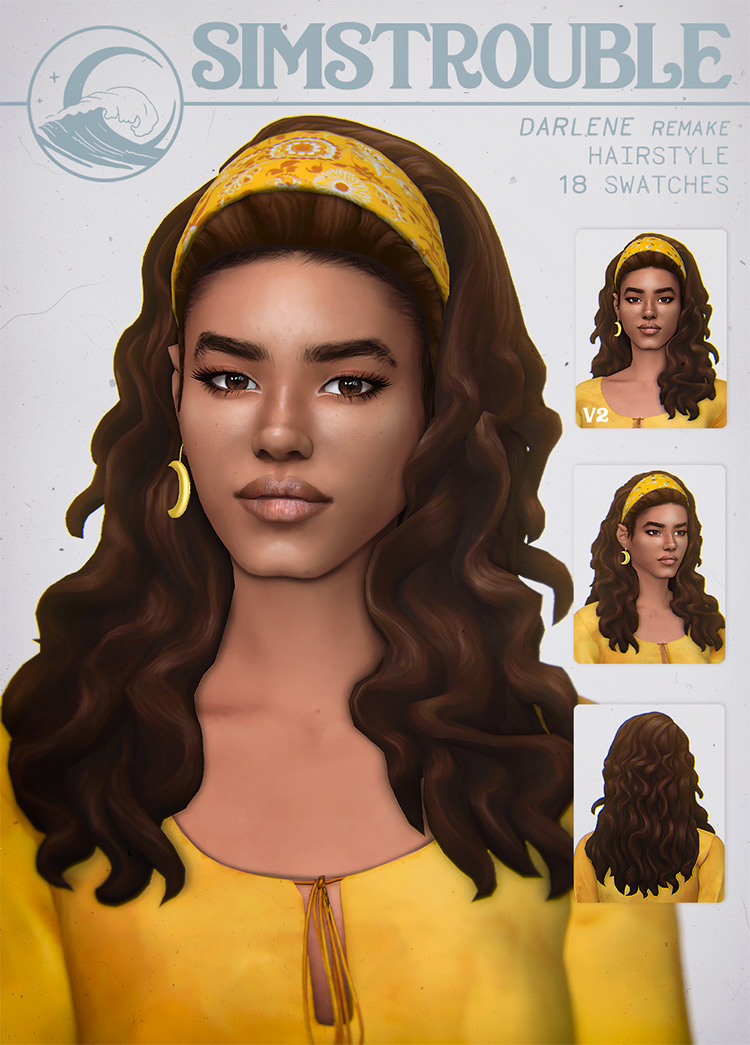 We've got waves for days here, guys.
This is the type of fabulous mane most people can only dream of having.
Most of us will just never be able to get our hair to behave like this, and you can only really control things like volume or thickness but so much.
As usual, that's where our Sims step in.
They will all look like supermodels with this gorgeous style. The headband is a beautiful addition as well, that comes in sixty swatches!
14.

Holo!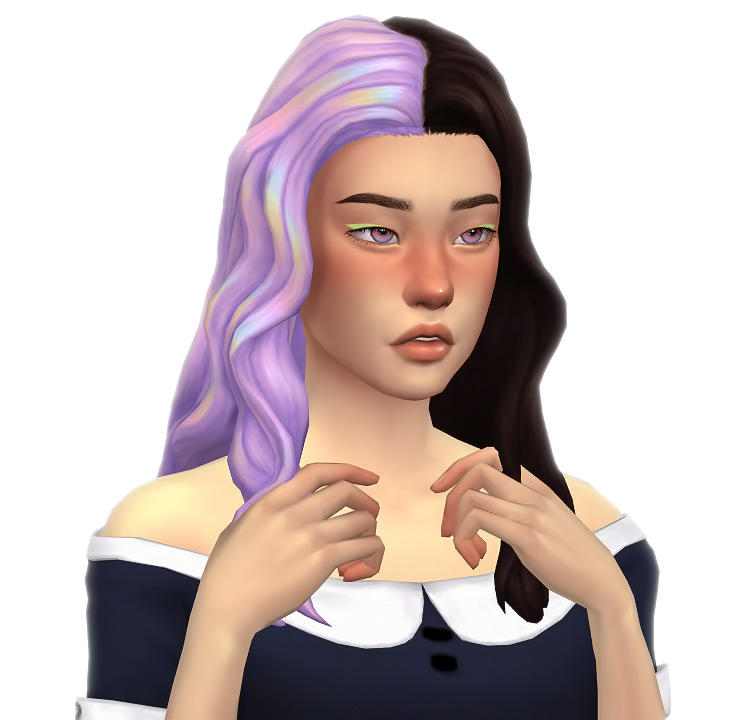 Now we're going to switch tracks for a moment.
Some people aren't into the standard styles or colors. Some people will want more than simple curls or sleek straight styles for their Sims.
Well, this alternative from Simandy is sure to please anyone seeking something a little different.
Half of this hair comes in some pretty wild, holo-inspired colors, like chromatic lilac with various colorful undertones, black purple, blue, and green streaks, plus white or green options.
The non-holo half can be your Sim's natural hair color, which all together makes for a rather impressive appearance.
Something that's also pretty cool is that the sides aren't just split clean down the middle, instead there's some overlapping to give it a natural flow.
15.

Oceana Hair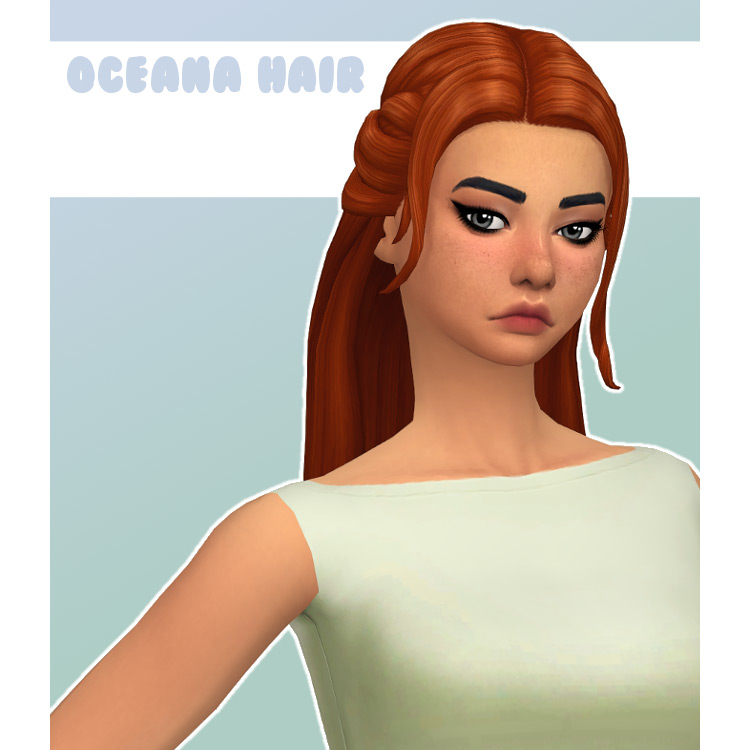 The twisted ponytail part of this hair adds a really special flair.
This is another one that will serve your Sim well for any occasion, but I think this would be a beautiful wedding hair as well.
Any hairstyle with the little tendril bangs is a winner in my book.
I see girls rock it all the time and it just never gets old. It aids in making the hair look great from every angle, not too slicked back or tight.
16.

Nalani Hair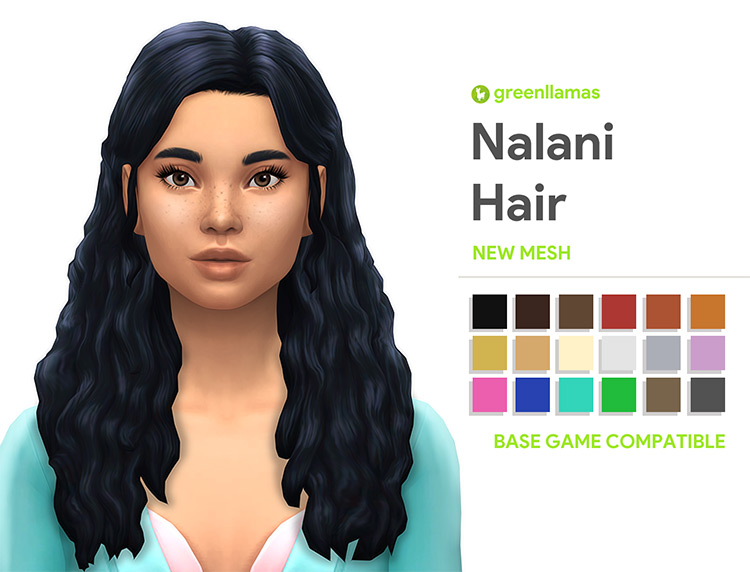 These rippling waves will give your Sims a carefree and happy vibe, like they're ready for whatever the day may bring.
Really, it must be impossible to not be confident when your hair looks this good.
Of course, appearances aren't everything, but they can determine a lot about a person.
And with casual textured hair like this, it's sure to make your Sim the best they can be – at least in terms of looks.
Actual influences on their personality or capabilities might take a little more, but maybe not. Looking great makes you feel great which can make you more sure of yourself, right?
17.

Katey Hair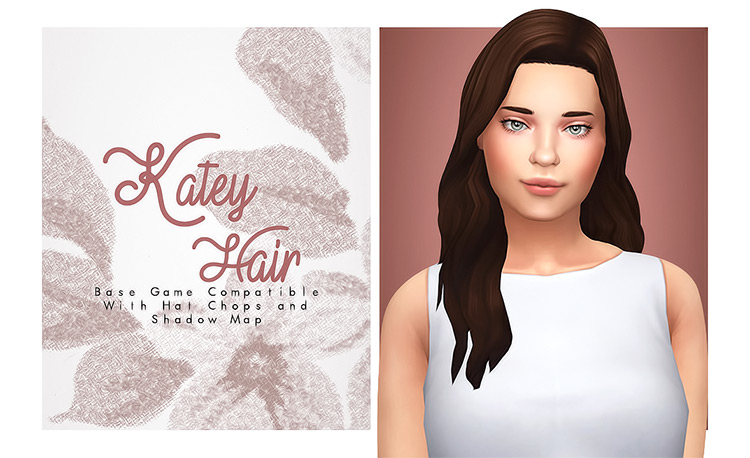 Creator IsJao had Ariana Grande in mind when he made this awesome hair, and the inspiration is definitely clear.
This smooth style is indeed fit for a star.
You'll never go back to using the base game hairs once you start using this one!
I appreciate any style that has the hair partially behind the shoulder, and partially in front.
It's such a nice look, and one that doesn't always work out for real people. But when you're a Sim, no amount of movement will displace your hair.
18.

Zoey Hair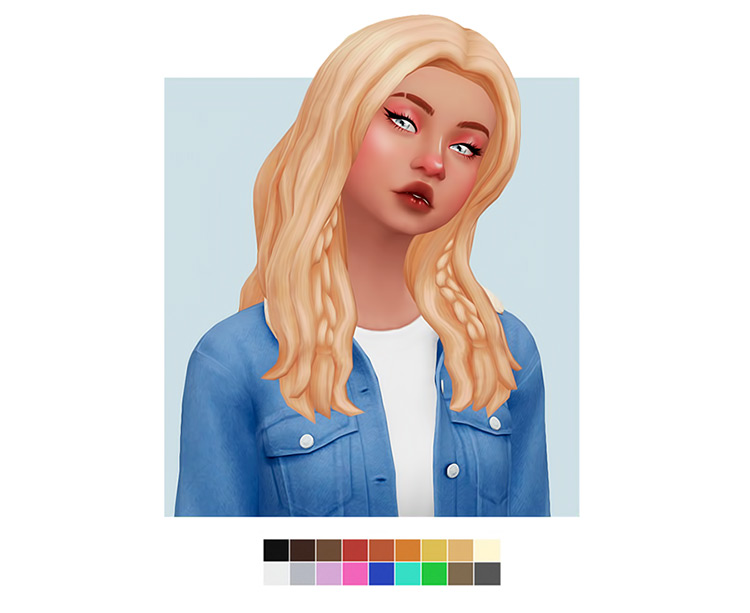 This cut with braids in it from naevys-sims is so adorable!
I'm pretty sure the only thing better than long hair is long hair with another style mixed in, and that's exactly what we've got here.
The style itself is a little messy or shaggy, which I always love to see.
It all falls nicely around the Sim's face, and the braids are perfect – not standing out too much, but not overshadowed by the rest of the hair, either.
19.

Lizette Hair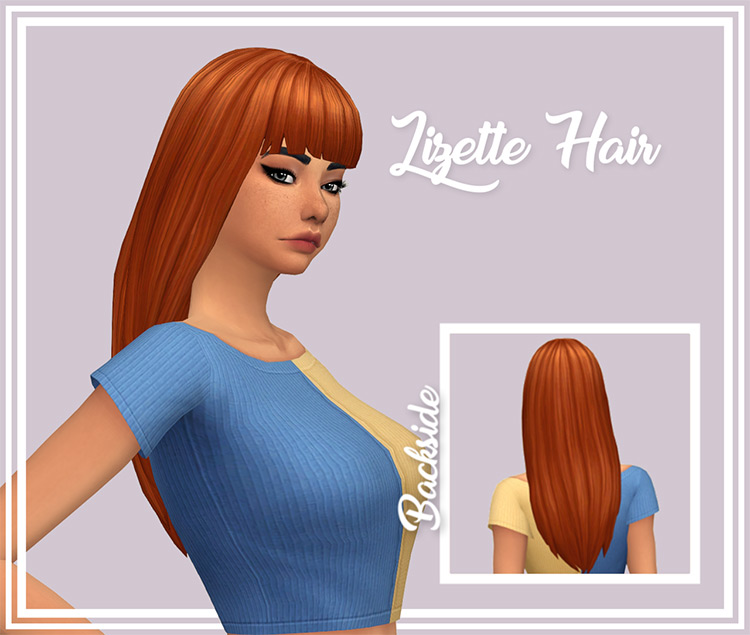 Here's another option for straight hair that will be hard to top.
This tapered creation will flow down your Sim's back like a river.
Yes, this is a river of hair. I think that's the best description.
And the bangs are so cute!
They're a little choppy, giving this hair a mature look. My mom always said that bangs cut straight across are for little kids, so… do with that what you will.
This is also another one that's general enough you can use different updos without it seeming like your Sim gets a haircut with each outfit change.
20.

Side Part Straight Hair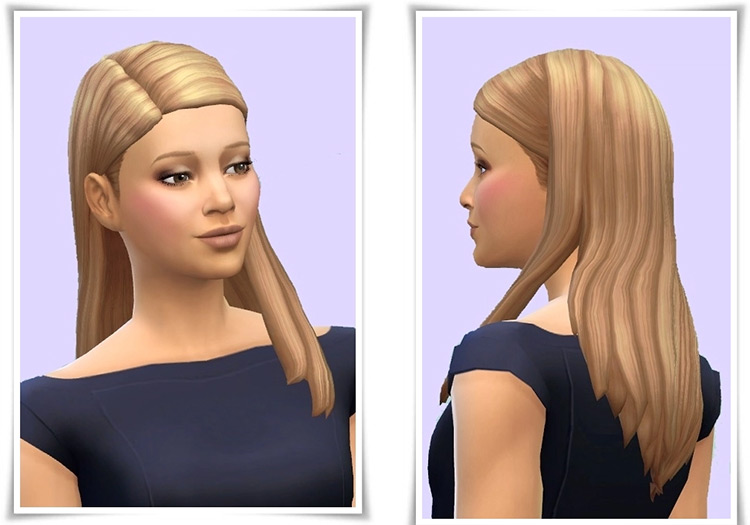 With all the discourse out there lately surrounding side and middle parts, I couldn't end this list without throwing in one more choice for the side-parters.
Despite what my fellow Gen Z-ers might say, I don't think it's a bad look.
And that has been made clear in this hair CC by birksches. It's just not a look that can be left out, and has been getting unfair criticism.
Your Sim will be very stylish with this natural side part and glossy hair.
Browse:
Lists
The Sims 4
Video Games