Sims 4 CC: Puffy & Poofy Dresses To Download
This post may contain affiliate links. If you buy something we may get a small commission at no extra cost to you. (Learn more).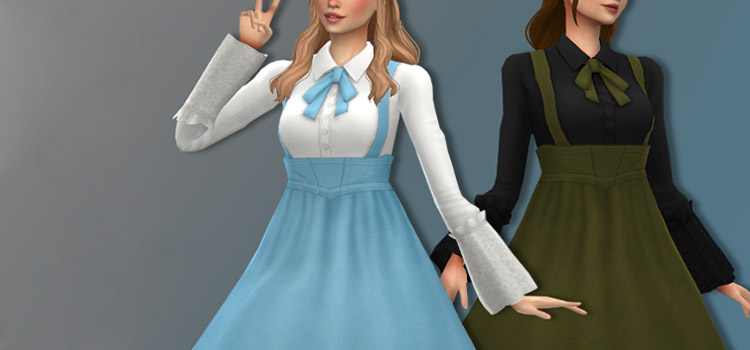 The love of puffy dresses spans decades, generations, and even centuries.
And we're happy this style is here to stay.
While sleek silhouettes are chic, there's something fun and even regal about wearing a dress with volume.
Whether it's from the 1890s or the 1980s, these dresses are timeless for their unique shapes, colors, and patterns.
Plus they'll make great additions to any history-loving Simmer's game.
Idina Dress
There are two major features of Sifix's Idina Dress: sleeves and shoulders.
This Maxis-Match friendly gown is so impossibly long that it sweeps the floor, accentuated by the beautifully full sleeves and open neckline.
Female teens through Elders can wear this in 15 different swatches, and you'll only need the base game to add it to your CC folder.
Puffy Dress CC
Who says puffy dresses always have to be long?
This custom CC by MochizenCC fans out into a tutu-like silhouette, mostly thanks to its mid-thigh hemline.
It's definitely one of the more modern poofy dresses on this list.
A super-cute option for a teen Sim's prom or homecoming.
It's also base game compatible, HQ, and has 24 colors.
Emma Regency Dress
Just the sleeves, thanks!
Creator Peebs made this Emma dress both elegant and subtle by making the puffy sleeves the focal point of the dress, while the rest cascades straight down into a ruffled floor length hem.
This is a great choice for humble Sims not looking to stand out too much at a gathering.
There are 32 swatches in all, and you'll need the mesh before downloading this one.
1898 Puffy Winter Coat
High fashion meets the late 19th century with this 1898-era coat/dress outfit by VintageSimstress.
From the poofy sleeves to the fur accessory, there's something very regal about this dress that we love.
It's base-game compatible, HQ (but Maxis-Match friendly) and comes with 15 swatches.
You'll also find an overlay for the ribbon, which itself has 13 total colors.
And no need to fret about random townies spawning in this one, because it's disallowed for random.
Formal Puffy Dresses
Another modern take on the poofy dress is xMisakix's Formal Puffy Dresses for children.
This three-swatch dress comes in vibrant shades of pink, yellow, and light blue, with an adorably bedazzled belt at the waist.
Use it for any formal event like Spring Day or Winterfest!
Dolly Dress
Similar to MochizenCC's Puffy Dress, this Dolly Dress CC is a bell-shaped sleeveless garment, but only comes in solid & bold colors.
There's 14 colors in all, and this is definitely worth downloading if you want more options for modern poofy dresses, or prefer solid colors to busy patterns and themes.
This one's also HQ so don't hesitate to grab this one, Alpha Simmers!
Puff & Frill Dress
A Maxis-Match puffy dress with frilly layers!
This creation by Pickypikachu takes a different approach to your puffy dress by adding the volume to the hemline, not the shoulders or waist.
And while we do love the ruffled accent across the shoulders, it's the white, layered underlining of the dress that makes it so special.
Bonus: it's totally base-game compatible, and can be worn by female teens through elders.
1980's Puffy Sleeve Wedding Dress
The 1980s were certainly a decade of out-there fashion.
Especially when it came to the volume of dresses, skirts, and shirts.
If you're playing a Decades Challenge and need a totally '80s wedding dress, well, look no further than this creation from Five5Cats.
This lacy white dress has massive puffy sleeves, almost comically so.
But hey, that was the style back then!
We also love the high-quality detail of the bodice lace in this CC.
It comes in six different shades of white-ivory, and appears to be base-game compatible.
Aris Puffy Sleeves Dress
Remember The Sims Medieval?
Me too. There were some really cute outfits and assets in that game, perfect for historical play!
Thanks to the hard work and effort of CC creators, one of those outfits is finally available for The Sims 4:
This Aris Puffy Sleeves Dress by Ingeli.
It's a super long dress that has not one, but two sleeve ruffs that descend into wrist-length sleeves, and a bell-shaped hem to boot.
Ruffle Rococo Dress
Ruffles, bows, golden lace, puffy sleeves:
When it comes to opulence, this Ruffle Rococo Dress has it in spades.
Originally made by StrangeStorytellerSims (whose mesh you'll need to download), creator Elfdor expanded these recolors to include 40 breathtaking swatches.
The attention to detail is amazing, with the ruffles and bows noticeably HQ without bordering too far into Alpha CC.
It's definitely fit for a Queen, or some other high-ranking royal Sim.
And it can be worn by teens through elders.
Browse:
Lists
The Sims 4
Video Games