Sims 4 Maxis Match CC Bun Hairstyles (Girls + Guys)
This post may contain affiliate links. If you buy something we may get a small commission at no extra cost to you. (Learn more).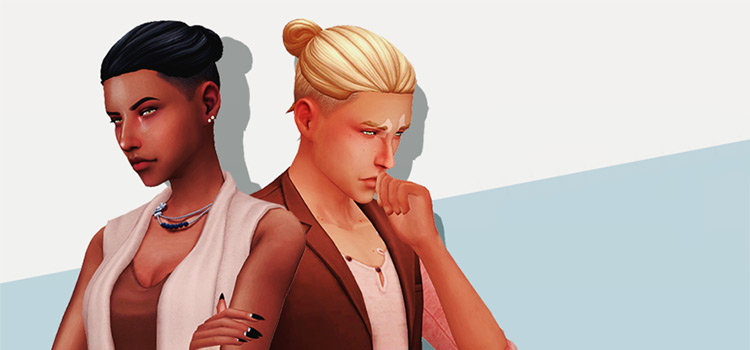 As someone who has never mastered the art of the coif, the space buns, the high bun, or even the user-friendly messy bun, I will admit: this hairstyle frustrates me.
Especially when YouTube and TikTok videos make it look so easy.
I've long since given up on learning how to gather, twist, and tuck my hair into something even remotely passable, but your Sim shouldn't have to.
Especially when there are so many talented Maxis Match creators out there.
Here's a handful of MM bun hairstyle variations your Sim can try.
Female Bun CC
1.

Alexis Hair by Marvell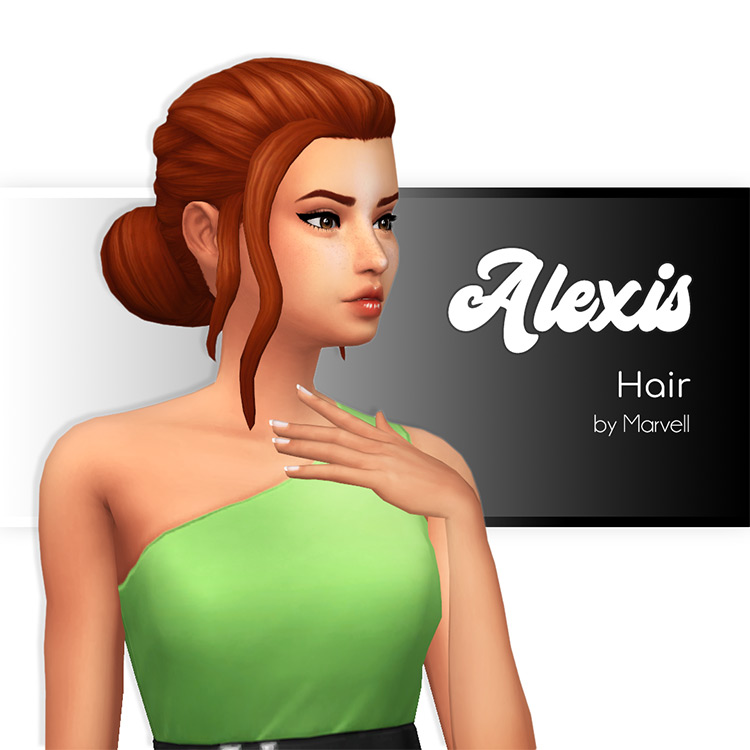 Let's start with something easy, breezy, and fairly achievable.
Marvell's Alexis hair is a low-ish bun that sits at the top of the nape, accentuated with two long, errant strands of hair add the side to add asymmetry and texture.
It comes in EA's standard 18-swatch palette and works with most hats.
2.

Jenna Hair by Marvell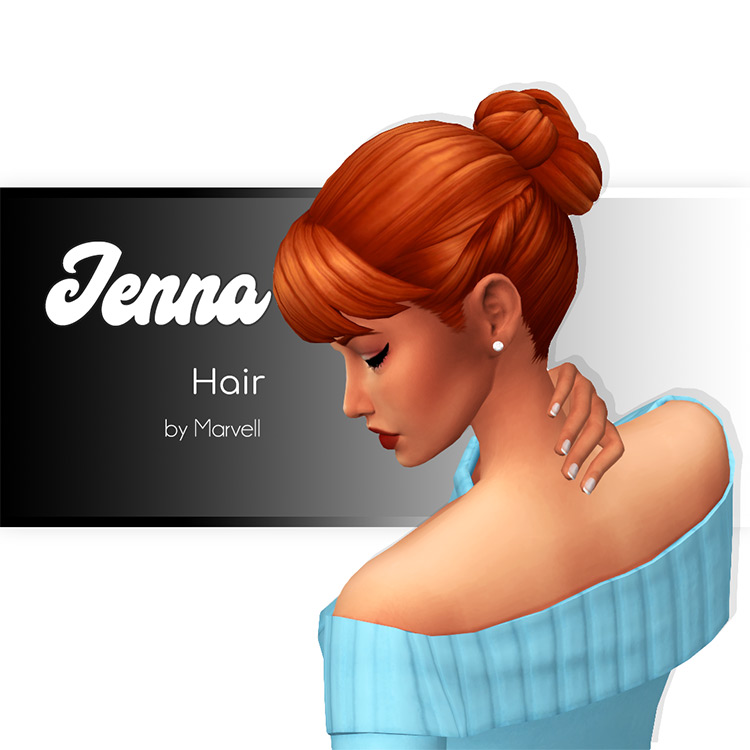 This Jenna updo is deceptively difficult.
It looks like a standard bun twisted atop the head.
However, closer inspection shows there are some artistic twists happening near the ears, all leading up to a fairly elegant coif. It's available in EA's 18 colors.
3.

Daisy Hair by aharris00britney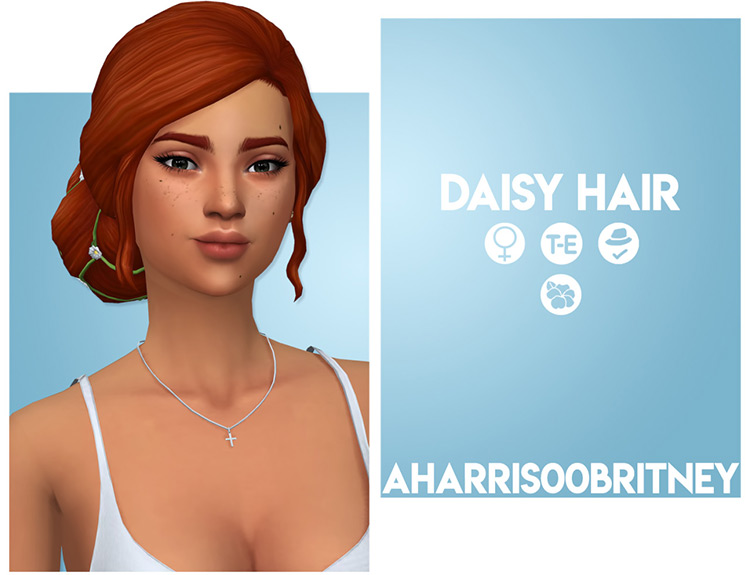 I'm not a big fan of buns, but I really like this one.
Aharris00britney's Daisy hair is a casual, relaxed twist of hair that's been loosely gathered 'round the nape. It may not be elaborate, but it's still visually fetching.
And I agree with the creator—the elegant flower hairnet at the back helps the hairstyle stand out.
4.

Eileen Hair by stephanine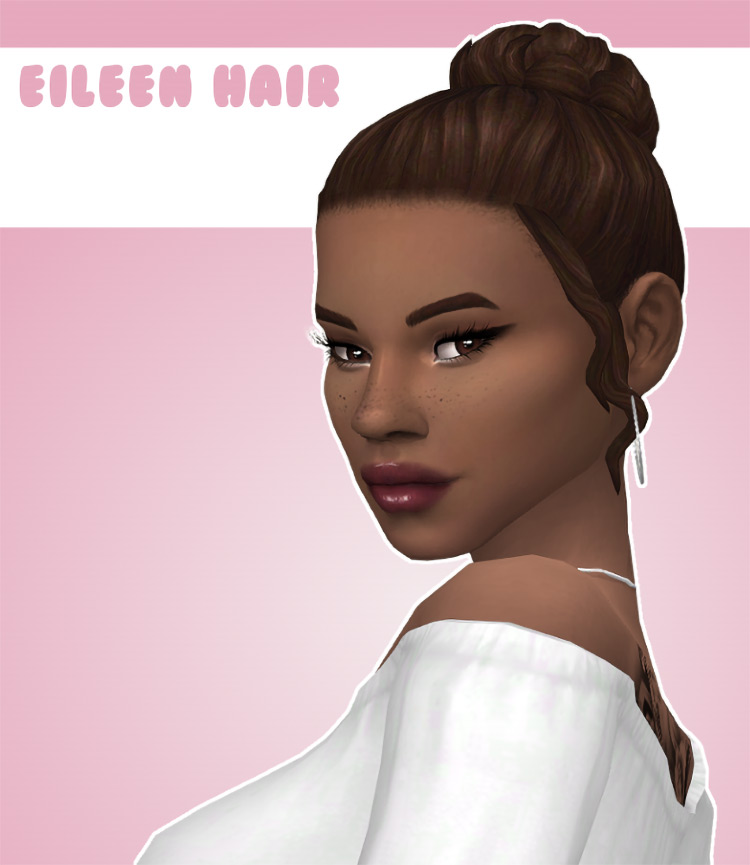 Eileen is a classy, casual twist of hair for classy, casual ladies who just can't be bothered to deal with errant, windblown strands.
It's definitely a lot tighter and tauter than what I would personally prefer. But I recognize that it's a stunning hairstyle nonetheless.
5.

Leilani Bun by stephanine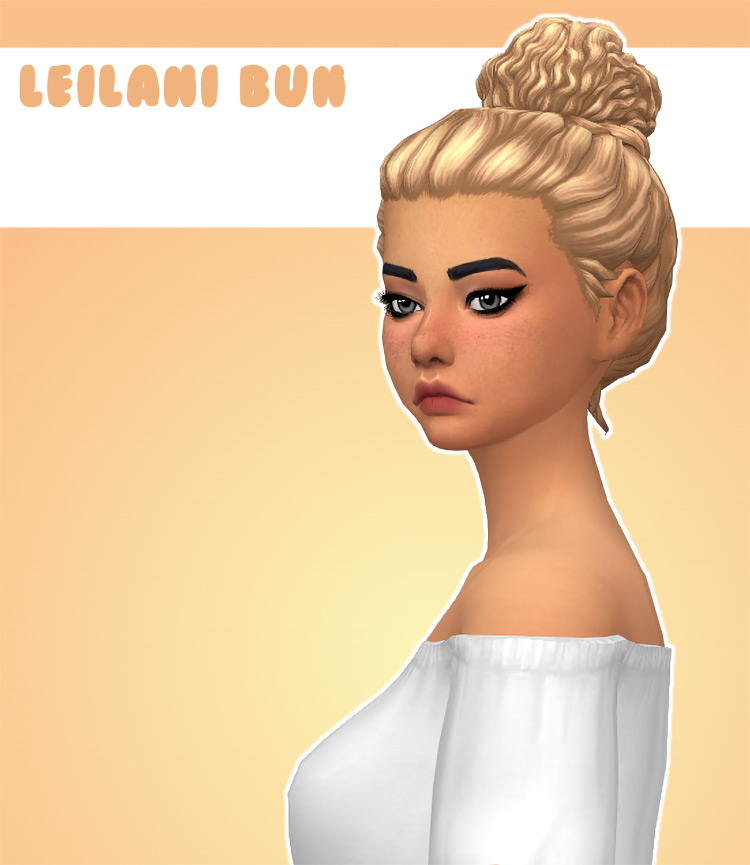 Curly-haired girls with thick locks and lots of hair can probably relate to Leilani.
It's a sizable bun that sits atop the head, and it looks like the curls are just a few vigorous movements away from tumbling down.
But as pictured, it's a really cute look. And it's base-game compatible.
6.

Dahyun Hair by casteru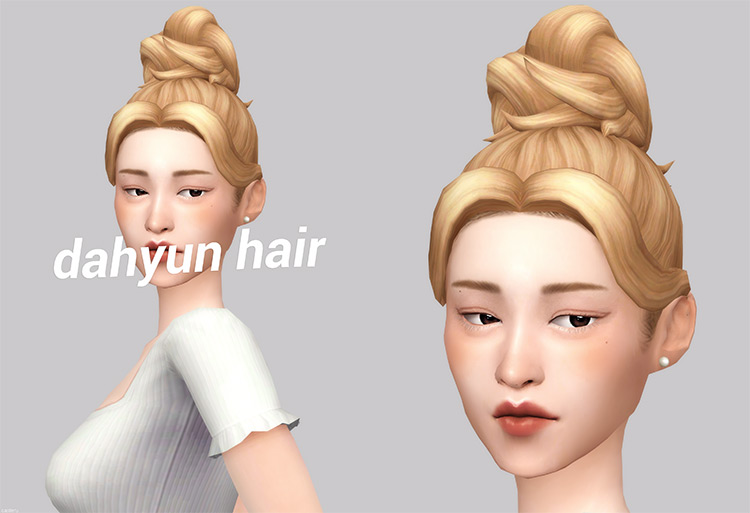 This messy bun was apparently inspired by Kim Dahyun of the K-pop girl sensation, Twice.
The creator links the photo inspo in the notes and, yeah; it's pretty spot-on.
I love how the hair is just piled haphazardly on the head. The appeal of super-messy, can't-be-bothered-to-do-it properly updos is very strong for me.
7.

Bun Low Hair by Simduction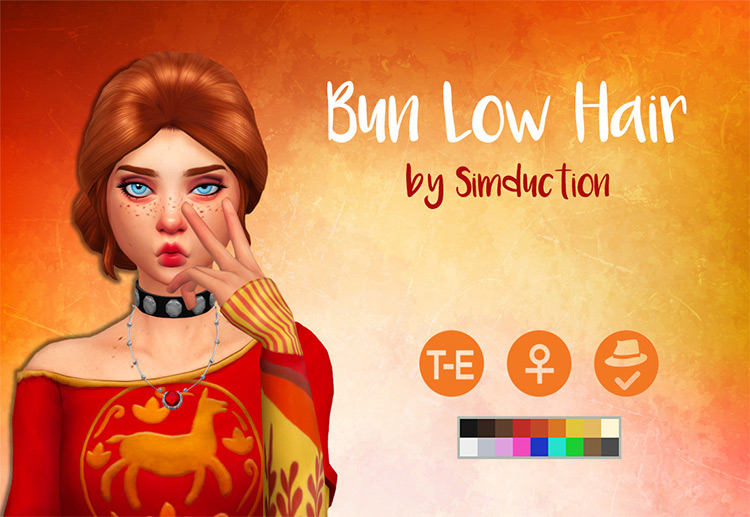 This is kind of like aharris00britney's Daisy hair, only it looks a lot neater and more calculated.
This is the kind of stylishly elegant low bun one would wear to a black-tie or business-formal event.
Simduction's original mesh is available in all 18 EA colors, but this neat recolor by pixielated adds an extra 55 color options!
8.

Iris Hair by Saurus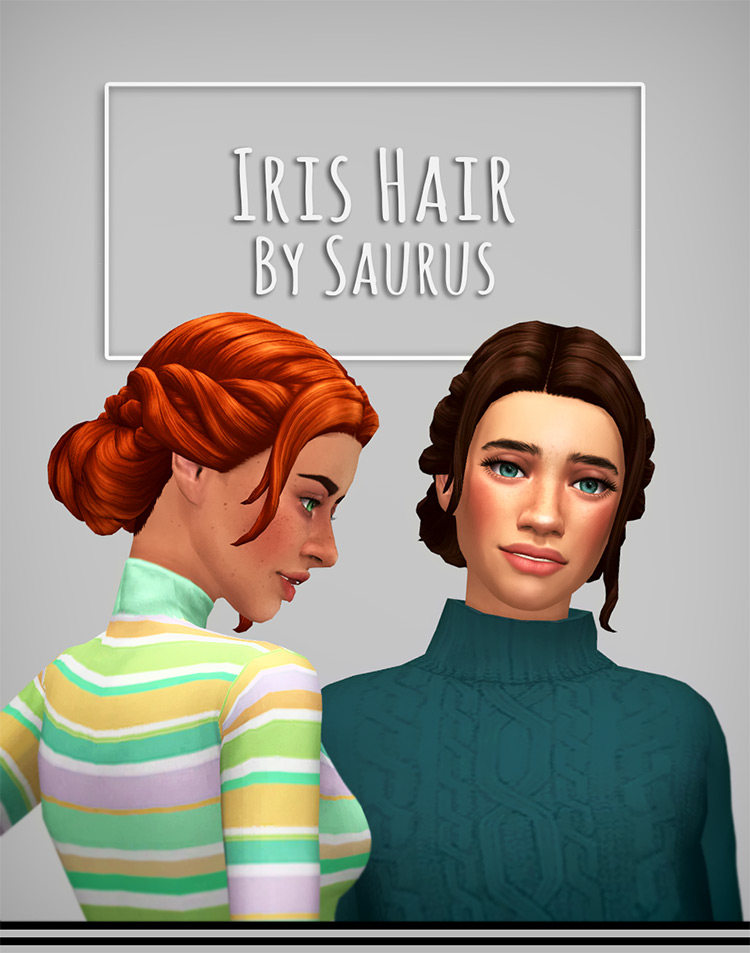 I really love the asymmetry of the errant hair strands in this hairstyle.
I'm used to most bun hairstyles have a middle-part, which makes for a very neat and measured visual.
Anything that throws off that calculated styling creates a more realistic silhouette which I personally find a lot more appealing. So even if it isn't much, the uneven hair strand length is what sold me on this hairdo.
9.

Messy Bun by ladyfancyfeast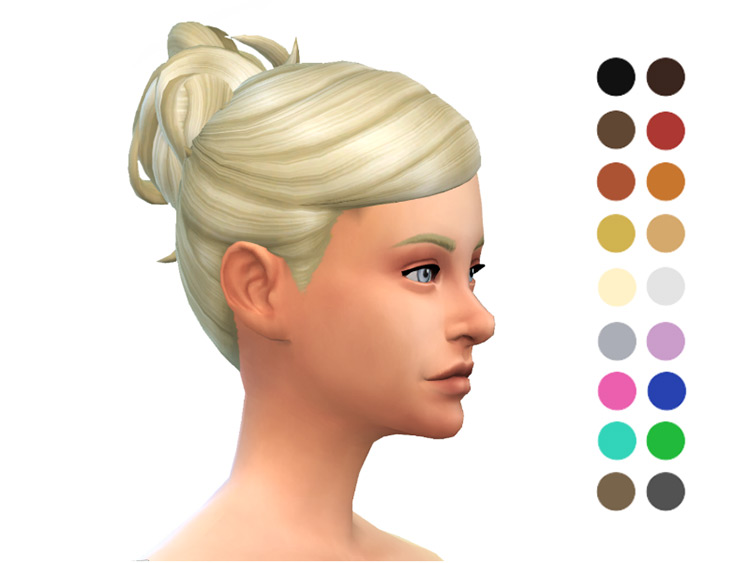 I'm trying to balance this list out with an equal (ish) number of messy buns and properly-styled 'dos.
However, I'm finding it easier to locate loose-and-casual hairstyles, so apologies for yet another Messy Bun!
This one's pretty simple, as far as hairstyles go. And I appreciate that the hair is parted at the side for once.
10.

Nala Hair by Nightcrawler Sims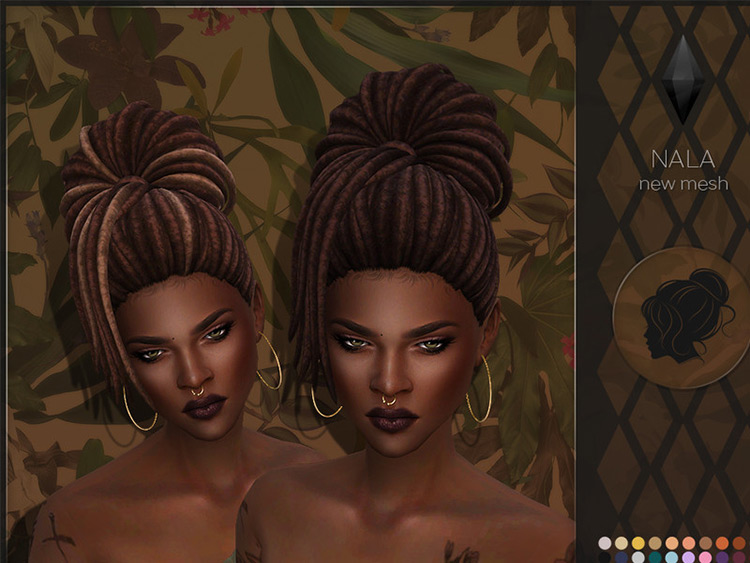 This is an intimidating bun that suits a powerful, self-assured Female Sim.
There's just something about the casual updo and the lack of super-intricate design that gives off calm, confident energy.
And maybe I'm reading too much into this hairstyle, so I'll just say that I really like it and I 10/10 recommend.
11.

Elle by simminginchi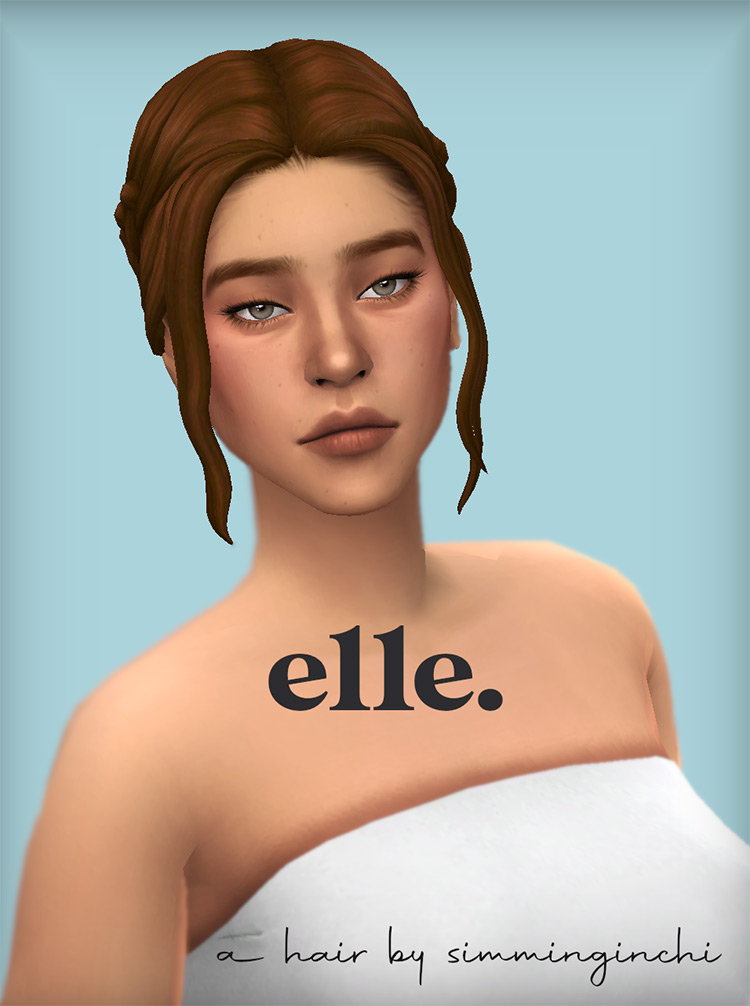 This hairstyle is so fun and so wholesome!
Cottagecore and fantasy Simmers, where you at?
This low bun with the waterfall braiding and the face-framing strands falls right under the 'natural beauty' category, and I can easily imagine it in a country, homestead, or magical forest setting.
12.

The Lottie Hair by lilssims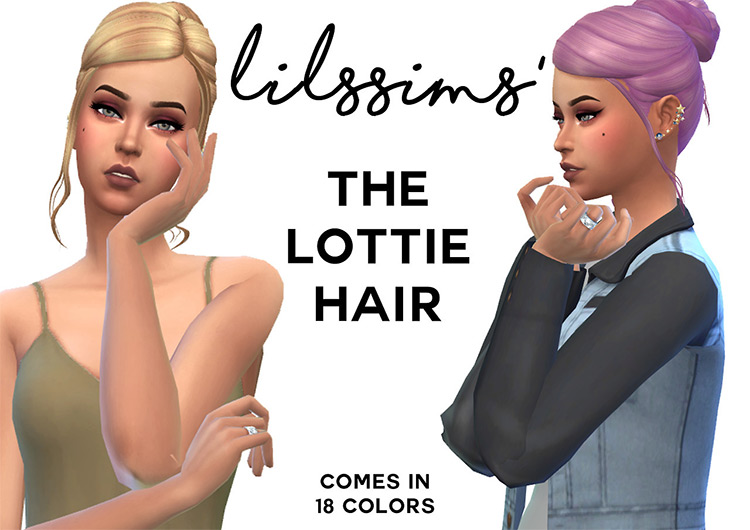 Who is Lottie, and why is her hair so perfectly coifed? No idea.
But it is, and it looks great. It's the kind of messy that was done on purpose, so it still looks put-together and perfect.
13.

Skye Hair by aharris00britney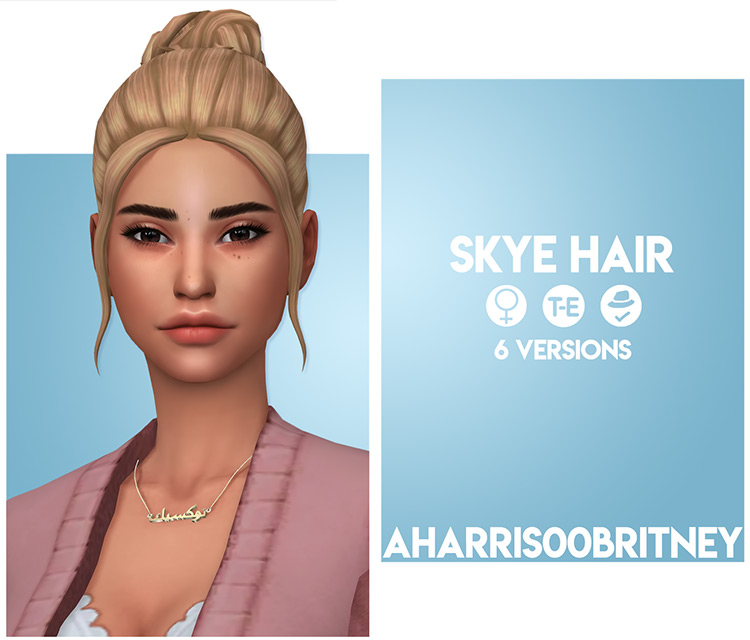 This is one of the neater, more symmetrically-styled options on this list.
It's not too casual, but it's also not too elegant or glam.
I actually consider it to be the definition of a businesswoman's hairstyle.
14.

Loose Bun by nessims x dust-bubbles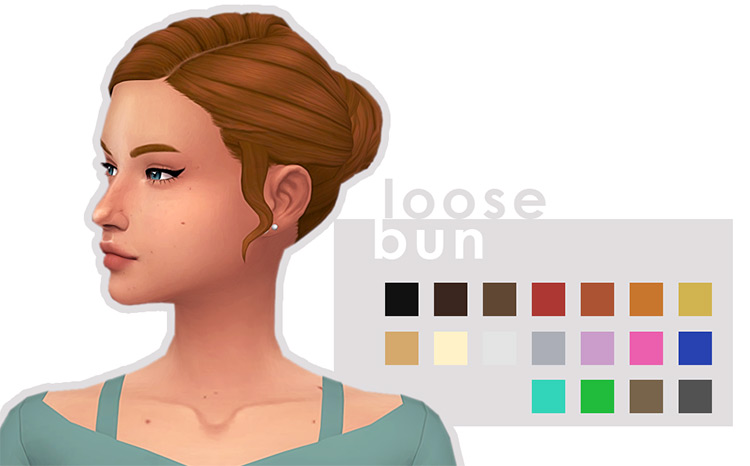 This hairstyle is exactly as the name implies.
It's a very casual, very relaxed hairdo with no complex weaving, braiding, or wrapping around.
It looks like your Sim just gathered all their hair and stuffed it into a ponytail holder or hair clamp.
15.

Nova Hair by MysteriousDane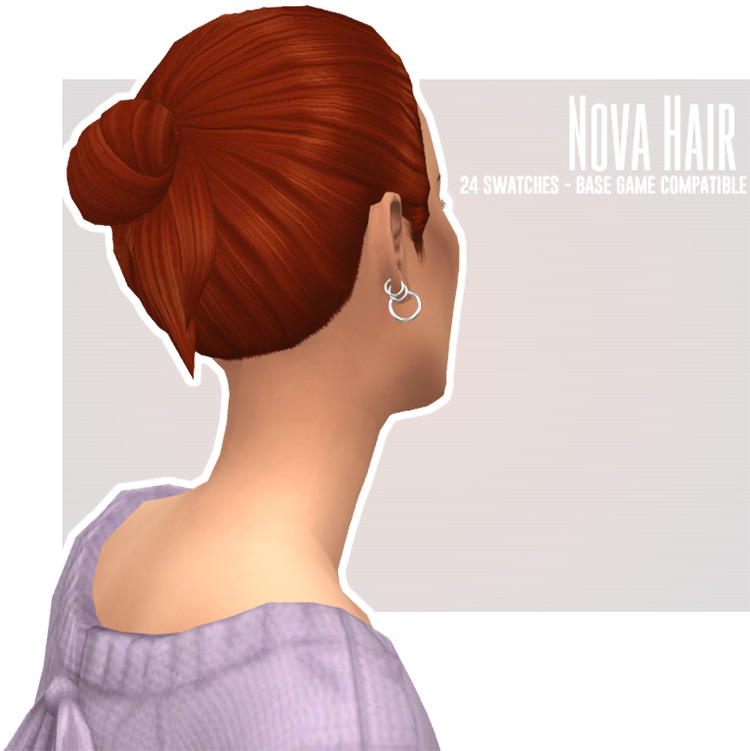 It's a small bun!
Seriously, how cute does that little pat of hair look?
If you're after a casual, straightforward style – but still want to keep the general silhouette neat – this is the perfect 'do.
16.

Eleanor by oakiyo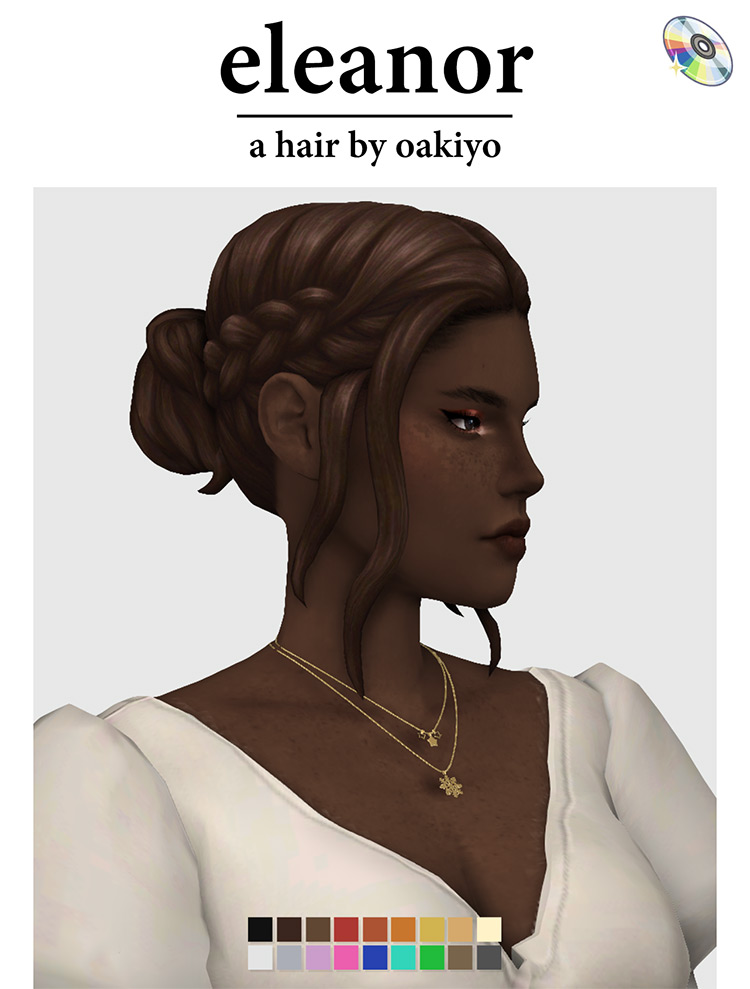 From the front, this bun looks like your standard updo—accentuated with face-framing strands, of course.
But from the side, the intricacy of the hairstyle really stands out! The waterfall braiding, the asymmetrical bangs, the way the bun seems to wrap around itself… there's a lot of visual elements to appreciate.
17.

August Hair by kumikya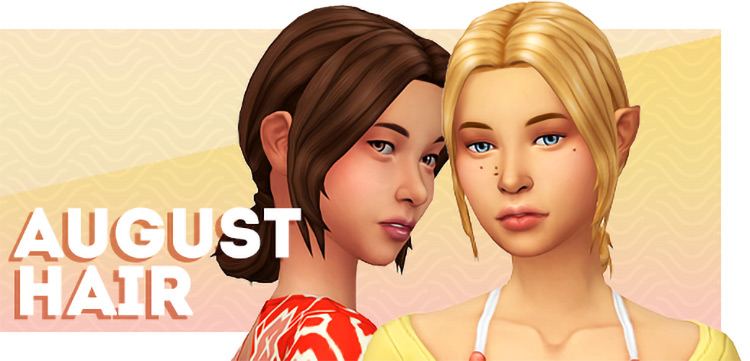 This August hairstyle is one of my favorites so far — mainly because it's got a pretty different silhouette compared to the other hairs here.
It's a very low bun paired with thick strands that frame the face.
And if you look closely, there are errant strands poking out of the bun itself.
It just looks very chill and haphazard in the best way, which is why I like it a lot.
18.

Isla Hair by Feral Poodles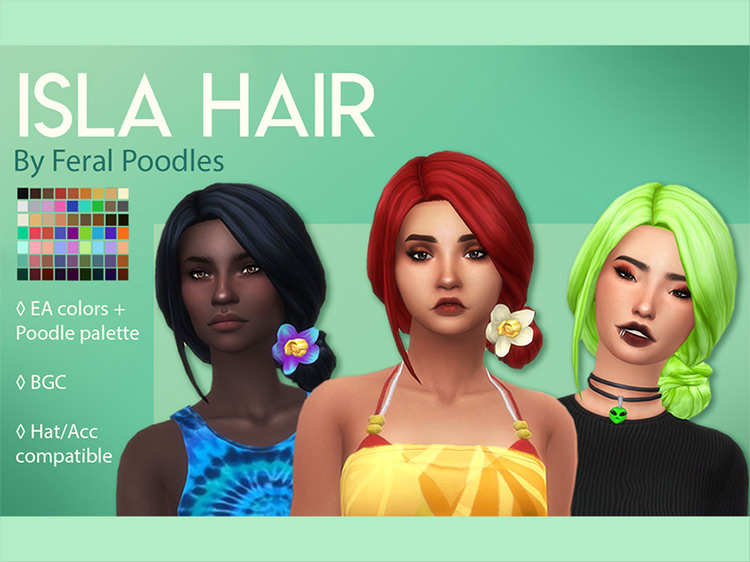 Fun fact! Isla means island, and the preview photos for this CC? Definitely channeling strong Sims 4: Island Living vibes.
Unfortunately, the flower accessories pictured here don't come with the hair.
But that doesn't detract from how cute this casual side bun is!
19.

Elizabeth Hair by ladysimmer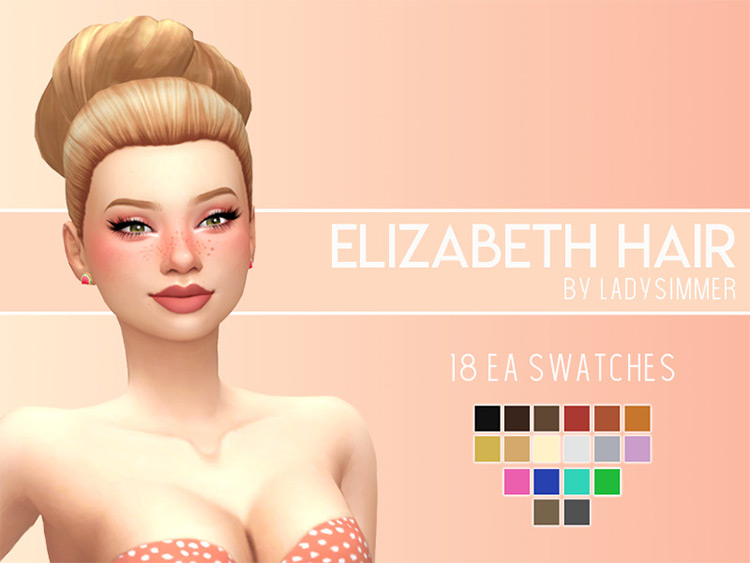 Had enough of the loose messy buns?
Here's a neat, symmetrical, and perfectly styled hairdo for those who prefer a cleaner, sleeker silhouette. Available in EA's standard 18-swatch palette!
Male Bun CC
20.

Disconnected Top-Knot by simsza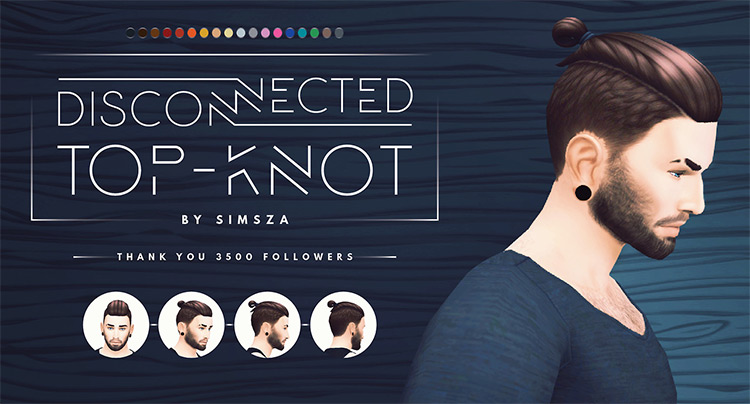 This Disconnected Top-Knot is actually a mesh edit of the original "shaved man bun" hairstyle from The Sims 4: City Living.
The creator took away the braid on the side, shrunk the actual bun, and – best part – made it base-game compatible!
21.

Shaved Bun Hair by Simduction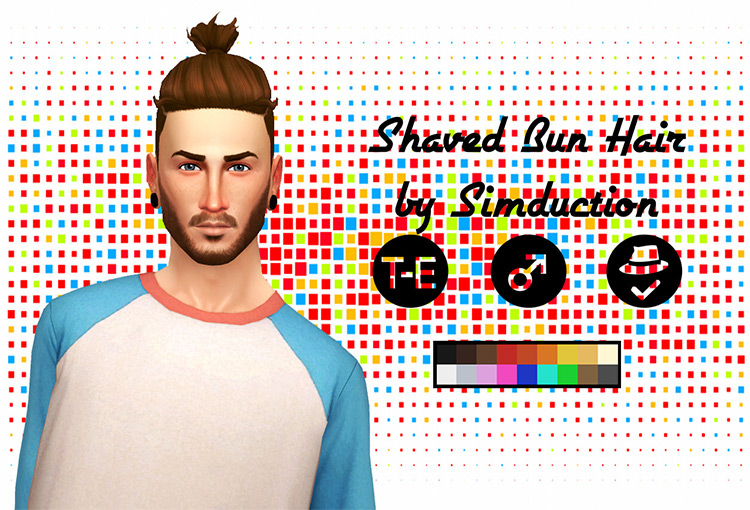 This is sort of like simsza's Disconnected Top-Knot, only it's giving me major Sokka vibes.
In the Avatar, the Last Airbender universe, it's called a "warrior's wolf cut".
Here, we calls it a top-knot (or tiny man bun) with an undercut.
Either way, it looks cool. Plus, it's hat compatible!
22.

Bunny Bun Hair by The Kuntswollen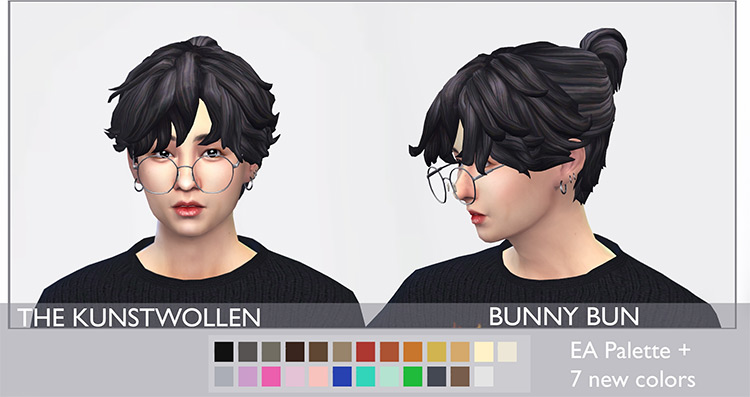 Inspired by Jeon Jungkook of K-pop boyband sensation BTS, this Bunny Bun Hair gathers only the back bit of the hair.
As evidenced by the preview photos, it doesn't touch the fluffy, messy bangs up front.
It's a cute and youthful man bun, all things considered, and I think it'd work great for "boy next door" concepts.
23.

Caelan Hair by glazeki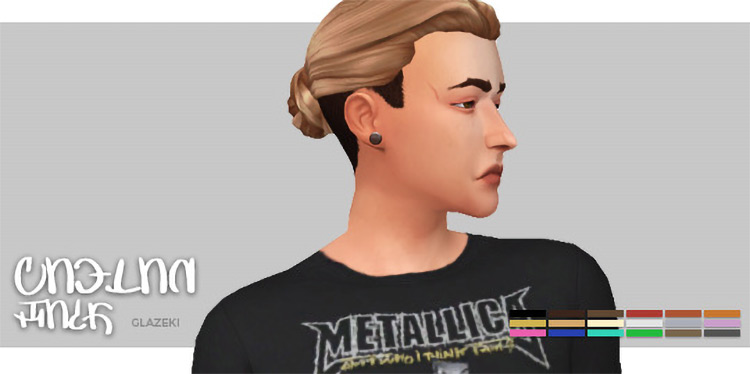 This Caelan hair is sort of the opposite of the Bunny Bun 'do.
Whereas that one was wholesome and innocent, this man bun most probably belongs to someone a little rougher around the edges.
Not exactly the "bad boy" archetype per se, but it's definitely suited for Sims who aren't so bright-eyed and eager to see the world in the best light.
24.

Low Manbun by Simsational Designs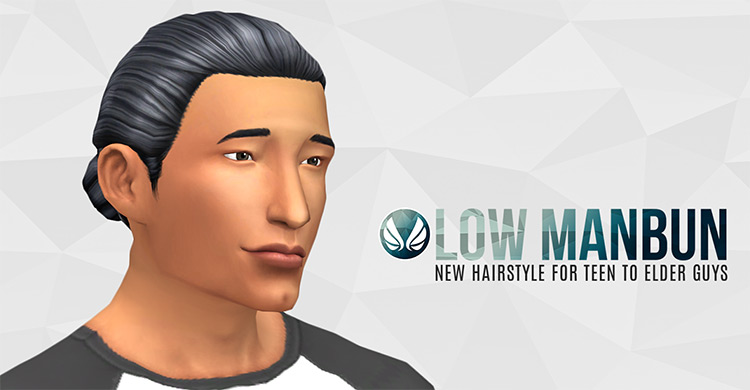 I agree with the creator here: a lot of the man-buns we see – both CC and from EA – are really high.
Many of them can be considered top-knots!
To be fair, The Kuntswollen's Bunny Bun Hair was pretty low. And it had a fairly unique silhouette, too. But the majority of options for Male Sims are still vastly in the hair-on-top-of-head category.
Ergo, Simsational Designs' Low Manbun.
It's simple, it's fairly uncommon, and it works with beanies. What more could you ask for?
25.

Dakotah Hair by wyattssims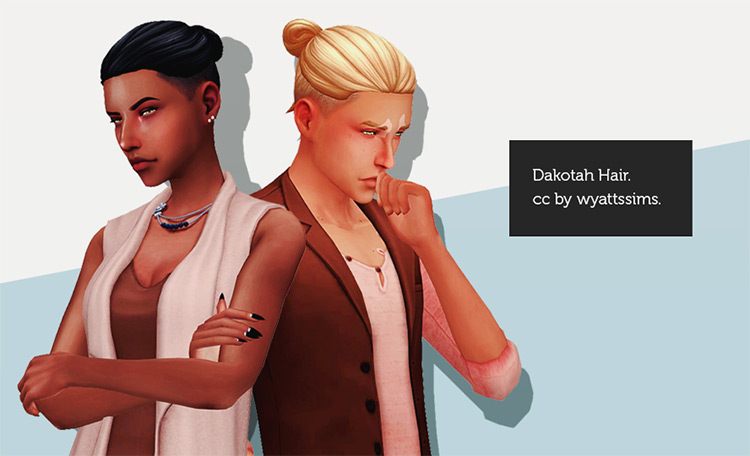 Your Sim has stumbled upon a rebel group in a post-apocalyptic setting.
Is this or is this not the hair the gruff, no-nonsense leader is sporting?
Seriously — it makes both Male and Female Sims look so strong and capable, it's practically intimidating.
Browse:
Lists
Maxis Match
The Sims 4
Video Games