The Sims 4: Best Seductive & Flirty Pose Packs
This post may contain affiliate links. If you buy something we may get a small commission at no extra cost to you. (Learn more).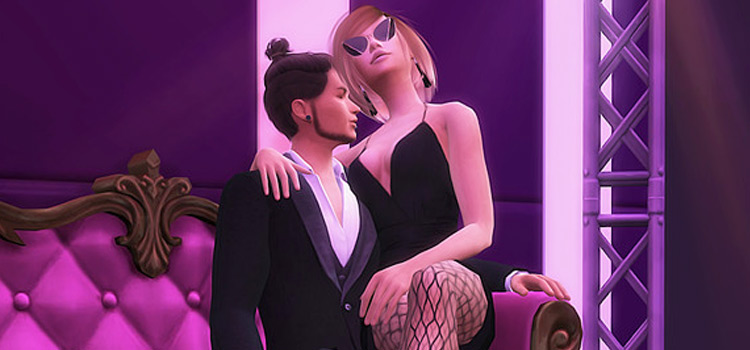 When you have a special someone in your life, it's hard to not let your feelings shine through.
Even if you try to stamp them down, that burning passion and desire can only be fought but for so long.
Romance is obviously a huge part of The Sims. There are aspirations and traits to determine how important it is in your Sim's life.
But at the end of the day, just like the real world, someone will have to make a move eventually.
Simmers are all about capturing (if not forcing) these wonderful moments.
Through poses, you can see your Sims in scenarios that otherwise won't be possible.
And the adorable flirting poses you'll find here are so incredibly smooth and realistic that you might just feel like a fly on the wall, watching the magic unfold.
1.

These Dancers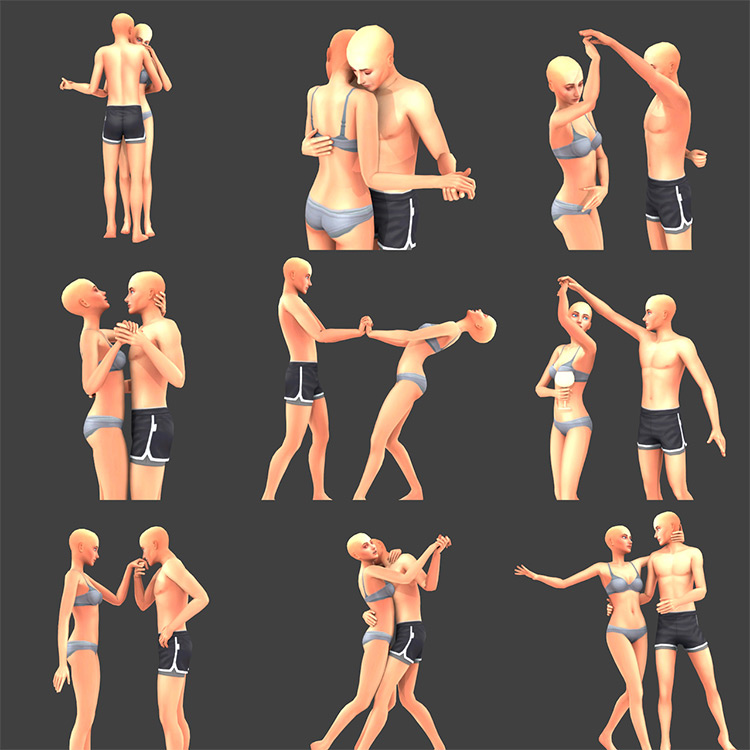 Unless you're a professional, dancing is a rather intimate activity.
All of that touching and closeness… if two people already have feelings for each other, then this is just a recipe for romance!
You can just feel the flirtatiousness through these nine poses from Sciophobis.
Each one will position two Sims in fun dances that include everything from close embraces to twirls.
Your Sim's bodies will be as intertwined as their souls already are.
Okay, that was a bit dramatic… but so are some of these poses – in the best way.
You'll have a lot of freedom on what you do with them, whether you'd like the dance to play out as an impromptu moment at home, or in the midst of a night out.
2.

Couple Poses #28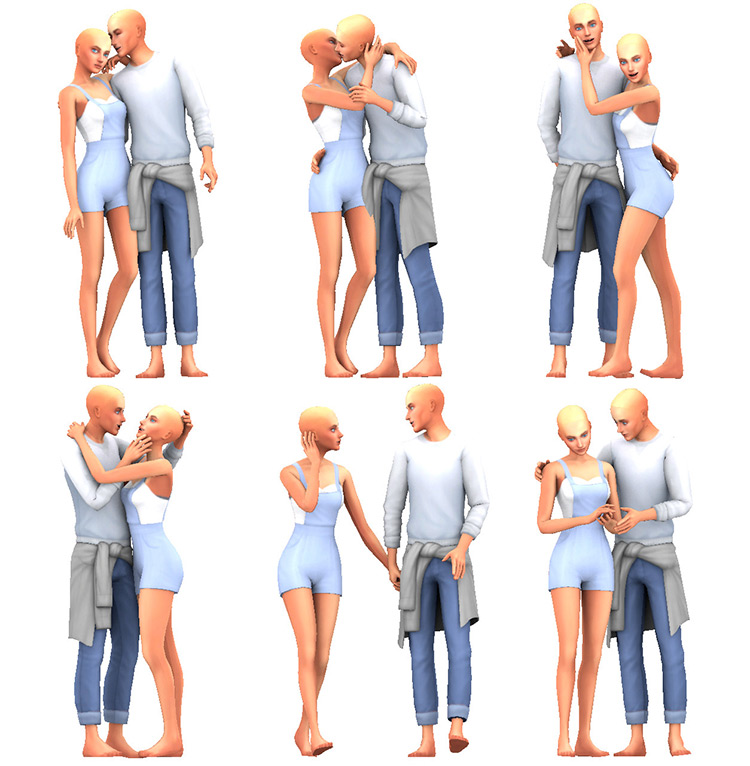 When you're first trying to get two Sims together, they're often literally inseparable.
Firing romance interactions one right after the other is the only sure way to build a relationship, and there tends to be a whole lot of hugs and laughs.
Keeping that momentum going is up to you.
But those moments can pass you by so quickly. It can be hard to enjoy them as they are.
This is where poses come in.
You saw that coming, right?
These feature some everyday flirty moments, like walking hand in hand or whispering sweet nothings.
With these six poses, your Sims just won't be able to keep their paws off each other.
3.

Puppy Love Pose Pack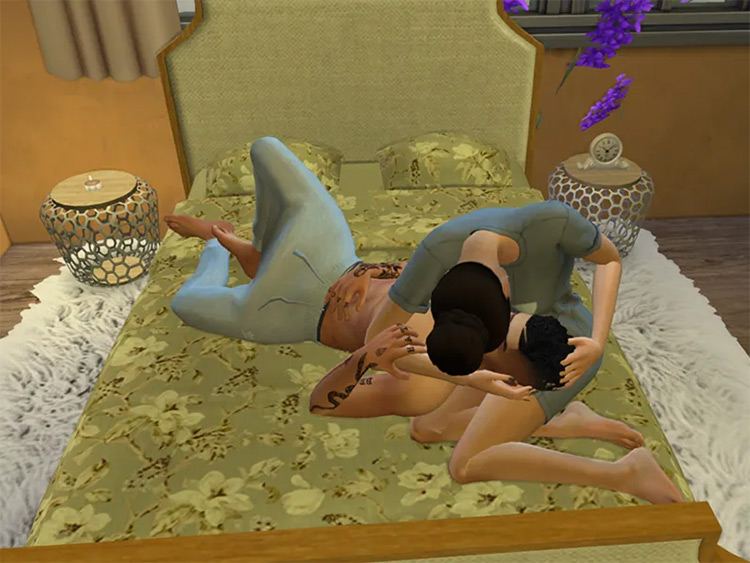 Two lovebirds in bed are bound to go places… though not necessarily where you're probably thinking.
Put the Wicked Whims mod aside for a moment!
These sweet poses go over a range of moments.
Some have a playful vibe, while others are a little saucier. Your Sims can cuddle, and then things get a little suggestive as the moment escalates to kisses.
I'm a big fan of any pose that gets my Sims doing stuff on furniture (besides just sitting or sleeping), and these look fantastic.
They're as natural as can be, and can create some great memories for you as the player to look back on.
4.

Lovely Walks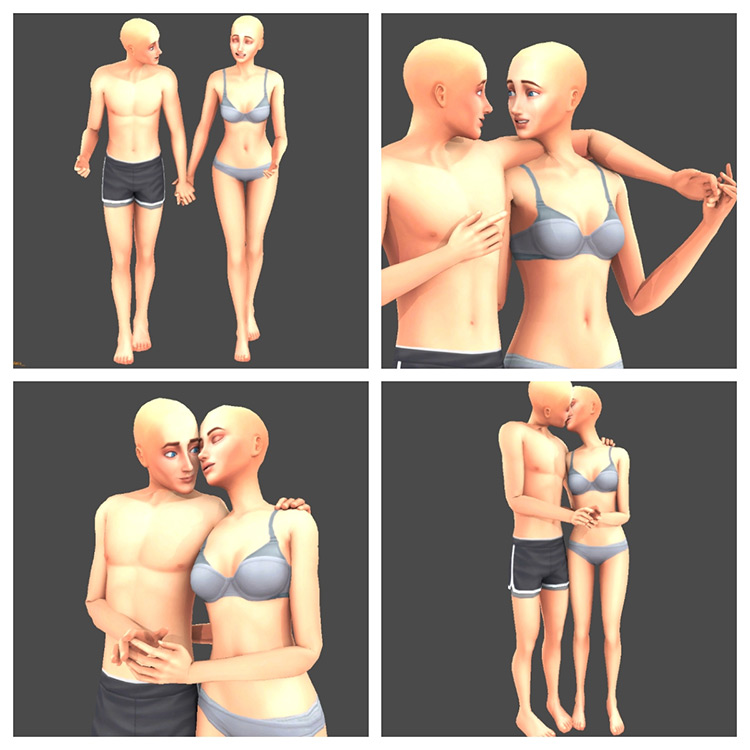 Two people out on a walk can feel like it's just them in the whole world, because the person they're with is their world.
These four simple poses will show your Sims holding hands, gazing at each other, and kissing.
You may miss some of the details here at first glance since they're so subtle.
In one, your Sims are brushing fingertips, and in another their eye contact is pretty intense.
I for one am waiting for the day Sims walking together is possible in vanilla.
But until then, poses will have to suffice, so it's a good thing they're so awesome. Because these really display wholesome moments between two Sims perfectly.
5.

Cooking Together Pose Pack
Cooking together can go many ways, and not all of them are pleasant.
I think there's some saying about too many chefs in the kitchen, and the gist is, strong opinions clash.
But that's not what you'll find here.
When the right people cook together, it can be a fun bonding experience.
These are some of the cutest things that can happen in a kitchen, honestly.
In one, a Sim is booping the other's nose! How precious is that?
There are five other equally amazing poses to choose from here too. And the really fun part is that these incorporate some props, which makes them appear even more realistic.
It's all stuff you've seen your Sims do, like use a cutting board or stir stuff in a bowl, but this time it's frozen in time and another Sim is in the mix.
By cooking with someone you love, it can turn something that may feel like a chore into a lifelong precious memory.
6.

Flirting Pose Pack
Poses that incorporate your Sim's environment always feel more real.
This set was designed to put your Sims in some steamy moments where it's just the two of them in an archway, or even against the wall.
But you can play out many different scenarios since they don't have to just be up against the wall – it could be any furniture you may have there.
Lockers, bookshelves, a murphy bed… nothing is out of the question, because no location is inappropriate for flirting!
Well, that's not true. Don't take that sentiment into real life.
But in The Sims, any time is a good time to build that romance meter.
7.

Close To Me Pose Pack
These poses will connect your Sims physically, through longing gazes and lots of touching.
They're very flirtatious, and will capture the deep feelings your Sims have for each other.
Depending on the location you use these (and the context), these poses could work as candid shots as well as for a photoshoot.
All of them are very natural poses that I'm sure countless lovers throughout time have found themselves in.
One cool detail you'll find in some poses (like these) is how they depict a height difference between Sims. Isn't that genius!
No wonder these look so realistic – they factor in that not everyone is the same exact height.
I mean, I get why we don't have height sliders yet since it's presumably for routing and animation smoothness… but it's still nice to see sometimes.
8.

Can I Have This Dance? Pose Pack
Here are some more flirty poses to get your Sims dancing.
It's a shame that there's no way in the game for your Sims to actually dance together outside of just physically being in the same space.
If you, like me, miss when Sims could slow dance from past games, then this is an awesome pose pack to get.
These 5 cute poses place your Sims in a variety of different dance moves, all with some kind of attraction brewing.
It even includes a lift, as well as one involving a Sim being carried bridal-style by another.
Perhaps there are some implications for their futures there?
9.

Random Couples #8
This set features a mix of fun and seductive poses that you can use in many different ways.
Whether your Sims are hanging around the house, at the park, on vacation, or anywhere else their life takes them, these poses will allow them to cuddle, walk together, and even roughhouse a little.
Yes, one includes the male Sim hoisting the female Sim up while she laughs. That's such a cute lighthearted moment.
I wish we had that as an actual interaction!
Another pose includes the male Sim with his head in the gal's lap, while she caresses his face. Ooh, how sensual.
These are great ways to depict how connected and crazy about each other two Sims are.
10.

With You Poses
Romantic feelings tend to bring people together in all sorts of ways – especially since they usually just can't get enough of each other.
This amazing pose pack is like the ultimate way to see your Sims having flirtatious fun.
Some are silly, some are sweet, but all are intimate.
Many of these poses include props, too.
One has a Sim playing guitar, and in another he's got a bouquet of flowers behind his back.
These setup some romantic backstories that'll be really exciting. Especially for two Sims that you can't get enough of.
The other poses here include a lot of physical interactions, and they're pretty unique.
In one, the Sim is on the bed lifting the other up with his feet, and there's also one where they're both jumping on the bed.
That's the kind of stuff you just can't get outside of expertly created poses.
But once your Sims are tuckered out from all of that fun, there are plenty of poses here that clearly bring them even closer through embraces and kisses.
Browse:
Lists
The Sims 4
Video Games