Sims 4 CC: Best Tennis Attire, Outfits, Poses & More
This post may contain affiliate links. If you buy something we may get a small commission at no extra cost to you. (Learn more).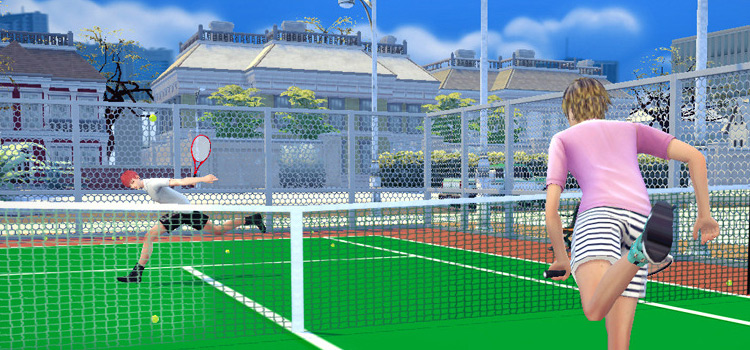 Can you believe in all 20+ years of the Sims franchise, we've never had tennis?
Just think of how awesome it would be to train our Sims to be the next Serena Williams!
We all know you can never say never when it comes to Maxis and EA. So there might be tennis added to the game at some point in the future.
But until then, here's some awesome tennis-themed CC For The Sims 4 to tide you over.
Tennis Girl Poses
Playing tennis is fine and all, but it's just as important to look the part.
Take snaps of your Sims ready to hit the court with LobotomyKitty's tennis girl poses.
Models, social media influencers, and Sims who likes fashionable, sporty photoshoots will love this five pose set.
Note that you'll need a few mods before you get started with these poses:
First, download Andrew's Pose Player and Teleport Any Sim. Then download the tennis court and racket (featured later in our list) and sun visors.
And voila! You're now ready to take some great tennis poses.
Pliskova Dress
Meten's Plisokva dress is the classic tennis dress.
With short sleeves and a mid-length skirt, it manages to be fashionable while also being light and airy.
We also appreciate how Maxis-Match friendly this dress is!
It comes in 15 colors, including an all-white version. Plus this is an EA-edited mesh, so you'll only need the base game for this CC.
And if you want the visor featured in the photo, grab it here.
Tennis Chain Skirt
We think Casteru's tennis chain skirt is more fashion than athletic – perfect for Sims who want to look sporty without breaking a sweat.
This chained ruffled skirt is very reminiscent of a popular '90's look when chains adorned both skirts and jeans.
No running out of color options here, because there's 41 swatches available in all.
And this one's base-game friendly too, and can be worn by Teens through Elders.
S4 Madison Tennis Dress
Like Nike says: just do it.
And by "it", we mean adding this super-cute tennis dress by Margeh-75 in your CC folder.
This mid-length dress features an around the neck halter top and 8 colorful hues, plus the famous Nike logo.
We could definitely see tennis greats like Serena Williams and Naomi Osaka rocking these, if they already haven't.
No extra packs needed for this one, so jump right in.
TS4 Tennis CC Set
Remember the tennis court and racket featured in our first entry?
As promised, here's where you can download everything you need for your session.
Haneco's tennis set comes with the green mat rug, court net, and rackets for some good (storytelling) tennis sessions.
The rackets come in 8 colors too, in case you want to match with your outfit.
Sebero CC Set
Okay, this one's adorable.
This two-set collection from Metens includes a tank-top and striped skirt combo – perfect for being on the court.
But we'd have to say the knee-high socks paired with it takes the look to another level. In fact, onlookers will be more captivated by your Sim's ensemble than the game itself.
You'll find 8 colors here for both items. You know, for variety.
Chanel Tennis Set
There are two super rare things when it comes to Sims 4 CC:
The first one is luxury brand CC not hidden behind a paywall. The other, as you already know, is tennis CC.
So this Chanel tennis set from JenniferPravia is a diamond in the rough.
The set includes a sports visor, sports bra, and a tennis skirt. The outfit appears to come in black only, but it's possible that there may be other swatches too.
And check the CC page details to be sure to download each mesh for all the items (just above the download link on the Tumblr page).
Sarabi Hair and Visor
Cute hair and a visor!
CandySims4's 2-for-1 set includes a fierce Maxis-Match box braid style.
But that's not all:
There's also an equally MM friendly visor for all your outdoor needs, whether it's tennis or a summer afternoon jog.
And a little about the hair:
It's base game compatible with 45 swatch colors, wearable by Teens and Elders.
The visor also has a lot of variation with 40 swatch colors, which you can find in the hat category in CAS.
Tennis Dress
This tennis dress from creator Annabellee25 is giving us some real 1960's vibes – anyone else?
It's got the same silhouette as most of the dresses featured on our list:
A strappy tank top and mid-length skirt for easy movement.
But the bold colors remind us of the popular mod style of that era. However you view it, we think it's a great addition to your CAS collection.
Tons of color options on this one – and it's also base-game friendly.
Semi-Functional Tennis Court
Content creators are always coming out with some game changing stuff.
This semi-functional tennis court from NecroDog is a perfect example of what talent and passion for the game can do.
This mod introduces a tennis-playing robot (used from the punching bag mesh) for your Sims to practice tennis with.
The animations are brand new from Necrodog, and even if you just check out the previews, you'll see it looks pretty awesome.
Hardcore tennis fans, this is the closest you can get to playing the sport in The Sims, until (or if) EA introduces it themselves.
Browse:
Lists
The Sims 4
Video Games