Sims 4 Toddler Socks CC: The Ultimate List
This post may contain affiliate links. If you buy something we may get a small commission at no extra cost to you. (Learn more).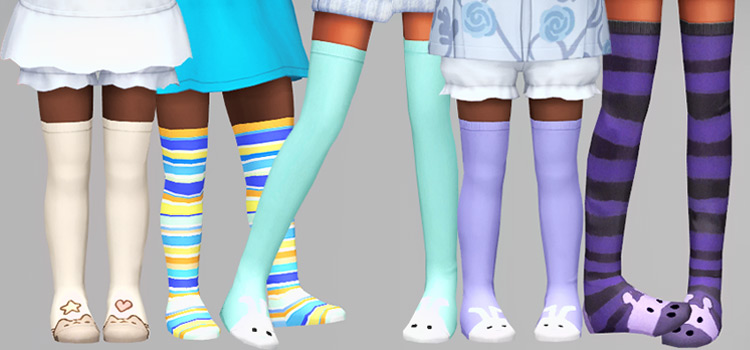 Socks are like the most dependable clothing staple in the world.
You can buy them on a whim, gift them to people you aren't close to, or add them to a care package without much concern. Unlike shoes and clothes, you don't need exact sizes—just a guesstimate will do!
In the case of TS4, however, you can't really swap socks around.
EA is very adamant about clothing items sticking to certain life stages.
So! Since your Teen or Child Sim can't pass on their novelty socks to their younger sibs, here are some cute and quirky CC socks for Toddlers.
1.

Toasty Toesies by sims4nexus
These custom socks have literally the cutest name ever and I feel personally attacked. Toasty Toesies makes me feel all sorts of warm and gooey inside, so I hope the creator's happy.
That aside, the socks themselves are great!
They actually look like they're made of really thick, ribbed material. Mesh detail, A+.
Color range? There are 30 swatches. You're bound to find a color you like.
2.

Wyatt Colorful Socks for Tots & Kids by Onyx Sims
Brighten up your Toddler Sim's wardrobe with these cute and colorful feet socks from Onyx Sims.
There are 35 total swatches, and they're all perfectly kid-friendly.
Cute stars, big bubbles, and fun, squiggly shapes? Definitely a treat for tiny feet!
3.

Vinona Socks by vintage-simmer
As an advocate for cute and comfortable Toddler clothing, I prefer plain, simple accessories with (literally) no frills.
However, I acquiesce that even tiny tots must dress fancy when the situation calls for it.
Ergo, these Vinona Socks are a must, even for kid-friendly wardrobes.
When your Toddlers have got to wear their Sunday best, these lacy, solid-colored socks will do in a pinch. Plus, the lace's pattern is really pretty!
4.

Christmas Socks for Toddler 01 by remaron
It's a jolly holiday when you've got Christmas keeping your feet nice and warm.
Check out these festive patterned socks from remaron. They're cute, they're kid-friendly, and they look like the kind of novelty socks you buy for the family picture.
They come in six swatches and reach to about half up a Toddler's calf.
5.

iLOVEsaraMOON Socks & Bows Set by SamanthaGump
These socks have bows on them.
And you can mix the colors.
If these two selling points aren't enough, I don't know what else to tell you.
Seriously, they look adorable! Plus the whole set is so clever.
You can mix the colors of the socks (so you have different colored socks) and the bows. Check out the sassy little toddler with the black-and-white socks. That could be your Sims's Toddler!
6.

Toddler Socks 02 by Pinkzombiecupcakes
Some polka-dotted options for your Toddler's tiny feet!
They're more teeny dots on sheer-ish backgrounds than they are big, graphic polka-dots, but I think the subtlety makes them look sweeter.
7.

Toddler Winter Sporty Socks by Pinkzombiecupcakes
'tis the season to be jolly, but 'tis also the season to dress warmly.
When the temperature starts dropping and the air starts getting nippy, it's time to break out the thick woolen knit.
These sporty socks for Female Toddler frames come in a thick & cozy-looking mesh with 20 colors.
8.

Toddler Frilly Socks 2.0 by Giulietta Sims
These socks are apparently a frillier version of the creator's original Frilly Socks for Toddlers CC.
I do recommend you check out that version too, as there's a transparent dotted variation that I also like.
But these 2.0 socks are arguably sweeter and lacier.
And I do like that it comes in two different heights for more dress up options.
9.

Sugar Socks for Kids and Toddlers by Saurus
These are Child-friendly (and Toddler-friendly) versions of the creator's Sugar & Sweetener Socks set, which is basically a grab-bag of hopelessly adorable novelty socks.
The kind you buy not because they're practical, but because they're so darn fun to look at. Sound relatable?
Then grab them for your tiny tots, because the designs are literally too cute.
Candy stripes? Check.
Ladybugs with matching red-with-black-polka-dots patterns? Check.
Pusheen cat on your toes? Check, check, and check!
10.

Knee High Socks for Toddlers by HistoricalSimsLife
Ankle socks are all well and good, but where are the knee-highs?
They can be both functional and fashionable when paired with the right outfit.
And no one is ever too young to worry about fashion. Even Toddlers!
The download link leads to the creator's whole SFS directory. Just CTRL+F "knee high" to get the right file.
11.

Knee High Socks for Toddlers by bobieplum
Bobieplum takes HistoricalSimsLife's knee-high Toddler socks and adds 16 more color options to the original seven-shade range.
And as someone who absolutely adores earth tones, I am certifiably in love.
Soft browns, muted neutrals, and gentle peaches? Yes, please!
12.

Socks for Toddler by Louisa_0101
These socks may not have many color or pattern variations, but they have tiny red butterflies on them. And happy little dancing bumblebees.
Plus they're base-game compatible. 'Nuff said.
Download them to keep your Toddler's feet cute and cozy.
13.

Basic Socks for Toddlers, Kids & Ladies by SamanthaGump
These socks were made with ankle-high boots in mind, and they certainly make for a fashionable combination!
Check out the Child Sim in the preview photos; stylishly casual and unflappable as it's possible to be.
The mesh is also pretty detailed, what with the little roll around the ankle and the visible ribbed texture.
Plus, 35 color options? Not a bad spread.
14.

Basic Socks #02 for Children & Toddlers by SamanthaGump
I know what you're thinking. These look almost exactly like the original Basic Socks by the same creator. They even have the same swatches!
I beg to disagree.
These socks may have the same name, the same height, and the same colors. But the difference lies in the silhouette.
Check out the roll of cloth around the ankles; it's thicker and slouchier. Check out just how many folds it's got. Gives off the impression that the material is looser.
Am I nitpicking? Not really, because I genuinely think both are different enough – and of high enough quality – to warrant separate spots on this list.
15.

ReMaron_T_Socks01 by remaron
Socks with brightly-colored stripes will never not be fun to look at.
From sporty-looking combinations to yummy candy colors, these standard CC socks by remaron (too tall to be ankle socks, too short to be knee-highs) are a visual treat for the eyes—and the feet!
And no meshes or expansion packs needed here.
So this CC is one hundred percent base game compatible.
Browse:
Lists
The Sims 4
Video Games