Best Sims 4 Wedding Cake CC (All Free To Download)
This post may contain affiliate links. If you buy something we may get a small commission at no extra cost to you. (Learn more).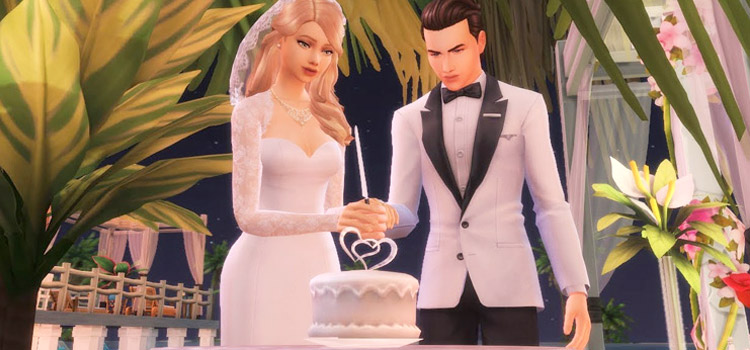 Do you hear that?
Wedding bells!
Your Sim has met the love of their life, and it's time for them to get hitched. Just like in real life, there's a lot of planning that goes into a Sim wedding.
You have to find a venue, send out invitations, get the formal wear put together, and then finally—the cake!
Well I'm here to help make your job a bit easier by tracking down some of the better wedding cake CC out there.
Just don't forget to save me a piece!
1.

Edible Wedding Cake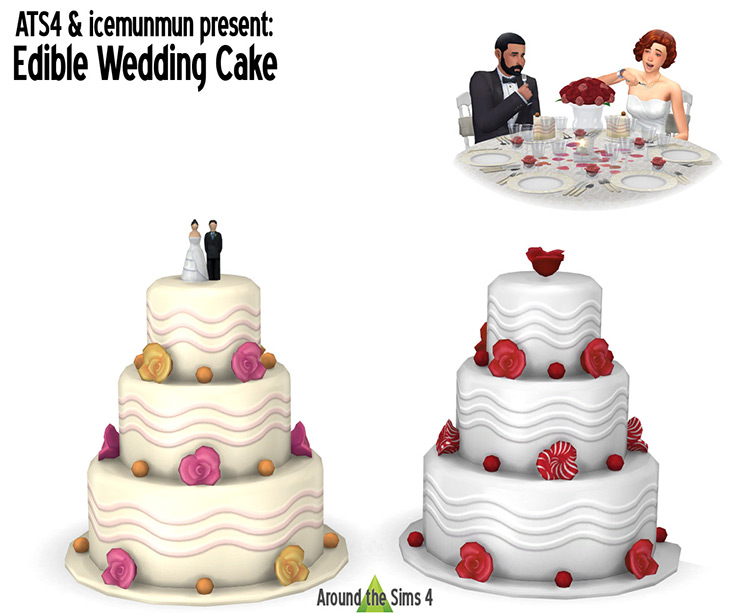 CC creator MunMun has created a gorgeous (and edible!) wedding cake that comes with multiple cake toppers.
There are two different versions of the cake itself, and then ten incredibly inclusive toppers that are going to really put your weddings over the top.
2.

Wedding Cake Conversion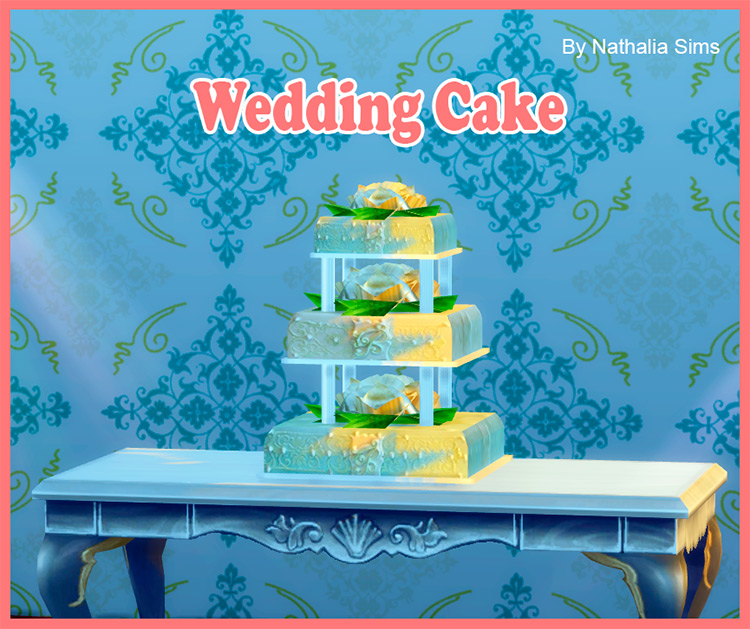 Nathaliasims has brought us a beautiful décor-only cake here.
It's actually been converted from The Sims 2, and it looks great.
This CC has two nice swatches, and even if your Sims can't eat it, at least they can take a lot of pictures with it.
It would also make a nice clutter item in a baker's kitchen, or in a bakery. How good does it look?!
And it's always great to see a throwback item from games of Sims' past!
3.

Lemon Blueberry Cake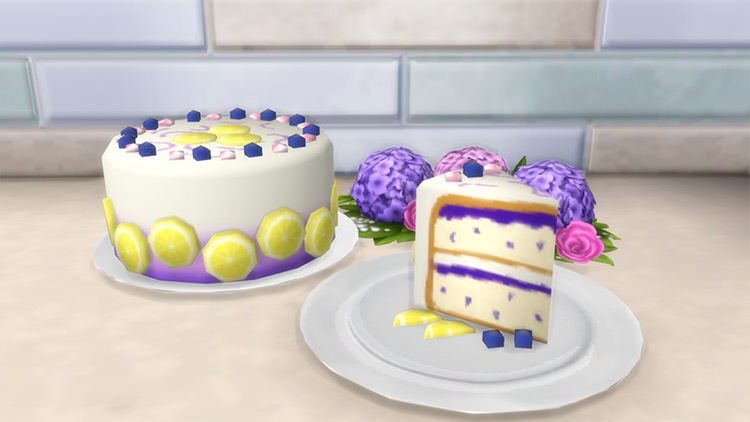 Oh, guys, this one is so good!
CC creator Littlbowbub is fantastic at creating new dishes for your Sims to enjoy in-game.
And with this adorable cake, your small intimate weddings are going to be even better.
It's a level four cooking skill recipe, and has the option to add your own lemons! This is one that's literally making my mouth water. Yum!
It looks so good that your Sims will want to keep baking this one long after the wedding is over.
4.

Functional Cake Stand
Now we all know that sometimes you just have too big of a cake, and there are going to be leftovers.
This amazing cake stand by Menaceman44 would make for a great place to store your Sim's wedding cakes, as well as their other baked goods!
It's actually a mesh of an item from the Get Together pack, and comes in eleven different swatches. You do need that pack for it to function as a useable item, so just a heads up on that.
5.

Blackberry Lemon Wedding Cake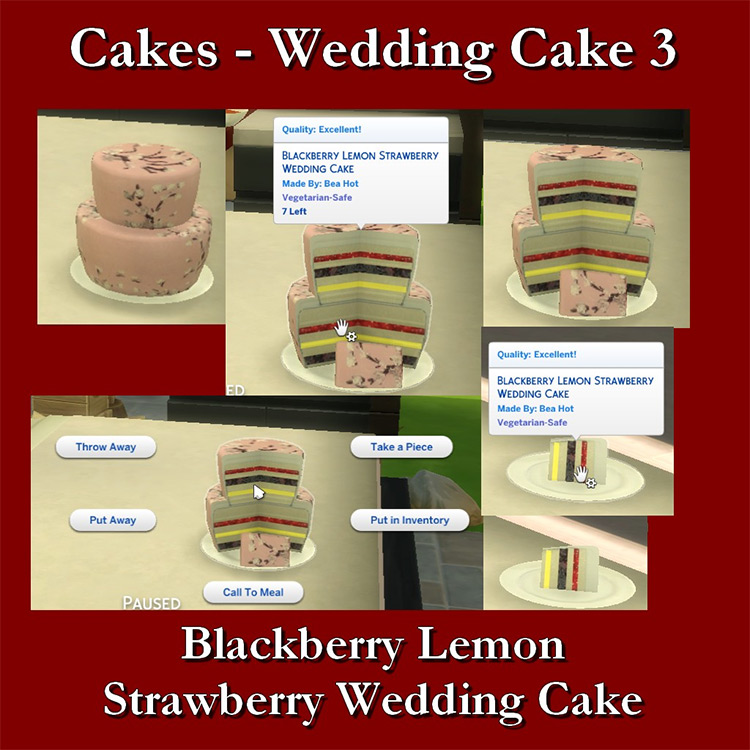 I think I'm going to need to go out and buy myself a cake before the end of this list.
Creator Leniad is doing great things for the CC community in regards to custom recipes, and this blackberry lemon wedding cake does not disappoint!
The outside of the cake is a beautiful pale pink color with cherry blossom trees, and the inside has multiple layers of various fruits and frosting.
It's a gourmet recipe that requires a level nine skill, and can also be made using your very own harvestables from the garden.
6.

ScandiFever Cake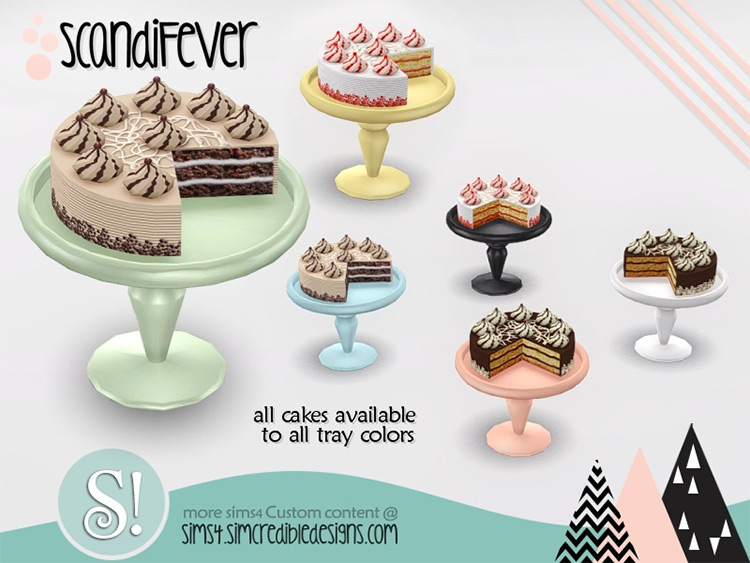 Creator SIMcredible! has made an amazing décor cake with this CC, and it'd would look adorable on any dessert table.
It's a smaller cake and is only for decoration. But it would make a great addition to your wedding reception.
With three variations of cakes and multiple colors in the cake stands, this one would fit in with any setting. It's also a cake that would look great on your kitchen counters.
7.

Formal Tea Set
Strange Storyteller has put out a beautiful set of décor CC for formal tea that's going to bring that fairytale feel to your weddings!
There are nineteen different décor items in varying swatches, and they all look magical.
This would be great for your receptions, as well as the newlyweds' kitchen after the party!
Your Sims will feel as if they're the stars of their own Disney movie with this décor set.
8.

Corpse Bride Inspired Cake
Who doesn't love a themed wedding?
CC creator Littlbowbud is at it again with this incredible Corpse Bride-themed cake set, and they're going to have your spooky Sims jumping for joy.
This one was part of the creator's cookbook they created. And it's even vampire friendly!
Note that your sims will need a level six cooking skill to make this ghoulish treat. But it's totally worth the hard work.
It's a spook-tacular four-tiered cake with small skulls and gorgeous colors that pop. So if you're in need of inspiration for your Sim's upcoming nuptials, look no further.
9.

Pumpkin Spice Latte Cake
This creator has too many good options, so we're back with another cake by Littlbowbud!
If you want a themed wedding during the fall, but you're not into the spooky, then this pumpkin spice latte cake is the perfect option.
It's a large one tiered cake with the cutest tiny pumpkins. And I'm basically obsessed with it!
Your Sims will need a level four cooking skill here, but it's worth the work.
This one would also be a great addition to that Harvest Fest dinner you're planning, too.
10.

Littlbowbub Wedding Cake
I did it again. Littlbowbud just has so many great CC options for wedding cakes!
This one is a beautiful tiered cake with flowers along one side that crawl up the cake for a lovely finish.
This would be great for a spring or even summer wedding, and I guarantee that your Sim's guests will be so happy they decided to attend your wedding—just for the cake alone!
As I said before, this one is part of this creator's cookbook as well. So you'll need to download it for their custom recipes to work.
This cake requires a level eight cooking skill to bake, and can also be prepared with your own ingredients.
Browse:
Lists
The Sims 4
Video Games