Sims 4 Chanel CC: Clothes, Bags & More
This post may contain affiliate links. If you buy something we may get a small commission at no extra cost to you. (Learn more).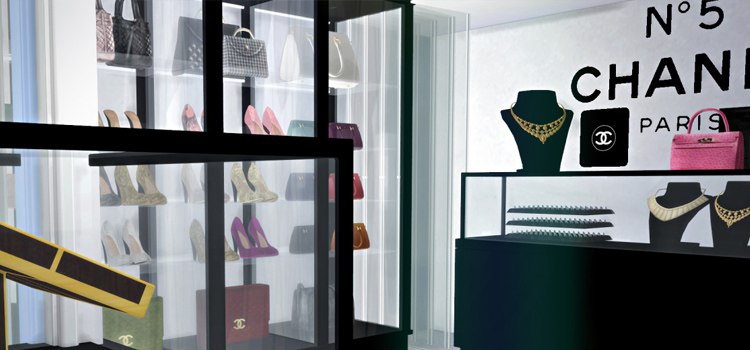 The world of fashion has its ways of compelling people to fall in love with what they can't afford – and no one knows this better than luxury fashion brands.
From a Louis Vuitton Jenga set to a Prada paperclip, luxury fashion brands can sell anything with their fancy logo on top.
But, out of all the fashion houses that have tried to leave their mark in the world, there's something about Chanel that makes anyone want to rob a bank and buy one of their pieces.
And now we can bring these pieces into our TS4 game.
Here's my picks for the best Chanel-inspired CCs that would make any Sim look like a million Simoleons!
10.

Jennie's Chanel Cardigan Set
When you have a member of the most popular K-pop girl group in the world favoring a certain brand, you know that brand's about to blow up big time.
Jennie Kim of BLACKPINK is one of the most famous K-pop idols on the planet right now, and Chanel loves her for it.
She's talented, pretty, and the perfect millennial model to influence teenage fans to buy a Chanel cardigan worth more than their weekly school allowance.
Good thing your Sim can rock this CC like a true K-pop star without having to spend anything.
9.

Chanel-style Dress
ICYDK, Chanel was founded in 1909, a time when mini skirts and crop tops were still blasphemous concepts to archetypical womenswear.
But like all brands that fight to stay relevant in the era of social media, the French fashion house has adapted to manufacturing Insta-worthy clothing sets that reflect this generation's fondness for stomach-revealing ensembles.
Transform your Sim into a classy Instagram baddie with this Chanel-style Dress that comes in 17 colors!
8.

Chanel Set
When you have the means to buy clothes worth a thousand bucks, it's only natural to want to brag about it.
Whether through Instagram selfies or snaps, most would find a way to be as subtle as possible in showing off their latest fashion buy.
With this Chanel CC Set, though, your Sims would only need to go around the neighborhood and walk the pedestrian lane like it's their own catwalk.
Get this long-sleeved top and mini skirt combo from BADDIESIMS and prove to your doubters that fake designer clothes are soooooo last season.
7.

The Slingback
Against all odds, Coco Chanel, the legendary founder of the Chanel fashion house, has revolutionized womenswear for the better.
Not only did she make tweed jackets a fashionable ready-to-wear piece, but she also introduced shoes with two colors rather than the usual monochromatic styles of her era.
With heels that aren't as thin as a no. 2 pencil, Chanel's two-tone slingback is one of the best designer shoes you can invest in.
It's iconic, historic, and most of all, it won't let you fall and sprain your ankle by walking from point A to B.
6.

Kenny Chain Belt
Seeing this golden chain belt, I'm reminded of that one scene from Confessions of a Shopaholic where Rebecca Bloomwood fell in love with a green scarf.
The ridiculously expensive piece of green fabric wasn't essential to Rebecca's survival, but she bought it anyway because she simply liked it.
Just like how this golden chain belt is an unnecessary financial burden which many would be willing to carry because it's that stunning.
Accessorize your Sims' usual ensemble with this Kenny Chain Belt that doesn't make it too obvious that they're wearing Chanel.
5.

Chanel Boutique
When thinking about Paris, the first things that pop into my head are the Eiffel Tower, the Louvre, that cringy show on Netflix starring Lily Collins, and berets.
Wearing berets in Paris is quite textbook.
But you can't deny that this headpiece has become an iconic accessory to bring over to the most romantic city in the world – if you know how to wear it right.
Nail the fancy Parisian girl style with this CC from RIMINGS that comes with 2 sets of clothes, berets, and headbands!
4.

Chanel Brooch, Knit Cardigan, and Skirt
Western fashion in the 1920s was literally restricting (corsets were still a thing).
But Coco Chanel changed that by introducing the famous Chanel suit.
The two-piece set was created to become a comfortable but practical alternative to the outdated style of the decade.
Today though, Chanel suits are traded for a pair of mom jeans and cotton shirts. But if your Sim ever needs a look of sophistication, this CC is tailor-made for 'em.
Dress your Sim in a fitted Chanel shirt, cardigan, skirt, and brooch that tops Cher Horowitz's plaid ensemble ten times over.
3.

Chanel Le Boy Handbag Decor
This list would not be complete without one of the best Chanel items to be released since its inception: the Boy Bag.
You don't have to be a handbag collector to want this Chanel bag, which features three things that make it a classic: the interlocking C logo, chained strap, and Chanel's signature diamond pattern.
Unfortunately, this CC is not wearable and is fated to collect dust until your Sim dies.
Still, no one's this lucky to have clutter as luxurious as this Chanel Boy Bag.
2.

Chanel Perfume Tray
Ah, Chanel No. 5 – the perfume everyone knows, but never smelled.
Revered as Chanel's signature fragrance, this perfume has been a mainstay in the French fashion house for over 95 years.
Getting a whiff of this perfume would normally cost customers $80 apiece, which means I better stay on the lookout for testers at the mall.
For your Sims, they can have as many refills as they want with this Chanel Perfume Tray CC that comes with a Jo Malone candle and what appears to be a tissue box made from marble (fancy stuff).
1.

Set Coco
A wise man once said, "There are some things that never go out of fashion: jeans, a white shirt, and a Chanel jacket."
Bukovka's Set Coco showcases Chanel's trademark tweed jacket that paved the way for the brand's success.
The collarless jacket is a hundred years old by now.
But it still has the elegance and the finesse brought by Coco Chanel's ingenious craftsmanship.
Turn your Sim into a Chanel muse with this CC that has made history in more ways than one.
Browse:
Lists
The Sims 4
Video Games