15 ACNH Gym & Exercise Area Ideas For Your Island
This post may contain affiliate links. If you buy something we may get a small commission at no extra cost to you. (Learn more).
Does your island need a workout spot?
Well how about adding an outdoor exercise area? Or maybe adding a little gym to your home?
Whether you're a sports fan or just want to make your jock residents happy, there's nothing better than taking some time to get creative.
You may already have gym-related equipment accumulating dust in your house's storage. And that's the first step.
So now I say let's choose a room in your home (or anywhere on your island) and let's get down to business with these awesome ACNH gym ideas!
15.

2-in-1 Gym and Laundry Room Combo
If you want to optimize your home's space to the max, why not combine the laundry room and gym in the basement?
Choose a light-colored palette to make the room look bright and cheerful. Plants will add that green tone for coziness, too!
I love that this design has one of my favorite items, the lucky cat. But maybe I would've gone with the golden version.
Just imagine: once you're done working out, just strip off those sweaty clothes and send them straight to the washing machine. How convenient!
You may think having a carpeted floor for the gym area could be a bad idea. After all, who's gonna clean that after a hard workout session?
But don't worry— it's Animal Crossing! Decorate the walls with some air conditioning and fans. And don't forget the wall TV for some good entertainment while you work!
14.

Outdoor Boxing
What about taking a boxing ring outside?
Set it right next to the road and use any custom pattern for the flooring.
A direct approach to the idea with and nature as a cute background… What else could you ask for?
While I would personally go with more vibrant colors, this still checks all the marks on my list.
Punching bag? Check.
Kettlebell? Check.
Water cooler? Check.
Weights that are probably too heavy for my noodle arms? Check.
13.

Small Workout Area
With all the classic gym equipment in ACNH, you could set up a small workout area right next to the road.
What's great about this idea is that space isn't the most significant concern here. If you have any custom design you want to add to the sign, go for it!
The setup is pretty straightforward, and the results are quite aesthetically pleasing.
Most of the items you'll be able to find at Nook Cranny's. So by now, it's a matter of cleaning the area, setting the flooring, and then you're good to go!
And the protein shakes are always an excellent addition to any workout area. It's the little splash of color you might want for the otherwise dark color palette here.
12.

Soccer Field
Say you're a big soccer fan.
After all, it's one of the most popular sports worldwide. And Animal Crossing is familiar with this— I'm looking at you, Jitters!
With a bit of imagination, you can add a small field to your island. That way you and your friends can practice and play some matches to show off your skills.
The industrial and metal decorations are an excellent complement to a city-like island.
Again, this particular design idea is perfect for those small areas where you don't know how to complete the look. And I feel like this soccer dirt field hits the mark dead center.
The blackboard in the background also gives off the vibe of a training area, rather than a fully-fledged lot.
11.

Basement Gym
Here's a less cluttered option if you're looking for another thematic rendition of a gym area in your basement.
I loved the Saharah flooring, with the weightlifting section combined with the carpet.
Some of us can only wish to have a RingCon and a Nintendo Switch ACNH edition right in our basements. Well if we can't, our Animal Crossing brethren can!
And in this idea you'll also find all the essential gym equipment available in-game.
While there's no additional decorations on the walls or floors, I appreciate the minimalist approach.
After all, the main objective is to work out and sweat until your body can't take it anymore. I'd say we've nailed it!
10.

Jock Front Yard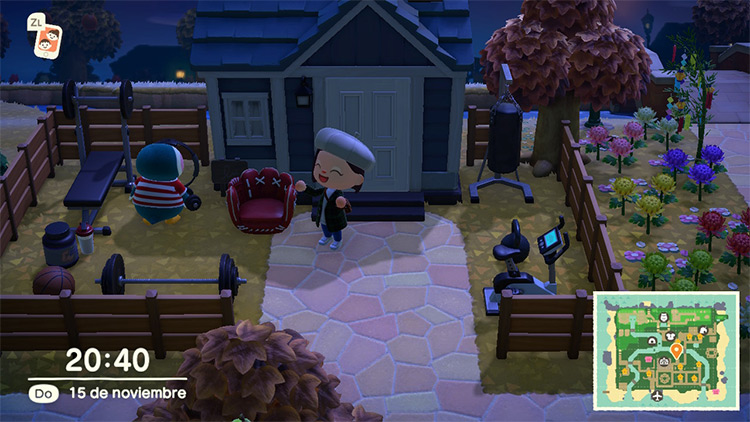 If your town is pretty built up, you might have a favorite resident. (I know I have mine.)
Well they deserve to have a space for doing their activities. And what better spot than to set up an outdoor gym right outside their home?
The design of this idea comes down to how much space you've allocated to the front garden, so feel free to add as many items as you can fit.
9.

Urban Indoor Gym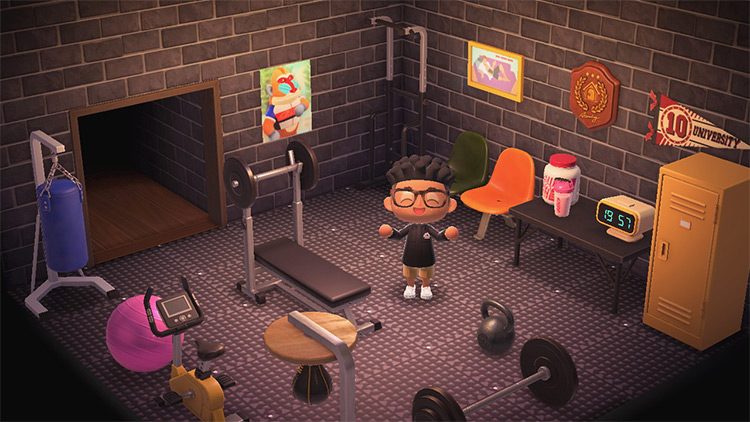 You can design your indoor gym in one of the smaller rooms in your home, and class it up with a more elegant approach.
And this idea hits right on the money.
The black bricks and floor get a thumbs up in my book!
If you have a poster from one of your jock residents, it'll make an excellent addition to your wall. I personally liked to hang the HHA plaque as a reminder of my character's achievements.
Let's hope this gym equipment doesn't collect too much dust!
8.

Boxing Ring
For the most creative minds in Animal Crossing: New Horizons, what about a fully equipped boxing training area?
I absolutely love the execution here. With the spotlights, boxing punching bags, and even the minor details, like the bell and recording cameras that add to the realism.
This inspo is also a great way to show off your jock residents' posters in a unique way.
7.

Tiny Winter Workout Area
Here's one more interesting outdoor workout area, this time adding a climbing wall to the mix.
It takes advantage of terrain height differences to mark the zone.
I would personally add a similar area on the other side of the road, just for the sake of symmetry.
I also find that adding a stand for smoothies and protein shakes is just perfect to fit with the design. Let's see if your villagers will drop by to check out this setup.
6.

Indoor Basketball Court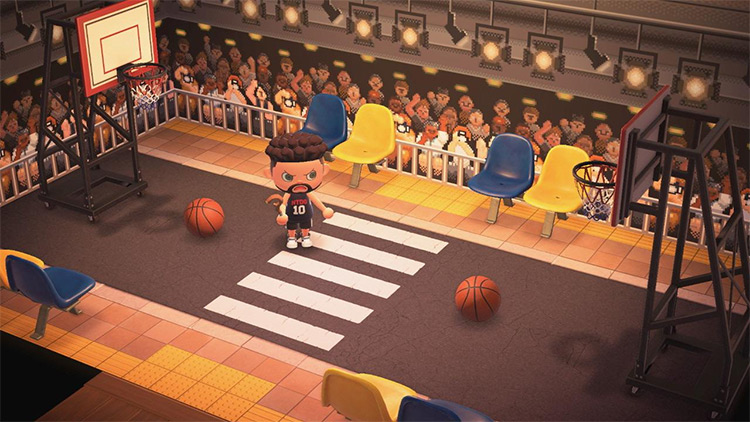 Just imagine having a professional-looking basketball court right next to your bedroom, or maybe right near your kitchen.
Well in the world of Animal Crossing, that dream is possible with some of Savanah's animated wallpapers, and some well-placed seating spots.
What else can I say about this?
The execution is flawless, yet straightforward. There's no need to gather too many items to pull it off, so it's excellent for players that might be just starting off their adventures on their islands.
5.

Running Field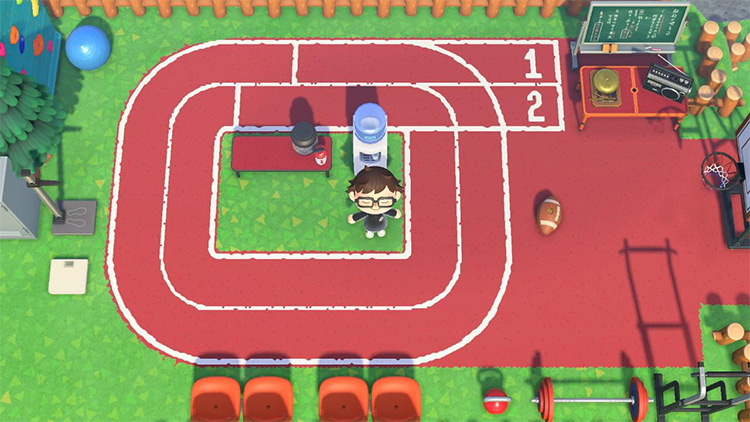 Ready, set, go!
Stretch your legs and hit the ground running with this basic track field setup.
I'd argue this could easily complement your sports area.
And more specifically, I like how the lines look like they were painted on the floor, rather than looking neatly placed on the ground.
The bell, blackboard, and radio are a great addition here too!
Can you imagine yourself training for the big island competition against your friends? Feel free to expand the field even further to raise the stakes!
4.

Beach Gym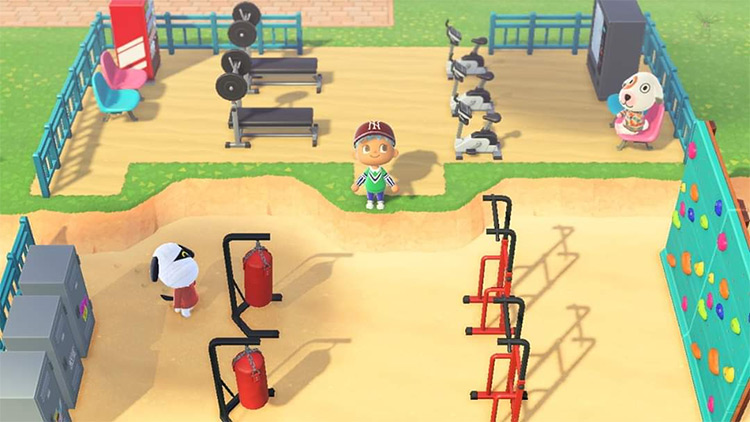 There's nothing like training at the beach with the sound of waves hitting the shore, right?
Well then this idea is absolutely worth building.
I like the black and red color palette here, in addition to the lockers, the water cooler, and the protein shakes.
The small details and the execution make for a charming and easy-to-craft outdoor area for keeping healthy.
3.

Soccer and Basketball Area
I would love to add two sports fields to my island.
And here's a great way to execute this idea: side-by-side next to the river.
Basketball and soccer are two significant themes for jock residents in Animal Crossing. So this build is a great way to pay homage without over-representing any specific villager.
I probably would've added a divider between the fields, if there was more space to work around.
But give this a try and see what you think. And definitely feel free to experiment!
2.

Shower + Gym Room
This next idea seems so lovely, I think I'm going to rework my entire home just to add it in.
Maybe that's the motivation I need to start finally start hitting the treadmill!
The colors here are friendly, and the shower corner works so well with the rest of the room.
And I have to say, the additional vending machines gives this area a funny fixture.
Who hasn't craved a snack right after hitting the gym?
1.

Sports Complex Home
This may be one of the most extraordinary design ideas out there.
Especially for players that want to pay homage to this fitness lifestyle in Animal Crossing.
This entire home is built like a sports complex. The main room is a general gym and check-in area, and the side rooms include a weightlifting room and even a sports merch shop.
I have to tip my hat on this one! Even the locker room looks unique and it matches perfectly with the theme.
I would love to add a second player to my island just to have this as a centerpiece.
Browse:
Animal Crossing
Lists
Video Games