15 Lounge Area Ideas For Animal Crossing: New Horizons
This post may contain affiliate links. If you buy something we may get a small commission at no extra cost to you. (Learn more).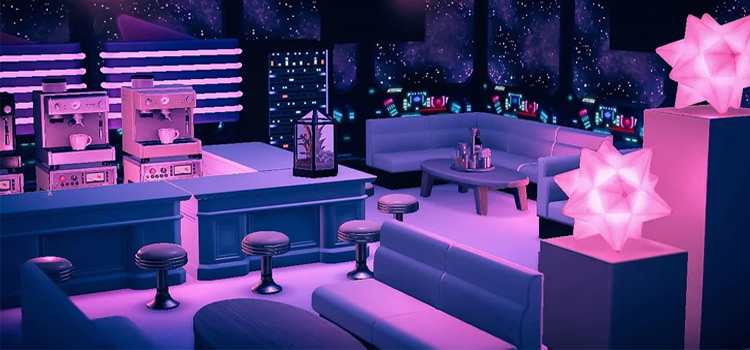 It's hard to imagine that Animal Crossing could get any more relaxing than it already is.
Between the gentle music and the low-pressure schedule, it doesn't take much for this enchanting world to help us breathe a little easier when we're feeling stressed out.
But, of course, this is a game full of potential when it comes to interior and exterior design. Once you've finished with your cafes, bedrooms, and resident yards, you'll want a place where you can just enjoy a few quiet moments.
Well we've got a few ideas here to inspire your ACNH lounge areas, relaxation rooms, and tiny corners of calm that you can tuck away for those moments when you're on a quest for tranquility.
15.

Plant Nursery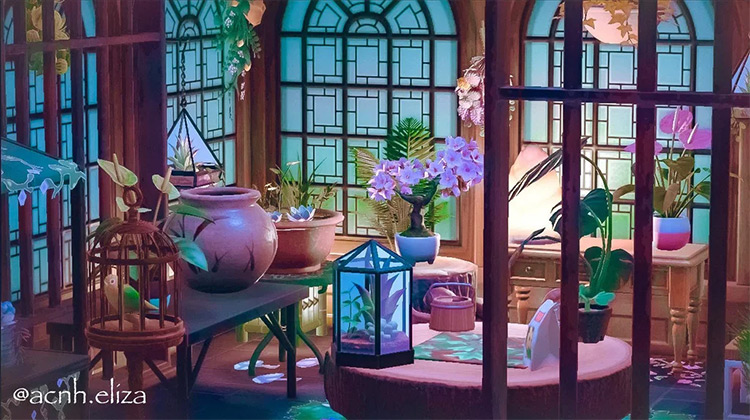 Find peace amongst the flora with your very own greenhouse lounge.
You can collect and craft a variety of plantlife, from a towering monstera to a sweet moss ball.
Not sure that you'll be able to fill the space with the in-game options? Mix and match the customized varieties!
You can use your workshop table to build pots and flowers in a variety of colors.
Throw in accent pieces like watering cans, and tuck greenery into every cranny to breathe life into the room.
Soon enough you'll have the ideal spot to sip tea and enjoy all your hard work!
14.

Relaxing Fountain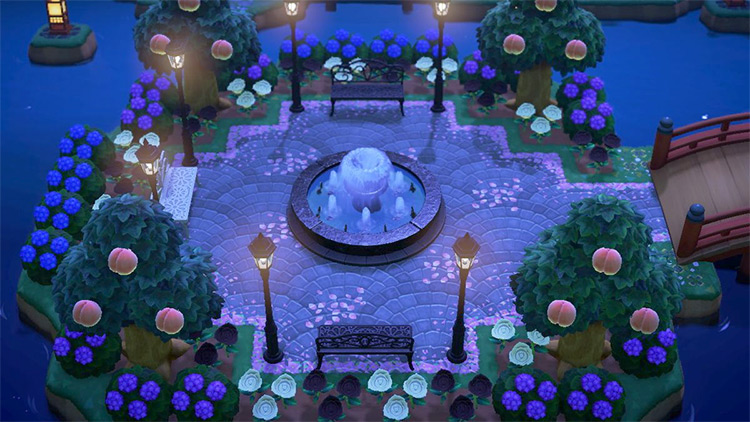 Don't want to wait for a meteor shower before you make your next wish?
Build your own wishing fountain surrounded by benches, foliage, and ambient lighting to create a magical lounge area right in the center of town.
We particularly love this design because it's intimate and quaint, built off of the end of a bridge on its own miniature island.
It was also a great choice here to pick brickwork that complements the peachy pink of this island's native fruit.
13.

Picnic on the Pier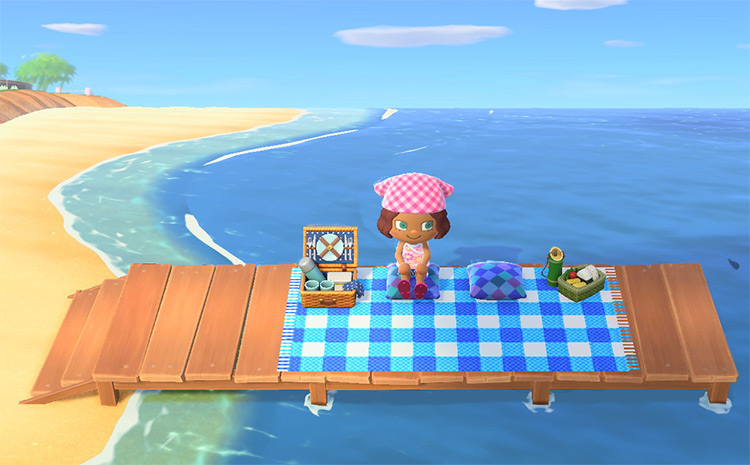 Filling up the museum aquarium can work up an appetite!
Reward a hard day of fishing with a tropical picnic on your pier.
You can enjoy all of the colors of a sunset over the ocean on a custom blanket, or snag a QR code to get your design going even faster.
And of course you'll want some cushions for comfort too.
Bring a radio, or just enjoy the sound of waves crashing against the shore. You might just be tempted to lay back and look up at the stars before you head home for the evening.
12.

Nail Salon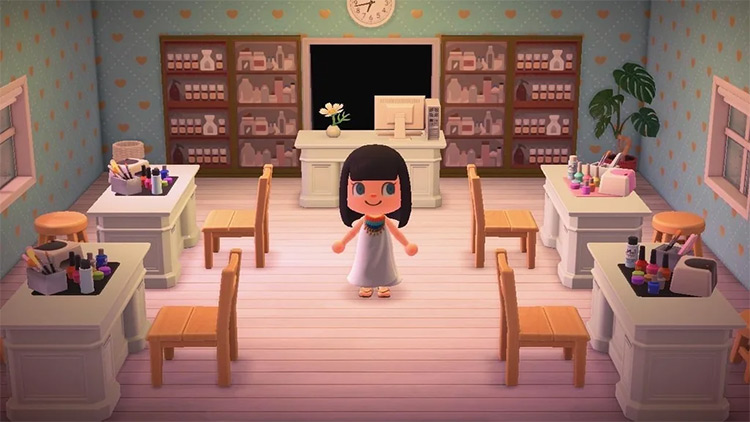 Inspired by the Nail-Art Set you snagged in Nook's Cranny? Not sure how to add it to your decor?
Well it would make the perfect addition to this next lounge area!
No island is complete without a soothing spot to get your toes, paws, or claws primped and polished.
Design a custom salon in your favorite color where you can kick your feet up and let the bubbles wash away your troubles.
This creator's design has the perfect finishing touches, like wallpaper designed with bottles of polish, bowls of cotton balls, and everything else you need for the perfect pedicure!
11.

Bricked Outdoor Café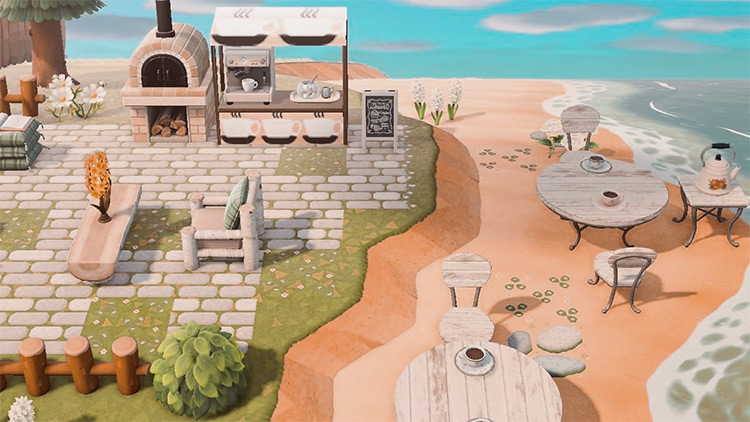 There's something particularly Parisian about the design of this lounge cafe placed on top of white cobblestone.
With virtually infinite customization options for your masonry, the sky's the limit when it comes to designing this area.
Add in bookshelves for a touch of academia, or a dining space near the beach if you don't mind your villagers tracking in the sand.
Maybe place your favorite flowers or some rustic fencing around the perimeter, then invite your coffee-loving friends to join you for a photo-op.
It's no Brewster's, but it's as close as you can get without our favorite blue rock dove barista.
10.

Stargazing Shoreline
Do you love the feeling of sand between your toes, but prefer a chilly evening to a sunny day?
Then this is the perfect lounge idea worth re-creating.
While most beach lounge areas are intended for the daytime, this unique design features a celestial aesthetic that gives the perfect vibe for a night under the stars.
We love that this creator sprinkled star designs across the rocks, stuck with rustic birch for her furniture, and topped the look off with the glowing lights of not one… not two… but three different moon pieces.
9.

Personal Library
Bookworms, this one is for you!
While away, your days amongst the stacks and shelves of your favorite stories.
As this creator proves, not all libraries have to be dark and moody.
The mix of candlelight, modern lamps, and floor-length windows gives this cream-colored wonderland a brightness that inspires lively novel discussions or fireside chats with your favorite villagers.
For folks who love the process of designing and furnishing rooms to match the seasons, you can swap out these cool tones for richer hues in the winter.
Keep a rotation of themes, and this lounge area will become your in-home oasis all year round.
8.

Cozy Crafty Corner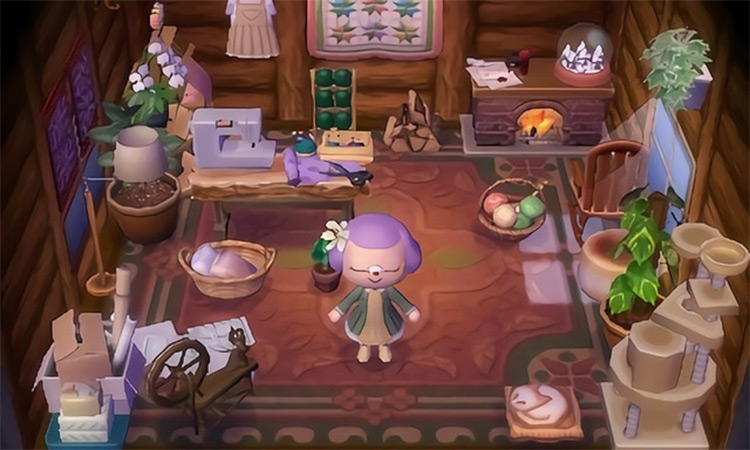 For many people, their idea of relaxation involves getting their creative juices flowing through sewing, knitting, painting, and other crafty hobbies.
Bring a little piece of your love for creating into the Animal Crossing world with a lounge area dedicated to keeping your hands busy, all with your favorite set of crochet needles or sketching pencils.
The best part of this creator's design is the sleeping cat design on a floor cushion.
It's so well done, you could almost imagine the kitty winding its way through your supplies to curl up in your lap.
Find the right kind of "clutter" to give this room a lived-in feel, and you'll be right at home in your virtual hobby space!
7.

Outdoor Concert Venue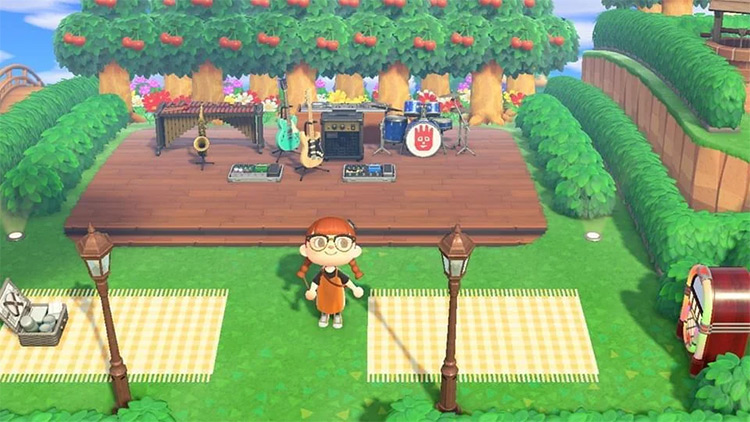 If you're anything like me, one thing you're missing the most are summer concerts!
There's something lovely about packing up blankets, snacks, and all your favorite people to listen to live music.
Well why not recreate that feeling on your island?
Open up an outdoor concert venue with plenty of comfy options for lazing about while you enjoy K.K. Slider's strumming skills.
Don't worry about decking it out in flashy lights and pyrotechnics… Opt for acoustic instruments, tons of greenery, and welcoming seats for a homey ambiance.
6.

Sakura Season Lounge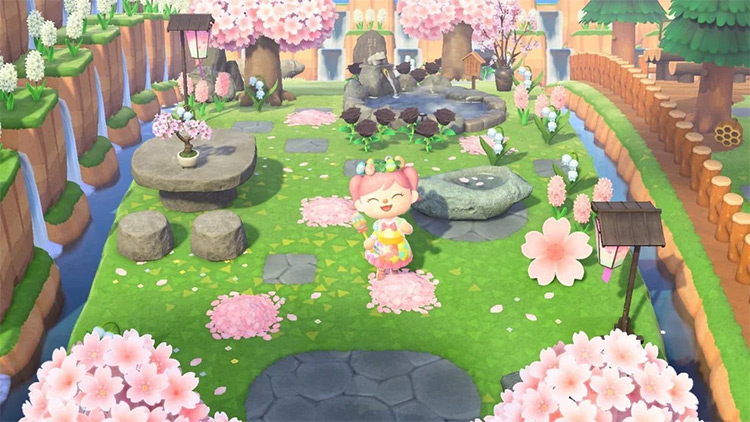 How precious is this Japanese-inspired cherry blossom garden?!
This designer went all out with the Japanese trend, and you can too!
If you've already gathered up all the sakura recipes this spring, spend some time crafting an array of decor with all of those leftover petals.
For extra ambiance, terraform a row of gorgeous waterfalls, bring in a stunning water feature, and of course, use outdoor furniture to create a lounge-worthy spot to sip on matcha.
This garden's so realistic that if you close your eyes, you just might be able to smell the sweet cherry-blossom scents of springtime.
5.

Autumnal Lounge
I might be biased, but Autumn is my favorite time of year.
There's just something about the rich colors, cool temperatures, and homespun feel that makes me smile as soon as the first leaf flutters to the ground.
That's why I'm head-over-heels for this gorgeous pumpkin patch design complete with one of my favorite ACNH residents!
Fauna's hay-bale siesta just proves how utterly relaxing it can be to spend your days in a garden of gourds.
This creator showcases their creativity by using a custom pumpkin-design hat and the watermelon version of the beachball to fill the rows with plenty of produce.
4.

Bohemian Space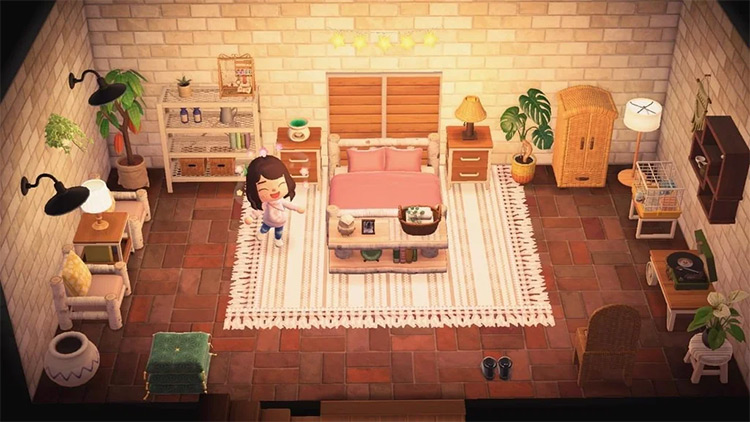 Boho-chic is all the rage.
And this super comfy bedroom shows just what makes this home decor trend so fabulous.
Bringing together modern, clean lines with rustic charm, this bohemian bedroom has the potential for so much more than sleeping.
Plants, wicker, and an old-fashioned record player mingle with the brick walls, fairy lights, and industrial shelving studded with simple accessories to create an environment perfect for mediation, dozing away the day, or impromptu dance parties.
3.

Ultra-Luxe Study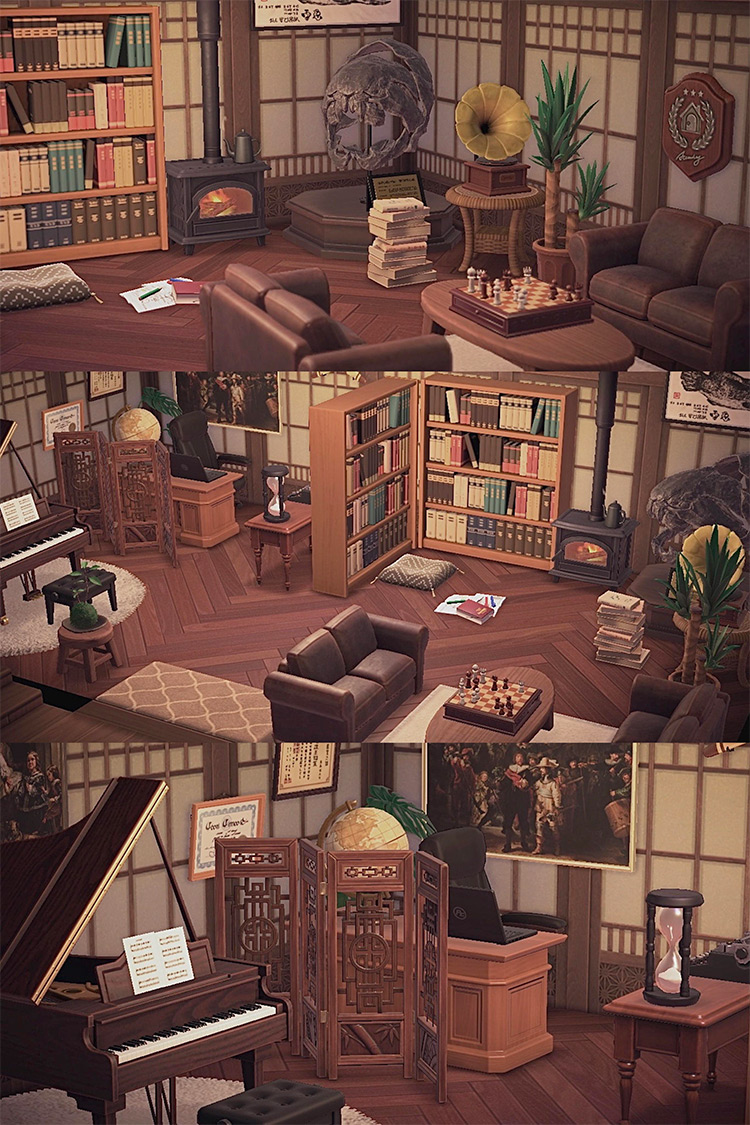 Earlier we showcased an alternative to the darker tones of a formal study. But it's worth showcasing this luxurious lounge for those who appreciate the finer things in life.
Can't you picture yourself seated across from Raymond, outsmarting each other in a rousing game of chess?
Soft leather couches and diplomas on the wall give this a distinctly "academic" feel, where people come to ponder and pontificate as they ease into their evenings.
Finishing touches like the gramophone, fireplace, and grand piano let visitors know that this is a place for relaxation and serious business, depending on which mood strikes your fancy.
2.

Secret Bathhouse Garden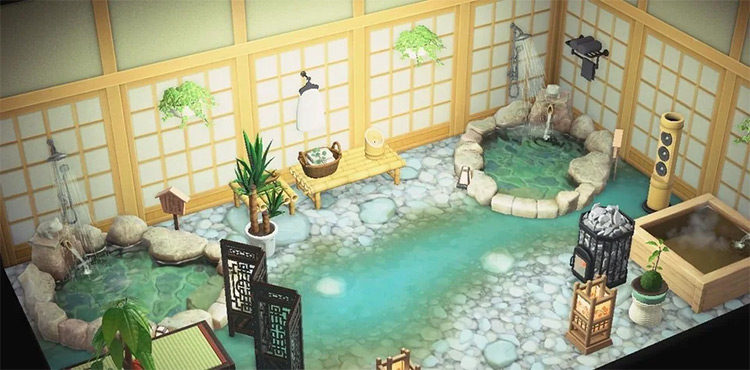 Move over, Studio Ghibli… There's a new dreamy bathhouse in town, and it gives Spirited Away a run for its money.
We can't get enough of this flooring.
It has a fun little feature that makes it an absolute must-have addition to any indoor spa lounge – When you run through the water parts, it splashes up around your feet!
Golden light invites you to kick back in the warm waters and unwind after a taxing day of planting, fishing, bug-catching, whatever you're into.
But what makes this bathhouse idea particularly brilliant is the placement of the flooring, showerheads, and fountains.
It gives the appearance that the water flows throughout the entire room. You can imagine that it's bubbling up from a natural underground hot spring!
1.

Crackling Fireplace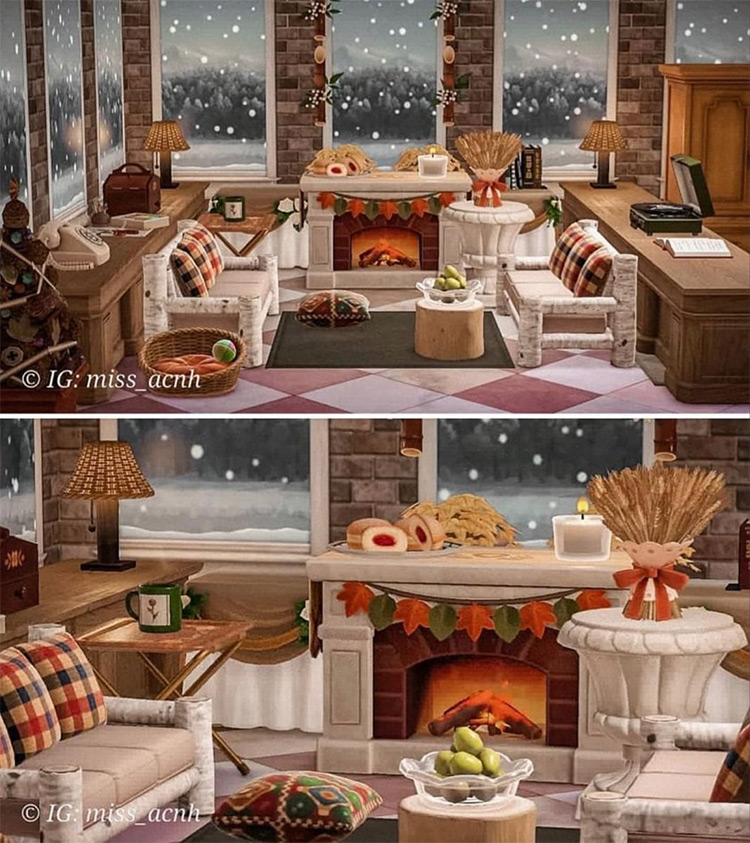 Celebrate the winter season with a charming fireplace area, complete with rough-hewn furniture and huge picture windows to watch the snowfall softly on your island.
Pops of plaid, flannel pillows, and cheery bunting adorn this festive nook, giving it a holiday feel without being overbearing.
This lounge area is practically begging for you to curl up with a steamy cup of cocoa and a good book.
If you decide that you want to dress up your mantle, don't forget to leave out cookies (or jelly donuts!) for Santa.
It's the little details that make this a relaxing space in your home to daydream about your favorite cold-weather treats, or to warm up after a chilly day catching snowflakes with your pals.
Browse:
Animal Crossing
Lists
Video Games