ACNH Suburban Neighborhood Layout Ideas: The Ultimate Collection
This post may contain affiliate links. If you buy something we may get a small commission at no extra cost to you. (Learn more).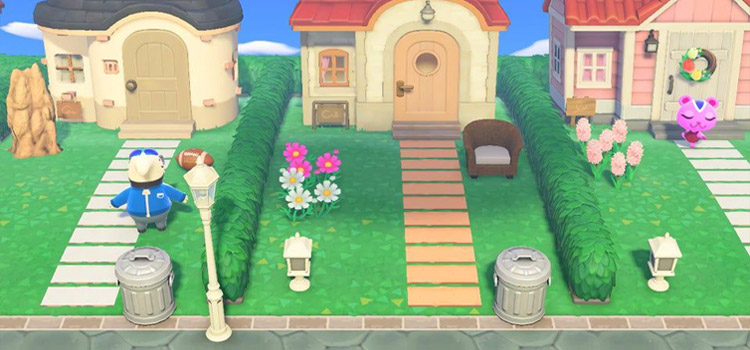 Some people prefer big cities. Others prefer the cozy comforts of suburbia.
If you're one of those that likes to live out in the 'burbs, then this list is sure to help you bring those vibes right into your Animal Crossing island.
Kick back and relax without the hustle and bustle of big cities, yet you still get to keep the modern comforts (like Wifi!) that rural areas sometimes miss out on.
The best of both worlds, you know?
15.

European Neighborhood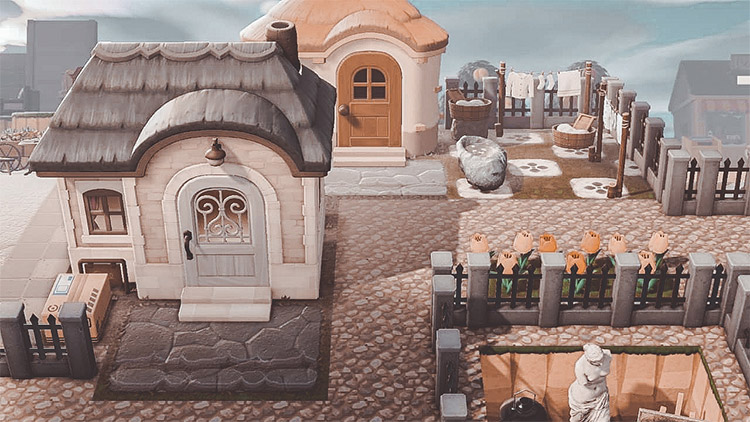 Most villager houses are really cute, with muted pastel colors a lot of the time.
This is great, because it makes matching them up a breeze!
This residential section uses muted colors and whites for a charming look, reminiscent of an Eastern European area – maybe all the stone fences?
Lots of outdoor items here, like a rocking chair, dog house, and clothes rack, help to make the area look lived in and homey. Even despite the cold outdoors.
14.

Japanese-Inspired Neighborhood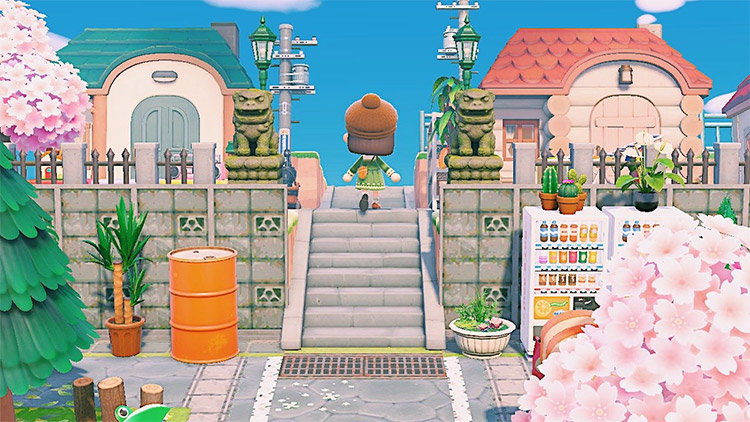 This idea is based on a Japanese neighborhood and it has an incredible theme.
While these villager houses are styled to their individual characters (and pretty unspecific), this player built up the entire world around them.
Things like sakura blossoms and vending machines help to make this build look like a typical Japanese suburb, minus the houses.
Shisa statues help too!
Cool details like petals or leaves on the ground help to make this idea feel real, rather than just a game. And so do the mossy walls.
When things are too pristine, it looks too showy, you know?
13.

Dreamland Neighborhood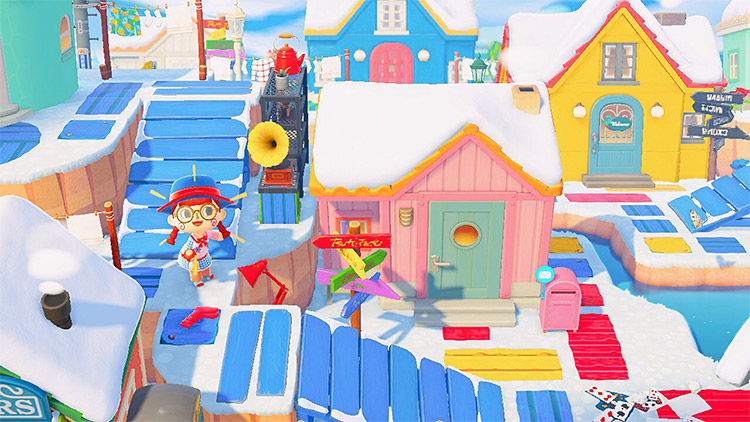 If you like bright colors, this might be the ideal suburban area for your island.
All the villager houses are packed close together, with a thin stream and bridges connecting mini islands.
If you're short on space, this is a great fix. And it's certainly cheerful with those happy bright colors!
Choosing items is important in a build like this, since there's not a lot of extra room.
Making sure they match perfectly (like that blue and yellow telephone booth) can be key to pulling something like this off.
12.

Woodland Neighborhood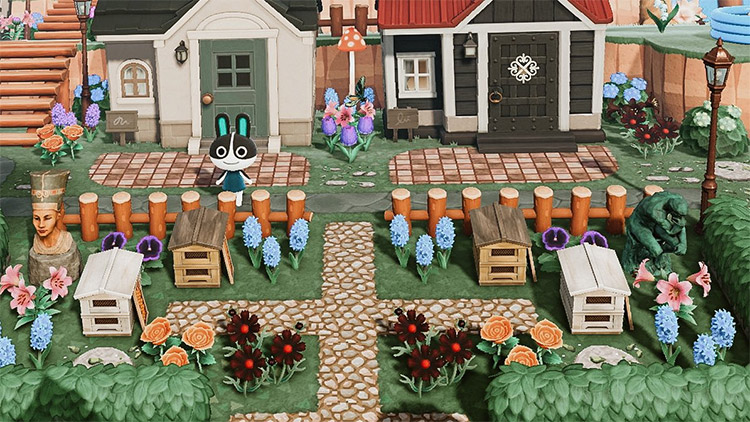 If bright colors are less your thing, or you're going for a forestcore or cottagecore island, take note.
This build uses the beauty of nature instead, with things like wooden fences, plenty of flowers, and bee boxes to make it beautiful.
You'll love the butterflies that will lark around the flower garden, and your helpful villagers will hopefully water the hyacinths, daisies, and roses, too!
Make sure to put in a street lamp or two as well – safety after dark is important!
With the help of terrain tools, having houses on different height levels helps to keep things interesting.
Get shoveling!
11.

Sleepy Suburbs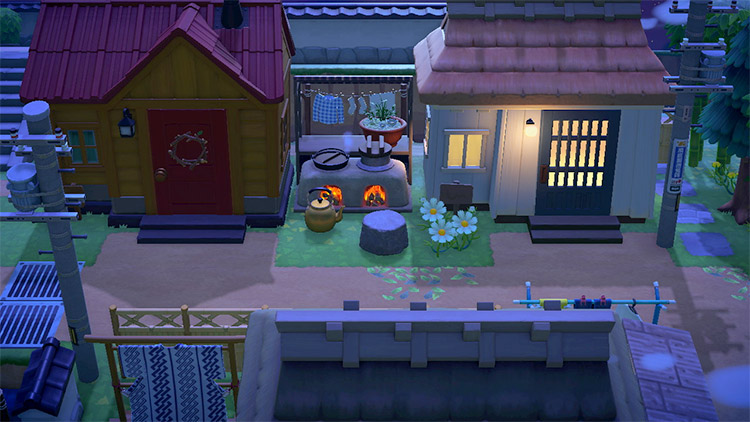 Homes are meant to be cozy. I'm pretty sure that's the law.
And getting a cozy feeling is easy in this sleepy, quiet neighborhood.
Amenities like a telephone booth and gasoline for your neighbor's (nonexistent) cars make this a convenient place to be.
And an apple tree, a bus stop, and plenty of outdoor space certainly add to this comfy feeling, too.
During the day, find plenty of insects and butterflies exploring the suburbs – just like your villagers.
And at night, enjoy the silence.
10.

Tropical Suburb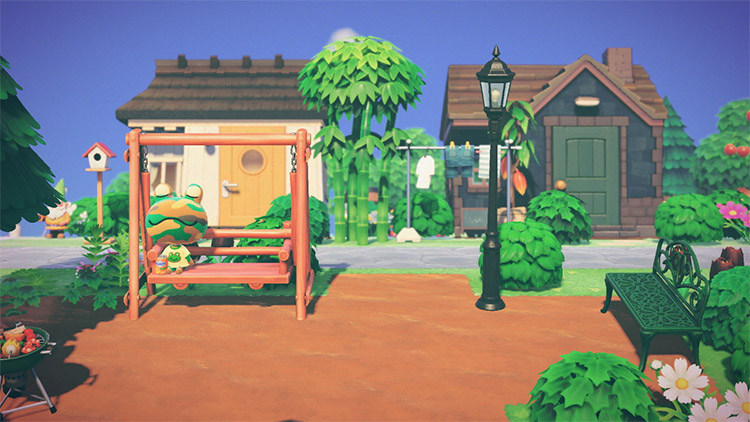 I love the creativity that Animal Crossing players bring to the Internet. I really do.
But at the end of the day, New Horizons is based on island life. And builds like this that embrace the 'island' part make my brain juice out the happy chemicals.
Your villagers can enjoy a barbeque party at the park across the street from their houses. The swaying bamboo trees and other Asian-tropical help to set a chill, warm vibe perfect for dreaming of summer.
A clothesline and birdhouse also give some character to these homes, which is absolutely worth adding into your next suburban area.
9.

Springy Suburbs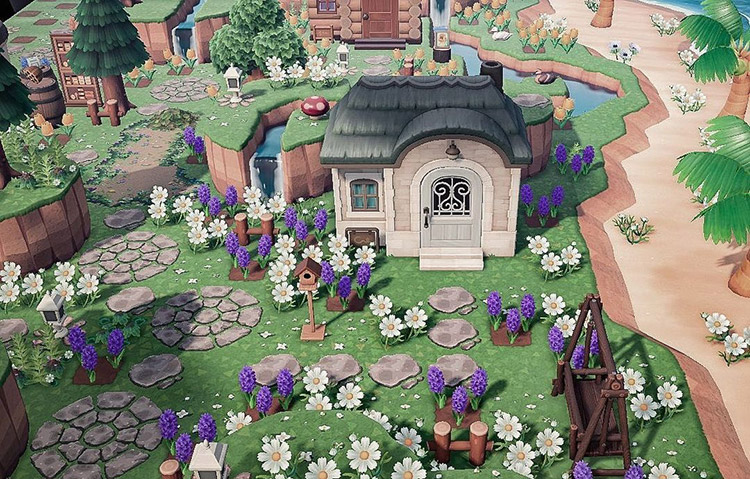 Isn't privacy great?
Now you can get all the privacy you want with this beautifully spread out, natural residential area.
Be one with nature with the woods, the stream, the waterfall, and even the beach.
Some players (and Isabelle) overlook the beauty of the weeds that spawn all over the place.
But they make for great decorations if your star rating is strong enough – or you don't care about that sort of thing, since they bloom into different flowers.
Put as many or as few houses as you like in an area like this. Then plant some flowers and leave it alone!
The overgrown look is a good one here.
There's a reason that the Secret Garden is so popular.
8.

Riverside Residential Area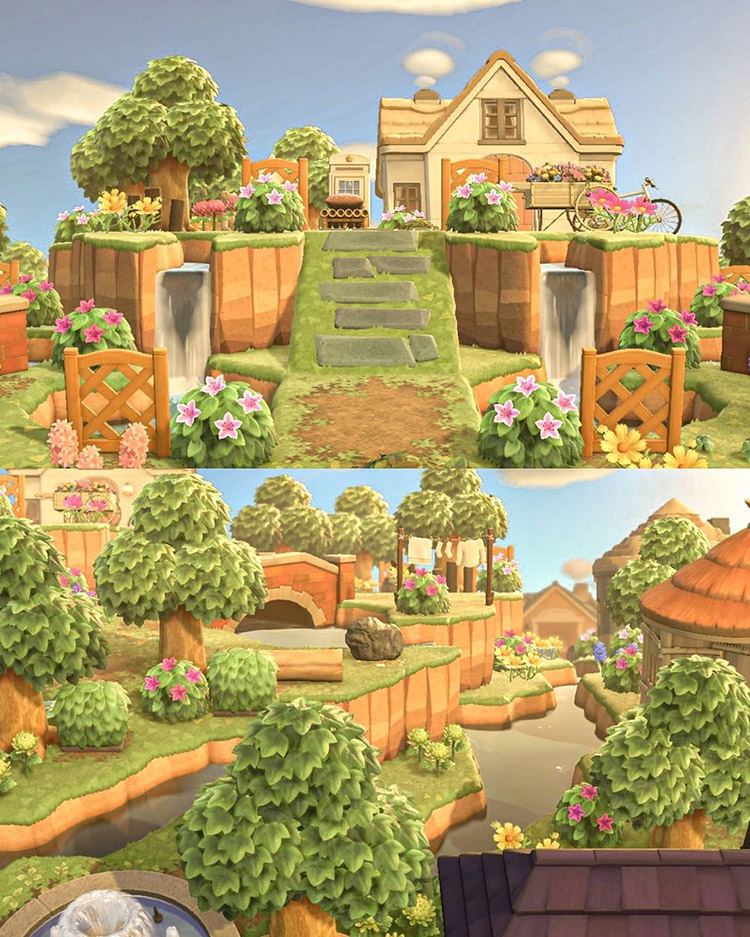 Now here's another neighborhood with plenty of peace, quiet, and privacy.
Imagine waking up to the sounds of rushing water and chirping birds. That's the draw of this neighborhood design.
Take a bike ride down the rolling hills in the morning, and do some gardening in the evening.
With some careful terraforming you can even pull off these levels on your own island!
With this build you'll have just enough space to have your privacy, but not so much that you feel alone in the woods.
And what a great place for fishing, right?
7.

Mushroom Fairy Mountain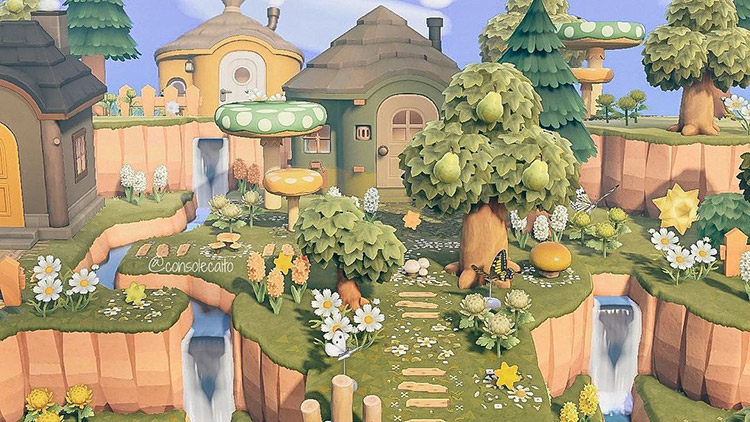 Fairycore is so incredible.
If you've got a fairycore themed island, or just want to add some fantasy elements to a part of it, think about building something like this yourself.
Each home is on its own little island surrounded by waterfalls and a river.
But save up your Bells, because those inclines and bridges won't be cheap!
Star fragments, flowers, and big ol' mushrooms make it the perfect place for the fae and their friends to call home.
What a great build idea to catch butterflies or watch a meteor shower.
6.

Boardwalk Village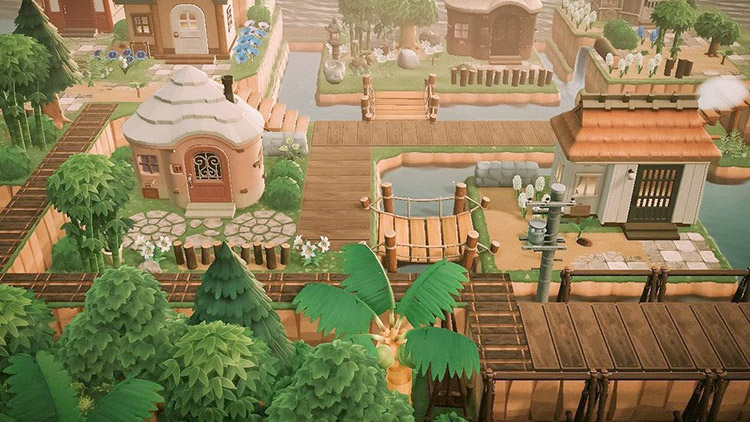 Here's a really neat idea that fits nicely with a suburban village.
Rather than having all the houses in rows, give them each a little island connected by bridges and planks of wood.
There's no need to worry about flooding in New Horizons, after all!
Each house can have as big or as small a 'lawn' as you like. And you can even experiment with raising one or two and putting a waterfall beside them.
The fishing scene would be amazing. And can you imagine the sound of the rain hitting the water all around you?
Your villagers will love exploring the chains of bridges every day.
This would be a great design to build up and take photos, too!
5.

Pink City Center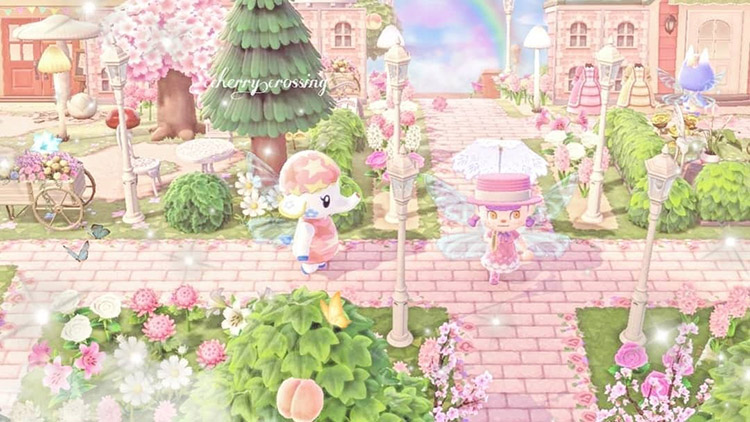 Do you like pink?
Do you like flowers?
Do you like things to look like a fairytale?
Then here's a cityscape with a more suburban feel that I think you'll really like.
With houses spaced out quite a bit, you can create a paved area with either existing or custom paths.
Custom panels are used for extensions on the houses to make them look bigger than the standard four sided shack, which you can also use for storage or hiding items, like turnips!
It's so pretty, I can't stop looking. Excuse me a moment.
4.

Coastal Neighborhood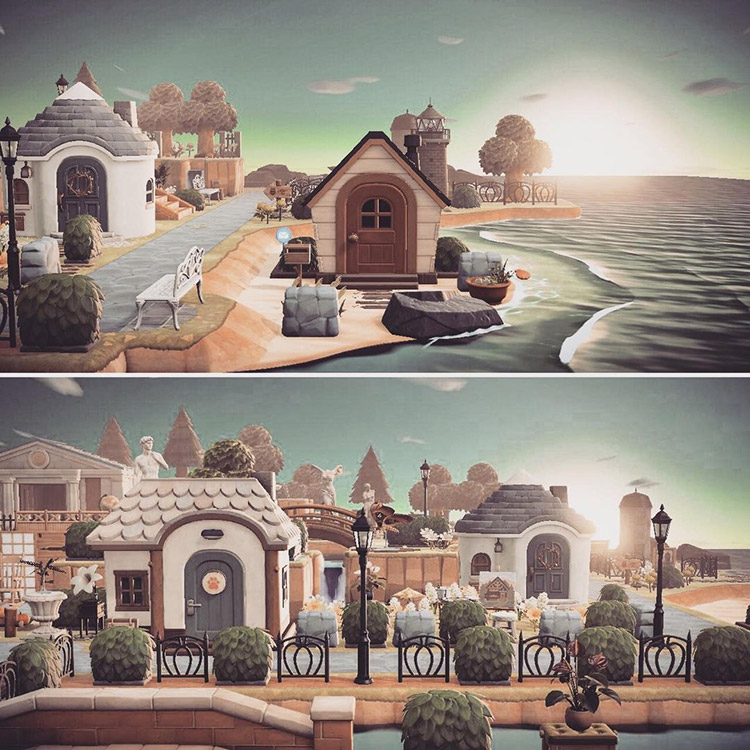 By virtue of being on an island, technically, all of these entries are coastal.
But this idea really embraces it.
Whether your house is directly on the beach or beside it, you're just a hop, skip, or a jump away from this ocean.
Enjoy the fresh sea breeze and really make suburbia your own.
Coastal details, like the lighthouse, help to tie this whole theme together.
Some added benches also provide seating for villagers, if their little animal legs get tired. And directional signs will point visitors to other parts of the island if they wanna go out exploring.
3.

A Peaceful Suburb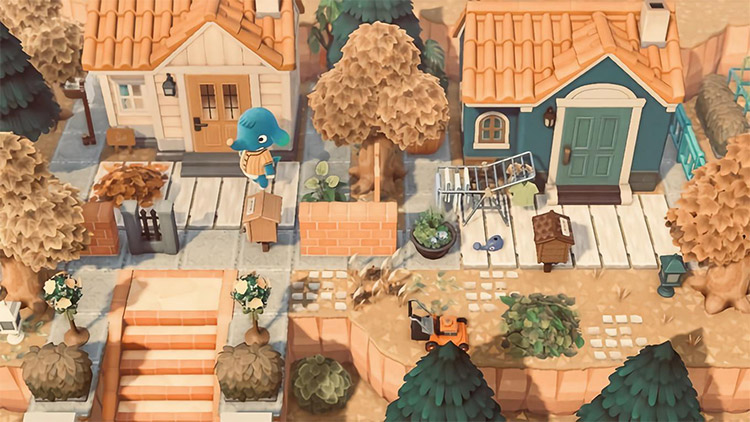 This sleepy suburb build is a great place to settle down and live out your Animal Crossing years in peace.
The muted beiges and teals work great together with brick stairs and walls. And the autumn colors on the trees and grass blend really well too.
Setups like these are great space savers if you have a lot going on with your island.
Because there's no need for large outdoor spaces for each villager. Just a few personal items will do the trick!
2.

Neighborhood Entrance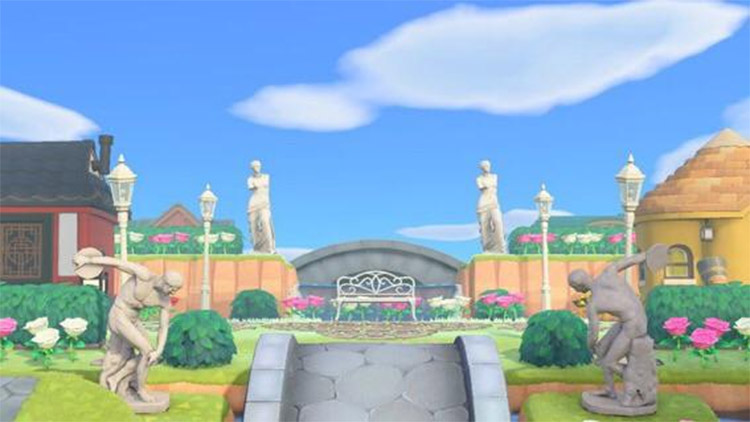 If you've got a lot of space to spare, try giving each of your villagers their own green space with a big tiered suburban neighborhood like this!
As you can see, the houses are spaced apart a good bit. Which means lawns for everyone.
Stone bridges, white street lamps, plus statues and flowers help to make this neighborhood look classy and sophisticated, yet still approachable.
I'd totally move here!
1.

Elegant ACNH Neighborhood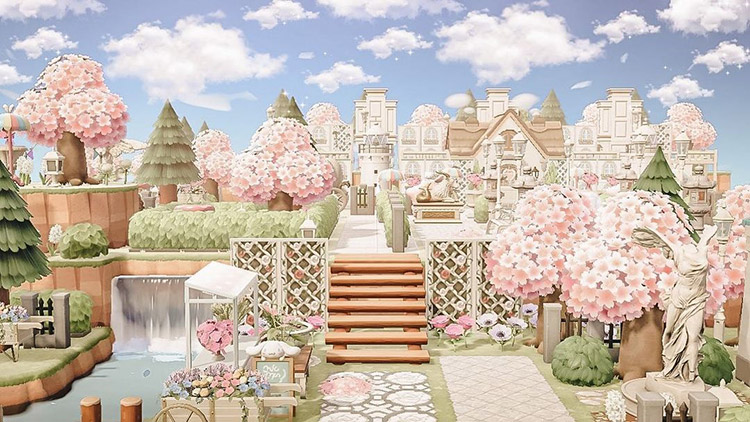 This gorgeous yet elegant neighborhood feels like it's for the 1%.
But if your island is well-off enough, that can be you and all of your villagers!
Beautiful pinks and whites come together for this very fairytale-style suburb.
Lots of custom designed panels and careful placements help to make the houses look like little manses, and they're lovely.
If only money grew on trees like Bells apparently do!
Browse:
Animal Crossing
Lists
Video Games