Sims 4 Balloons CC: Letters, Numbers, Party Balloons & More
This post may contain affiliate links. If you buy something we may get a small commission at no extra cost to you. (Learn more).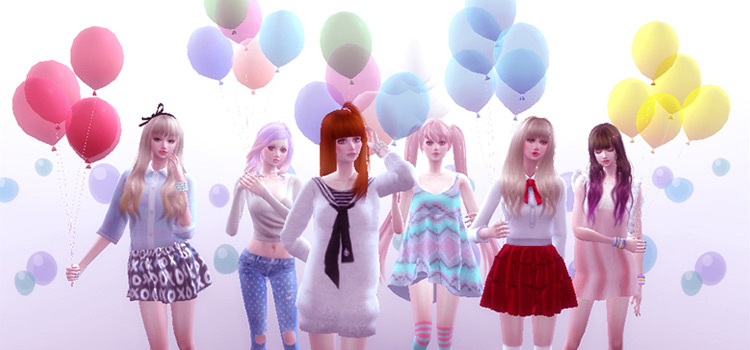 Can there be a party without balloons? I think not.
And clearly, you agree – you're here, after all!
There's not a single celebration that couldn't use some thematic balloons.
And honestly, I can think of some non-celebratory uses for them too.
I certainly wouldn't mind having some balloons hanging around in my daily life, holiday or not. Are emotional support balloons a thing? I'm making them a thing.
Unfortunately, The Sims 4 has a pretty sparse selection of balloons – without CC, that is.
But there are hundreds of balloon-related CC out there, since content creators have definitely picked up on the lack of balloons in the base game. The difficult part is that with so many choices it can be next to impossible to find what you're looking for!
We're here to help with a collection of the best-of-the-best balloons for TS4.
1.

Birthday Number Balloons
Birthday balloons are one of the best ways to celebrate your Sims' childhood.
To a kid, a big balloon can be just as good as cake or presents.
In this CC set there are balloon numbers 0 through 9, so you can make whatever number combinations you need for your party, birthday or not.
Your influencer Sim could have a 1 mil followers celebration.
Or your newborn Sim could have a 0th birthday party.
As long as they are real numbers, they're viable!
And children aside, some of your adult Sims might enjoy these number balloons at their birthday celebrations, too (although some might not appreciate the reminder).
As an added bonus, you're offered 5 color swatches too. So you have a bit of flexibility in that regard.
2.

All-Occasions Balloons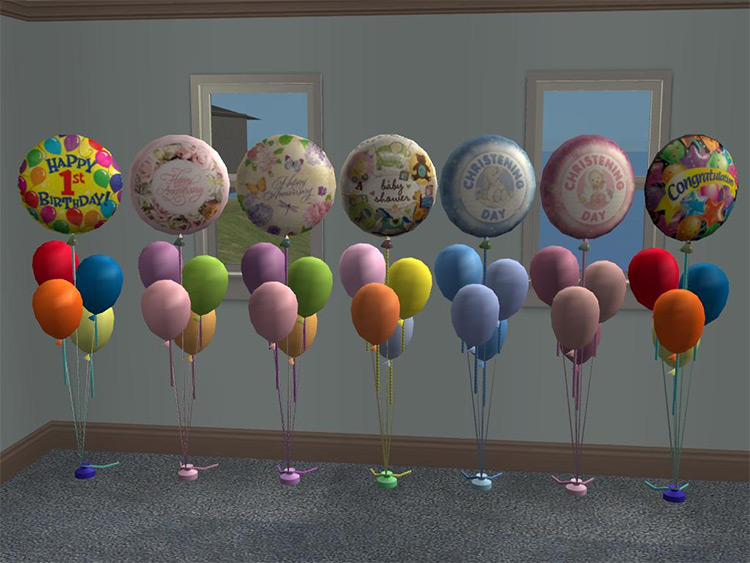 The default Sims 4 celebratory balloons get a lot of life in the CC community by being recolored again and again.
And although many of the custom designs out there are creative, most of them don't warrant a download.
But it's hard to find a reason not to download this one.
Sure, you can find plenty of balloons elsewhere for birthdays and gender reveals.
But where else can you find an "I'm sorry" balloon?
If you're feeling daunted by the sheer number of inflatable options out there, then these all-occasions balloons are just the thing for your decision paralysis.
3.

Letter Balloons
If you want more options instead of less, these letter balloons should satiate your hunger.
That's right: you have the entire alphabet at your disposal in the form of balloons.
Don't go mad with power, now.
You can write "Christmas" in alternating colors just as easily as you could write "Happy Birthday" or "Happy Balloon Day".
Since there are no limitations, you can celebrate any holiday you want. Even totally made-up ones.
All in all, this set is pretty similar to the number balloons.
They even use the same strings since the creators collaborated!
But between all the letters and the multiple color swatches, this set is way more versatile.
If you want to get really creative you can even spell out numbers with balloons.
4.

Happy Valentine's Day Set
Valentine's Day has a reputation as being a "couple's holiday", but I say that just isn't true.
Sure, it's a day for celebrating love.
But there's no reason why that love can't include platonic or familial!
In that spirit, these dainty heart balloons are cute and lovely, but ambiguous enough that you could use them for your sim's Valentine's bash – romantic or otherwise.
There are 5 different color options not only for the balloons, but for the other Valentine's decor in this set as well.
It's truly a one download wonder. You can get all the extras you need for a Valentine's party using this one set.
5.

Love Balloons
Of course, the flip side of Valentine's Day is that a lot of couples really do like celebrating it together.
If your sims need something a little more blatantly romantic than the heart balloons, these love letter balloons will do the trick.
You can't get much more obviously romantic than the word 'love' written in flowy cursive, after all.
This CC offers only one balloon in a simple selection of 3 colors, but it gets the job done.
It still wins out over using letter balloons for the same purpose, since the cursive is way more romantic than the blocky look of the letter balloons.
6.

Accessory Balloons & Poses
I've always thought it was a shame to restrict balloons to the realm of party decorations.
Even if we must tie them down by strings, we should at least give balloons the opportunity to roam!
If you believe in freedom for balloons, downloading this CC is akin to signing a petition.
Instead of balloons as decorations, it adds a bundle of balloons as an accessory so your Sims can bring the party with them wherever they go.
It also comes with an impressive selection of 9 balloon-ready poses to celebrate the wonder of balloons with the world.
7.

Winter Deco
Christmas in the SimNation means it's time to break out the free build mode cheat and start making the most elaborate holiday displays you can imagine.
This winter set by Soloriya can help you accomplish just that, but with the power of balloons (giant balloon hoop! Giant balloon tree!)
When put together, it looks like one of those huge plaza displays that make a great location for love confessions and/or hot cocoa.
Also, while some of the elements in this set are decidedly Christmas-y, you can use the balloons to celebrate other snowy events too (such as the Winter solstice) without much problem.
You could even repurpose them for a non-wintery event if you really wanted to.
8.

Space Party Balloons
Balloons for Valentine's day, birthdays, gender reveals, baby showers, and even Christmas balloons are relatively easy to find.
But what if none of those are your thing?
What if you want to throw a party for something far more important?
Enter the space party balloons set.
With this CC you'll finally be able to celebrate the universe and beyond in all the balloon-spangled glory it deserves.
There are 10 balloons in this set with 4 total color options, including a stunning purple galaxy swatch.
In addition to the rocket ship, spaceman, and planets, there are also four different kinds of floor balloons left behind to stargaze.
Just be careful not to let any of your balloons float off into space! (Or do. Maybe they'd like that.)
9.

Baby Shower Deco
Alongside birthdays, baby showers are the celebrations most in need of some balloons.
However, it's easy to get carried away and coat your party with so many balloons that it looks like a clown scene.
Unless that's what you were going for (and if it was, all the more power to you). But it's not really a good look and can be overwhelming.
With this CC set, that won't be a possibility.
Leo's baby shower CC includes 3 custom shaped balloons in different colors, and a bunch of regular balloons in two options, which makes it easy to pick what you want and not go overboard.
The set also comes with cake options for the 3 possible genders: pink, blue, and yellow.
10.

Balloon Dog
Do your sims want a pet, but don't want to go through with, you know, actually getting and taking care of a pet?
Well let me introduce them to their new best friend: the balloon dog.
It looks like a dog (sort of), but it doesn't shed (since it has no fur), doesn't bark (because it has no mouth, but it does squeak) and will never turn down your loving embrace (it will pop if you're not careful though).
In short, it's a WAY more fun, albeit much more delicate alternative to the classic pet rock.
It also comes in more colors: 12, to be exact.
Is your dog a shade of vivacious purple?
Didn't think so.
Browse:
Lists
The Sims 4
Video Games