Sims 4 CC: Best Band T-Shirts & Clothes (All Free)
This post may contain affiliate links. If you buy something we may get a small commission at no extra cost to you. (Learn more).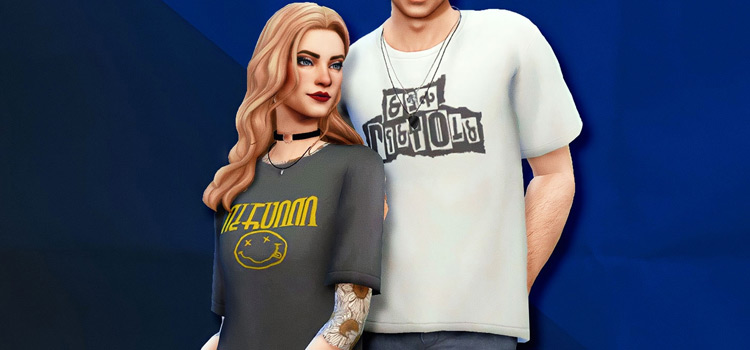 What a person wears says a lot about them. And pretty much everyone loves sharing their music taste via their wardrobe.
And now your favorite bands & musicians can be brought to The Sims 4 in a small way – with these band-themed custom tops!
1.

Oversized Band T-Shirts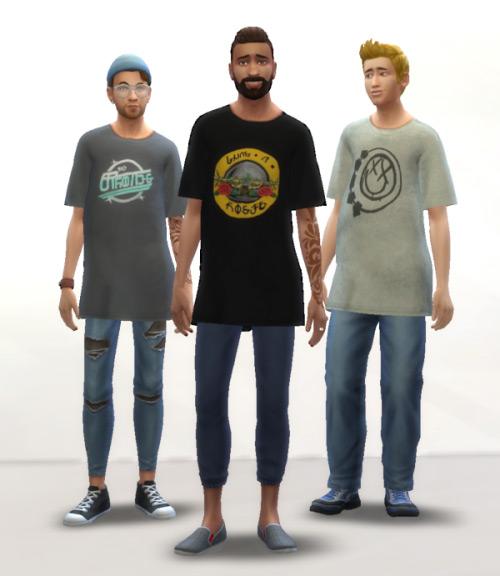 The only thing better than a regular band tee is an oversized one. We don't have nearly enough baggy tops in TS4, and there's no sense in depriving your Sim of such comfort any longer!
These swatches include several graphics from bands both past and present.
2.

Rock/Metal T-Shirts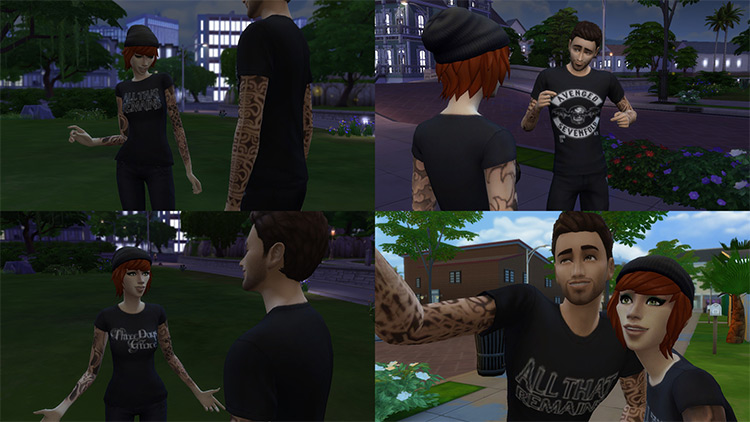 Here are 18 new shirts, with a very specific theme.
Each one is black and is adorned with the emblem of a beloved legendary rock or metal group.
Some of the swatches include Ozzy Osbourne, Breaking Benjamin, Slipknot, and Nirvana, just to name a few.
3.

Vintage Crop Tank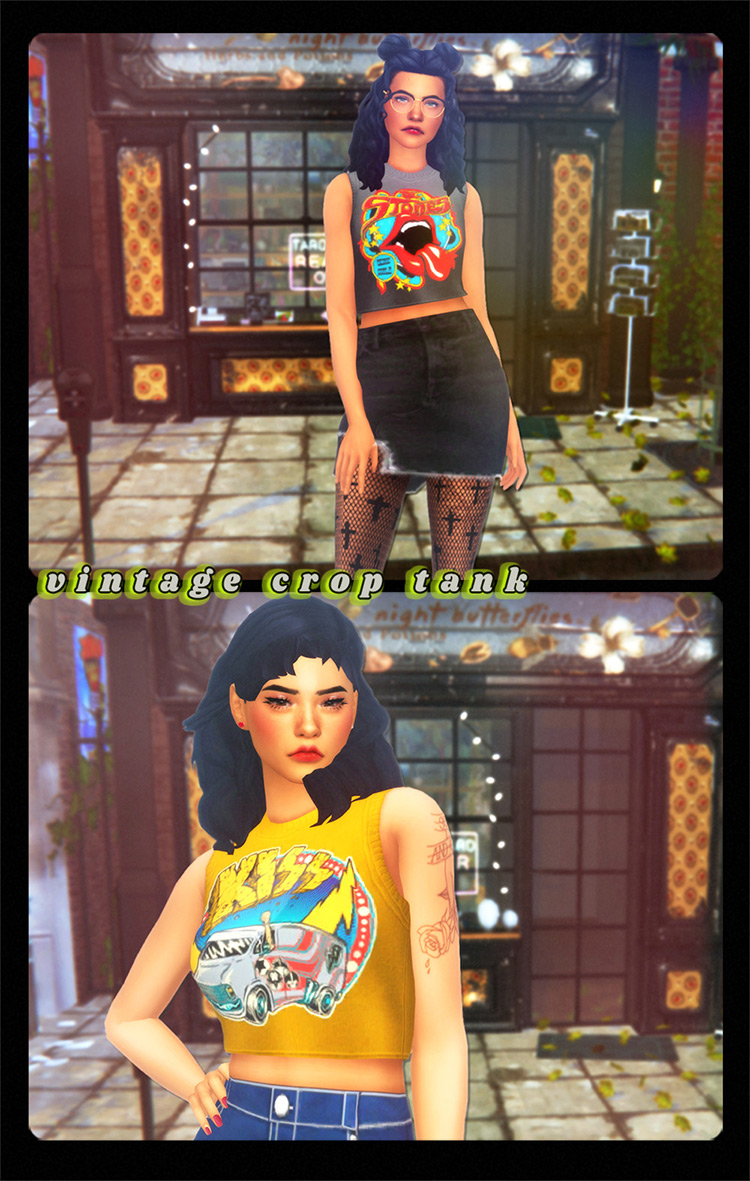 Modern fashion meets classic rock in these cool, colorful crop tops.
Many of the best and biggest names are here, like The Rolling Stones and Pink Floyd, amongst others.
The summer vibes are strong with this one, and you can easily create a killer outfit by just pairing some shorts with one of these tanks!
4.

Metal Band T-Shirts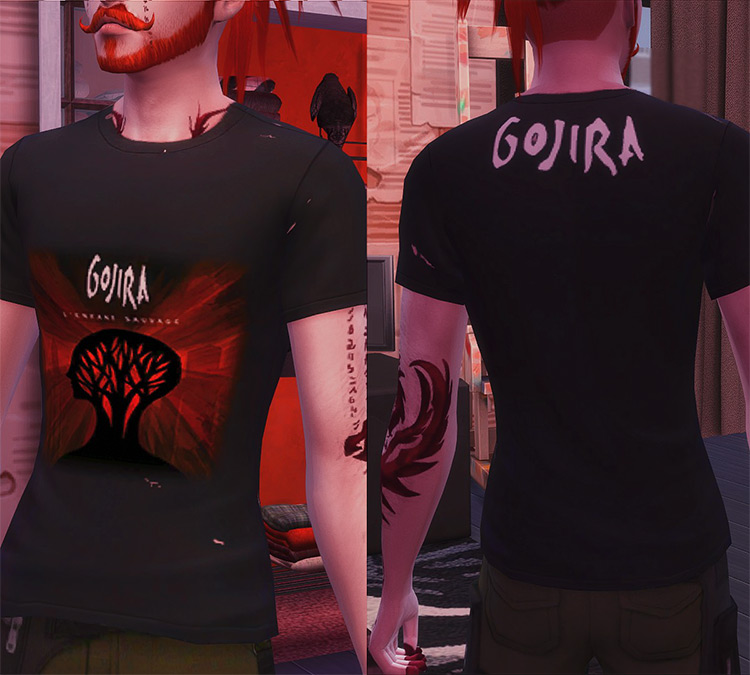 We can always use more metalhead content for TS4. And these simple black tees are a good place to start.
The 17 swatches cover a lot of the big names, and each print is very realistic. You might even have a shirt just like it in your own closet!
5.

Baseball Band Shirts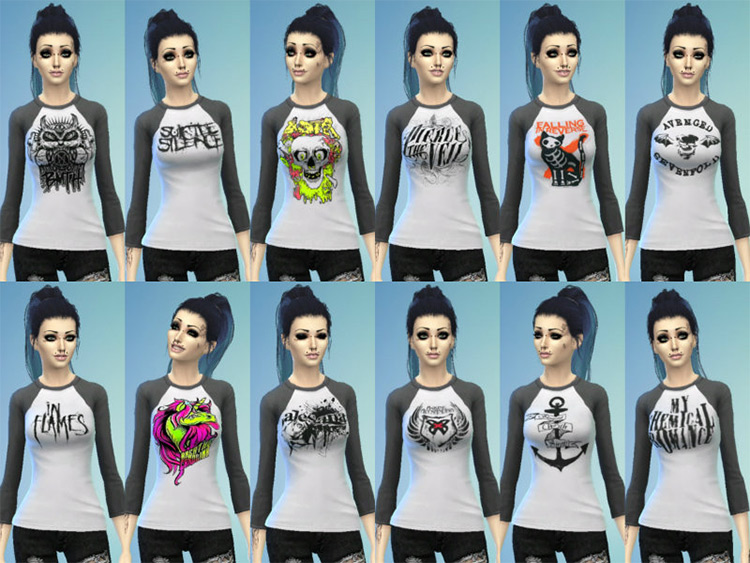 Switching things up a bit, we have a raglan tee here.
Still being a perfect candidate for everyday outfits, these various CC options have some pretty awesome logos to boot.
Each one is quite unique. Falling in Reverse's skeleton cat is my own favorite, but maybe your Sim is more of a skull and crossbones person.
6.

Simlish Band Tee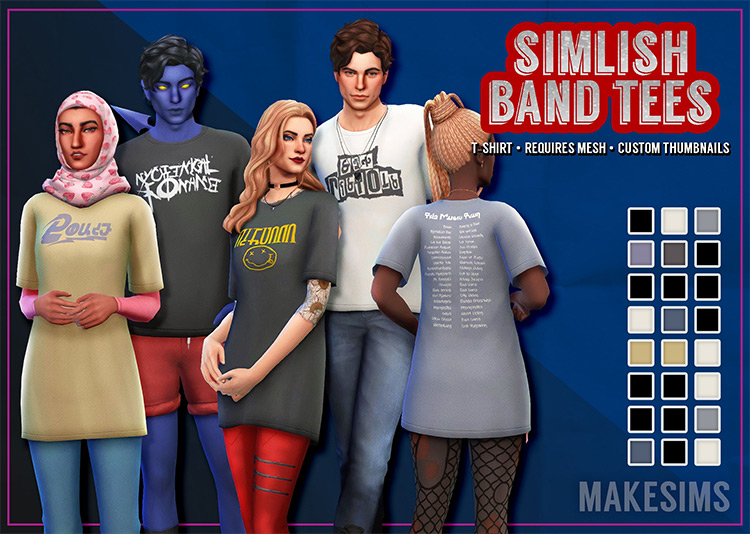 There's a delicate balance in TS4.
A lot of players prefer the aesthetic of Maxis Match CC, but when you want to add real-life pop culture, can you really have the best of both worlds?
Yes, yes we can!
Male and female Sims alike can enjoy these 23 oversized Simlish t-shirts in one amazing CC pack.
7.

Band Sweaters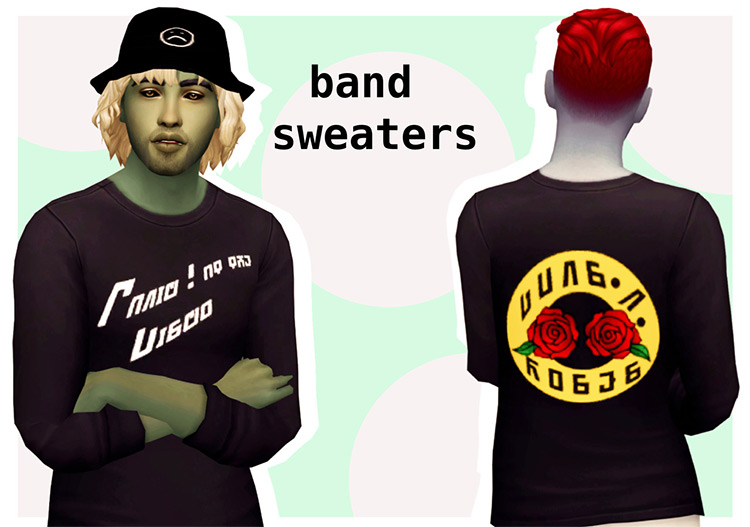 Sims shouldn't have to sacrifice their style just because of the weather. All five of these simple, cozy sweaters make great casual options for the colder seasons.
And, to make them extra cool, they are in Simlish. It's still pretty easy to decipher them, though.
8.

Junior Jewels T-Shirt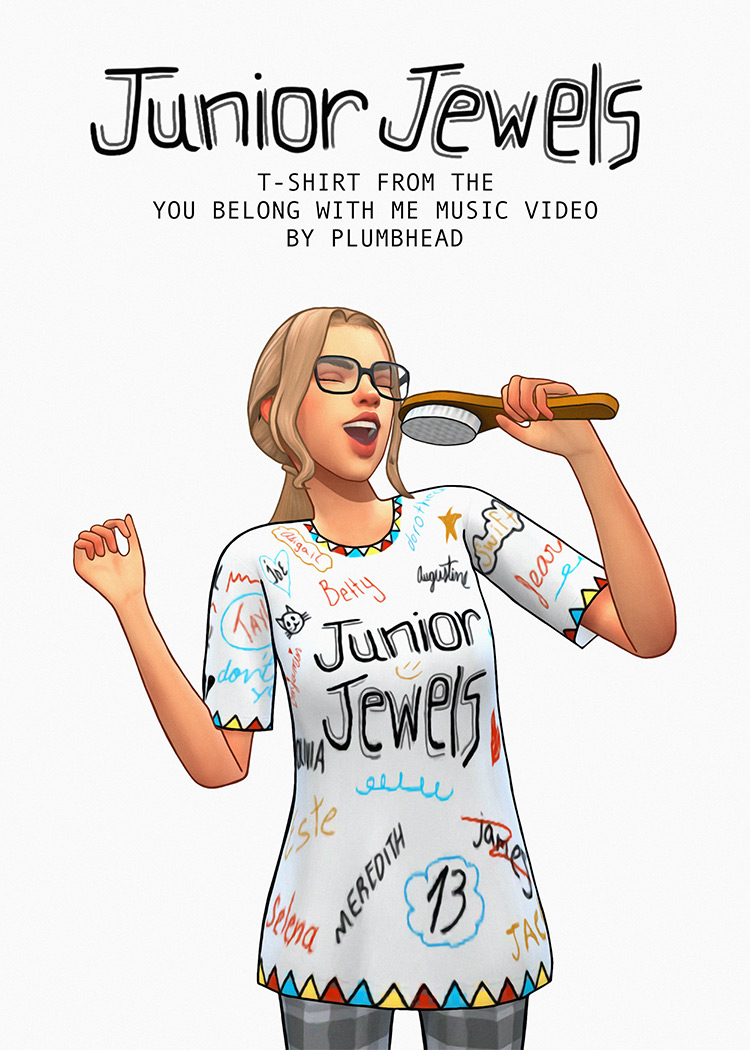 This is a rather niche creation for all of you Swifties.
Taylor Swift's unforgettable "You Belong With Me" music video has well over a billion views, and we've all been relating to her character since '09.
Now your Sim can have the same unique tee she wears, complete with little doodles.
9.

Sondescent Band T-Shirts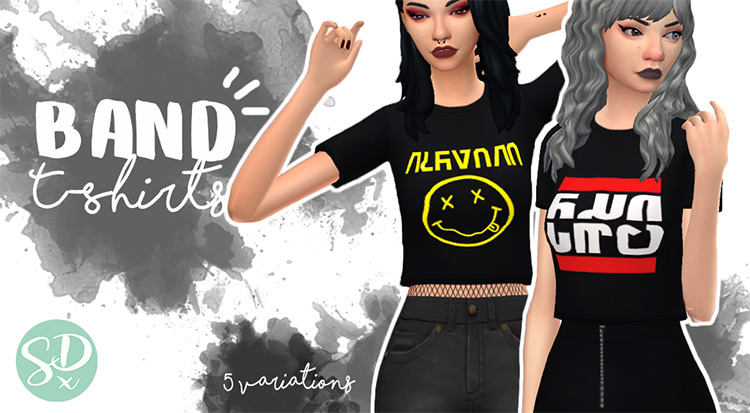 Here we have five more basic cropped tops of band shirts.
They may be simple, but that's exactly what makes them so great!
Your Sims can now have casual, cool tees just like people across the world. And since they're cropped, there are all sorts of different directions you can go in terms of bottoms.
10.

Male Graphic Band Tees (Outdoor Retreat Required)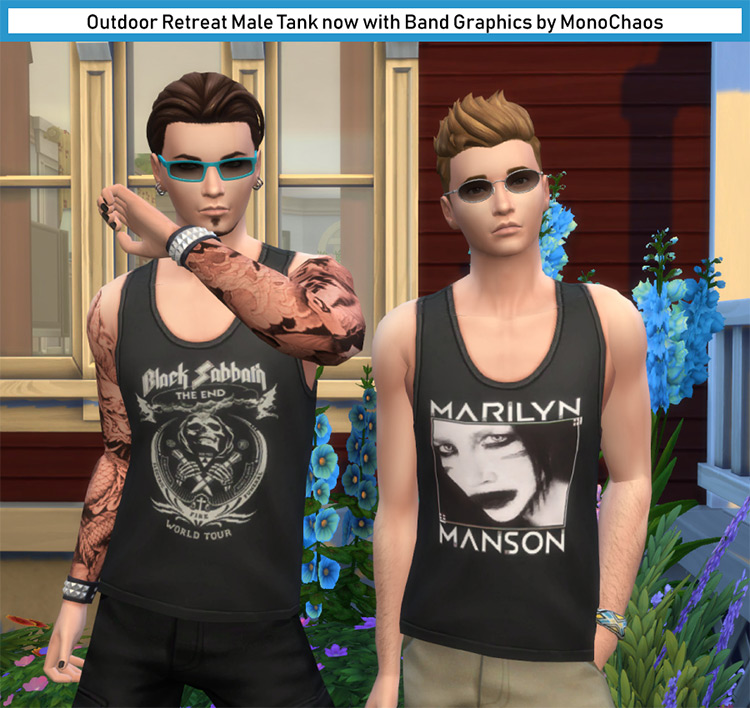 Looks like I'm not the only one who thinks Outdoor Retreat has some of the best male attire!
These tank tops have always been pretty standard, but MonoChaos has kicked things up a notch by adding incredibly well done band logos to the black swatch.
11.

One-Million-Sims Simlish Rock Band Tees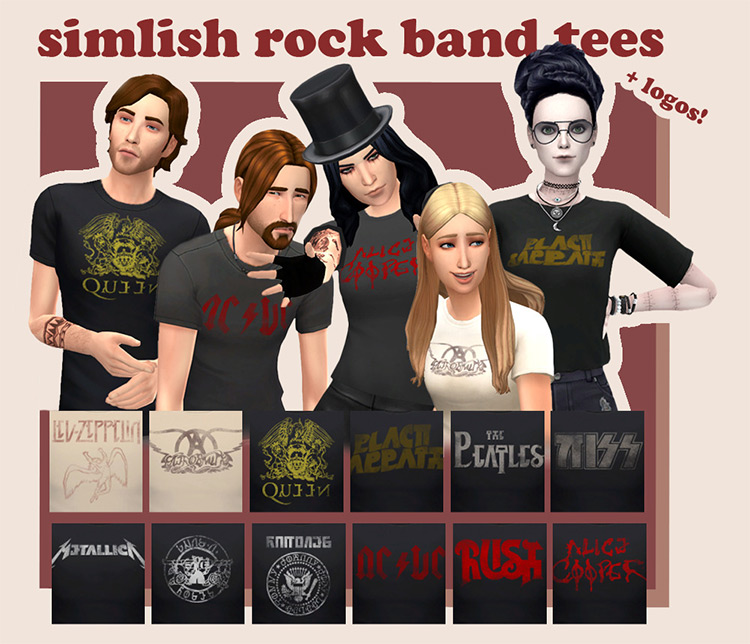 For authentic but Maxis Match tees, it's hard to beat these ones.
The CC creator really gave it their all, giving each recognizable band logo a Simlish counterpart.
They also look well-loved thanks to the distressed texture, like your Sim just can't get enough of them!
12.

Ripped Jeans & Band Tees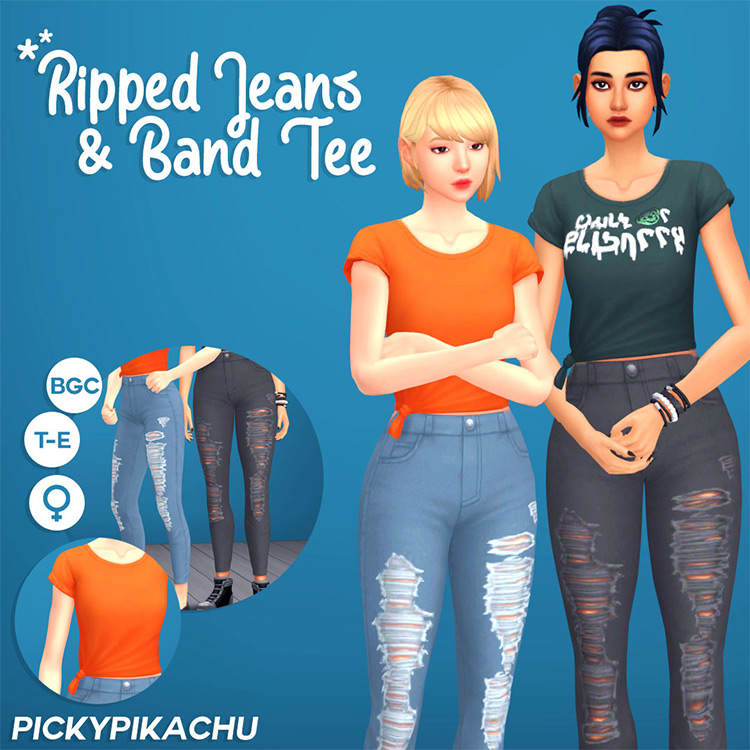 It's not hard to turn a t-shirt into a whole ensemble.
But throwing on some ripped jeans is just about the most tried and true method there is.
Along with these stylish modern shirts, you can just grab these jeans and have an outfit ready to go.
13.

Pierce The Veil Band Tees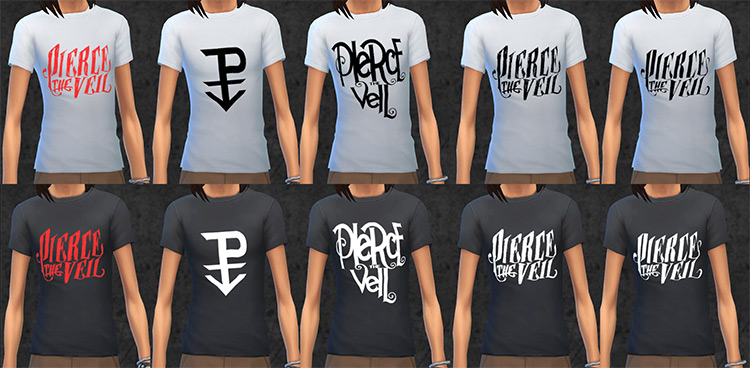 As a band with a hugely popular and loyal fanbase, it should come as no surprise that there's some Pierce The Veil merch for Sims.
I really like the simplicity of these five shirts.
The creator kept things basic, with every swatch having only the band name or emblem on solid black or white.
14.

Led Zeppelin Band Shirts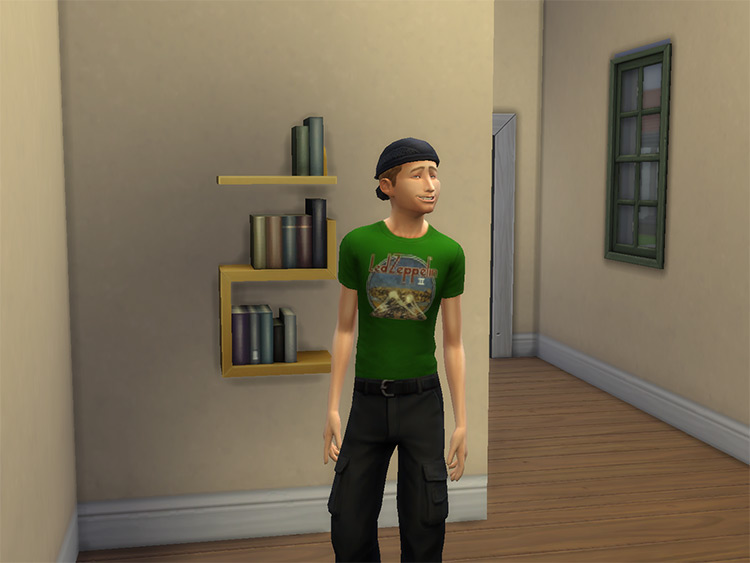 Are you a Zephead?
Does Stairway to Heaven live in your head rent free?
If so, then you're in luck:
Here are multiple tank tops and tees adorned with some of the best old school Led Zeppelin graphics.
15.

Teenage Dirtbag Sweater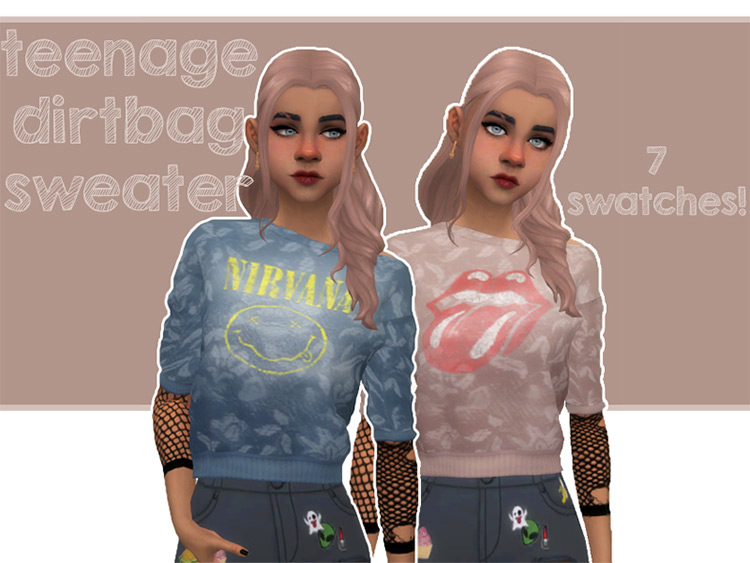 Whether your Sim is a teenage dirtbag, or an adult one, or an elder one, there is no age limit to good fashion sense.
These grungy sweaters are really one of a kind.
On each swatch, a band logo overlays a floral or solid colored base.
16.

Men's Band T-Shirts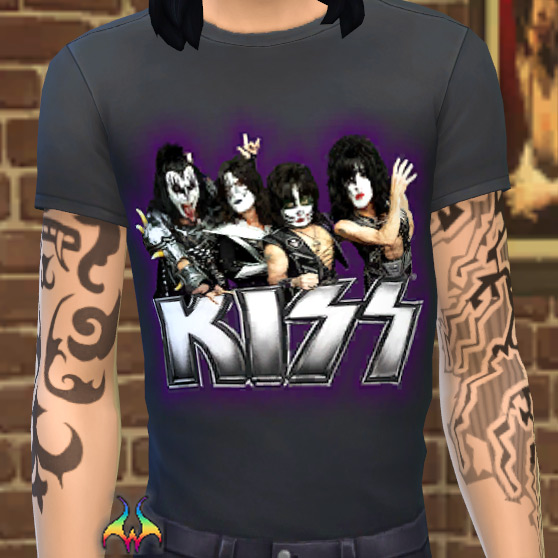 Male Sims can always use some more casualwear, no doubt.
Creator Wykkyd's 20 different tops are super unique.
Each one has a really vibrant, colorful graphic for bands like Def Leppard, KISS, Iron Maiden, and more.
17.

Heavy Metal T-Shirt Assortment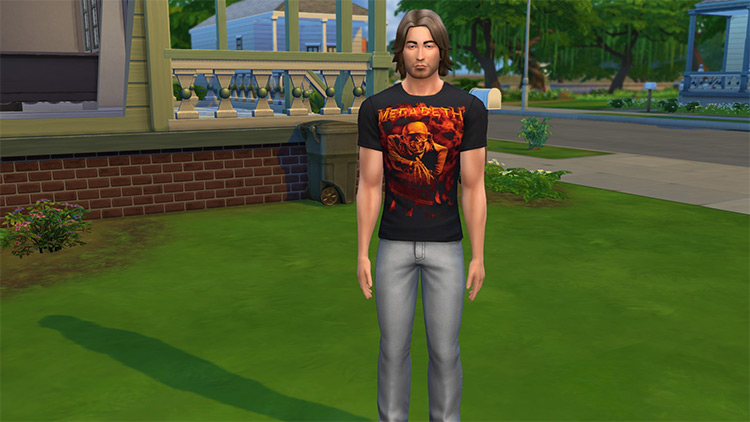 It seems there are a lot of heavy metal fans in the Sims community. We certainly have no shortage of tees!
Here's one last trio of shirts to suit your metal needs, with options for fans of Megadeath, AC/DC, and Helloween.
18.

Harry Styles Band Tees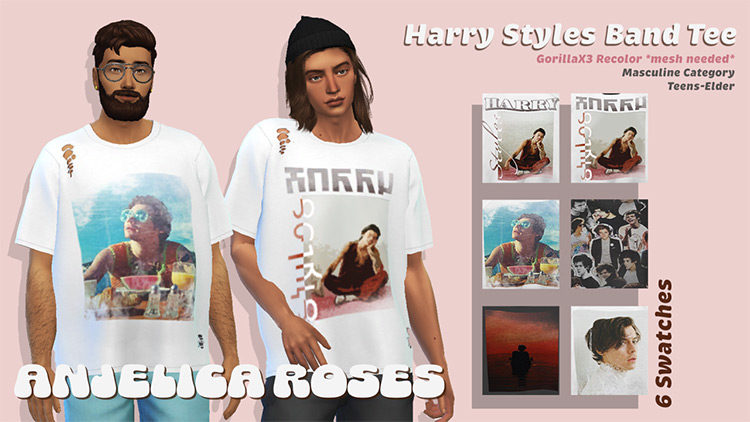 This is a collection I know for sure a lot of people will adore.
While many of us probably already have some Harry Styles merch, so far there has unfortunately been no collab with The Sims 4.
Of course, that's why we have CC!
Two different tees and one tank top are included here, with various artwork from Harry's albums.
19.

Jinjer Band Tees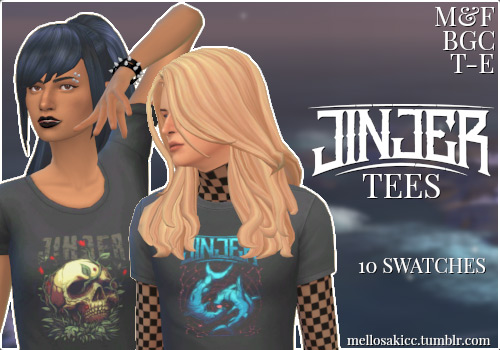 Jinjer, a Ukrainian metalcore band, sure has some cool logos.
And these shirts are super simple – not overly busy at all.
But with 10 swatches, there's more than enough to choose from, for male and female Sims alike.
20.

Graphic Band Tees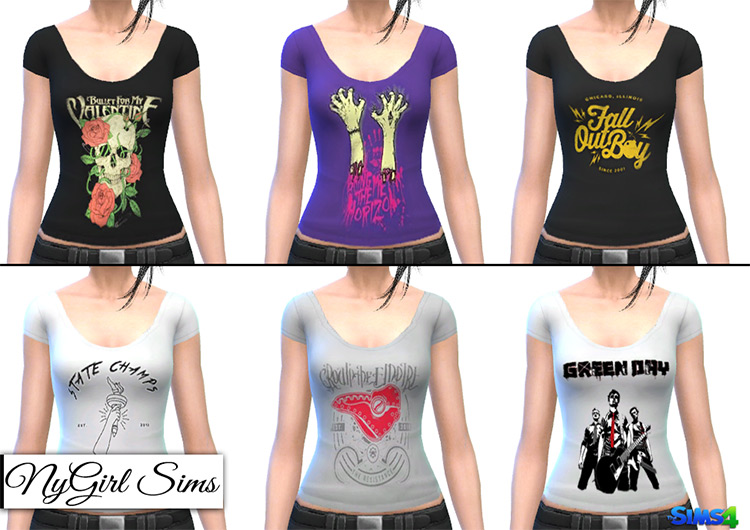 Those of you who like to give your Sims jewelry may notice the scoop neck of this shirt right away.
It leaves the perfect space to add a necklace!
As for the swatches, nearly two dozen iconic early-to-mid 2000s bands are represented, including favorites like Fall Out Boy and My Chemical Romance.
Browse:
Lists
The Sims 4
Video Games