The Sims 4: Best Bangs Hairstyle CC To Download (All Free)
This post may contain affiliate links. If you buy something we may get a small commission at no extra cost to you. (Learn more).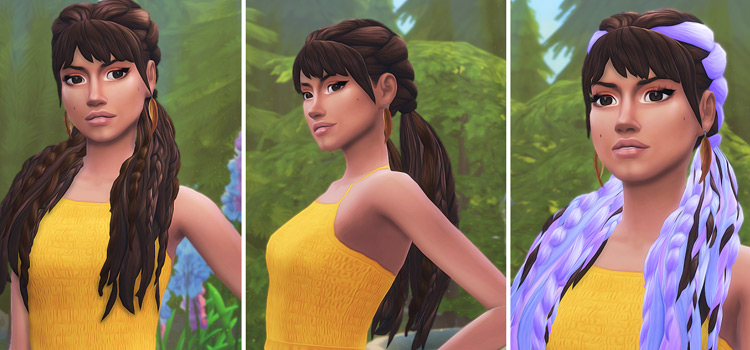 To fringe, or not to fringe, that is the question.
Whether you'll pick a hairstyle with bangs, or not.
I often find myself looking for hairstyles with bangs when I want to change the appearance of my Sim, without actually changing their facial features. There's just something about locks of hair covering the forehead that adds personality to even the simplest hairstyle.
Whether you're looking for blunt bangs or wispy ones, I've got you covered.
15.

Isla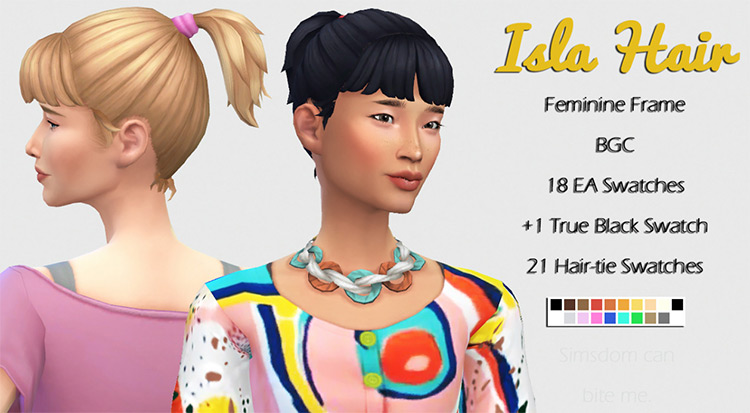 Let's begin with a classic look, a ponytail and full bangs.
Icecream for Breakfast brings us the Isla hair, a short and simple ponytail with a slightly parted full fringe.
A ponytail is a classic hairstyle, and the addition of bangs adds some personality to it. Whether you're putting together a formal outfit, or if you're looking for a hairstyle to complete your athletic wear, the Isla hair is versatile enough to be used in both situations.
Base Game compatible
Hat compatible
18 EA colors + 1 true black swatch
14.

Teek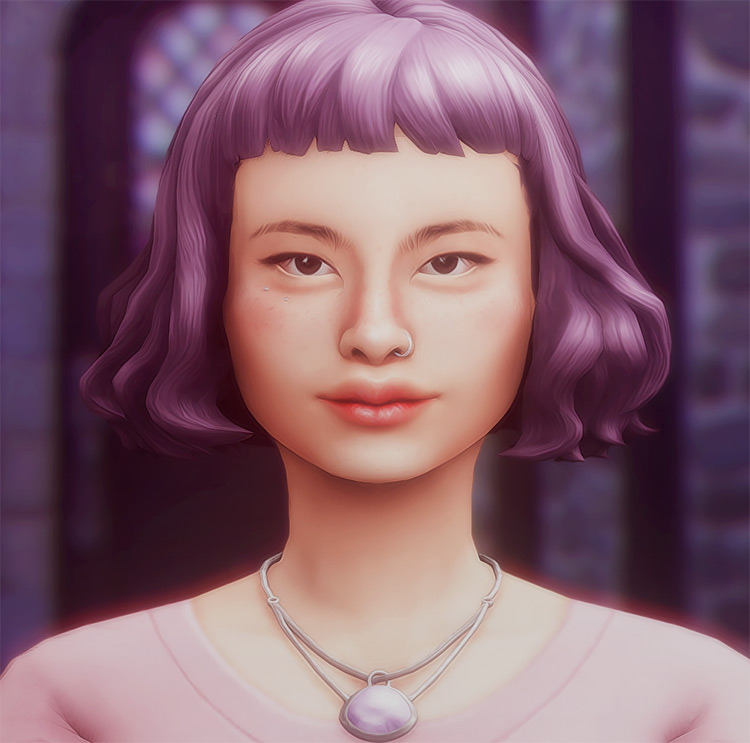 I like my CC short, cute, and curly.
I'm giving you an early warning about the amount of hairstyles with baby bangs in this article.
They're cute, I love them, and I want everyone to love them as well.
Take the Teek hair from Yooniesim for example. How can you not love this adorable CC?
Base Game compatible
Hat compatible
18 EA colors, Modified Maxis, and The Witching Hour palette
13.

Allegra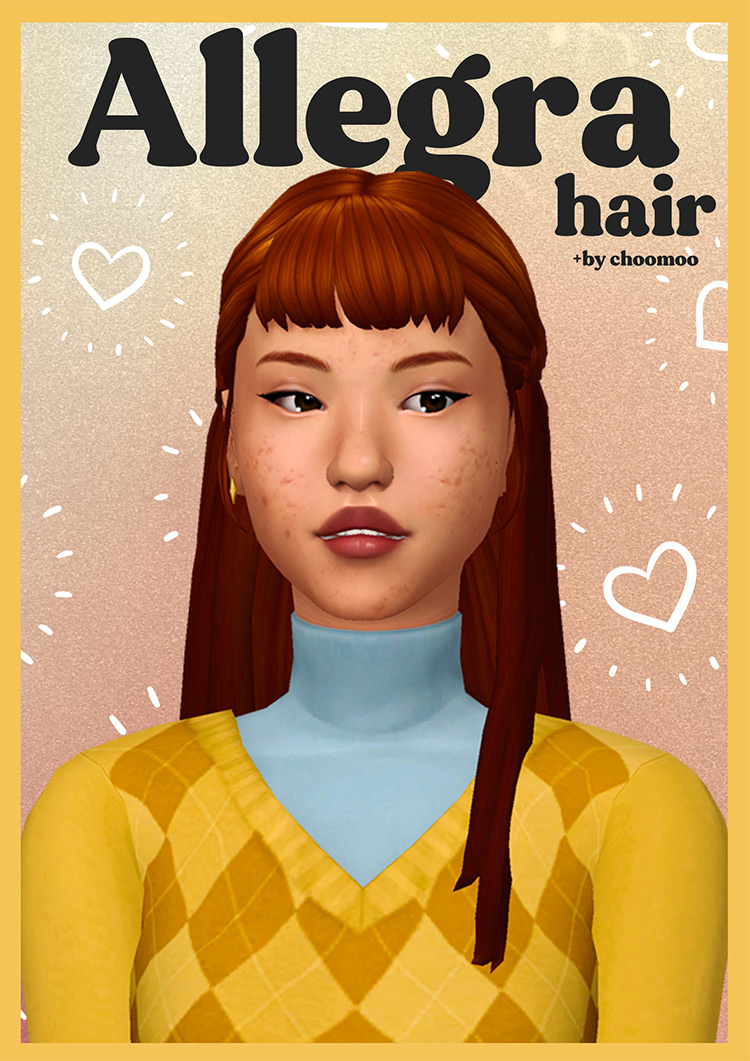 I imagine this hair to be worn by a new university student who will inevitably arrive late to her first class because she fiddled with her bike for too long.
I can't get enough of how cute the bangs look with this hairstyle.
At first glance, they may seem awkward because of their size. But the longer you look, the more you'll appreciate how perfect the baby bangs are.
Base Game compatible
18 EA colors
12.

Crescendo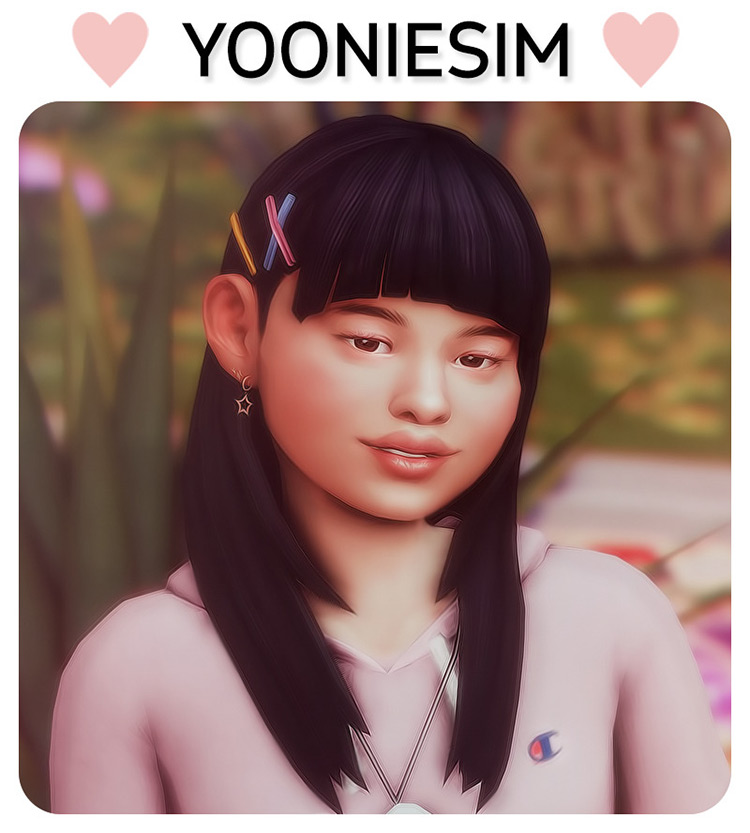 If I asked you to imagine a hairstyle that composed of long hair and chunky bangs, I'm sure this would be your answer.
Most of us, if not all, have already seen someone rocking this style.
From anime characters to world famous celebrities, this hair is everywhere. The Crescendo hair CC from Yooniesim allows you to bring a classic hairstyle to the Sims universe.
I absolutely adore how the bobby pin accessories accentuate the chunky bangs. The hair pin accessory even comes in the Lovechild palette along with 5 multi-colored swatches.
Base Game compatible
Hat compatible
18 EA colors, Modified Maxis, and The Witching Hour palette
11.

Lucy
There's just something so serene about messy hair and parted bangs.
The Lucy hair from CandySims4 is the perfect lazy day hair. Just imagine your Sim still wearing their pajamas while reading a book in front of the fireplace.
Ah, I'm already in heaven.
I love how the creator made use of a hairclaw here too, because it fits the vibe of the hair perfectly.
They also added a recolor accessory for the hairclaw that has 50 swatches: 30 plain colors and 20 patterned swatches.
Base Game compatible
Hat compatible
18 EA colors and 27 Candy Colors
10.

Sweet Luxuries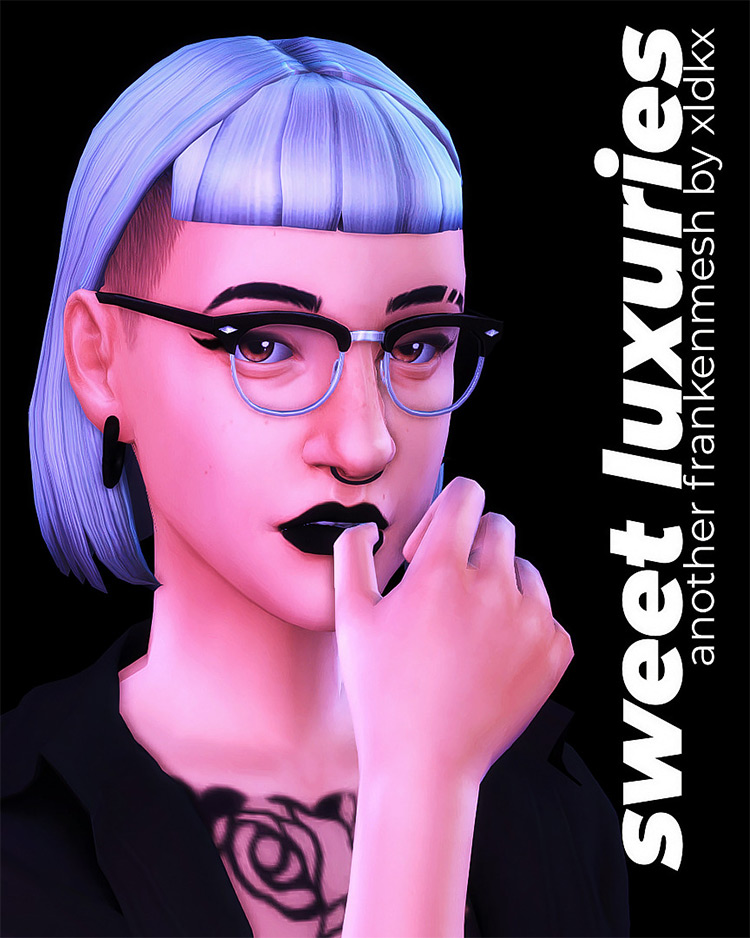 In the past(about three months ago) I was not a huge fan of undercuts.
Then Eco Lifestyle came out and I became a changed person.
The Sweet Luxuries hair from xldkx is a frankenmesh of three amazing hairs from grimcookies.
It definitely has everything that I like when it comes to CC hair.
Short hair length? Check.
Undercut? Check.
Statement short bangs? CHECK!
Base Game compatible
18 Modified Maxis colors and 40 Puppy Crow colors
9.

Colleen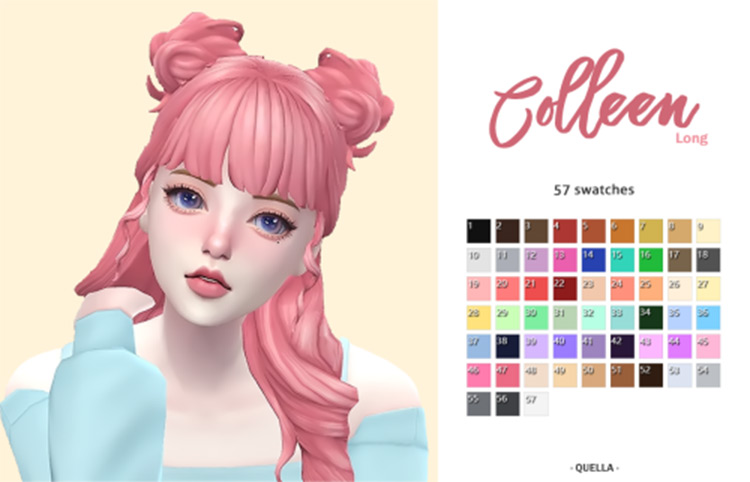 Who knew space buns and full bangs look good together?
The Colleen hair by Quella comes in two versions: one with long bangs, and the other with shorter ones.
I love the detailing on this hair, especially the buns. I'm a weak human being when it comes to messy buns.
I suggest you go and grab the version with shorter bangs, you'll adore it.
Base Game compatible
57 colors
8.

Coconut Head
This Coconut Hair by Cement is a mesh edit of the vanilla bob. I personally don't use that bob, but I can see myself using this hair.
I'm sure all the Friends fans out there agree with me when I say that this hair reminds me of what Monica's hair looked like after Phoebe botched her haircut when she mistook Demi Moore for Dudley Moore.
But unlike Monica, I'm sure you're Sim will definitely enjoy rocking their coconut head.
Base Game compatible
Hat compatible
18 EA colors + 7 gray swatches
7.

Calla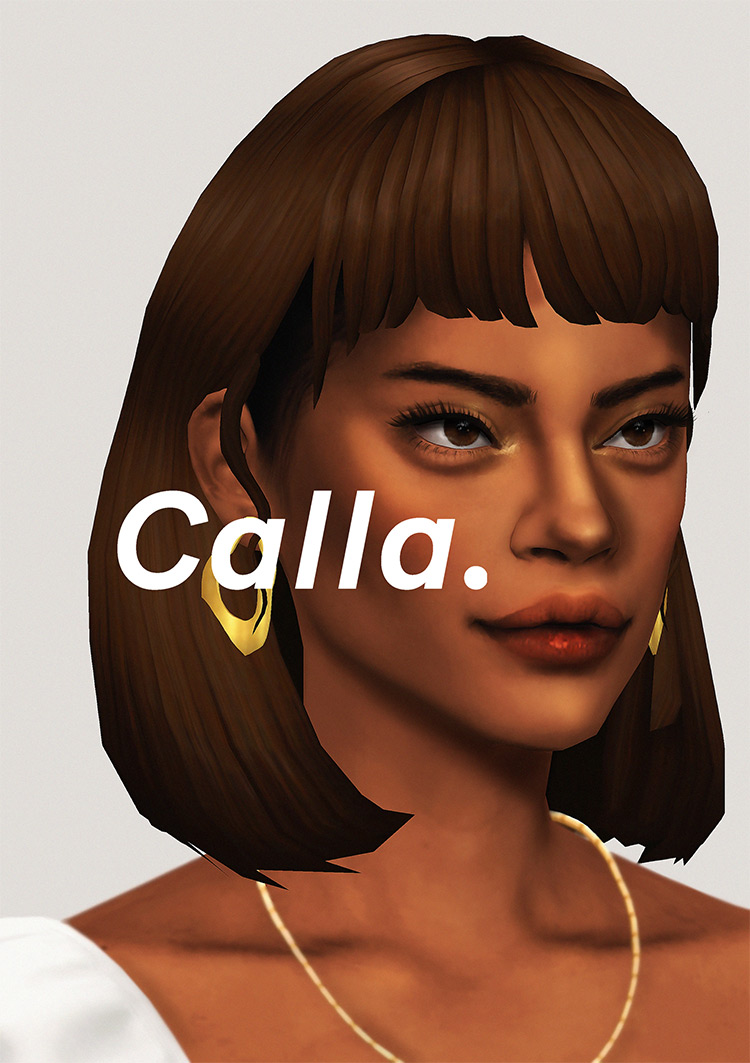 What can I say, I'm a total sucker for statement short bangs.
The Calla hair CC from poanl is a simple long bob with bangs.
It may be a little bit too short for some people's liking, but it's perfect for me. I'm also absolutely in love with how the hair is tucked behind the ears, because how else am I going to showcase my slightly excessive collection of earrings?
Base Game compatible
Hat compatible
Modified Maxis Palette
6.

Lollipop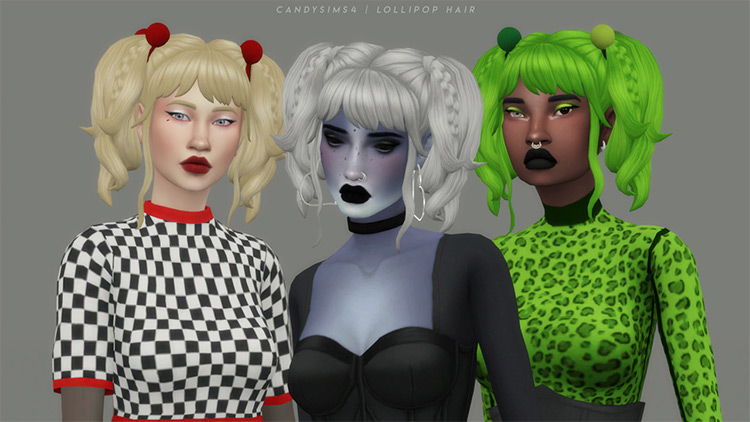 A cute, possibly edgy hairstyle with twintails, braids, and full bangs.
The Lollipop hair from CandySims4 is definitely giving me egirl vibes.
High twintails mixed with braids, partnered with pom pom accessories. Definitely a cute sight.
With the right outfit and hair color, this seemingly simple and innocent hairstyle will be perfect for your edgy teen Sim who's currently on a mean streak.
Base Game compatible
Hat compatible
18 EA colors and 27 Candy Colors
5.

Bloom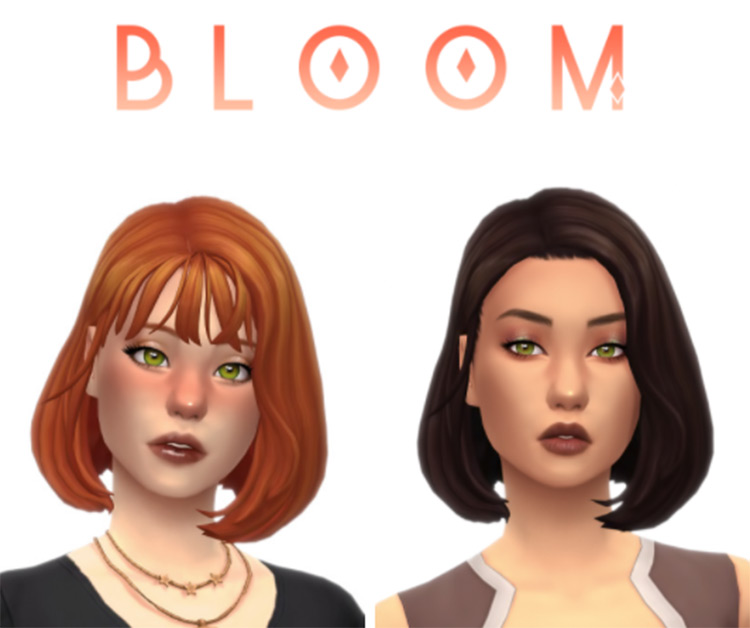 I don't know about you, but I sometimes find the perfect CC that I know will be perfect with bangs… but the only version available is one without any bangs.
Accessory bangs are a thing, people. But they don't always work.
Simandy answered my prayers and created the Bloom hair.
It comes in two versions: one with bangs and one without.
What I especially love about this hair is its wispy bangs. It's very unique, and totally worth adding to your game.
Base Game compatible
Hat compatible
18 EA colors and 40 Puppy Crow colors
4.

Mathilda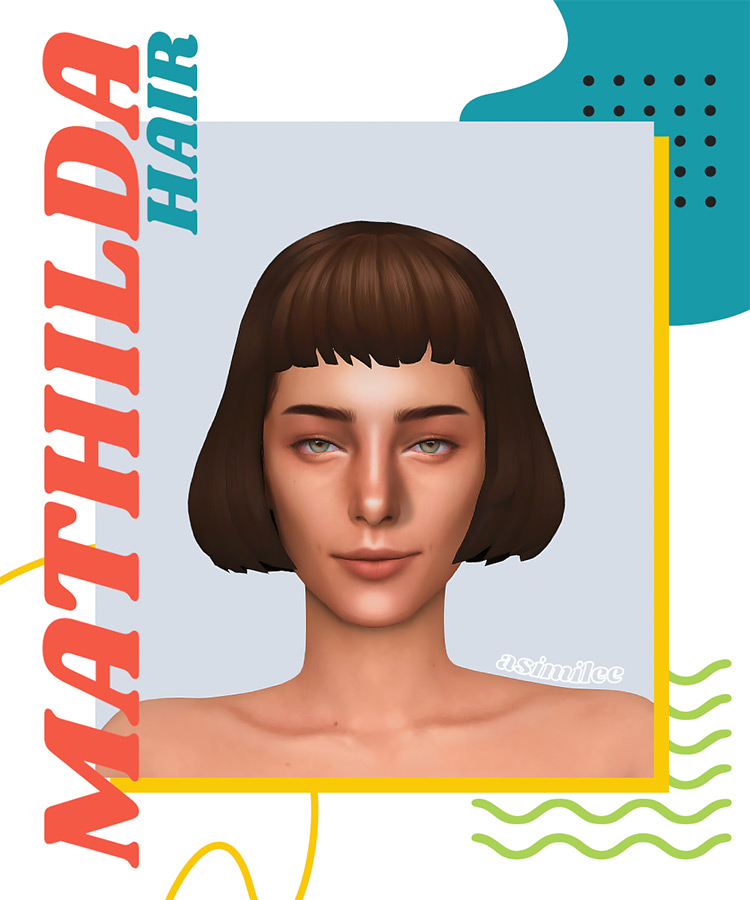 Reminiscent of Natalie Portman's iconic character of the same name, and maybe Tokyo from Netflix's Money Heist, this hair is to die for.
A short bob paired with short bangs is always a killer look.
Adorn your self-assured, ambitious, maybe a little erratic Sim with this amazing hair from asimilee and channel their inner badass.
Base Game compatible
Hat compatible
18 EA colors
3.

Quinn
The Sims 4 meets Fortnite in BustedPixels' Quinn hair.
Now I don't play Fortnite.
But if the characters all have hair as good as this CC, I might just check the game out.
I don't usually consider ribbons to be badass, either. But I'm making an exception for this one.
I love how the ribbon seems to hold the bangs down in place; it's both practical and stylish.
Base Game Compatible
18 EA colors + 65 colors from BustedPixels' palette
18 color accessory everlay (found in hats)
2.

Nyx
This Nyx hair by evoxyr is a maxis match recreation of NewSea's innocent hair.
This simple side swept hair with full bangs is absolute perfection.
Grab the creator's strand accessory (81 swatches!!) that changes the color of the bangs, and a few strands of hair that frames the face. You know, if you want to give your Sim an egirl look.
The hair has two versions and it comes in a variety of color palettes.
You can download this CC in the oblivion palette, EA colors, modified maxis, or the witching hour palette. Or go crazy and download them all.
Base Game compatible
Hat compatible
EA colors, Modified Maxis, Oblivion palette, The Witching Hour palette (selectable)
1.

Tara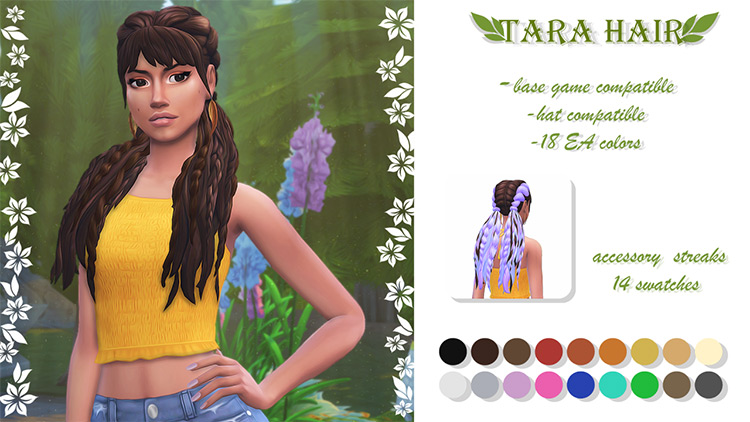 Don't get me wrong, blunt bangs are my go-to.
But there's just something about these slightly parted bangs paired with long braided pigtails that absolutely caught my heart.
The details on the pigtails are amazing! I adore the mix of braided and unbraided hair too.
The creator also added 14 swatches of accessory streaks that take this hair to another level. It comes in two versions: one with the pigtails draped over the shoulders, and one with the pigtails draped over the back.
The Tara hair by xGHOSTx is absolutely worth adding to your CC hair collection.
Base Game compatible
Hat compatible
18 EA colors
Browse:
Lists
The Sims 4
Video Games