The Sims 4: Best Hat CC For Guys, Girls & Toddlers
This post may contain affiliate links. If you buy something we may get a small commission at no extra cost to you. (Learn more).
A hat is as much of an integral part of one's wardrobe as shoes or pants.
They may not be used that frequently, but when you want to wear a hat, you want it to be a good one. The same goes for your Sims.
There really aren't a whole lot of choices when it comes to their headwear. Most of the time when I see Sims or townies wearing a hat, it's part of their athletic outfit. And with beanies, it's always for cold weather.
Well there's no need for things to be so black and white.
Custom content creators have saved the day (again) and provided us with every type of hat we could ever hope to find, in awesome patterns and textures galore.
1.

New York Yankees Hat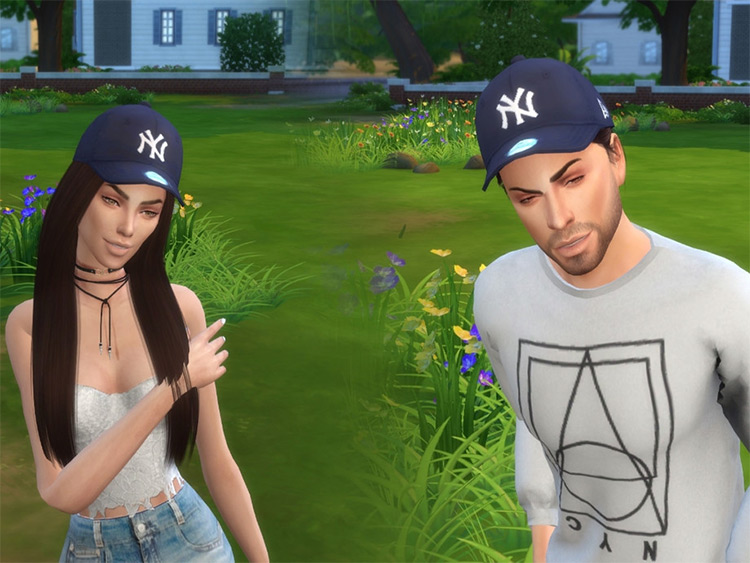 I'm pretty sure the Yankees have become as much of a fashion statement as a baseball team.
People all over the world recognize that innately American insignia, and want a piece of it. Even if they aren't necessarily fans.
It's the same as people wearing old band tees without knowing a song.
Well now your Sims can wear the signature Yankees hat too!
If you (or your Sim) is actually a genuine Yankees fan, then I suppose this is extra exciting for you. The mesh looks very smooth and the hat comes in various colors for both.
2.

Hipster Fantasy Beanies
If you want your Sim to look fashion conscious and chic, they've got to have a beanie.
That seems to be what all the cool kids are wearing nowadays.
And these ones from Pinkzombiecupcakes certainly are cool.
The aliens covering them kind of freak me out, but that's a popular design that just makes sense for Sims who can meet aliens a lot more easily than us.
There are 24 equally trendy styles and swatches to choose from.
3.

Hunting Hat for Child and Toddler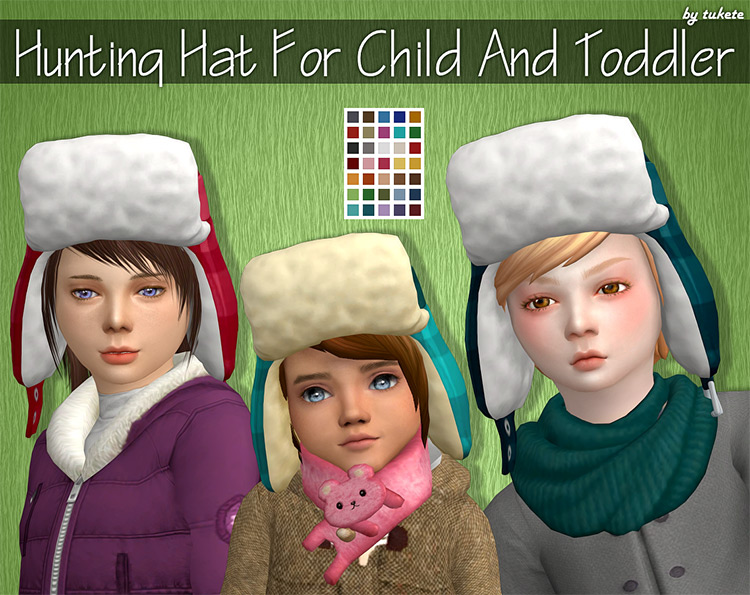 At my house, this is known as a Cousin Eddie hat. If you know, you know.
If not, they're known under many other names. Trapper hat, ushanka, ear flap hats, or as creator tukete has dubbed it, a hunting hat.
This is an iconic look no matter what you want to call it, and now it's available for your Sim's little ones.
Toddlers really do look adorable in it.
4.

Iris Bucket Hats
Bucket hats have been all the rage for a while now.
A lot of celebs and influencers seem to be into this trend. I'm not sure if they started it or just ran with it…
Either way, bucket hats have now reached The Sims 4. They're a very versatile accessory, with about a million variations.
And this CC set from dscombobulate includes pretty much every design you could want.
There are sixteen swatches of both pastel and bold solid colors, eight swatches of hats with cute patches, and four swatches of prints.
5.

Fluffy Pompoms Hat for Toddlers
Now this is a hat best suited for the colder months, but it's so beautiful you'll never want to stop wearing it.
All the textures here are so perfect.
The hat itself really looks knitted and the pompoms look so fluffy, I can almost feel them.
Creator Giulietta really went all out to give us all the swatches we could ever hope for, including 26 plain and 14 patterns.
That's 40 options total. Probably enough to give every toddler of your whole genetic legacy a different hat.
6.

Cool Beanie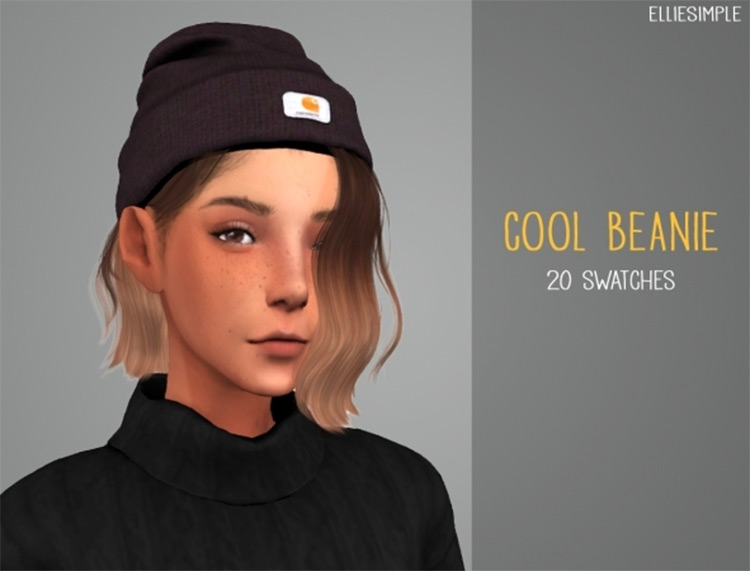 Beanies might just be the most beloved hat out there, and it's obvious why.
They're a warm and simple accessory, with as many options to express yourself as subtly or boldly as you please.
These from Elliesimple definitely lean on the subtle side, which can be a plus.
You don't always want your hat to steal the show.
They're still very trendy – in fact, I see at least one person with one of these hats daily on TikTok – and come in twenty neutral swatches.
7.

Dishonour Hat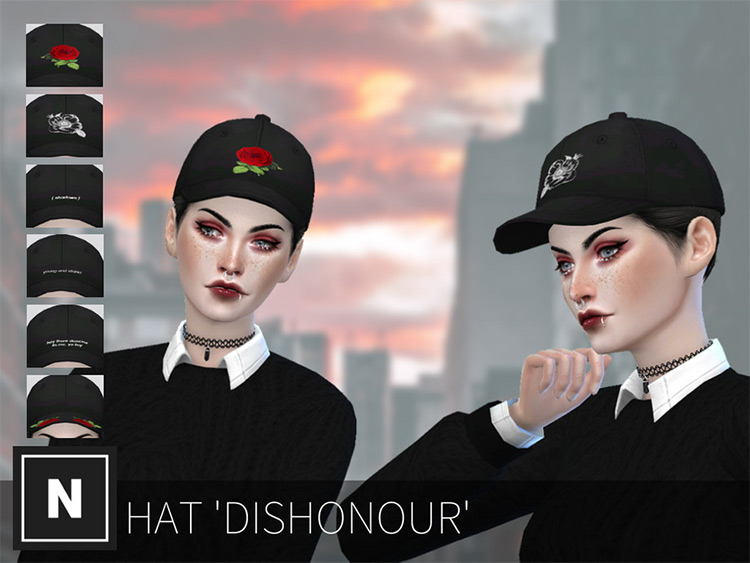 Networksims has created some awesome hats here.
Simply put, they're quite aesthetically pleasing, and available with various roses and texts against black.
They say black goes with everything.
So if you believe that too, then this CC might be one of the most versatile hats on this list.
There's really nothing it won't go with. And it'll be a nice accessory for pretty much any type of outfit.
I'm glad hats like this have been gaining popularity lately. You can personalize them in so many ways.
And since our Sims have limited means of doing that for themselves, it's on us to bring them the latest in what's all the rage.
8.

Kitty Hat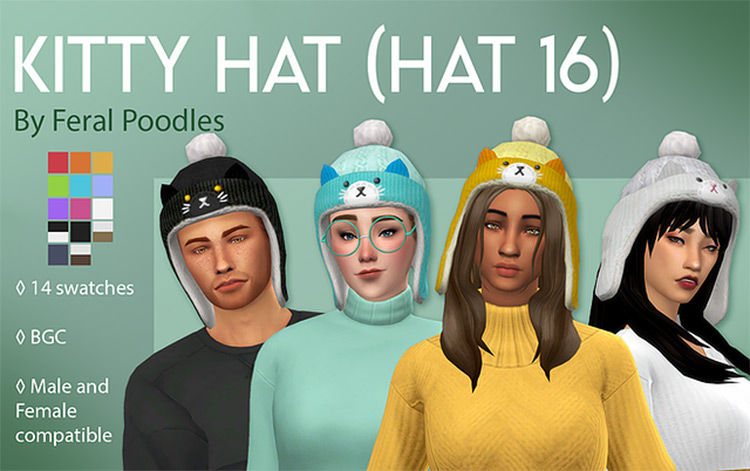 If you've got a Sim who is crazy for cats, they need this hat.
It's got the precious little face of a kitty on the front, whiskers and all. This is another one with ear flaps too, which is a look that just can't be included enough.
In my opinion, this is a much better way for your Sim to display their love of felines. Moreso than the cat ears hairstyle or itchy-looking hairstyles that came with Cats & Dogs.
I love that pack dearly, but sometimes I want a way for my Sims to have a cat accessory without coming off as over-the-top or silly.
This hat is the perfect medium. And you can work it into any outfit.
9.

Backwards Strapped Baseball Hat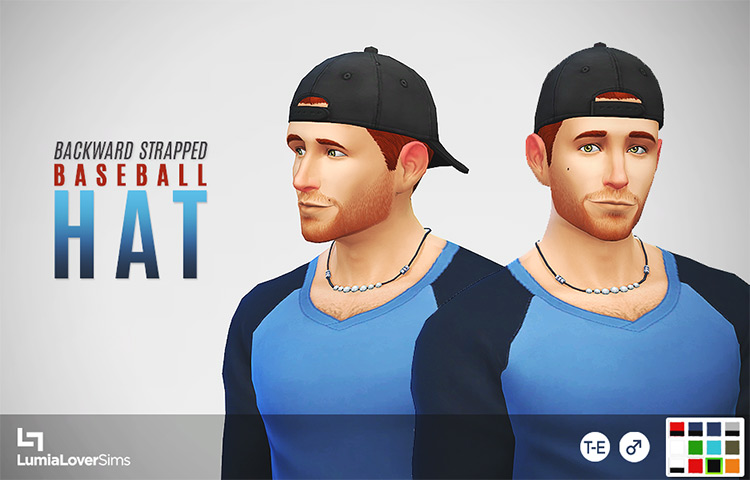 Now this hat CC from the extraordinarily talented Luumia is a long-time favorite of mine.
In my opinion, it's a massive step up from the base game backwards hat.
Luumia's CC looks a lot more like a real hat, from the texture to the inclusion of a strap. But not so much that it clashes against the game's style.
The base game hats are quite bulky and tall, and this one is considerably more compact.
Some hairstyles won't work well with it. But I think it's still very much worth downloading!
10.

Toddler Caps
This was actually one of the first pieces of CC I searched for when I started playing.
Hats can be as much of an integral part of an outfit to toddlers as to adults, after all.
Let's be honest: it's just a really cute look.
I don't know what it is about a toddler in a hat that melts my heart, but it's a combination that always works.
It makes them look like they're ready for anything. Play dates, barbecues, an afternoon at the park…
A toddler in a ball cap can handle whatever you throw at them. Not literally, though.
11.

Blue Western Hats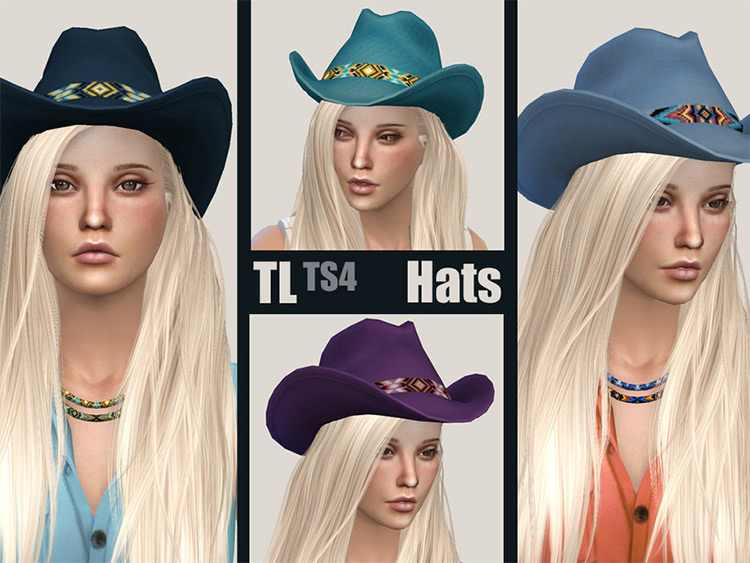 You might think this is just a recolored cowboy hat, but no. Think again.
Believe it or not, there's a distinct difference between cowboy hats and western hats, and there are no western hats in-game.
But there can be now, if you want.
These custom hats from TitusLinde are certainly a good option, giving Sims a country flair in various shades of blue and purple.
I can't praise the coloring here enough, it's that brilliant.
Even if you want to say it's the same thing as a cowboy hat (it totally isn't), this is a complete change from the beiges we're used to.
And the bands with the southwestern patterns really pop. That might be my favorite part. I'd like that design available on all my Sim's clothes, please and thank you.
12.

Little Bear Hat
Awww, a wittle bear hat for your wittle Sims!
That's right, this one is so good it made me baby talk. I promise it won't happen again, though.
Is there anything more innocent than a hat with bear ears? I don't think so.
And you can never have enough hats for toddlers, honestly.
It's such a short life stage.
As grandmas always say, they aren't little for long, and it's true.
So parents – even Sims – want those babies to remain pure and innocent for as long as possible.
And "the more, the merrier" is even true when it comes to toddler accessories. This striking, adorable hat is totally worthy of any CC collection.
13.

Raspberry Beret for All Ages
Sims of all ages can wear these gorgeous berets from saurussims.
This is a distinct hat that not every person can pull off, but every Sim can for sure. They're often associated with artsy types or Europe, but there are no rules or judgment in The Sims.
Well, except for Nancy Landgraab. She's always judging. But we'll ignore her.
I'm a fan of anything that will allow me to put my beloved Sim families in matching outfits, and berets are certainly a unique way to do that.
You can also experiment with this a lot, from incorporating it into everyday outfits to party outfits and maybe even formal ensembles.
This hat will surely draw attention. So you'll want to make sure your Sim's hair is at its best as well!
14.

Babygirl Hats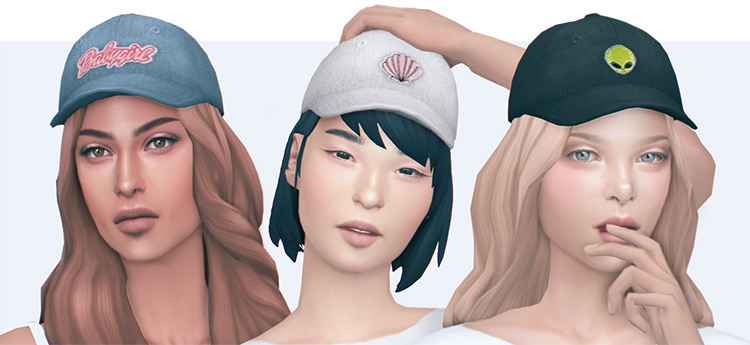 Here we have some more stylish ball caps that you'll definitely want for your Sim's casual or athletic outfits!
I love that these come in different styles – denim, white, pink, black. They're all very chic and Instagram-y, if that makes sense.
These are hats that just seem familiar, because this simple look is so popular. And for good reason.
There's a plain option, but the rest have super cute pictures on the front. Whether you want a hat with an alien, clam, peach, eye, or 'babygirl', they'll all look fantastic.
15.

Wide Brim Hat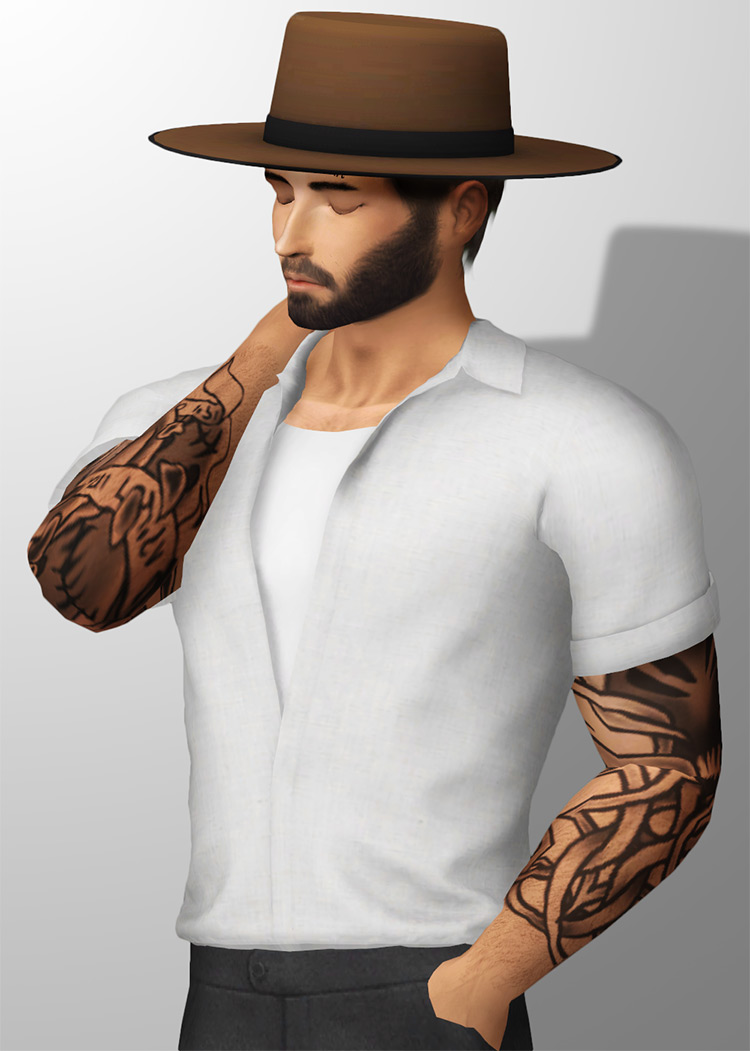 Now this is one of those things that I didn't realize I was missing until I saw it.
A wide-brimmed hat like this CC is really common for those into folk music.
I know that's a really specific thing to bring into The Sims, especially when we don't really even have the world or decor to go along with that kind of thing…
But this hat will still be a fun addition to your CC collection either way.
Both men and women sport this hat nowadays, and there are many different ways to make it work.
Paired with suspenders, guys will kill it. While women often go for a jumpsuit or dress.
Of course, that's all entirely up to you.
Browse:
Lists
The Sims 4
Video Games