Sleeping Poses For The Sims 4 (Adults, Kids & Toddlers)
This post may contain affiliate links. If you buy something we may get a small commission at no extra cost to you. (Learn more).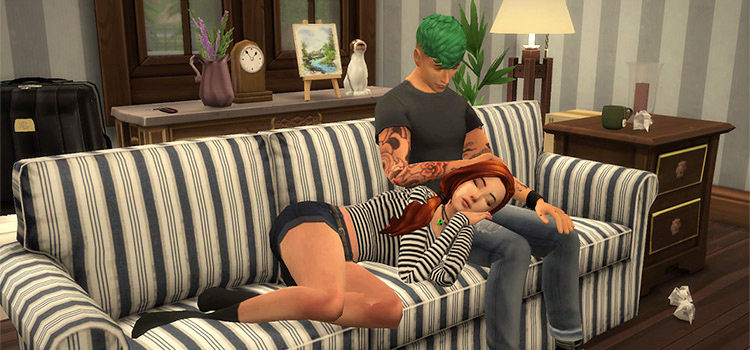 Why do we need custom sleeping poses for TS4?
Same reason we need custom poses for just about anything.
They're fun to have, and they make for great screenshots. Plus if you tell original stories using your Sims, you know how hard it is to create a visual representation of your narrative when you're limited to the vanilla TS4 animations and poses.
So here's our collection of downloadable custom sleeping poses, for Sims of all ages.
1.

Nap Replacement Poses by Princess Paranoia
These Nap Replacement poses are perhaps one of the rare custom poses where you don't need Scumbumbo's "Teleport Any Sim" mod and Andrew's Pose Player.
That's because these poses are meant to replace the game's default poses and/or animations for the "Nap" interaction (hence the name).
As you can tell from the preview photos, the napping poses differ depending on where your Sim chooses to sleep.
If they nap on the bed, they lay their hand on their stomach.
If they nap on a loveseat or sofa, they throw their arm across their face.
Already that's more variety than what the unmodded game offers.
Sims in TS4 sleep on their side regardless of whether they nap on a bed, couch, or loveseat.
But if you're not a big fan of that and would like to change things up, this is an excellent mod to have.
2.

Let's Sleep Together Poses by WistfulCastle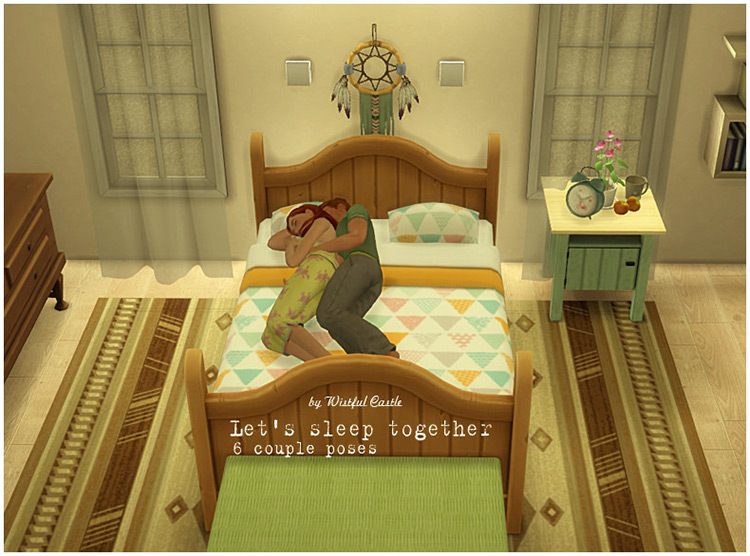 These are probably some of the cutest sleeping poses for couples that I've seen.
And I love that they all have different vibes.
Some of them are sweet, cuddly, and picture-perfect. The others are comfortably domestic and hilariously true-to-life.
I mean, come on. We have all, at one point, flopped unconscious on our sleeping buddies.
We have all, at one point, taken up 90% of the bed with no care for the person sharing our bed.
And some of us have (on accident) smacked our bedfellows in the face while asleep. It happens.
You'll find accurate portrayals of all that – and more – in this pose pack by WistfulCastle.
3.

Cute Sleepy Babies Posepack by NatDreamSims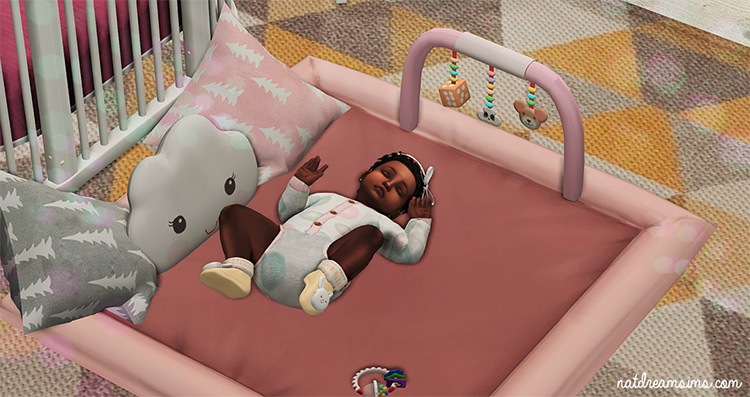 This pack is exactly what the name says it is:
A bunch of poses (specifically 9) that turn your Toddler Sim into a cute, sleepy baby.
Flat on their back, flopped on their front, curled up on their side, sucking on their thumb… there are apparently a lot of ways Toddlers can fall asleep. And the creator managed to portray them all.
If you're a family gameplay kind of Simmer, I'm certain you'll appreciate just how many adorable baby pictures these poses will give you.
Setup is pretty easy; you just place the teleporter statue where you want the baby to be.
For beds, cribs, or changing tables, you'll need to move the statue up until the bottom of its feet align with the surface of the furniture item.
If you're not sure how to manipulate object height, here's a quick tutorial:
Open the command bar by pressing ctrl + shift + C
Then type testingcheats true to turn on cheats. You'll get a confirmation message if done properly
Type bb.moveobjects on. This cheat will allow you to move and place objects wherever you like
Select the item you'd like to move up or down. Press 9 to move it up or 0 to move it down
4.

TS4 Sleep on the Floor Pose by SuperJJKitten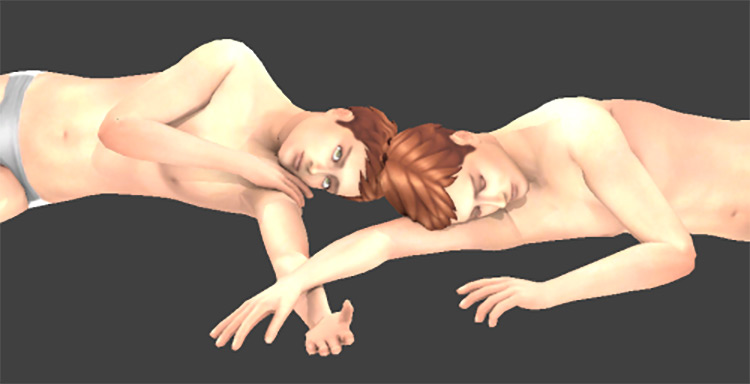 This download only contains one pose for two Sims, but said pose is pretty interesting.
As you can probably guess by the name (and the preview photos) this custom pose allows your Sim to sleep literally anywhere on the floor.
Although to be fair, it looks like just one Sim is actually sleeping. The other one's wide awake (and staring sort of creepily at their partner).
You could use this pose with two Sims, as intended.
Or alternatively, you could also just use the pose for the one Sim that's actually sleeping. Even though it's a couples' pose, each Sim's position isn't dependent on the other.
If you take out the Sim that's awake, you'll still be left with a Sim that's peacefully snoozing on the floor. And it won't look awkward.
Give it a try!
5.

Afterparty Knockout – A Group Pose by Cement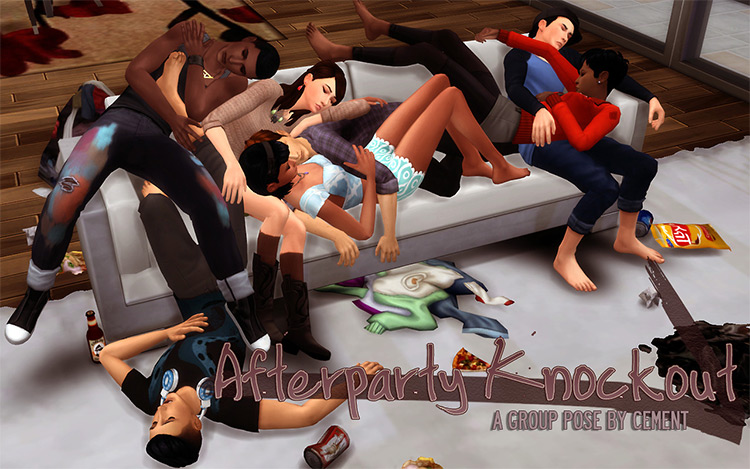 How do you squash seven Sims into one sofa?
You knock them out, apparently.
According to the creator notes, their mission was to cover a 3-seater sofa with as many Sims as possible. Well, mission accomplished.
And in the best possible way.
I don't quite understand how this pose is possible—logistically, physically, and spatially. But it is.
And for all intents and purposes, it looks like one comfy after party.
This group pose is easy enough to set up.
Just place seven teleporter statues on top of each other, make sure they're centered in a 3-seater sofa, and start clicking.
Do note that you can use this pose with less than seven Sims. It just might take a while to figure out which poses are independent of the others. I tried it with six Sims, and it still looked happily chaotic.
6.

Cozy Couple Poses by toofcc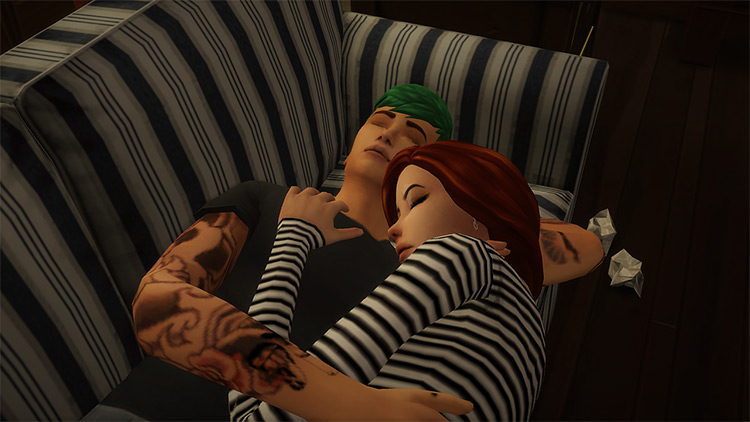 These poses are indeed very cozy.
They have the same casual, fluffy, domestic vibe as WistfulCastle's Let's Sleep Together set.
It's two Sims who are very much comfortable with each other settling down together for a quick catnap. Just on a sofa, this time.
There are just 3 poses in this pack, but the quality of each is incredible.
Plus they're all adorable.
I love the fond expressions of the Sims in the first two poses. They really live up to the "cozy" in the name.
The third pose looks a bit precarious – especially since a sofa can be a bit too narrow for two Sims – but they somehow make it work.
7.

My Worst Nightmare Pose Pack by ParisSimmer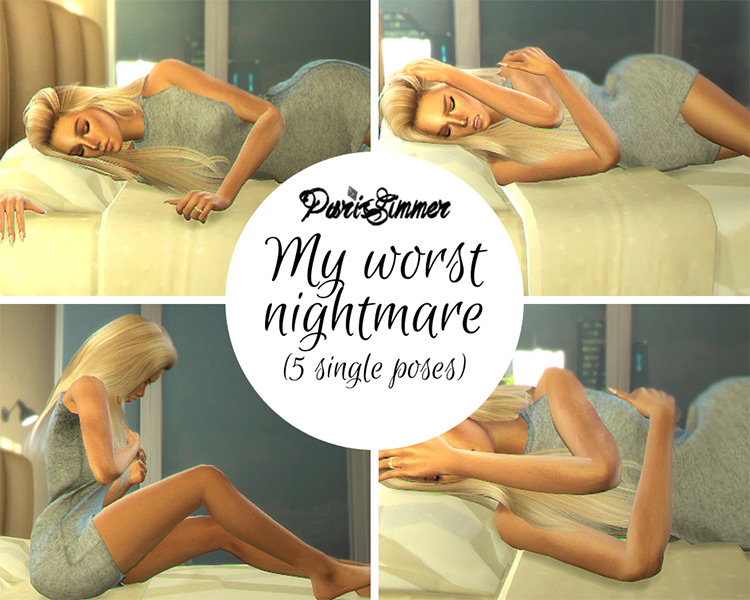 The Sims team really needs to add some new sleeping animations and/or moodlets to the game. Because it is utterly unfair that Sims get to experience eight hours of uninterrupted sleep littered with nothing but pleasant dreams.
Imagine if they added a 5% chance of your Sim getting nightmares and waking up in a cold sweat.
That would make for some interesting gameplay.
But since that's not an option, custom poses are the next best thing.
Specifically these poses by ParisSimmer.
The name of the pack is pretty self-explanatory, but it's basically 5 poses that show a Sim struggling as their plagued by what looks like pretty intense nightmares.
The fifth pose has them sitting up, fully awake and obviously perturbed.
8.

Little Monsters Posepack by simcorgi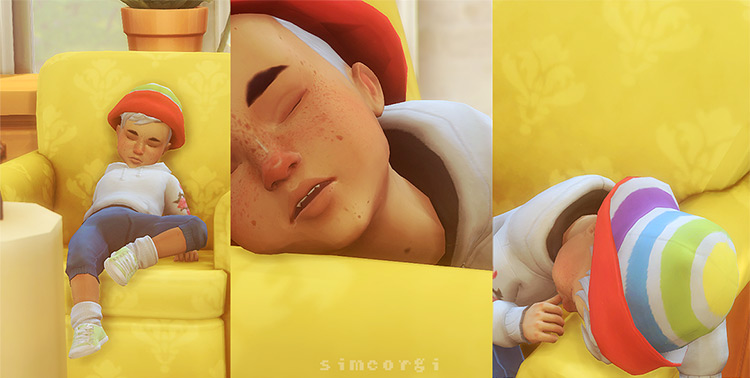 WistfulCastle's Let's Sleep Together might be my favorite pose pack, but simcorgi's Little Monsters set wins for my favorite descriptions.
It's a pose pack dedicated to Toddlers.
However, it's got 5 poses specifically portraying Toddlers falling asleep in chairs, so. I'd say it counts.
The poses themselves are too cute.
There's nothing more adorable than a pouty, sleepy Toddler trying – and failing – to fight off the snoozles.
Like I mentioned, the in-game descriptions of the poses are the cherry on top of this sleepy Toddler sundae.
They're blunt, straightforward, and hilariously brilliant.
Like pose 01, which simply says, "asleep in chair, face on cushion. couldn't make it." Or pose 04, where the description goes, "all their anger failed them. they slep."
Honestly, the descriptions were a fun little surprise that just added to the novelty of this pose pack.
9.

Naptime Poses by KatVerseCC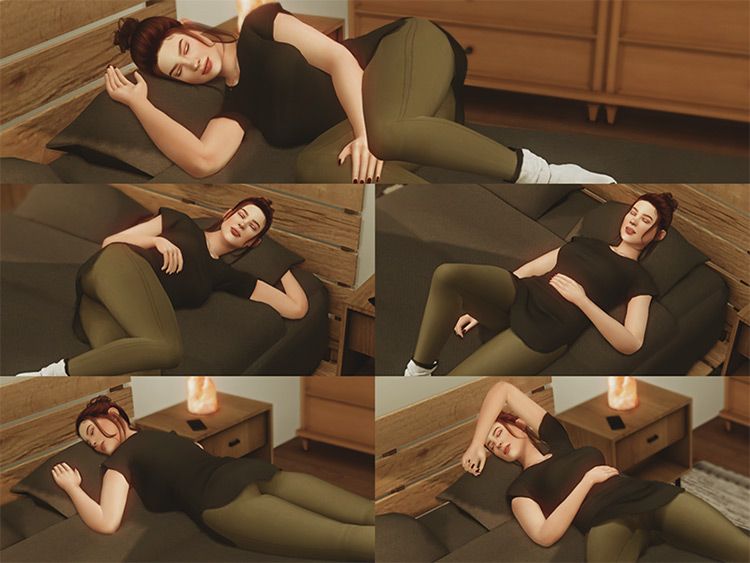 KatVerseCC brings us some very natural and casual-looking napping poses.
As I mentioned with Princess Paranoia's Nap Replacement poses, TS4 only has one default napping animation.
If you want interesting screenshots for your Sims story, sticking to unmodded, base game content can get dry and repetitive.
I mean, having multiple people curled up in the exact same fetal position doesn't sound very visually appealing.
Thankfully, custom poses can add variety.
There are 5 solo shots in here to put your Sim in different resting positions. All of them look believable, too. The kind of poses you'd just naturally fall into if you needed a really good nap.
10.

Sleepy Desk Poses + Animation by sssvitlans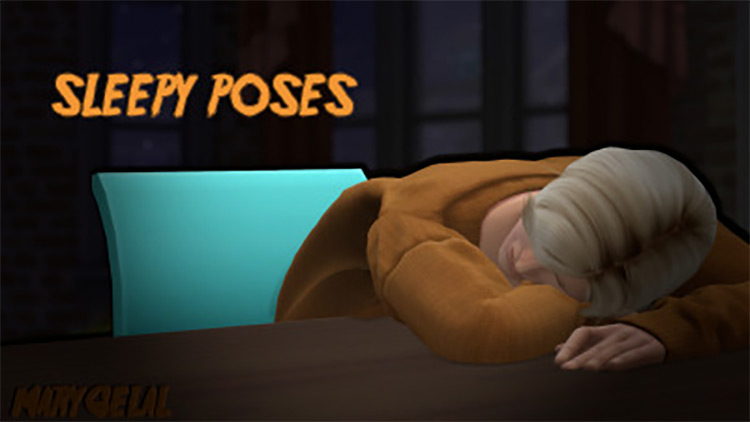 Ever dozed off in class?
Apparently so did your Sim.
These poses by sssvitlans don't need a sofa, loveseat, armchair, or bed. They just need a desk, a chair, and one tired Sim in desperate need of a catnap.
Whether they pulled an all-nighter two hours before a major lecture, or they were up all night compiling those reports for the big boss, one thing's for sure: the cool surface of a desk never looked so tempting.
I like that the creator included several variations for this "sleep at the desk" pose, despite it being a very simple concept that could have been achieved with just one or two positions.
I didn't test the custom animation out for myself – but the preview video on the download page suggests it's pretty smooth.
Browse:
Lists
The Sims 4
Video Games