Sims 4 Hipster CC: The Ultimate Collection (All Free)
This post may contain affiliate links. If you buy something we may get a small commission at no extra cost to you. (Learn more).
What exactly is a hipster?
You could say it's the love of band tees, skinny jeans, and all things retro.
Maybe it's the unique hairstyles or the penchant for distressed looking clothes.
The definition is disputable, but the awesome quality of these hipster CC items is most definitely not up for debate, cause it's all good stuff!
Have any hipster Sims in your game? Then all this CC was made especially for them.
Geo Stripe Joggers
Eyesore, or work of art?
These Geo Stripe Joggers from DarkNightT definitely makes a bold statement. With a harem pant silhouette and six unique patterns, it's a fashion choice that will certainly get other Sims talking.
These are also HQ compatible, and all patterns shown were handmade by the creator, which is really cool.
Teen and older can wear these, plus these are available to male and female Sims.
Grunge Tights
There's a sect of hipsterdom that is obsessed with all things '90s.
So don't be surprised at all the grunge-inspired fashion featured on this list.
We'll start with Twinksimstress's Grunge Tights, a 20-swatch collection of various ripped, uniquely patterned tights in several colors.
They're super cute when paired with shorts, skirts, and especially the '90s-licious skort.
Plus, they're Maxis-Match friendly!
Sims B&W Hipster Tees
This one's for all those minimalist hipsters that prefer a "less is more" look.
These B&W Hipster Tees by Annachibisims consist of several monochromatic (black/white) simple illustrations and sayings.
There's six in all, including an adorable hipster panda and a flock of birds floating above a message to 'fly away.'
Know Me Too Well Jeans
The quirkier, the better when it comes to hipsters and jeans.
Creator New_en092's "Know Me Too Well" Jeans have a peculiar design, which also makes this CC a bit avant-garde: ripped knees with excess fabric and an unbuttoned waist.
There are over 30 swatches on this one, and it's also part of a free collection that has the same hipster-y flavor as the jeans.
For the whole kit and caboodle, head over to New_en092's Patreon.
Hipster Collection Snapback
Do hipsters really like snapbacks?
Some would argue that the hats in this CC collection by Pinkzombiecupcakes go against the hipster oath to shun 'mainstream' phrases like 'Dope,' 'Cool,' 'Boss' and so on.
Others would totally wear it, if only for the love of irony.
While you ponder the question, just know that these awesome HQ hats come in 14 swatches, are totally unisex, and require the Get Together expansion pack to get them installed.
Hipster Tank Top
Expressing your personality and interests is a must for the self-identified hipster.
Elrsims' hipster tank CC does just that, with three swatches that feature messages like 'Young, Broke and Talented.'
We've all been there.
Available in solid burgundy and a dark blue lined with stars, these Maxis-Match friendly tops make for a great addition to CAS.
Engineer Boots Short Version
Grunge is here to stay, this time in the form of these boots by Sims4Marigold.
Those of us who were around in the 90s remember an older sibling or friend (or ourselves, for the seasoned Simmers out there) wearing chunky, black boots, often paired with leggings and a skirt.
These custom boots are a great homage to that era, with studded straps and buckles.
They're available in six swatches in total, and you can download both the male and female version.
Basic Knit Sweater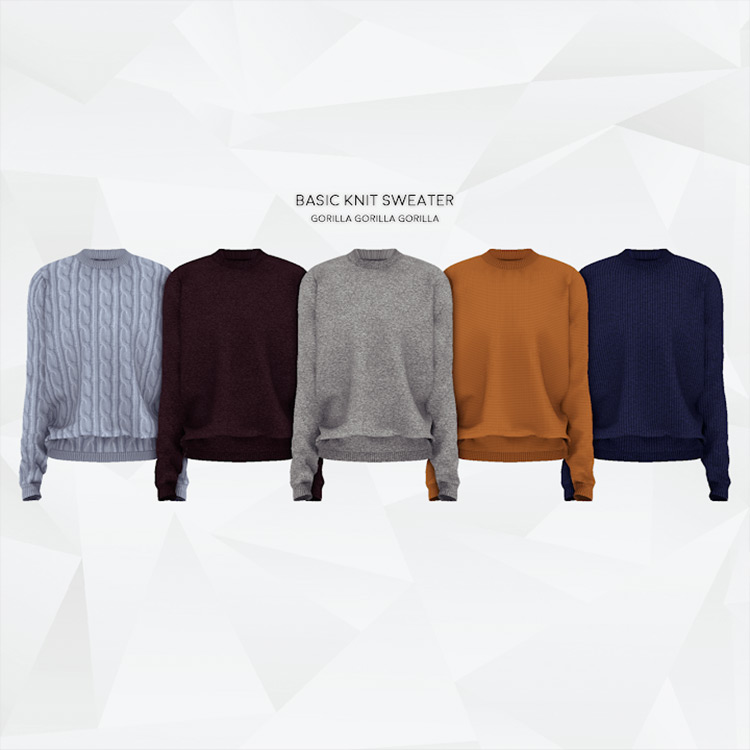 Pair up GorillaX3's sweater with your male Sim's fave skinny jeans for a signature hipster 'fit.
These HQ sweaters are big and comfy, and they also come in 20 swatches with varying colors and textures.
Head over to GorillaX3's Patreon to download this item, and maybe check out their other creations while you're there.
Hipster Hair
Perhaps more than clothes, the trademark hairstyle of a hipster is one that breaks conventional norms.
This Hipster Hair by Wyattssims definitely goes against the grain.
Cropped short on the sides with a braided ponytail on top, it's the anti-establishment look that any hipster Sim would love.
This one's unisex, base-game compatible, and available in the standard EA colors for a total of 18 colors.
Hipster Crop Top
CC Creator MissFortune describes their Hipster Crop Top as 'sporty and colorful'.
And we seriously have to agree.
Each top in this six-swatch collection has its own unique appearance, varying in color and design.
They appear to be Maxis-Match friendly and base game compatible.
You can also download each individual shirt here.
Hipster Superheroes
Your fave superheroes, with a hipster twist.
This custom poster set by Threesmallhearts features three well known superheroes: Spider Man, Batman and Wonder Woman, all reimagined as three kick-ass women.
We can totally see these on the walls of bedrooms, dorm rooms, and starter apartments.
The mesh is an edit of a Get to Work poster, so make sure you own the pack before downloading.
Hipster Countries Shirt
Do Sims in your world recognize real-life locations?
If so, you'll love Doumeki's Hipster Countries Shirt.
This three-swatch shirt, wearable by male teens through elders, features colorful prints spotlighting San Francisco, Mexico, and Miami.
They're also high quality and perfect for Alpha Simmers.
GTW Child Glasses For Adults
One of the most identifiable elements of a hipster outfit has to be the classic thick-framed glasses.
Talented creator Luumia edited a pair of glasses introduced in Get to Work that were once restricted to children, but are now unlocked for adults too.
This CC comes with the original nine colors, including red, black, and pink.
Those that own the pack should definitely add this to their CC folder!
Galactic Garden Tattoos
Tattoos?
Yes please. And the more obscure, the better.
These Galactic Garden Tattoos from Peachiiesims are a full tattoo collection of simple black tattoos, with what seems like endless design options.
There are 45 swatches combined, including a few that cover the full body and arm.
It comes with both English and Simlish text, is suitable for male and female Sims, and is also base-game compatible.
Browse:
Lists
The Sims 4
Video Games